My family loves eggs and they're often at the center of our quick and easy weeknight dinners. Sometimes when making things like poached or fried eggs for a crowd – whether it be just enough for a family dinner, or a really large amount for a luncheon or party- you are really limited by the touchy nature of eggs and cooking time. It's hard to cook that many at a time in a pan and get them all finished at the right time and manage to serve everything while it's still warm.
Many of my family's most requested dinners involve fried or poached eggs and after getting frustrated with babysitting eggs on the stove top, I started experimenting cooking them in the oven and had fantastic results.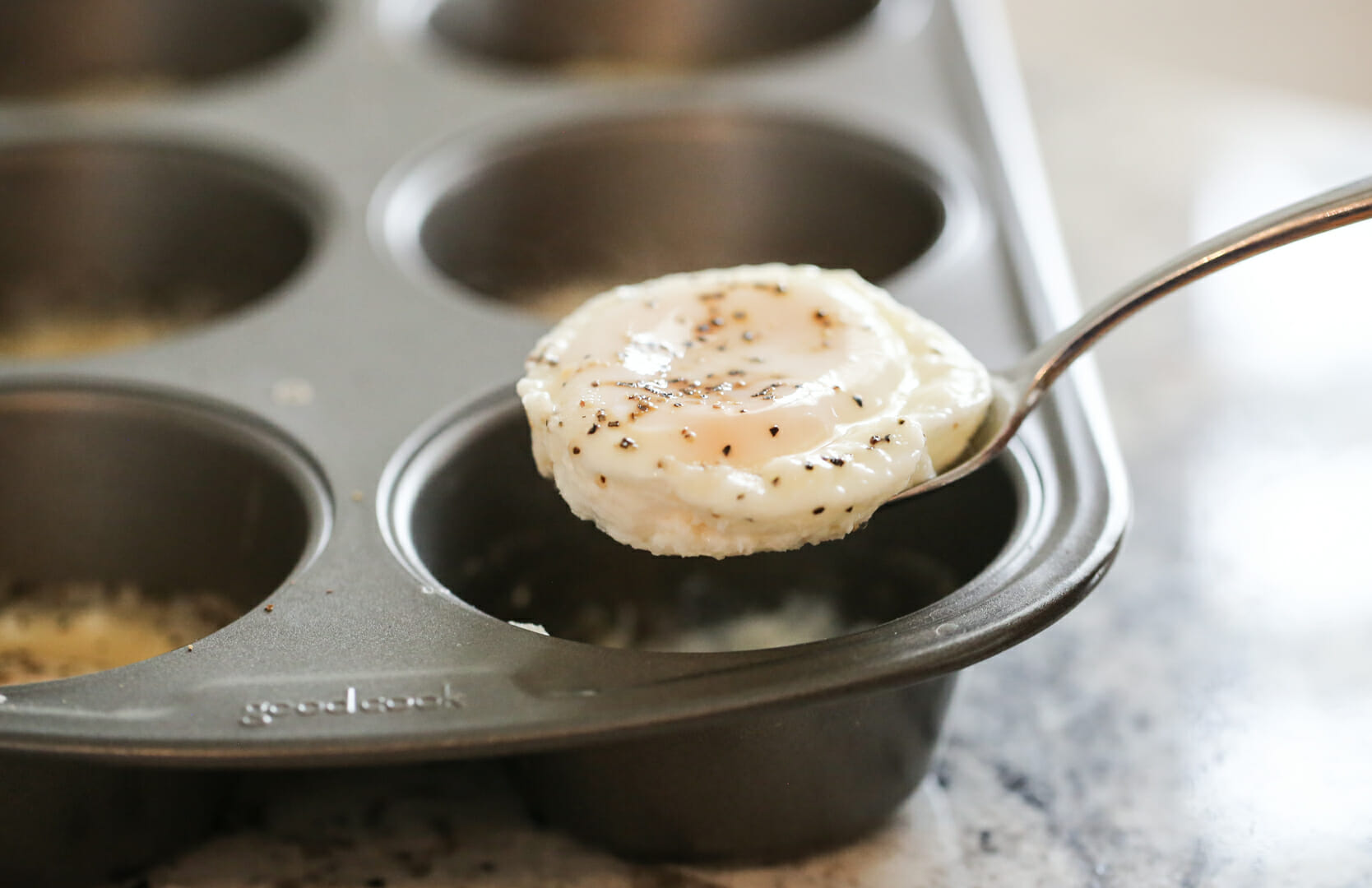 The trick is to use a muffin pan. I prefer using a jumbo muffin tin because I like the finished size of the eggs more than I do from a standard tin, but either will work. TIP: Use a non-stick muffin pan and you'll want to rub a little butter around the inside of every well. I've seen other people cook eggs in muffin tins an no one does this step and even with my nicest non-stick, I still get egg gunk stuck around the edges if I don't use butter. I've also found butter works much better than non-stick spray.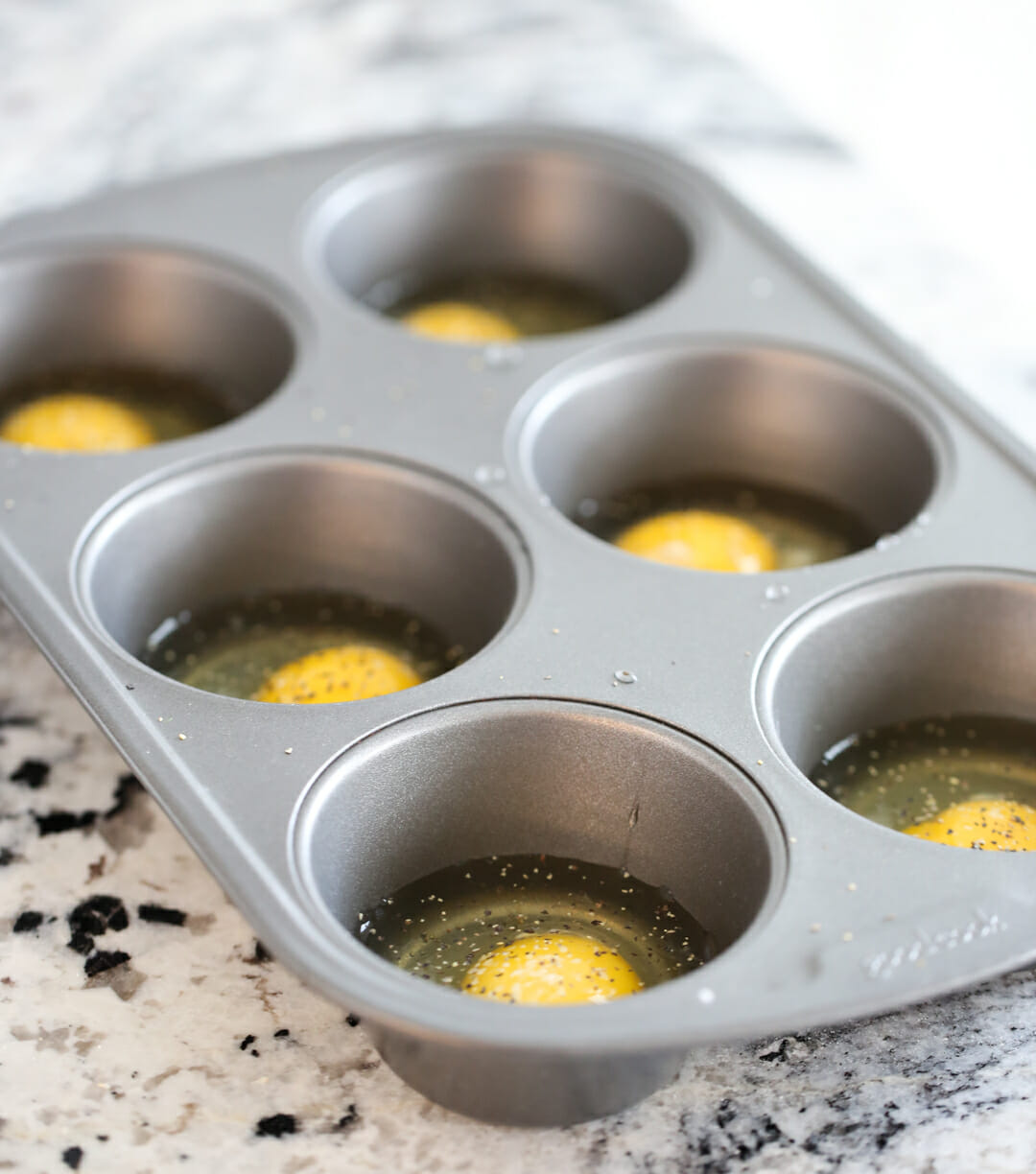 Poached Eggs vs. Fried Eggs
The difference between a poached egg and a fried egg is just a tablespoon of water. If you'd like to make poached eggs, after buttering the muffin tin, add a tablespoon of water to each one and then add your cracked egg. The water will rise to the top and gently surround your egg mimicking that water bath on the stove top. If you want to make "fried" eggs, simply skip the water and add the egg directly to the buttered muffin tin. Technically these aren't "fried" and they won't get those buttery-crisp edges that a traditionally fried egg gets, but it's close and looks similar.
Here's a visual of an oven poached egg (bottom) and a "fried" egg (top).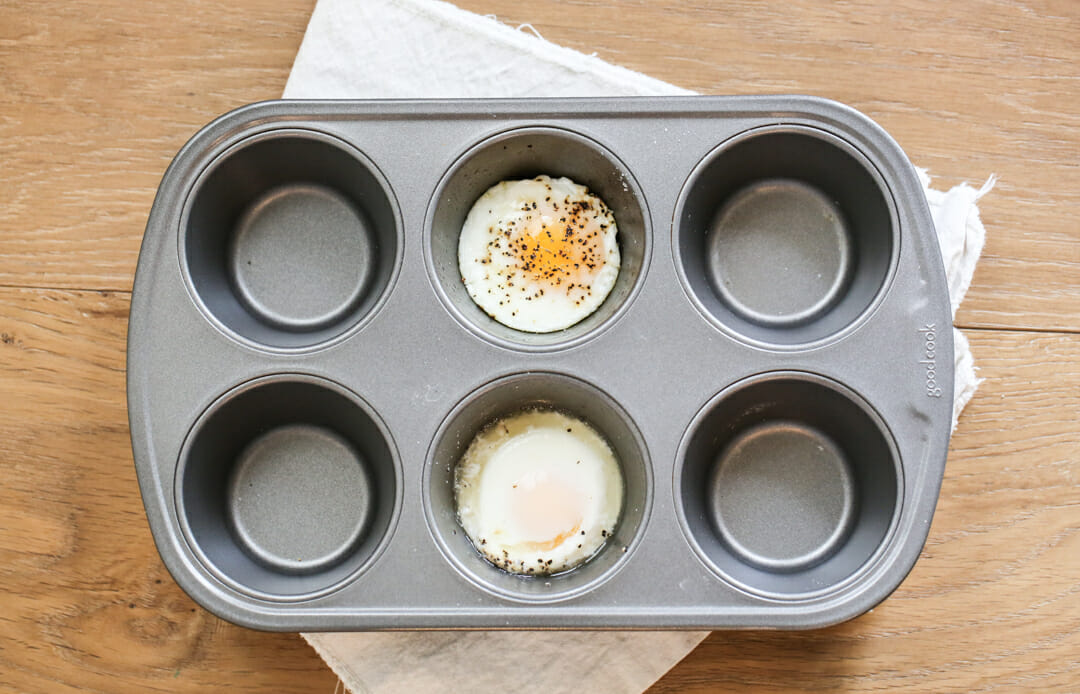 Either way they only need to cook for about 10 minutes (give or take depending on how soft you like them) and it's completely hands off, which I promise at some point in your life will come in super handy and you'll be glad you know this trick!
Print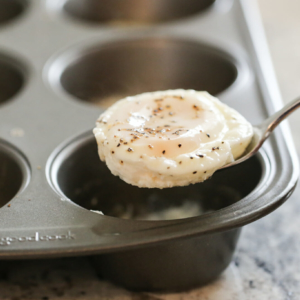 Large Batch Poached Eggs and Fried Eggs
---
Description
An easy solution to make large amounts of poached eggs ahead of time!
---
1 dozen eggs
butter
water
salt and pepper
---
Instructions
Poached Eggs:
Preheat oven to 350. Coat each well of a muffin tin (standard or jumbo, I prefer jumbo) with butter. Add 1 tablespoon water to each one. Crack each egg and add 1 egg per muffin cup. Do not salt and pepper (it will wash away with the water!) . Bake for about 10 minutes, but watch them a few minutes before and after that in order to cook to desired doneness. Keep in mind the water on top will be discarded- sometimes it makes it look like uncooked egg white on top, when it's really just water.
"Fried" Eggs:
Follow steps above, only omit water and sprinkle each egg with salt and pepper before baking.
---