A lot of times, we get asked what our most popular recipe is. If we're going by the recipes that people just love and are always talking to us about and write us emails about how this has become their new favorite family tradition or something, it's probably going to be the Creamy Chicken Taquitos or Tortellini Sausage Soup or Tim Riggins Brownies. But if you just look at the numbers of which recipe gets the most hits any given day or month? It's (hands down!) our Instant Pot Brown Rice, which means even if it is not the sexiest of recipes, it is something you guys want. Since I have great intentions of cooking brown rice but almost always end up cooking white rice, I decided to show you how to make perfect Instant Pot white rice every time!
why use the instant pot?
One of the reasons I love my Instant Pot is because I was able to get rid of other tools in my kitchen that took up a lot of space (like a rice cooker). I never loved my rice cooker–it seems like it was never totally done the way I wanted, but I didn't know how to fix it. Really, to be successful, I needed to be making several cups of rice, which I hardly ever needed. So I usually wound up making it on the stove in a pot because at least I could get the texture right, but stovetop rice is not a "fix it and forget it" kind of venture and I almost always ended up boiling over the rice water or burning the rice in the pan.
The Instant Pot ended up being the perfect solution–I could make 1 cup or 6 cups of rice, perfect every time, definitely quicker than my rice cooker and somewhat quicker than the stovetop. And, for instance, the other night, I wanted to have dinner ready when my kids were done with their extracurriculars, so I threw the rice in the Instant Pot while I ran out the door to pick them up and when we got back, it was done and on the warm setting, no house-burning-down required.
how to make it!
It's really, really easy. You'll need equal parts rice and water (or broth, if you prefer). You can also add a little butter or olive oil and salt and pepper if you'd like, but you don't need to. If you're at a high elevation, I recommend adding an additional 1-2 tablespoons of water and cooking for 1-2 extra minutes–you might have to play around with it a little depending on your elevation. But for everyone else, these directions should work for you.
Toss your ingredients into the Instant Pot and use the manual setting to cook on high for 3 minutes. This is when you say, "But Kate, there's a rice setting on the Instant Pot! Can I use that?" Sure. But I had the same results using the rice setting as I did using my rice cooker. I actually NEVER use the settings on my Instant Pot and just set the times and pressures manually.
When the 3 minutes is up, don't open the valve–just let the pressure release naturally for 10 minutes. Then remove the lid and fluff with a fork and voila! Literally the most perfect white rice ever. This works with any white rice–long grain, Jasmine, Basmati, etc.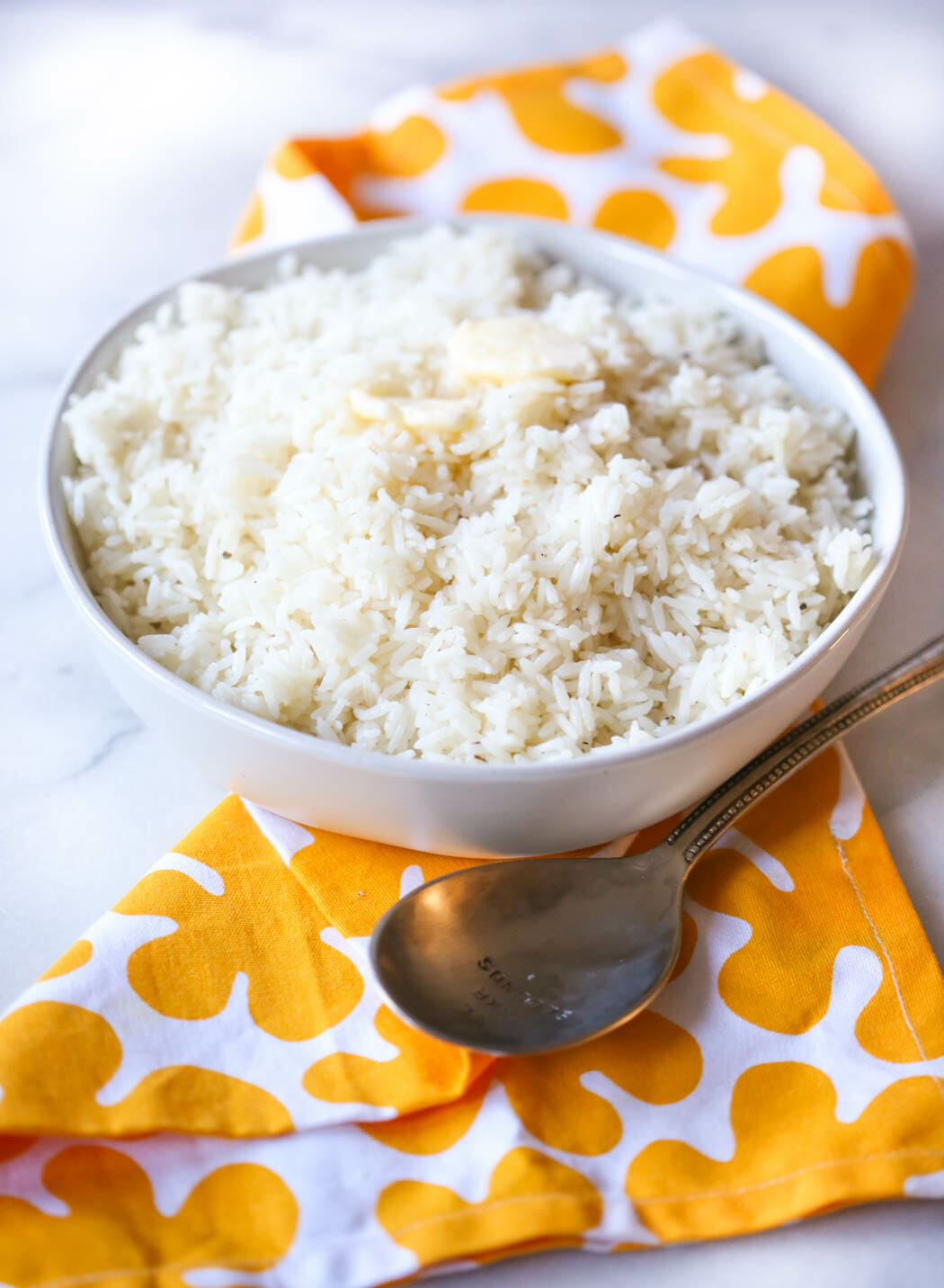 Print
---
Description
Make perfect white rice in your Instant Pot every time!
---
Equal parts white rice and water (so 1 cup water, 1 cup white rice; 3 cups water, 3 cups rice, etc.)*
Optional: 1 tablespoon butter or oil for every 2 cups of dry rice
Optional: Salt and pepper
---
Instructions
Combine ingredients in Instant Pot. Use the manual setting to cook on high for 3 minutes and then allow the pressure to release naturally for 10 minutes (don't open the valve, just let it sit.) Remove the lid, fluff with a fork, and enjoy!
---
Notes
*If you're at a very high elevation, you may need to add 1-2 additional tablespoons of water and cook it for 1-2 additional minutes; you'll probably need to play around with the proportions and the timing just a little.
If you're looking for other Instant Pot basics, be sure and check out these recipes: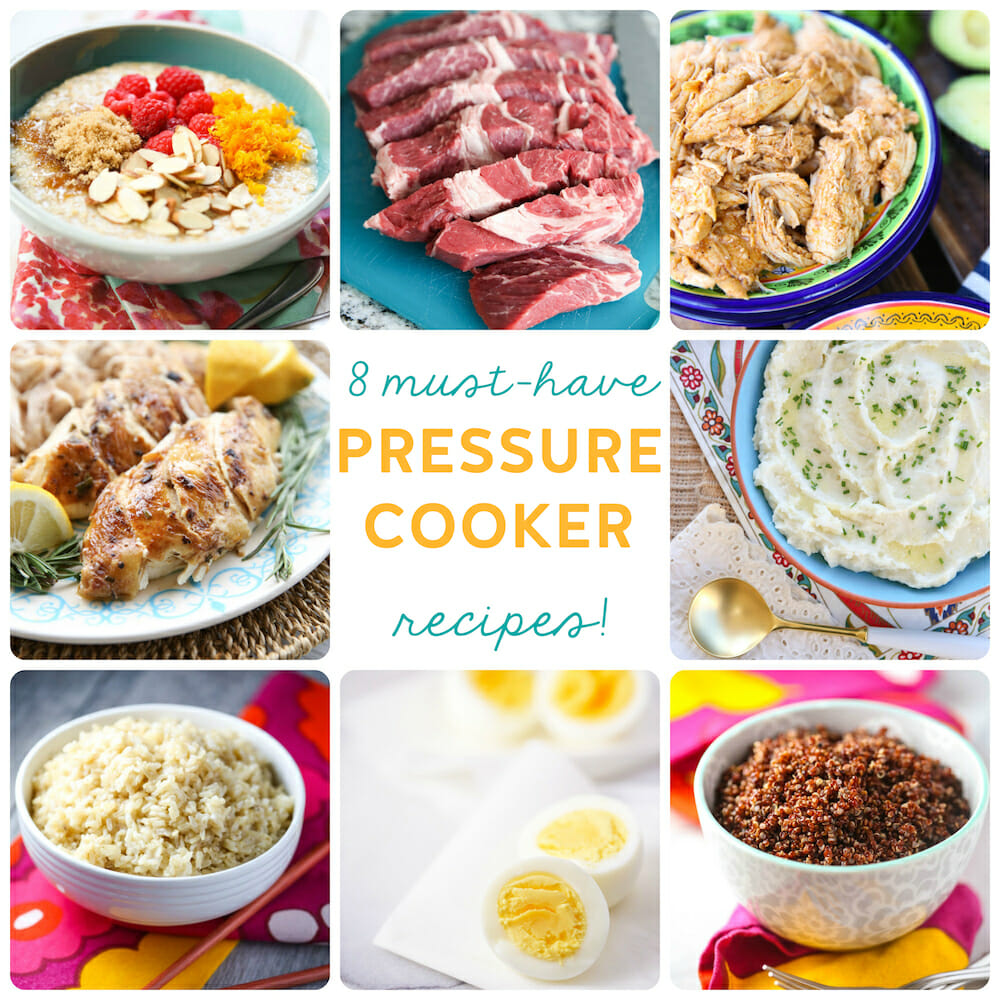 Steel Cut Oats 2. Pot Roast 3. Chicken Breasts 4. Mashed Potatoes 5. Quinoa 6. Hard Cooked Eggs 7. Brown Rice 8. Whole Chicken