Tis the season!  We're starting to get emails rolling in about canning and preserving, so I thought I'd share this post again with a little intro information.  What I've been happy to learn is that canning doens't have to be a huge, messy, day-long event.  You can start small!  Now is a great time to take advantage of either home-grown goodies, or seasonal produce that's available for great prices.  Preserve the summer and enjoy it all year long!
When I was a little girl, my family would often load up in our old Suburban and make the 12-14 hour trek from Seattle to Utah to visit relatives.  My parents bought a Suburban for the sole purpose of placing us four children in positions where no one had to sit directly next to anyone else.  They were smart.  We always rolled into my grandparent's home late at night and I remember so vividly the feel of the warm summer air that was so different from the cool Northwest nights I was used to.  My Grandpa Jack was an avid gardener so smells of blossoms and fresh cut grass and fruit from the surrounding trees always filled the air.  In fact, I partially credit my him for my love of horticulture- something I went on to study in college and earn a degree in.  He taught me a lot about the earth; about seeds and flowers and fruits.  He knew how to grow them, take care of them, and preserve them.
It was always well past our bed time when we would arrive there, but the first thing we would do is run down to the basement and open the storage room where there were shelves stock full of glass jars.  They were filled with everything from apricots to chilli sauce, to shredded beef to choke cherry syrup from the tree in the back yard.  But our very favorite were the raspberries.  We'd open up a jar and stick spoons in to eat the sweet little berries in the bright pink syrup, or if we were lucky, we'd pour it over vanilla ice cream.  At just about every meal in their home, there was a jar of something on the table.  My sweet grandpa passed away just a few months ago and as I pulled out my own collection of canning jars this week, I couldn't help but smile and think of him.
My parents never canned anything when I was growing up, so it's not something I learned how to do until recently.  In fact, I had the impression that being over the age of 65 was a requirement for owning canning supplies since grandparents were the only people I ever saw canning.  It wasn't until I moved here to Idaho several years ago that I realized you didn't actually have to be a grandmother to can!  Suddenly I was getting emails from friends seeing if I wanted have a canning day, or split a bushel of something or other with them and I would think, seriously- did she just use the word bushel? Where am I??  A whole new world was opened up to me and I realized how fun preserving your own food can be.  It's actually becoming quite trendy (again) all across the country and with people of all ages.  It's an amazing (and actually quite easy!) way to preserve the bounty of the summer and fall months and enjoy them all year long.  It does require an initial investment of supplies, but it's not overly expensive and they should last you a long, long time.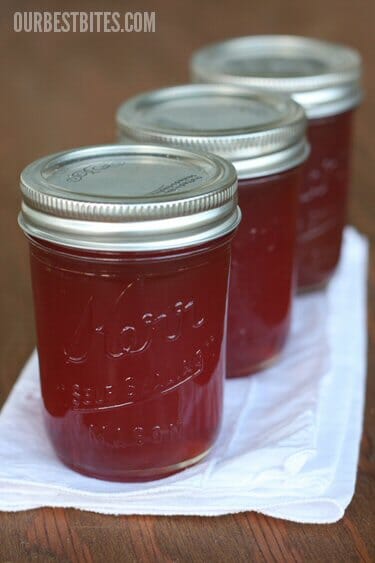 So really, I'm writing this little intro today for people who were where I was just a few years ago.  You've heard of canning, maybe you even know basically how it works, but you've just never jumped in to try it.  It can be totally overwhelming and you might not know where to start or what to buy.  Or maybe you know absolutely nothing and you're wondering why we're even having this conversation.  This is for all of you!  Here's a quick run-down on some basics and then I'll be sharing some of my favorite canning recipes later in the week.  Keep in mind I'm no expert on this topic!  So please feel free to discuss questions or make comments in the comment section of this post.
Methods of Home Canning
There are two main methods used for home canning.  The method you use depends on the food you are canning.  Some foods require a pressure canner, while others can be done in a simple waterbath.
1.  Waterbath Canning: this is the simplest canning method and it's great for beginners!  The waterbath method involves placing jars of prepared food into simmering water for a specified amount of time.  That's basically it!  The heating process seals the jars so they are shelf stable.  This method is for high-acid foods like tomatoes, salsa, jellies, jams, fruits, fruit fillings sauces, etc.
2.  Pressure Canning:  Pressure canning requires a presser canner (bet you never would have guessed that, right?)  I won't be doing anything this week that requires a pressure canner because, well, I don't own one and I've never used one!  Pressure canning is for low-acid foods such as beef, fish, poultry, vegetables, etc.  I know it's not all that different than waterbath canning, but it's a world I have yet to enter.
Supplies needed for Waterbath Canning
As I said before, I'm going to be focusing on waterbath canning because it's just so dang easy! So here's a run-down of the basics you'll need.  I've linked to all of these products on Amazon, and you can usually find them at local big-box stores as well.  My local Walmart carries a great supply of Ball/Kerr products (the industry standard in canning)and you can usually find things at hardware stores, grocery stores, and other local places as well.  If you plan on canning later in the season, you might want to pick up supplies now.  I've learned the hard way that if you wait too long they're often hard to find in stores.
1.  Mason Jars
Possibly the most important part.  Possibly.  Mason jars come in all different sizes and you can choose what size depending on what you are making.  A new box of mason jars comes with lids and bands for each jar.  You can re-use the jars and the bands over and over, but you need to use new lids each time.  You can purchase lids separately if you need to.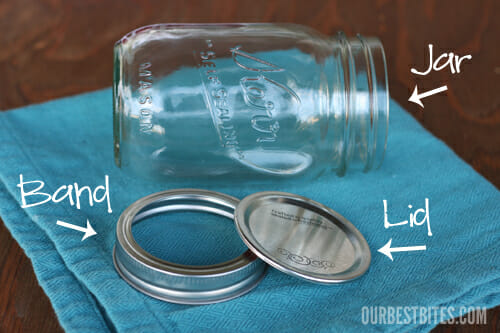 2.  Waterbath Canner or Large Pot (about 21 quarts) with Canning Rack
(orthis mini canning kit is great if you're just starting out.  It can fit into a standard stock pot that you probably already own and process 3 pint jars at a time)  I bought this pot at Walmart a few years ago and it's worked great.  The rack makes it easy to load and unload jars and helps them to stay put while the water is simmering.
3. Utensils
These things are very helpful.  You can certainly buy them all separately, or do as I did and just buy  this little kit that's inexpensive and comes with everything.  You'll find 4 little tools in it (okay well my picture shows 3, but there's 4 I promise):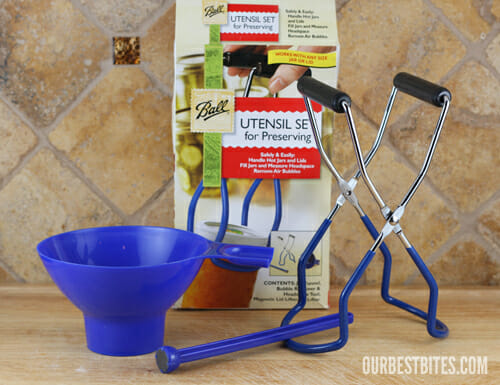 Funnel–  this is used to transfer your prepared food (since with water bath canning you are usually working with liquids/easily pourable things) into the jar.
Jar Tongs– These tongs are specially shaped to lift the hot mason jars out of the water.
Magnet Stick– The little stick with the magnet on it is used to lift your lids out of the boiling water (a step used to prepare the lids for sealing onto the jars).
Head Space Measuring Stick– this little stick is used to remove air bubbles and measure head space (the amount of open space left in a jar after it's filled with the food).
Things to Know about Canning
When preparing recipes to preserve, it's generally not a time to improvise.  Recipes are formulated specifically for canning and straying from the instructions could result in food that's unsafe to consume.  If  you're an experienced canner, you will know the areas that are okay to play around with, but if you're a beginner, it's best to follow the recipe and the canning instructions very carefully.  Likewise, you should not just take any ol' recipe you enjoy and assume you can can it.  We get many questions asking if the sauces and condiments on our blog can be canned, and our answer is always that you should use recipes that have been specifically tested for safe preservation.
Resources
There are lots of resources out there that can help you get started.
The National Center for Home Preservation– Great text-book information.  If I'm ever unsure about something, I check here.
State Extension Service– One of the absolute best resources, especially for in-person assistance, is your local extension service.  Look up the service in your area and they can help answer specific questions.  I've made many calls to my local office and they're always so kind and so helpful.  They also have tons of free materials and classes available.
Pick Your Own– I have really come to love the website.  I don't think it's the best looking website, which almost turned me off at first, however I've come to find it as a reliable resource with a wealth of information and how-to's.  In addition to recipes, you can find farms near you where you can pick your own produce to use in your home canning.
FreshPreserving.com– this is the Ball/Kerr website.  Tons of information, products, and recipes.  It's a great place to start if you're new to canning.

The Blue Book– When I first started asking around about learning how to can, everyone kept saying, "Well do you have the Blue Book??" "Get the Blue Book!"  Okay, okay.  I got the darn blue book!  The "Blue Book" is sort of the bible of home canning and it's a great resource.   It includes tutorials, how-to's, charts for processing times, tons of recipes, and much much more.  It's an inexpensive paperback and worth having in your library if you'd like to can at home.  Click here to check it out on Amazon.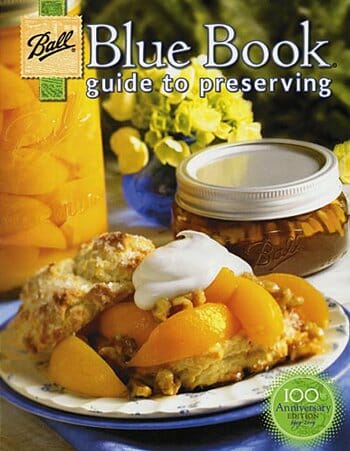 Basic Waterbath Canning Process
(We'll cover this in more detail in the recipe posts, but here's a run-down for beginners)

1.  Prepare jars by washing in hot soapy water- or sanitize in the dishwasher.  Place lids in boiling water.
2. Make your recipe
3.  Use a funnel to fill your jars.
4.  Place lids on jars, and then bands.
5.  Use rack to place your jars into pot of boiling water. Boil for the necessary amount of time.
6.  Remove jars and let sit at room temperature until cool.  When you press on the top of the lid and it doesn't "pop" then you know it's sealed.  Jars can usually be stored for up to a year.
7.  Have a gorgeous stack of home made goodness.
(iOS App users: Click Here for full post)
Ready to try your hand at canning?  Check out these related posts!
Canned Apple Pie Filling
Spicy Peach BBQ Sauce
Refrigerator Pickles (this one doesn't even require "real" canning- just a fridge!)
Homemade Fruit Roll-Ups (no canning here either, just drying!)
Guess What?  You can vote once a day, every day all month long!