This creamy, comforting soup is a healthier copycat of the Zuppa Toscana at Olive Garden. The popular original soup is loaded with bacon, cheese, and cream (no wonder why it's so good!) but my lighter version delivers big on flavor, while saving on fat and calories. This recipe is also featured in our bestselling Healthy Cook Book 400 Calories or Less by Our Best Bites.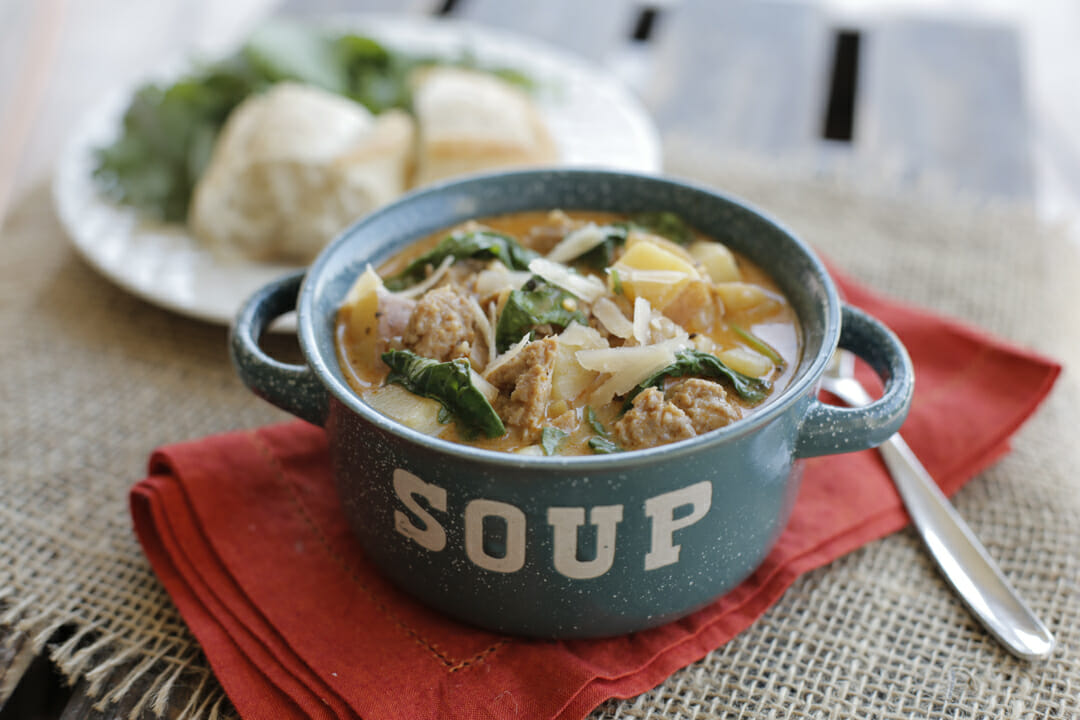 Sara and I have talked a lot about how much we love the magazine Cooking Light. One of the things that is so appealing to me about their recipes is that it's more like "cooking lighter"–no artificial sweeteners instead of sugar or black bean purees instead of chocolate; they use real ingredients to make real food, and while they may not always be 200 calories or less or completely carb-free, the recipes teach you how to make some of your favorite naughtier foods, only healthier (and often tastier). (By the way, this is totally starting to sound like an ad for Cooking Light, which it's not–I just really, really love them and used the things I've learned from their recipes when I was working on this particular recipe of my own.)
So no, this is not going to be the lowest-fat, carbiest-free meal that we post this month. But here are some things I did change to make this a healthier version of creamy Italian sausage soup:
I used lean Italian turkey sausage instead of full-fat pork Italian sausage.
To add smokiness, I used smoked paprika instead of bacon.
I left the skins on the potatoes to add fiber and nutrients.
To make it creamy, I basically used a thickened-up version base of our Guiltless Alfredo sauce. It's definitely lighter than heavy cream or a traditional roux made with a lot more butter and flour.
Instead of using Parmesan in the sauce where it's easy for the flavor to hide, I saved it for sprinkling on top of the soup–you get a lot more flavor that way with not nearly as many calories.
You'll start by sauting Italian turkey or chicken sausage, crushed red pepper flakes, onion, garlic, and smoked paprika.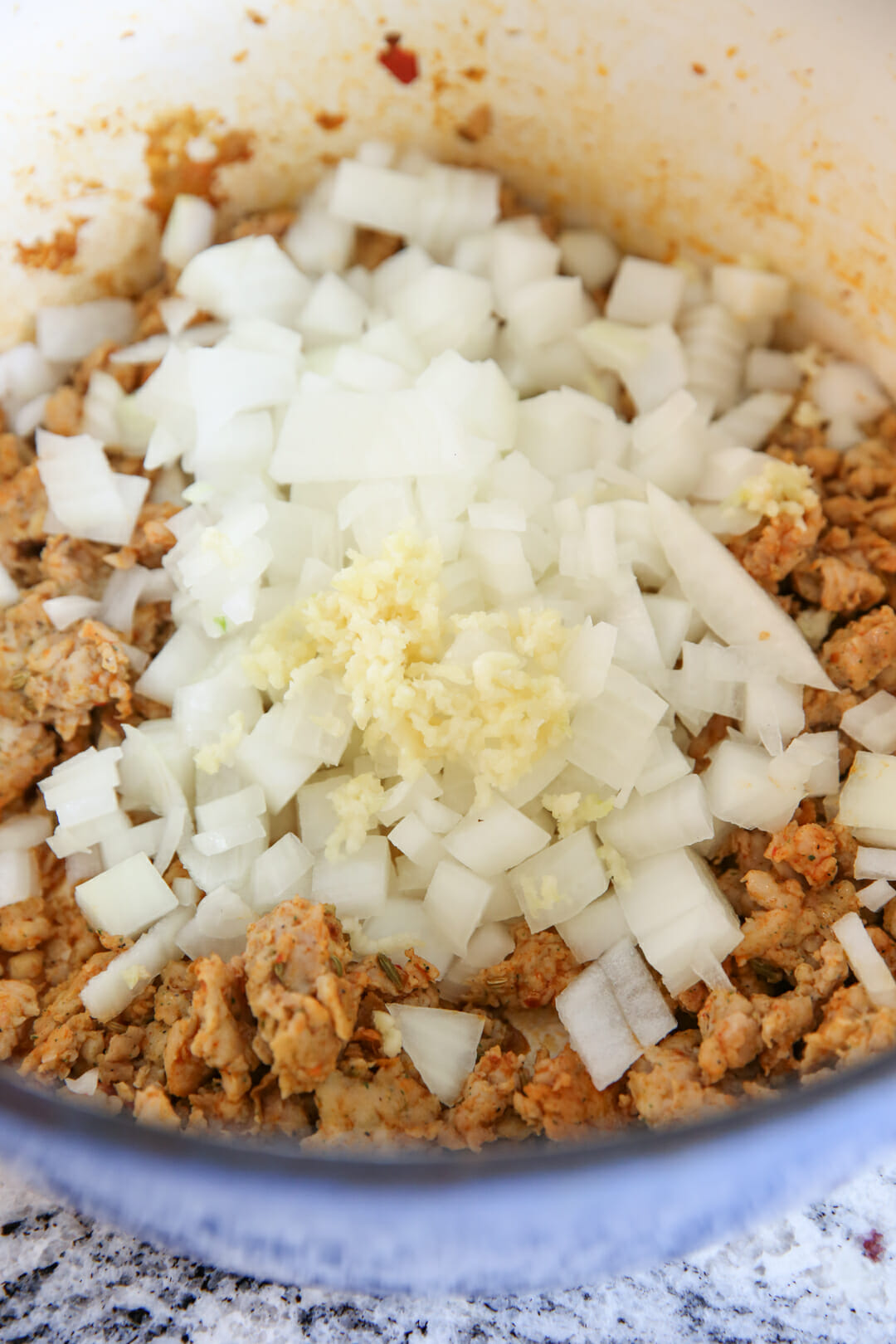 You'll then add some chicken broth and diced red potatoes and let it come to a simmer.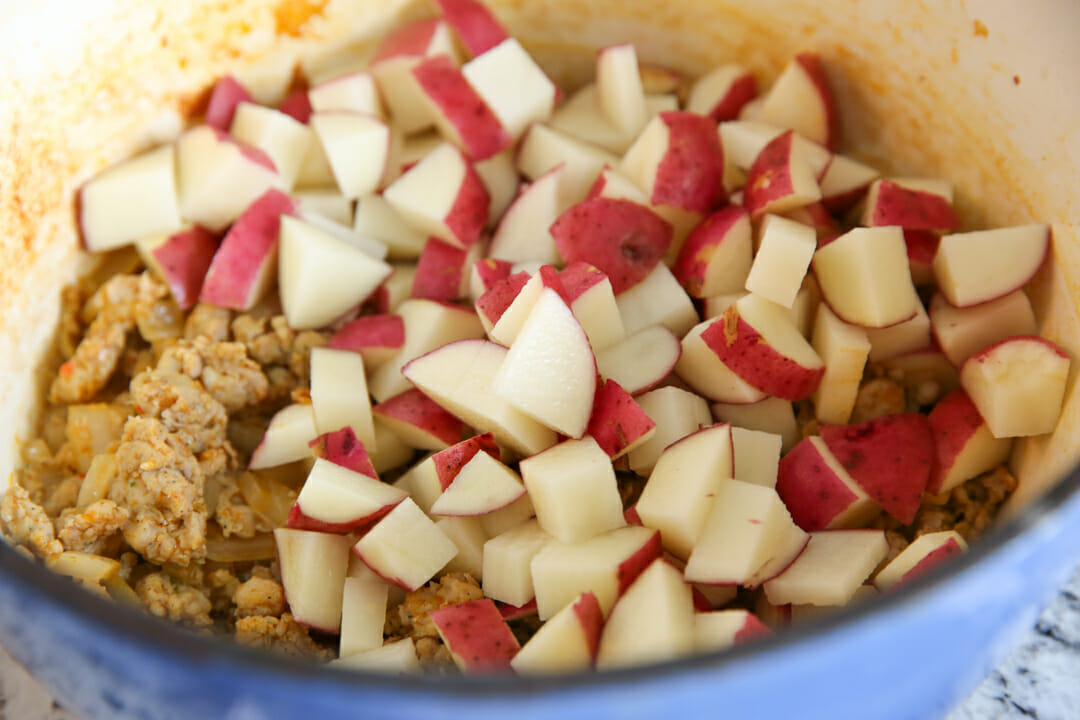 While the potatoes are cooking you'll make an easy mixture of milk, cream cheese, flour, and salt. It will cook until it thickens a little and then you pour it into your soup.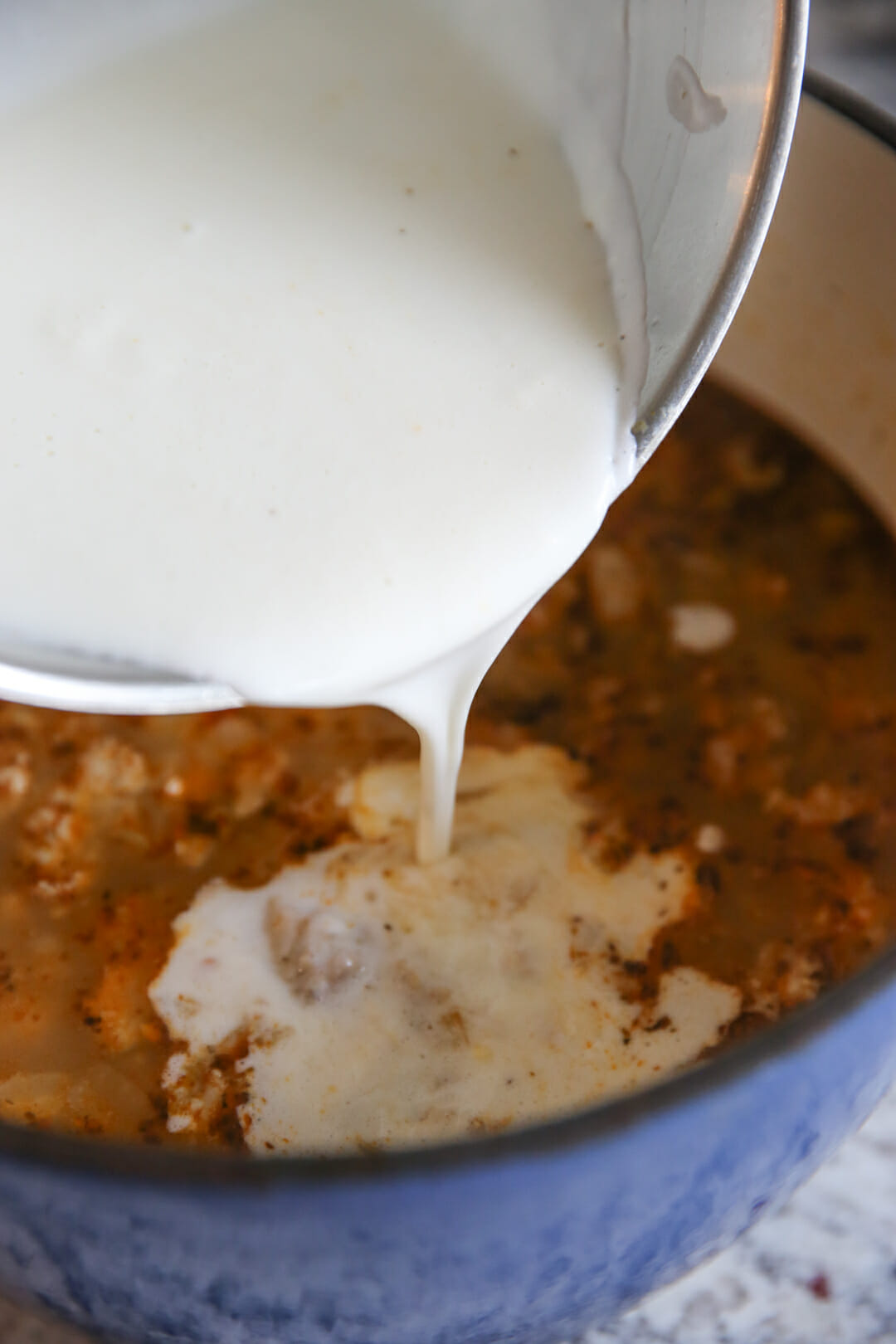 Once everything is mixed, toss in fresh spinach, season with additional crushed red pepper flakes and kosher salt to taste and serve with freshly grated Parmesan cheese.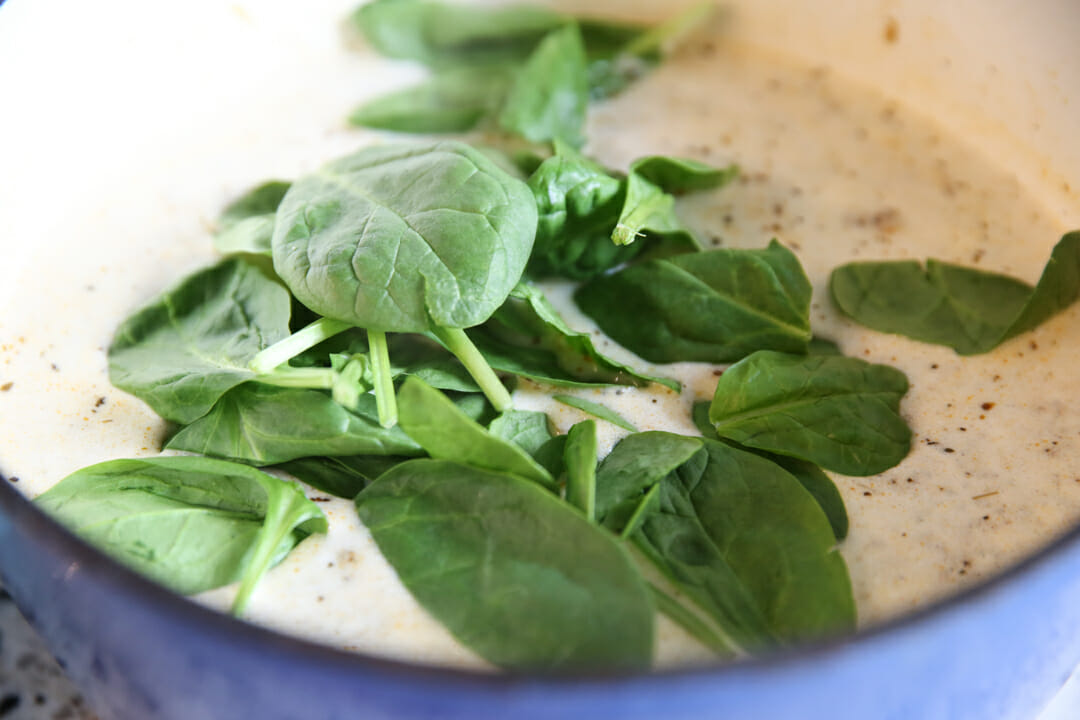 Little tip: if you have people in your family who will complain about green stuff in their soup, just place the spinach in individual bowls (for those who want it) and ladle the hot soup over! This is a family favorite at our house, and I bet you'll love it, too!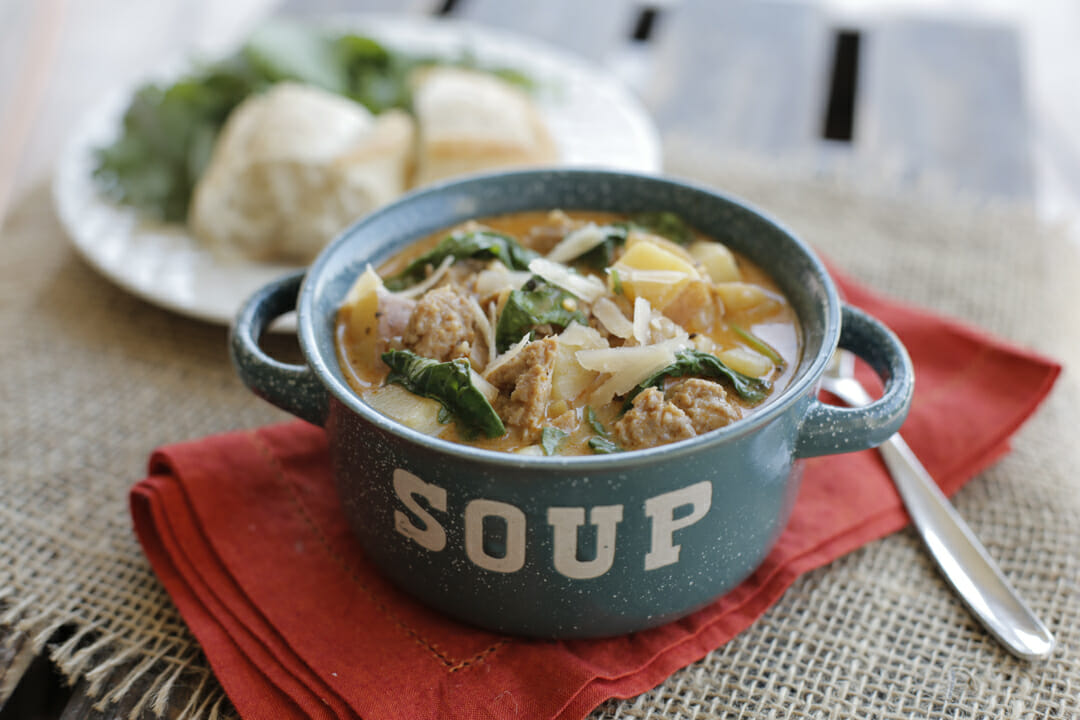 Print
Italian Sausage and Potato Soup
---
Description
A creamy, flavorful soup. Healthier version of Olive Garden's Zuppa Toscana!
---
20 ounce

lean Italian turkey or chicken sausage

1/2

+ teaspoon crushed red pepper flakes

1 teaspoon

smoked paprika

1

large onion, diced

5

–

6

cloves garlic, minced or pressed

8 cups

(

2

boxes) chicken broth

1 1/2

pounds red potatoes, diced

1 teaspoon

Italian seasoning

2 cups

low-fat milk

3 ounces

light cream cheese

3 tablespoons

all-purpose flour

2 tablespoons

butter

1/2 teaspoon

kosher salt

3 cups

baby spinach, chopped
---
Instructions
Remove the sausage from casings and crumble it into a large soup pot. Begin cooking it over medium heat and add red pepper flakes, smoked paprika, onion, and garlic. Saute until the sausage is fully cooked and drain if necessary. Add the chicken broth and Italian seasoning, increase heat to high, and bring to a boil. Add diced potatoes, cover, and reduce to a simmer. Cook potatoes until tender.
While the potatoes are cooking, place the milk, cream cheese, flour, and salt in a blender. Blend until smooth. Heat the butter over medium-low heat in a small saucepan, then add the milk mixture and cook over medium heat until thick (like a very thick cream soup or a stirrable pudding). When the potatoes are cooked, add the thickened milk mixture and chopped spinach. Season with additional crushed red pepper flakes and kosher salt to taste and serve with freshly grated Parmesan cheese. Serves 8-10.
---