Kate's Mountain Adventures 2021, Part II
So remember in this post when I said I'd be back the next day with Part II of my 2021 Mountain Adventures? Yeah, that clearly didn't happen. ???? The last couple of weeks have been a  little bit wild–my son had spinal fusion surgery to correct severe scoliosis. It was planned, but I also planned on having a lot more downtime than I actually did. But. He's doing great and I'm not doing the whole medication management every two hours, 24 hours a day thing anymore, so I'm back. I know a lot of people are vacationing/staycationing in Utah right now, so hopefully I can share some ideas of what to do in Cache Valley!
What We Did: Cache Valley
So I grew up my whole life in Cache Valley. It has always been a sleepy little town, but it was a different place this time around; it had grown and changed a lot, even since 2018 (the last time I was there.) We tried to find a happy mix of fun things we'd done before as well as exploring and trying new things. We didn't get a Bear Lake trip in because it was a little too cold and we had so many other things going on, but that just gives us a reason to go back.
Spontaneous Meet-Ups
It's really hard for me to commit to meeting up with people when I visit home, and I know that hurts feelings, but I'm learning all about boundaries and I guess this is one of them. That said, when it works out, I am ALL for spontaneously meeting up with people when I can! Usually, these meetings revolve around food in some way or another, so I got to explore the food scene (and there's a great food scene in Logan–I would have laughed if someone told me that 10 years ago) and enjoy little snippets of company when I could!
Local shopping
I always love supporting local businesses, whether I'm at home or on vacation. There are tons of places to shop in Logan, but these are a handful of places we visited:
Roolee. There are a lot of online boutiques, but Roolee always has amazing quality and customer service and cute, unique clothes (I feel like a lot of boutiques out of Utah are selling the same cheap, mass-produced, generic products.) I was excited to explore their storefront and it didn't disappoint. My daughter got some very cute clothes there and I got some jewelry and a giant charcuterie board that my parents then got to ship back to me because it wasn't fitting into any luggage.
Love to Cook. This store  has been a part of my life for almost as long as I can remember–from my childhood to my wedding registry to teaching a class there when we released our last book to seeing friends take ownership and bring it to the next level. We popped in to see what they had and ran into my old friend Wil Wood (who, by the way, I wrote nearly an entire journal about in 7th grade. ????) He gave us the grand tour and got us into a Tomahawk steak cooking class the next night.
He was gracious, charming, and funny as always. If you need anything for your kitchen, need your knives sharpened (I should have brought mine because I'm way too scared, but then I would have been the girl trying to bring knives on the plane), or want to take a cooking class or enroll your kids in cooking camp, this is the place!
Al's Sporting Goods. I remember when Al's was a tiny mom-and-pop shop on Center Street in Logan. My parents were friends with the owners and it was always kind of like visiting extended family when we went. Even though Al's is huge now, and they have clothing and equipment for everything, the employees are still kind and helpful. They have an amazing variety of products (especially for women…it feels like most sporting goods stores cater to boys and men and women/girls are kind of an afterthought), from clothing to shoes to gear to sunglasses and outdoor skincare.
Gossner's. Gossner's is one place in Logan that has not changed in the last 40 years. It is a cheese factory with a little shop attached to it where you can get dairy products and local treats. We came home with local chocolate truffles and caramels, the best cheese curds ever, and a few pints of incredible ice cream that we secretly ate in my parent's basement. If you time it right, you can even watch them making cheese! We did not time it right, but we did get to see them spraying down the equipment, which is basically the same thing.
Local Sights
Aquatic Center. This is always a great, easy stop on our trips. Get there early so you can find a shady spot. It's cheap, clean, safe, and fun for everyone!
Logan High School. So I kind of treated myself to a tour of my old high school. Was it possibly light trespassing? Possibly. But hey, you only live once, right? My niece had a dance recital in the high school, so we walked in and then just kept on walking. I loved exploring the interior, but even if you don't have a history with Logan High, the exterior is a fun place to explore. There's a creek, bridge, track, and nature trail that are open to the public.
Logan City Cemetery. Maybe I'm a weirdo, but I love cemeteries (even when I don't know anyone in them) and Logan City Cemetery is beautiful. We went on Memorial Day weekend with my family, and there were way too many people there for my taste, but I would have loved to explore it when it's a little more quiet and private. If you're interested in some of the history of the Logan City Cemetery, there are some highlights here and here.
2nd Dam. This is another fun, easy outing. 2nd Dam is beautiful, rarely crowded, has easy access to the water (we brought kayaks and paddleboards), firepits and picnic tables for roasting hot dogs and s'mores. It's not too far up the canyon, so it's easy to get to, but you feel like you're far away from everything.
Float the Bear River. My parents arranged for a canoe trip with as much of our family that could come. They rented canoes from Bad Apple Eddy Outfitters and we spent the morning/early afternoon canoeing the Bear River from a launch point near the airport in Benson to the Benson Marina. I'll be honest, this was hard. There were a lot of carp, and they terrify me. It was hot and there wasn't a lot of current in the water, so it was almost five straight hours of rowing. By the time we got to the Marina, we were like, "PRAISE BE, WE MADE IT!" and then had to row nearly two miles of shallow water with no shade. I said it was like when Sam and Frodo got to Mordor and thought they'd made it, but really, the hardest part was yet to happen. That said, a shorter trip or a trip in the spring or fall would be amazing–we saw tons of birds, deer, and even a weasel. And cows and horses.
Local Eats
As always, food was one of the highlights of this trip. When I was a teenager, we had Village Inn, Fredrico's, Mandarin Gardens, but now, there are so many places  Here's a rundown of the places we ate:
Old Grist Mill. Always one of my must-do favorites, this no-frills bakery and sandwich shop hasn't changed much in the last 30 years. But their turkey sandwich combo with an oatmeal chocolate chip cookie (which inspired THESE cookies) and a Diet Coke has been one of my favorite meals for almost as long as I can remember! Make sure to grab some cookies, bread, and a loaf of pumpkin bread while you're there.
Herm's Inn. This is another place we always try to hit in Logan. The entire time I was growing up, there was an abandoned gas station at the mouth of Logan Canyon that I always said should be fixed up and turned into a restaurant. Luckily, someone else thought the same thing. It was completely restored and between the menu and the ambiance, it's hard to beat Herm's.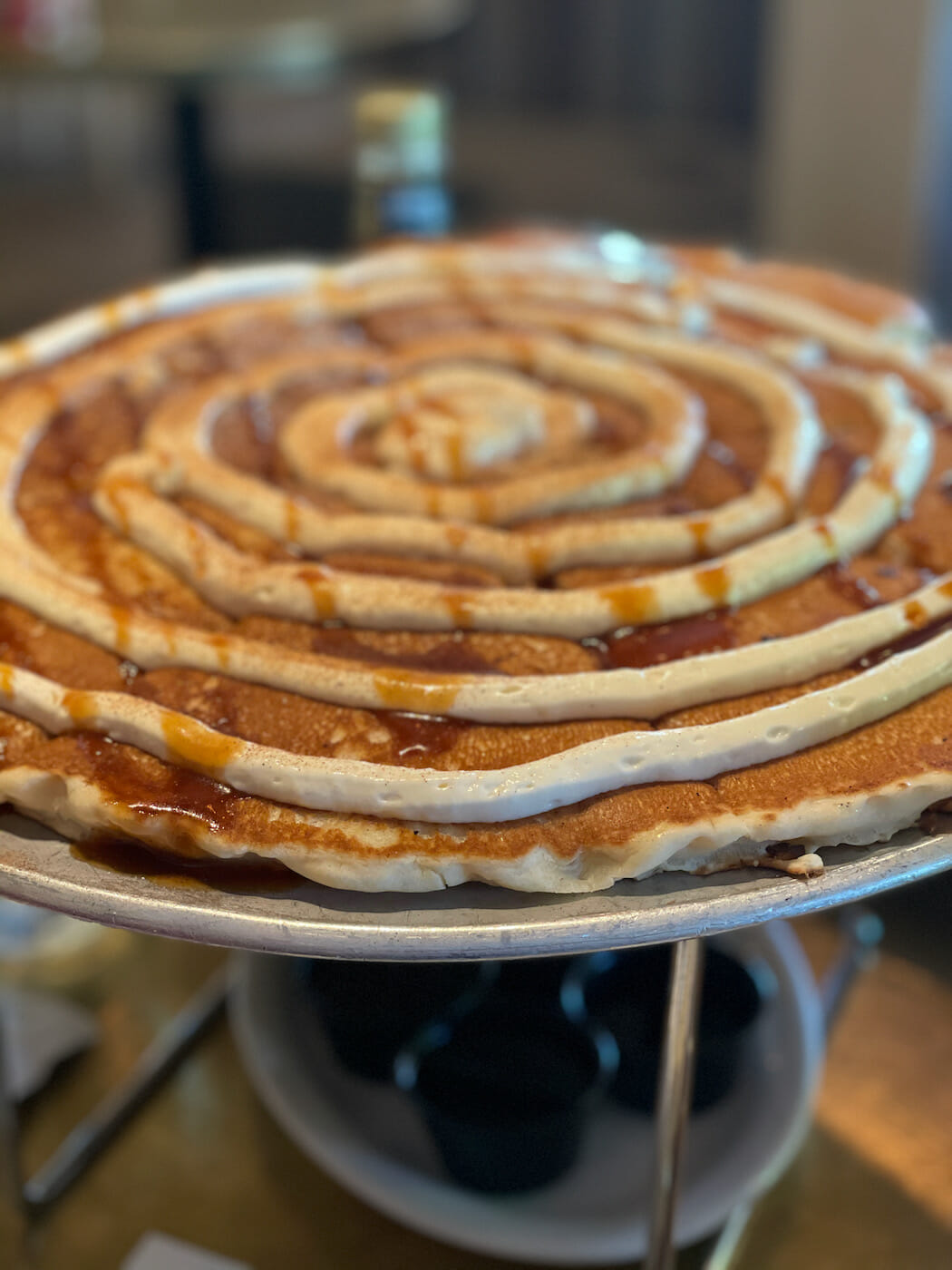 Hamandcheeselton. Despite his protestations, I knew my dad would love Hamilton, but I just had to get him to watch it. SinceI know food can be highly motivating, I made a couple of charcuterie boards and got some fun soda and boom. My dad became a fan of Hamilton. If you want some tips on how to make the perfect charcuterie board, check out this post!
The Crepery. This little crepe restaurant is in the old Glauser's diner and had a chill, alt vibe. We got some sweet crepes and savory crepes to share and they were all delicious!
Westside Coffee Company. I snuck in here on our last morning in Logan for a quick breakfast with my oldest friend in the world. I got the breakfast tacos and they were delicious! Honestly, it was just another feather in the cap of a town that has grown up so much in the last few years–great food, service, and atmosphere.
Soda & Cookie Shops
Utah has kind of become a haven for soda and cookie shops. I valiantly tried to try them all, but I couldn't squeeze them all in. However, these were the ones we tried.
Fiiz. I tried the one in Brigham City, but I was not impressed. For sure my least favorite of the places we tried. It felt messy and tired and didn't really have anything to set it apart from the millions of other shops like it in the area.
Twisted Sugar. For SURE my favorite cookies!! They all tasted fresh and they had fun options outside the traditional frosted sugar cookies. (The cookies from the dessert board above are from Twisted Sugar.)
Whips. My favorite drinks. Their waters were actually the drinks I loved the most (they had one with coconut cream, strawberries, and mangoes). The pretzels were also fresh and delicious–I think this is the place to get drinks in Logan.
Chugz. I don't know why I hate the name so much, but I do. Kind of reminds me of Paunch Burger from Parks and Rec or something. The drinks were fine–we went there twice, so clearly, they were good, but I liked the vibe and variety of Whips better.
Whether you're traveling or staycationing, I hope this gives you some ideas of things to do in Cache Valley!