Valentine's Day is this week–you know, the mushy holiday where you celebrate your relationship with your significant other. But if you're a fan of Parks and Recreation (and if you've been reading our blog for awhile, you know we're definitely Parks and Rec fans), you know that February 13th is Galentine's Day. What is Galentine's Day, you ask? Well, you beautiful, talented, brilliant, powerful musk-ox, in the words of Leslie Knope, Galentine's Day is…
"only the best day of the year. Every February 13th, my lady friends and I leave our husbands and our boyfriends at home, and we just come and kick it, breakfast-style. Ladies celebrating ladies. It's like Lilith Fair, minus the angst. Plus frittatas."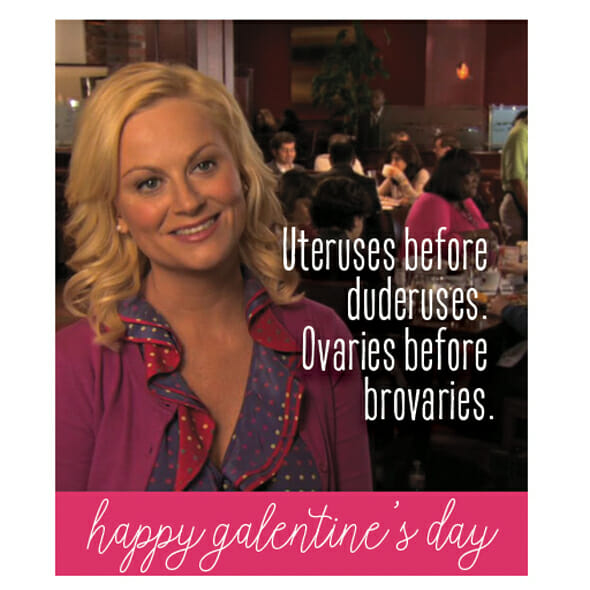 (For this and other Parks & Rec-themed printable Valentines, click here!)
While I would love to have a Galentine's Day brunch, it's more realistic for my gals and I to get together to celebrate our friendship in the evening. And for me, that means charcuterie boards (which, in my world, has evolved into other snacky boards. I want them all.) As I was planning and shopping, I kept saying, "Kate, don't be extra." And then this happened…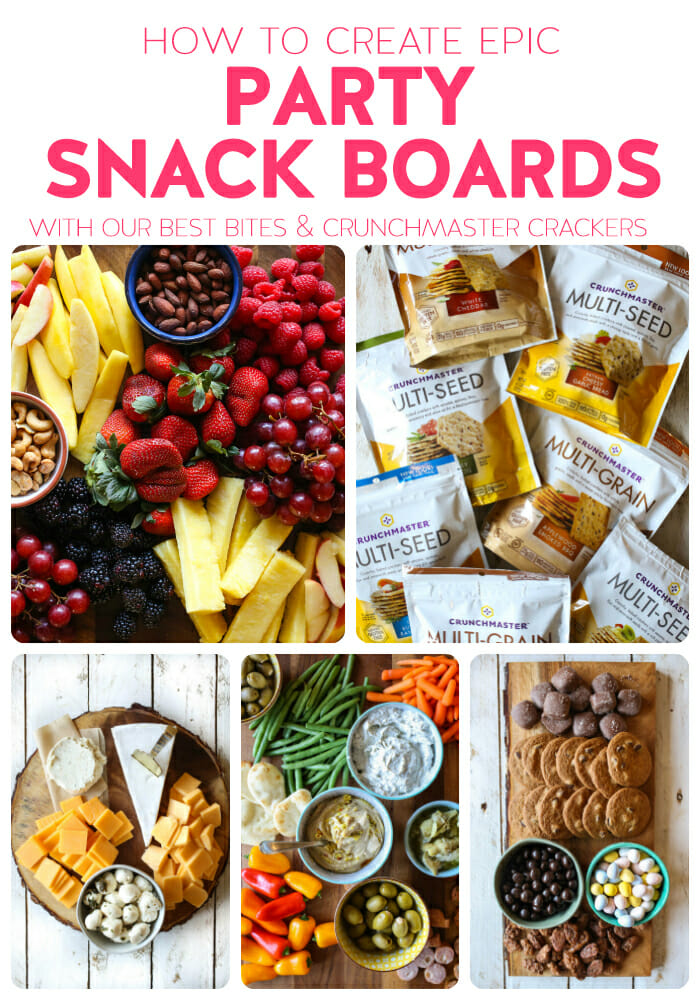 We're so excited to be teaming up with Crunchmaster Crackers for this post. I love, love, love making these kinds of boards (not just for parties, but also for meals–my kids love "snacks" for dinner and they're perfect for celebrations like Christmas Eve or during the summer when it's just too hot to cook.) That said, crackers are always the hardest part for me. They're essential for this kind of thing, but I've had a hard time finding a cracker I actually like (because, at least for me, crackers are more of a cheese delivery device than something I really enjoy the taste of.) Crunchmasters changed that for me.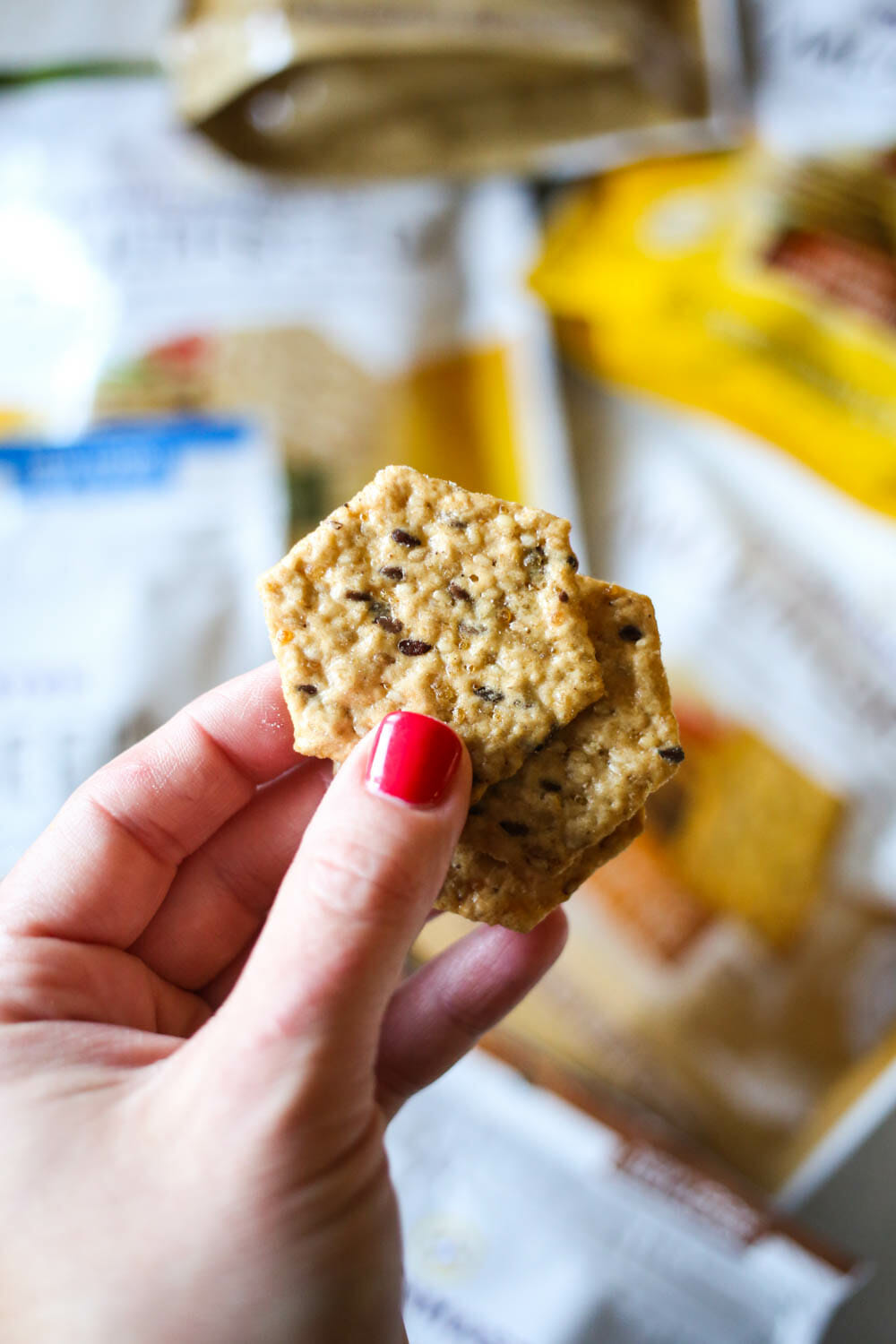 I love their crackers, even just by themselves–they are whole grain (but gluten free) and loaded with seeds, but in the best way possible; they have a toasty, complex flavor that shines, but it also doesn't overwhelm whatever I'm eating with them. They're light and crispy enough to not feel like, "Wow, I have a mouth full of crackers!" (kind of like a chip), but they're sturdy enough to spread cheese on, hold some meat, or scoop up hummus.
So I threw a little Galentine's party for some of my best gals and I put together a fun little spread of sweet and savory snacks. I feel like we live in a Pinterest-fueled world and sometimes, the ideas of these boards can be a little overwhelming. I've put together some tips to throwing an awesome Galentine's Day Party and making beautiful boards without driving yourself crazy.
SWAG: STUFF WE ALL GET
Before we talk about food, let's talk about party favors.  You don't have to do this. But you can…and it's kind of fun. I put together little bags of some of my favorite things–mostly things from the dollar spot at Target. Valentine's Day stickers, a reusable mug, snacks, adorable socks, stuff from the beauty section (including Lip Smackers…I thought about being classy and fancy, but then I decided to embrace my inner 11-year-old girl.) I also put everyone's favorite drink in their bag. But, like I said, you don't have to do this–you could skip gifts altogether, or do a "favorite things" party where everyone brings their favorite thing under a certain price point and then everyone swaps. Whatever you do, have fun and don't stress out about it too much.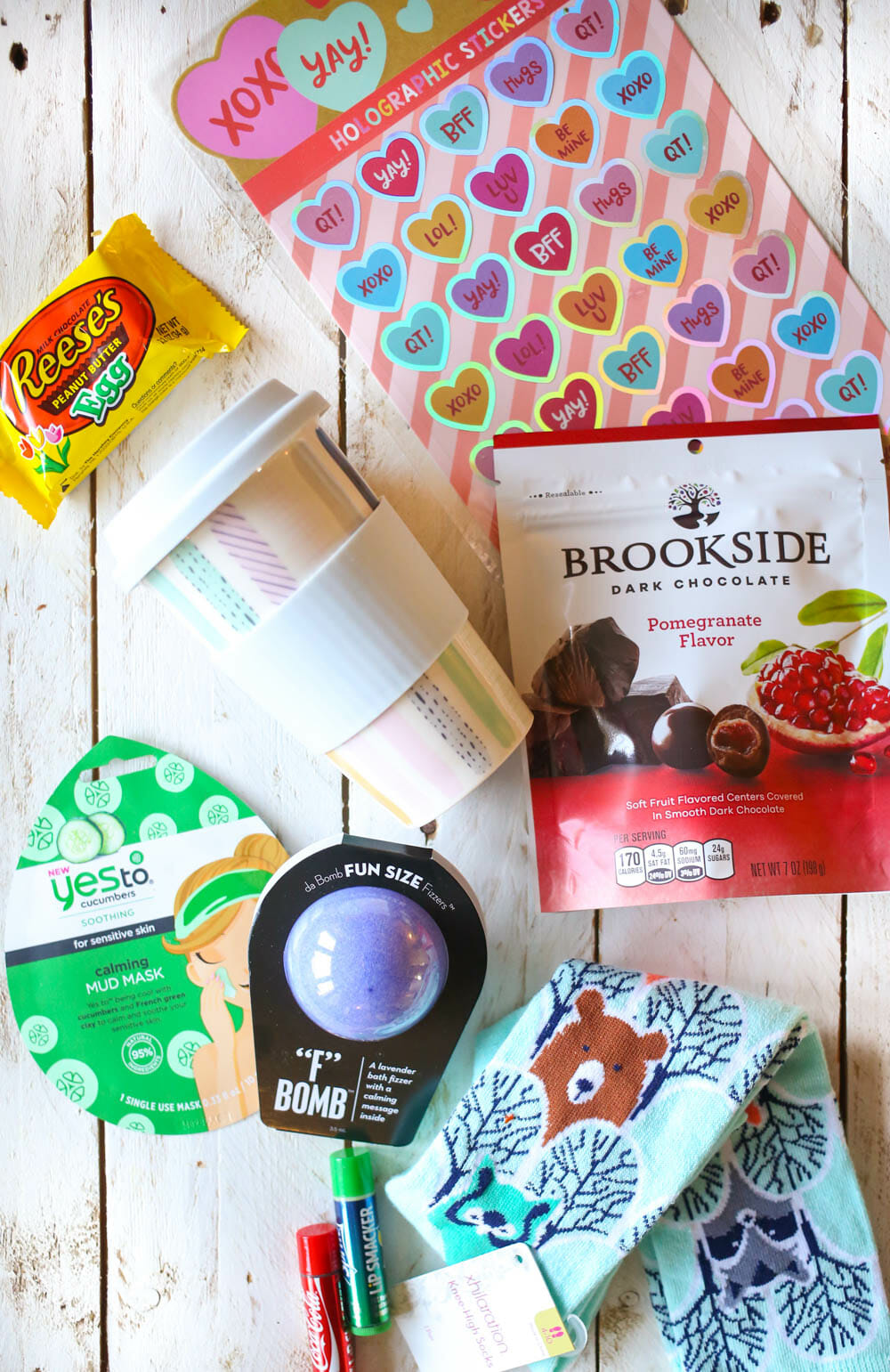 THE FOOD
This is the most important part, right??  When I make boards for a party, I like doing a couple of different boards, not to be over the top or anything but just because a) I don't have any boards or sheet pans quite big enough for everything I want to serve and b) to keep it all straight in my head. For whatever reason, I don't love the idea of my chocolate touching my olives.
There are lots of "rules of thumb" out there for how to decide what and how much food to get. This is what is overwhelming for me, and it used to really stress me out. I don't really want to give you any more rules, but these are some things to keep in mind.
Unless you're preparing food for a major event, you're likely going to have more food than you need. Don't worry about running out. If anything, it's really easy to overdo it; luckily, a lot of these things perish slowly and for the things that are highly perishable make really easy lunches and dinners for the days that follow. And if you do run out of something? Awesome! That means people liked it–buy it again next time! But just because you run out of brie doesn't mean you're going to run out of everything. And if you do run out of everything, I want to be friends with your friends. Also, clean-up just got a whole lot easier.
Along those lines, don't feel like you have to get all the things just because you saw it in a picture or just because "everyone else does it" or just because you saw it at the store. You don't need (and won't have room for) everything. There will be more charcuterie boards in the future.
Along those lines, don't get stuff you or your guests don't like. I always felt like I have to get the fancy charcuterie meats, but guess what? I don't really love them (prosciutto gives me the heebie jeebies and I've never been a huge fan of heavy Italian meats like salami.) Same thing with blue cheese (I like it in salads and dressings and in very small quantities by itself, but usually when someone else prepares it.) So I would spend all this money on fancy meats and blue cheeses and guess what? No one else ate them, either. I started getting those delicious chicken precooked chicken sausages and cutting them into slices and they have been a huge hit! You can also serve really high-quality deli lunch meat, rotisserie chicken pieces, or cooked chicken or sausage tortellini skewered with your favorite vegetables and drizzled with pesto.
the savory tray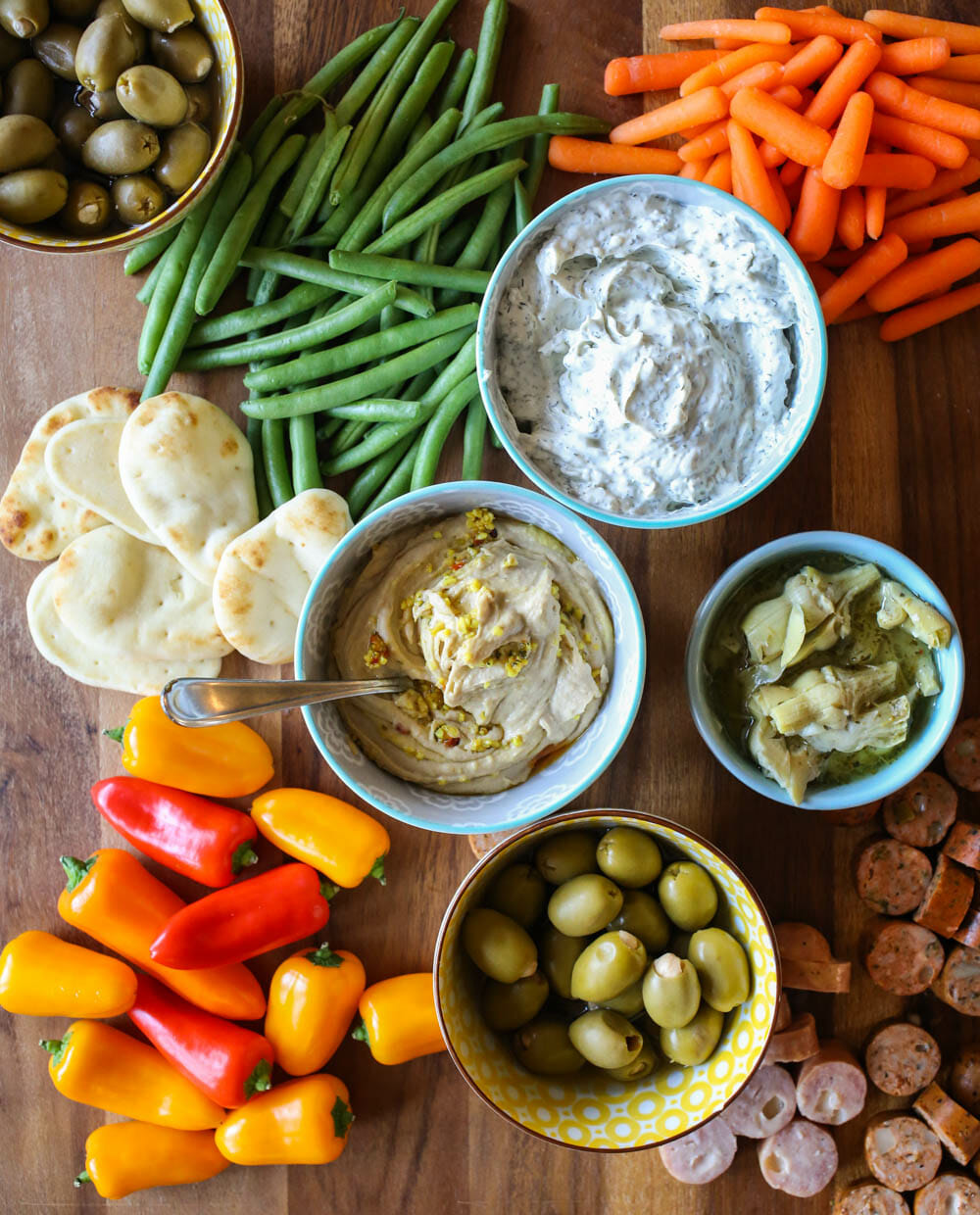 My biggest board was full of savory things–some feta- and garlic-stuffed olives, marinated artichoke hearts, hummus, dill dip, baby carrots, blanched green beans, baby peppers, and sliced chicken sausages. Those are just ideas, though–here's a good guideline for what to put on a savory board. Note: when using jarred snacks, it's a good idea to serve them in small bowls so they liquid they're in doesn't go everywhere.
the fruit tray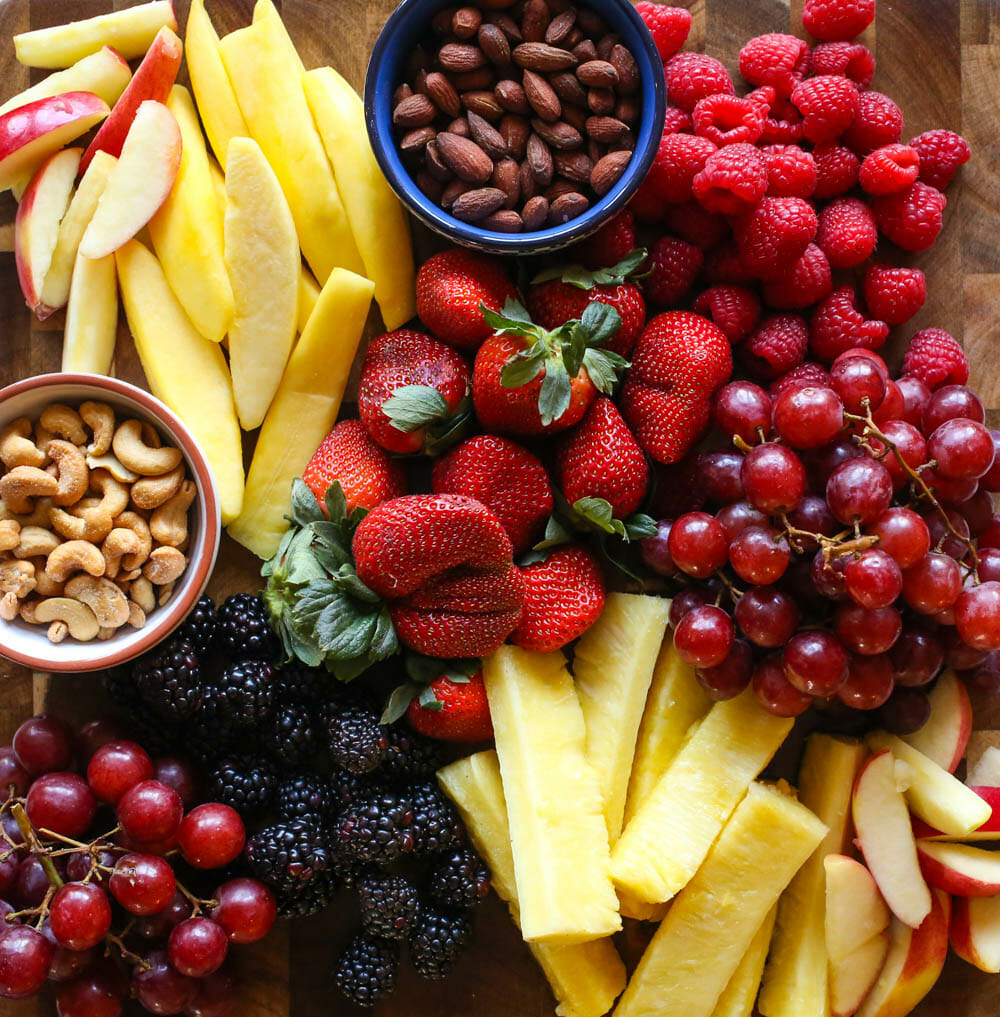 I also love having a tray of fruit (you can combine this with the sweet tray if you want!)
Obviously, make sure everything is washed well (I use this method, especially if I'm buying the fruit a few days in advance) and in easy-to-eat portions (sliced if necessary; grapes should be trimmed into small bunches. If you're slicing apples or pears yourself, soak them in club soda for a few minutes to keep them from browning.) Buy what's in season and have fun trying a new fruit or two!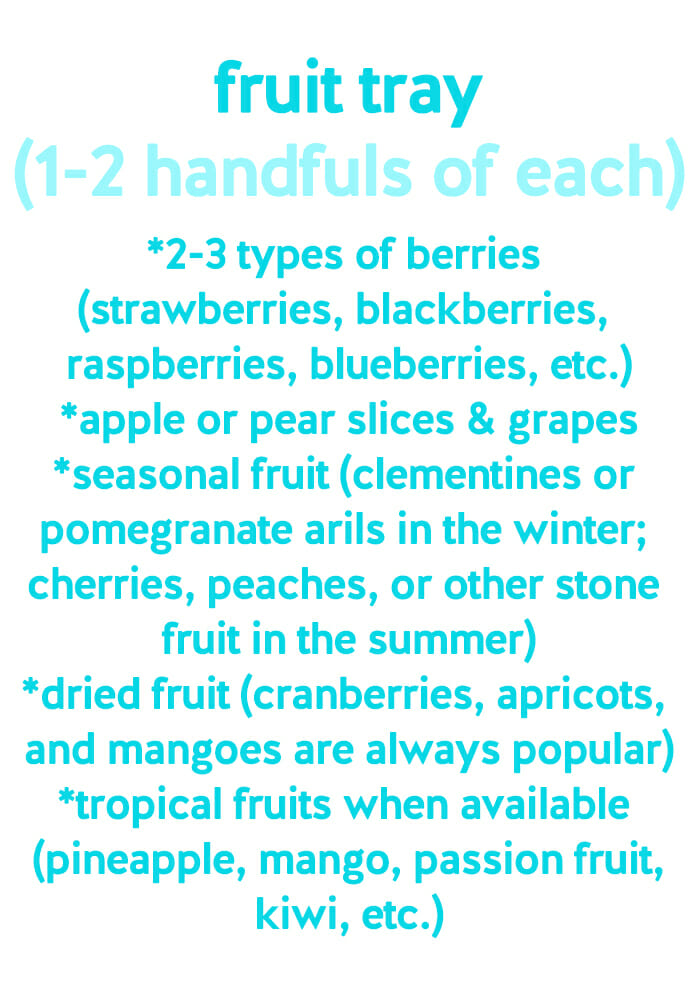 the cheese tray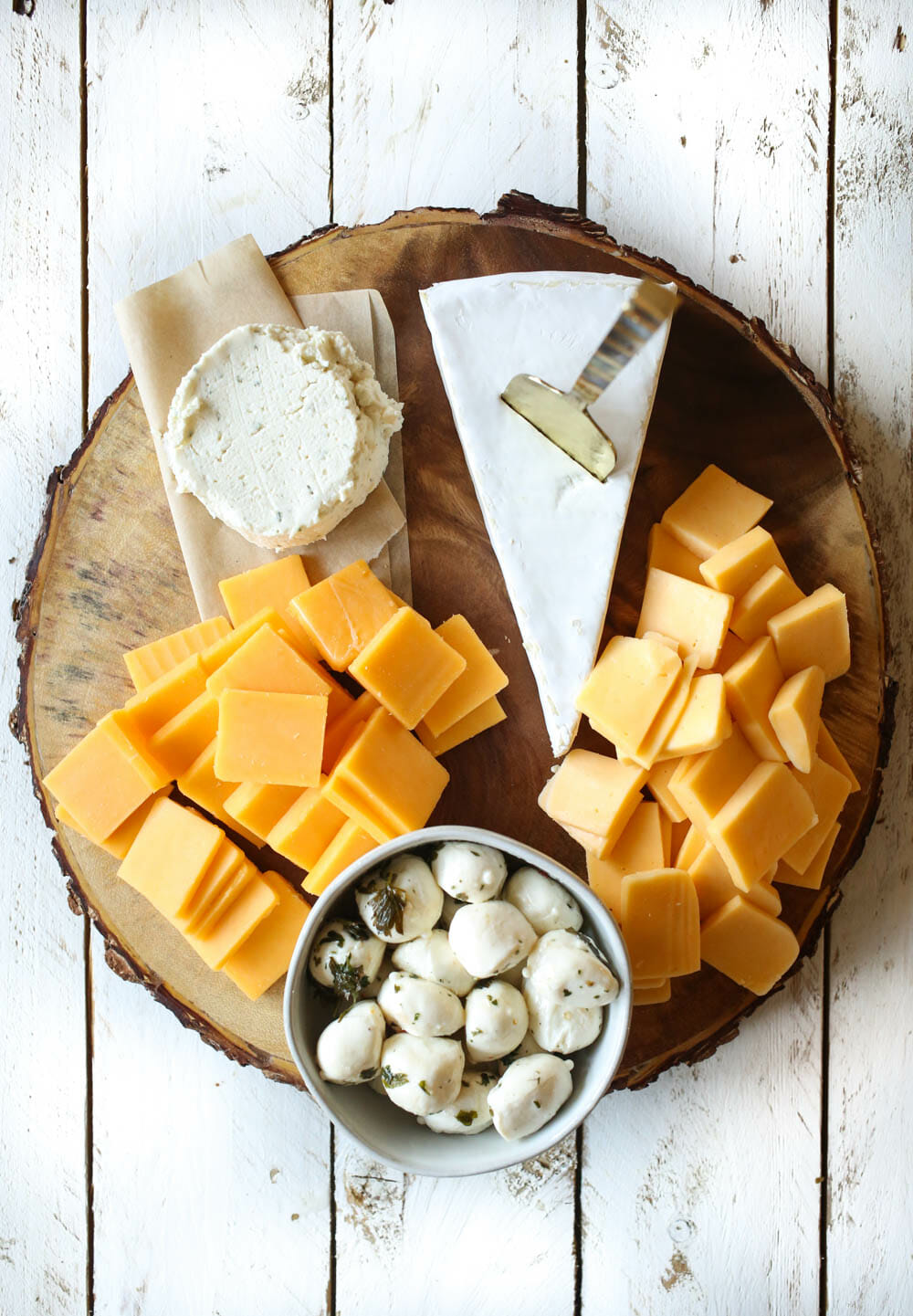 Cheese is one of the hardest things for me to decide on because I love cheese, I love trying new cheeses, but I also get irrationally upset when I don't love the cheese that I picked. A good way around this is to pick mostly tried-and-true cheeses and then pick 1-2 fun, new cheeses to experiment with.
the sweet tray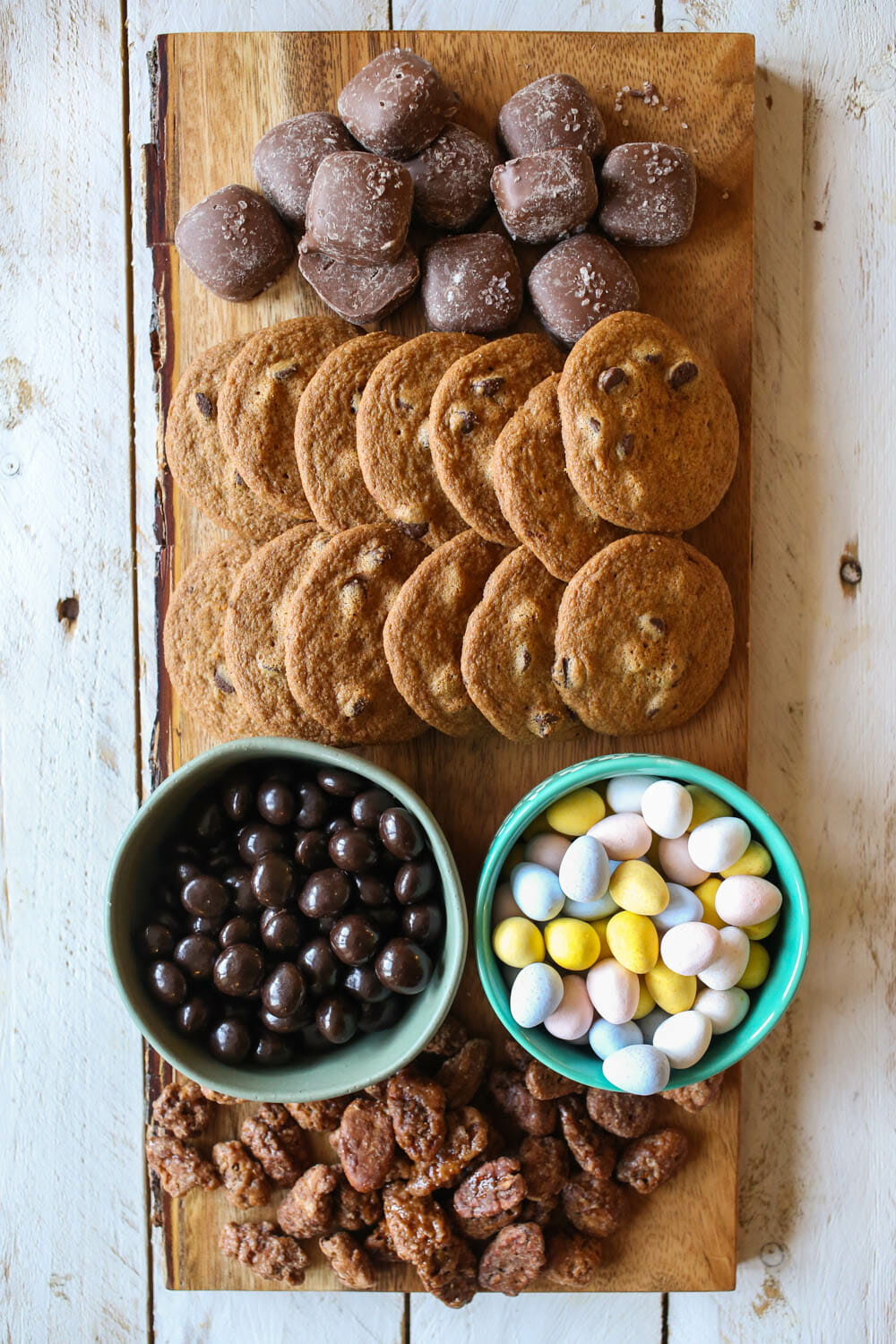 This one speaks for itself (and you can combine it with the fruit tray if you'd like). I like to have a handful of sweet treats–glazed nuts, a few different types of chocolate, and a couple of baked goods. Make sure everything is snack-sized; a whole cookie might feel overwhelming, but a quarter of a cookie or a bite-sized cookie or brownie bite really fits in better here.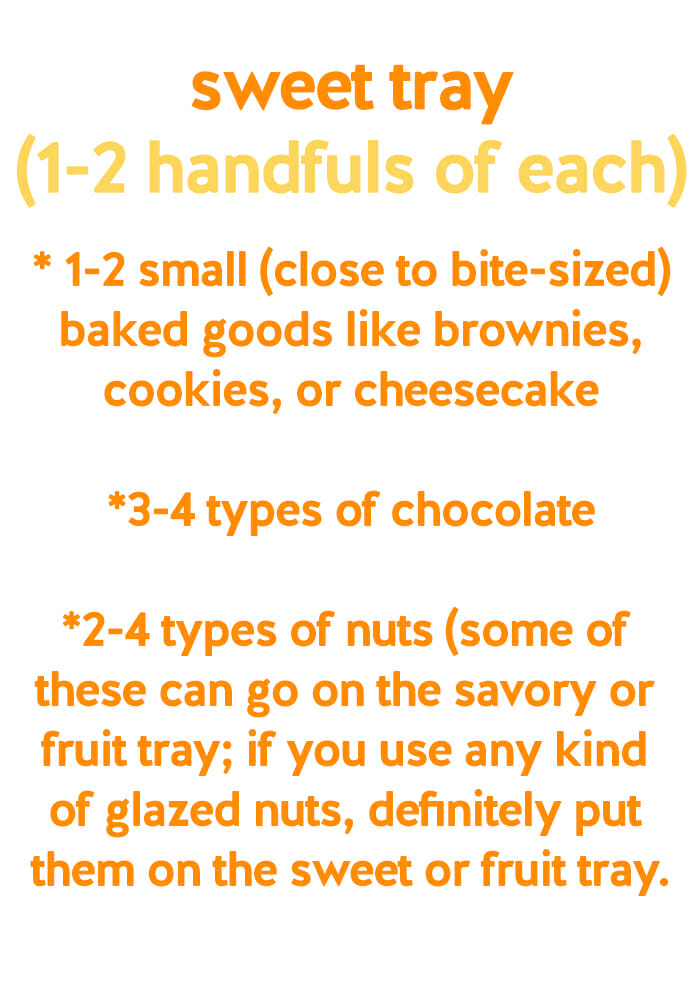 etc.
You'll definitely want crackers handy…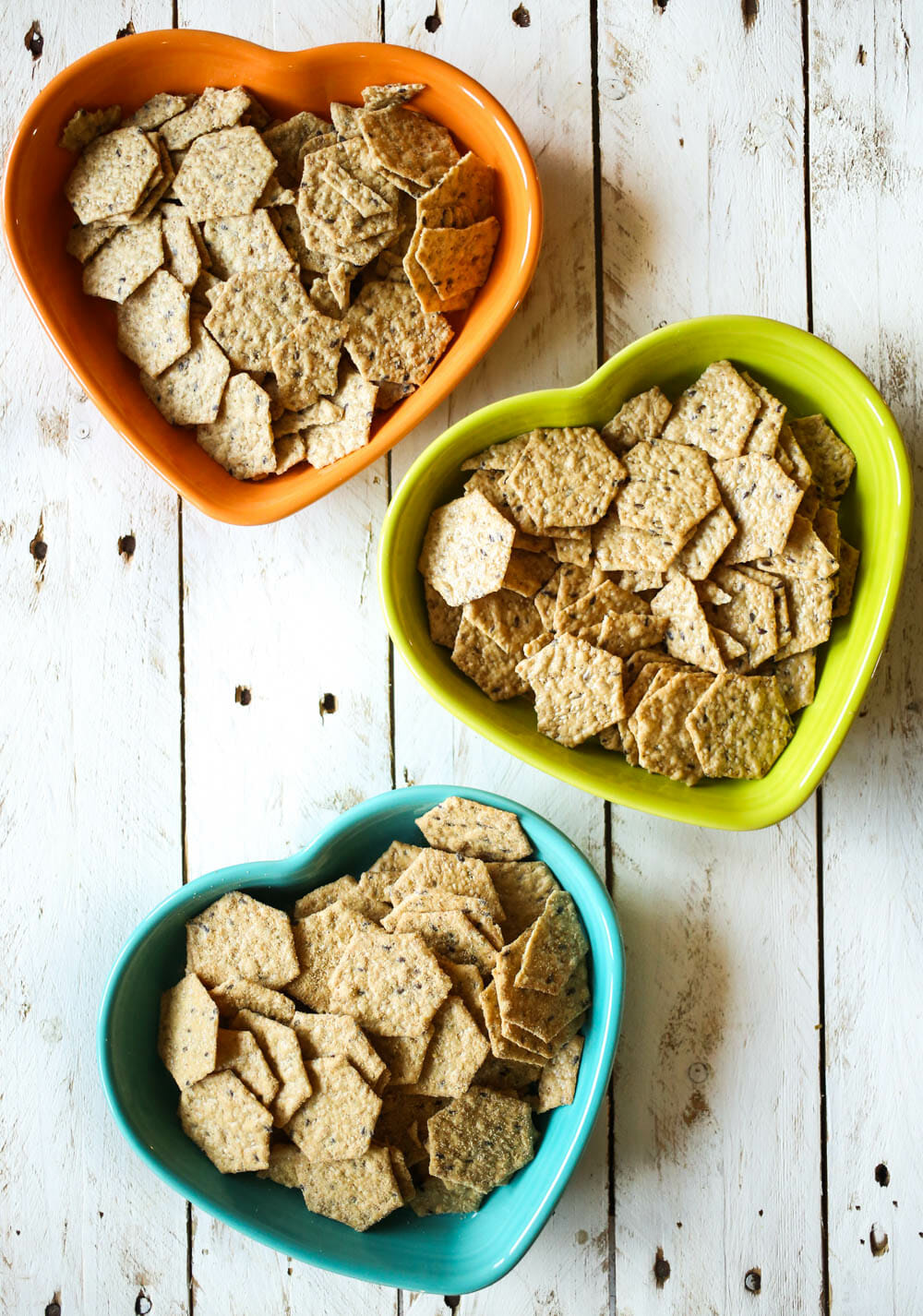 You also might want some bite-sized bread. As far as drinks go, that's definitely going to depend on the preferences of you and your guests, but it's always fun to serve familiar things in unusual packaging (tiny bottles and cans are always really fun.)
I've consolidated all of this information into this printable! Click here to get it! Print it out and keep it handy to help you create amazing snack and charcuterie boards! Now gather your gals and have an amazing night!
Thank you so much to Crunchmaster for partnering with us on this sponsored post. All opinions, thoughts, and ideas are our own.