Let me preface what I'm about to say with an apology to Mark, Ned, and Brent, the 5 other guys who read our blog, and people who find candid discussion of monthly moodiness offensive, I'm sorry. Go ahead and skip the dialogue and head straight for the recipe.
Ready?
I really want to re-name these cookies PMS Cookies.
The other morning, I was lying in bed, feeling fat and ugly and completely unable to stand my husband and how loud he was breathing and the fact that unlike me, he remembers what it's like to sleep for more than 3 hours at a time. I was convinced that I was bad at everything, that everyone hated me, and that the only acceptable breakfast was a giant Diet Coke and something involving chocolate. And sugar.
I started googling mental health providers because I was honestly convinced I was going crazy.
And then I remembered that although it had been awhile, this was not the first time I'd felt this way. But my baby's too little! It's not supposed to happen yet! Oh, you slithery vixen of womanhood, I haven't missed you.
So I got my older kids off to school and started feeling all homesick for my hometown and the GIANT oatmeal chocolate chip cookies from The Old Grist Mill. And then, like a sign from the heavens above, I got an email from King Arthur Flour with a recipe for oatmeal chocolate chip cookies in it.
Did you guys ever see that movie Stranger than Fiction with Will Ferrell and Emma Thompson? When Maggie Gyllenhaal's character said, "I figured if I was gonna make the world a better place, I'd do it with cookies," that kind of became my secret mantra in life. Cookies make everything a little more bearable. They don't make things go away, but a warm, gooey, obscenely large oatmeal chocolate chip cookie eases that pang in your heart when you send your kids off to school every day and just hope the universe will be kind to them, or when you feel wildly inadequate in everything you're doing, or you're just plain PMS-ing, or when you wake up and realize that it's been 22 years since you lost your mom, that you've lived way more of your life without her than you did with her. Those are cookie days. Or you can just cram all those days into a 3 day period…it's cool, I'm not judging, I'm there right now myself.
As I was making these cookies, I just knew they were going to be amazing. I could feel it in my guts. And they were–they were very slightly crispy around the edges with a hearty, soft center. They were amazing warm, straight out of the oven and they were amazing not warm the next day (they didn't last long enough to see how they were 2 days later).
You're going to need flour, white sugar, dark brown sugar, an egg yolk, a whole egg, vanilla, quick cooking oatmeal, butter, baking soda, baking powder, kosher salt, milk chocolate chips, and semi-sweet chocolate chips.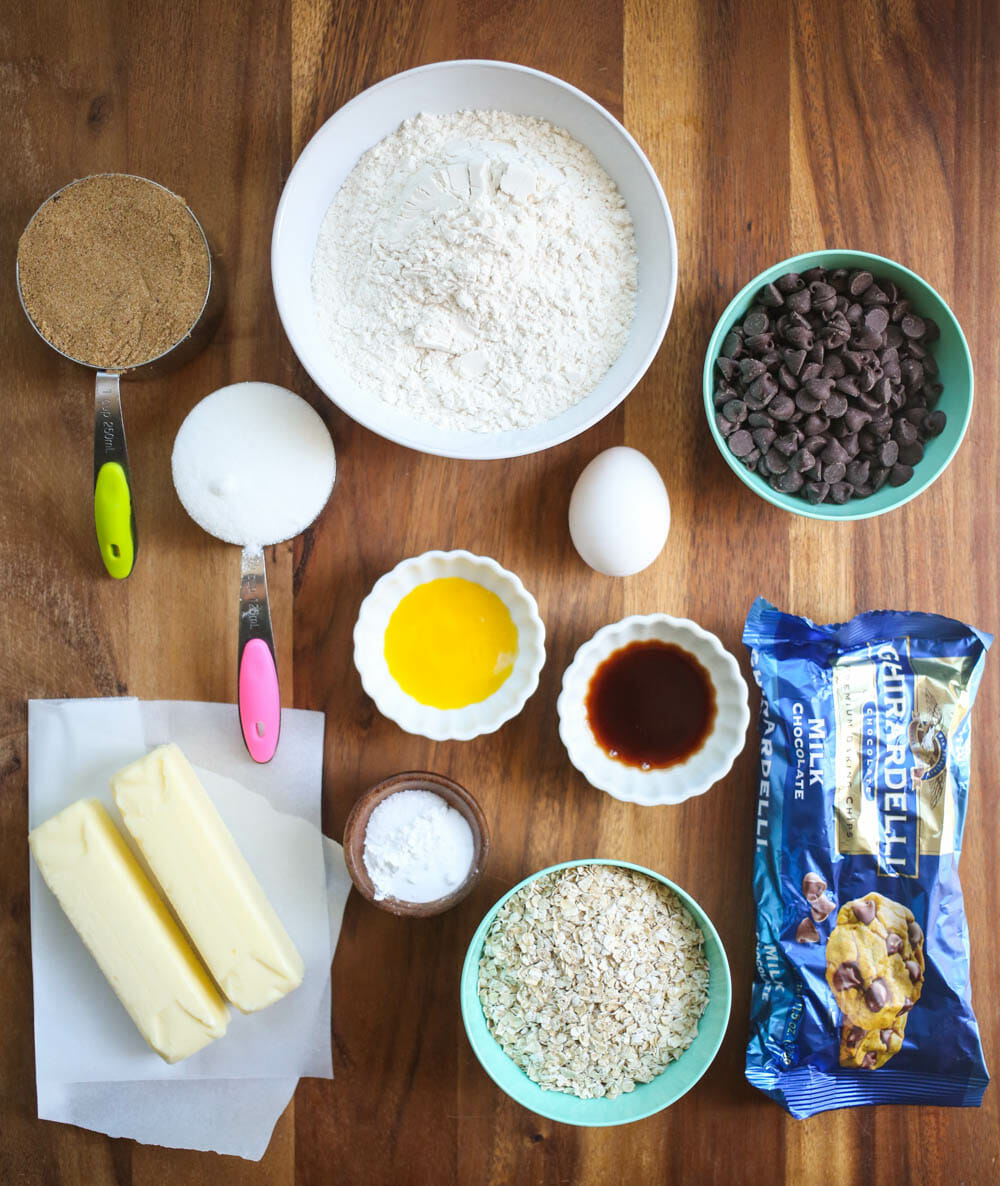 To start out, preheat your oven to 325 and, if you'd like, line your baking sheets with parchment or silicone baking liners. Set the pans aside.
Beat 1 cup softened butter, 1/2 cup white sugar, and 1 cup of brown sugar until light and fluffy.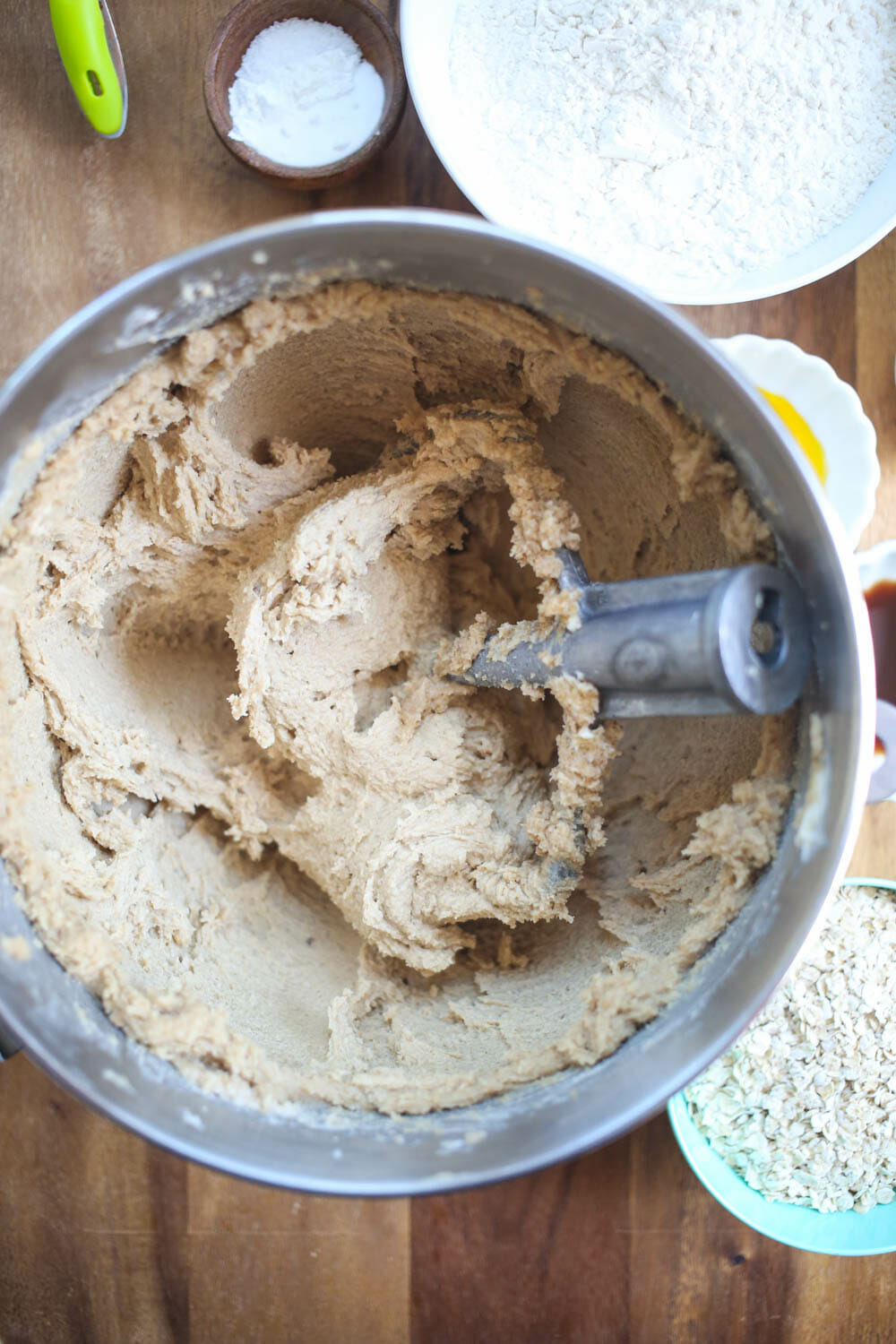 Add 1 large egg yolk,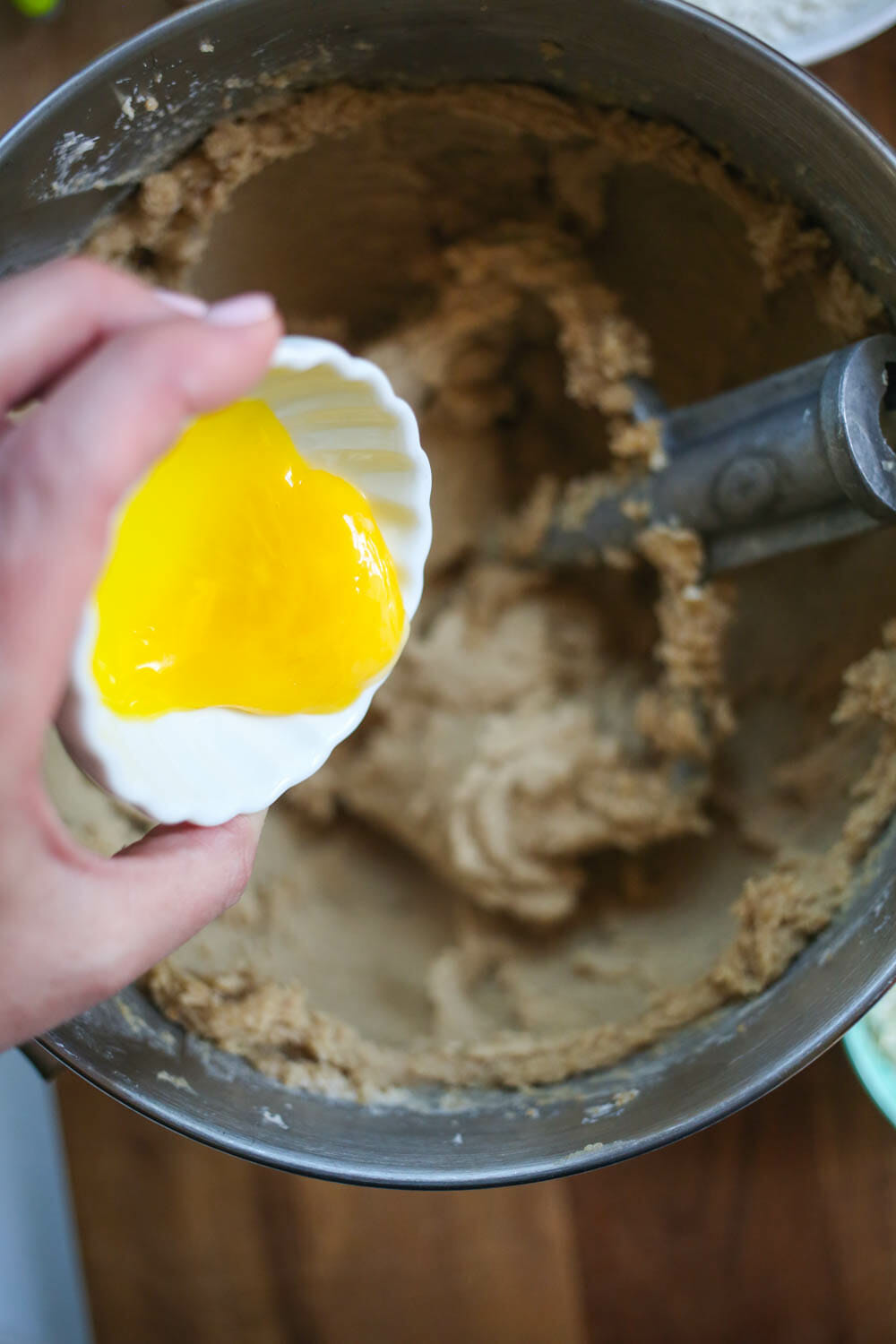 1 whole egg,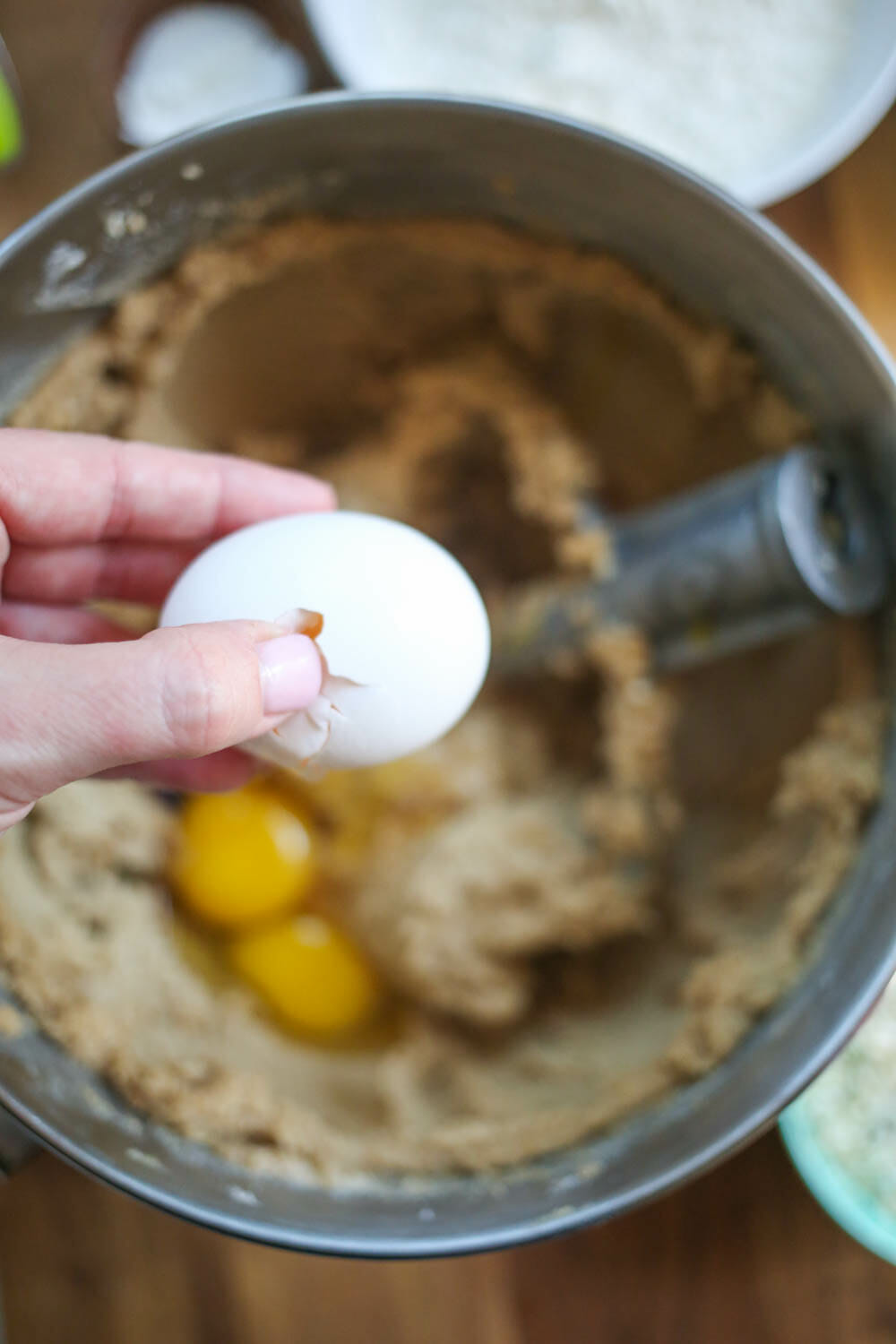 and 1 tablespoon of vanilla…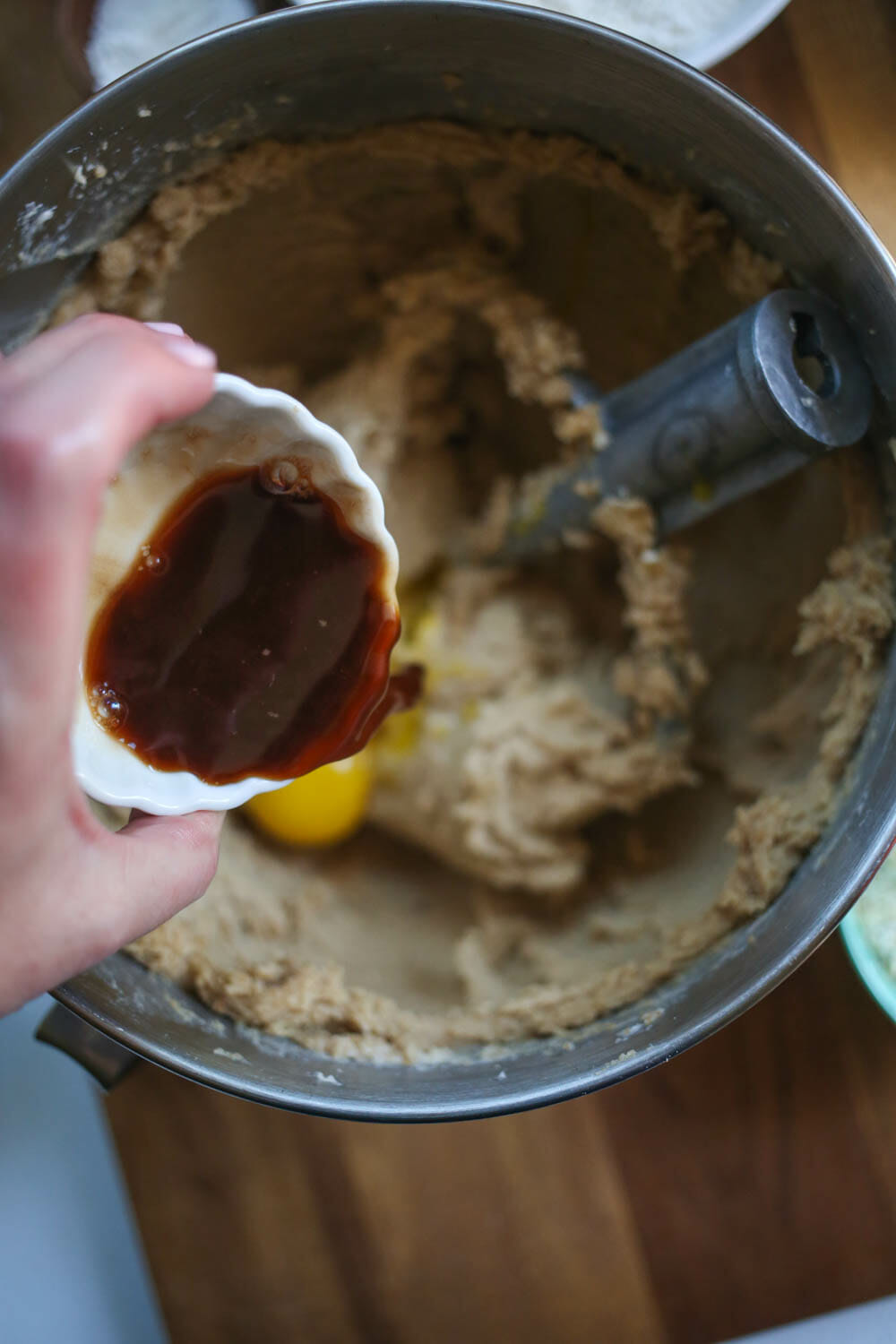 and beat until combined.
In a separate bowl, whisk together flour, quick-cooking oats, baking soda, baking powder, and salt.
Add the flour mixture to the creamed butter/sugar mixture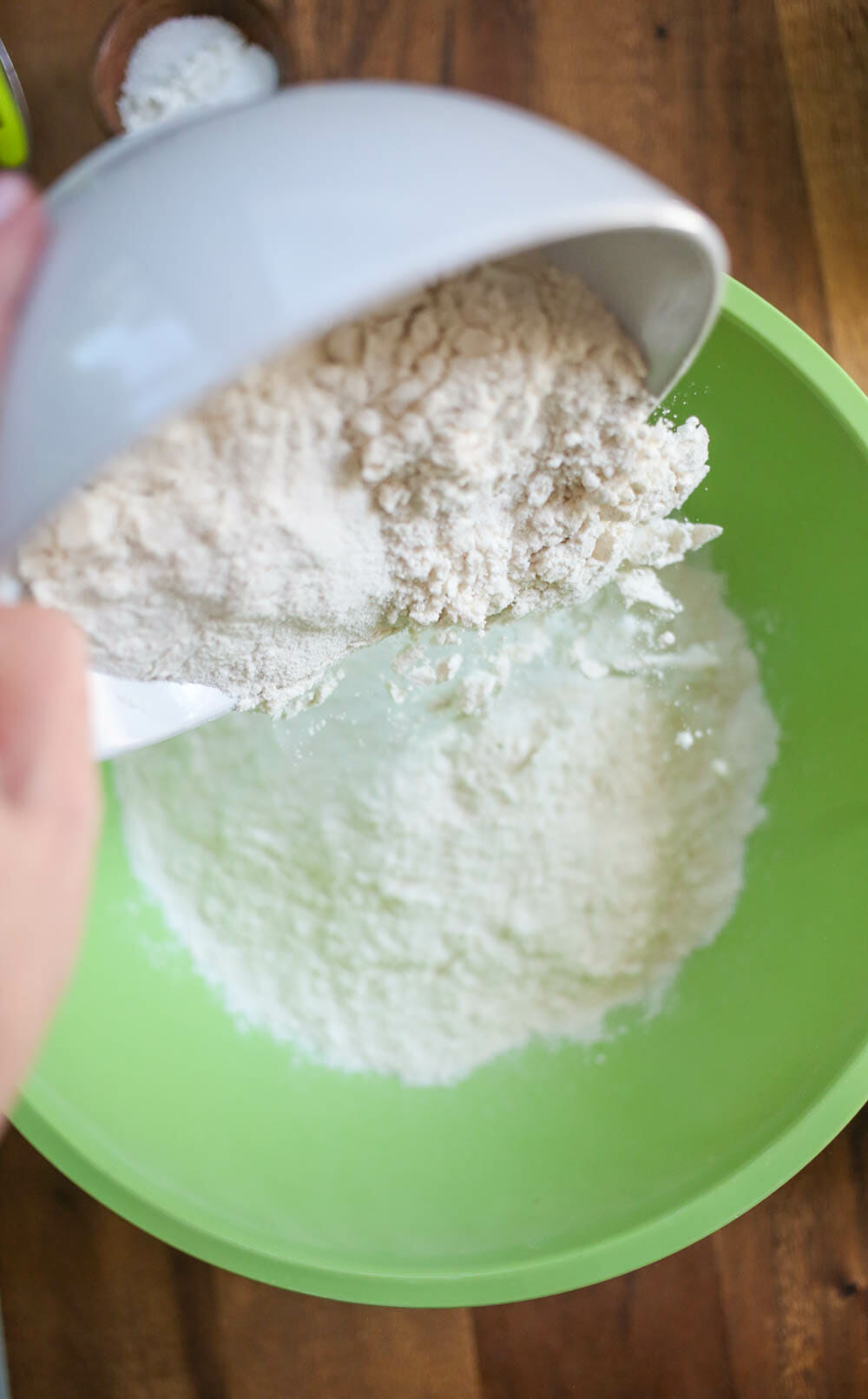 and mix until just combined. Add your chocolate chip and mix until combined.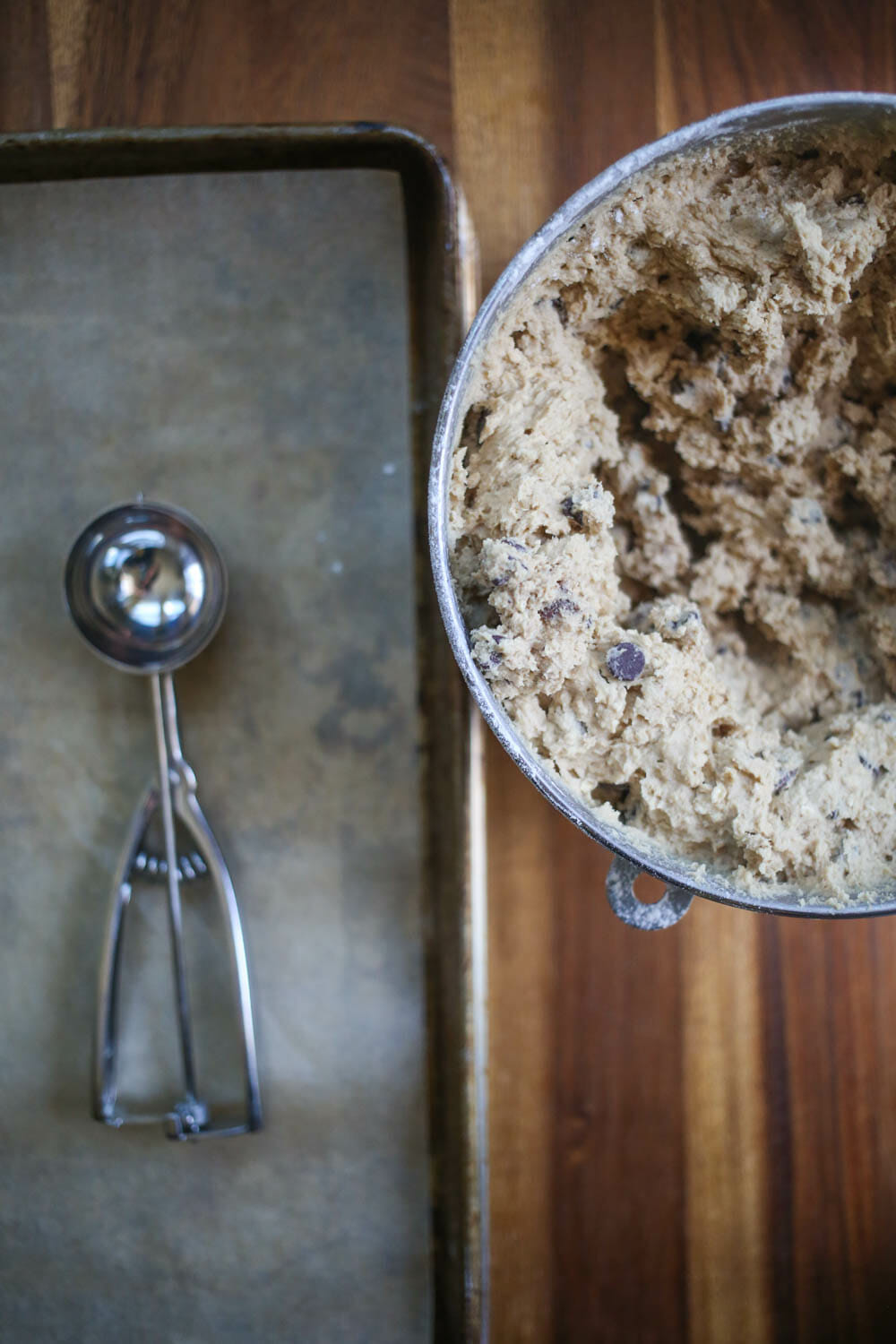 Now…about the chocolate chips. In this recipe, I always use a bag of the giant Ghirardelli milk chocolate chips and 1 cup of semi-sweet chocolate chips. This isn't the time for namby pamby little chocolate pieces–I wanted them to be big and rich and creamy and sweet.
You could totally make regular-sized cookies with a tablespoon cookie scoop, but we're living large here. Take an ice cream scoop. Scoop out some dough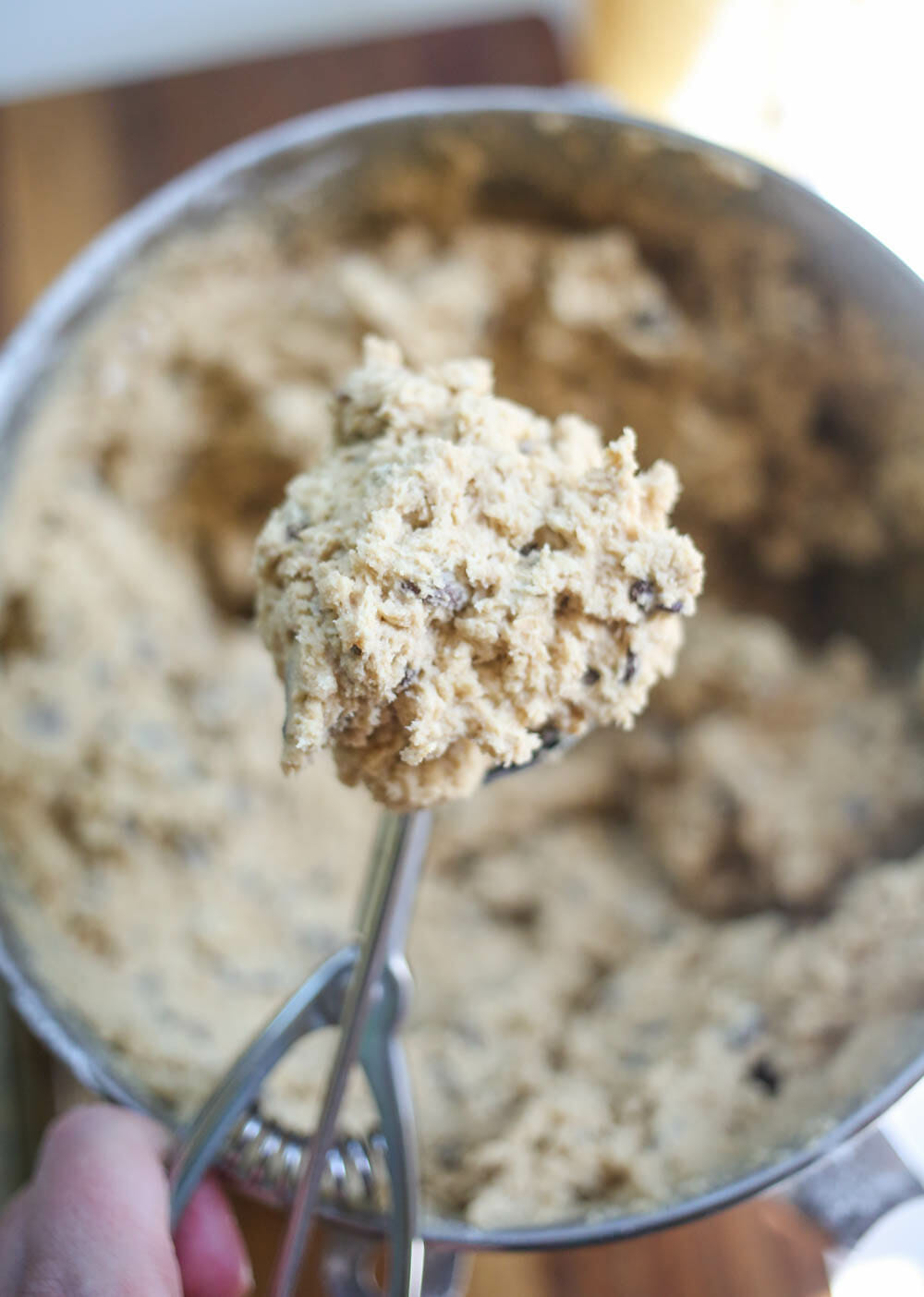 and drop it onto the prepared baking sheet. For giant ice cream scoop cookies, you'll get about 6 per baking sheet.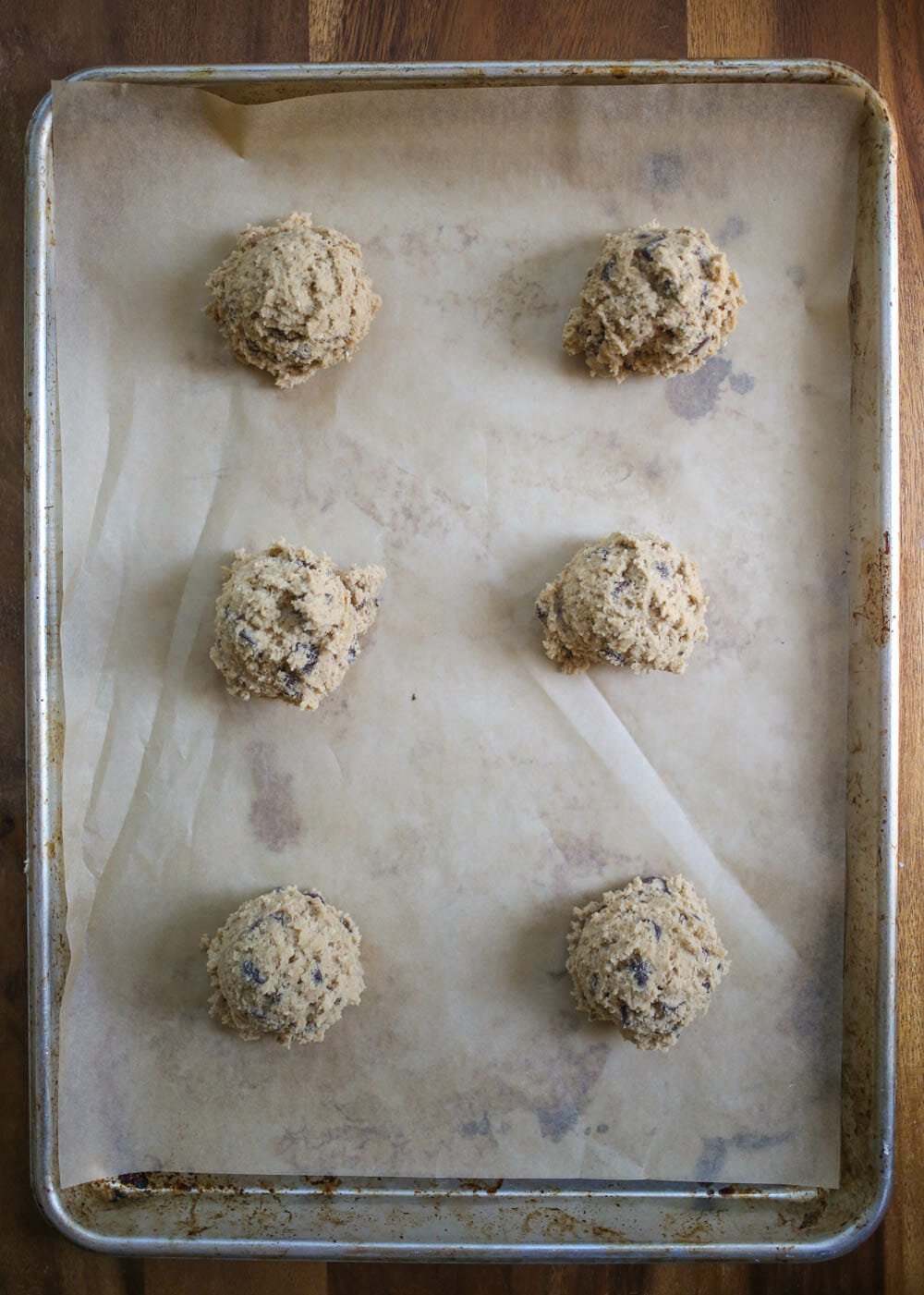 Bake for 12-15 minutes or until the edges of the cookies are light brown. Remove from the oven and allow to cool for 5 minutes,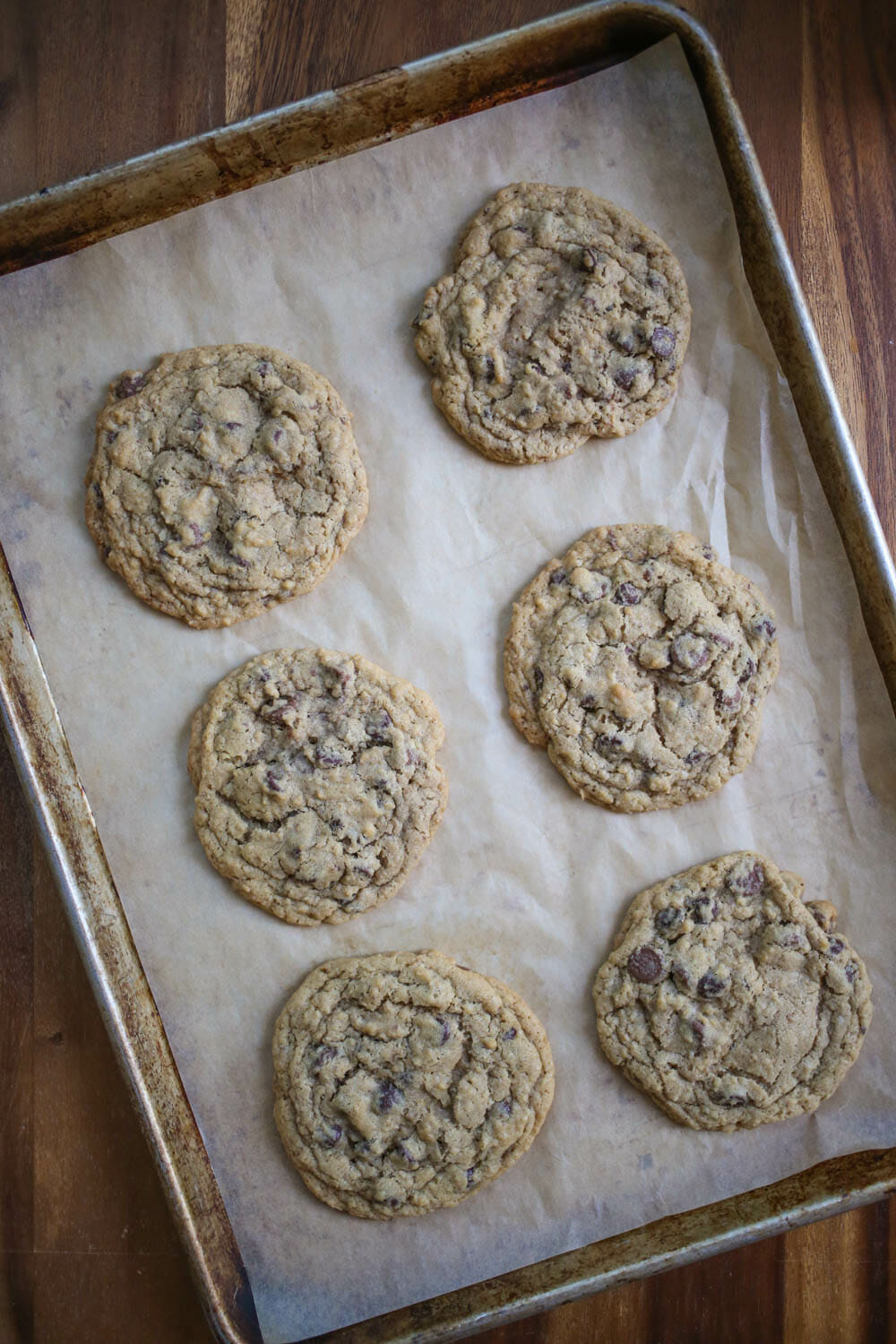 then cool completely (or don't…) on a wire rack.
This recipe makes 18 large cookies (or more smaller cookies).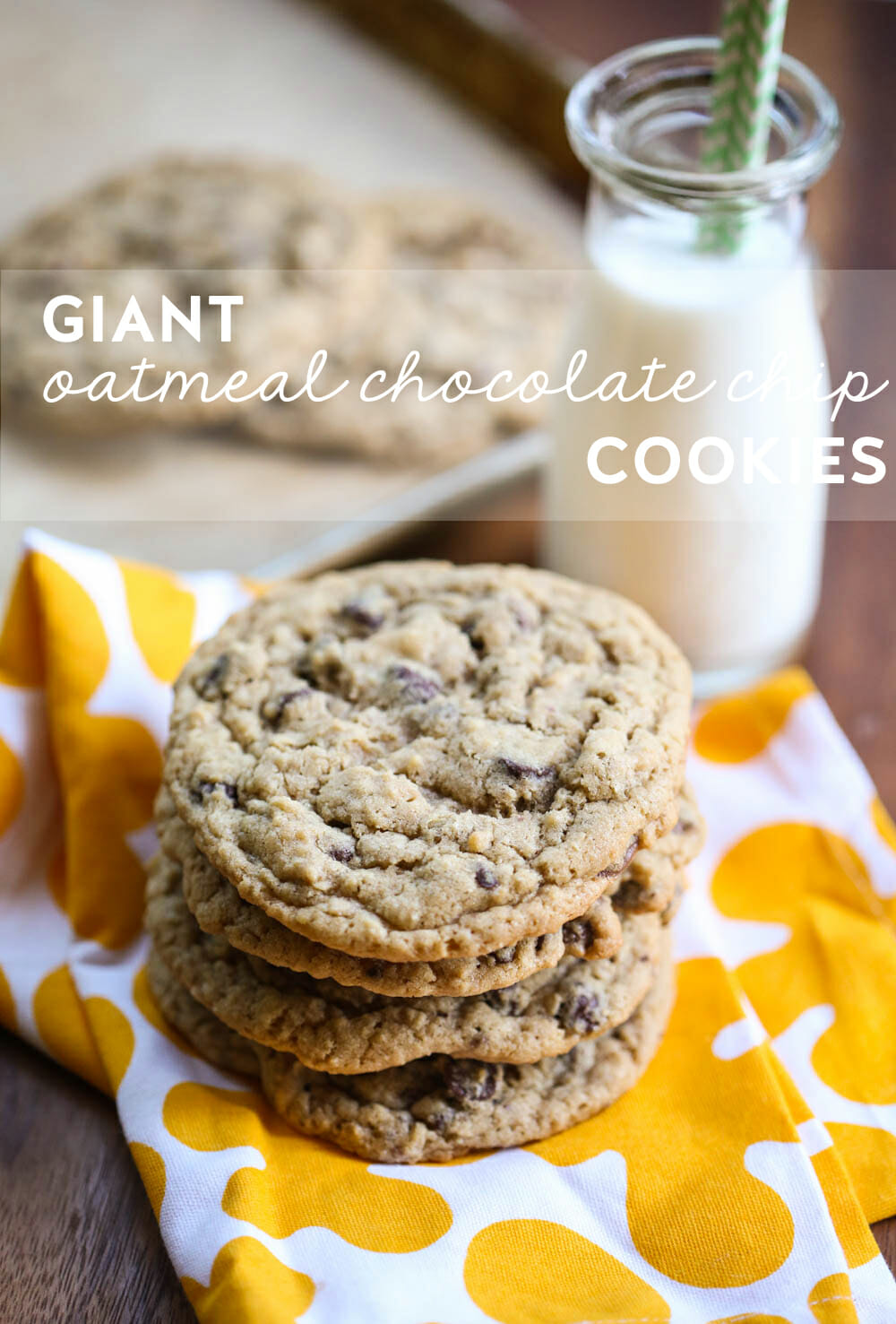 Print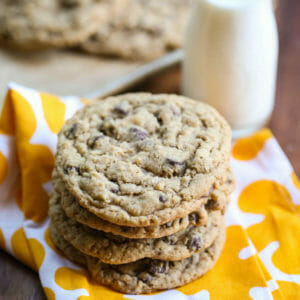 Giant Oatmeal Chocolate Chip Cookies
---
Description
Hearty, soft, and absolutely delicious – these cookies are hands-down one of my favorite recipes on the blog.
---
1 cup

(

2

sticks) butter

1 cup

dark brown sugar

1/2 cup

white sugar

1

large egg

1

large egg yolk

1 tablespoon

vanilla extract

2 cups

all-purpose flour, lightly spooned into measuring cups and leveled with a knife (very high altitudes may want to try adding

2

additional tablespoons of flour)

1 cup

quick-cooking oats

1 teaspoon

baking soda

1 teaspoon

baking powder

1 teaspoon

kosher salt (or

3/4 teaspoon

table salt)

3 cups

(or

18 ounces

) chocolate chips (I use 1 bag of the Ghirardelli milk chocolate chips and then make up the difference with semi-sweet chocolate chips)
---
Instructions
Preheat oven to 325. If desired, line baking sheets with parchment paper or silicone mats.
Beat the softened butter, sugar, and brown sugar with an electric mixer until light and fluffy. Add the egg, egg yolk, and vanilla and mix until combined.
In a separate bowl, combine the dry ingredients (except the chocolate chips). Add to the butter/sugar/egg mixture and mix until combined. Add the chocolate chips and mix until just combined.
Using a 1/4 cup ice cream scoop, drop the dough by the scoopful onto the prepared baking sheets. You should be able to get about 6 cookies per sheet. Bake in the preheated oven for 12-15 minutes or until they begin to turn light brown around the edges. Remove from the oven and cool for 5 minutes and then transfer to a wire cooling rack and cool completely (or don't…no shame…) Makes 18 giant cookies.
---
Notes
Notes
If you're feeling more modest, you can always use a smaller cookie scoop.
*Disclaimer: This post contains affiliate links.