So you may have noticed that when we re-designed our blog, we kind of did away with The Scoop section of our blog, mostly because with the way the new site was designed, we couldn't really have a page that didn't show up on the main page anymore (and also because, even between the two of us, it was really hard to post 4 times a week. Burnout, y'all.) But we really loved those once-a-week lifestyle posts, so we decided that if we have something non-food to post, Friday is a great time. If you're anything like me, I'm just thinking about naps and pizza delivery.
If you follow me on Instagram, you probably noticed that last month, my family and I went to the Pacific Northwest for our family vacation. We live thousands of miles away from both my family and my husband's family, so we don't get to see either of our families as often as we'd like to (and it only gets harder and more expensive as our kids get older). Two summers ago, we went to Utah to see my family, so we were way overdue to go to the Seattle area to see my husband's family.
A few disclaimers: 1) This was not sponsored in any way, just our family's vacation. 2) Both Seattle and the Oregon Coast are Sara's territory (in fact, I asked her which town we should go to in Oregon because there are so many!) So I'm barely scratching the surface of places to eat/things to do. We did a lot of really touristy things because they were fun to do with our kids. We didn't eat in a lot of (read: any) trendy restaurants because as fun as it is to pay $10 for a meal your kid doesn't eat and will not eat in the future, we decided to opt out of that on this particular vacation. 3) Pretty much all these pictures were taken with my iPhone. I actually did bring my big, fancy camera, but the only time I used it was when I shot some family pictures. On one hand, there were times I wished I had brought it with me instead of leaving it at the in-laws' house or our hotel (especially when we were exploring the coast), but on the other, nothing hinders adventure quite like an expensive 10-pound weight around your neck. So. In the spirit of living in the moment, I decided on my cell phone.

For the first leg of our trip, we flew from our tiny little Louisiana airport to Seattle.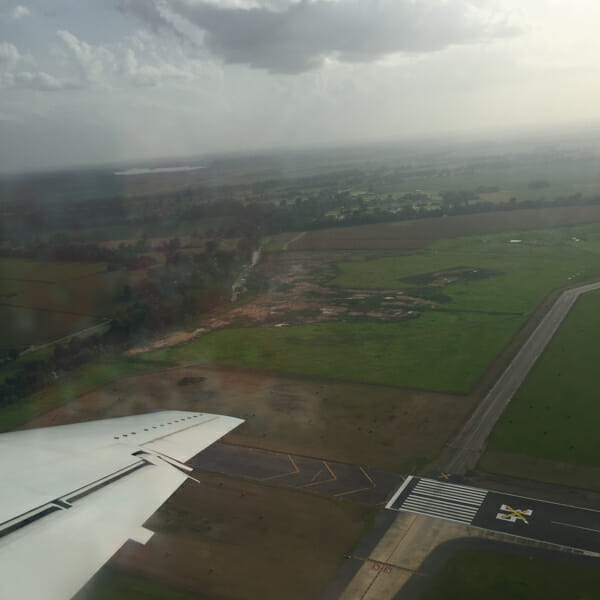 This was the first time we had flown in 3 years, so the older two were pretty nervous…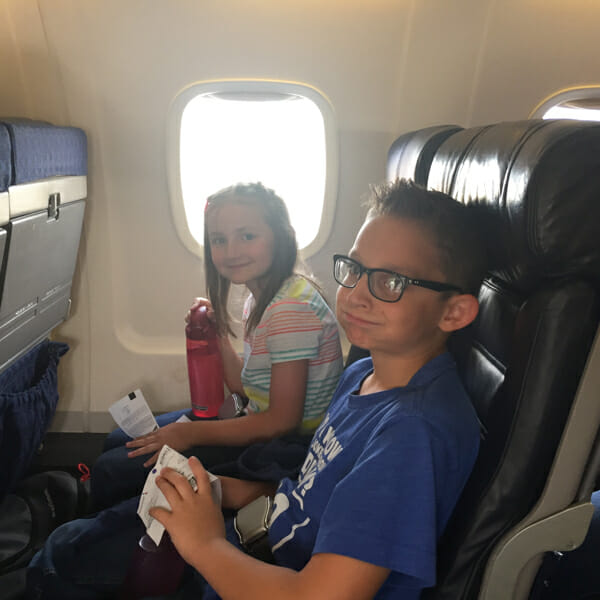 and my youngest, who has actually flown more than the others combined (but it all happened by the time he was 1) was in a perpetual state of wonder.

We stayed with Grandma and Grandpa, but we spent a lot of time enjoying a bigger city and playing with cousins. My computer needed repairs, so after dropping it off at the Apple store, we went to MOD Pizza (which I've written about before, but I maintain it's one of my favorite, most fun, most family-friendly restaurants.)
This is my kid's Dominic…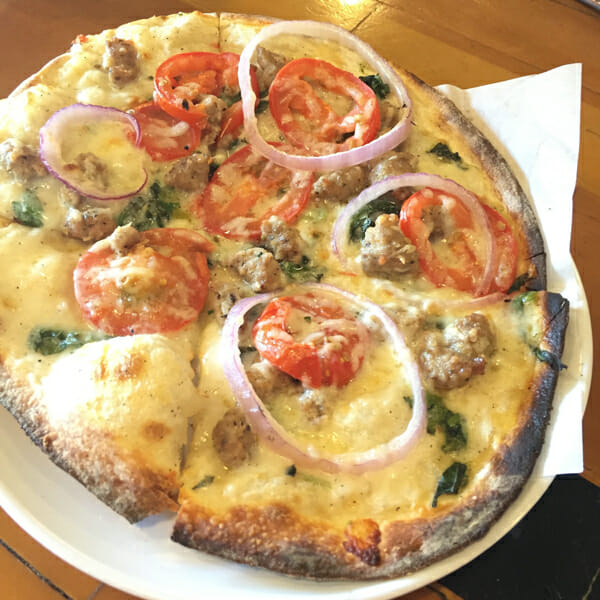 And my Marianberry-Lemonade Float. Do it.
I also went to Trader Joe's FOR THE FIRST TIME. I know. I should have my food blogger's license revoked. But we don't have one close by and really, when I do go to places that have Trader Joe's, fancy grocery shopping is rarely on my to-do list. It was a delightful place and I bought a lot of baguettes.
We spent a day doing the whole Pike Place/waterfront thing and it was amazing (as usual. It's so touristy, but it really is one of my favorite things to do in the world.)
My kids got their faces painted…
Note: if you want everyone to be super nice to your family, have your preschooler get a full-face Spiderman face painting. Everywhere we went, people were gasping and pointing at "Spiderman" and he felt pretty amazing.
Some highlights of Pike Place were the dude in the alien mask playing the bongos, the two guys playing a ukulele and a washtub bass, the smells coming out of Piroshky Piroshky, the giant cookies from Cinnamon Works Bakery, the cheese curds from Beecher's Handmade Cheese, the flowers…
Even (especially!) when it's crowded, Pike Place is a must every time we go.
Another must is Ivar's for fish and chips, which has to include feeding the gulls our leftover fries. Chips. Whatever.
And one of my favorite moments of the trip!
https://www.instagram.com/p/BH0NsfhABPM/?taken-by=kate_ourbestbites
We also had to explore the super creepy Curiosity Shoppe and finish off with a huckleberry waffle cone.
We also swam with cousins…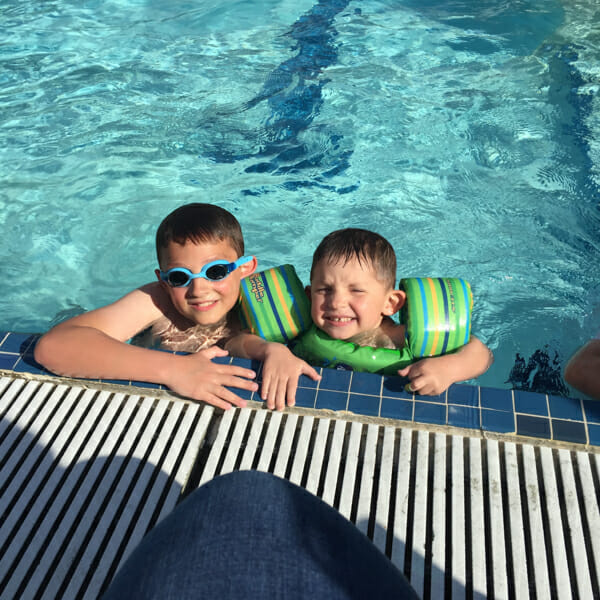 and took family pictures…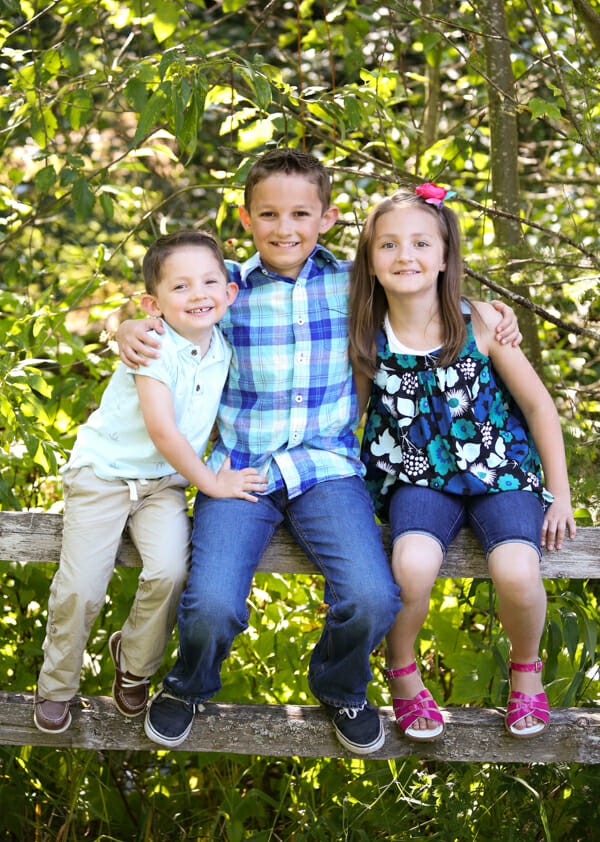 After an AMAZING almost-week, we headed down to the Oregon Coast for a few days.

When we were planning this, I asked Sara where she stays in Oregon and she said they rent a house in Lincoln City. So, since there are a million places to visit on the Oregon Coast and I knew nothing about any of them, we picked Lincoln City. She said they rent a house in this neighborhood, but by the time I got around to making reservations, everything was pretty much booked, so I ended up going the hotel route. We stayed at the Coho Oceanfront Lodge. The thing we discovered in Lincoln City is that "hotel" and "motel" kind of take on different meanings than they have in the rest of the world. When we got there, we discovered some adorable, charming, clean, close-to-the-beach motels. And the Coho was great, but I think we could have spent less money and would have been just as happy in one of the motels. (There are seedy motels, too, don't get me wrong–but if you read good reviews but are scared by the word "motel," don't be scared, it probably is as good as the reviews say.) But we were happy with our stay–the pool and hot tub were great, there was easy beach access, and it was family-friendly.
One thing we didn't completely understand about the Oregon Coast was that it is cold. The weather is cold. The water is cold. It was a fabulous break from Louisiana, but it was also cold. Like, blue lips cold. It didn't stop my kids from playing in the ocean for two days straight (I happily settled on the kite-flying…)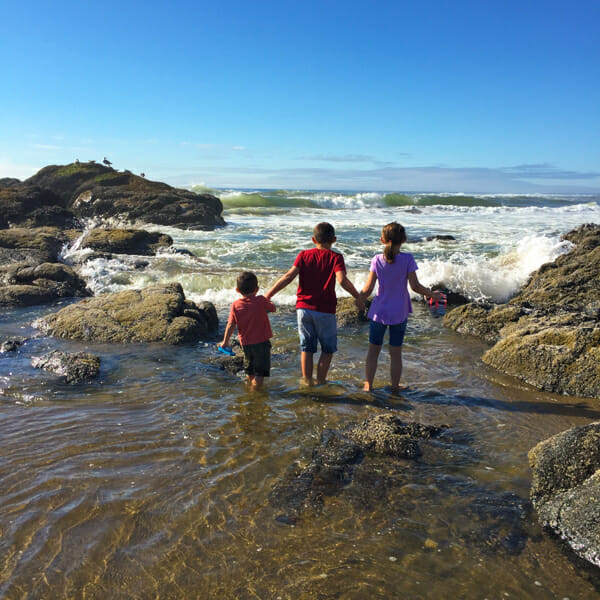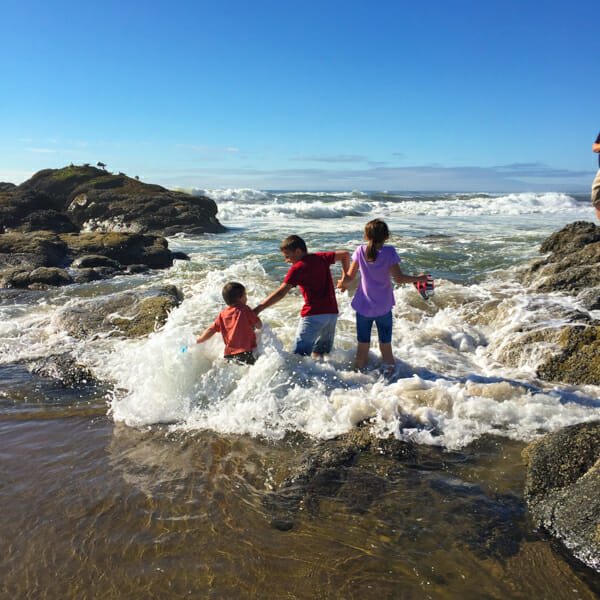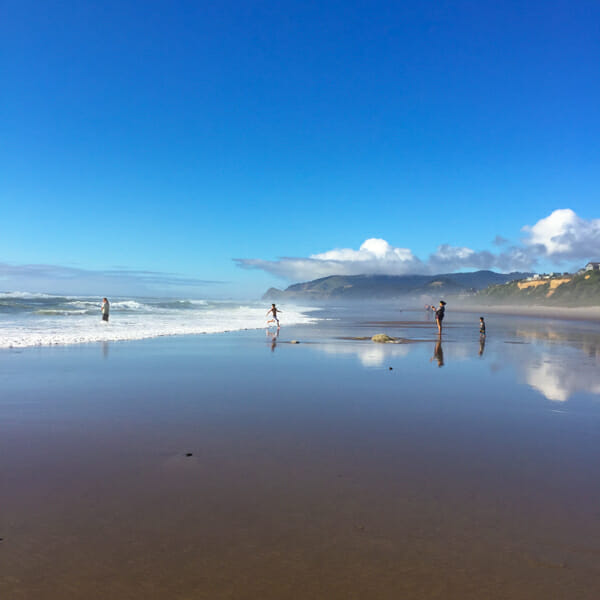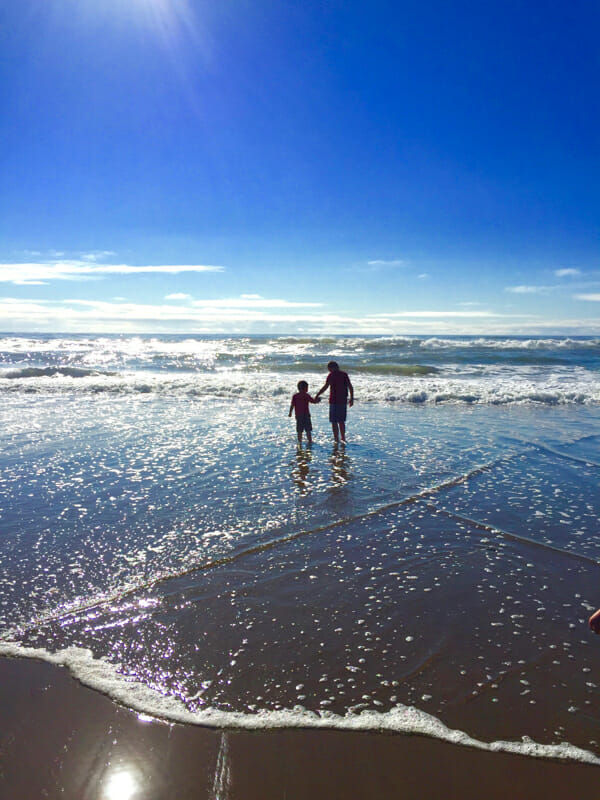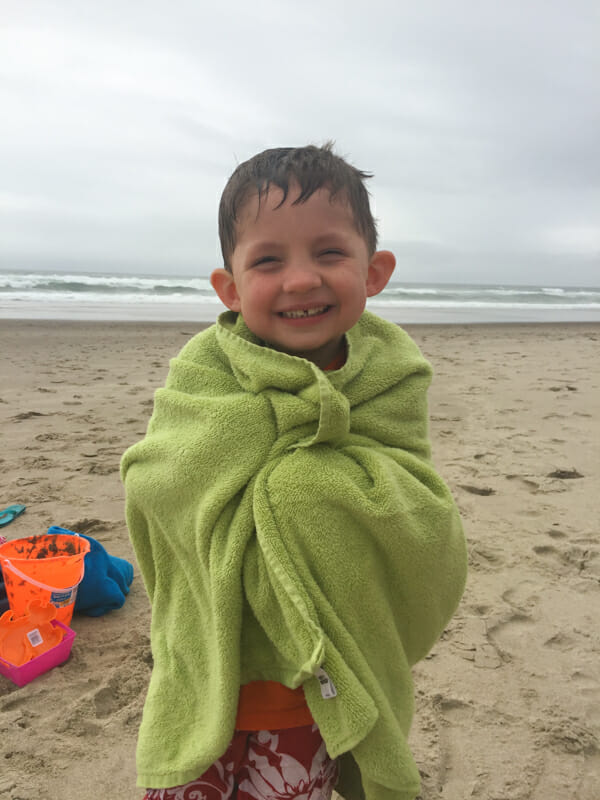 We also explored Lincoln City–we had incredible bacon-wrapped hot dogs at D Doggs,
bought a kite, popped into all the little shops, and contemplated buying these…
On one of the days, we headed to Newport and explored that area. You pretty much have to go to the Yaquina Head Outstanding Natural Area. We saw the lighthouse…
and the area around the lighthouse.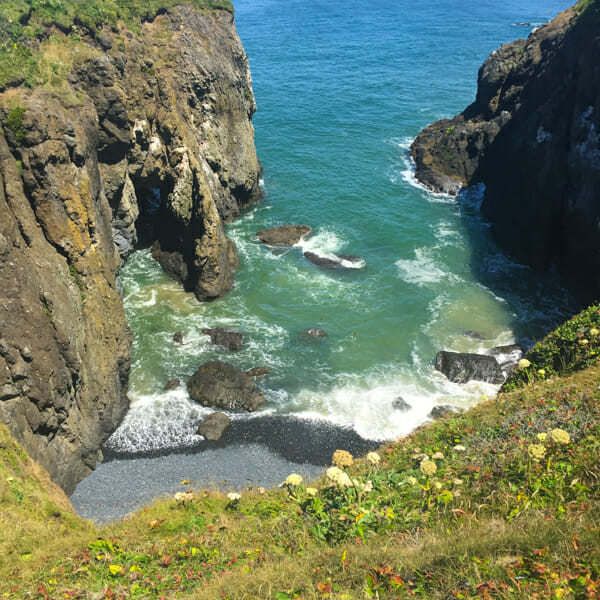 There were all sorts of seabirds, seals, otters, sea lions, and we saw some whales!
We grabbed some lunch at Cafe Stephanie and then headed down to Cobble Beach at low tide to explore the tide pools. Everything about this area was so cool (except for the flies…)–the unique rocks, the sound they made when the waves came in and out, the incredible tide pools…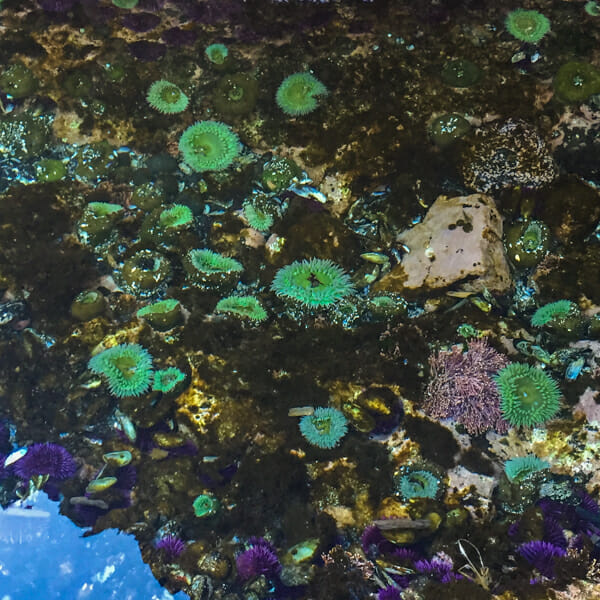 We spent about 3 full days there, which felt right.  On our way back to Seattle, we stopped at the Tillamook factory for more cheese. And another huckleberry waffle cone.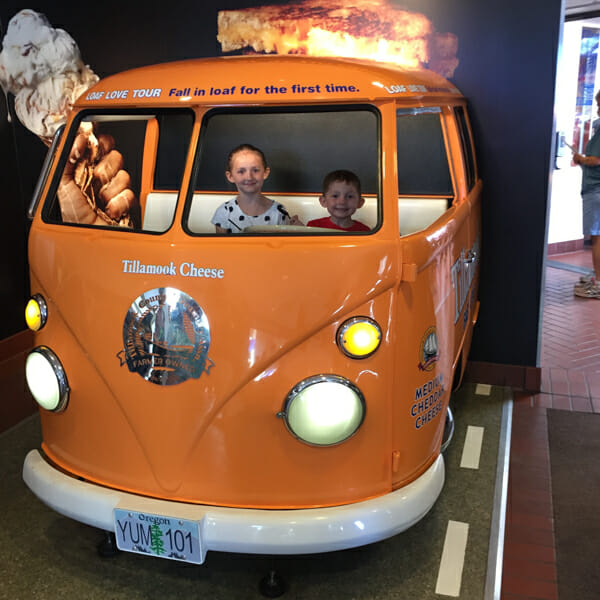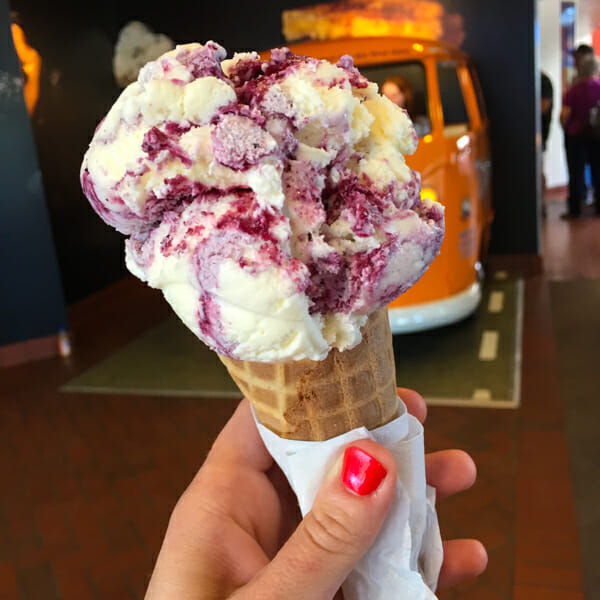 We also tried to stop by Voodoo Doughnut, but after we saw the line, we opted for a picture instead.
We spent another night with the grandparents (including a burger at Triple XXX Burger in Issaquah) and then headed home. We were the meanest parents in the world for not buying my kid a pack of gum from the vending machine (when he already had one in his bag.)
It was such a fun trip, a really great balance between hanging out with family and kind of doing our own thing.