So if you follow me on Instagram, you'll know that my kids and I recently spent a couple of weeks visiting my family in Utah. I grew up there (in Logan, then I went to college in Provo), but it's been a few years since I've been back and even longer since my kids have, so it was a long, long overdue trip.
Sara and I frequently share our vacation adventures, and I wasn't planning on sharing this one just because so many of our readers live in Utah or have Utah ties. But. I got so many questions about where we were and what we were doing that I figured it actually might be helpful–I know that sometimes you forget what's in your backyard (like that summer I lived in the D.C. area and only went into the city on my last night there…?) So. These are the things we did. We did eat out a lot, but almost everything else cost very little money or nothing at all. If you live in Utah or Idaho and are looking for ways to squeeze out a little more fun in the last few weeks of summer, this post is for you!
(I'm actually splitting this post into two parts–Salt Lake City and Boise today and Cache Valley tomorrow, because I don't think I can keep anyone interested for as long as they would have to read everything all at the same time.)

We got into Salt Lake City late on our first night, so we grabbed a bite to eat (In-N-Out because literally everything, including Chick-Fil-A, was closed.) I'm not opposed to In-N-Out (for the record), but we had just eaten Five Guys the night before so in the interest of my cardiovascular health, I was hoping for something a little less hamburger-y.
salt lake city morning #1
My BFF Bekah and I both happened to be in Salt Lake City at the same time, so we maximized upon our shared love of cat culture and met at Tinker's Cat Cafe.
For the record, the cafe was on one side of the building and the cats were on the other side. You can bring your treats and drinks into the cat room, but the cats can't come into the cafe (although try telling a cat they can't do something and see how that goes…I'm 100% sure if they had opposable thumbs and the strength, they'd bust into the cafe just to say they could.) You need to make reservations in advance and can hang out with the kitties for 30 minutes or 1 hour. Our reservation was for an hour, but honestly, 30 minutes probably would have been sufficient. For best results, show up early before they're all peopled out and then show as little interest in them as possible because they're like that one guy in high school who messed with your feelings and like it when you play hard to get.
After the Cat Cafe, we went to Les Madeleines for lunch. I've been there (with Sara, actually!) and the pastries never disappoint–the macarons and on point and the Kouign Amann is a life-changing pastry that defies description…somewhere between a popover and a croissant and crême brulée and baklava. (I told you it defies description.) That said, my lunch (the Sesame Chicken Wrap) was tiny and felt like it was on loan from the 1980s, plus it didn't come with anything on the side, so it was like a sad little spring roll that I paid way too much money for. My kids all got grilled cheese, but the menu isn't clear how it's priced, so I wound up paying…brace yourselves…$17 per child for a grilled cheese sandwich and a cup of tomato soup. Which each of them ate about half of (if that). I even asked when I got the total and was kind of given the runaround and I didn't fully understand what had happened until later. In my experience, when you're ordering with kids and there's some confusion about how the menu works, servers tend to be extremely accommodating with advice (like, order one sandwich and three cups of soup and cut the sandwich into thirds). They also got salty with me because they forgot to ring up the sodas (which I placed on the counter) and interrupted my lunch to have me go pay for them. So. All in all. Pastries are awesome. Check their hours before you go because they're limited and parking is a giant pain, but it's not in a super-walkable part of town. Skip the food–there are way better places to eat in Salt Lake. The service needs an intervention from Gordon Ramsay. Check your receipt. Consider selling vital organs to fund your visit, especially if your forgo my advice on the food.
salt lake city afternoon #1
After our venture into overpriced French cafés, my kids and I headed back to my sister's house where the kids played and my sister and I chatted and her dog became increasingly agitated that I might be trying to steal his woman. Henry, if you're reading this, I'm sorry if you ever felt threatened.
We then went to Straws for drinks and cookies (if you're not familiar with the phenomenon, there are drive-thru soda and cookie shops all over Utah that offer doctored-up sodas, like a Dirty Diet Coke, or some variation of it, and all sorts of cookies. They're like bars for states with heavy Mormon populations. There are a lot of feelings about which chain is best. Imma stay out of that argument.) I thought the drinks were better than Swig, but the frosted sugar cookies were not my favorite…they felt like Pillsbury sugar cookie dough that wasn't baked quite long enough and there was more frosting than cookie. I will say the non-Diet drinks were way too sweet once they added in all the flavors, so if you're adding syrups or fruit purees, I recommend using a diet soda as the base…none of my kids could drink more than a few sips of their drinks.
We then headed to Sugarhouse (a neighborhood in SLC) to see the house where my dad grew up and where my grandparents lived until the '90s,
then had to make the obligatory trip to East High School (where my dad went to high school)
so my kid who was in High School Musical could recreate the HSM Bad Lip Reading for us in its entirety.
Then we went to Flatbread Neapolitan Pizzeria for dinner, which is a thin crust, wood-fired pizza place I've been to a few times and have always enjoyed. After our iffy lunch experience, everything about Flatbread was delightful. The service was attentive and fantastic (including someone who wasn't even our server bringing a bag of ice wrapped in a towel for my little guy who seemed to be overheating without me ever saying a word to them), the food was delicious, and even the music was awesome. My kids loved that they brought them a pizza paddle with a dough disc, a cup of sauce, and whatever toppings they ordered so they could put their own pizzas together.
salt lake city day #2
The next day, we headed up to Donut Falls, which is an awesome little hike up Big Cottonwood Canyon. It was a Saturday, so it was very very very crowded. Don't go on a Saturday if you can help it. But the hike is easy, the views were still beautiful, and it was a great way for my low-altitude Louisiana kids to get a feel for hiking. There's a waterfall at the top where you can splash around in the ice-cold water.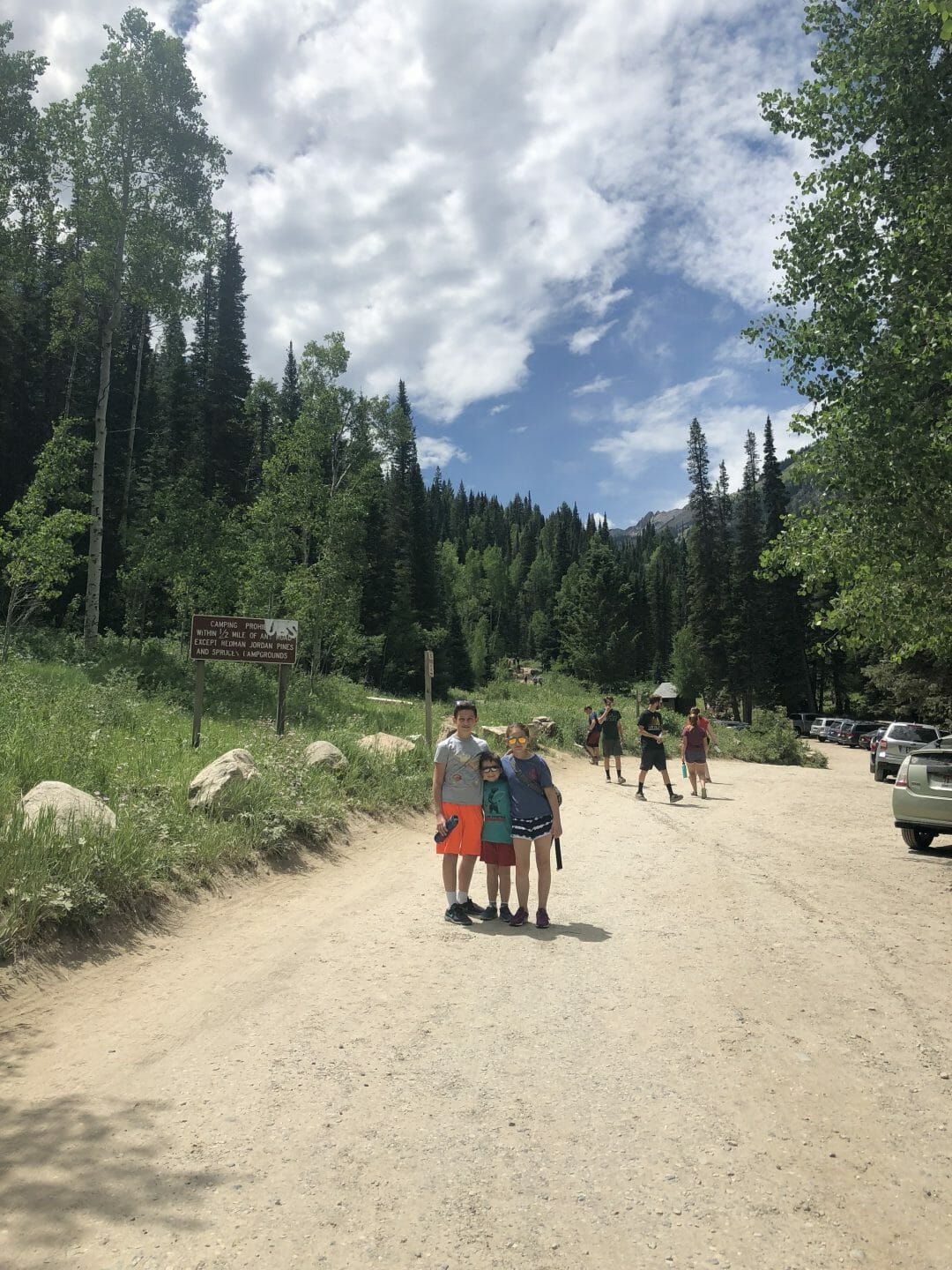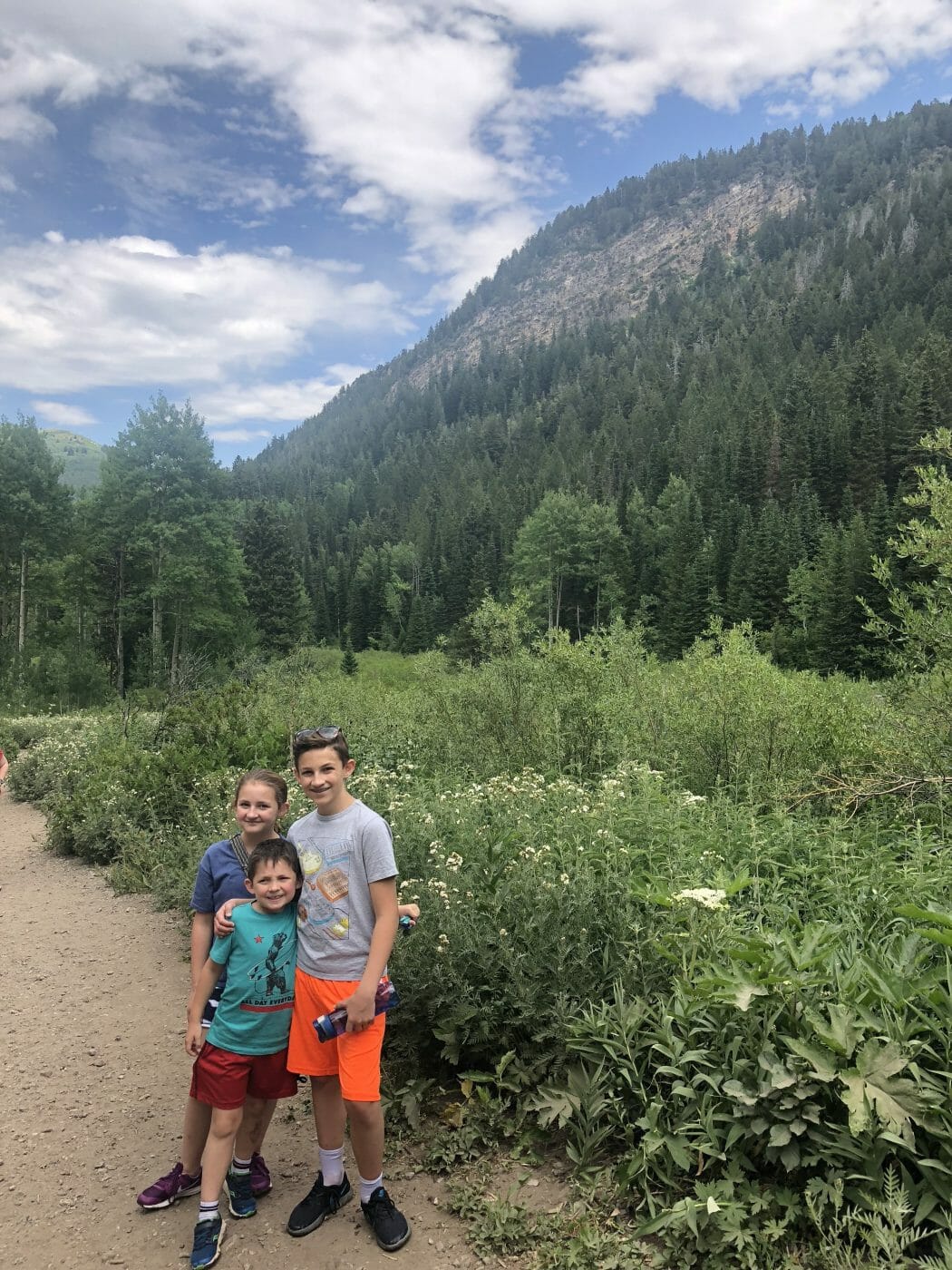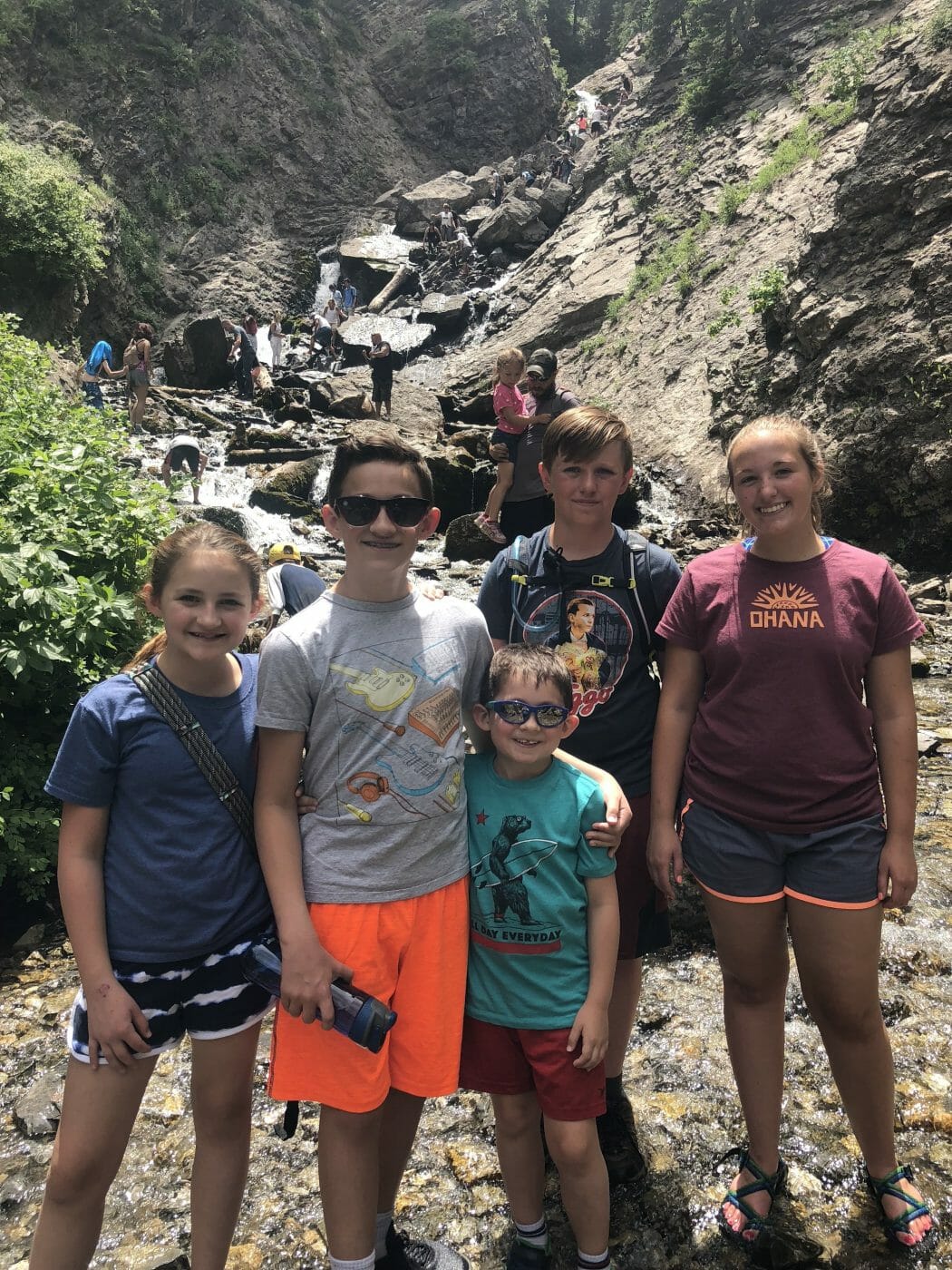 After Donut Falls, we went to Blue Plate Diner where they serve (wait for it) diner food all day–bacon and egg breakfasts, omelets, and diner classics like meatloaf, club sandwiches, and Reubens. The food was simultaneously comforting and innovative and the portions were huge (so you might want to consider sharing.) I got the Huevos Rancheros with green chile sauce and it was pretty amazing.
After that, we packed up our stuff to head to Logan to see my parents, and while we were packing, my sister stopped and got some cookies from Crumbl. By the time we got to them, they weren't warm anymore, and I think they are probably meant to be eaten warm. I mean, I'm not going to say no to a chocolate chip cookie, but by the time they were cool, they were a little too cakey and hard for my liking (but both those factors would be an advantage if the cookies were warm.) So. If you Crumbl, eat your cookies warm.

So we actually went to Logan for a few days after SLC, but I'm going to do Cache Valley all in one post tomorrow, so stay tuned. Please forgive me for being non-chronological.
The drive from Logan to Boise is not terrible and I've never minded it–it's basically a straight shot on the Interstate and there's very little traffic. The first time I drove there, my dad told me to be sure and fill the car up before we left because there's nowhere to fill up for a couple of hours. I thought he was joking. He's not. There's one terrible, overpriced gas station (but they do have alpacas, so there's that), so if you're ever driving to Boise, keep in mind that if you don't fill up in Snowville, you may be out of luck for awhile.
It was in this semi-barren wasteland that the air conditioner in my rental car decided to go out, so we had to roll down all the windows on the 80 MPH road, which also meant we had to turn up Hamilton as loud as it would go, which meant I lost track of how fast I was going and, to add insult to injury, I got my first speeding ticket in 10 years.
Sara fed us Our Best Bites Fajitas when we finally arrived, so that made everything okay. Our kids jumped right back into being friends as if 5 years hadn't passed since the last time they'd seen each other.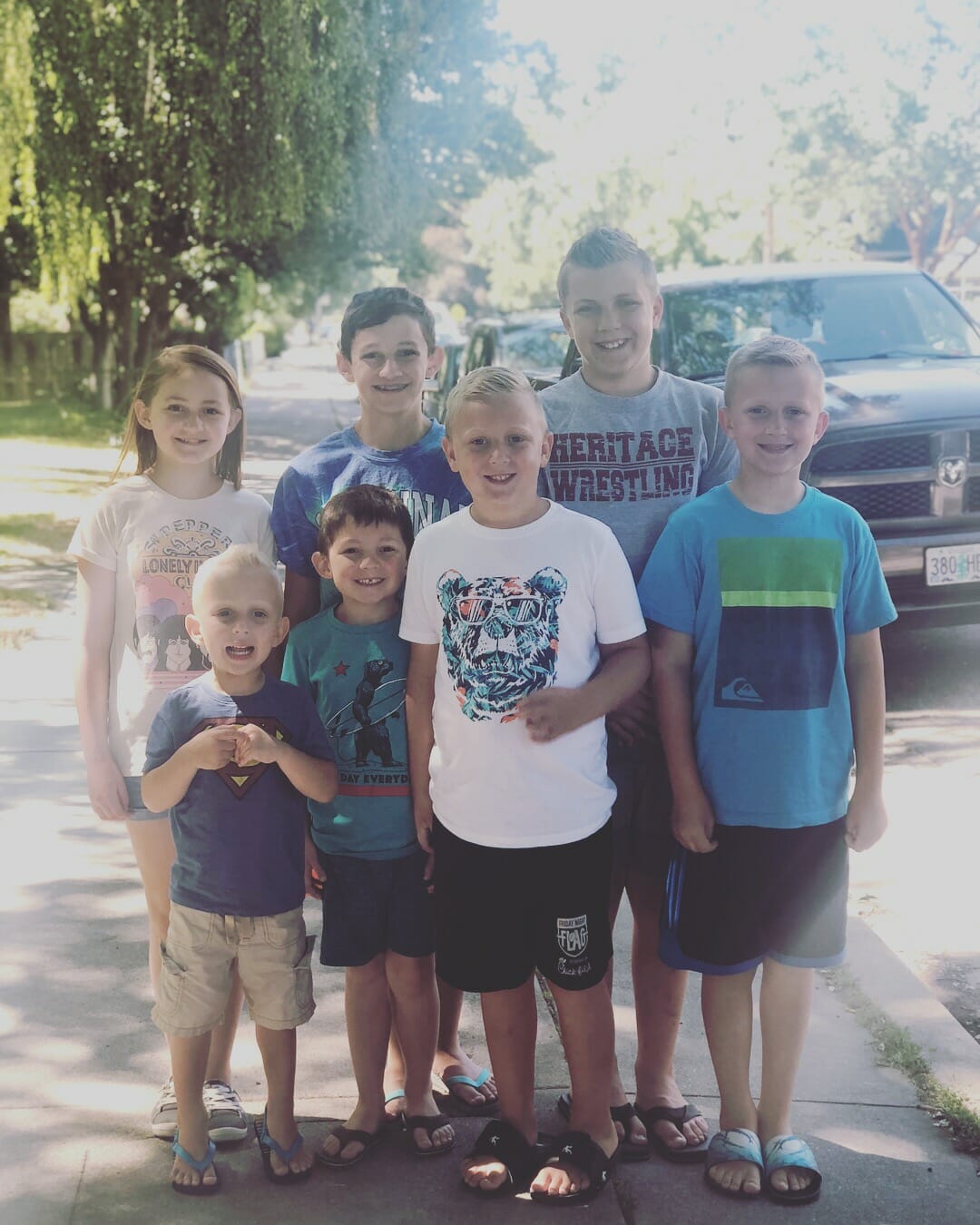 The next day, Sara gave us the tour of downtown Boise. We went to Goody's Soda Fountain where we got ice cream at 10:00 am (duh.) Then we took the kids to Camel's Back Park,
then went to Boise Fry Company
and took some quick pics in Freak Alley.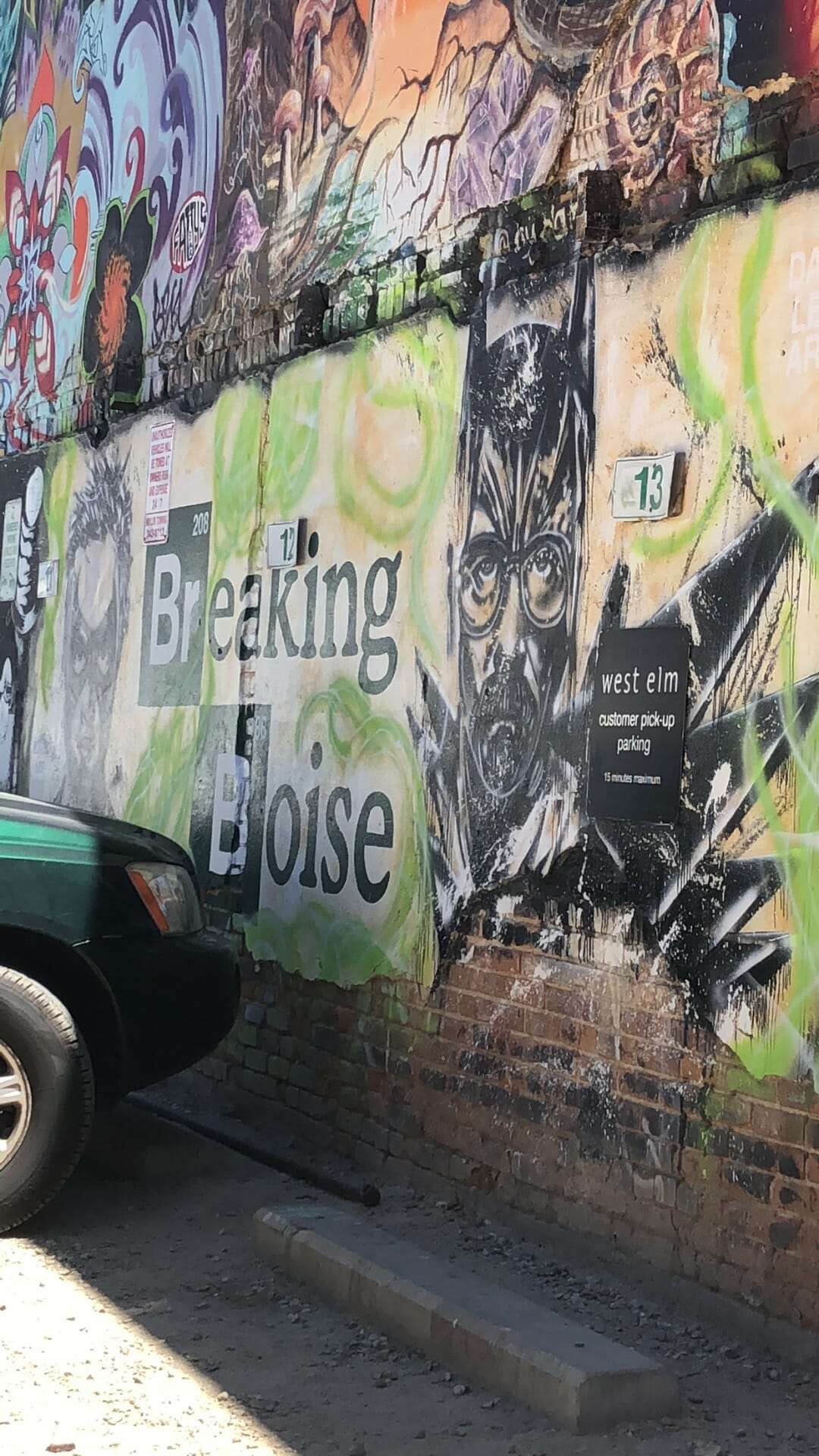 Then we floated the Boise River, where Sara and I somehow kept steering our raft exactly where we DIDN'T want to go (I say "somehow," but I'm pretty sure it was probably my fault.)
It was such a fun way to spend a couple of hours and truly was one of the highlights (if not THE highlight) of our trip for my kids. After we floated the river, we went to Blaze Pizza (which is a lot like Mod Pizza).
My custom pizza was super delicious, their Agua Frescas were fantastic, and my kids were able to save their leftover pizzas for lunch on the drive back to Logan the next day.
The next morning, Sara and I met up with one of my FAVORITE bloggers, Mel from Mel's Kitchen Cafe for breakfast. She's every bit as hilarious and delightful in real life as she is online, so I want her to be my neighbor.
I'll be back tomorrow with the rest of my trip, so stay tuned!