Happy Monday y'all.  I'm not sure how it got to be the end of October, but here we are!  I haven't been around this month, and I have a lot to say about why I haven't been around, but I'll get to that in another post coming up.  For now, I'm kind of in crazy-mode trying to play catch up on life and I'm all about quick and easy dinners for beautiful (and busy) fall nights.  This one caught my eye right away in a recent Martha Mag because hello- sausage and apple and cheddar and pretzel.  Yes please.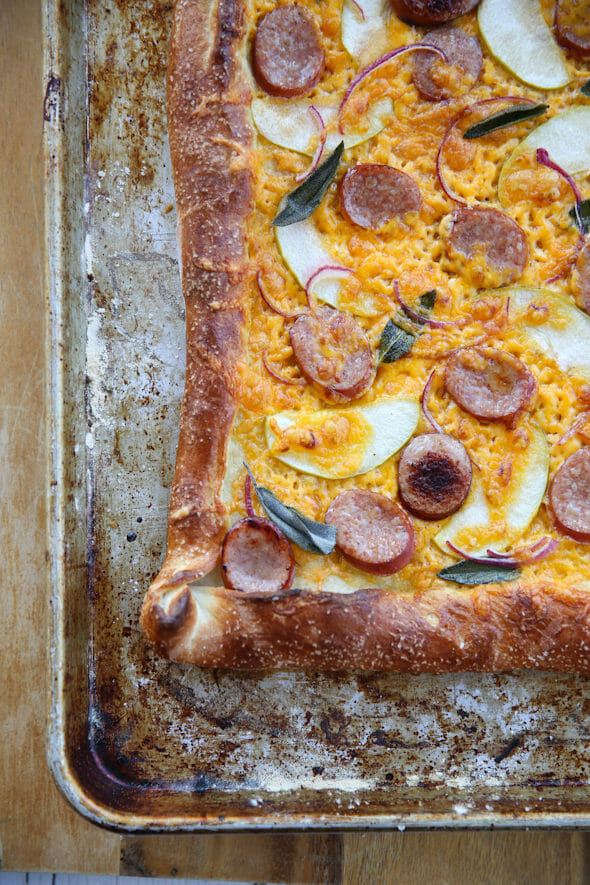 I had a feeling this would be more of a grown-up pizza so I made it for my husband and I, with back-up frozen burritos for my kidlets.  But then low and behold, my little kids scarfed up this pizza in no time flat and whined that there wasn't more.  So you might be surprised that the unique flavor combo comes together in the most perfect way.
You can certainly make your own pizza dough if you have time (find our recipe, here.) But if you want to make this super quick and easy, just grab some pre-made dough.  If you have a favorite pizza joint nearby, they often sell dough, and many grocery store bakeries (like Winco) will have fresh dough available for purchase.  If all else fails, and you still don't want to make your own, just grab a tube of ready-made dough, like Pillsbury.  That's actually what I'm using here!
You'll stretch it out into a rectangle and then either fold over (like I did) or squish the dough in a way that creates a thicker border around the edges.  You'll spread a layer of dijon mustard across the bottom of the dough (I was worried that might be too strong, but it was awesome).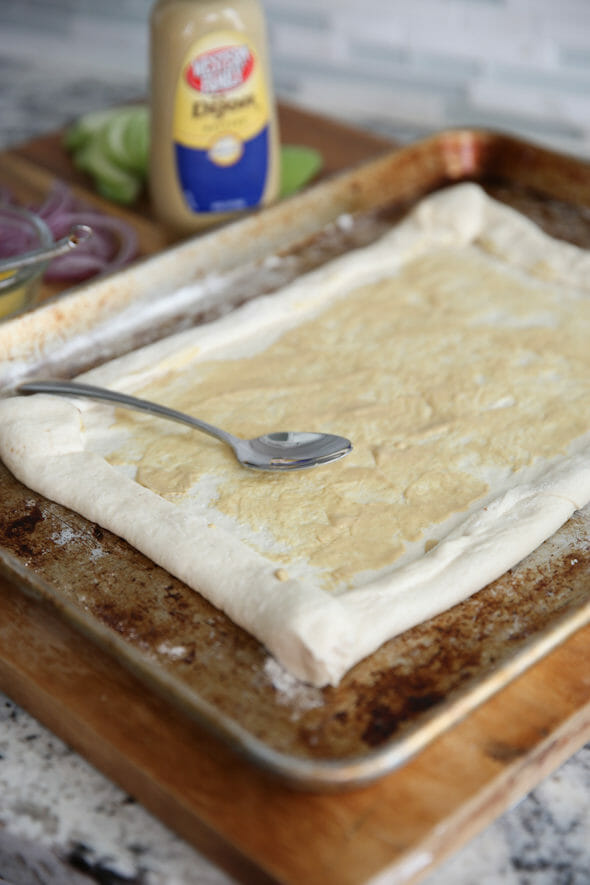 Now for the "pretzel" part.  To mimic a pretzel, brush the edges of the dough with egg wash and sprinkle with coarse salt (like kosher salt.)
Sprinkle on shredded cheese, sliced kielbasa, apples, onions and sage.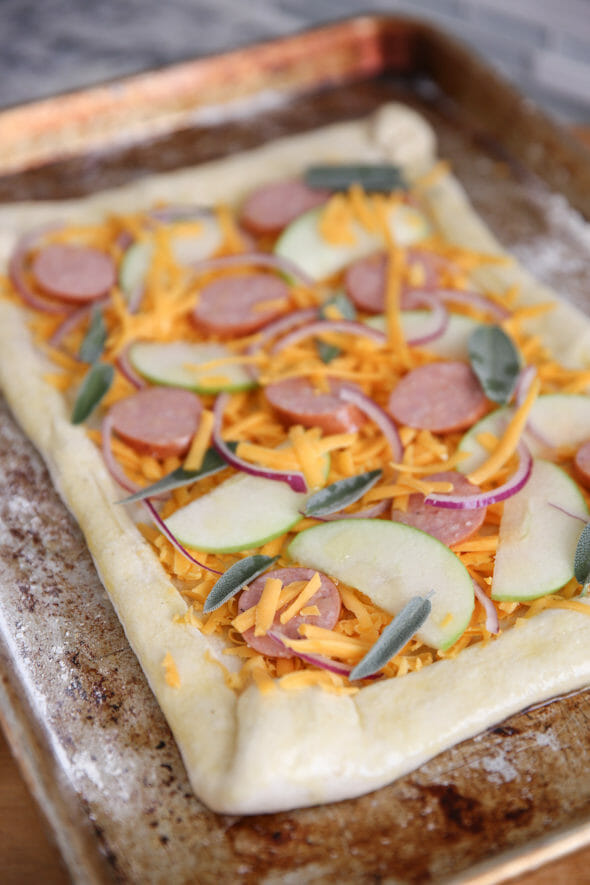 Then drizzle with olive oil.  I used our Garlic Oil which is extra yummy on something like this.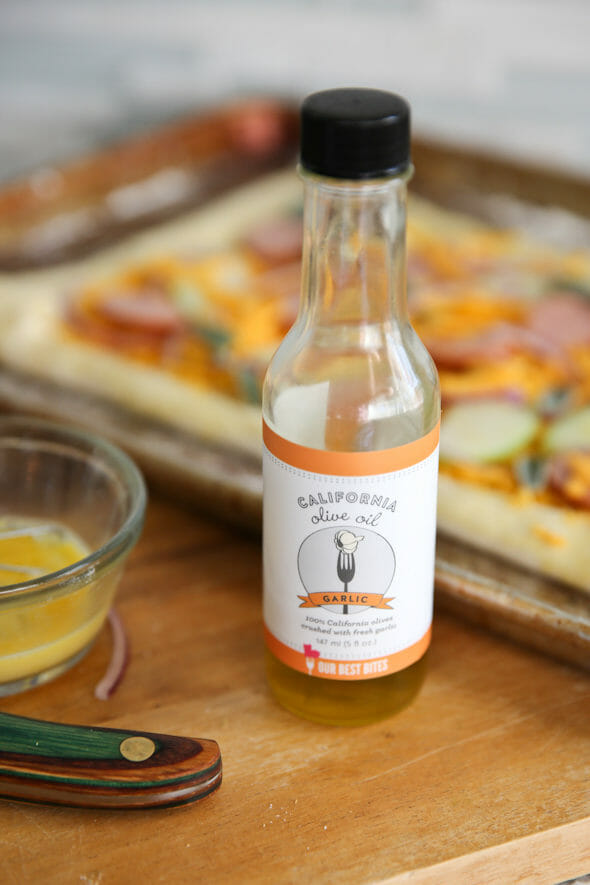 The combination of sweet from the apples, sharpness from the cheese, tangy from the mustard, and savory from the kielbasa is a perfect party of flavors.
This would make a fun party dish or appetizer,
Or pair it with a big salad for a light dinner. Love quick and easy meals like this! #Winning.
Print
Kielbasa Apple Pretzel Pizza
---
Description
Simple, easy pizza with the fall flavors of kielbasa, apples, cheddar.
---
All-purpose flour, for dusting

1

pound pizza dough (see note)

2 tablespoons

dijon mustard

1

large egg, lightly beaten
pretzel salt or coarse salt or kosher salt for sprinkling

4 ounces

sharp cheddar, grated

10 ounces

kielbasa, cut on the bias into

1/2

-inch slices

1

granny smith apple, cored and cut into thin wedges

1/2

small red onion, cut into

1/4

-inch wedges

1/4 cup

fresh sage leaves
, for drizzling
---
Instructions
Preheat oven to 450 degrees with the oven rack in the lower-third of oven (*If using a pre-packaged pizza dough, feel free to follow temperature on package). On a parchment lined baking sheet lightly dusted with flour, stretch dough into a 10×15-inch rectangle, with a 1-inch border of thicker dough. Brush entire surface inside border evenly with mustard. Brush border with egg, then sprinkle generously with salt. Sprinkle cheese over mustard. Scatter kielbasa, apple, onion, and sage evenly over cheese, then drizzle with oil.
Bake until crust is deep golden brown and center is set, about 20 minute; tent with foil if edges brown too quickly. Serve hot.
---
Notes
For a quick pizza crust, check your local grocer or even pizzeria for fresh dough. You may also find it in the freezer section of some grocery stores. If all else fails, and you don't want to make your own, grab a tube of pre-made dough, like Pillsbury (that's actually what I did!)
Or make your own, Here's our go-to recipe!
---