There was a time in my life when the thought of any kind of fruit-based salsa was appalling to me (I know, that opens up the whole "is tomato a fruit?" debate, but I'm still scarred from the 2016 election, so I'm not prepared to delve into something that has to potential to be even uglier.) Peaches? Mangos? Salsa? No. And then I realized there was something magical about the sweetness of fruit paired with the spiciness of jalapeños and the savory salt and lime juice. I started making it with all the fruits. Turns out kiwi is a fantastic fruit for salsa–it's sweet but also tangy, it holds up well, and it pairs well with other tropical fruits like mango (you could also throw in some diced fresh pineapple here and I wouldn't judge you at all.) I love this kiwi-mango salsa on tacos. Chips. On top of grilled chicken, shrimp, or steak. In a box. With a fox. On the moon. With a spoon.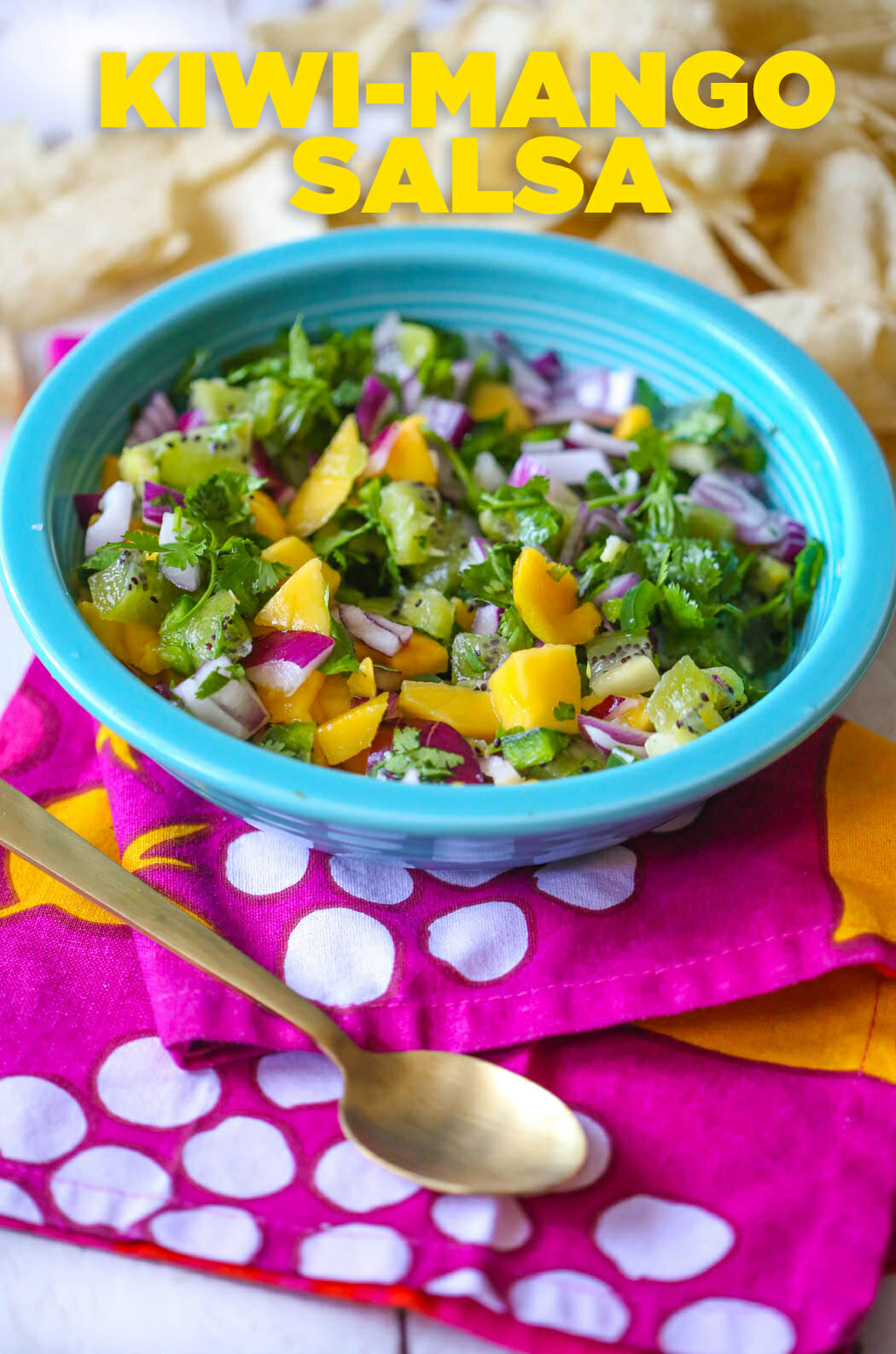 Speaking of kiwi, check this out:
If you still want more kiwi instructions, check out this tutorial!
And if mangoes stress you out, we have this post, but you also need to see this! (If cutting and peeling them stresses you out…if mangoes in general stress you out, this video will not help you at all.)
Anyway. To make this, you'll need a ripe mango (for a tutorial on how to pick and cut a mango, go here–don't be like me the first time I bought a mango and bite right into it, not realizing the skin is thick and tastes like pine trees and that there's a very large, cumbersome pit in the middle), some kiwi, 1/2 of a medium red onion, cilantro, a jalapeño pepper, some limes, and some kosher salt.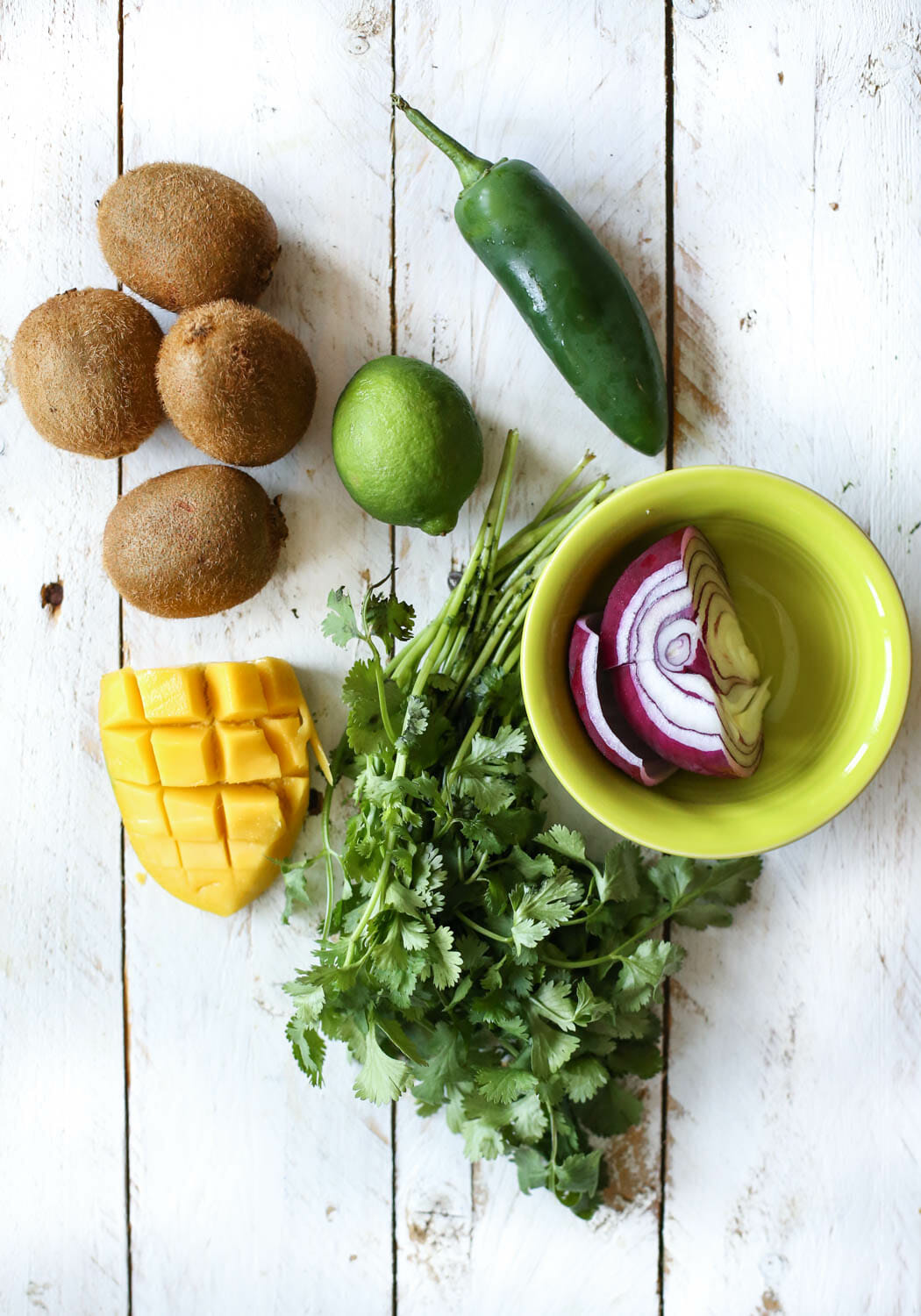 Combine ingredients except lime and salt in a large cereal/soup bowl or small mixing bowl. This must be done in clear layers in ROYGBIV order (except this is more like OYGV in a B bowl).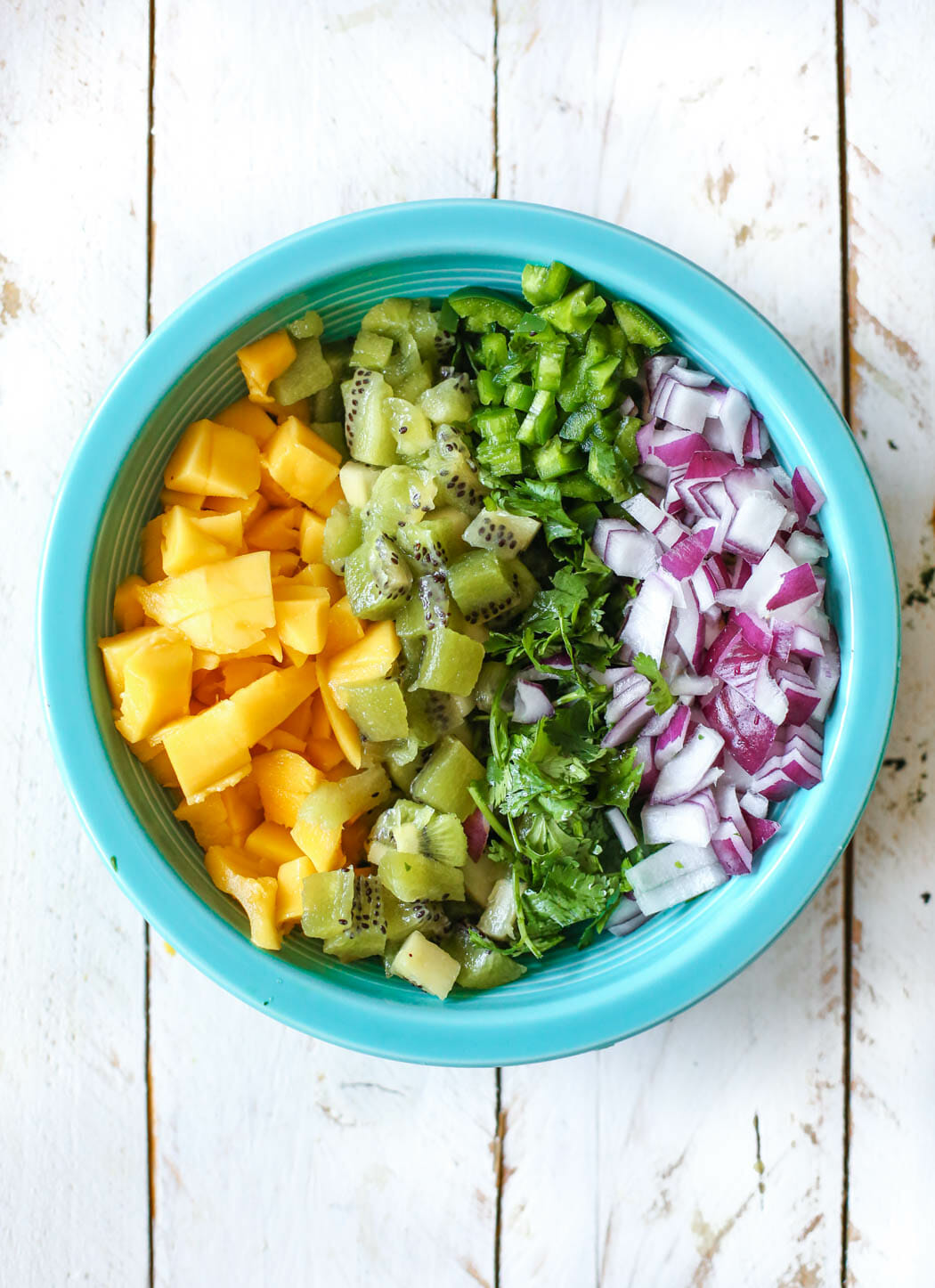 Just kidding. Don't do that. I mean, you can if you want, I won't judge.
Toss the ingredients and add some lime juice–start with the juice of one lime and then add more if you need it.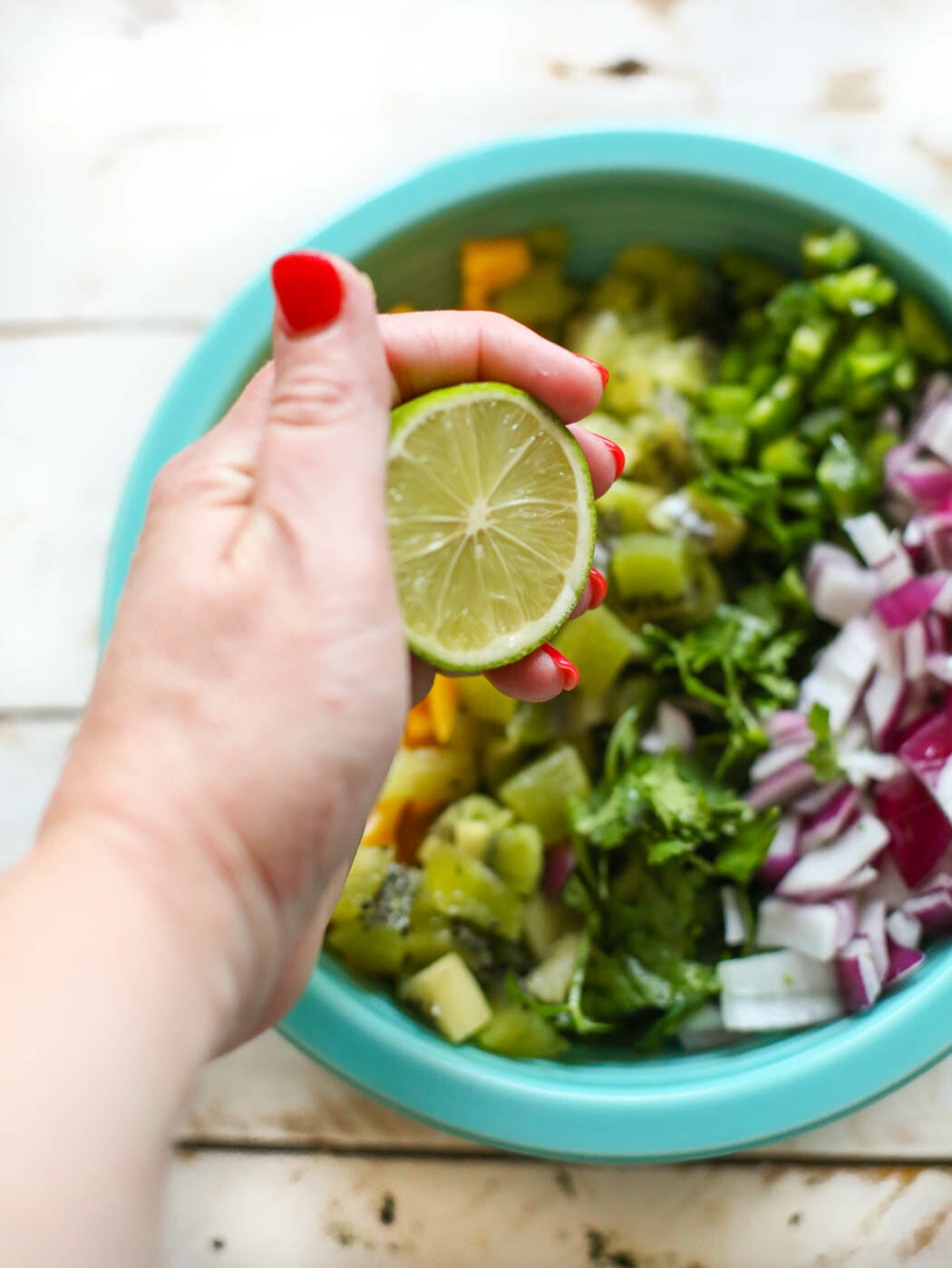 Add salt to taste.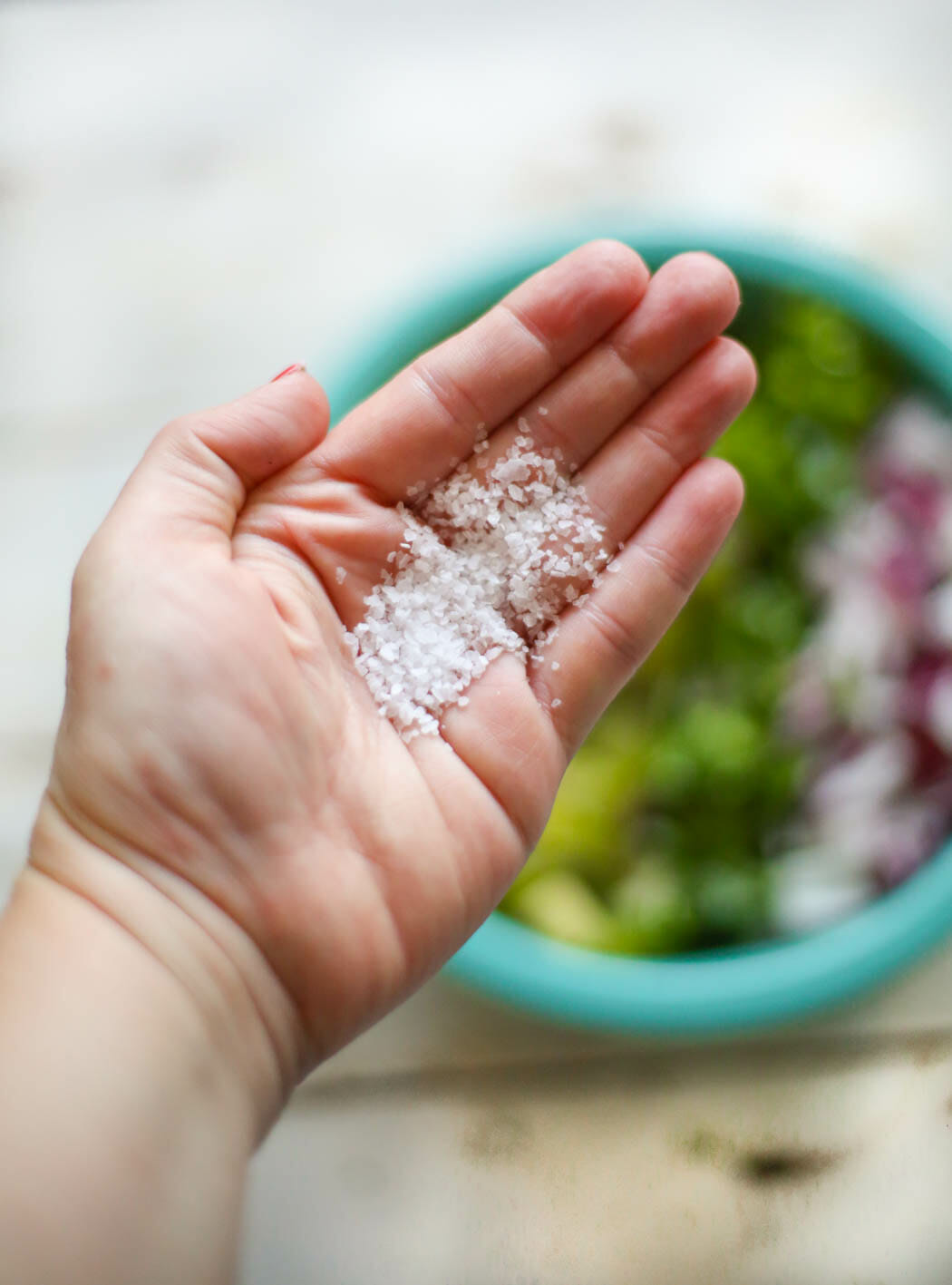 This will keep for 1-2 days.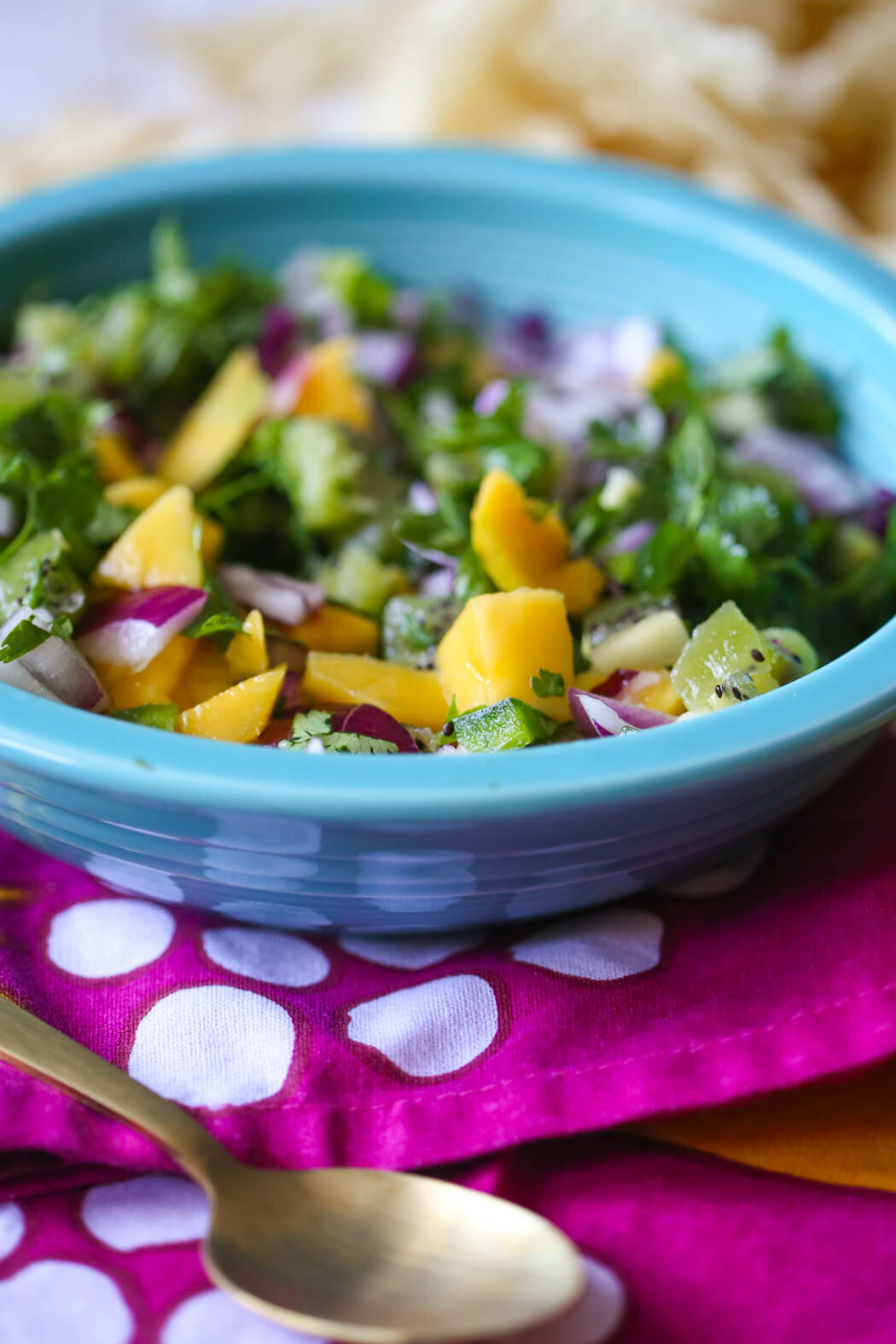 Print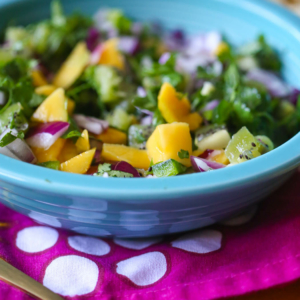 Kiwi-Mango Salsa
Author:

Kate Jones

Prep Time:

15 minutes

Total Time:

15 minutes

Yield:

4-6 servings

Category:

Appetizer

Method:

Chopped

Cuisine:

Mexican
---
Description
A little sweet, a little tangy, and a little spicy, this fruity salsa is perfect for chips, on top of grilled chicken or shrimp, or in your favorite tacos!
---
1 ripe mango, peeled and cut into 1/4" chunks
3 ripe kiwi, peeled and diced
1/2 medium red onion, diced
1 handful cilantro, chopped
1 jalapeño, diced (remove seeds and membranes to control heat and then slowly add some back in as desired)
Kosher salt to taste (about 1/4-1/2 teaspoon, depending on your preferences)
Juice of 1–2 limes (depends on the limes and personal preference…start with 1 and add additional juice if desired)
---
Instructions
Combine ingredients except salt in a large cereal/soup bowl or small mixing bowl. Add salt to taste. This will keep for 1-2 days.
---
Keywords: mango salsa, fruit salsa, easy appetizers
Try it with chips or on top of grilled chicken or shrimp or in your favorite tacos!