Last month the ladies in my church congregation got together at a new neighbor's house.  Our friend KJ (short for Kong-ju) moved in recently and I instantly loved her because she came from my home town in Seattle and we even had some mutual friends.  KJ is is from Korea and she had us all over to teach us about her food and culture.  I wish I could take you all on a tour of her house–she has as an entire room specifically designed and built for making kimchi; it's amazing!
One of the dishes she made that night was traditional Korean BBQ Beef, or Bulgogi.
I only got a tiny taste and had to slip out early that night so I couldn't wait to cook up her recipe at home.  I LOVED it.  My whole family loved it.  All four kids gobbled it up.  This Korean BBQ Beef is super tender, flavorful, easy to prep, and cooks in just minutes.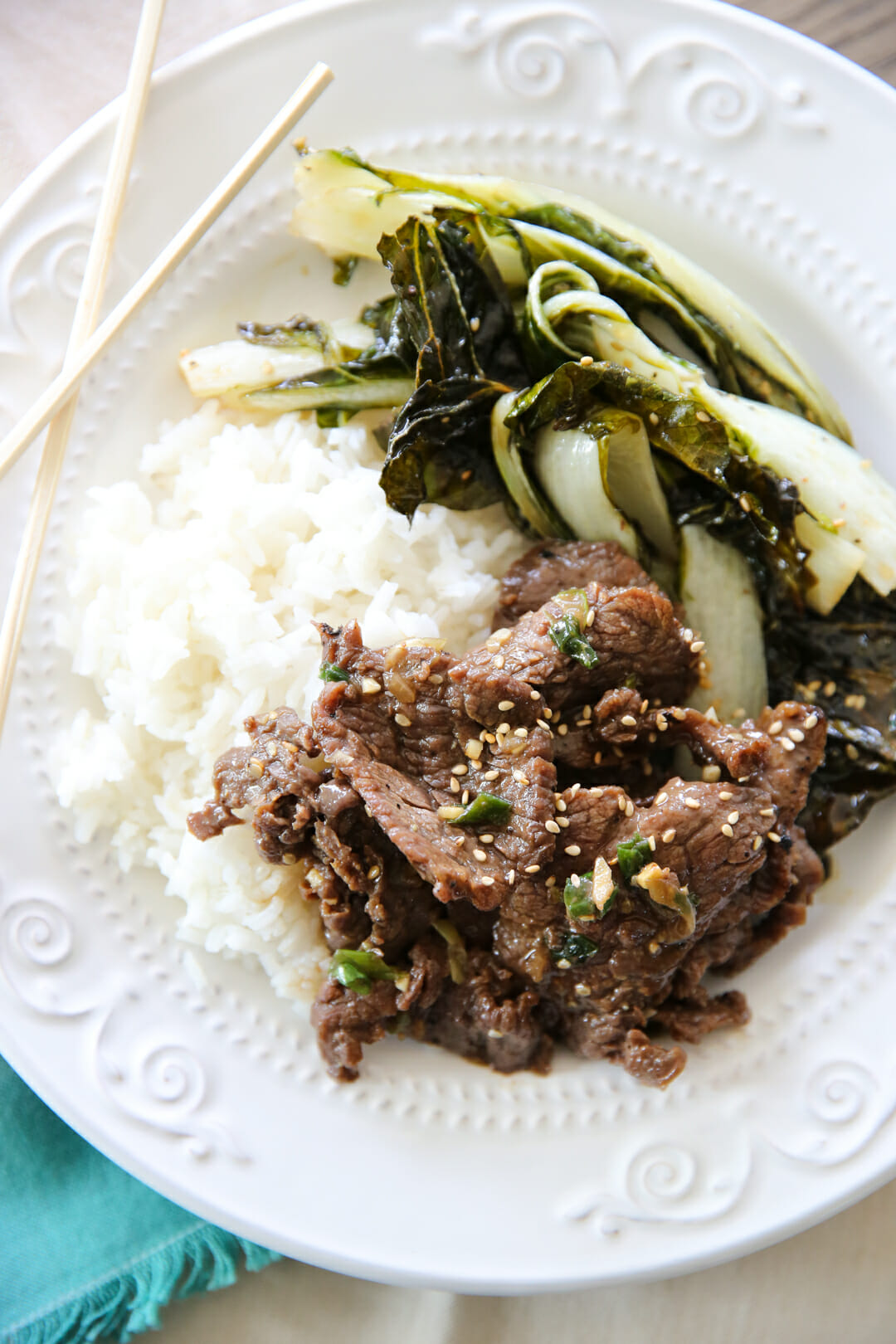 This marinade is everything I love most about Asian flavors: soy sauce, ginger, garlic, onions, sesame oil, sesame seeds and sugar for sweetness.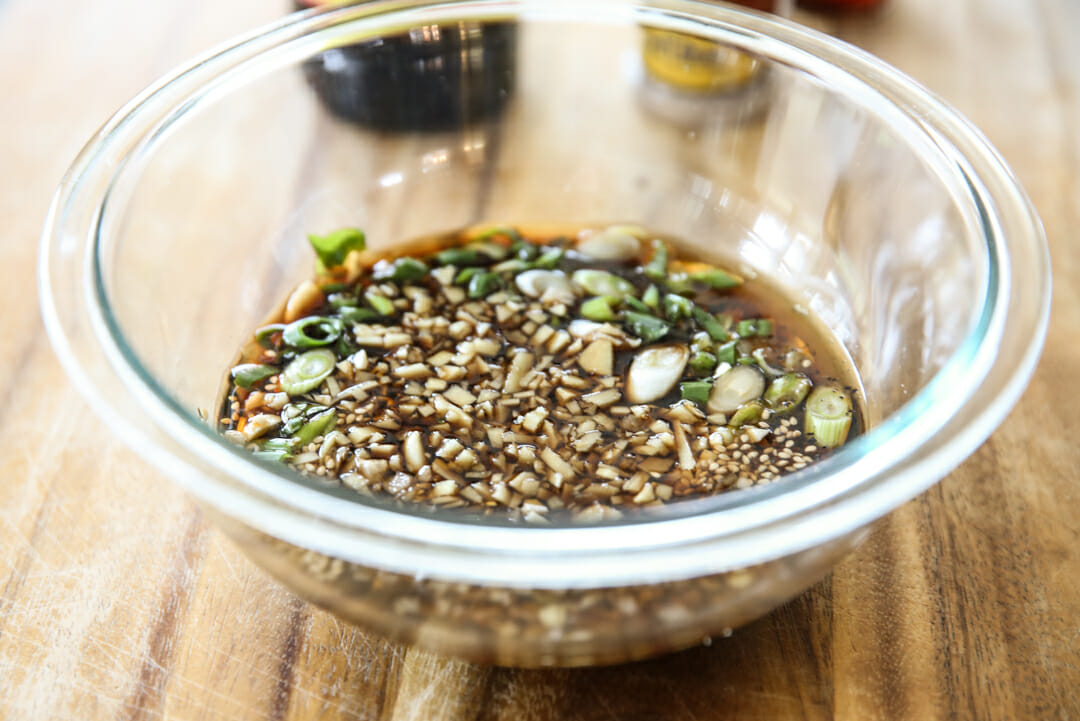 My friend KJ had a special cut of meat but I read that many cuts can be used for this dish.  I experimented with 2 different popular steaks: Ribeye and Flank Steak.  They both tasted amazing and when I make this again I'll probably stick with flank steak just because it comes in a good size for the recipe and it's easy to slice thin.  When I say thin, you want to cut this as thin as possible.  A great butcher can help you, but if you're doing it t home, pop your meat in the freezer for 15-30 minutes.  You don't want it rock solid, but you do want it frosty and firm so it's super easy to slice paper thin. Imagine the beef slices you see in the buffet line at a Mongolian style grill, you'll want it to look like that.  If you're cutting flank steak, like i did here, don't just cut straight up and down, cut at more of a horizontal angle (think like, 45 degrees) so you get pieces of meat with larger surface area.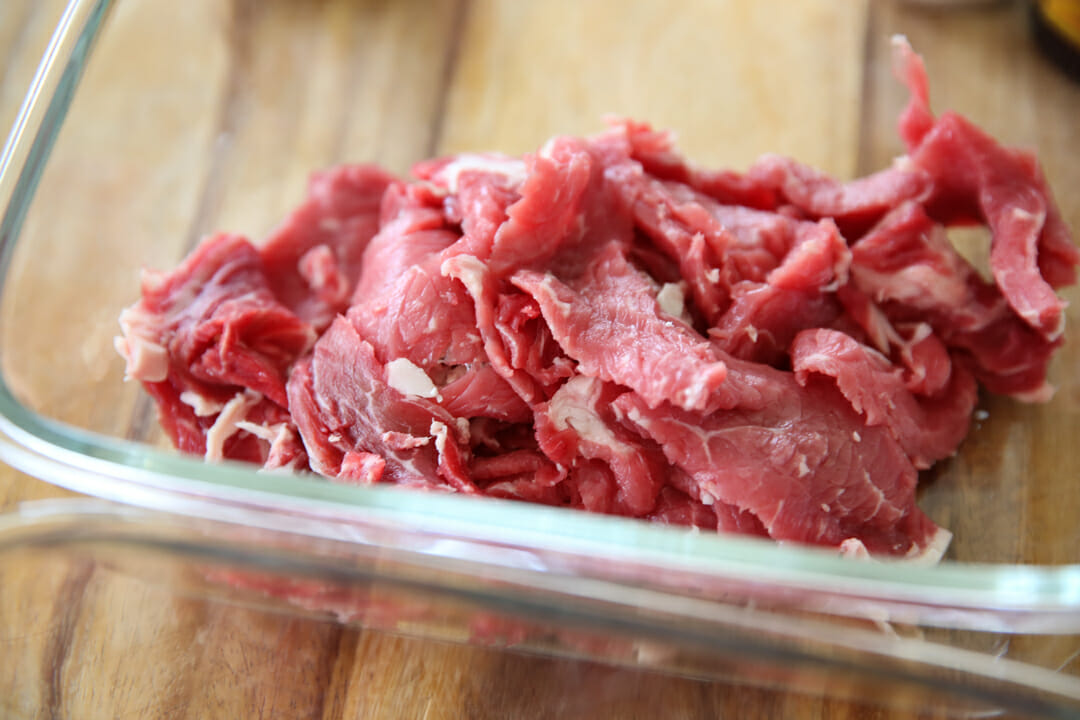 Toss your meat in the marinade and let it sit- the longer the better.  If you can plan ahead and let it sit over night I think it's best, but 4-8 hours during the day works, too.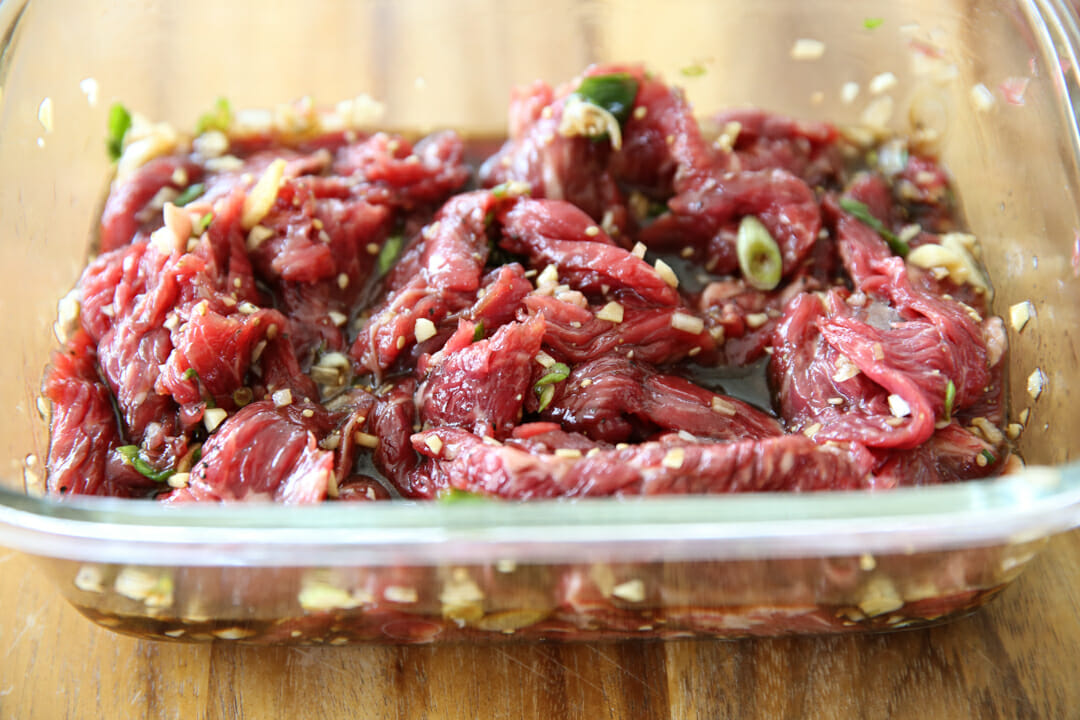 Traditionally Bulgogi is cooked on a tabletop grill or small BBQ but for thin slices of meat, a large skillet or wok works great, too.  Your meat shouldn't be swimming in marinade, but use tongs to transfer the meat into a hot skillet.  When cooking meat like this, or stir fry, you really want your pan screaming hot!  Not so hot the liquid spatters in your face, but a good medium-high so it  cooks hot and fast.  You may need to cook this in a couple batches so the meat isn't boiling in the liquid.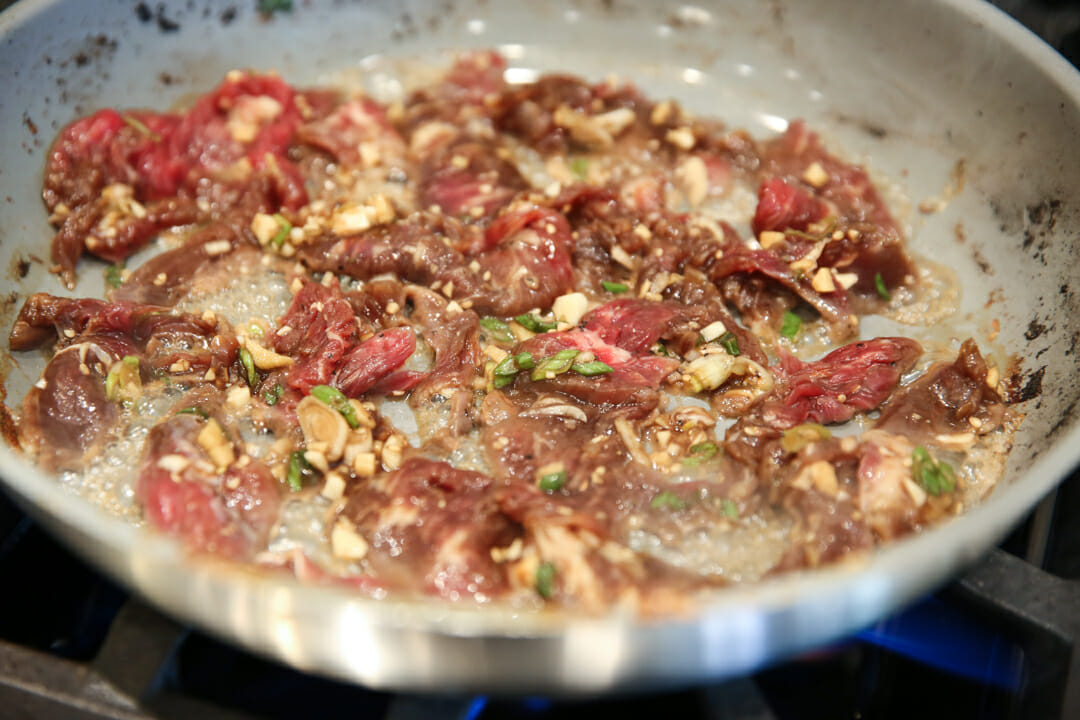 Since the meat is thin, this seriously cooks SO fast.  Once it's prepped, it can be a 10 minute dinner!  Just pop open one of those microwave steamable bags of rice and heat up a quick veggie side.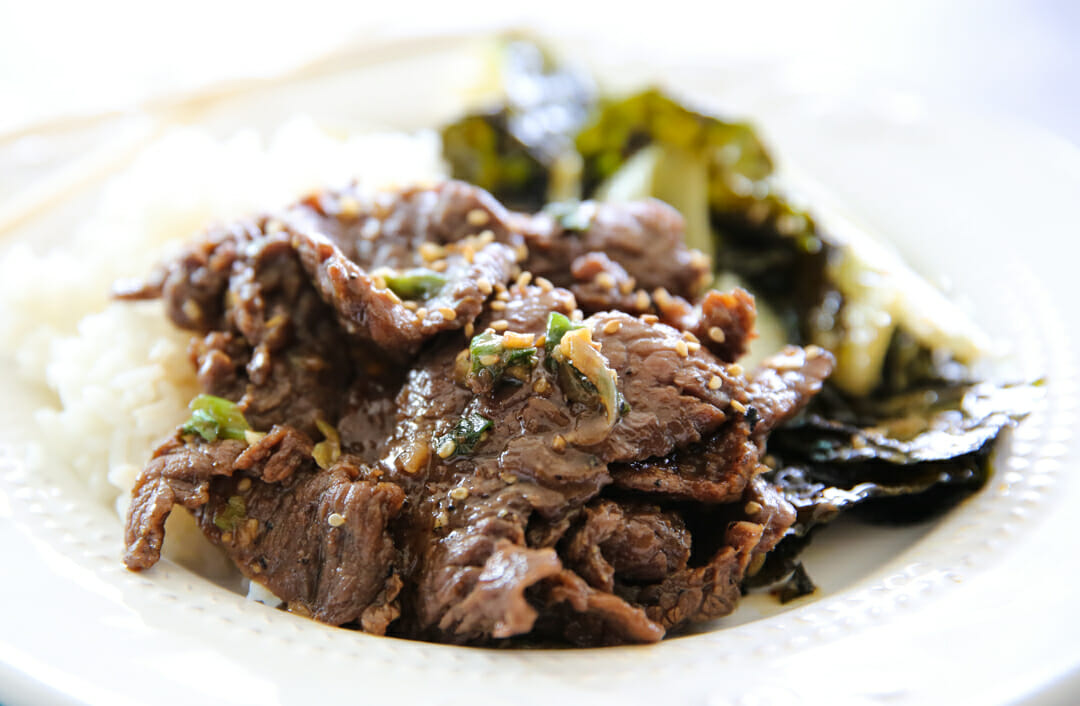 This tastes like great take-out but without all the grease and guilt.  All 4 of my kids LOVED it becasue it's a nice sweet flavor profile. Are you guys chopstick users?  In our family my husband refuses to use a fork with Asian food and I refuse to use chopsticks haha. You have no idea how hard it was for me to hold chopsticks with my left hand and take this photo with my other!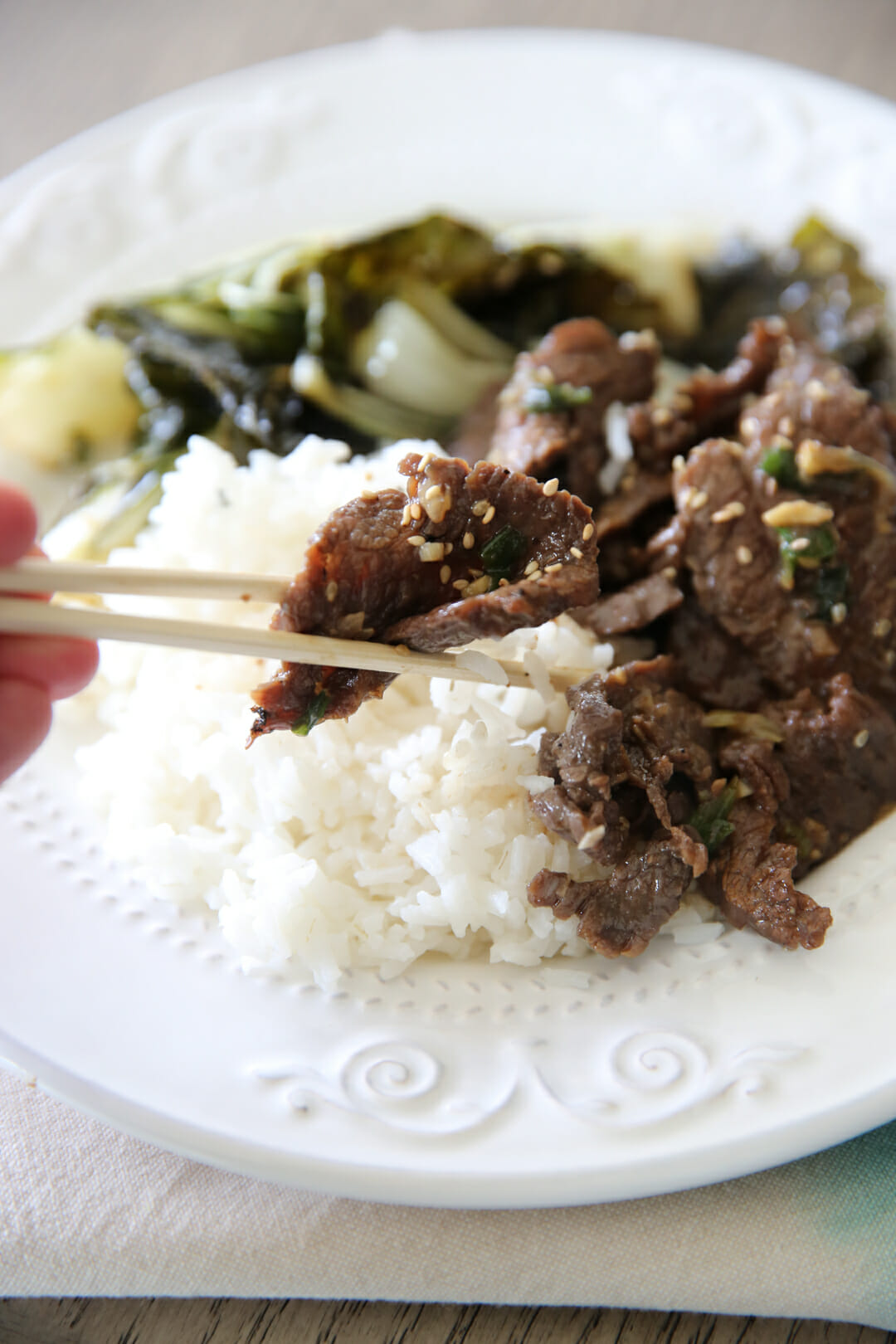 I'm so glad KJ shared her food and her culture with us- I hope you guys try this one out and love it as much as I do!
Print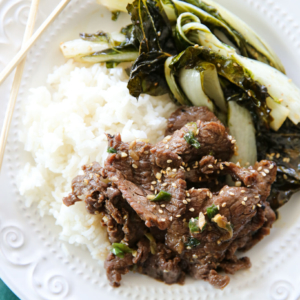 ---
Description
Better-than-takeout Korean beef.  Easy to prep and everyone loves it!
---
1lb beef steak or Sukiyaki Beef, very thinly sliced (see note)
1/4 cup soy sauce
3 tablespoons sugar
1 tablespoon sesame oil
1/4 teaspoon black pepper
1/2 teaspoon sesame seeds
1/4 cup sliced green onions
1 tablespoon finely minced white onion
1 tablespoon minced garlic
1 tablespoon minced fresh ginger
---
Instructions
Slice steak against the grain in the thinnest strips possible.  Tip: place steak in freezer for 15-20 minutes first to firm it up, it makes it much easier to slice!  Set steak aside.
In a bowl, combine remaining ingredients and whisk together.  Add steak, coat to toss, and marinade for at least 4 hours (I prefer an overnight marinade if you have the time.  The flavor is incredible!)
When ready to cook, heat a wok, or extra large non-stick skillet to medium-high heat.  You want your pan really sizzling.  Use tongs to transfer meat to pan, tossing often, until cooked through.  It will cook fast!  If needed, cook in batches so the pan isn't to crowded.
Serve hot over rice.  We love this with an easy vegetable side like green beans, bok choy, or broccoli drizzled with a little sesame oil and soy sauce.
---
Notes
I experimented with a couple different meat options, including both a flank steak and a ribeye.  Both turned out great, but I would use flank steak again because it's easier to slice thinly.  I cooked a total of 1.5 lbs meat and I doubled the marinade, and it was the perfect amount.  You may want to double yours as well to have extra.