News flash: July is next week. Say whaaaa?? (Do I say that at the start of every single new month? Yes, yes I do. Apparently I need to figure out a way to slow down time. I'll get right on that.) Since Independence Day is at the very beginning of the month, it seems to always sneak up on me. Luckily, it's not too hard to pull things together for a holiday centered around patriotism, explosives, and all things red, white, and blue. I first saw these drinks years ago, in an alcoholic version. Since I don't drink alcohol, I started googling to figure out if that was an integral part of the chemistry involved. Lucky for me, it's not! These appeared a while back in Family Fun Magazine and have made the rounds on Pinterest as well. People are always impressed by them!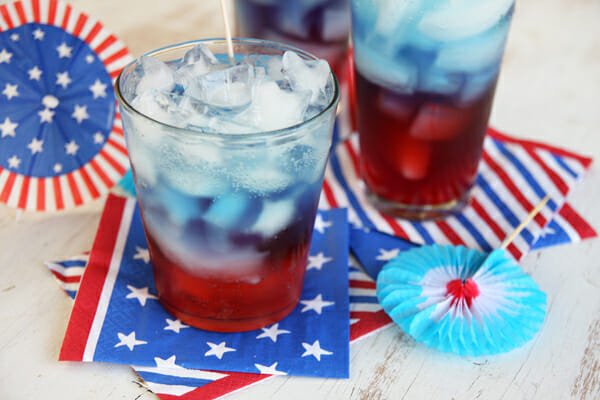 The principle here is that liquids with lower sugar contents will layer on top of those with higher ones. This is actually a fun thing to do with kiddos where you can actually teach them a little science as you do it. You can really use any drink products, you just have to take note of the sugar content on the nutrition label. Generally my family doesn't buy sugary drinks, I actually think full sugar soda is a horrible habit (I mean, if you're going to chug that much sugar, wouldn't you rather have it in the form of a cookie??) but fun holiday drinks are usually an exception. And if it's something you're concerned about, just keep in mind, only one of your colors is going to be sugary, and you're using very little of it, so all-in-all these drinks aren't too shabby calorie-wise.
So take a little walk down the beverage aisle at your grocery store. Reds are pretty easy to find, there's cranberry juice, cranberry/strawberry/cherry flavored sodas, Hawaiian punch, etc. And for your white, any clear colored diet (sugar free) soda will work. For the blue, you have fewer options- often just Gatorade, and blue Hawaiian Punch. Here's what I found to be easiest. For my red this time I used these two (just to experiment with both), Hawaiian Punch and Cranberry Sierra Mist. Both work great.
For our blue we did Gatorade; it's important you look at the labels, it just has to have a little sugar in it. This G2 Gatorade just had a few grams and it was perfect.
For our white, we used diet Sierra Mist, because it happened to be on sale 🙂 I did experiment with trying some different combos to get a "white" as the middle layer, but I had zero luck, so just stick to layering the red and blue. To be honest, the white ends up kind of blending in, but I do think it makes everything taste better so I say use it. If for some reason you're happy with just a red and blue, the ice does add white and that looks great too. Speaking of ice…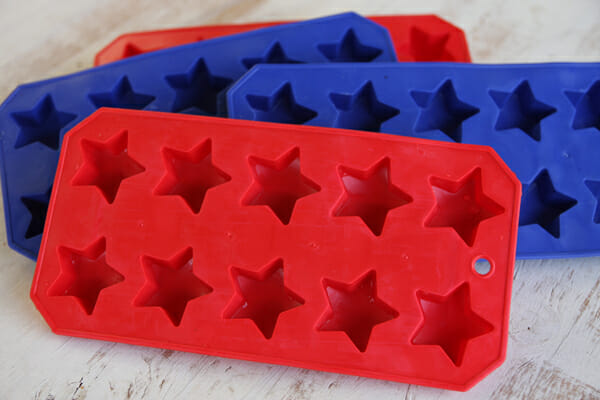 Target has these cute ice trays in their dollar section right now. You can also grab them from Amazon!
And they make the cuuuutest little star-spangled ice cubes! If you're going to use them, note that these drinks take quite a bit of ice so you better get a few trays and start making ice a few days ahead of time. Or just mix some stars with your fridge ice. Also, drive to Target as soon as you're done reading this post because the dollar section always sells out after we post recipes involving items from there!
To make the drinks, fill your glass up all the way to the top with ice. If you're making these for a party, you'll probably want to stick with short glasses. Start with your red (or whichever has the highest sugar content) and fill up the glass 1/3 of the way. When you pour your next two layers pour them slowly, right over an ice cube, down the side of the glass. This will help keep the layers separated.
Finish off with your top layer and you're set!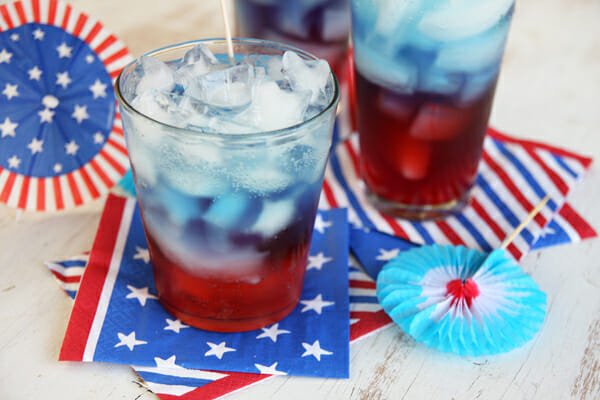 One idea I've seen floating around is lining the rim of the glass with pop-rocks (Pop. Firecrackers. Get it?) I experimented on a little mini glass and while it's cute, I don't think it's at all worth the hassle. When Pop Rocks get wet, they start popping, so they sort of make a big sticky mess. It also makes it way more labor intensive to fill up the cups with ice and layers, etc. Cute though, right? Don't be fooled… PS, the Pop Rocks in the blue package are actually green. Why Pop Rocks, why?!
I like to serve these with straws, because they taste best (I think) once they're mixed up. These cute red ones are from Orson Gygi– and I like that they sell them in big packs of 50 since usually you only find small bags of paper straws.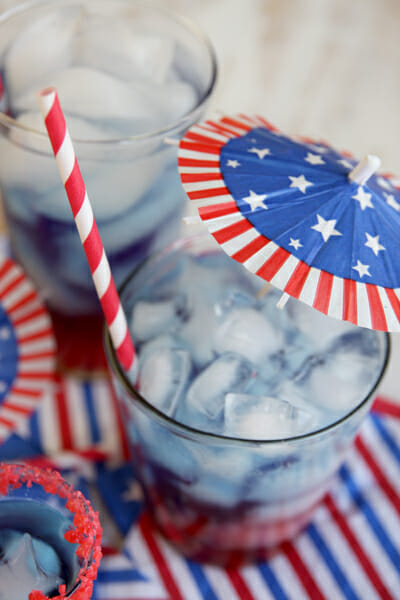 Definitely something fun to put on your to-do list this Fourth!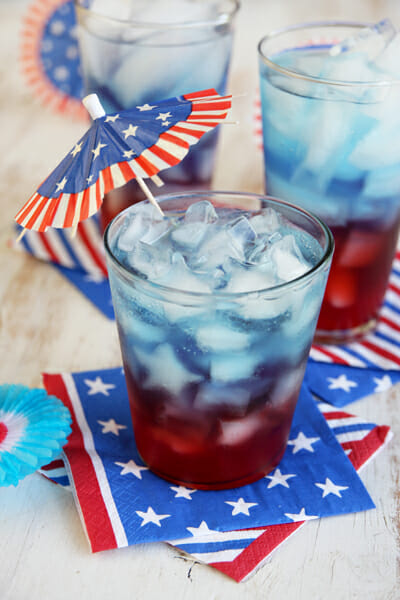 Another thing to put on your to-do list? Go to Anguilla. If that doesn't work out for you today, then at least check out the Sea Cuisine site where my travel features will be launching this week! Here's a link to my page where you can find lots of photos I snapped on my trip.
*Disclaimer: This post contains affiliate links.
Save