Ever since Kate shared this recipe for the best-ever Lemon Bars, people have been asking if you can make them with lime juice instead.  I finally decided to try it myself and figured if I was using lime, I may as well toss in some coconut, too!  The verdict?  To be honest, once all is said and done, lime and lemon taste very similar in this recipe!  But I still loved this and it's good to know you can use both.  The coconut adds more texture than flavor, which I love.  I use regular sweetened, shredded coconut in the crust, and then toasted coconut on top.  If you want coconut flavor, you could even add a little extract to the filling mixture; I'm going to try that next time!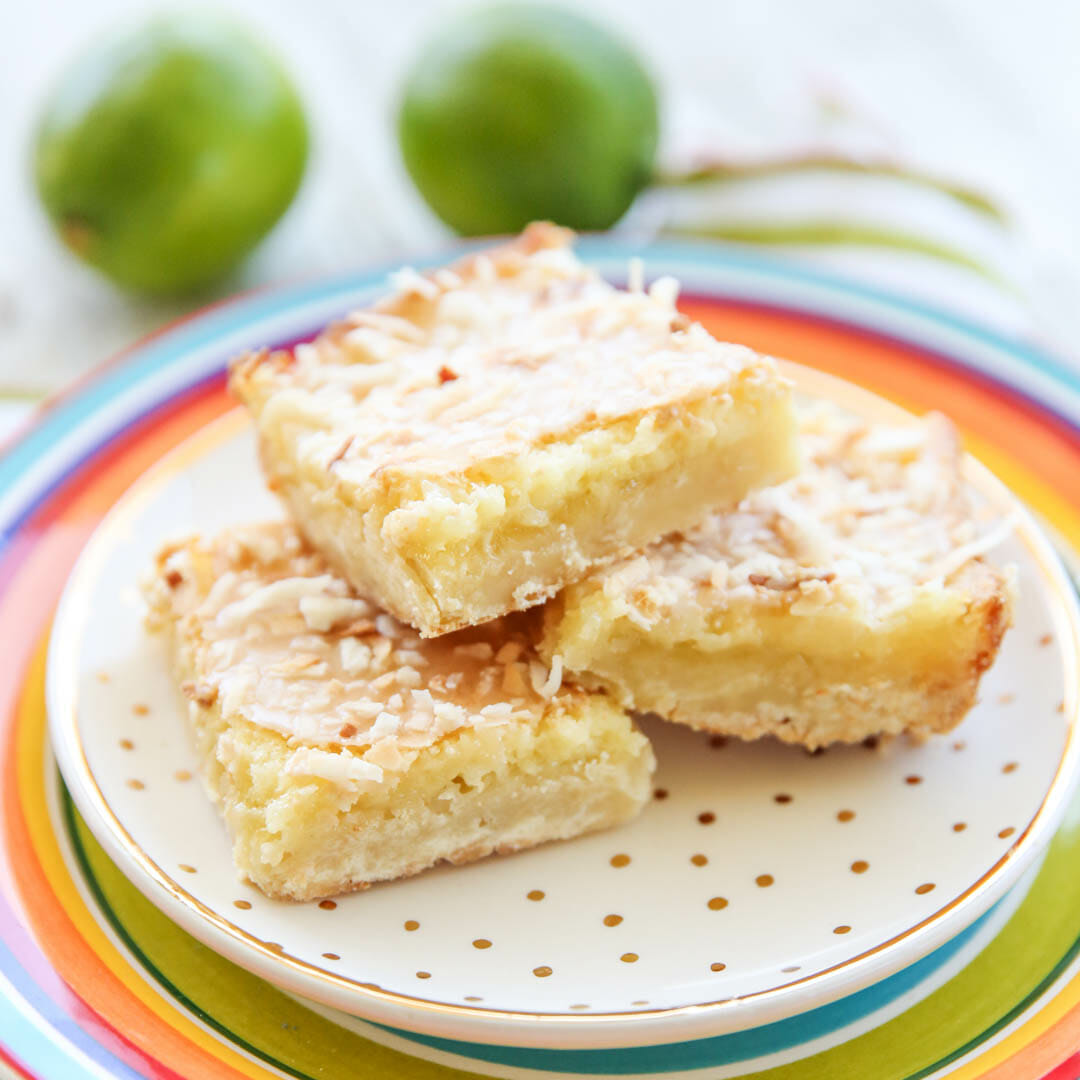 These start out just like the lemon bars, with a quick shortbread crust.  I added in just shy of a cup of coconut right along with the dry ingredients.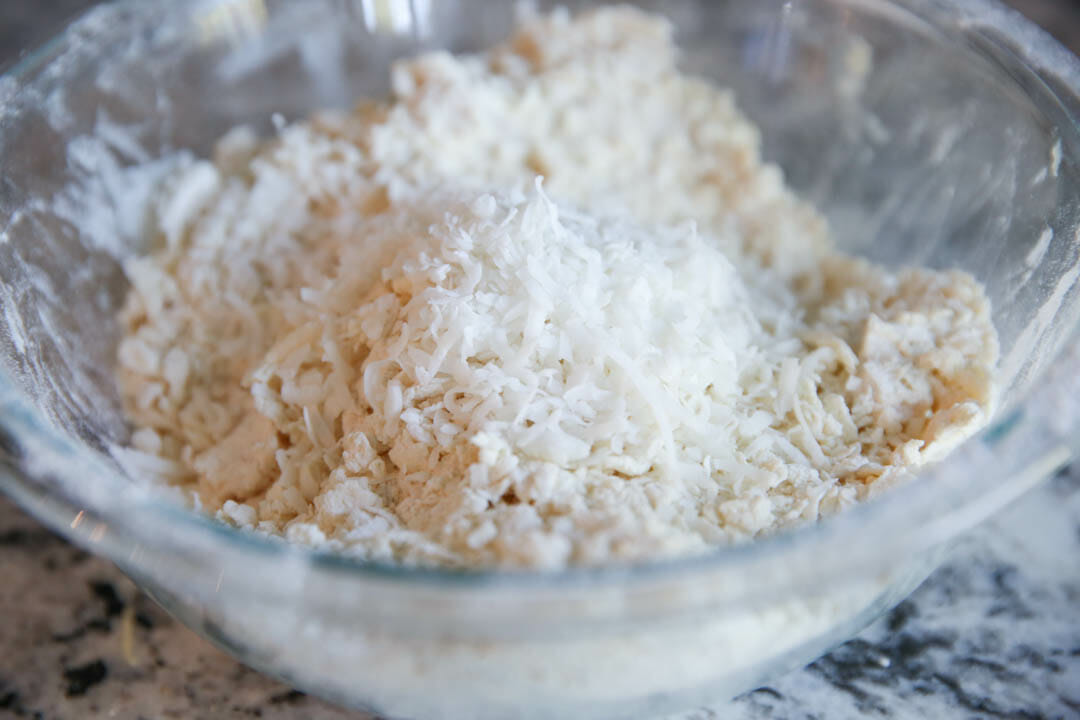 I always use a cheese grater and grate my cold butter (straight-from-the-fridge cold) into the dry ingredients.  Makes it super easy to crumble up! Press this mixture into a 9×13 pan and bake in the oven.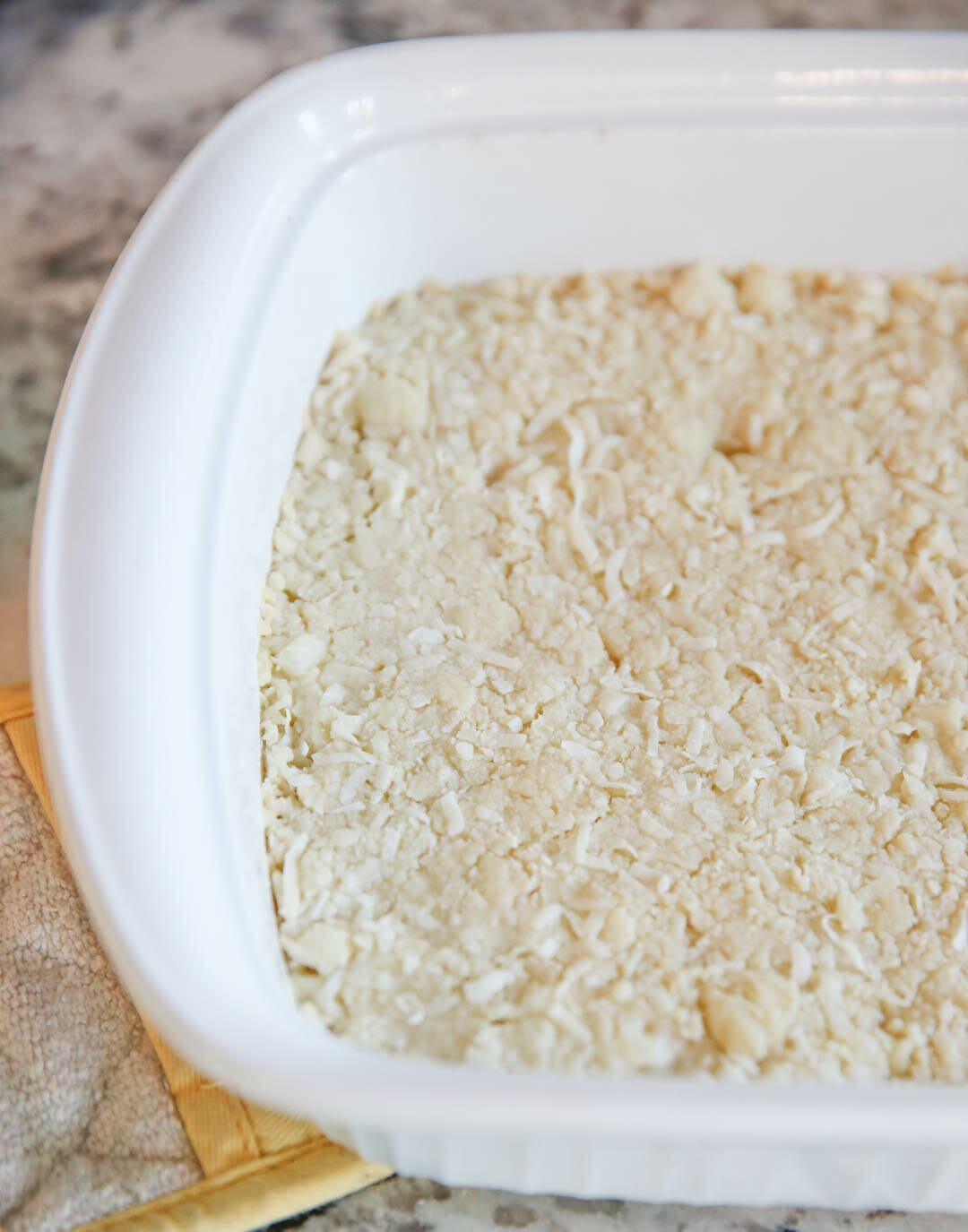 While it's cooking, you can mix up your filling of lime juice, eggs, sugar, flour, and baking powder.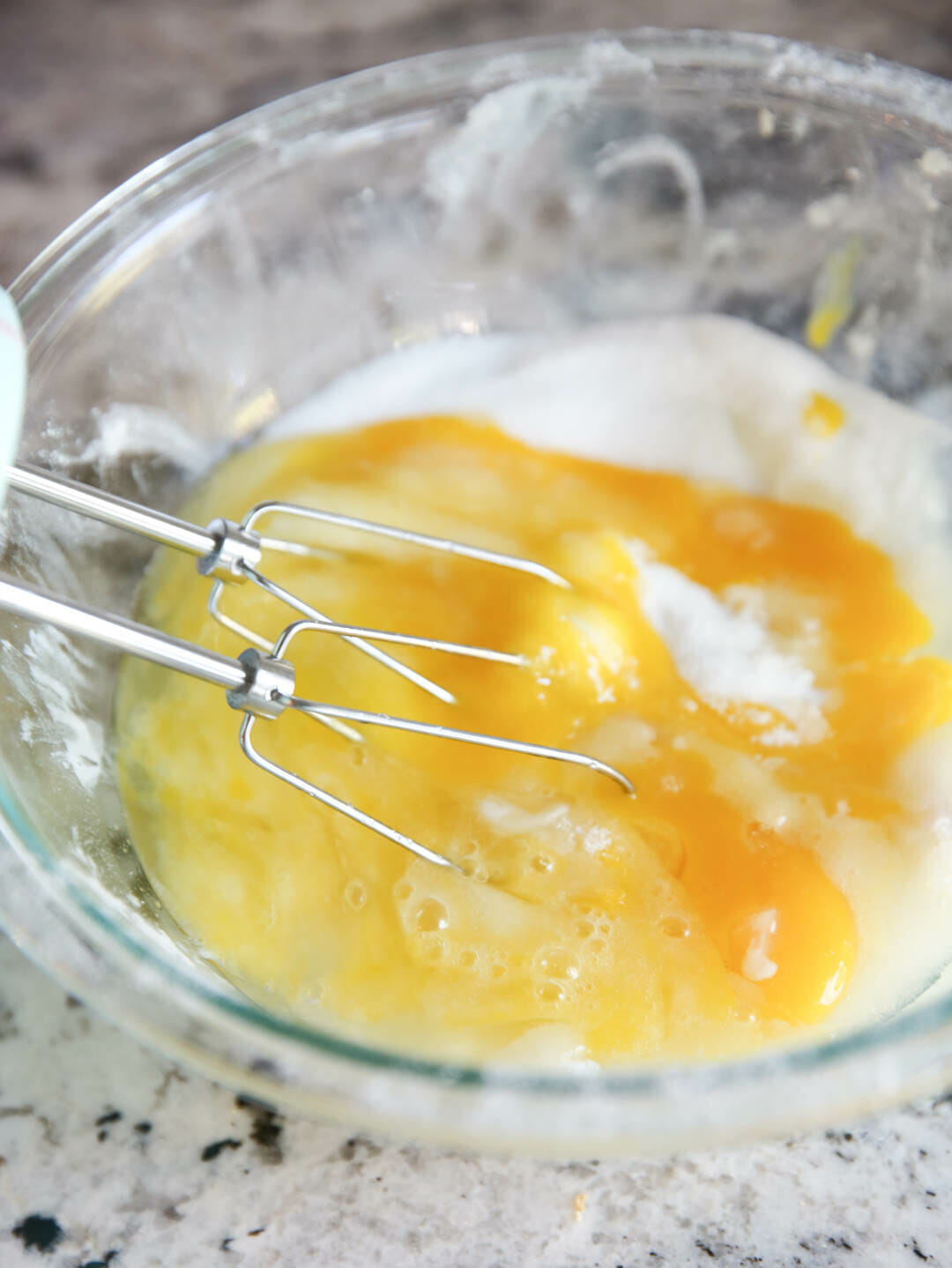 Once that comes out of the oven you'll want to let it cool completely.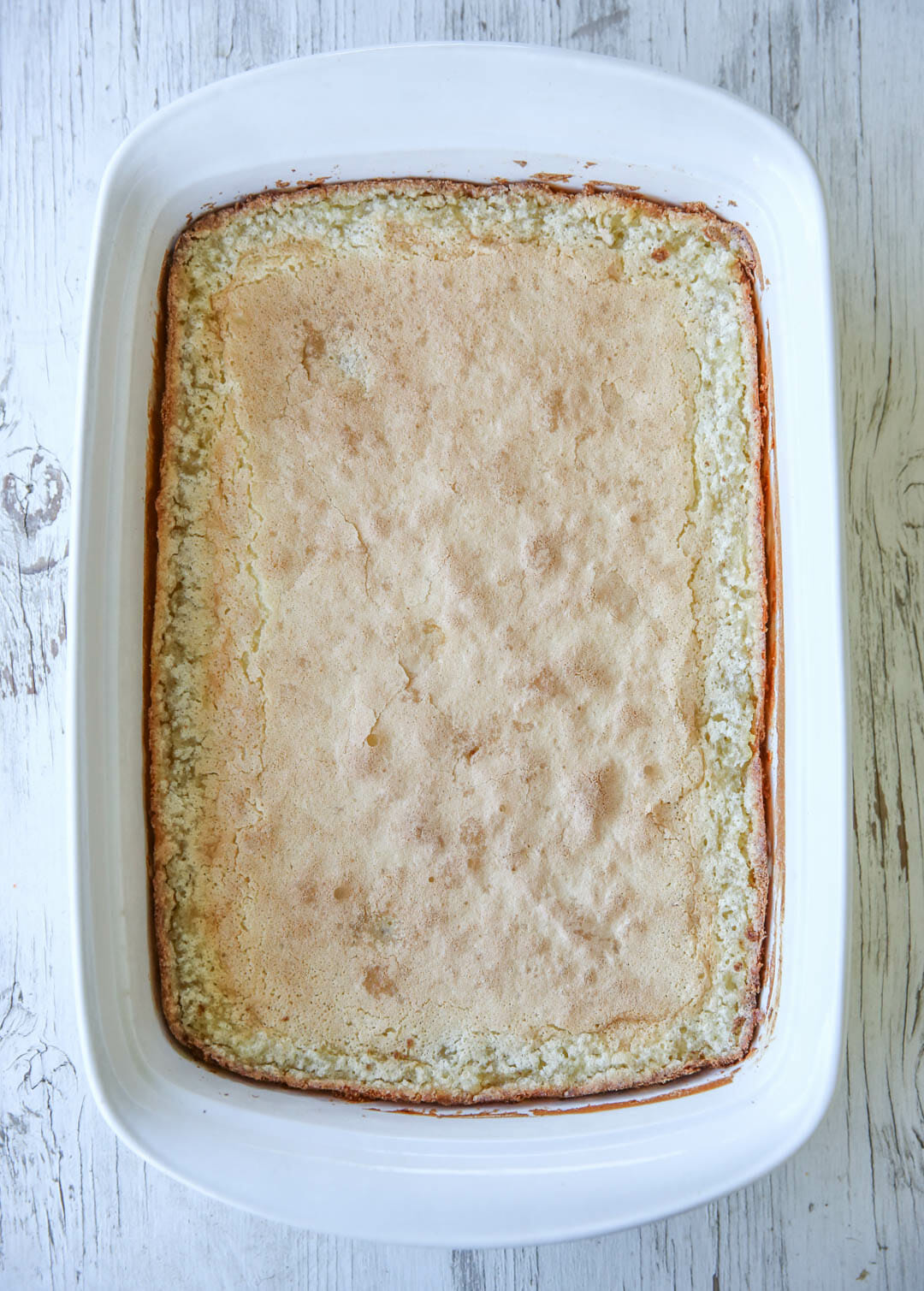 Then pour over a sweet and tart glaze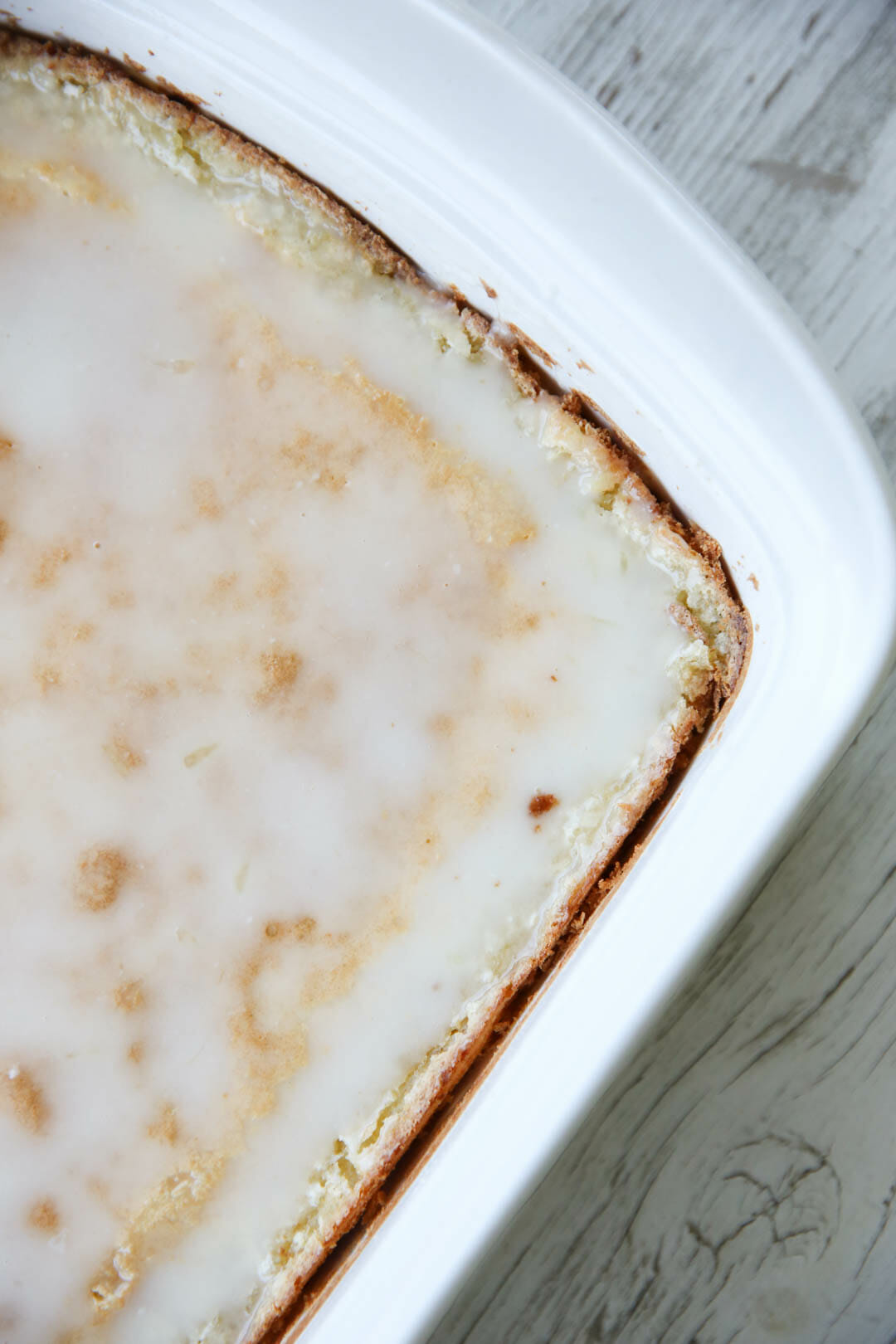 And sprinkle on some toasted coconut while the glaze is still wet so it sticks.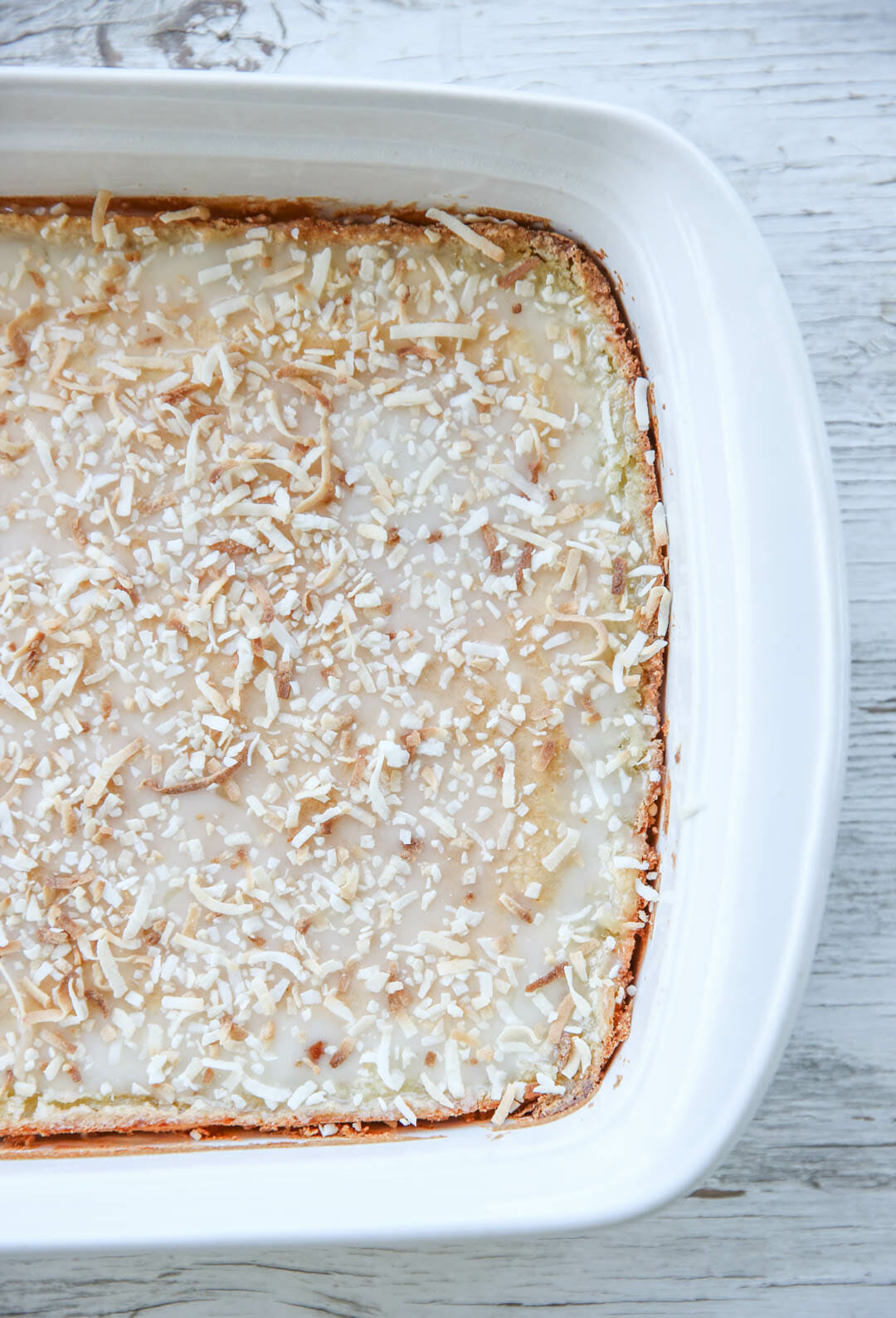 You'll want to refrigerate these until completely chilled, but then let them come to room temperature before serving (which really doesn't take too long).  If you serve them chilled, the crust is quite chewy and a little hard.  When it comes to room temp, it's soft and tender.  These are a fun twist if you're wanting to try something a little different!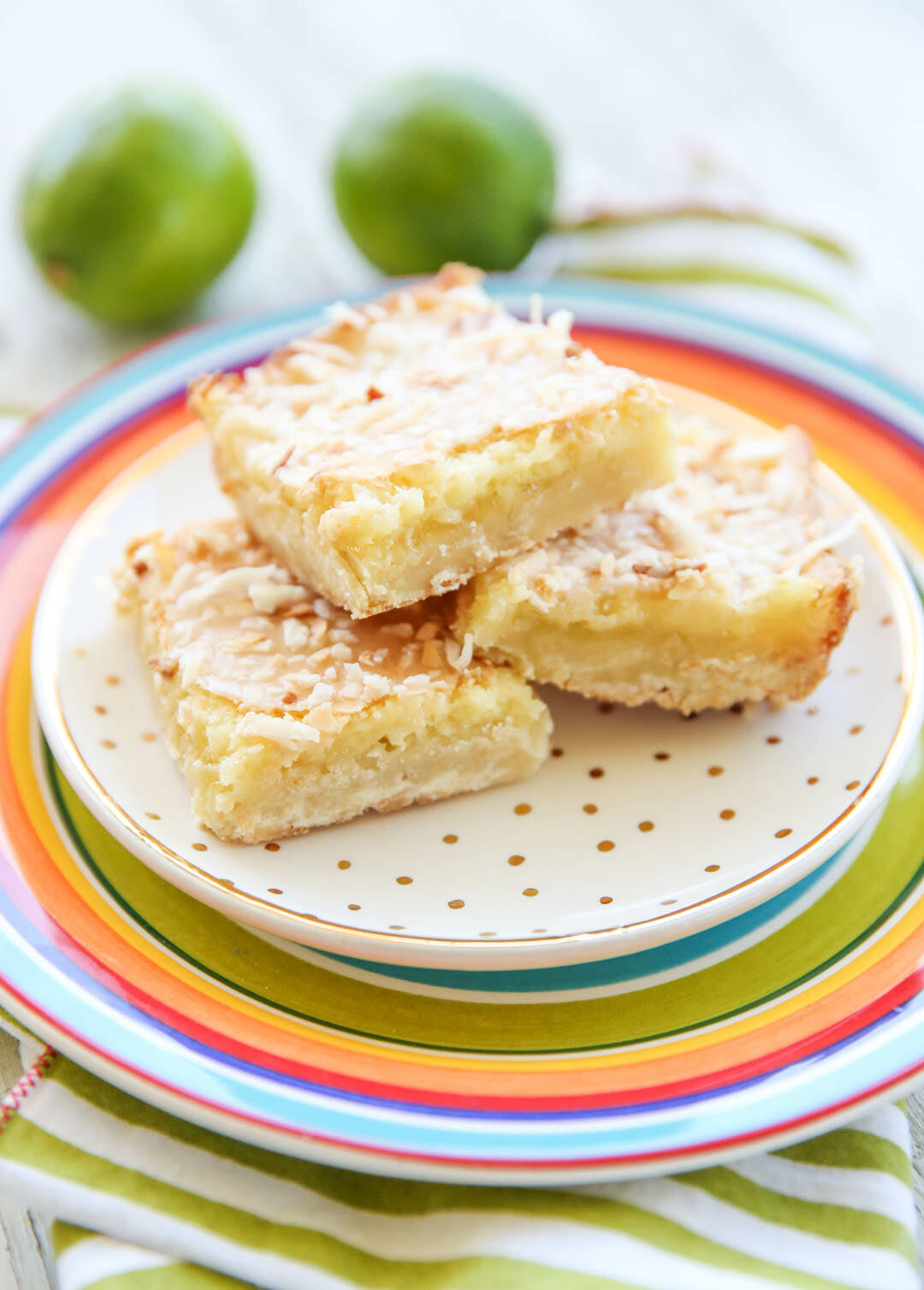 Print
---
Description
A twist on the classic lemon bar using lime juice instead, and adding chewy coconut to the crust and toasted coconut to the top!
---
Crust
2

c. all-purpose flour (lightly spooned into the measuring cup and leveled with a knife)

3/4 cup

shredded sweetened coconut

1/2

c. powdered sugar

1

c. (2 sticks) butter
Filling
4

large eggs

1/4 cup

freshly-squeezed lime juice

1 teaspoon

baking powder

1/4 cup

all-purpose flour

2 cups

white sugar
Glaze
1

c. powdered sugar

3 tablespoons

strained freshly squeezed lime juice
Topping
1/4 cup

shredded sweetened coconut, toasted
---
Instructions
Preheat oven to 350. Lightly spray a 9×13″ pan with non-stick cooking spray and set aside. Whisk together the flour, powdered sugar, and coconut and then cut in the butter with a pastry blender or two knives until the mixture is crumbly. Tip: use a cheese grater to grate cold butter into your flour mixture. Lightly press into the pan and bake for 15-20 minutes or until light golden around the edges. Remove from oven.
During the last few minutes of the shortbread's baking time, mix the eggs, lime juice, flour, sugar, and baking powder in a large bowl with an electric mixer on high speed for three minutes. The mixture should be frothy and very, very pale yellow. Pour the mixture over the warm crust and then return the pan to the oven for another 20-25 minutes or until lightly golden brown on top. You might want to check the bars at 17-18 minutes to make sure the top isn't getting too dark.
Remove the pan from the oven and allow to cool completely. When the bars are cool, whisk together the glaze ingredients until smooth and then gently spread over the bars. Refrigerate for at least two hours and then cut into squares before serving.
---
Notes
In place of cooking corn on skillet, you can alternately grill corn on bbq grill or grill pan and then cut off the cob.