First of all, can I get a cold drink?  Is anyone else experiencing a heat wave?? I can't handle the triple digits much longer, it feels like winter again because I refuse to go outside and my kids don't last more than 5 minutes out there because it's too hot.  So we stay inside with the nice cold air conditioner (sometimes I even wear a sweatshirt!) and do things like bake cookies.  I'd like to get back to popsicles so I'm hoping it will cool off a bit.
So, normally we spread out the sweets and savories around here, but Kate pulled a fast one on me this week (sneaky, sneaky Kate!) and didn't post the very savory dish that was on our calendar.  So hopefully you're still in the mood for amazingly delicious citrus flavored goodies, because I have yet another one today!
This is an older Martha Stewart recipe and I sometimes just call them "shower cookies" because I make them a lot for baby and wedding showers.  They just seem pretty and dainty and they're a good make-ahead/prep-ahead one.  If you've never made a "meltaway" style cookie, they get their name because they sort of just melt in your mouth.  There's no eggs in the cookies, and there's an addition of cornstarch and powdered sugar instead of granular.  All of those lend themselves to a buttery cookie with a tender crumb.   They're easy-peasy.  I'll show ya.
Start out with butter and sugar: two of my favorite things, that only get better when they're together 🙂  And since we're using powdered sugar (a must for meltaways) it's light, smooth, and creamy.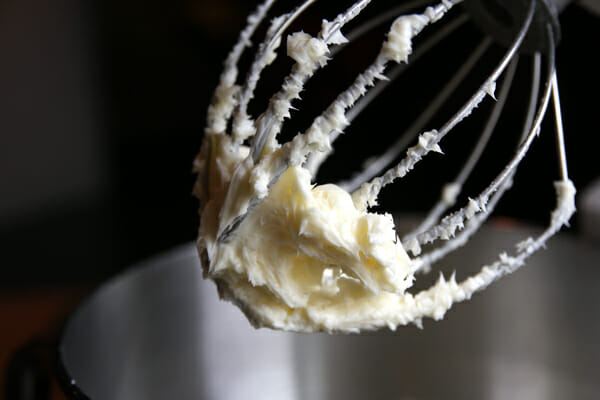 Into the butter mixture goes vanilla and lime zest.  If you don't own a microplane yet, pause before this step, open this link in a new tab, click "add to cart" (and make sure your cart isn't already full of $168 worth of mega bloks like mine was just now, thank-you-very-much-six-year-old) and then come back here and continue.  Perfect example of a recipe that really benefits from a microplane zester.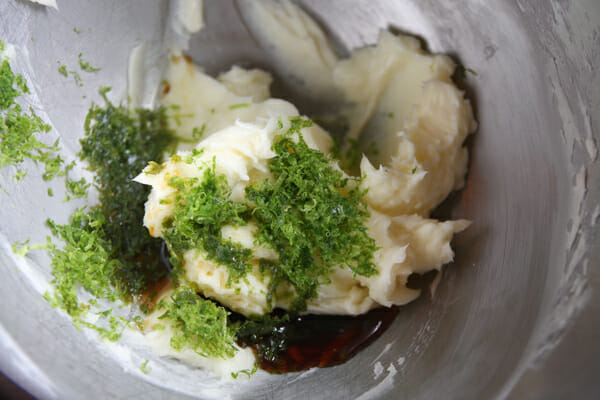 Add a little flour, salt, and cornstarch and you'll have a soft dough.  Don't be worried if you taste the dough at this point (you know you did…) and it doesn't taste sweet enough.  These little guys will be rolled in sugar and in the end the balance is perfect.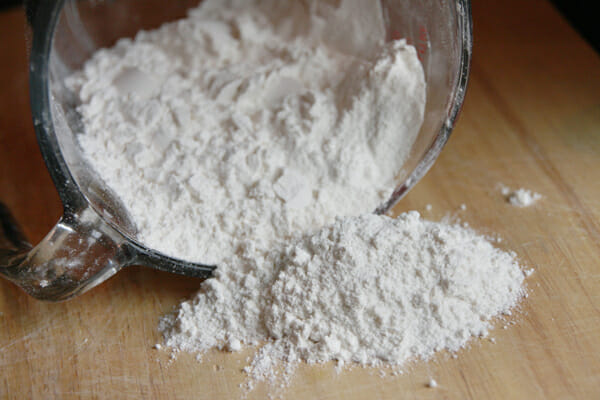 Roll it up into a log (reach back deep into your playdough-playing days) and wrap that sucker up.  This is what I love about cut and slice cookies:  you can make them up to this point and then keep them well wrapped in the fridge or freezer well in advance.  Makes party-throwing (or cookie-cravings) a breeze.
When you're ready to make them, slice up the dough and place it on a baking sheet.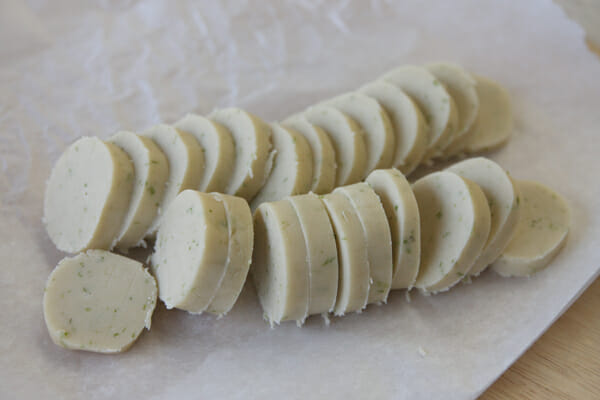 They bake for a little over 10 minutes, but the appearance doesn't change too much.  They're just barely golden around the edges.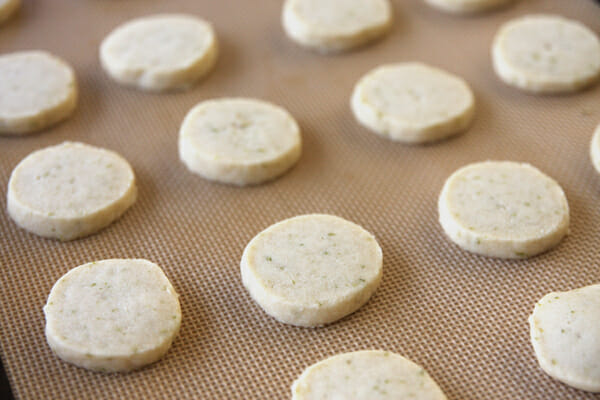 When they're still warm (but not hot) give them a douse of powdered sugar.  Martha tosses them in a ziplock bag, but I find that the tender cookies have a tendency to fall apart that way, so I just put them in a bowl an lightly coat them that way.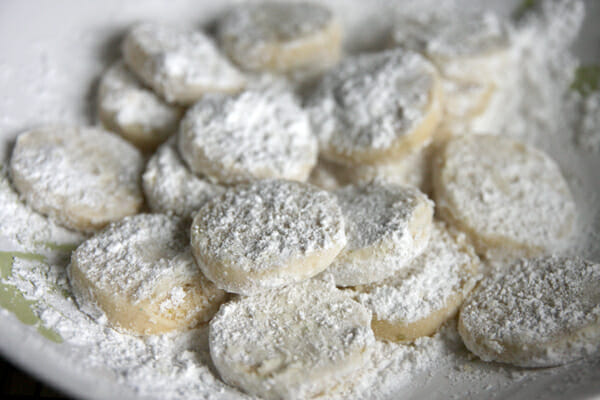 They're cute and sweet, and have just the right amount of bright citrus.  I should add that what reminded me that I had never shared this recipe is note in a recent issue of Martha Stewart Living where this cookie was recommended as a good one to send to troops overseas.  We get tons of emails asking the same thing so I wanted to post this as an option!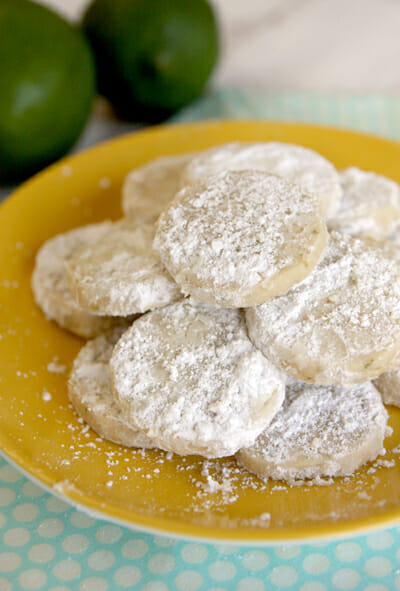 Word to the wise:  don't inhale when taking a bite of a powdered-sugar-covered cookie.  Obviously, I am not wise.
Lime Meltaways
Recipe from Martha Stewart
Ingredients
3/4 cup (1 1/2 sticks) unsalted butter at room temperature
1 cup powdered sugar
Finely grated zest of 2 limes
2 tablespoons fresh lime juice
1 tablespoon pure vanilla extract
1 3/4 cups plus 2 tablespoons all-purpose flour
2 tablespoons cornstarch
1/4 teaspoon salt
Instructions
Put butter and 1/3 cup confectioners' sugar in the bowl of an electric mixer fitted with the whisk attachment, and mix on medium speed until pale and fluffy. Add lime zest and juice and vanilla, and mix until fluffy.
Whisk together flour, cornstarch, and salt in a bowl. Add to butter mixture, and mix on low speed until just combined.
Divide dough in half. Place each half on an 8-by-12-inch sheet of parchment paper. Roll in parchment to form a log 1 1/4 inches in diameter.  Refrigerate logs until cold and firm, at least 1 hour.
Preheat oven to 350 degrees. Remove parchment from logs; cut into 1/4-inch-thick rounds. Space rounds 1 inch apart on baking sheets lined with parchment paper. Bake cookies until barely golden, about 13 minutes, rotating sheets halfway through. Transfer cookies to wire racks to cool slightly, 8 to 10 minutes. While still warm (but not piping hot), toss cookies with remaining 2/3 cup sugar in a resealable plastic bag. Cookies can be stored in airtight containers at room temperature up to 2 weeks.
If you haven't heard, we're doing a giveaway every week for the rest of the summer!  Enter our current giveaway by clicking here.