Summer is here and that means before you know it the grocery stores and roadsides will be full of fresh corn on the cob.  One of my most favorite summer corn recipes is Elote, or Mexican style corn on the cob.  (Well there's a post in need of a Flashback Friday.  I'll have to rephotograph that oldie!)  It's hot corn off the grill, slathered in a tangy and creamy lime-chili dressing and then rolled in Mexican cheese.  The cheese melts into the sauce from the hot corn and it's just all kinds of delicious.  But.  It's also super messy.  I always want to serve it when we have guests, but it's one of those foods that kind of makes a scene and isn't quite as fun to eat if you can't get it all over your face.  So a long time ago I started cutting the corn off the cob and turning the whole thing into a salad.  I've seen recipes like this floating around lately and I thought I'd add mine to the mix!  This is one of those recipes where if you have all the ingredients, you can kind of eyeball and add more or less of things depending on your tastes.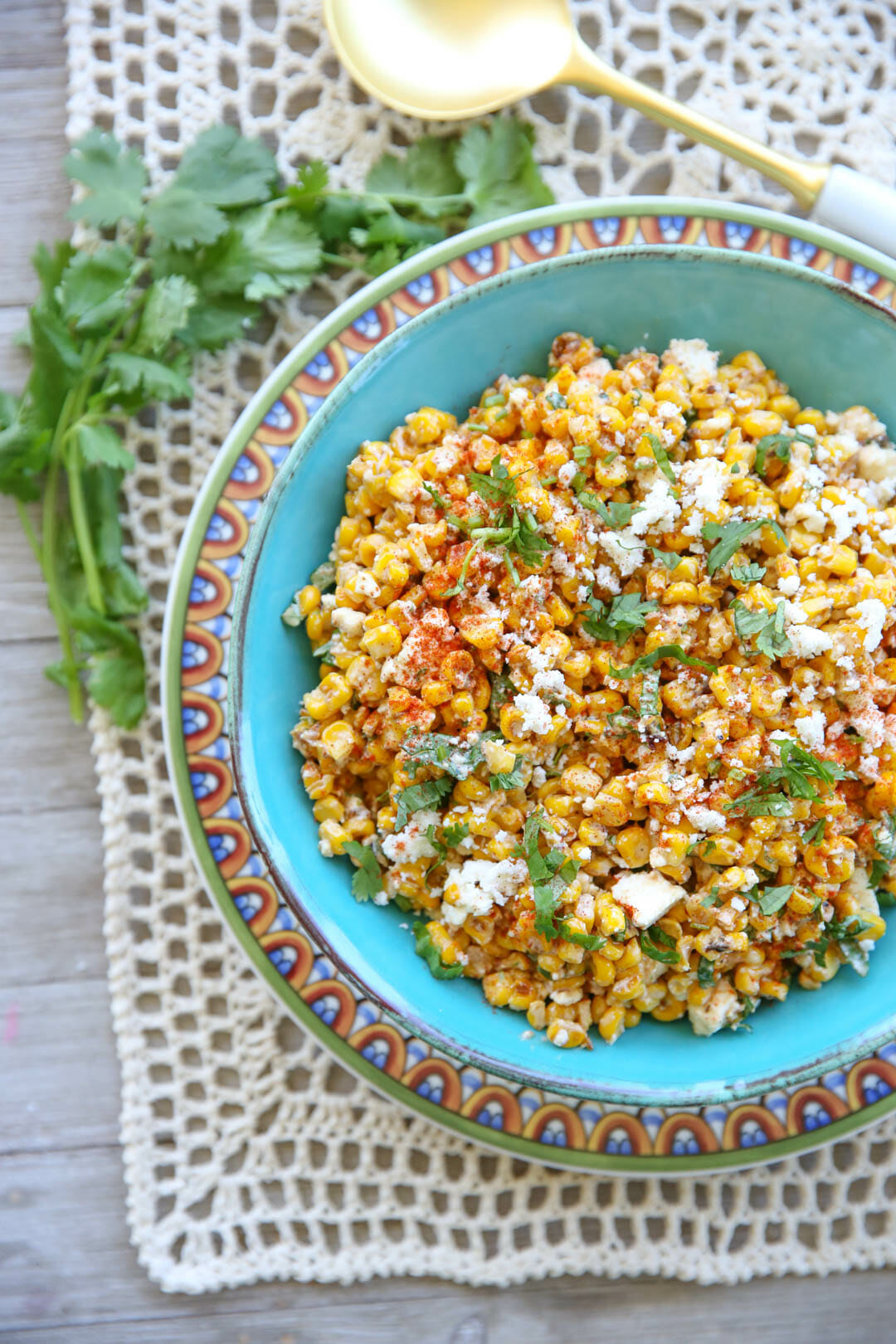 You'll need about 5 ears of corn.  I love making this with fresh sweet corn, but you could also use frozen fresh corn.  I would just avoid canned.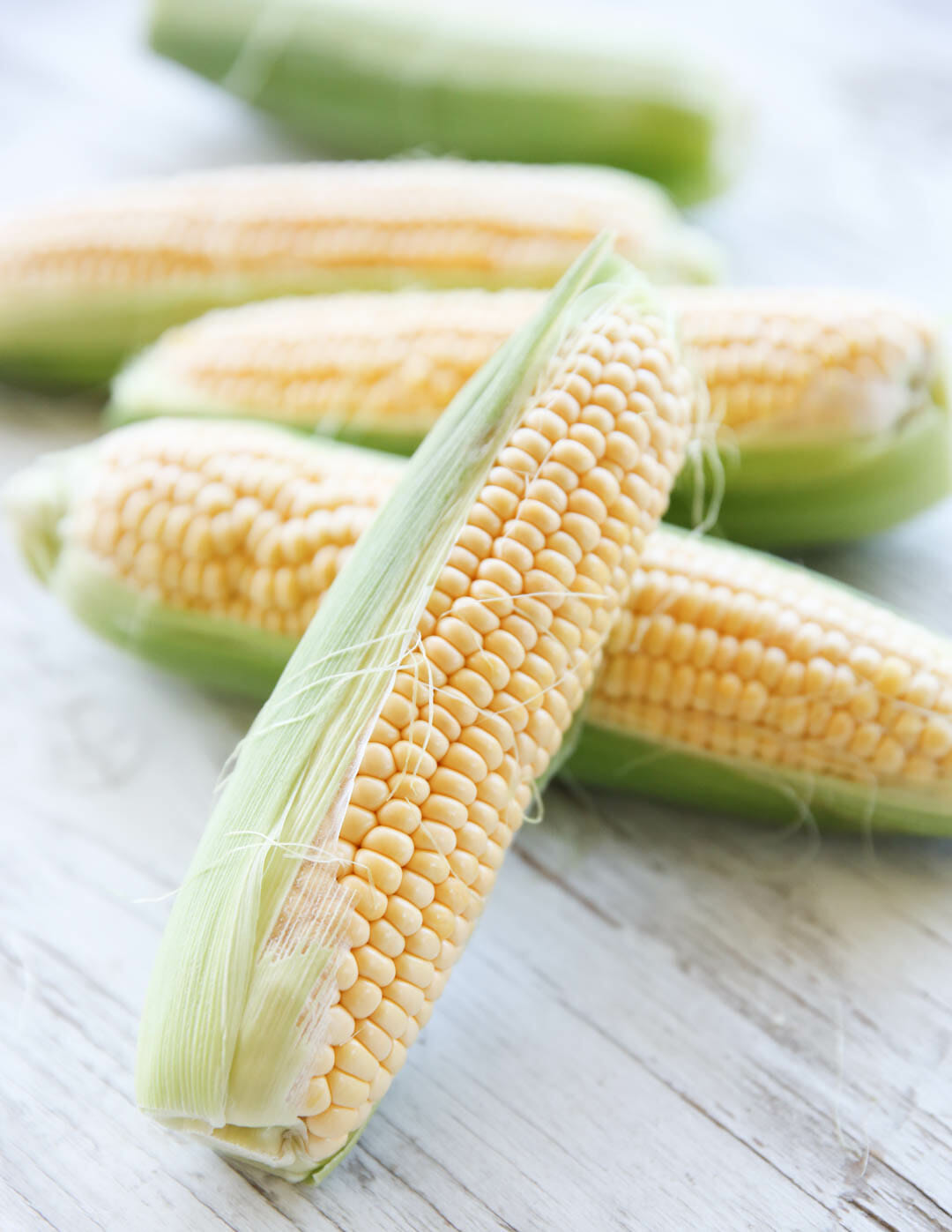 You'll cook the corn in a hot skillet and it will kind of pop around like popcorn.  Since corn is so sweet, it tends to char easily.  You want those nice blacked spots, but you don't want it to burn so just keep an eye on it.  You'll toss some garlic in there at the last minute.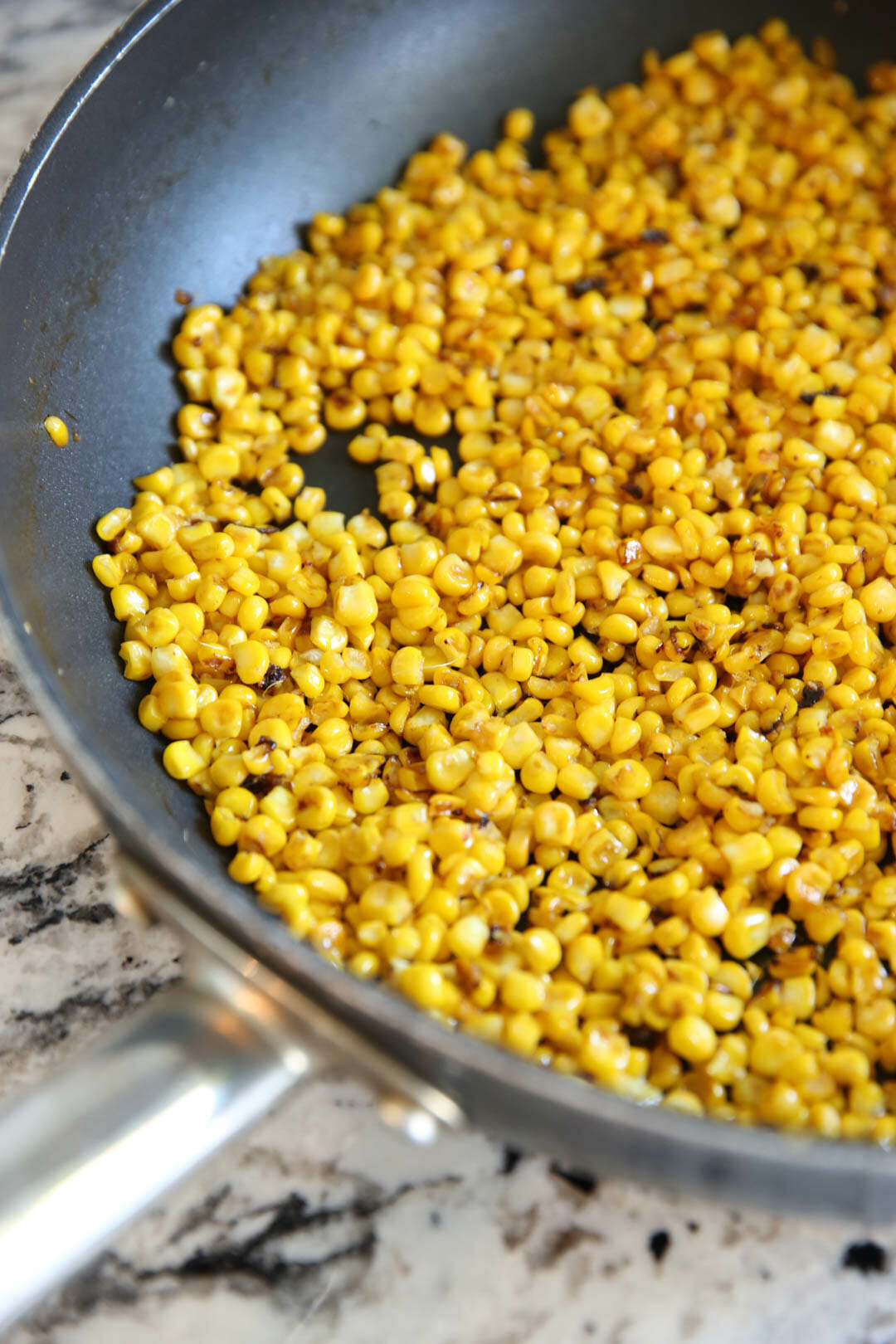 When that's off the heat you'll mix up a quick dressing of sour cream, mayo, chili powder, lime zest and juice, salt and pepper, and a little smoked paprika for smokiness.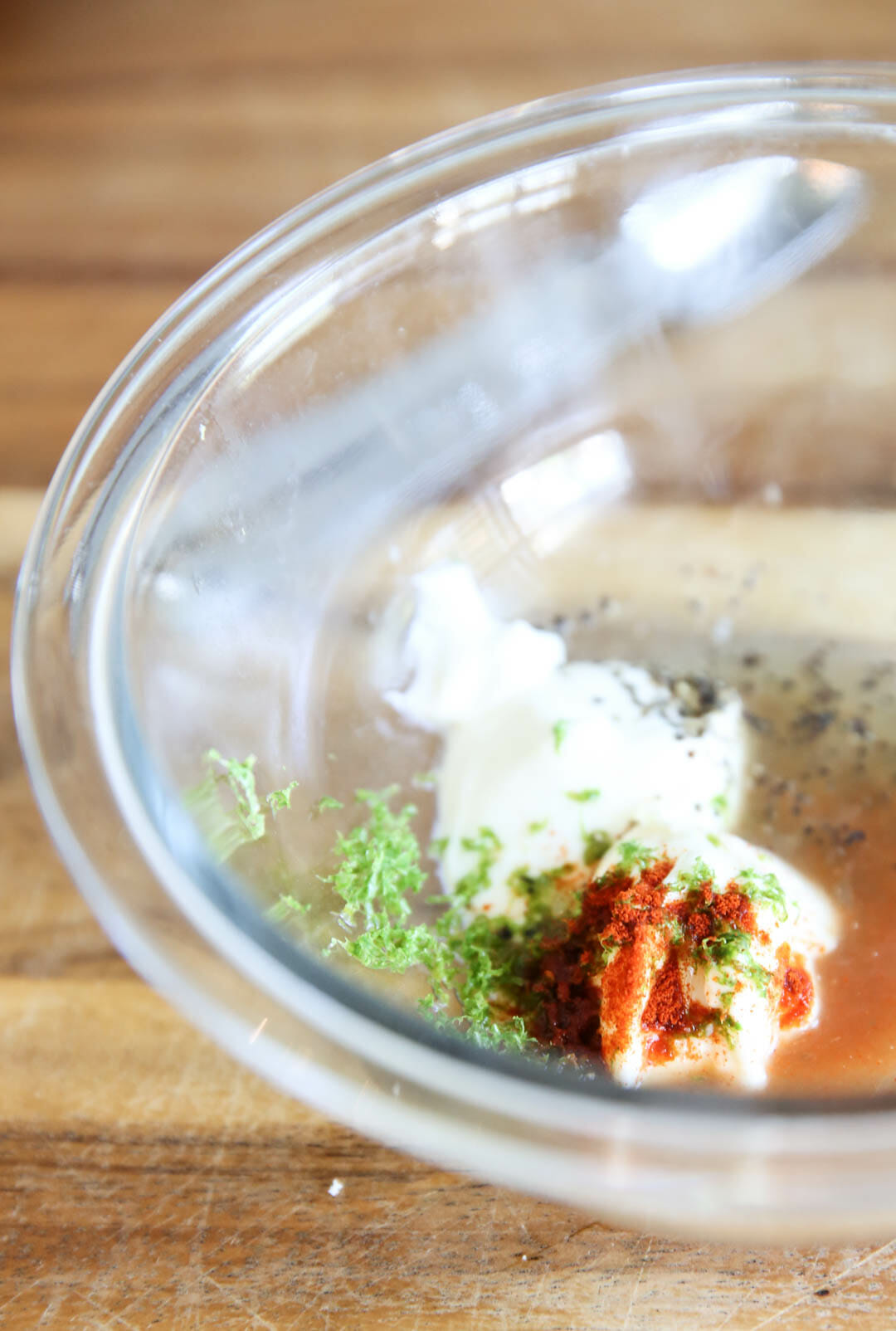 When it comes to cheese, look for Mexican cheese like Cotija or Queso Fresco at the grocery store.  They come in round blocks.  You can also sub feta or even fresh crumbled parmesan.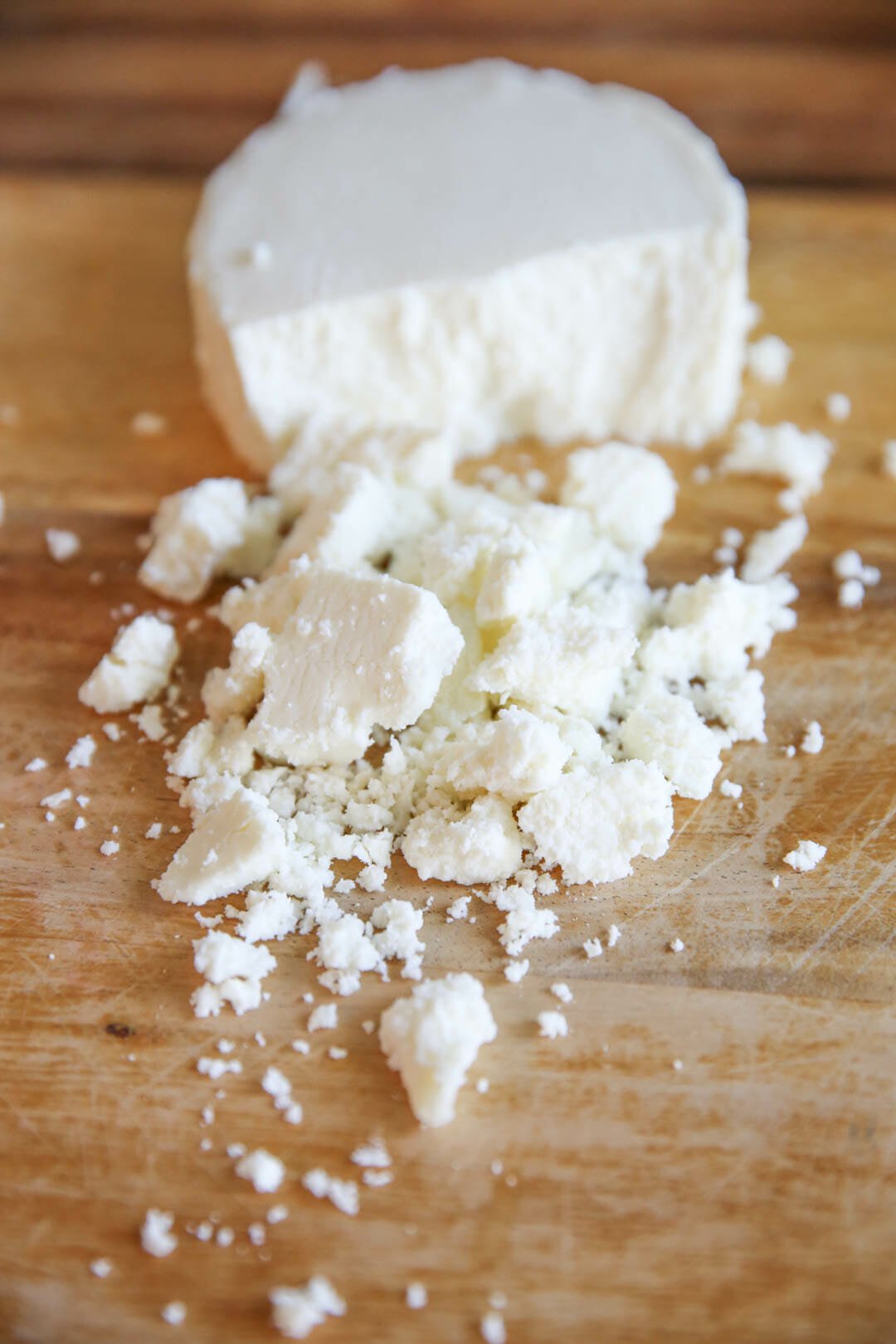 You'll mix all of that into the hot corn, along with some chopped cilantro, and mix it all up.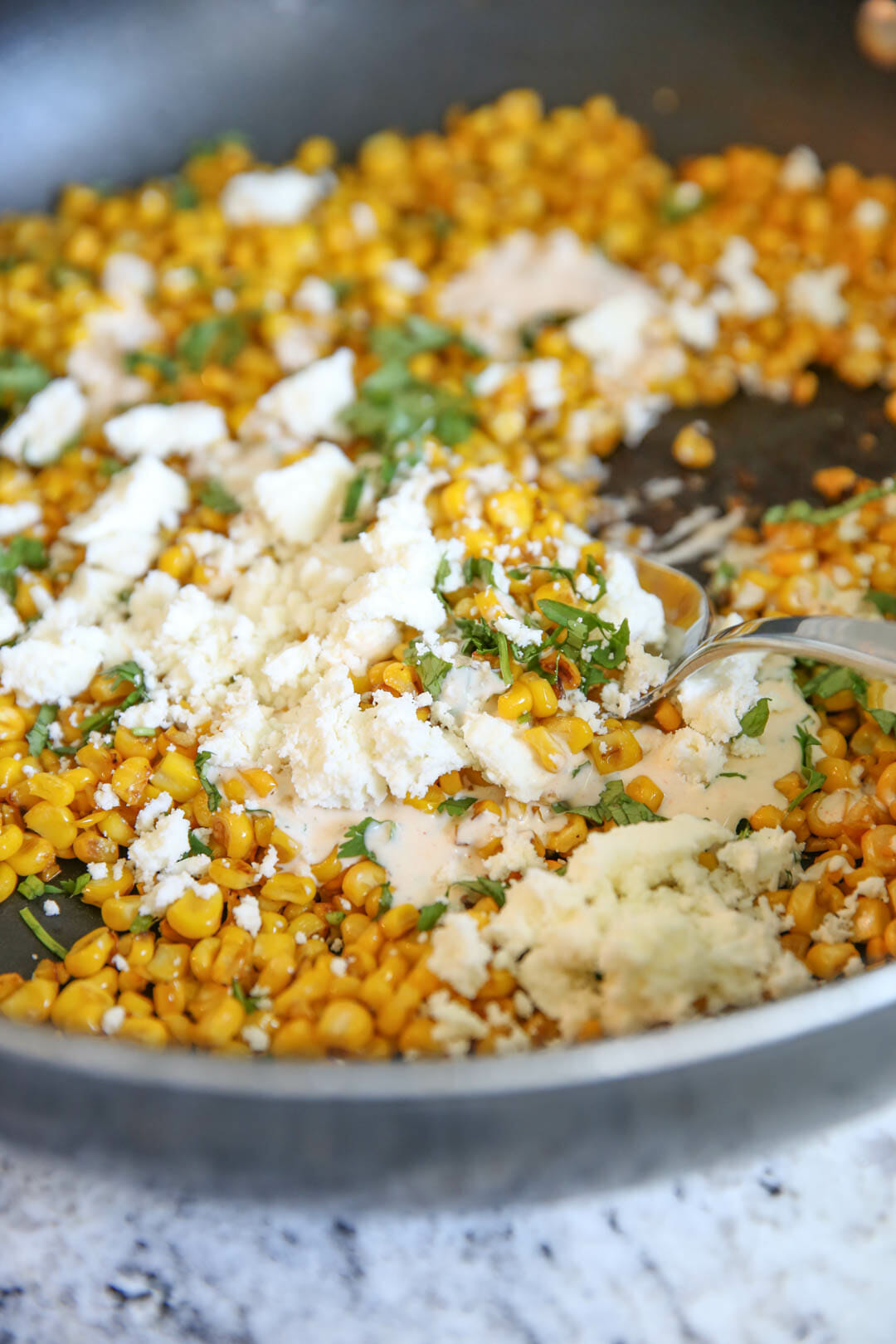 The great thing is that this salad can be served right away, warm, or it can be chilled in the fridge and served cold.  I personally like it warm, but it's great cold as well!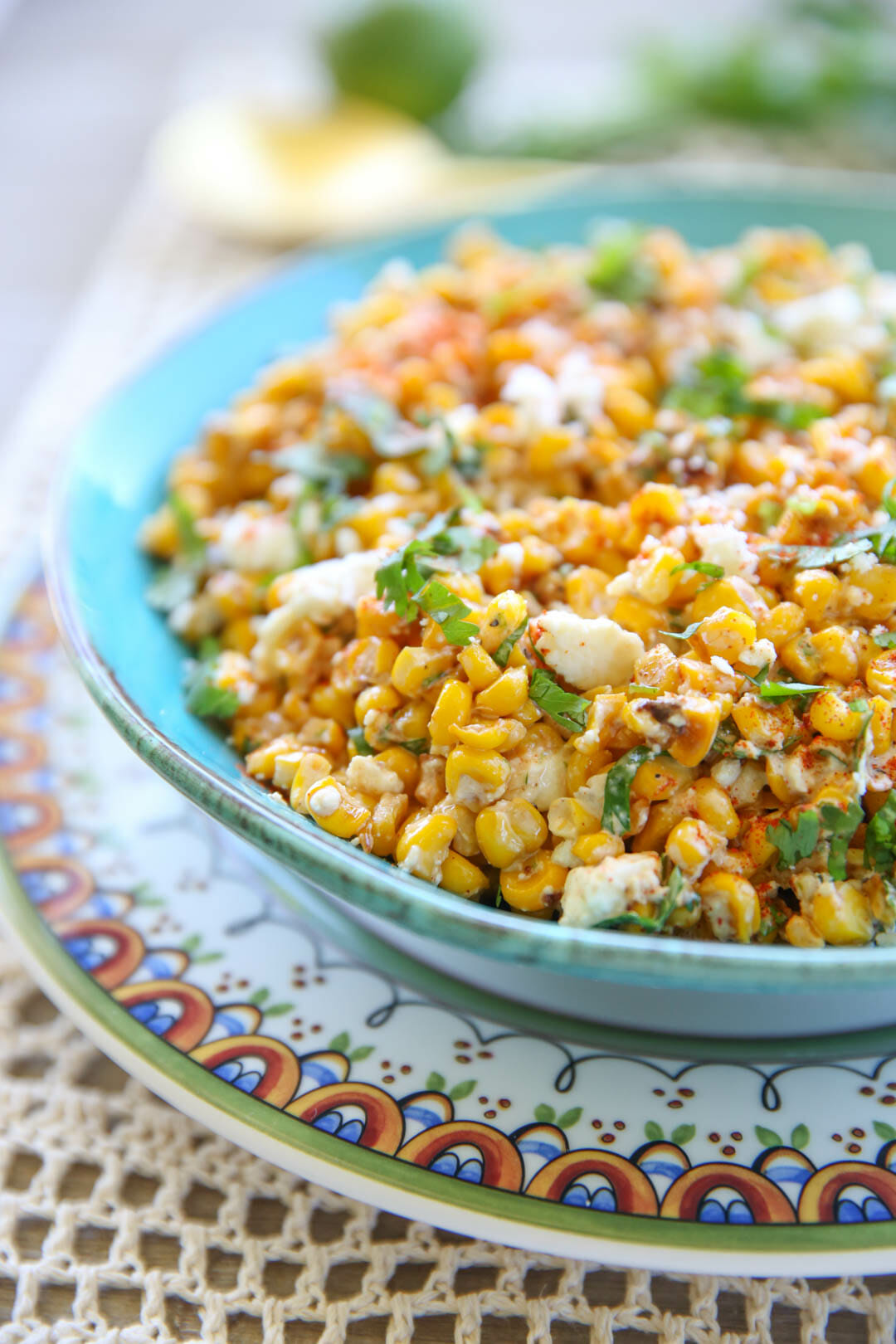 This is such a great summer side dish to go along side grilled meats, or taken to a pot luck for something unique.  Try it and let me know what you think!
Print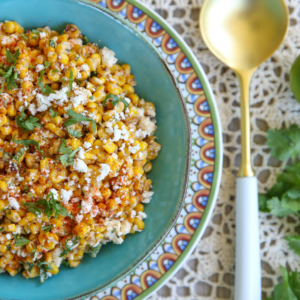 ---
Description
A flavorful fresh corn salad that can be eaten warm or cold. All the comforting flavors of street corn, but on a spoon.
---
5

ears fresh corn, about

4 cups

corn

1 1/2 tablespoons

olive oil or butter

1

large clove garlic, minced

2 tablespoons

mayo

2 tablespoons

sour cream
zest from

1

lime
juice from

1

large lime (about

2 tablespoons

), more if desired

1 teaspoon

chili powder

1/2 teaspoon

smoked paprika

1/4 teaspoon

black pepper
kosher salt to taste

3/4 cup

crumbled Mexican cheese like queso fresco or Cotija

1/4 cup

chopped cilantro
---
Instructions
Cut corn from cobs. Heat an extra large skillet to medium heat and add butter or oil. Cook corn, tossing occasionally, until toasted and slightly brown, about 5 minutes. Add garlic and cook for an additional 30 seconds. Remove from heat.
Combine mayo, sour cream, lime zest and juice, chili powder, smoked paprika and pepper. Toss to combine and then gently stir in cheese and cilantro. Taste and then add kosher salt to taste. Optional: Add additional lime juice to taste.
This salad can be served warm, or chilled and served cold. If served cold, I find it usually needs an extra squeeze of lime juice right before serving.
---
Notes
If you don't have access to the Mexican cheeses (which should be available at most normal grocery stores) you could use feta, or even fresh Parmesan. If you use feta, you may want to do a little less than the recipe calls for since it's so strong.