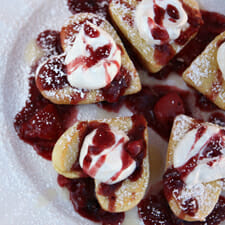 One of my goals in life is to somehow make miniature versions of every food ever made.  Okay not really, but I do sort of have a little obsession with miniaturizing things.  I love puffed pancakes (aka Dutch Baby, German Pancake, etc.)  and as I was making Brazilian Cheese Rolls the other day, I realized they have a similar batter, which made me think I should try little bite-sized versions of these too.   Lots of people make these in a big 9×13 pan and cut it into squares, I usually prefer mine in a cast iron skillet because the edges cook up so crisp and brown, but this is a fun little twist.  I often try to think of ways to make foods easier for my kids to eat and these are just so…poppable!
This is something we make often at my house (sometimes even for dinner!) because it's made with super basic ingredients.  Just milk, flour, eggs, and a bit of butter.  I make mine with the least amount of eggs possible, so it's not so…eggy.  They're just soft and pillowy and perfect for dipping in just about anything.  I just put everything in my blender and then pour them into a mini muffin tin.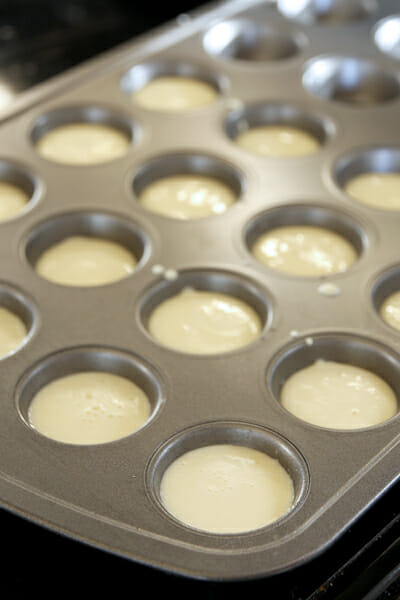 Unless of course your awesome blog partner sent you the world's cutest cast iron mini-heart pan for Christmas, then definitely use that.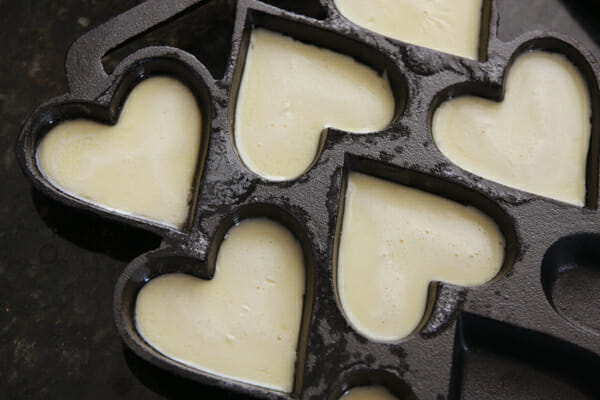 Pop the pan in a hot oven and watch that batter puff right up.  See how those edges browned up?  That's why I love using cast iron, but a simple nonstick muffin tin works great too.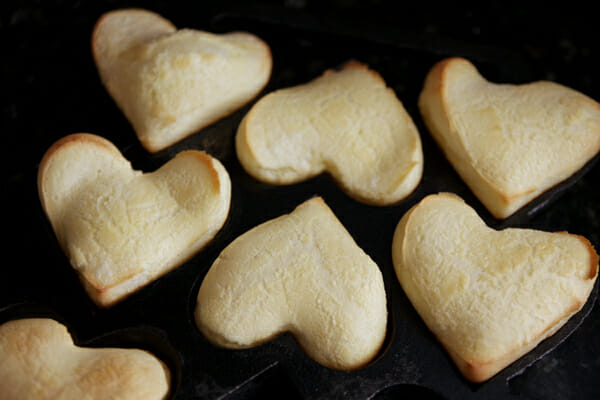 While they're in the oven you can whip up a quick berry sauce.  This is one of my sneaky secrets.  It's so easy to make a fresh berry sauce if you're like me and keep those bags of frozen fruit in the freezer for smoothies.  The triple berry mix from Costco is great, or just frozen strawberries or raspberries.  Or fresh certainly works as well, but I don't usually have a fridge stocked with fresh berries in January.  I just mix up a few frozen berries and a few tablespoons of whatever berry jam I have in the fridge.  I heat it in the microwave for a bit and then mash it all together with a fork, adding sugar if needed.  The jam sweetens and gives body to the sauce and the berries make it taste like it's fresh.  It's so easy; I use this for ice cream, pancakes, waffles, and all kinds of stuff like that.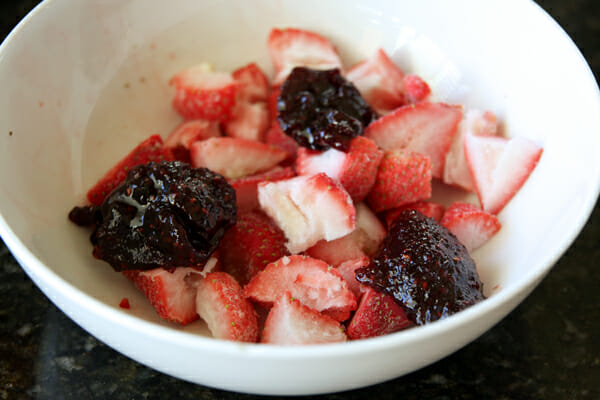 When those little golden puffs are done just pop them onto a plate or platter and drizzle with some melted butter and sprinkle with powdered sugar.  You can either pour the sauce over, or put it in little bowls for dipping.  My kids love dipping them in maple syrup too.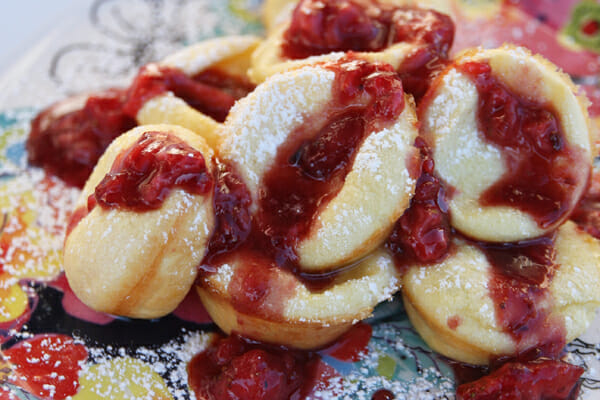 A little Cool Whip or sweetened whipped cream makes it extra special.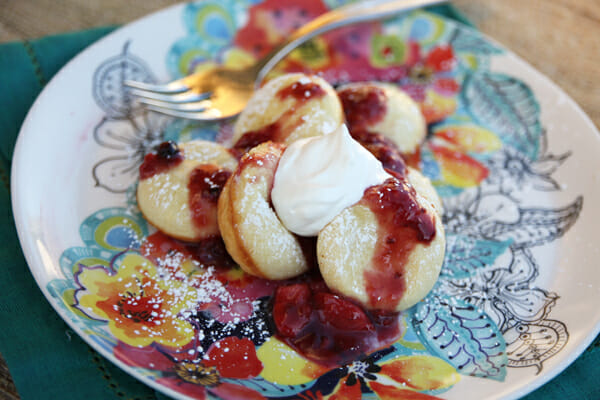 Since these are pretty quick and easy, they'd make a fun special breakfast for Valentine's Day.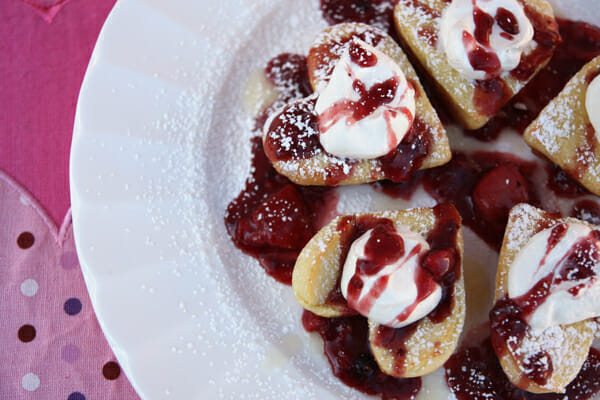 Annnnd I know we're focusing on healthy eating this month, but stick with me!  The fact that these are miniature makes it really easy to portion.  One little mini muffin sized puff (alone) clocks in at just over 20 calories, so you can definitely have 5 or 6 with some fresh fruit on top and a dallop of cool whip and still not even be splurging.  Eat up!
Mini Puffed Oven Pancakes with Berry Sauce
recipe by ourbestbites.com 
Ingredients
3/4 cup flour (*see note below)
3/4 cup milk
2 eggs
1/8 teaspoon salt
2-3 tablespoons butter, melted
powdered sugar
Berry Sauce
6 large frozen or fresh strawberries
3 tablespoons berry jam
optional: sugar if needed, to taste
*Since so many have made these and love them, I didn't want to alter the recipe from its original posting.  however, since making these more often, I have found I prefer the texture of the finished puffed pancakes when I decrease the flour to 1/2 cup.  Try it both ways and See how you like it!
Instructions
Place mini muffin pan (or cast iron skillet) in oven and heat to 400 degrees.  While oven is heating, place flour, milk, eggs, and salt in a blender and blend until smooth.  Carefully remove the pan from the oven (don't forget it's hot!) and quickly spray the wells with non-stick spray, or brush with melted butter.  But we're going for quick and easy here so I just grab the spray.  (If using cast iron pan, coat entire pan surface with butter).  Fill muffin wells 3/4 full with batter.  Place pan in oven and bake for 15-20 minutes, until puffed and slightly golden on top.  Remove puffs and place on plate or platter.  Drizzle with melted butter and sprinkle with powdered sugar.  Drizzle with berry sauce and top with cool whip or whipped cream, or serve with sauce and/or maple syrup for dipping.
Quick and Easy Berry Sauce
If using frozen berries, place berries and jam in a microwave-safe bowl and heat for  about 1 minute.  Use a fork to stir and mash everything together (cut strawberries if necessary), or place everything in a blender and pulse a few times until desired consistency is reached.  Add sugar to taste for sweetness and a few teaspoons of water or juice only if needed for consistency.
Yields about 24 mini muffin pancake puffs