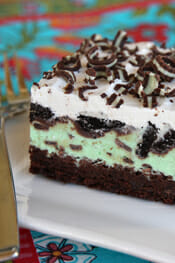 My love of peppermint and chocolate goes back a long way.  One of my first memories is of Christmas when I was about 5 years old.  Santa placed in my stocking the most amazing chapstick.  It was shaped like an ice cream cone, with the cap looking like a creamy mint-green swirl of soft serve which closed on a waffle cone tube.  It was like rubbing ice cream on your lips, which as you can imagine can be nothing short of delicious.  But apparently I wasn't the only person who thought that.  Just days after I received my beloved chapstick, I opened it up to find only a tiny nub of actual chapstick left, and the distinct markings of 2 front teeth.  My brother had eaten it.  I think that's when I decided to trade in chapstick for actual ice cream, and it's been my favorite flavor ever since.  This is a deliciously naughty way to eat it.  Way better than chapstick.  Kind of an ice cream version of my most favorite brownies (have you made those yet?? )  This is one of my favorite desserts to make for a crowd because it makes a big ol' pan, and you can prepare it several days ahead of time.  Also, people will suddenly worship you after they eat it, and that's pretty awesome too.  I'm using some of my favorite McCormick products in this recipe, if you love the styling at the end of this post, make sure to check out The Scoop today for a chance to win some products of your own!
I start with a good boxed brownie mix.  For something like this, where there are a lot of flavor and texture components, it's not worth making a homemade brownie because no one will know the difference!  One of the tricks to a great frozen dessert or ice cream cake, is making sure your layers are the right size so they soften at the same rate.  You don't want your brownie layer too thick, so I've found that brownie mixes that call for a 9×9 pan as the largest size option are perfect, when you cook them in a 9×13.  Really any will work, even if it calls for a 9×13 pan, so don't stress over that detail, but I especially like the ones pictured.  Line a 9×13 inch pan with foil and let the foil extend over the edges of the pan.  Bake a few minutes under the instructed baking time.  This is important!  Having them slightly undercooked will make them nice and fudgy when they're frozen.  Once the brownies are cooked, cool completely and then pop in the freezer until you're ready for the next step.  You can do this all in one day (it's very doable), or spread the steps out over a few days.  If you're going to spread it out, make sure to wrap your pan well in plastic wrap and/or foil.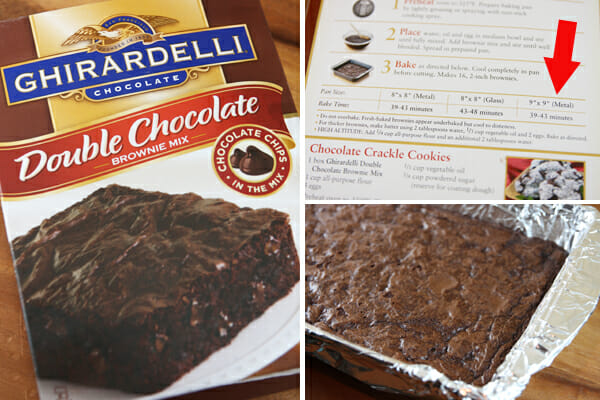 You'll need a full 1 1/2 quart container of mint-chip ice cream.  Let it sit at room temperature until softened, giving it a stir every 10 minutes or so.  It will start to melt on the outside first, and as you stir, you'll have big chunks of frozen ice cream in the middle.  Be patient and wait until it's fully softened, like in the bottom photo below.  You should be able to easily stir it with a spoon, like frosting.  Gently spread the entire carton over your brownie layer.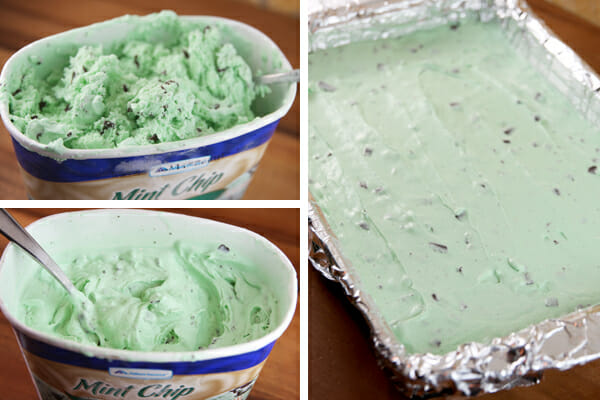 If you don't soften it all the way, you'll tear up your brownies and we can't have that!  After it's spread, place in the freezer to set while you prepare the next step.
This next layer might be my favorite.  Okay it is my favorite.  We're taking some easy short-cuts with boxed brownie mix and store-bought ice cream and whipped topping, but this layer is the little splurge, and it's so, so worth it.  A decadent dark chocolate ganache, spiked with cool peppermint.  Use 100% pure peppermint extract so the clean flavor comes through.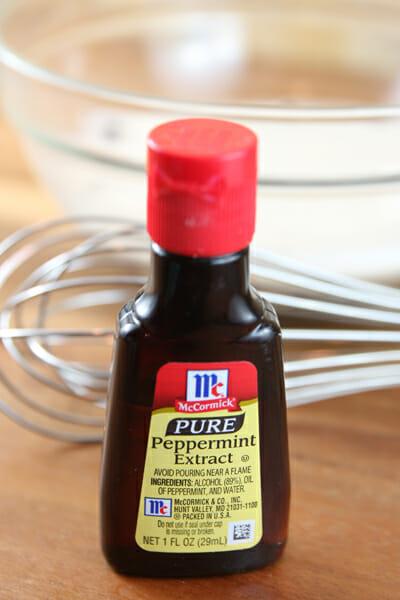 You'll pour piping hot whipping cream over chocolate and whisk it together with peppermint extract until it's beautifully smooth.  Try not to accidentally drink it.  It happens.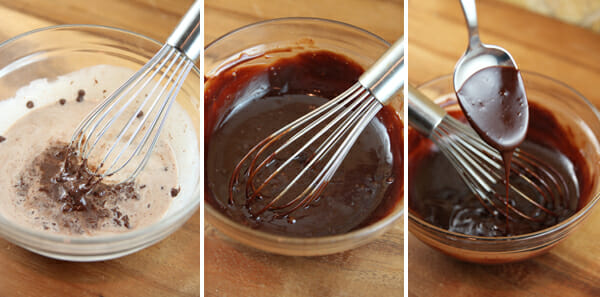 Let it cool off to close to room temperature and then pour it evenly over the ice cream layer.  Try to drizzle it over evenly (So, like, not as I am doing it in the photo)  The cold ice cream will cause it to harden and make it difficult to spread out if you pour it out all at once.  But hey- if you're trying to pour with one hand and take photos with the other- do what ya gotta do!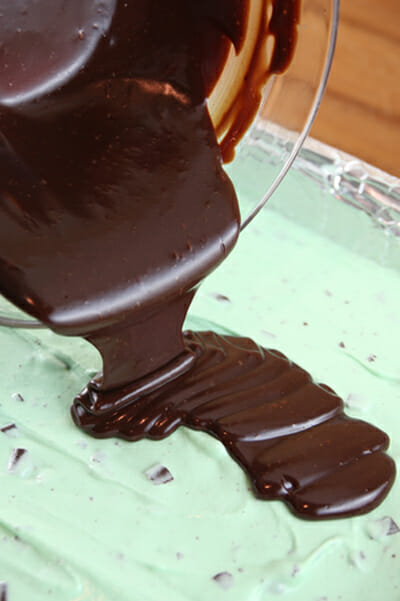 Since we're already going a little crazy with brownies and ice cream and ganache, let's add some of these, shall we?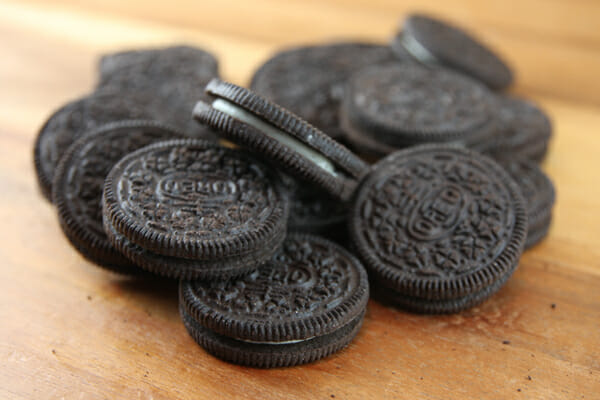 Roughly chop the cookies and then then gently press them into the peppermint-chocolate layer you just poured on there.  They were meant for each other.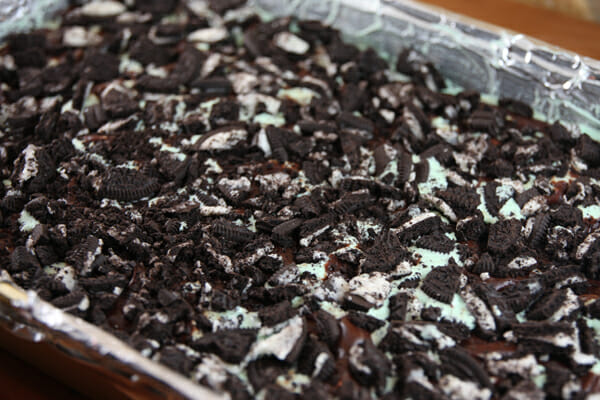 Last step- the creamy whipped topping.  You can use fresh whipped cream, but I actually prefer something like cool whip because it freezes so well and tends to soften at a similar rate as the ice cream and brownie when you're ready to serve it.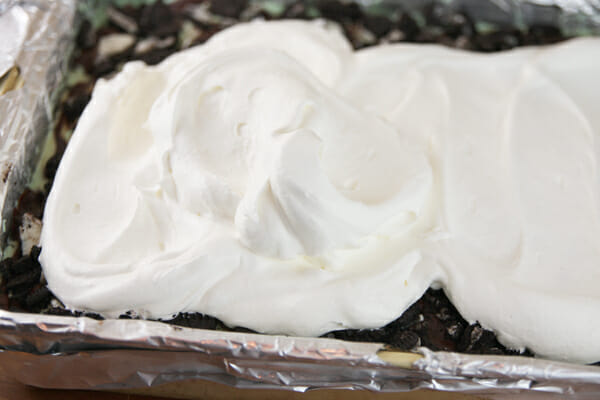 I topped mine with a little Andes Mints, but you could use shaved or curled chocolate, or sprinkles.  When you're ready to serve, let it sit at room temp for 10-15 minutes or so to soften up a bit.  If it's sat in your freezer overnight, then it will be much firmer, and if you made it earlier that day it will be quite soft, so  you'll have to eyeball the softening time.   When you're ready to serve, just grab the foil and lift up the whole thing, removing it from the pan.  This makes it so easy to cut and serve.  Use a large knife to slice into squares and watch people faint when they take their first bite.  Make sure to act concerned, and then when they come to- offer them another piece to make them feel better.
Pin It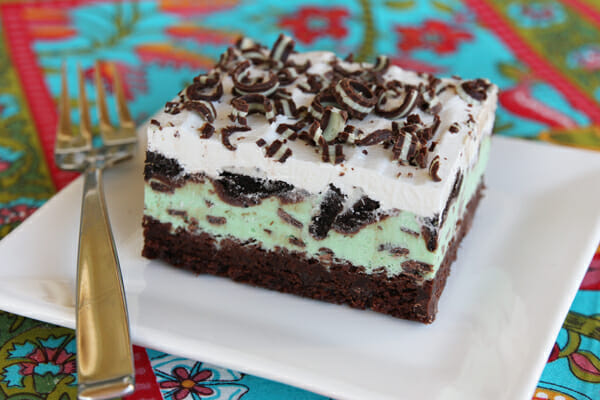 Now- if you want to do something extra fun for St. Patrick's day, here's a couple of options for you!  How about mini ice cream cookie fudge cupcakes??  Yes?  I thought so. Bake the brownie mix in cute cupcake liners- you only need 1-2 tablespoons brownie batter in each cup.  You'll have to eyeball baking time, but probably about 10-15 minutes.  Remove them when they're slightly underdone and then after they've cooled, continue layering the other ingredients on top.  You can get at least 24 little ice cream cupcakes, maybe more.  How cute are those cupcake liners?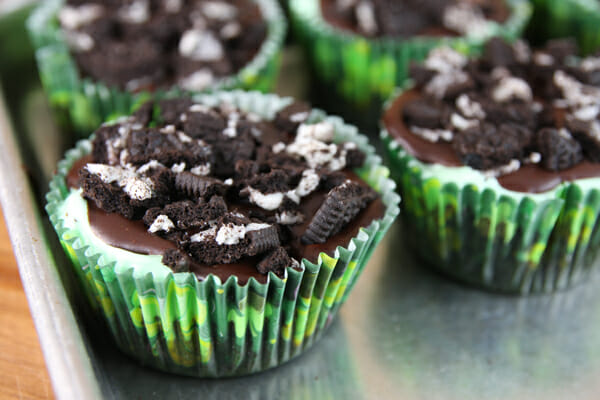 For the fun topping, take half of the cool whip and color it green.  Did you know you can buy whole large bottles of food coloring in single colors (as opposed to the tiny squeeze bottles)?  If I am doing holiday projects, or cooking something where I need quite a bit of one color (like red velvet cake)  I skip the little bottles (because you'll use the entire thing!) and grab a full bottle like this: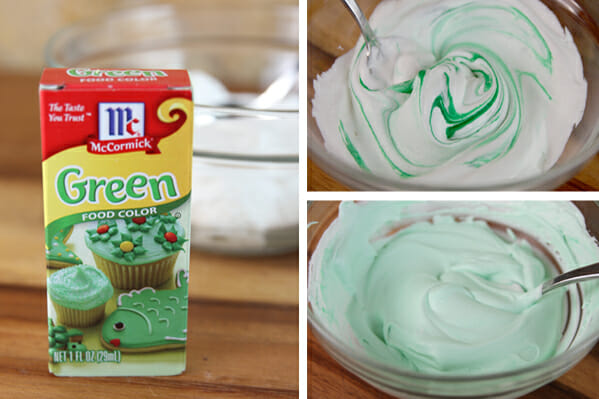 They're great for Easter egg stuff too, especially if you let your kids pour in the color.  You'll be glad you have lots.  I colored mine to match the minty green hue of the ice cream.  Use the instructions in this tutorial to do dual colored icing swirls!  Top it just like a cupcake (love those little shamrock pics- see the end of this post to win some for yourself!)  Place them on a pan and pop them in the freezer until frozen through.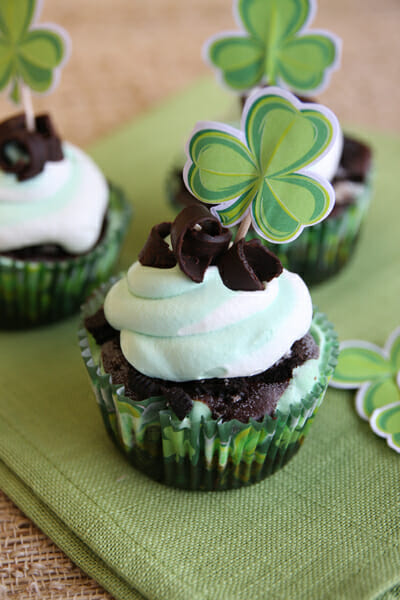 In case you can't tell, these are a little bit amazing.  And they will make you very, very happy.
Pin It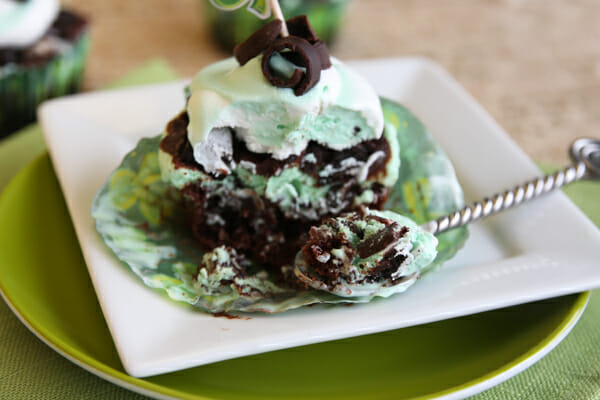 And hey- you can even make them in little mason jars.  Stock these up in your freezer and pull them out to munch on when your kids go to bed and you can watch your dvr'd Biggest Loser.  Yes, I did that.  Somehow brownie-ice cream-cookie-fudge jars taste better when other people are noticeably hungry.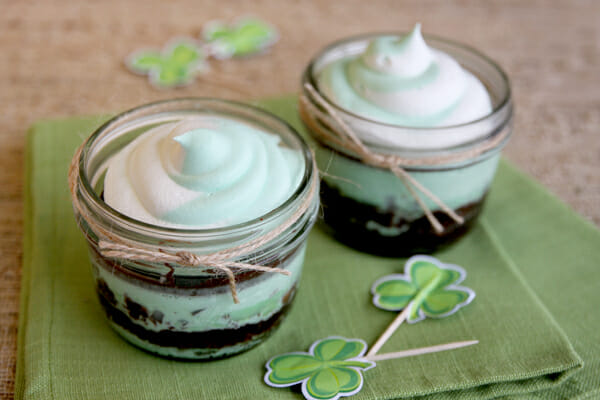 Mint-Chip Brownie Ice Cream Squares
Recipe by ourbestbites.com
Ingredients
1 box brownie mix, baked in 9×13 inch pan (check sizes on back of box)
1 1/2 quart mint chip ice cream
1 cup dark or semisweet chocolate chips
1/2 cup cream (heavy or regular)
1/4-1/2 teaspoon McCormick pure peppermint extract
15-20 oreo cookies
1 8-ounce container whipped topping
optional:  McCormick green food coloring, shaved or curled chocolate or sprinkles
Instructions
Line a 9×13 inch pan with foil and let foil extend at least 1 inch over edges of pan.  Bake brownies according to package instructions.  Cool completely and place in freezer to chill.  Soften ice cream until you can easily stir it with a spoon.  Gently spread in an even layer over brownies.  Place pan in freezer to chill.  Place chocolate chips in a bowl.  Heat cream in microwave until hot and bubbly.  Pour over chocolate and cover bowl with plastic wrap.  Let sit 5 minutes and then whisk until smooth.  Whisk in peppermint extract and let chocolate mixture cool to close to room temperature.  Drizzle in an even layer over ice cream layer in pan.  Sprinkle crushed cookies evenly over chocolate and lightly press in with your hands.  Top with whipped topping and spread out into an even layer.  If desired, sprinkle shaved or curled chocolate, or sprinkles on top.  Freeze at least several hours (and up to several days, covered), until firm.  When ready to serve, let sit at room temperature for about 10-15 minutes to soften.  Remove dessert from pan using foil and then cut into squares.
Cupcake Version:  If desired, bake 1-2 tablespoons brownie batter in cupcake liners.  Once cooled and chilled, layer remaining ingredients on top.  Pipe on whipped topping (color with food coloring first, if desired) and freeze until firm.
This is an original recipe by Our Best Bites sponsored by McCormick.  Kate and I regularly use McCormick products in our kitchens and love them!  Keep up with spice and flavor trends, and find great recipes by following McCormick on Facebook. If you're looking for fun St. Patrick's Day recipes, check out some really fun ones (pictured below) featured on McCormick.com!