Let me get one thing out of the way here.  I'm not one of those people that bakes homemade bread every week.  I'm not even one of those people that makes homemade bread every month.  And it's not because I don't like it; it's because I like it too much.  I have a lot of friends who bake several loaves each week and use it for sandwiches, etc.  during the week.  And that just doesn't work for me.  Because I don't bake a fresh loaf of bread and just get it out when I need to make my my kid's PB&J.  I bake a loaf of fresh bread and slice off chunks to slather with butter and stuff in my face until it's gone.  Which is generally about 30 minutes after it comes out of the oven.  My family can devour a loaf of fresh bread in a heartbeat, so for us, it's more of a luxury than a staple!  That being said, I love homemade bread.  And good multigrain bread has eluded me until now.  It's just way too much effort to collect 6 or 7 different grains and then crack them, etc.  I'd rather just run to a good bakery and grab myself a loaf.  But I was watching an episode of Cook's Country a while back and I watched them do the most brilliant thing- start a bread recipe with 7 grain hot cereal mix.  Duh!  it's just fresh cracked grains; everything right in one little package.  I was scribbling down the recipe from the show when it dawned on me to check my Cook's Illustrated Cookbook, and sure enough, there was the recipe.  My family loved this bread.  It's so super soft and packed with good-for-you grains (so you don't feel as bad when you dip it in Nutella or something).  It's definitely going to be my new go-to wheat bread.
You can usually find boxes of seven-grain hot cereal mix near the hot cereals in the grocery store.  Just make sure you're getting a hot cereal.  Bob's Red Mill and Arrowhead Mills are two of the best to look for.  My normal grocery store was out when I went (figures!) so I ran over to my local WinCo where they have an amazing bulk section, and sure enough, they had both a 7 grain and a 10 grain.  The 10 looked like it had quite a bit of corn meal in it, so I stuck with 7 like the recipe called for.  Look at all of those great, wholesome grains in there: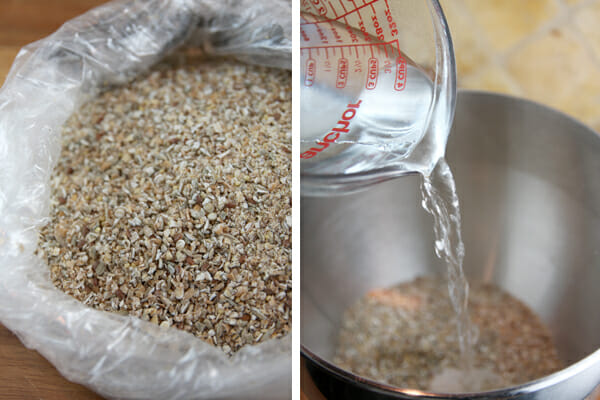 such a great shortcut!  To soften the grains, you basically create a porridge mixture by soaking them in hot water.  The grains soak up all of that water and the mixture thickens, like this: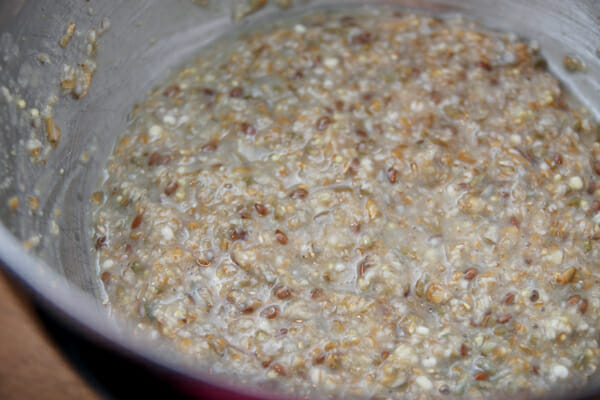 That's the base of your bread dough, and to it you'll add some yeast (rapid rise), melted butter, and honey.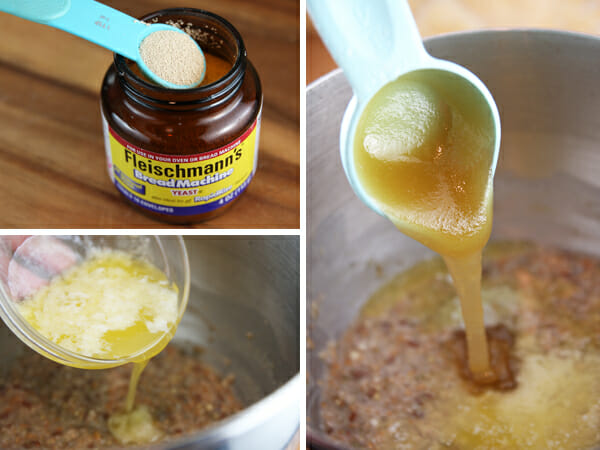 Then goes in a mix of all purpose flour and whole wheat flour. CI tested the bread with bread flour as well and found it made the bread too chewy, and all-purpose flour worked best.  So if you're used to using bread flour in your homemade bread, stick with all-purpose for this one.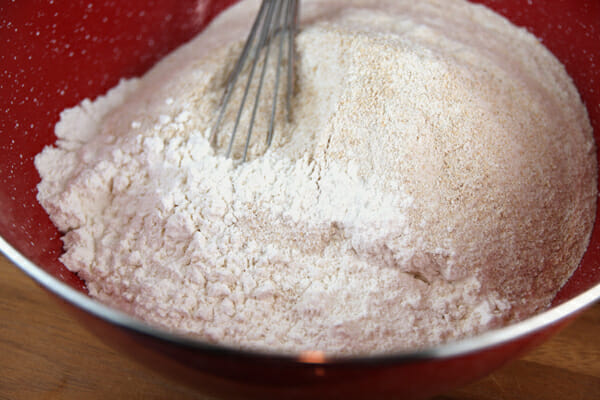 Also, I feel like woman-of-the-year because I ground my own wheat.  I know some of you do that all the time, but just let me have my moment, okay??  😉  I've been loving my Wonder Mill wheat grinder.  You can also get a grain mill attachment for your KitchenAid.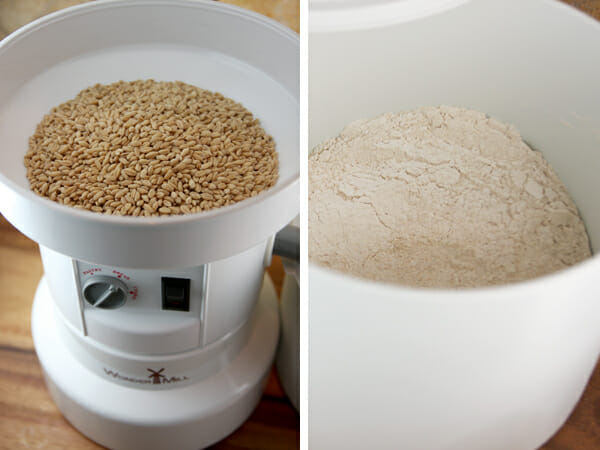 When everything comes together it's a very soft dough.  As you can see it kind of looks like cookie dough (but don't be fooled; that would be sad.  Those aren't toffee bits, my friends.)  At this point, cover the dough and let it rest for 20 minutes.  I actually love recipes that require things like 20 minute resting periods.  It's just enough time to put all of the dishes in the dishwasher and wipe of the counters, etc.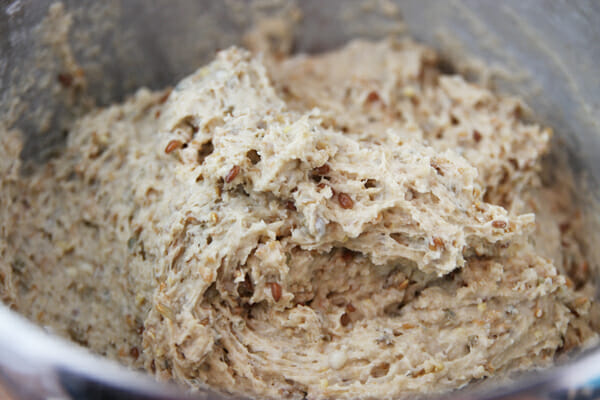 After 20 minutes, add the salt and then knead with the dough hook on your stand mixer for 5 more minutes.  The dough should clear the sides of the bowl, and you can add up to 3 tablespoons of additional flour, but I wanted to show you a picture.  I think one the big mistakes people make when bread making is mis-judging what the dough should look and feel like and consequently adding too much flour, which makes bread dry and dense.  I know because I did that a lot when I first started making bread!  I thought bread dough should have the consistency of say, a thawed Rhodes roll.  It wasn't until I watched a friend of mine do it that I realized generally it should be much, much softer.  So notice in my photo that it's clearing the top of the bowl, but it doesn't mean it's one solid blob that's not sticking at all.  It's still fairly sticky.  And keep in mind you will be putting it out on a floured surface so that will add additional flour as well.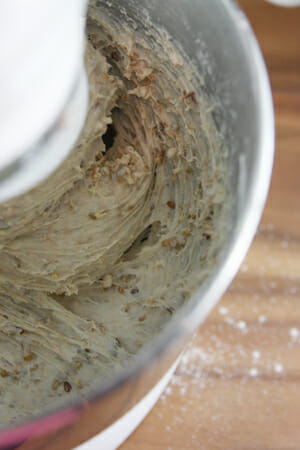 After the dough is finished kneading for 5 minutes, scrape it out onto a lightly floured surface.  Knead it a few times and then form a nice smooth ball.  Place that ball in a lightly oiled bowl and cover it with plastic and let it rise until double in size, about 45-60 minutes.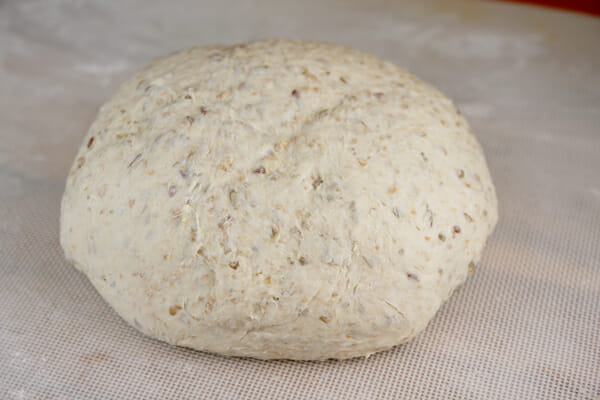 After it's risen (don't punch it down!)  Gently scrap it out onto a lightly floured surface (I always use my Roul'Pat), divide it in two, and form each into a 9×6 rectangle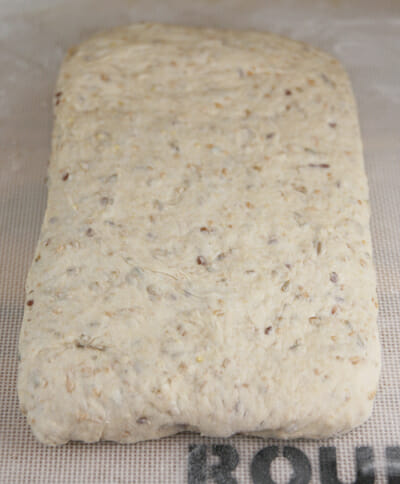 Roll it up into a log (preferably an even one, not lop-sided one like mine!) and pinch the edges closed.  Spray it with cooking spray or just rub lightly oiled hands all over it and then roll it over some oats sprinkled onto the counter.   They stick right on; easy peasy.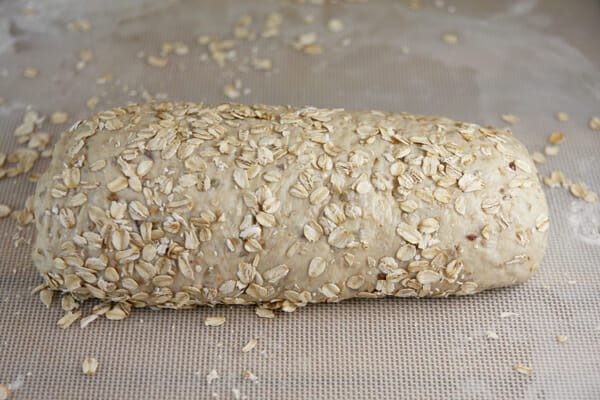 Place your two loaves into 2 9×5 inch bread pans.  Cover them with plastic and let them rise about 30 minutes. Then pop them in the oven and watch your house suddenly smell like a bakery.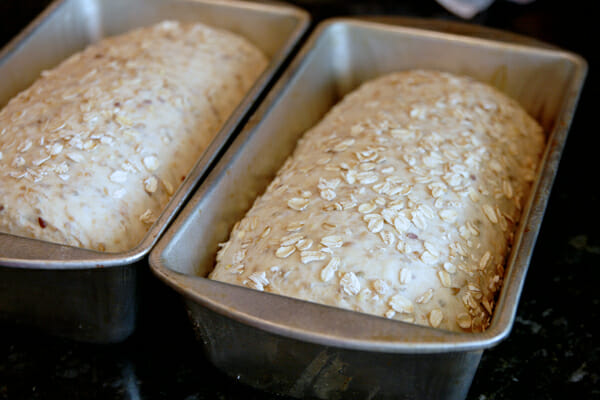 Here's another great tip for bread making.  For a long time I didn't know how to tell if my bread was done.  You can tap on the top to listen for a hollow sound, but that's never been super accurate for me.  You can't cut into it to check, nor does a toothpick test really work all that well, so I was constantly overcooking bread, or having it turn out dough-y inside.  Then I figured out, duh!  Use a thermometer!  Best way to make perfectly cooked bread.  Most average yeast breads like this are done at right around 200 degrees.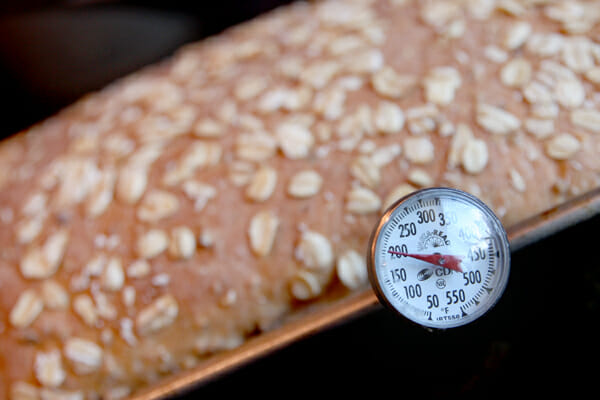 Let it cool in the pans for about 5 minutes and then take them out of the pans and cool on a rack.  If you're going to just grab chunks and slather them in butter (uh..who does that?  Not me.) then you can rip into it when it's till a little warm.  But if you're going to use it for sandwiches (and it's really good for sandwiches)  you'll want to be sure to let it cool completely- at least 2 hours, more if you can handle it.  And thanks to a reader for reminding me about this tip:  If you plan on slicing bread like this for sandwiches it's really helpful to have an electric knife.  The bread is so soft that it really helps.  Or if nothing else, make sure to use a really sharp bread knife.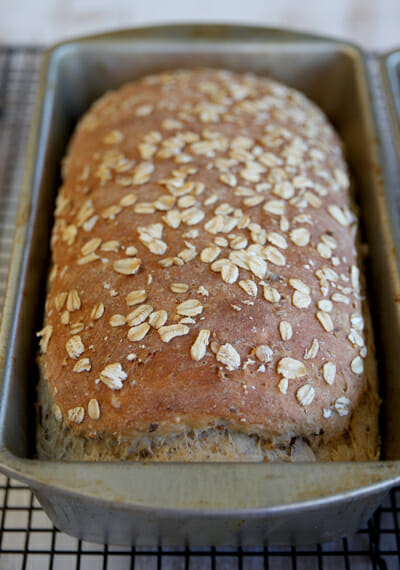 The inside is the perfect texture; soft and springy, with the perfect amount of grains.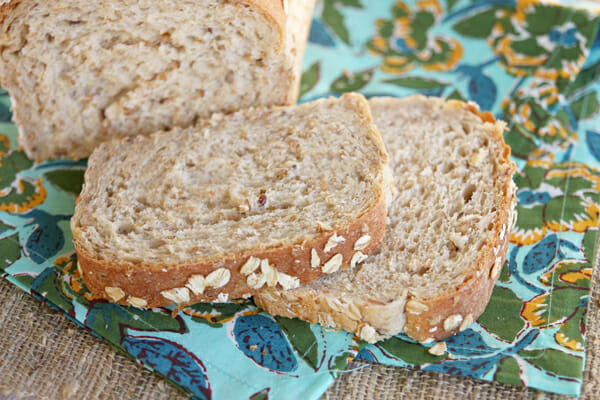 It's not overly wheat-y or crunchy, it just tastes flavorful and wholesome and the grains are a nice tender texture.  My kids ate it right up.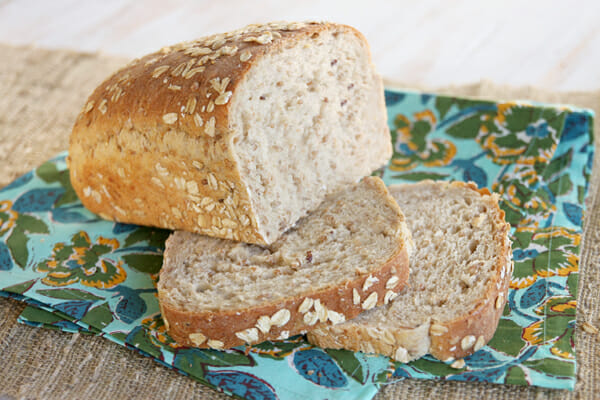 If I was the kind of person who could make homemade bread every week, I would make this one.   But alas, I am not.  I'm the kind of person who can buy bread at Costco every week.  And make this on the weekends simply to eat with butter and jam.  Yep.  That's me.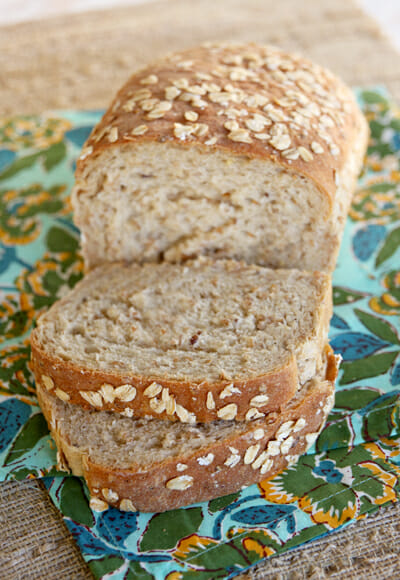 Multigrain Bread
Cook's Illustrated Cookbook
Ingredients
1 1/4 cup (6 1/4 ounces) seven-grain hot cereal mix
2 1/2 cups boiling water
3 cups (15 oz) all-purpose flour (not bread flour)
1 1/2 cups (8 1/4 oz) whole wheat flour
1/4 cup honey
4 tablespoons unsalted butter, melted and cooled*
2 1/2 teaspoons instant or rapid-rise yeast
1 tablespoon salt
Optional (I omitted): 3/4 cup unsalted pumpkin seeds or sunflower seeds
1/2 cup (1 1/2 oz) old-fashioned rolled oats or quick oats
*If you're using salted butter, just decrease the additional salt by just a bit.
Instructions
Place cereal mix in bowl of stand mixer fitted with dough hook and pour boiling water over it; let stand, stirring occasionally, until mixture cools to 100 degrees and resembles thick porridge, about 1 hour.  Whisk flours together in separate bowl.
Once grain mixture has cooled, add honey, butter, and yeast and mix on low speed until combined.  Add flour mixture, 1/2 cup at a time, and knead until cohesive mass starts to form (*note: some at high altitudes have noted they have not needed all of the flour, go by look and feel and stop adding flour if you need to!) 1 1/2-2 minutes; cover bowl tightly with plastic wrap and let dough rest for 20 minutes.  Add salt and knead on medium-low speed until dough clears sides of bowl, 3-4 minutes (if it does not clear sides, add 2-3 tablespoons additional all-purpose flour and knead until it does.  Don't add more!) continue to knead dough for 5 more minutes.  Add seeds (if using) and knead for another 15 seconds.  Transfer dough to lightly floured counter and knead by hand until seeds are dispersed evenly and dough forms smooth, round ball.  Place dough in large, lightly greased bowl; cover tightly with plastic and let rise at room temperature until nearly doubled in size, 45-60 minutes.
Grease two 9×5 inch loaf pans.  Transfer dough to lightly floured counter and divide in half.  Press 1 piece of dough into 9×6 inch rectangle, with short side facing you.  Roll dough toward you into firm cylinder, keeping roll taut by tucking it under itself as you go.  Turn loaf seam side up and pinch it closed.  Repeat with second piece of dough.  Spray loaves lightly with water or vegetable il spray.  Roll each loaf in oats to coat evenly and place seam side down in prepared pans, pressing gently into corners.  Cover loaves loosely with greased plastic and let rise at room temperature until nearly doubled in size 30-40 minutes.  Dough should barely spring back when poked with knuckle.
Thirty minutes before baking, adjust oven rack to middle position and heat oven to 375 degrees.  Bake until loaves register 200 degrees, 35-40 minutes.  Transfer pans to wire rack and let cool for 5 minutes.  Remove loaves from pans, return to rack, and let cool to room temperature, about 2 hours, before slicing and serving.
Storage: Bread can be wrapped in double layer of plastic wrap and stored at room temperature for up to 3 days.  Wrapped with additional layer of foil, bread can be frozen for up to a month.
For those without a stand mixer, Cook's Illustrated recommends:  "Stir wet and dry ingredients together with a stiff rubber spatula until the dough comes together and looks shaggy.  Transfer the dough to a clean counter and knead by hand to form a smooth, roughd ball, 15-25 minutes, adding additional flour, if necessary, to prevent the dough from sticking to the counter.  Proceed with recipe as directed."
**Make sure to come check out The Scoop tomorrow, we're going to be giving away a copy of this Cook's Illustrated Cookbook!