So apparently I'm, like, the only person in the world who (until a few months ago) had never heard of Neiman Marcus Dip. I'm not sure how this happened…I don't totally live under a rock (even if Pinterest kind of gives me hives and almost always makes me feel wildly inadequate.) So in my PNMD (Pre-Neiman Marcus Dip) life, I was blissfully unaware that such a thing existed. And then I was at a meeting where I was hungry and tired and the person holding the meeting brought snacks, including this dip (note to all people holding all kinds of meetings: snacks never make things worse). And I couldn't stop eating it. You know that conundrum when you have chips and you have dip and they never quite even out, so you run out of chips before you run out of dip, so you get more chips, then you run out of dip, so you get more dip, and you keep going around and around in the Devil's Cycle of ChipDip? Yeah, that happened. And it was so delicious that I didn't even regret it.
So I asked my friend for the recipe and that's when I learned that this is a thing. But then she was kind enough to send me her favorite version of the recipe, because there are recipes o'plenty out there. But…funny story. Actually–let's back up to that time we bought my son a shirt that said something to the effect of, "'That's too much bacon!' Said no one ever." Well, when she sent me this recipe, I swear she told me to use an 8-ounce jar of bacon pieces. Turns out there are no 8-ounce jars of real bacon pieces, but there are 6-ounce bags of real bacon pieces. And I'll just tell you right now, it's a lot of bacon.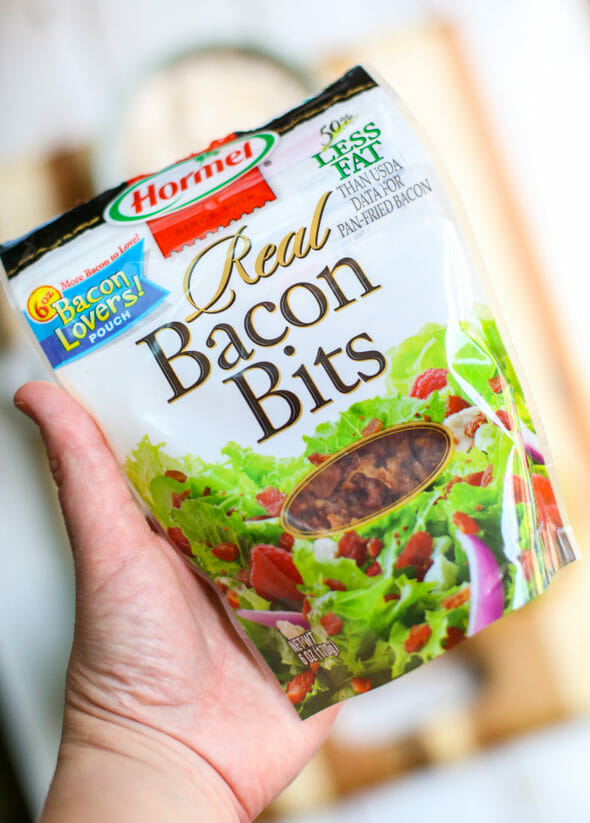 Thinking, "Hey, this is kind of a lot of bacon, and it's not even 8 ounces," the first time I made this, I opted to live on the edge and just be 2 ounces shy of the recommended amount of bacon.
Well. I discovered that while I thought it wasn't possible, there is such a thing as too much bacon and that whole 8-ounce jar was supposed to be a 3-ounce jar and if you're ever looking to drastically increase your sodium and processed meat intake, using this whole bag would be a great way to do that. So don't be like me. Use the 3 ounces of bacon.
Anyway.
You're only going to need a few ingredients here–that's part of the beauty. Some mayonnaise (light is fine), 3 ounces real bacon pieces (not those gross bacon bits that are not actually bacon), green onions, shredded sharp or medium cheddar cheese, and a handful of sliced, toasted almonds.
Place the ingredients into a medium-size serving bowl…
and stir well to combine.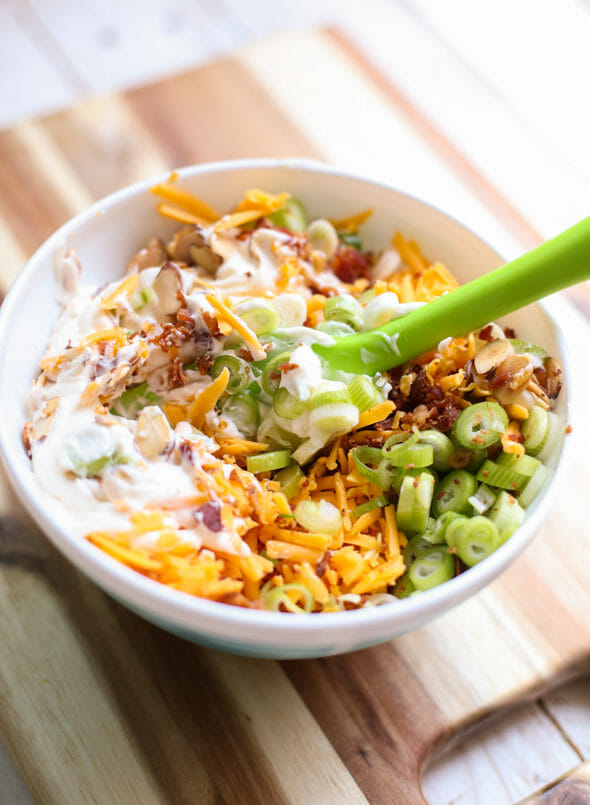 Refrigerate for at least an hour before serving with chips, crackers, veggies, or, if you have very excellent taste, these Ritz Chips. You won't be sorry.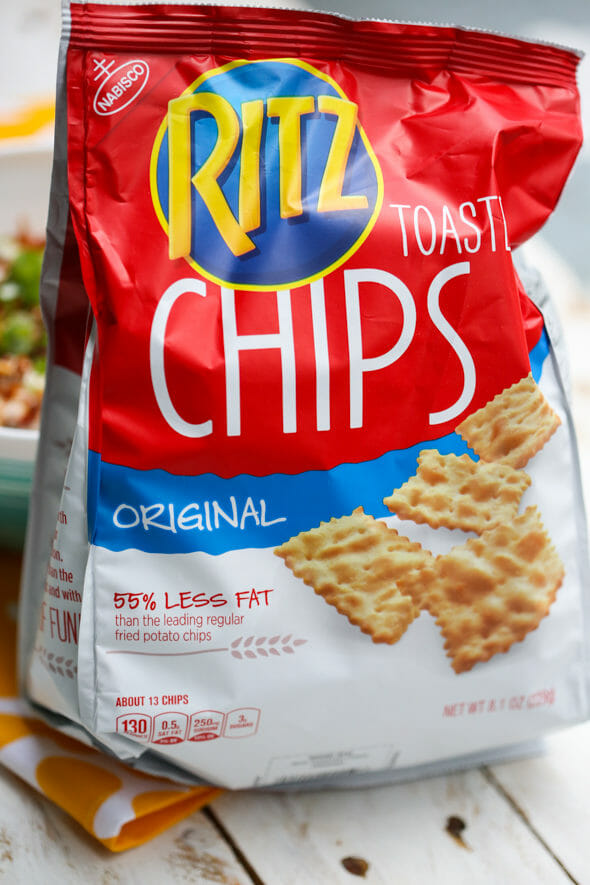 Try to stop. You won't be able to.
Print
---
Description
A handful of ingredients and about 10 minutes later, you have the most addictive dip on the planet!
---
1 1/2 cups

mayonnaise (light mayo is fine)

8 ounces

shredded medium or sharp cheddar

6

green onions, sliced

1/4 cup

sliced almonds, toasted

1

3-ounce jar real bacon pieces (NOT Bacon bits)
---
Instructions
Combine ingredients in a medium serving bowl and chill. Serve with crackers, chips, or veggies (Ritz chips are particularly delicious…)
---