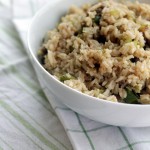 So apparently it's State Pride week at Our Best Bites. We totally plan these things from time to time. Go, Idaho! Go, Louisiana! Just kidding. It's just a funny coincidence. And Mardi Gras.
I am not kidding when I tell you that my kids are just about as excited for Mardi Gras as they are for Christmas. Parades, candy, music, screaming like idiots for beads and plastic cups. If I'm being completely honest with myself, it's a pretty awesome holiday–it involves lots of yummy food, fun, great music, and very little effort or preparation on my part.
One of my favorite Louisiana foods is Dirty Rice. Now…this recipe comes with a big disclaimer. Dirty Rice is traditionally made with chicken livers and gizzards. I don't care how good they make your food taste, I cannot cook with them. I can't knowingly eat them. I know fabulous cooks who most likely use them, but I don't ask. I know all that stuff (and more) probably goes into sausage, but I don't know know (and I don't ask). So, in case you haven't guessed, I'm not using tiny organ meats in my dirty rice, and no, the color isn't quite "dirty" enough, but if it really bothers you, you could use soy sauce. But I'm pretty sure that too-light, gizzard-free dirty rice is still more "genuine" than dirty rice with soy sauce. Or you could just be brave and use the livers and gizzards, but I'm not gonna tell you how to cook 'em. If you leave me a comment or send me an email about how this is not dirty rice and I am an abomination and an embarrassment to the State of Louisiana, I will say something rude back. Don't say I didn't warn you. I have a cold, pregnancy hormones flowing throw my veins, and I just discovered that the "water" that's been standing in my driveway for the past two weeks was not a) a yard drainage problem or b) a water leak, but c) my sewer line leaking onto the most high-traffic part of my property. All of these things have contributed to the temporary disappearance of the filter between my brain and my mouth.
For this rice, which you can serve as a side dish or a main dish, you'll need 1/2-3/4 pound of pork sausage (you can use mild or spicy, but I'd rather use mild and then be able to control the heat myself), chopped onions, garlic, green peppers, and celery, Cajun or Creole seasoning (like Tony Chachere's), black pepper, Tabasco sauce (yeah, dirty rice can range anywhere from having a little bite to being spicy spicy spicy), beef broth, long-grain white rice, and kosher salt to taste. If you want, you can also garnish it with chopped green onions.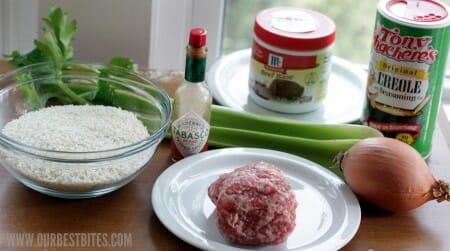 In a large skillet over medium heat, begin browning the sausage. When it's about halfway cooked, add the chopped onions, peppers, celery, and garlic.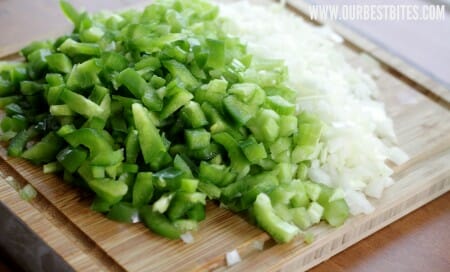 Saute until the sausage is cooked and the veggies are tender. Add the rice and cook, stirring constantly, for about 2-3 minutes. Add the black pepper, Tabasco, and Cajun seasoning and stir to combine. Add the beef broth and bring to a boil. Cover, reduce heat, and simmer for 20 minutes or until rice is tender (it could take up to 45 minutes at high elevations). Remove from heat and allow to stand covered for 5 minutes. Season with salt to taste and toss with green onions if you feel the urge.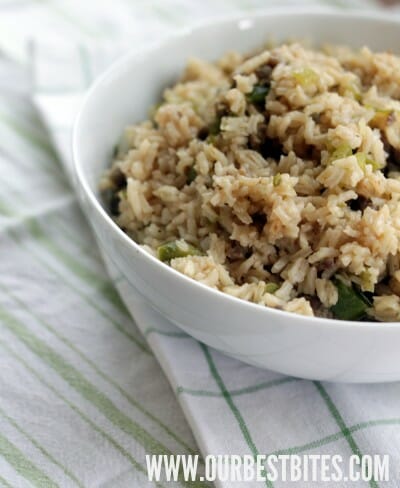 Dirty Rice
Recipe by Our Best Bites
Ingredients:
3/4 pound ground pork sausage (mild or spicy, depending on your preferences)
1 medium onion, minced
2 stalks celery, minced
5-6 cloves garlic, minced or pressed
1 green bell pepper, seeded and chopped
2 cups long-grain white rice
1/4 teaspoon ground black pepper
10 dashes Tabasco sauce
1/2 teaspoon salt-based Cajun or Creole Seasoning (like Tony Chachere's; you may want more or less depending on how hot you want your rice to be)
Kosher salt to taste (I used 1/2 teaspoon, but again, this will largely be to taste)
4 cups beef broth (high elevations may need up to 1/4 cup more)
Optional: 1/2 cup chopped green onions
Instructions:
Preheat a large skillet (with sides) over medium heat. Add the sausage and cook until it is about halfway browned. Add the onion, celery, garlic, and green pepper and cook until the sausage is cooked and the vegetables are tender and fragrant.
Add the rice and cook for another 2-3 minutes, stirring constantly. Add the Tabasco, Cajun seasoning, and black pepper and stir until combined. Add the beef broth and bring to a boil. Cover tightly, reduce heat, and simmer for 20 minutes or until the moisture is absorbed (again, higher elevations may take as long as 45 minutes). Season to taste with salt and Tabasco sauce. If desired, toss with green onions before serving. Makes 10-12 servings.
If you're looking for other Louisiana-ish recipes to help celebrate Mardi Gras, try…
Red Beans & Rice
Jambalaya
King Cake
Beignets
Also, if you haven't checked out our Wall Written giveaway, head over there and enter!