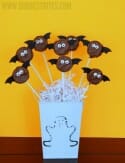 First of all, the winner of Jif & Amazon Kindle giveaway is #12, Kelly! Congratulations, Kelly! You've been notified by email, so please get back to us within the next 48 hours.
So I think it's pretty well-established by now that in the Our Best Bites relationship, I am NOT the crafty one. This is nothing new–I've always had a very short crafting attention span and I lack in the spatial skills department (don't ask what happened when I tried to sew my son's first Halloween costume. From a pattern. It ended badly.) This means that a lot of my craftiness ends up going into quick and easy food-related projects. And when I say "my craftiness," I mean my desire to make cute things with my kids, not that I have natural inclinations toward craftiness. Because I do not.
These cute little bats were inspired by our friend Amy from The Idea Room. But I started running into problems. First, I bought a package of Mint Oreos with which I would make my Oreo bats. And then they mysteriously disappeared, I'm not sure how. So I bought another package of Oreos, but I couldn't find any Red Hots for the eyes, so I bought mini M&Ms and some little candy eyes. At which point, I needed another package of Oreos. I literally cannot be left alone in the house with them.
You'll need Oreos (Duh. But I'm being thorough here. Also, they need to be Double Stuft if you want to make Oreo pops), chocolate bark or Wilton candy coating, something for the eyes (Amy's Red Hots are cute, my mini M&Ms were not, but I found some little cute little candy googley eyes in the cake decorating department of Walmart, where I apparently live these days), lollipop sticks (if you're making pops), and black cardstock. I opted not to do the mouth because I couldn't find any white heart-shaped sprinkles and because I think they're kind of goofy and cute without fangs, but Amy used heart-shaped sprinkles which are also adorable.
If you're making pops, you can insert the stick into the cream filling now or you can wait until after you dip the Oreo in the chocolate.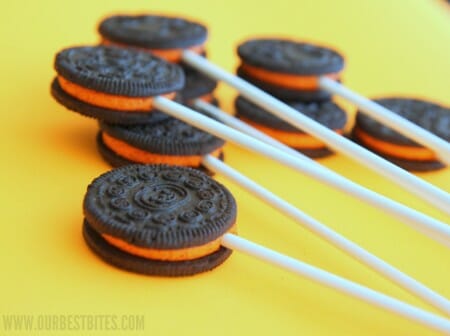 There are pros and cons to each method–popping the stick in there will be cleaner, but sometimes the weight of the chocolate pulls the cookie off the stick. If you're doing the dip-then-stick method, you'll probably want a helper to handle the sticks (unless you want to lick your fingers after you dip each Oreo).
Now you'll need to get your bat wings ready. I used black card stock and my Silhouette to cut out my little bat wings.
If you don't have a Silhouette, click on the link for a printable version template of the bat wing; you can print it, cut it out, and use it like a stencil. Or you can just make your own bat wings and tell me to butt out of your life. If you do have a Silhouette and want a whole sheet of wings that are ready to go, email us at general (at) ourbestbites (dot) com with the subject heading "bat wing file" and I'll send you the file (it won't let me upload the file here. Laaaame.)
Go melt your chocolate according to the directions on the package and then prepare yourself for dipping.
Evenly coat the Oreos in chocolate, smoothing off any excess chocolate. Then add your eyes (and your fangs if you feel so inclined) slip the wings onto the sides.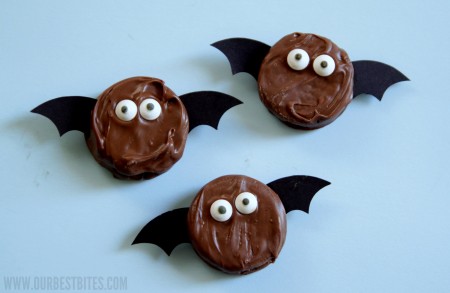 Allow them to dry/set up completely, which really shouldn't take too long. I let mine dry on a Roul'pat, but you could also set them on parchment paper or, if they're on sticks, poke the sticks into some floral foam and let the chocolate set up that way.
Whether you're just serving them as cookies…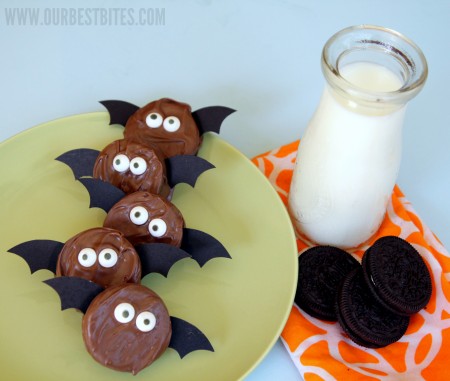 or as a cloud of not-so-creepy bats, you can have 'em done in less than an hour (which is why it's right up my alley) and your kids (or grown-up friends) will think you're the coolest.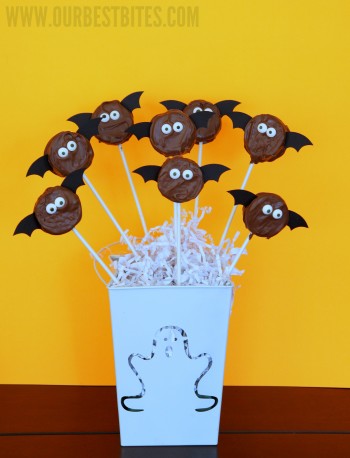 Print
---
Description
These cute lil' bats are simple, easy, and perfect for a not-so-spooky Halloween celebration!
---
Oreos (Double Stuft if making pops)
Wilton candy melts or chocolate bark
Red hots or candy eyes (available in the cake decorating section of Walmart and craft stores as well as all over the internet)
Thin lollipop sticks (optional)
Floral foam (optional)
Black card stock
Fangs of your choice (optional)
---
Instructions
Use the cardstock to prepare the bat wings (see the notes above to learn how to get the wings I used). Set aside.
If making pops, insert the lollipop sticks into the creme filling of the Double Stuft Oreo. Set aside.
Melt the chocolate according to the directions on the package. Dip the Oreos in the chocolate, smoothing away the excess chocolate. Add the eyes, wings, and fangs (if desired) and allow to set completely.
---
 *Disclaimer: this post includes affiliate links, which just means that when you purchase items through our links, we earn a small commission, which helps us keep working hard to create recipes for you!