So I've lived all over the US–I grew up in Utah, live in the South, and have lived briefly on the West and East coasts. And no matter where I go, there are baked beans and no matter where I go, everyone truly believes that baked beans originated in that particular region or in their family. I like them okay–if you've ever served me baked beans, I've probably enjoyed them. But one issue I have with them is that they are almost always way too sweet; most recipes are simmered in ketchup, which is already quite sweet, and then they have a generous amount of brown sugar as well as molasses. Usually I have a few bites and call it good.
Well, a few years ago, I found
this
cookbook in a used bookstore and I have loved nearly everything I've made from it (although that BLT pasta salad was way better in concept than reality). One of my favorite recipes has been for the baked beans. I love that instead of ketchup, the sauce is based on stewed tomatoes. Instead of the usual 1/2 c. or more of brown sugar, it only calls for 2 tablespoons, and the molasses is enough to add a little sweetness and richness, but it's not overpowering. I also love that you can throw everything together a few days ahead of time and then pop it in the oven an hour before you need it or, if it works better for you, you can even cook these puppies in a slow cooker. Not to mention the fact that my (semi-picky and super-picky) kids will inevitably eat these rather than whatever we're eating as a main dish. Normally that wouldn't fly at my house, but this side dish is relatively balanced and I'm more than happy to let them fill up on beans.
One kind of unique thing about this recipe is that, in addition to Tabasco, plenty of mustard, and just a little brown sugar, a lack of ketchup (and using stewed tomatoes instead), it uses 4 different varieties of beans: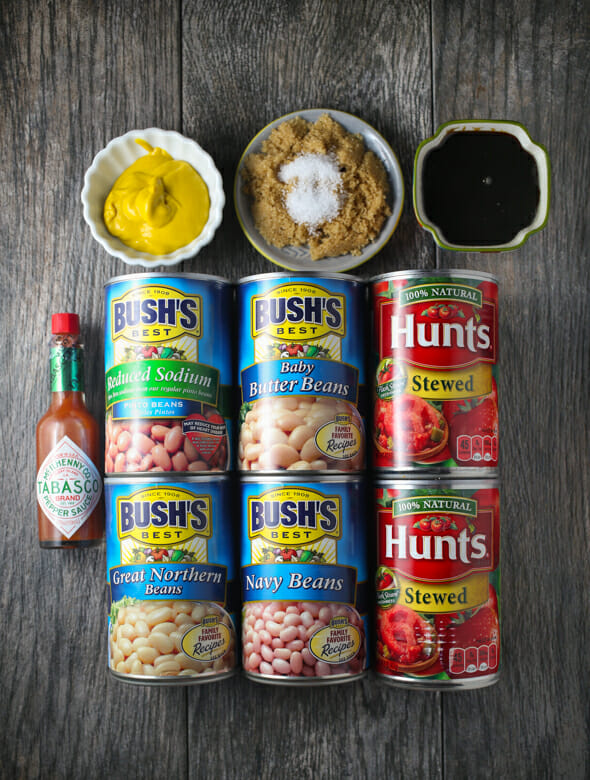 Now…this picture may look like an advertisement for Bush's beans, but really, it's an illustration of my OCD tendencies. See, I'm all about getting a deal and am totally all for generic brands. However, the pinto beans were the only ones available as the store brand; the rest were Bush's and I couldn't have a picture of 3 cans of Bush's beans and 1 can of Walmart beans.
You're also going to need some bacon and some thinly sliced onions.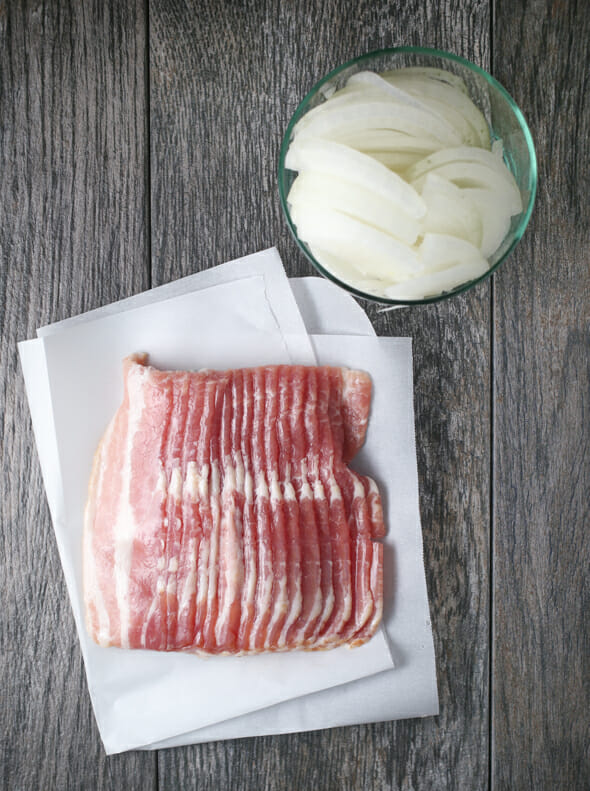 All you have to do is fry up a few slices of bacon, cook your onions in the bacon drippings, rinse and drain your beans.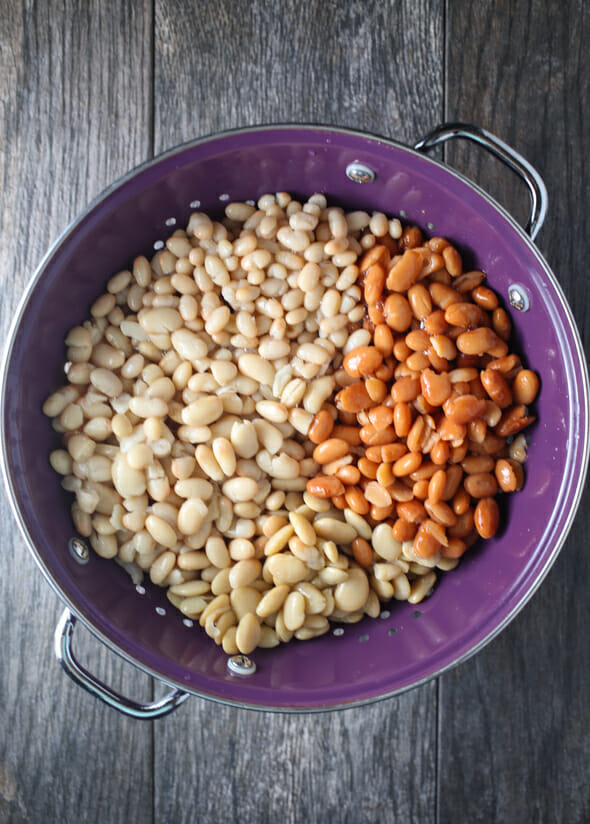 Place them in an oven-safe dish or a crockpot. Place the tomatoes in the jar of your blender and pulse a few times. Add them to the beans, along with the molasses, mustard, brown sugar, and salt. You're going to cook the bacon and then add it to the beans and tomatoes.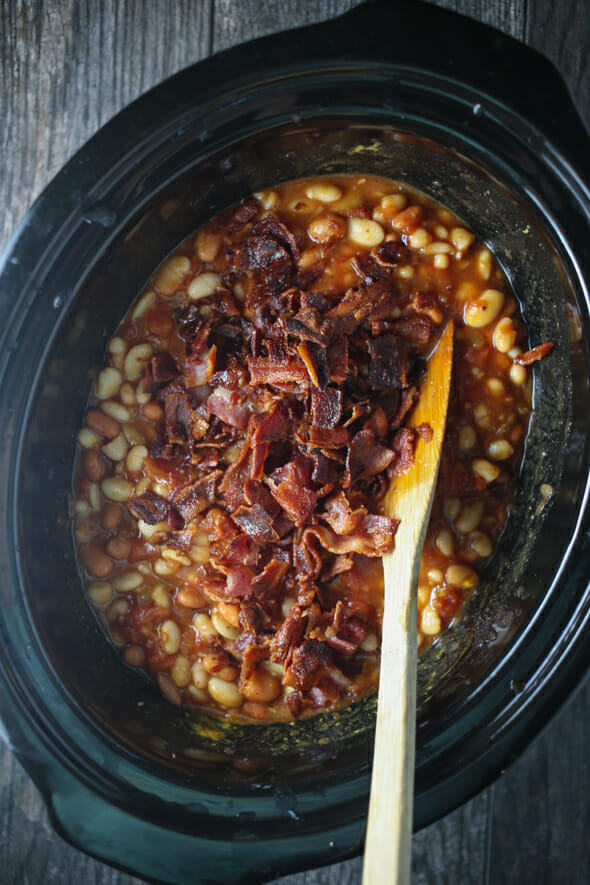 Sautée the onions in the bacon drippings and then add those, too.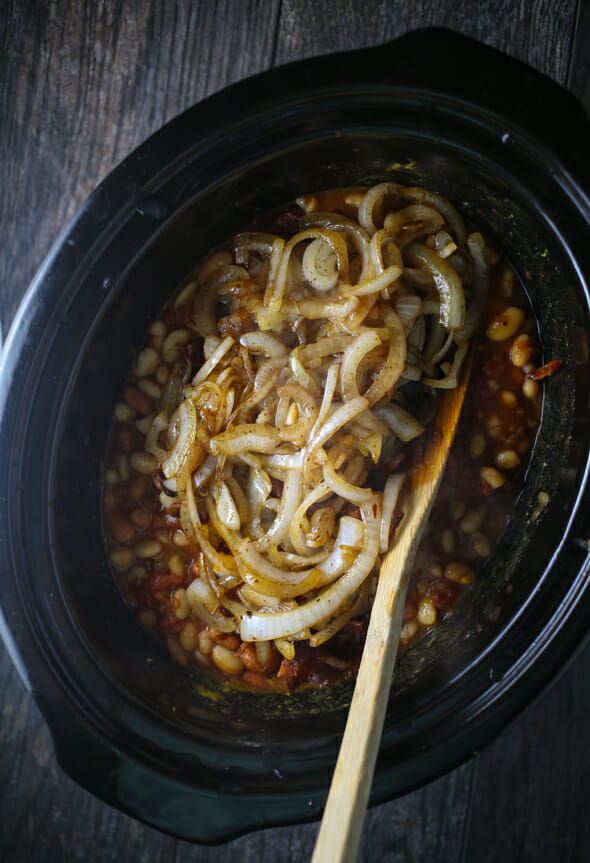 And then cook it, either in the oven or the crockpot, until the flavors combine and your house smells amazing. It's perfect for any type of festivity any time throughout the year, but there is something about a big pan of baked beans at a cookout that just fits, you know?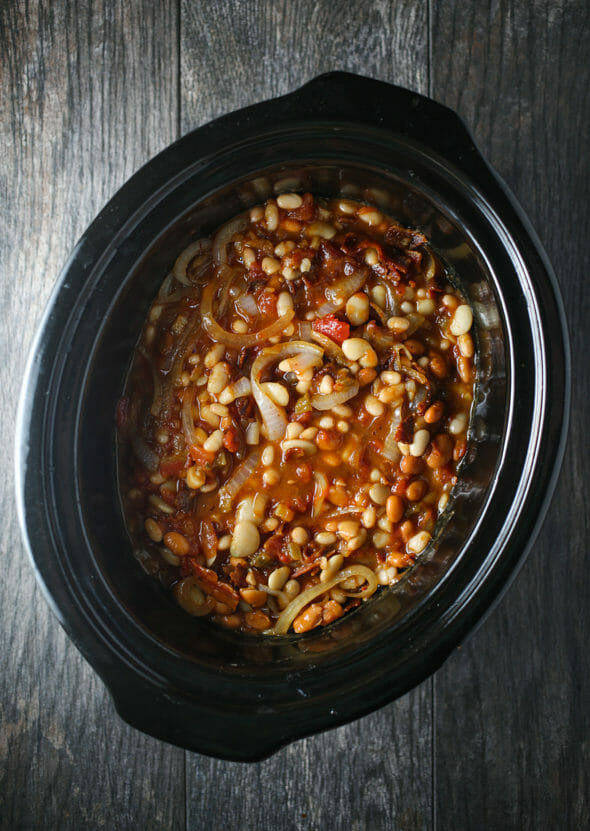 Print
Not-Too-Sweet Baked Beans
---
Description
Tired of overly sweet baked beans? This particular recipe combines a tomato base with a few varieties of beans, and the end result is so so good!
---
1

15 1/2-oz. can Great Northern beans

1

15 1/2-oz. can navy beans

1

15 1/2-oz. can baby butter beans

1

15 1/2-oz. can pinto beans

2

14 1/2-oz. cans stewed tomatoes

1/3

c. molasses

2 Tbsp

. light brown sugar

2 Tbsp

. prepared mustard

1 tsp

. Kosher salt

1/2 tsp

. Tabasco or other hot sauce

6 oz

. bacon (

1/2

of an average-sized package), divided

1

medium onion, thinly sliced
---
Instructions
Preheat oven to 350. Reserving two slices of bacon, cook the remaining bacon in a large skillet. While it's cooking, place all beans in a colander and rinse and drain. Transfer to a large baking dish.
Pulse the tomatoes in a blender or food processor about 5-6 times or until they are breaking down but not smooth. Pour over beans. Add molasses, brown sugar, mustard, salt, and pepper.
When the bacon has cooked, remove bacon from the pan and cook the onions in the bacon drippings, stirring frequently. While the onions are cooking, crumble the cooked bacon over the beans. Add onions and combine all the ingredients well. Cut remaining slices of bacon into 1″ pieces and place over the beans. Cover and bake at 350 for 1 hour. Allow to stand for 5 minutes and then serve.
---
Notes
Slow Cooker Instructions
Follow the instructions for cooking in the oven, except place the ingredients in the crock of a slow cooker instead of baking dish. Cook on low for 4 hours or high for 2 hours.
*Disclaimer: This post contains affiliate links.

Save
Save