One of my favorite little Halloween snacks are classic Mummy Dogs (which you can see in this post, full of easy Halloween Party food ideas).  I wanted to think of a way to make a sweet version with that same concept.  I immediately thought of my Easy Breakfast Braid (warning: one of our very very first posts, ever, with super ancient photos- but hey, it's yummy.  Enjoy the blast from the past.) and decided with the addition of a couple spooky eyeballs, those little mini braids would look like mummies.  These are one of the rare homemade pastries that actually taste better when they've cooled down to about room temperature, so feel free to make them ahead of time.
And when you get to the bottom of this post- you can get tons more ideas for awesome monster-ish snacks and treats.  We decided to get together with some of our blogging buddies and have a virtual Halloween party today!  Everyone came up with such cute stuff, so be sure to click on over to their blogs and check them out.
So now, mummies.  I was so happy when Pillsbury came out with their sheets of crescent dough; it's perfect for projects like this.  (If you don't like to use refrigerated pastry and want to use homemade bread dough or something, be my guest.)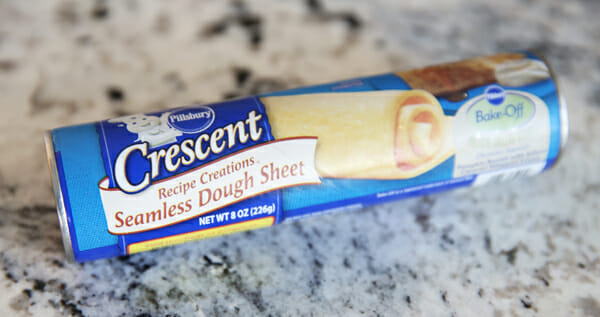 Lightly roll out the crescent sheet to stretch it out a bit and then slice it into 6 parts like my photo below.  No need to be exact here (which is good, because I wrote down my actual measurement on some random napkin in my kitchen when I made these and of course I have no idea where that is now…)  I think each of my squares below is about 3 1/2 x 4 or so.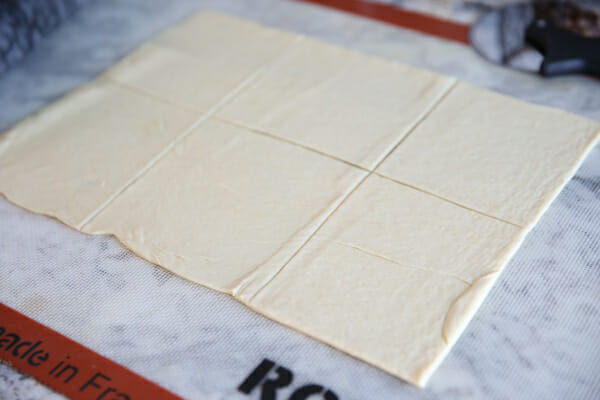 Then I use the back of a knife to lightly score my pieces just so I can keep things straight.  so make 3 light lines in each square, then take a knife and actually cut the outside sections into strips like this:
Leaving a little space on both the top and bottom, spread a generous spoonful of Nutella down the middle section, and then add a piece of banana that's been sliced lengthwise in half.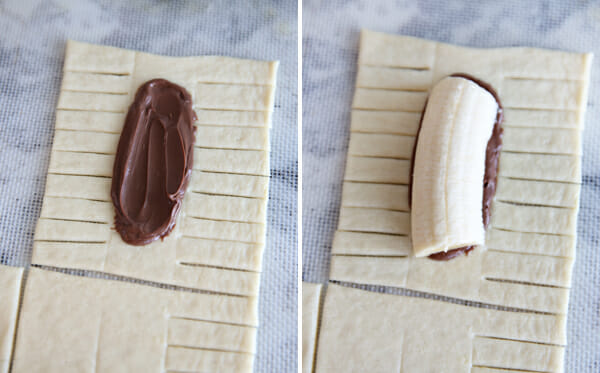 Now there's no exact science to this next part, but I'll show you what I do.  First fold both the top and bottom sections over the top of the banana and fold those little "arm" pieces right down the side.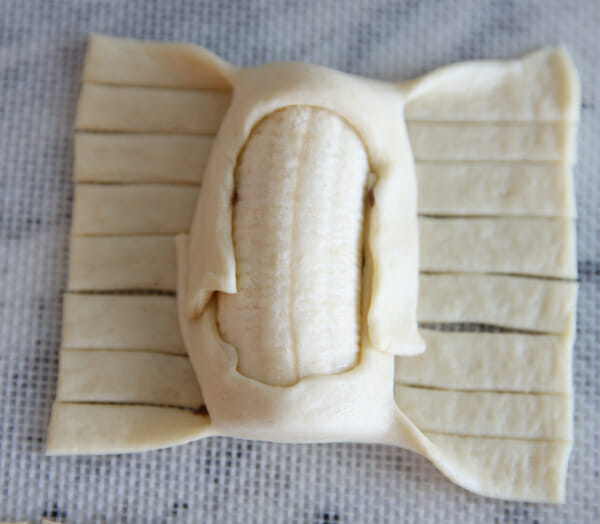 Then on the very top, cross one piece over across the "head"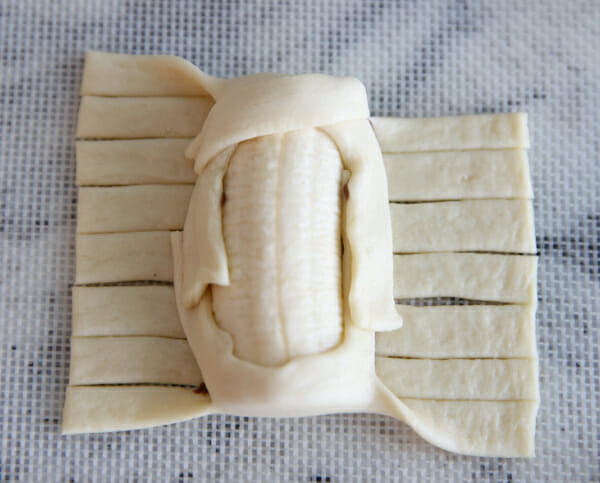 and then the one from the other side.  This makes his little head-piece.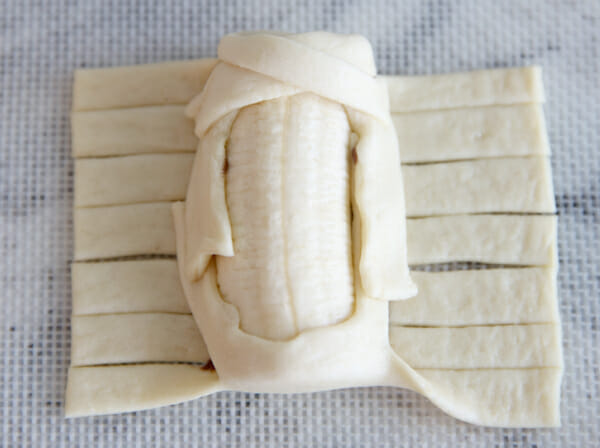 When you cross over the next 2 pieces, cross them downwards so you're leaving a little space where the eyes will go.  Just smash those in to make the dough stick together to hold them down.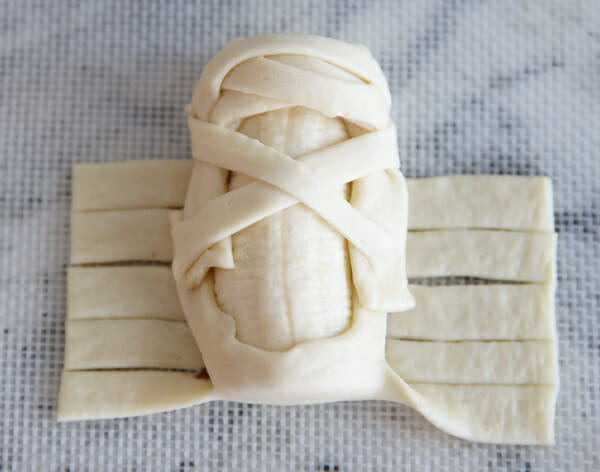 Now the rest is simple.  Just cross one from the right across, and then one from the left, then one from the right, and so on and so on until he's all wrapped up.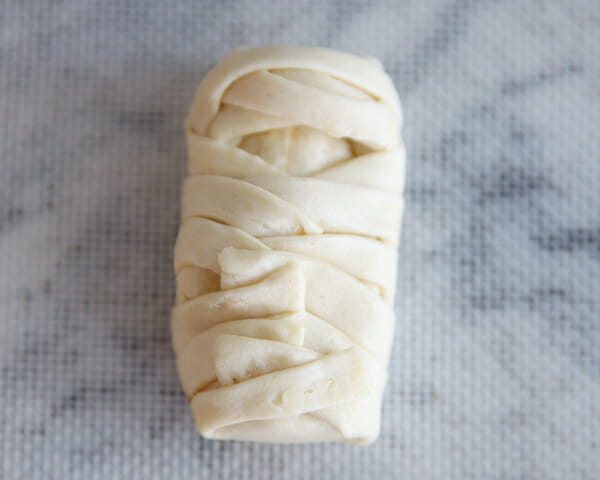 They'll all look a little different, and that's ok!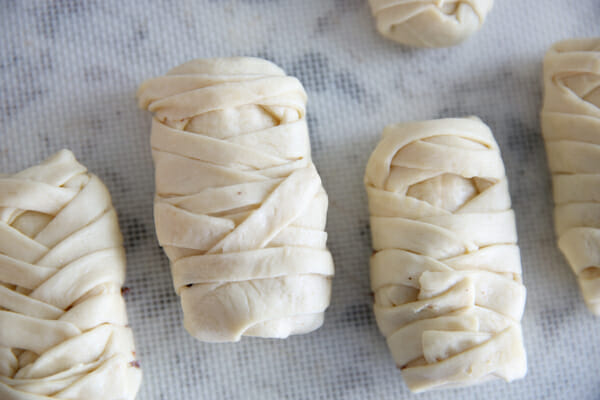 Bake them according to the package instructions, until they're golden brown.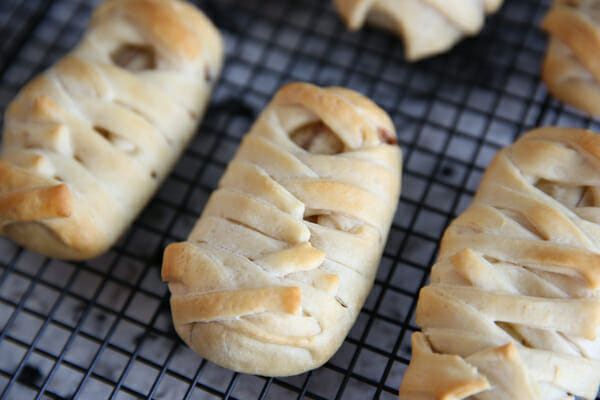 When they've cooled to just about room temperature, drizzle them with a little glaze and let them sit until it's dry to the touch.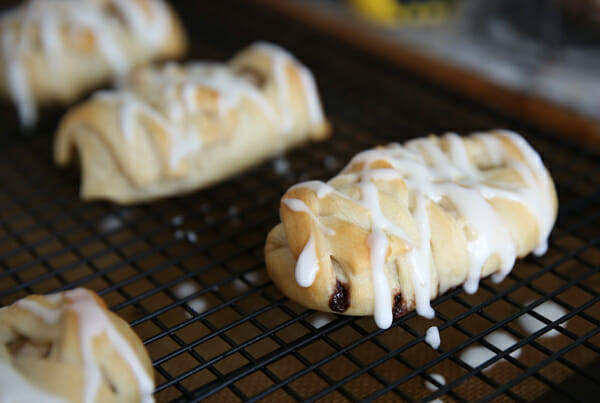 That's it!  You can pop candy eyeballs in there like I did, or use mini M&M's or chocolate chips.  Cute and yummy; perfect combination.  And if you're wondering (because I did, before I actually tried these and was just thinking about it in my brain…) what happens to the banana in there- it doesn't turn to goo.  It cooks, but not enough to make it lose it's shape, and then when it's all cooled it mixes with the Nutella and just makes a yummy banana-flavored filling.  It's yummy, trust me.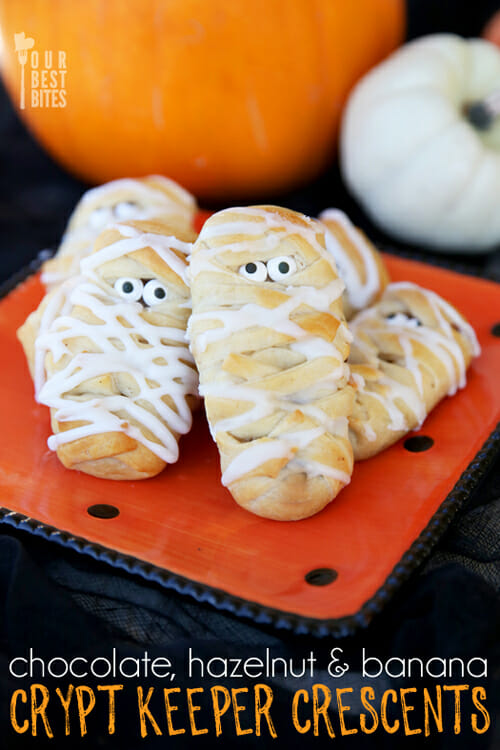 And I know, I know…"Crypt Keepers" aren't really mummies, or at least I don't think they are.  But it sounded good, ok?  Just go with it.
Print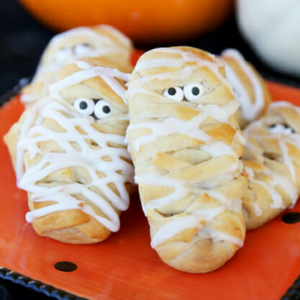 Nutella Banana Mummy Rolls
---
Description
Bananas, Pillsbury Crescent Sheets, Nutella, and cute googly eyes all combine for this deliciously frightening Halloween delight. A perfect make-ahead treat, too!
---
1

package Pillsbury Crescent sheets

1

small container Nutella

2

–

3

bananas
heaping

1/2 cup

powdered sugar
milk or water for glaze
Candy eyes
---
Instructions
Roll out crescent sheet to about 10-11 x 6-8 inches. Slice into 6 equal squares. Lightly score each square in 3 equal sections, vertically (without cutting through the dough). Using a knife, cut horizontal strips about 1/4 inch wide down each side section. Spoon a couple of tablespoons of nutella down the middles section, leaving about 1/2 inch on both the top and bottom and place a slice of banana on top. Fold the right two cut sections over the head and then then alternate right and then left, leaving a small space for the eye section.
Bake at 375 until golden brown, probably about 12-15 minutes. Remove from pan and let cool to room temperature. Mix powdered sugar with enough milk or water to form a glaze and then lightly drizzle it over the mummies. Let it dry to the touch and then serve. Makes 6.
---
Now check out more monster-y treats from some of our favorite blogging friends!

Monster Blood and Guts from Lauren's Latest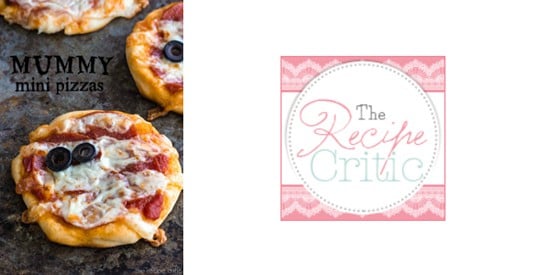 Mini Mummy Pizzas from The Recipe Critic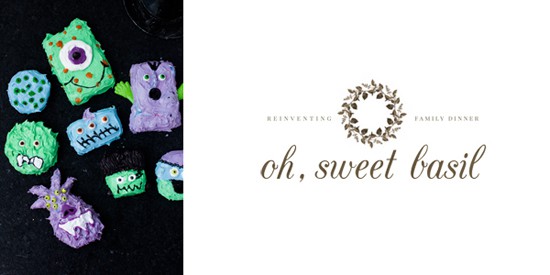 Cookie Monsters from Sweet Basil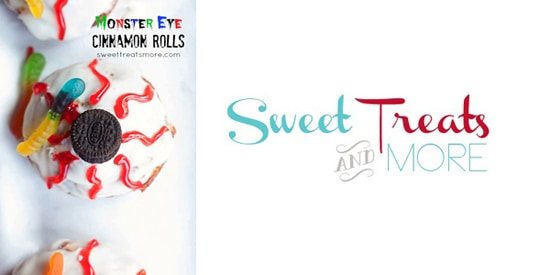 Monster Eye Cinnamon Rolls from Sweet Treats and More
Monster Brains from Taste and Tell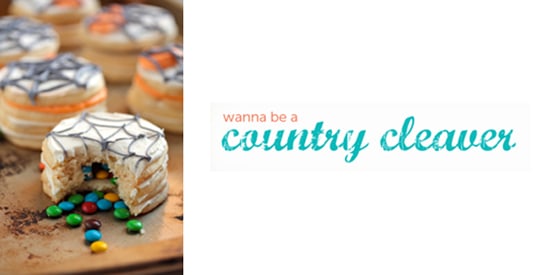 Sugar Cookie Surprise Stacks from Wanna Be a Country Cleaver
*Disclaimer: this post includes affiliate links, which just means that when you purchase items through our links, we earn a small commission, which helps us keep working hard to create recipes for you!