It's been about a year and a half since I sat down here at this same computer and started writing a blog post about pot roast.  But that blog post quickly took a turn and morphed into something else.  If you need a good cry, click here to go read it.  It dawned on me the other day that I never did actually share my pot roast recipe recipe and as I whipped it up a couple weeks ago on a rainy Sunday afternoon, I figured I should make good on that promise.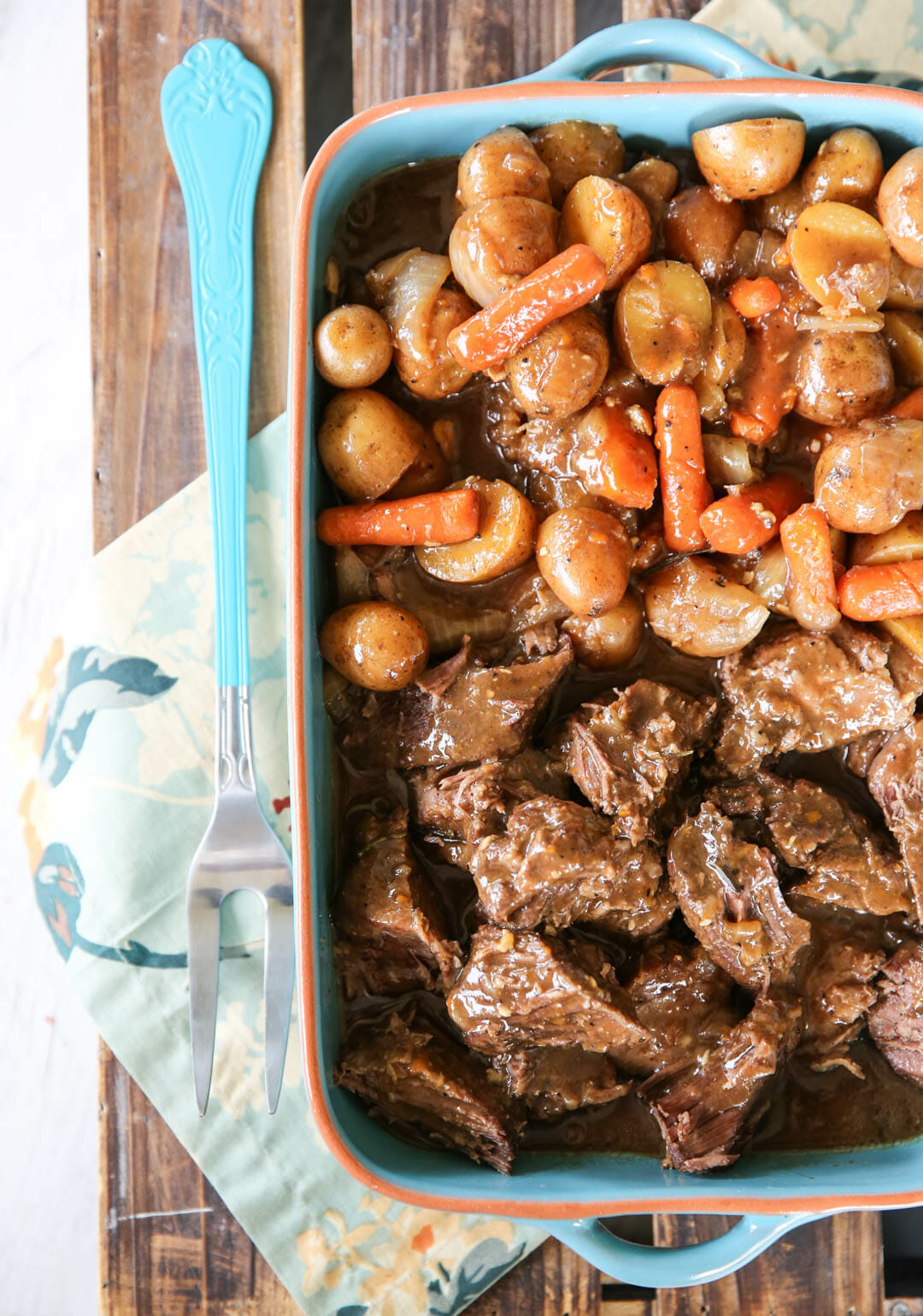 I know a lot of people that think the only way to make a classic pot roast is in a crock pot with a packet of onion soup mix.  There's nothing wrong at all with that- I make it that way all the time, and we have a great recipe in one of our books for a roast like that.  But if you want something simple, classic, with no instant soup mix, and way quicker than a slow cooker-look no further.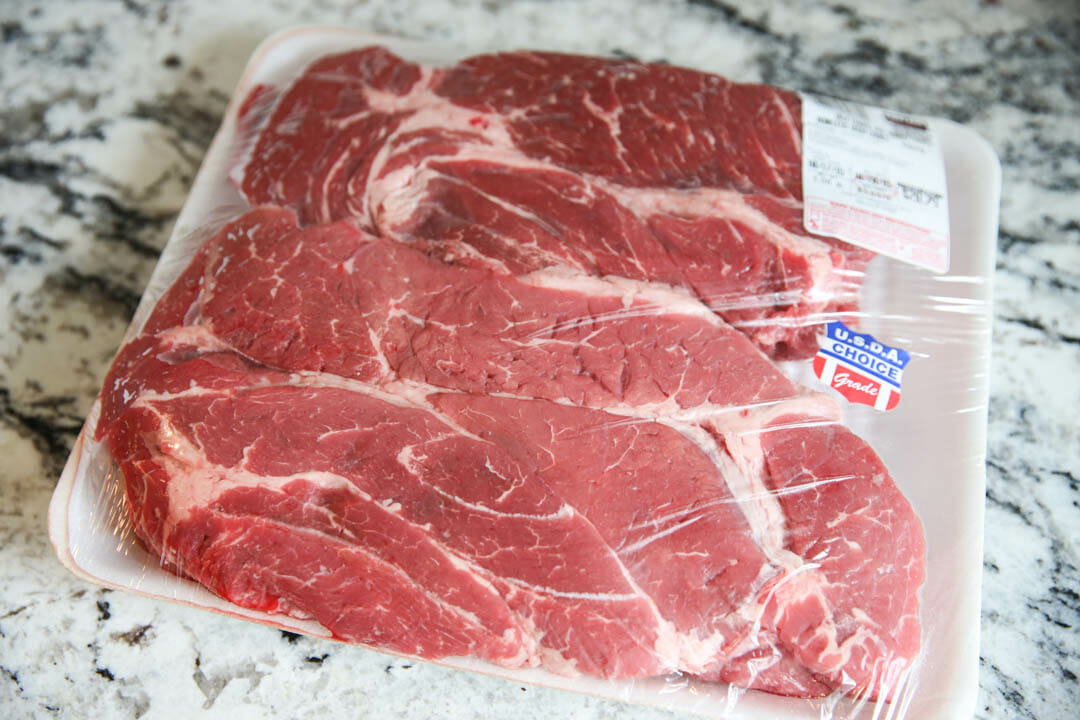 I only use boneless chuck roast when I make pot roast.  I'm very picky about that.  Other cuts of meats are always hit and miss for me and I just don't think there's any better cut if you want tender meat.  It's a flat cut of meat, with plenty of marbling, that looks like the photo above (that's is a double pack, from Costco).  There's nothing unusual or surprising about this recipe; it's about as basic as it gets when it comes to pot roast, but that's what I love about it.  It's also very easy to customize.  You can easily mix up the root vegetables, add in a variety of herbs, use red wine with/in place of the beef broth, etc.  Play around with it and I guarantee you'll find your perfect combo.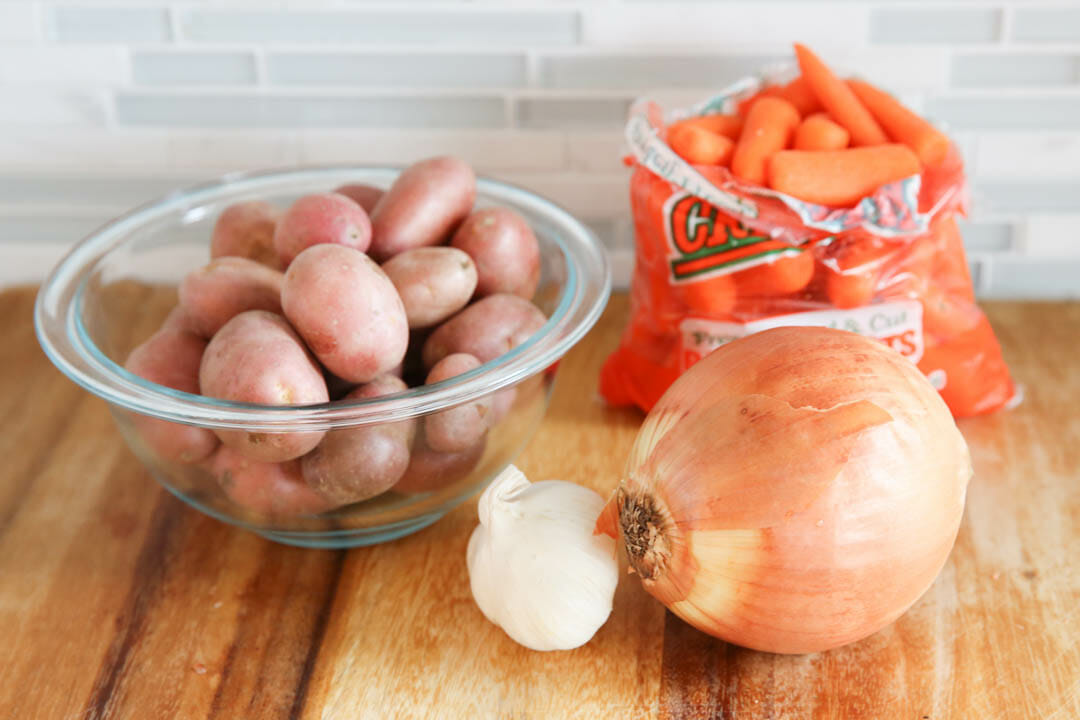 You'll want a heavy dutch oven for this recipe.  If you don't have one, there are plenty of models that won't cost you an arm and a leg like Le Creuset.  I love this Lodge Brand one and you guys it's on sale for 57 bucks!  It comes in tons of pretty colors, too!  I'm actually going to grab another one myself.
So we'll start by searing the meat on both sides.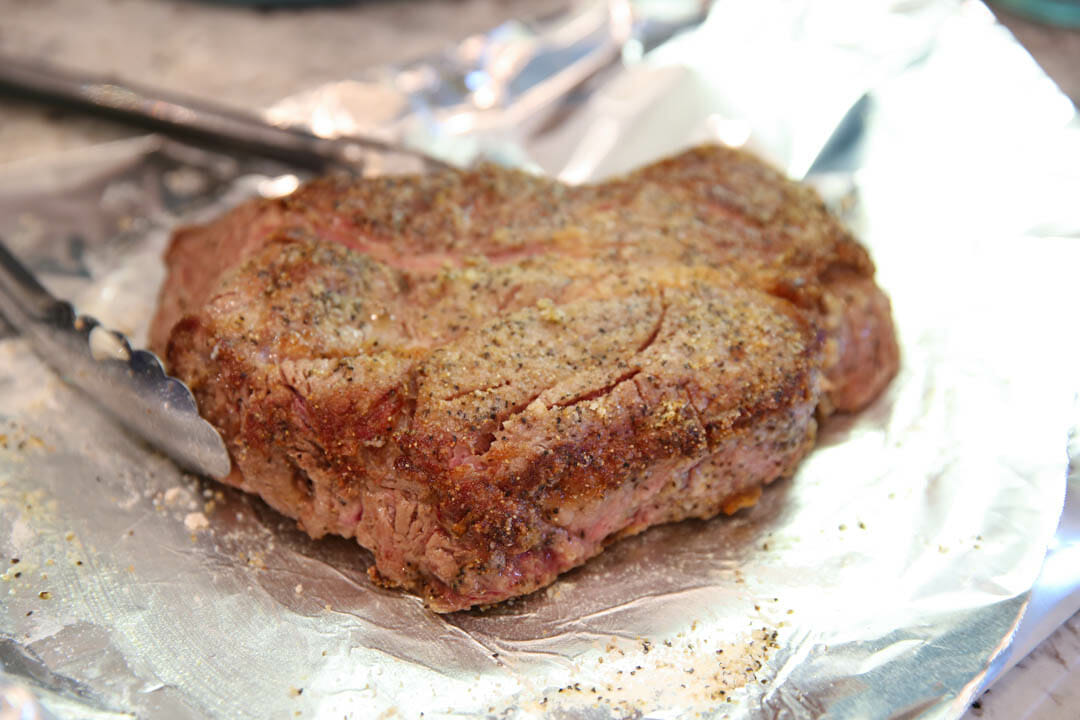 You'll set that aside and then add onion, and carrots to the pan.  I always use a half a bag of baby carrots because that's what I usually have in my fridge, but you could certainly cut up a couple regular carrots. Saute for a few minutes in those browned bits from the meat and all the flavors accumulating on the pan are building the layers of flavor.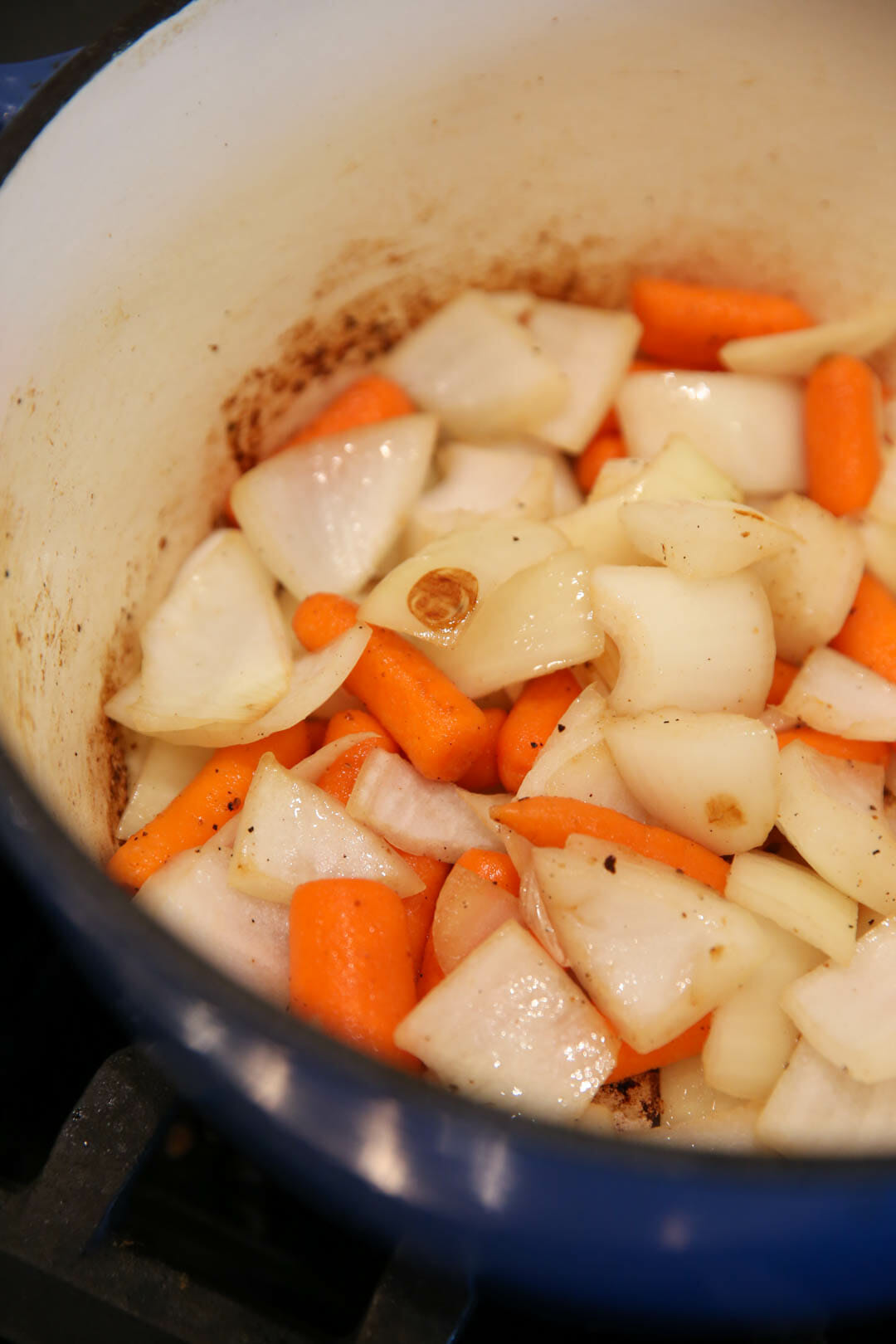 Drop the potatoes in there and any aromatics (ie: a couple sprigs of rosemary and/or thyme) if you have them and want to.  If not you can leave them out, but I love rosemary in mine.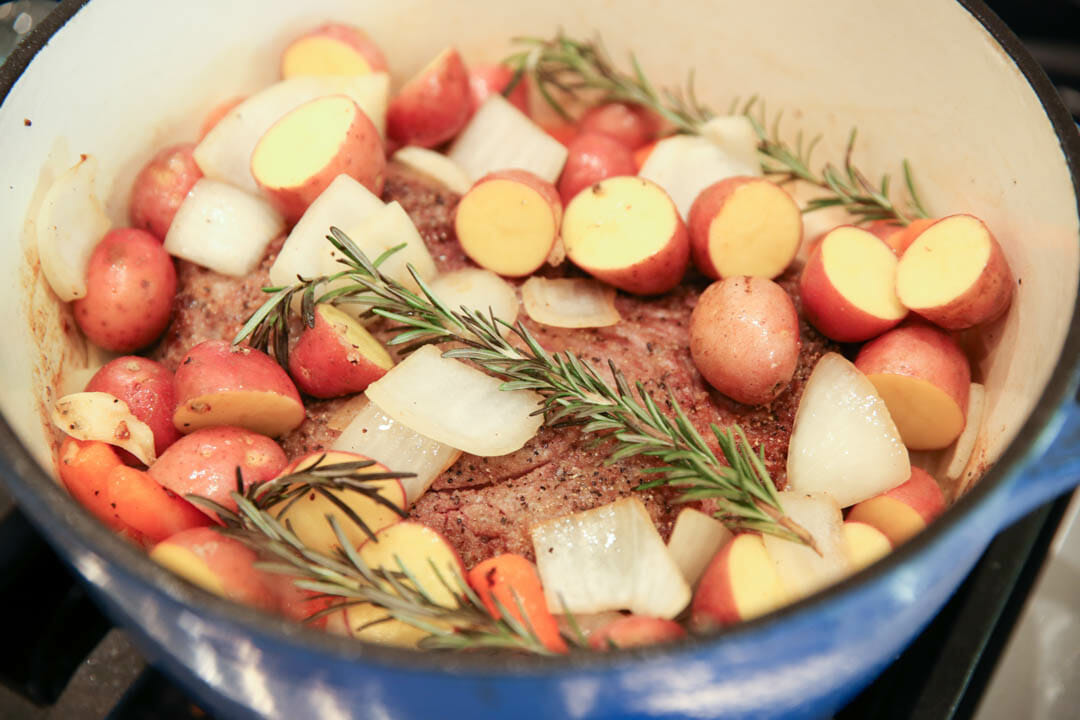 You'll then add in a can of beef broth. You don't need to drown the meat in broth- one can is plenty!  I cook it at 300 degrees and time it by 1 hour per pound.  It's a very easy way to know when it will be done!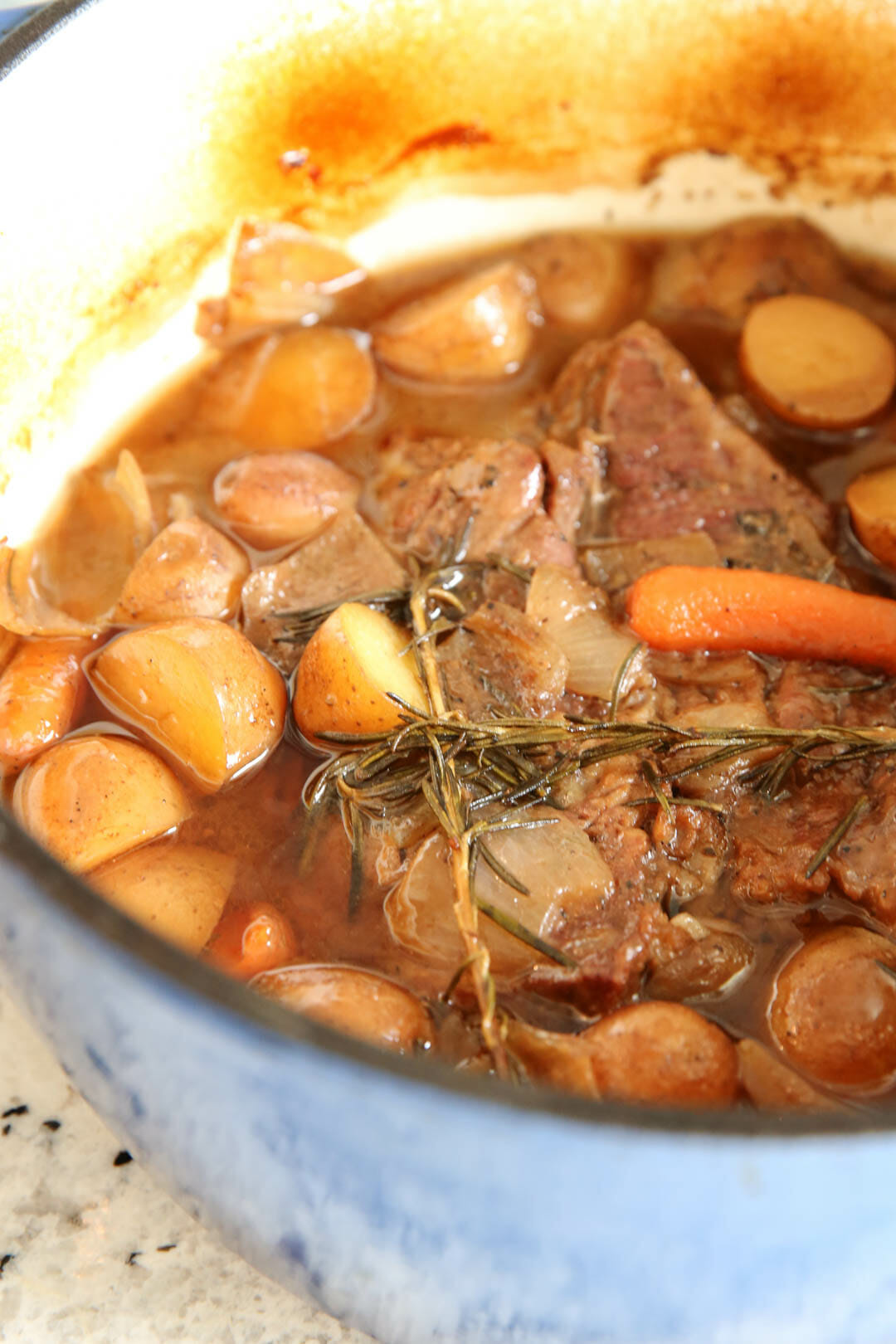 After the roast is done, I spoon my veggies onto a platter and cover to keep warm, and set the meat on a cutting board.  Then I strain the fat off the juices in the pan using my favorite fat separator (seriously if you don't have one of these yet– you need one!)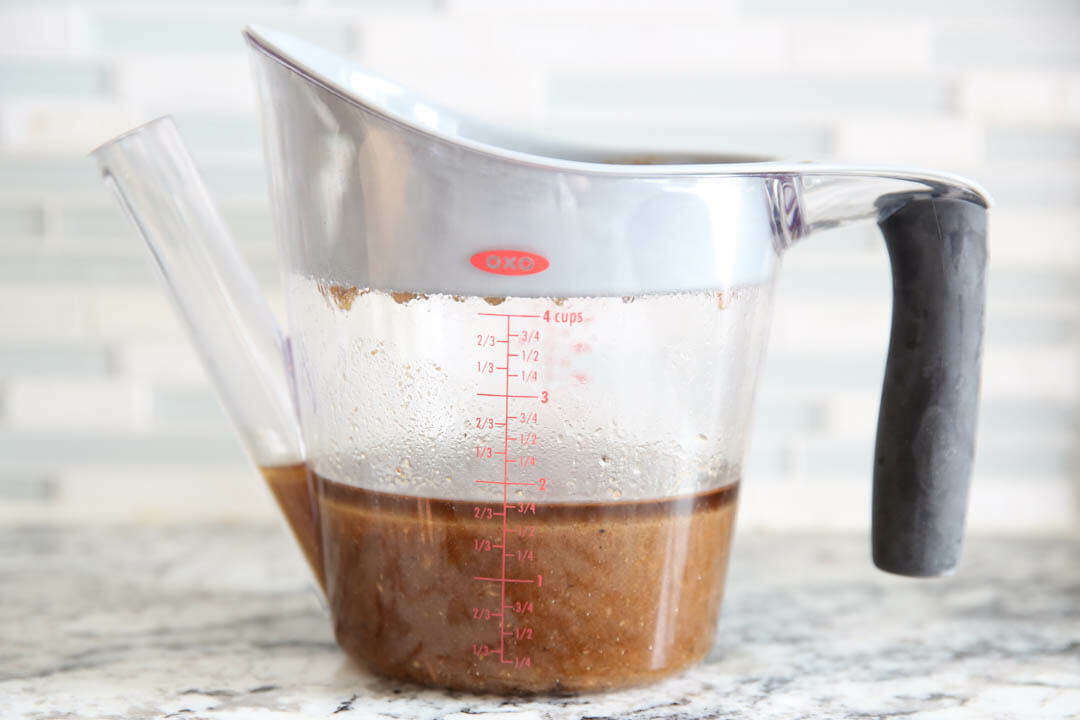 From there you can either just thicken the juices with a cornstarch slurry, or use the juices for a traditional gravy recipe you can find, here.  I just thicken the juices because it's quick and easy.  Make sure to taste and adjust the seasonings though!  The gravy turns out flavorful and silky and delicious.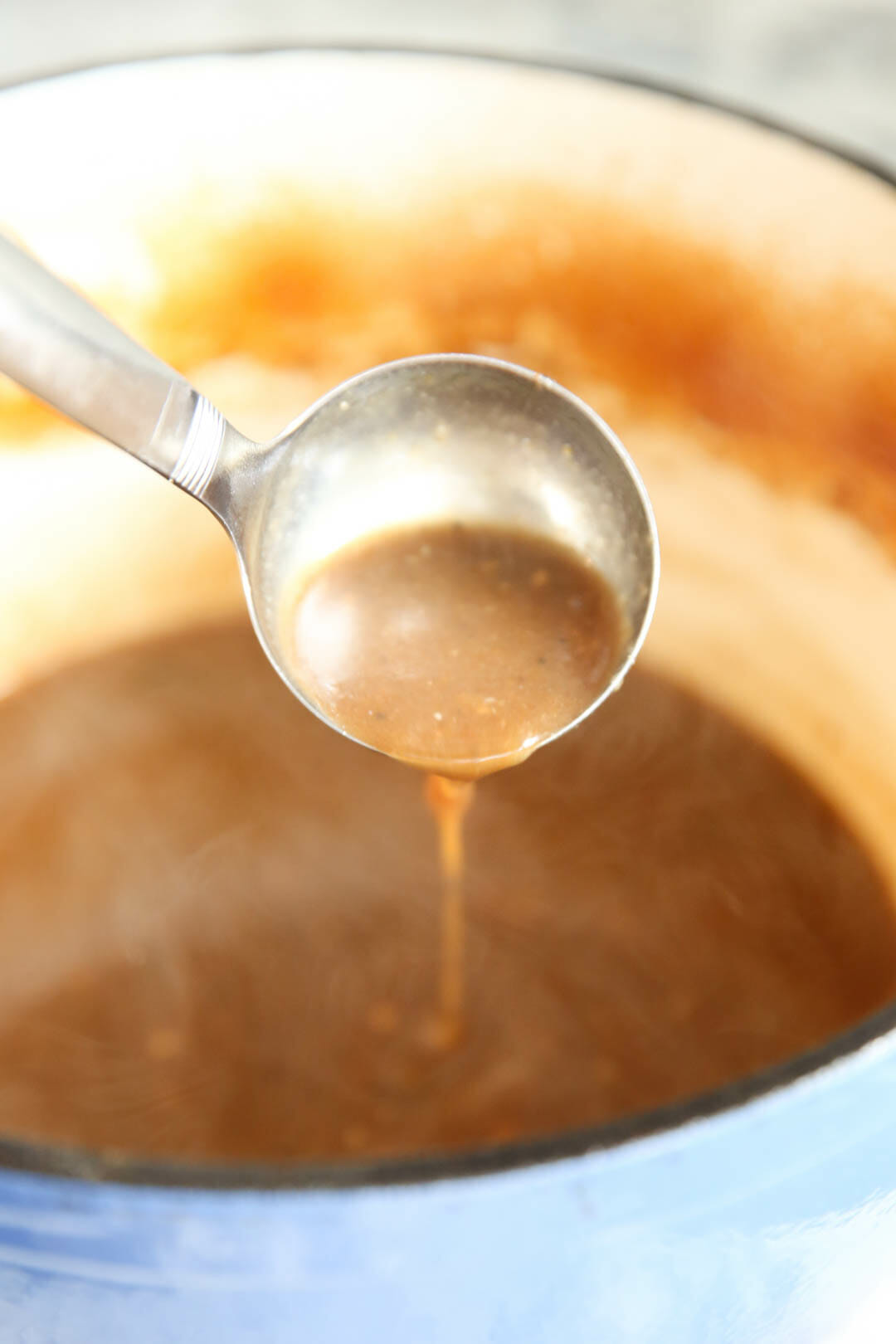 I like to serve it like this, with everything in a baking dish, and gravy labeled over.  We serve this with some kind of warm roll or bread and maybe a side salad if I'm feeling like something green out of parental responsibility.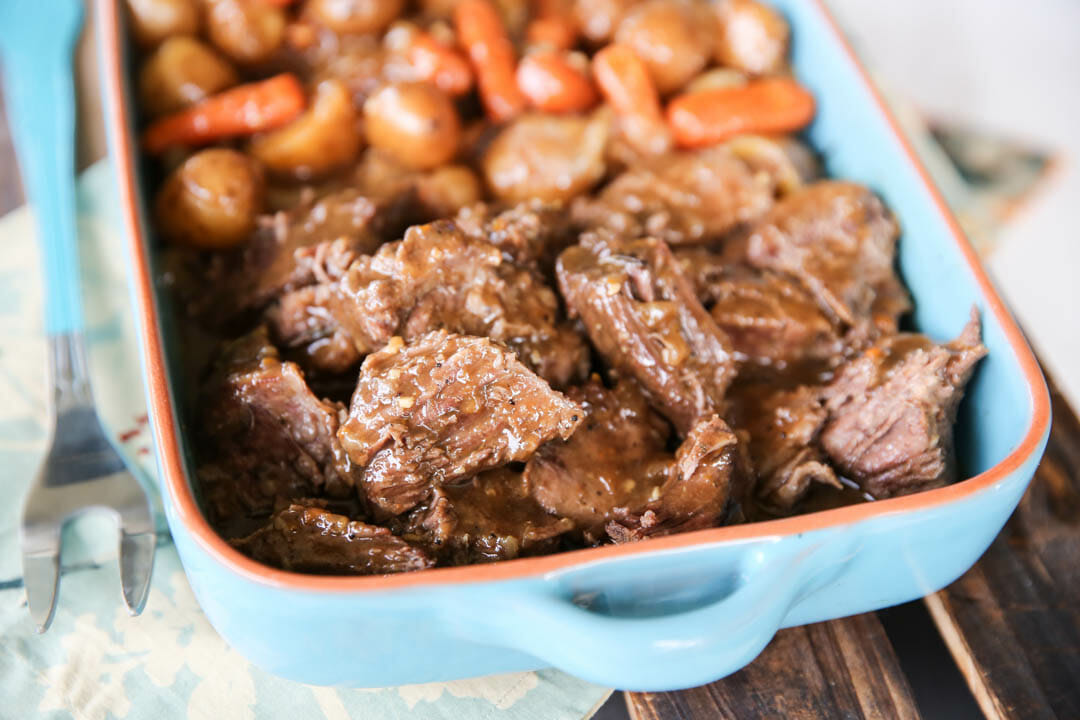 But mostly, it's all about a shallow bowl, with gravy pooled up on the bottom that you can slurp up with your roll for the best, most comforting one-dish-meal ever.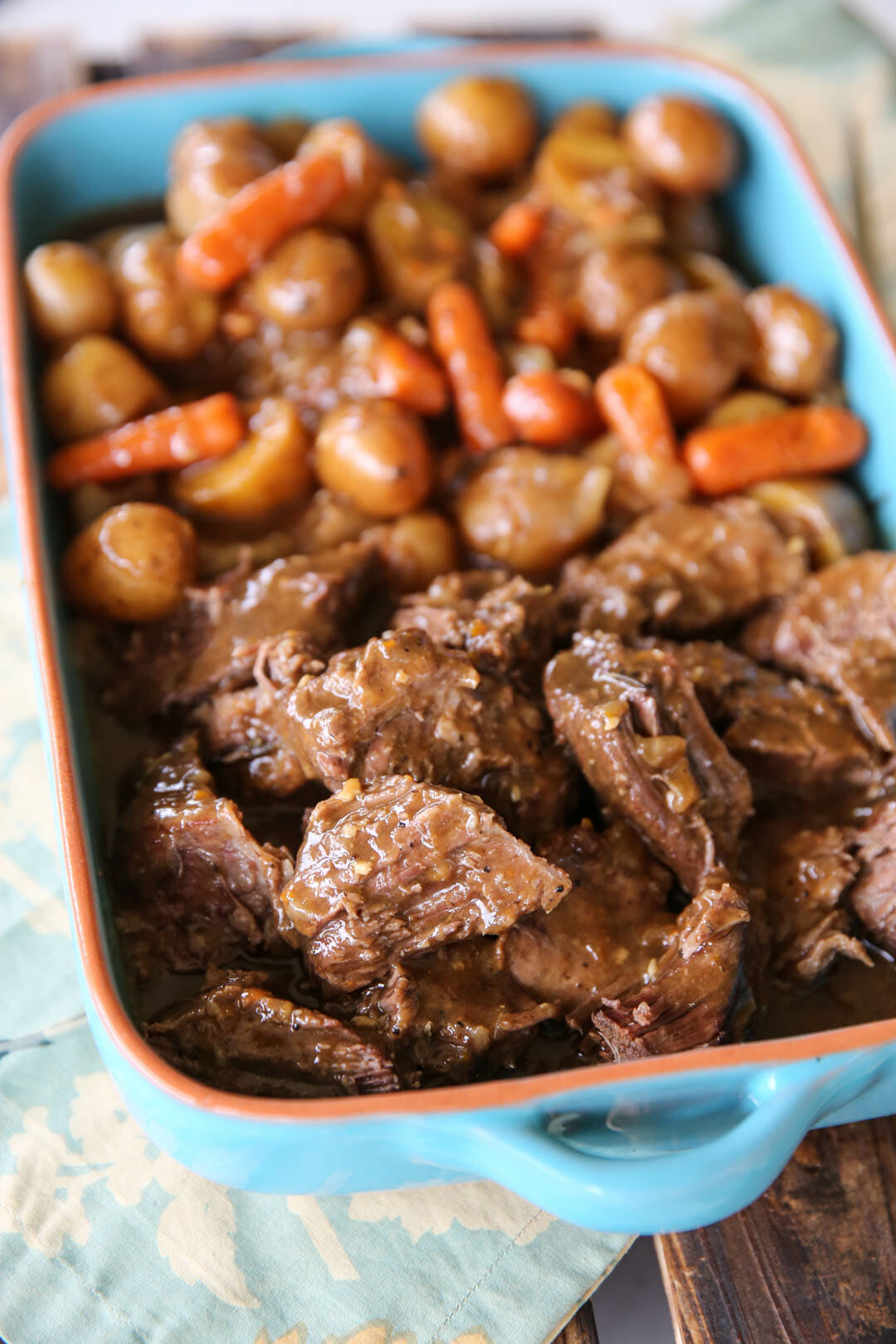 Print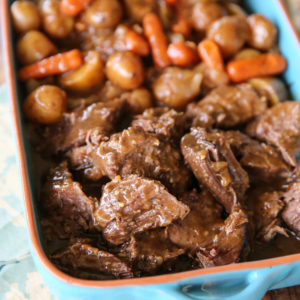 Oven Braised Pot Roast with Potatoes and Carrots
---
Description
Simple, perfect, tender pot roast with roasted carrots, potatoes and onions. Perfect Sunday dinner!
---
3

–

4

lb boneless chuck roast
kosher salt
black pepper

2 tablespoons

olive oil or butter

8 oz

baby carrots (1/2 standard

16 oz

bag)

1

large onion

1.5

lbs potatoes (I prefer baby reds)

4

–

5

cloves garlic, minced

1

can beef broth

1 tablespoon

Worcestreshire sauce
desired aromatics: ie, couple sprigs rosemary or thyme
---
Instructions
Preheat oven to 300 degrees.
Season both sides of roast with salt and pepper. Heat a large dutch oven on the stove top to medium heat. Drizzle in 1 tablespoon oil or butter and swirl to coat bottom surface of pan. Sear roast for a couple minutes on each side, until a nice brown crust forms. Remove roast and set aside.
Add remaining oil or butter to pan and then add carrots, onion, and garlic. Saute 3-4 minutes, until slightly tender.
Add the potatoes to the pan and then place the roast back in the pan and nuzzle it down in there so some of the veggies are on bottom and some on sides and top. Pour in beef broth and Worcestershire. Place aromatics on top of roast and cover pot with lid.
Cook for about 1 hour per pound. When roast is done, remove meat onto a cutting board and veggies onto a serving dish and cover to keep warm. Strain the fat off the juices (I prefer using a fat separator). You can taste and adjust the seasonings of the juices and serve as is, or return them to the pan and thicken to make gravy (see notes below). I like to serve this in a baking dish with all the veggies on one side and the cut/shredded meat on the other and then drizzle with gravy.
---
Notes
Gravy: To make a quick gravy, simply combine 1 tablespoon corn starch with 3 tablespoons water. Bring pan juices to a simmer in the pot and add this mixture just a little at a time (you may not need the whole thing) until gravy is thickened. Adjust seasonings as desired using salt and pepper, more Worcestershire, or additional seasoning.
Customize: Feel free to mix up the herbs or add different spices or other flavoring agents. Mix up the root vegetables, or add red wine along with, or in place of, the beef broth.