There are a lot of things I love to do with fresh tomatoes, but on thing trumps them all: Oven Roasted Tomatoes. It's a simple process, and my favorite thing to make with an abundance of tomatoes from the garden. Tomatoes are simply cut, tossed with olive oil, salt, pepper, and garlic, and slow roasted in the oven. The slow roasting process draws out moisture and intensifies flavor and sweetness. It results in rich, thick, flavorful tomatoes that can even come out closer to sun dried if you leave them in a bit longer. They can be blitzed up in a food processor and turned into a sauce or soup, tossed with pasta, used as a spread, added to soups and stews, used on sandwiches, in casseroles, or simply snacked on plain. I like to keep them stocked in my freezer to use throughout the year.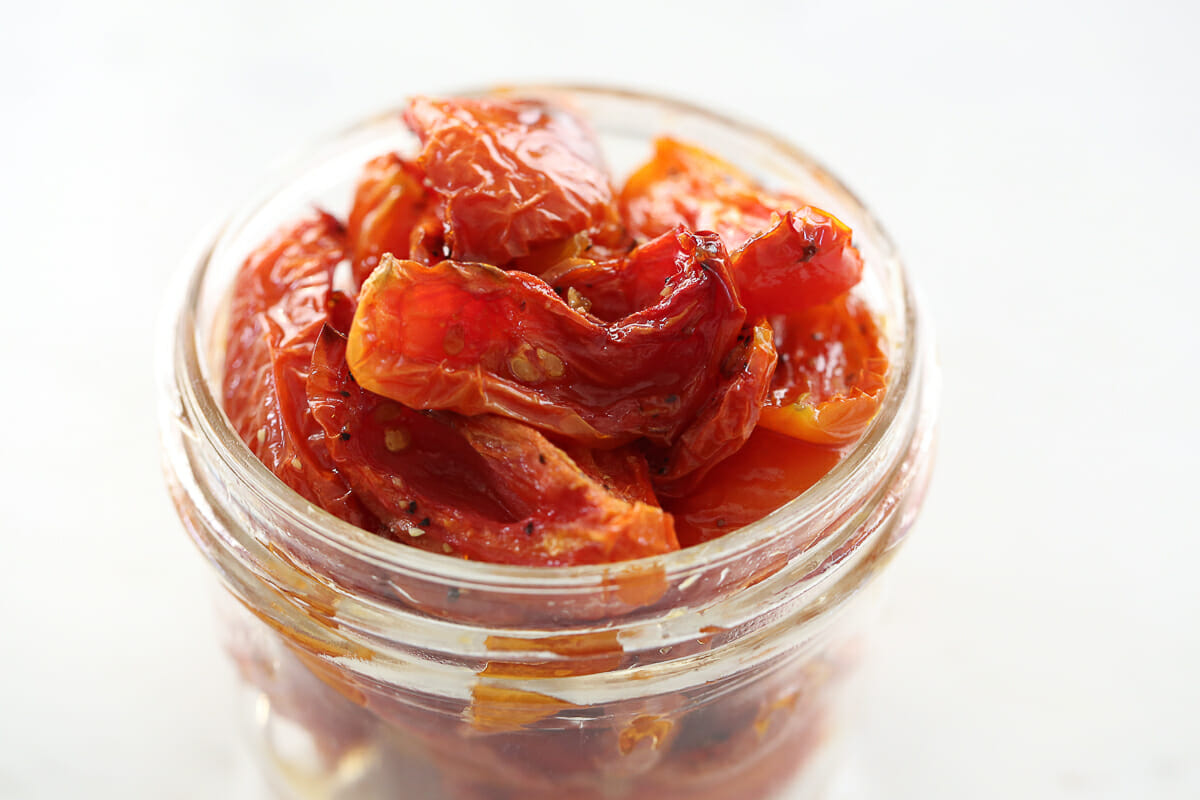 Ingredient Notes
Tomatoes – You can use this method on literally any type of tomato.  The important thing to remember is that they should be about equal in size once in the oven.  So if you have some giant tomatoes, you might want to cut them into eighths, and small tomatoes might be on the same pan simply cut in half, while if I'm doing cherry tomatoes, I generally leave those whole and put them on their own pan in case they need to be removed from the oven early.  Keep in mind that some varieties of small cherry tomatoes have a large amount of seeds though, which can turn out a little bitter.

Olive Oil – extra virgin olive oil works great for roasting.

Garlic – you'll want to use fresh garlic, not garlic powder

Salt and Pepper – this brings out the flavor of the tomatoes. I prefer kosher salt and fresh cracked pepper.
How to Make Oven Roasted Tomatoes
Cut your tomatoes and remove the pulp. I like to cut most average-sized tomatoes in quarters. As you cut just use clean hands to gently push out pulp (into the sink or garbage) and set tomatoes down on a parchment or foil-lined baking sheet. You don't have to remove every last drop of pulp, but a quick squeeze will help remove extra moisture that can slow down the roasting process.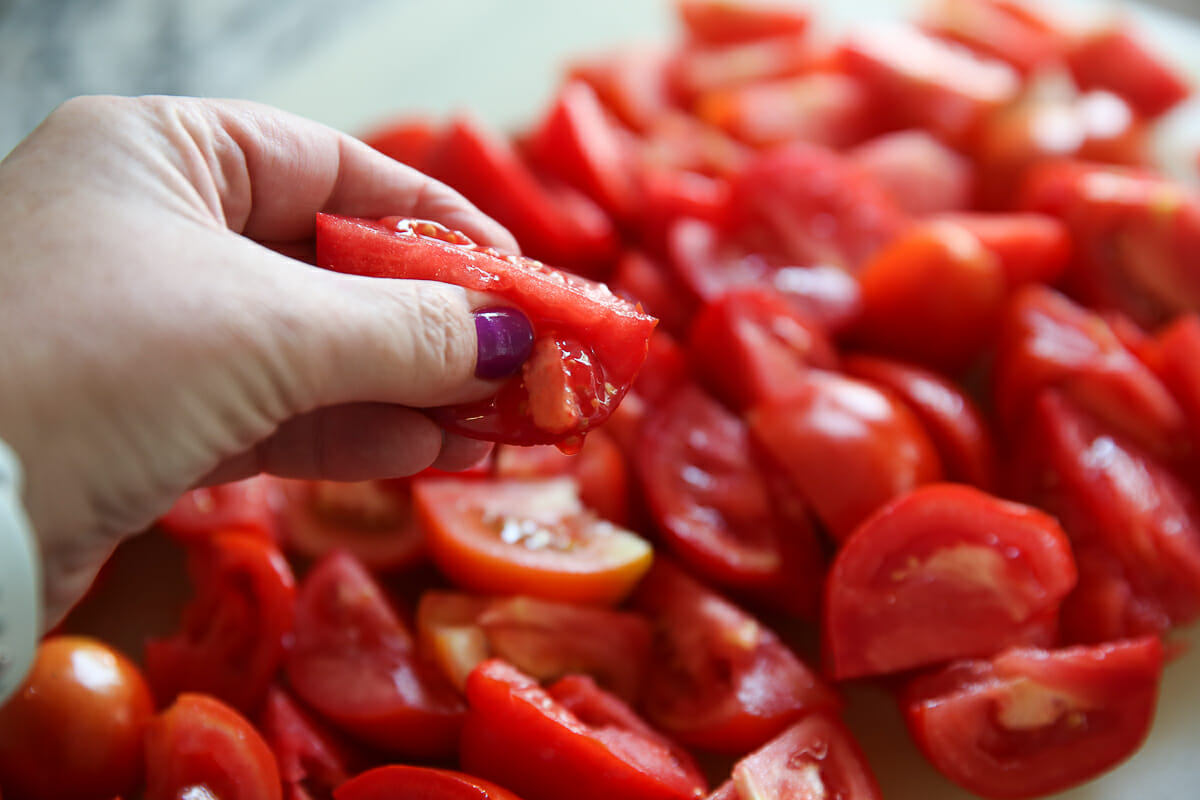 2. Toss tomatoes in olive oil and season. There are no measurements listed in this recipe because you can make as little or as few as you like! You'll just liberally drizzle your tomatoes with extra virgin olive oil so they are all well coated. They should be glistening and there should be some oil on your baking sheet.  Sprinkle with salt and pepper, and I like to add a good amount of minced garlic as well.
TIP: Remember that liquid will be evaporating and flavors intensifying, so I recommend going a little lighter on the salt than you're inclined.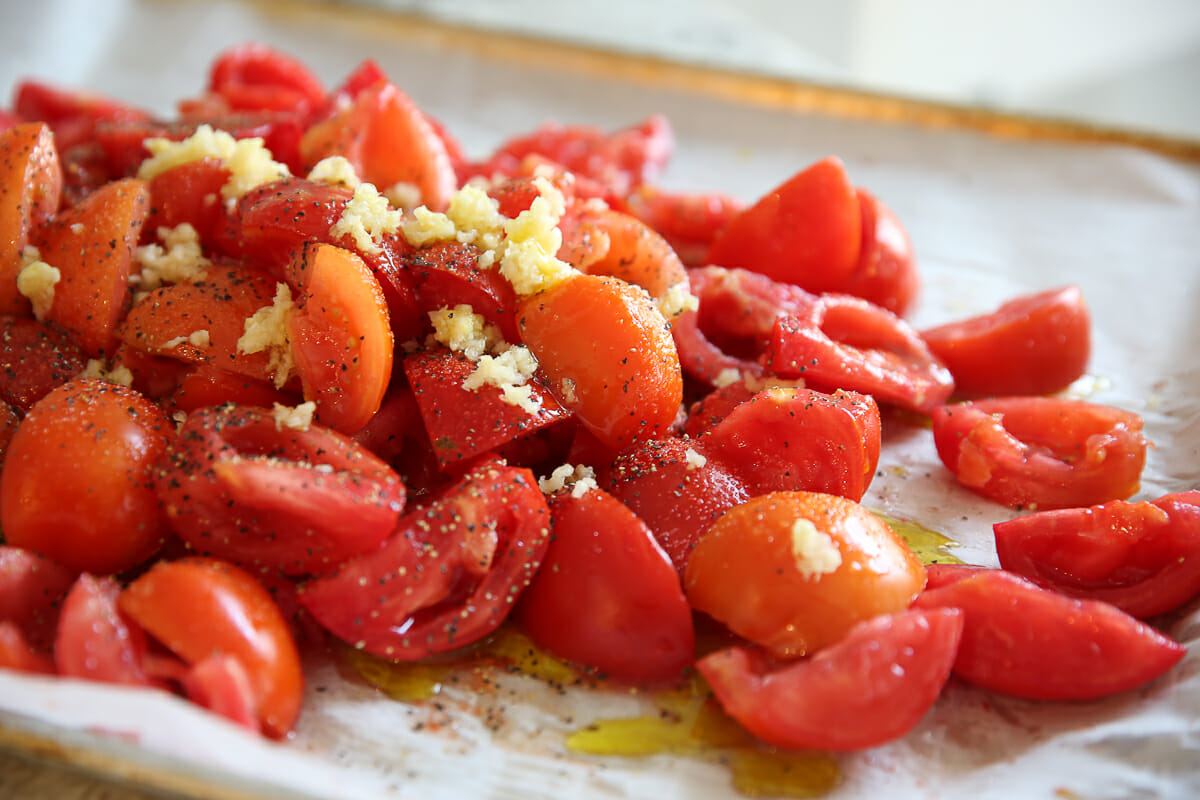 3. Toss tomatoes and roast. Toss it all together so everything is well coated and evenly space out tomatoes in a single later. I like to put skin-side down and if I see any obvious chunks of garlic on the pan, I try to pick them up and put them on top of a tomato so they don't burn.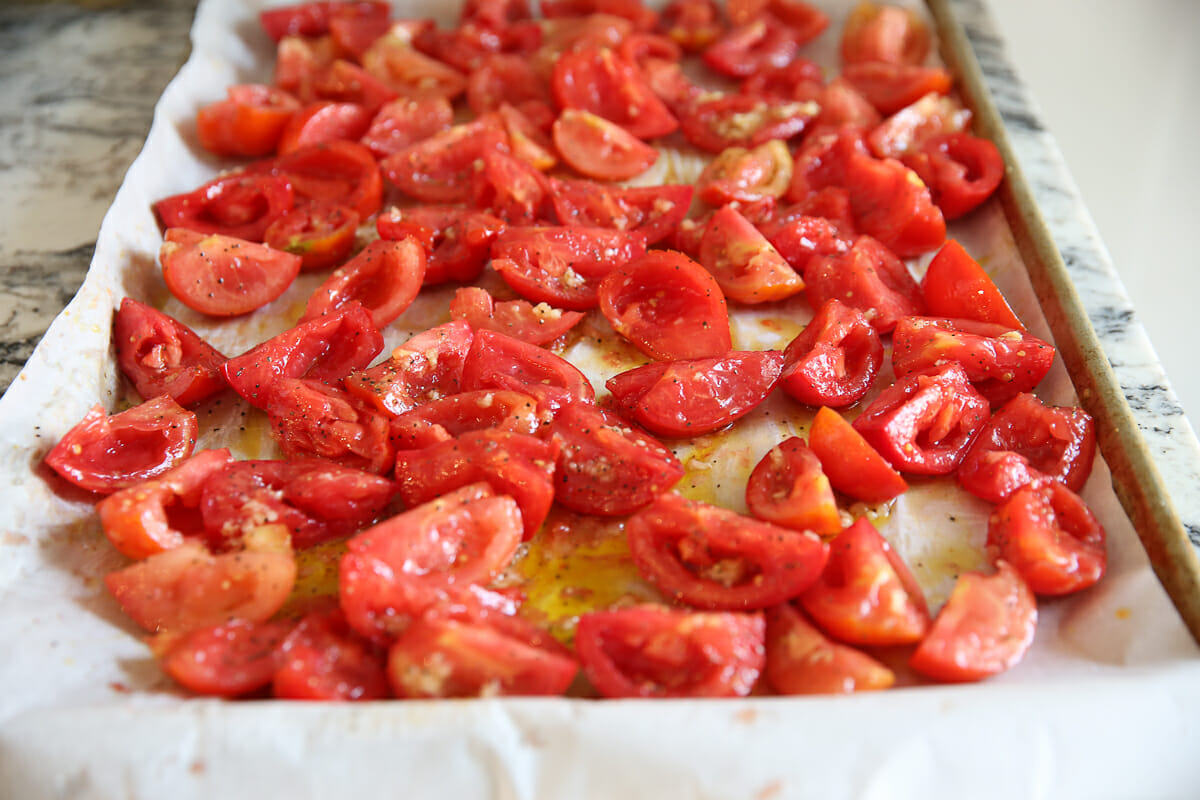 Note on baking time for oven roasted tomatoes: All ovens cook differently, and all tomatoes will vary in baking time due to a variety of factors.  The rule of thumb is keep an eye on them! Most average-sized tomatoes cut into quarters will take at least 2 hours.  I usually start checking on them after 1.5 and continue cooking them until they appear to be slightly shriveled and even a little browned. 
You can continue cooking even past this point and you will get the consistency of a sun-dried tomato, which are amazing!  Don't be afraid to keep cooking!  People often take them out much too early.  I usually cook for 2.5-3 hours on average.  But again- it varies greatly so keep an eye on them.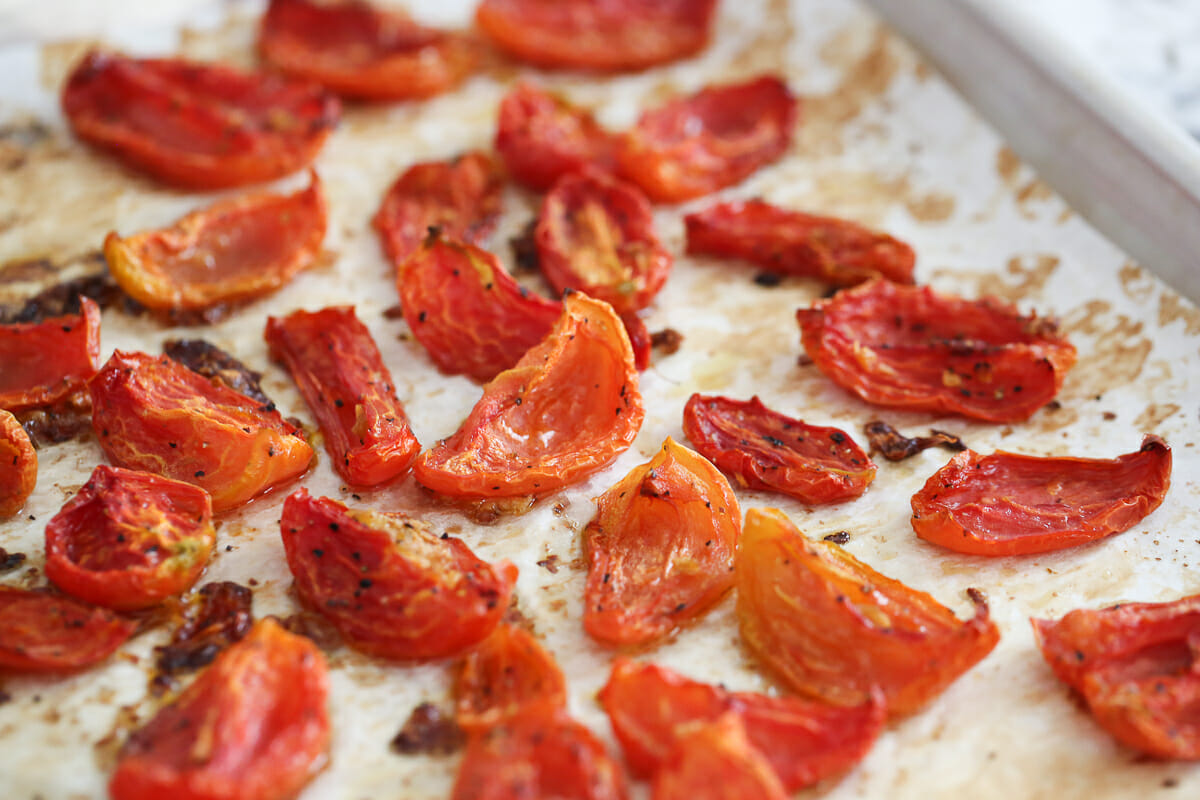 What do I do with my oven roasted tomatoes?
If you're like me, you'll eat them right off the baking sheet! If you can manage to save a few, I like to toss them in pastas and use on hot sandwiches. I store them in zip-top bags or mason jars in my freezer and use them in soups and stews. You can add some broth, cream and herbs and make an amazing tomato soup, or blitz it up for a pasta sauce. The possibilities are endless!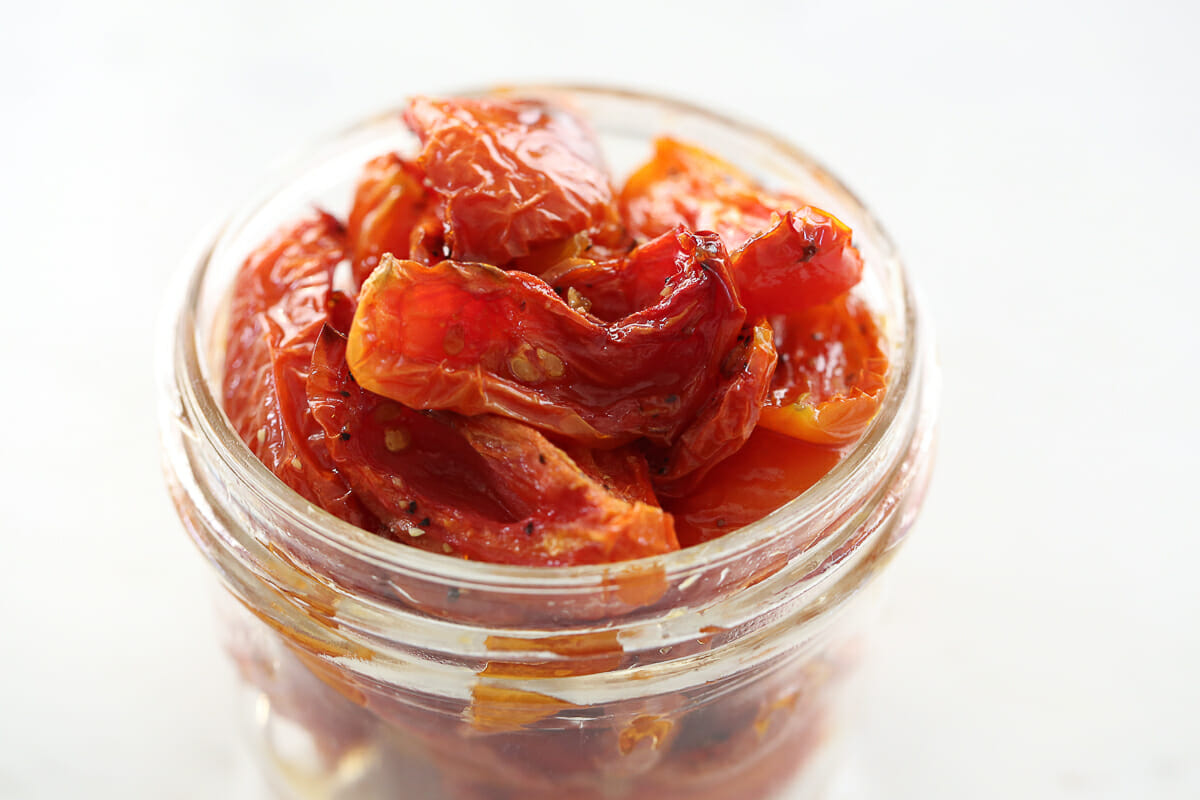 Did You Make This?
I'd love to hear from you! Snap a picture and tag me on Instagram, and then come back and give this recipe a rating!
Print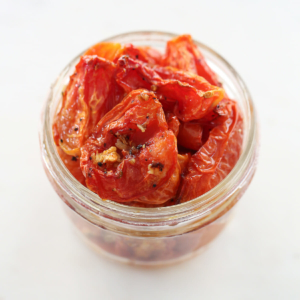 ---
Description
Slow roasted tomatoes, delicious for using in a variety of dishes!  Put them in soups or stews, use in pasta, or bend up for an amazing sauce. There are not exact quantities listed in the recipe because this method works great with any quantity and is very easy to eyeball!
---
Tomatoes, any variety
Extra Virgin Olive Oil
Kosher Salt
Fresh Cracked Pepper
Garlic Cloves (4-6 per pan, minced)
---
Instructions
Preheat oven to 325 degrees.  Line rimmed cookie sheets with parchment or foil for easy clean up.
Remove cores from tomatoes and cut in half.  You want all of your pieces similar in size.  If you're using small tomatoes, just cut them in half. Anything larger, quarter them.  If using cherry or grape tomatoes, I like to leave those whole and put them on their own baking sheet.
As you cut tomatoes, use clean hands to gently remove excess pulp and place tomatoes on rimmed baking sheet in a big pile.
Drizzle tomatoes generously with olive oil, enough to coat everything well.  Sprinkle with salt and pepper. Sprinkle 4-5 minced garlic cloves on top.Toss together so everything is coated.
Arrange tomatoes in a single layer, skins down, on your sheet.  I try to make sure most of the garlic is on top of the tomatoes and not on the baking sheet. Your tomatoes should be in a single layer, if they are not, pull out another pan and use 2 so you can spread them out!
Place pan in oven and cook for about 2.5 hours.  Important note about baking time: all ovens are different and tomatoes will vary on baking time due to a variety of factors (size, amount of pulp removed, desired level of doneness etc).  I suggest setting your timer for 1.5 hours and taking a peek through the oven window about every 30 minutes from then on, until they are finished.  Small tomatoes will be done early, larger pieces take closer to 2.5- 3 hours. I personally like my tomatoes to get a little chewy and browned so I leave them in longer.  Up to you!
---