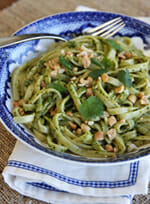 This might be my new favorite pasta dish.  If you're a fan of our Thai Peanut Noodles, you'll probably love this one too.  It's pretty quick and easy to put together, so it makes a great meatless main dish, or a side dish (try it with our Thai Beef Skewers) or you could toss in some grilled chicken or steak for a one-dish dinner.  The profile is bright and fresh and perfectly summery.  While a traditional pesto starts out with loads of fresh basil- this version uses cilantro instead.  Don't bother picking the leaves off the stems; cilantro stems are tender and flavorful, so chop them up with the leaves.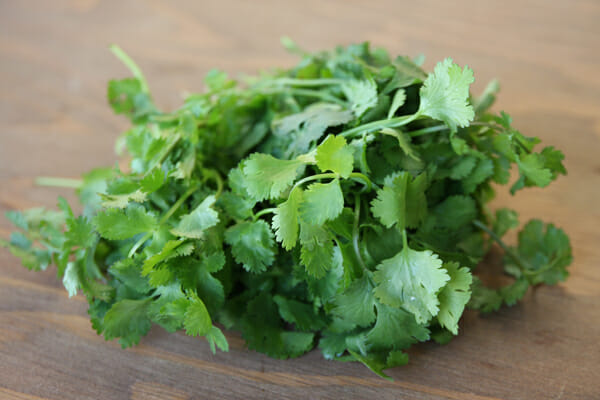 Then we add tons of flavor: sesame oil, red pepper flakes, brown sugar, garlic, lime juice, lime zest, soy sauce and fresh ginger.  Instead of pine nuts in an Italian pesto, we're tossing peanuts in this one.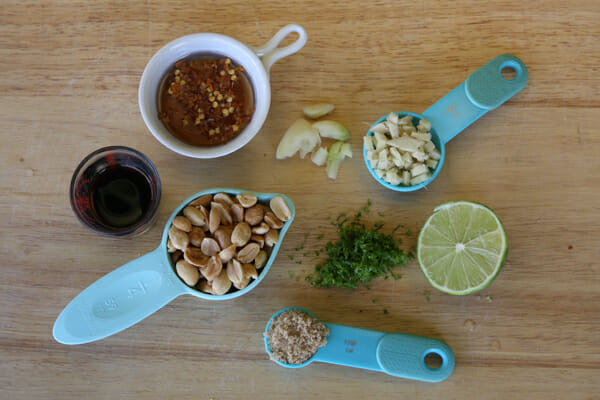 Pop everything except for the soy sauce in a food processor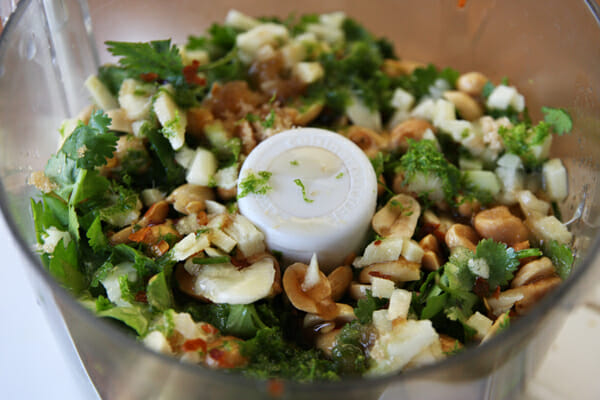 And process it until it looks like a pesto, fairly smooth but with pieces of cilantro and peanuts still.  Add in a little soy sauce at the end.
That's it folks.  Toss that pesto with hot pasta; sprinkle it with a little chopped peanuts and cilantro and you're good to go.  I like a little fresh squeeze of lime juice too.  The pesto itself it super yummy over grilled steak too.
 The flavors are so fantastic; it's like you can taste every little ingredient in there; the sweetness of the sugar and ginger, a hint of spice from the pepper flakes, the roasted crunch of the peanuts and a little freshness and tang from the lime juice and cilantro.  Try it; you'll love it!
PS- One tip I have is to serve it immediately.  As with many pasta dishes, the longer it sits, the pasta absorbs the sauce and the flavors mellow.  Leftovers still taste great, but the fresher the better.
Pasta with Cilantro-Peanut Pesto
Recipe slightly adapted from Martha Stewart Everyday Food
Ingredients 
1 bunch cilantro, roughly chopped (about 1 cup)
1 clove garlic, smashed, peeled, and roughly chopped
1 tablespoon minced fresh ginger
2 tablespoons vegetable oil
1 tablespoon sesame oil
1/4-1/2 teaspoon red pepper flakes
1 1/2 teaspoons brown sugar
zest and juice from one lime (about 2 tsp zest and 2 Tbs juice)
1/4 cup roasted peanuts (plus more for serving, if desired)
2-3 tablespoons low sodium soy sauce
3/4 pound (12 oz) linguine or spaghetti, cooked according to box instructions
Instructions
In a food processor, combine cilantro (save a bit of cilantro for garnish), garlic, ginger, vegetable and sesame oils, red pepper flakes, lime zest and juice, brown sugar, and peanuts (basically everything except soy sauce).  Pulse until a coarse paste forms.  Season with soy sauce and pulse to combine.  In a large bowl, toss pesto with hot pasta.  Roughly chop additional peanuts and sprinkle over pasta along with extra cilantro leaves and lime wedges if desired.   Serve immediately.  (If you're prepping and not quite ready to eat yet,  I recommend waiting to toss with pasta until right before serving for the best flavor.)  Serves 4 main dish or 6-8 small sides.