You guys, this is what summer should taste like.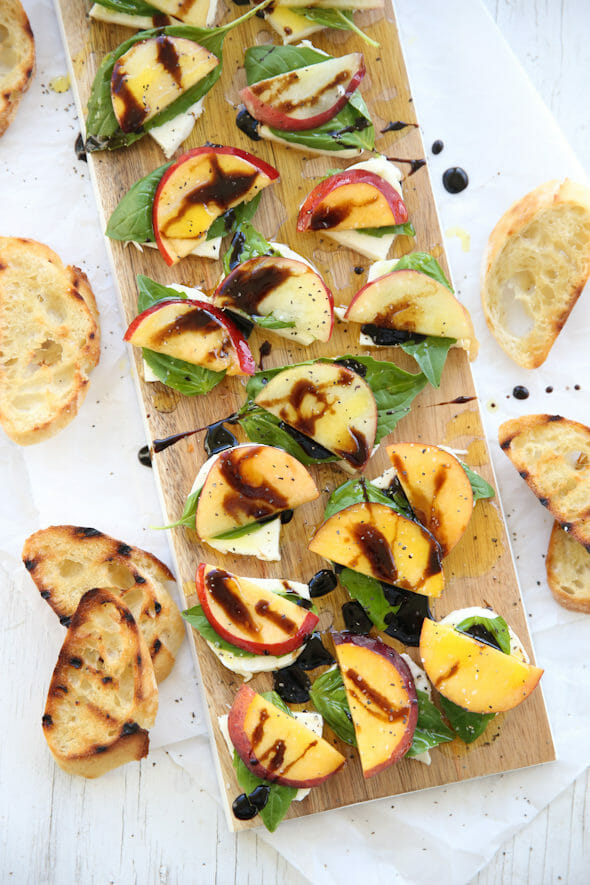 First of all, let's talk about some things I love:  fresh salsa, tomato sauce, pico de gallo, roasted tomatoes, gazpacho.  I could eat all of those straight from a spoon.  Things I literally can't swallow even if someone offered me a cookie after (okay maybe if someone offered me a cookie after):  adorable little cherry tomatoes, raw tomato slices.
I know, it's weird.  I LOVE tomatoes in so many things, but I can't chew a raw slice to save my life.  Which brings me to Caprese salad.  I love everything about it.  Only I usually pick out the tomatoes (so yes, what I really like is mozzarella cheese salad.)  Which brings me to this amazing twist on the classic Italian dish.
Fresh peaches that are juicy and sweet, are the perfect compliment to creamy mozzarella, sweet basil, and flavorful olive oil.  A pomegranate balsamic drizzle takes these over the top.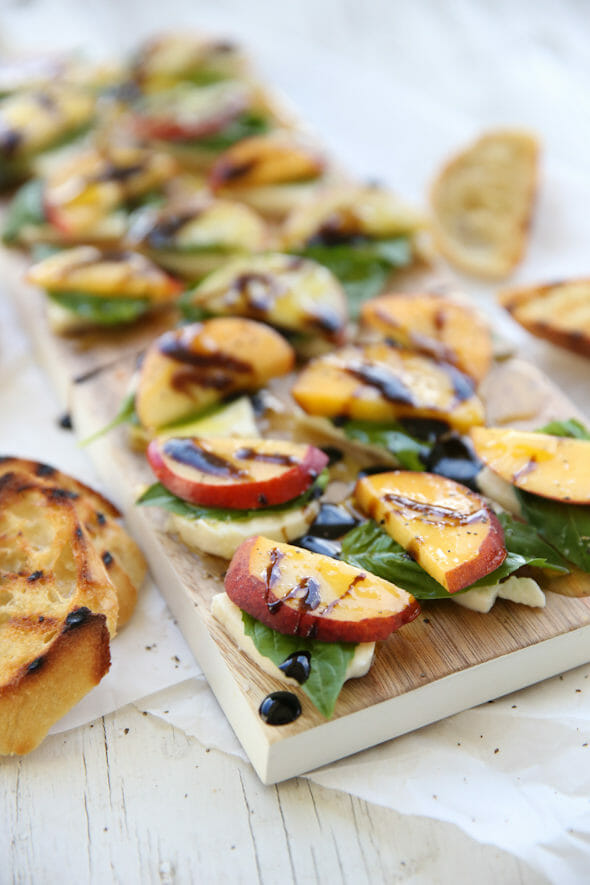 This is such a great summer appetizer.  It's a casual-yet-elegant thing to take to a party or potluck, or a great summer snack.  I suggest making sure your peaches are nice and sweet.  If they're lacking in flavor, or on the tart side, it just doesn't taste as great.  This works well with both white and yellow peaches, or even nectarines; I've got a whole mix here.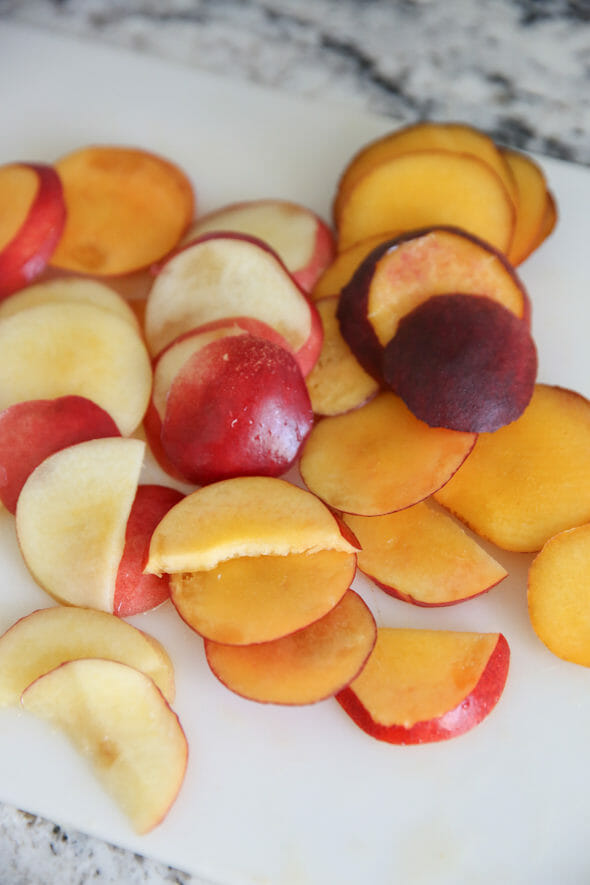 I don't worry about peeling, or pitting my peaches.  I feel like both of those things cause the peaches to kind of fall apart, so I cut them in slices starting from the outer edge, until I get to the pit, and then doing the other side and slicing off any extra for snacking.  You can layer this like a traditional caprese salad, where everything is layered together on a serving dish, or do as I'm doing here and make individual little stacks.  Just layer your peach slices with a slice of fresh mozarella cheese (you often find this in the deli area, if you don't see the fresh style in the cheese case.  Costco sells it as well, for a great price.)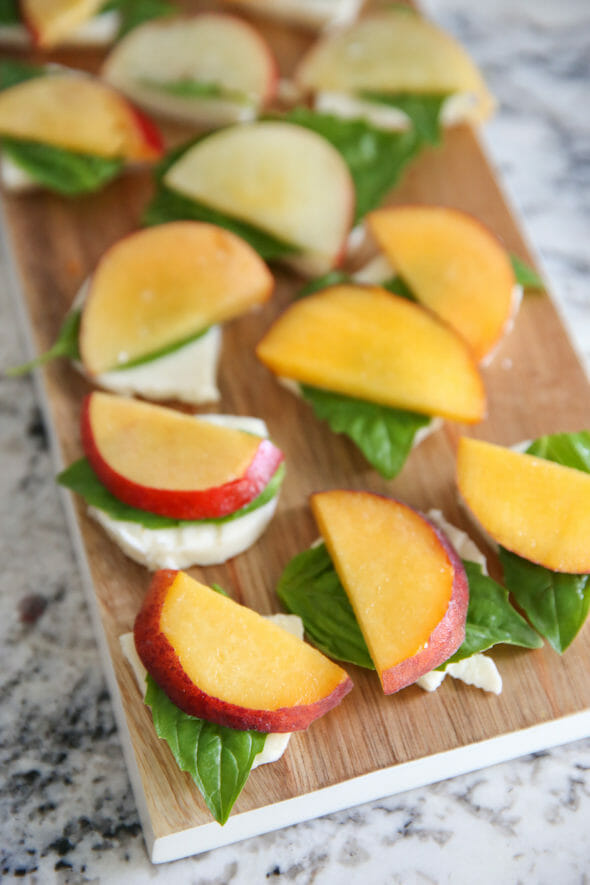 I feel like the stacks make it easy to serve since you can just grab one little pile. Once they're layered on your serving dish, drizzle with olive oil and balsamic vinegar and sprinkle with salt and pepper.
Now, any regular olive oil and balsamic will be perfectly delicious, but (and I'm not just being sale-sy here)  one of our flavored olive oils, like the Blood Orange especially, and our fruity balsamics make this dish truly amazing.  Like, there's no comparison.  Our bright, fresh Blood Orange Oil adds a fruity undertone and that balsamic…where are the heart-eyes emoji when I need one?  Our balsamics are thick and syrupy and they taste SO amazing in dishes like this.  I'm using Pomegranate, but any of them would be delicious.  Our large Blood Orange Oil is temporarily out of stock, but we have plenty of smaller ones.  This is one of my favorite flavors we sell.  (Pssst, our Father's Day Code POPS will still give you 15% off if you want to grab some)
My favorite way to serve these is with a lightly toasted crostini.  I brushed these ones with garlic olive oil and tossed them on my grill, but you can do them in the oven as well.
You could also turn this into bite-sized finger food by using the mozarella balls and threading onto little skewers.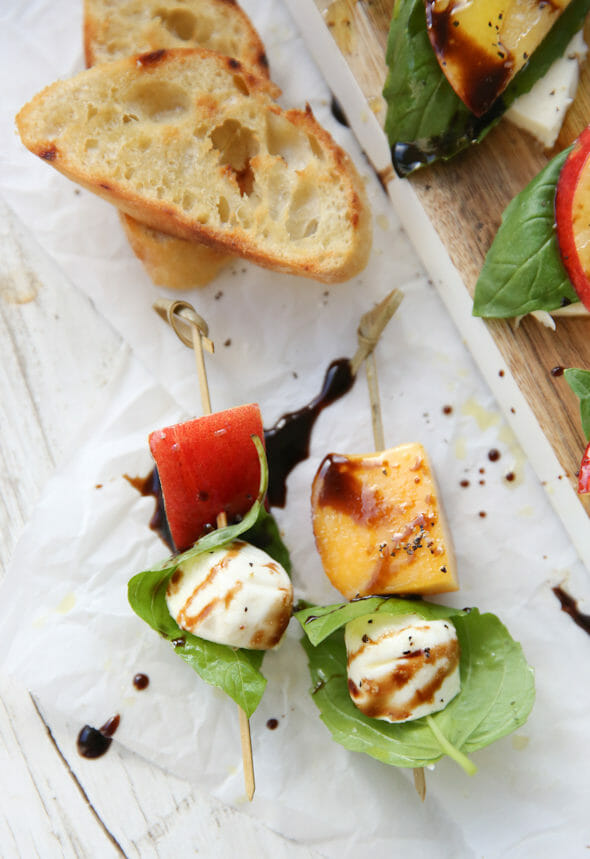 When I make them this way, I place mozzarella balls and peach chunks in a bowl and toss them all with olive oil, salt and pepper.  If you've got time, you can do that part ahead and just let them marinate.  After they're skewered I drizzle with balsamic. Either way you make them, you should definitely try this while peaches are in season!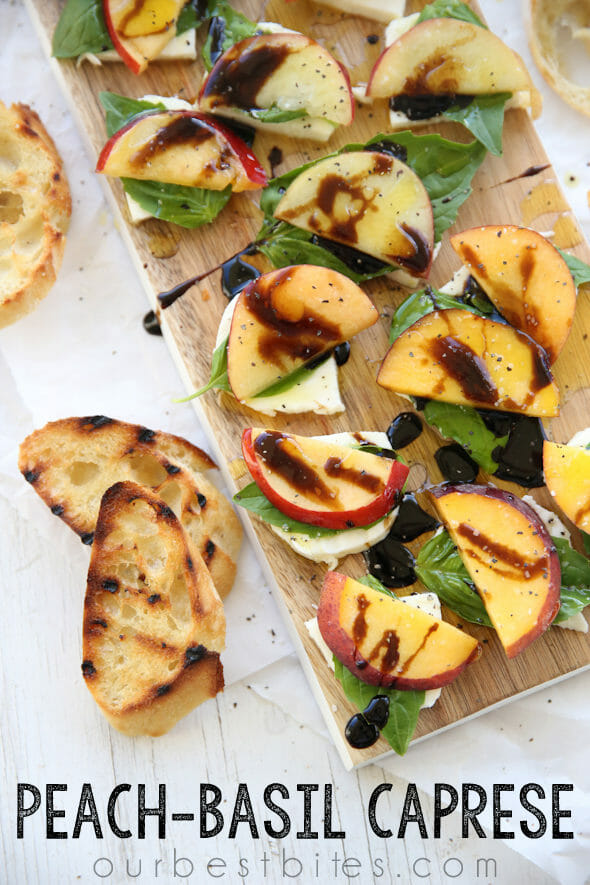 Print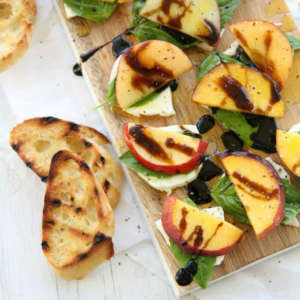 Peach-Basil Caprese Salad Stacks
---
Description
A delicious summer twist on the classic Italian Caprese salad, made with sweet fresh peaches.
---
ripe peaches, sliced
fresh mozarella cheese
fresh basil leaves
extra virgin olive oil
balsamic vinegar (we love Blood Orange or Garlic Oil from ourbestbites.com/shop)
---
Instructions
Layer peach slices with a slice of mozarella cheese and a basil leaf. Drizzle stacks with olive oil and balsamic vinegar and sprinkle with salt and pepper.
To serve on crostini, brush slices of baguette with olive oil and either grill or place in a 400 degree oven until lightly golden and toasted. We love to use garlic olive oil, or instead, cut a large clove of garlic in half and rub onto surface of bread before drizzling with oil and toasting.
---