Kate and I both live by the theory that healthy eating doesn't mean tasteless eating. From the very beginnings of our blog, we set out to show people that a well-rounded, healthy diet could include lots of really delicious foods, including dessert! It's actually the premise behind our book coming out this spring (Available for pre-order now!) This is a great example of a sweet treat that can fit into a healthy diet. They're small and portioned controlled, and one batch can feed your family and then be gone so as not to tempt you all day long. If you're like me, you might find that incorporating responsibly proportioned sweets and treats will keep you feeling normal, and not deprived, as you're working on health and fitness goals. Three of these are under 100 calories!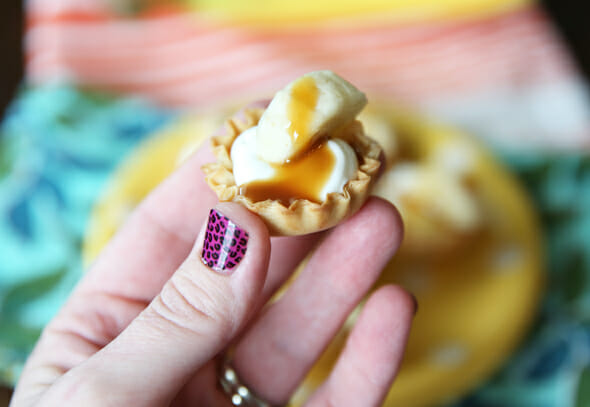 You can find these little fillo cups in the freezer section of the grocery store. They will be near the frozen pastry, in the same area where you would find standard phyllo, puff pastry, etc. Sometimes it's called "fillo" and sometimes it's "phyllo".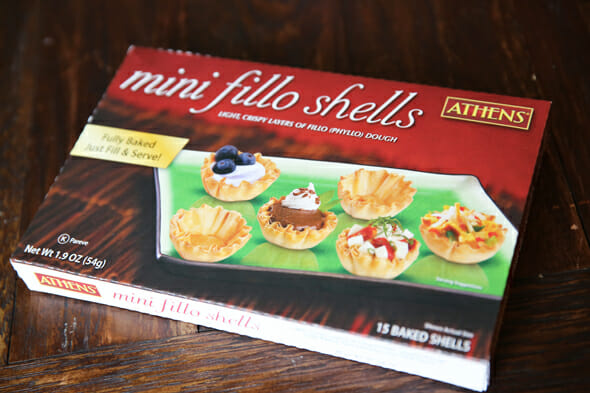 It's an unleavened dough that's really thin and crispy. Now, most of the things I use phyllo dough for are insanely caloric, because the paper thin layers are usually layered with butter and then filled with something amazing, like in Baklava. But these little cuties don't fit in that category. Each shell is only 15 calories, and low in fat, so it's such a great way to serve all kinds of things, both sweet and savory. These are great for things like baby showers, too. Perfect finger food.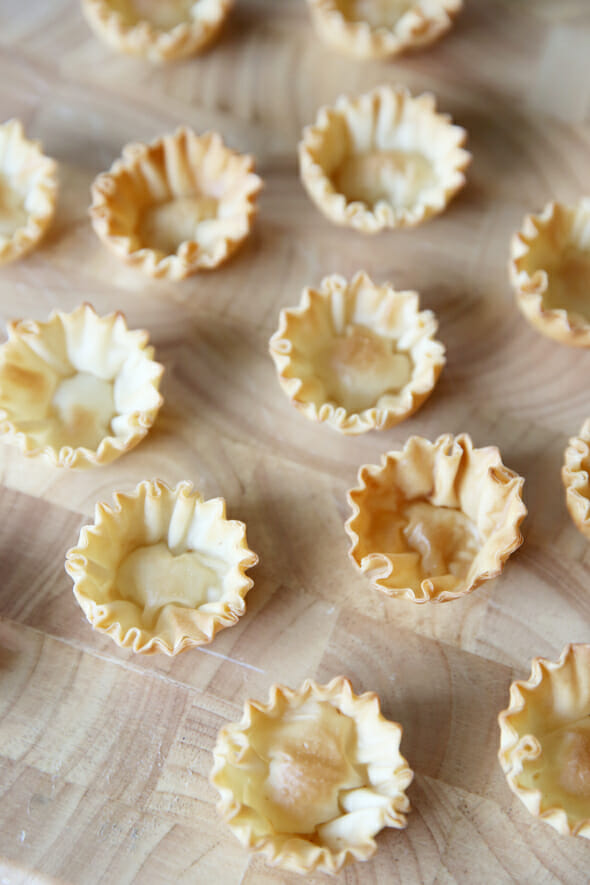 I have about 400 different recipes for these, so I'm sure they'll be appearing again! I let me family pick which version I'd share today (meaning the version they wanted to eat today) and these were the winners. They're like a perfectly sweet miniature bite of a banana cream pie. They're super easy to make, fast to whip up, and a serving of 3 is under 100 calories.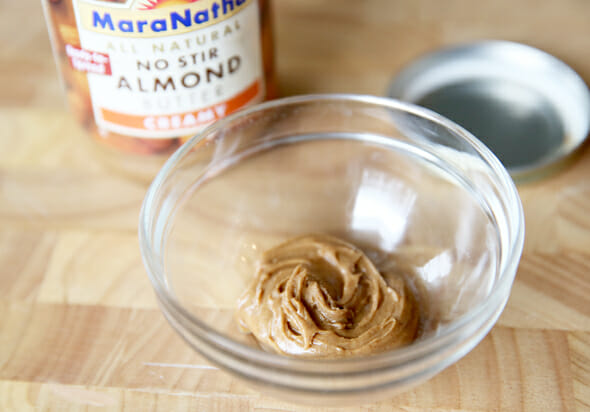 Start by melting a little peanut butter or almond butter in the microwave. I prefer a good, natural almond butter because of the flavor it lends, but peanut butter works great, too. I especially love Justin's. Like, any and all varieties of Justin's, but especially the Maple Almond Butter. It's literally the best nut butter on the planet, trust me! It even comes in little single-serving packs which is awesome for grab-and-go, and also for portion control. So just drizzle in a little nut butter into the bottom of the shells, I love the mild nutty bite it adds.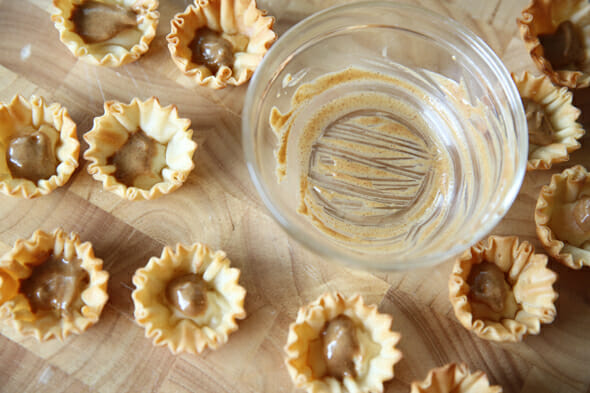 Next, a simple combo that you very well might have sitting in your fridge right now. Some vanilla pudding (one snack-size cup is the perfect amount) and a little whipped topping, like Cool Whip. You could use real whipped cream here as well.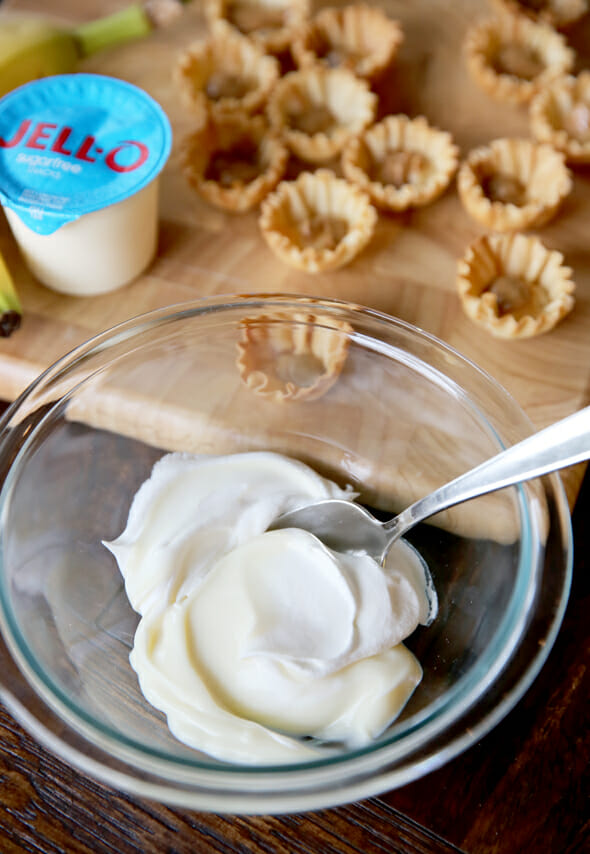 I find it easiest to put that mixture in a zip-lock bag and then snip the end off. Then it's really easy to just pipe a little dollop into each shell.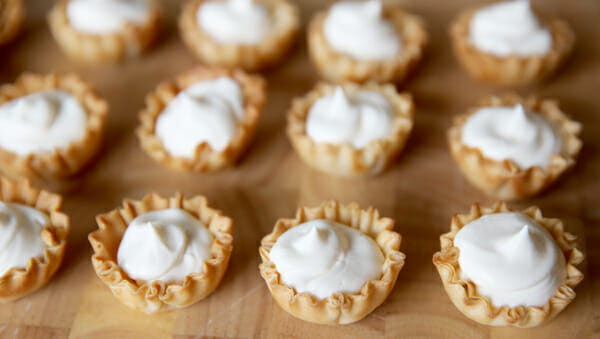 After that, top with a banana slice and a little drizzle of caramel sauce.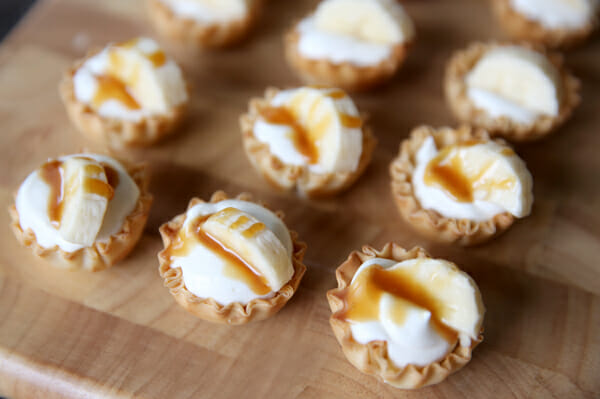 It's a fancy little pastry with major kid-appeal, too. You could certainly serve these as a sweet appetizer or sweet ending to a meal with friends, or simply a fun treat for the family.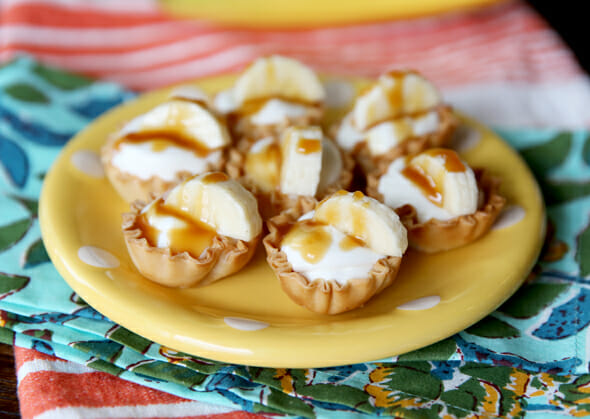 Three cheers for dessert!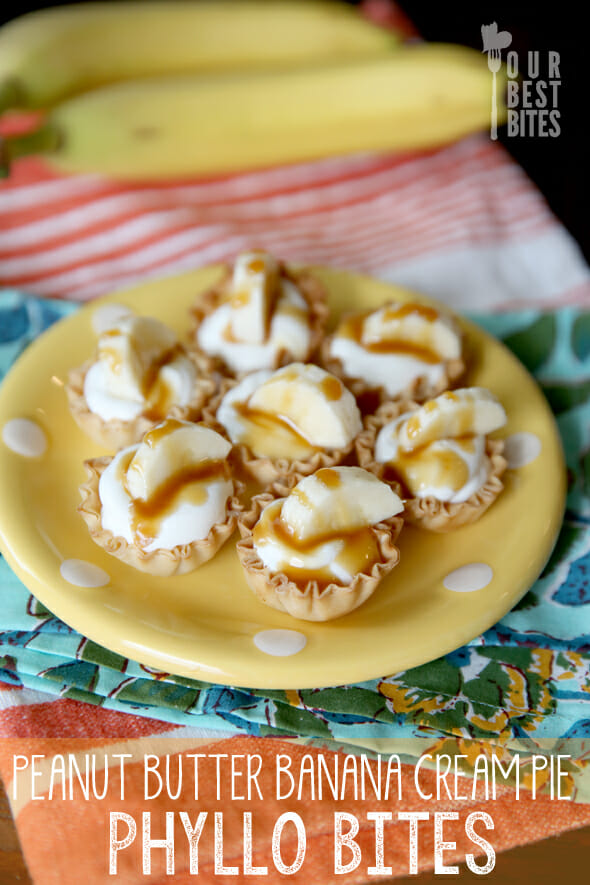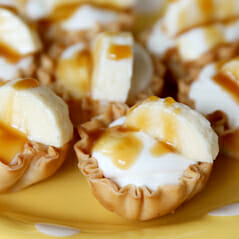 Peanut Butter Banana Cream Pie Bites
---
Description
A sweet treat that can fit into a healthy diet!
---
1

box frozen Fillo shells (usually

15

shells)

4 teaspoons

almond butter or peanut butter

1

snack size sugar free vanilla pudding cup (or about

1/2 cup

)

1/2 cup

whipped topping, like Cool Whip

1

banana

2 teaspoons

jarred caramel sauce
---
Instructions
Pre-bake shells as instructed on box in order to crisp (only takes 3-5 minutes) and cool. Place nut butter in a small bowl and heat for 20 seconds, more if needed, until it can be drizzled from a spoon. Drizzle about 1/4 teaspoon into each shell.
In a separate bowl, combine pudding and whipped topping and gently fold to combine. Place mixture in a zip-top bag and snip the edge off. Pipe the mixture evenly into each shell. Slice about 8 slices off of the banana and then cut each slice in half.
Top each shell with banana and drizzle with 1/8 teaspoon caramel sauce. (1/8 teaspoon doesn't seem like very much, but it's perfect! Use a 1/4 teaspoon measuring spoon and use the caramel in it to drizzle over 2 shells at a time.)
---
Notes
Nutritional Information Per Shell
Cal: 33 Fat: 1.5g Pro: 1g Fiber: 0g Sugar:1g
**Also, stay tuned. OBB Fit Club launches this week! If you're on Instagram, start following @OurBestBites_FitClub so you won't miss a thing!
Save