Soooo….as you can see, this is not the big awesome exciting e-book we promised today! We ran into a technical glitch in the eleventh hour (isn't that always how it goes??) and since we want to make absolutely certain that you can all get the book and everything runs smoothly, we decided to work out the kink over the weekend so it's just about ready! I know you guys are excited about it, so hang with us, I promise it will be worth it!
(**Update: It's HERE!**)
So to make up for it, I made you guys these (still friends?):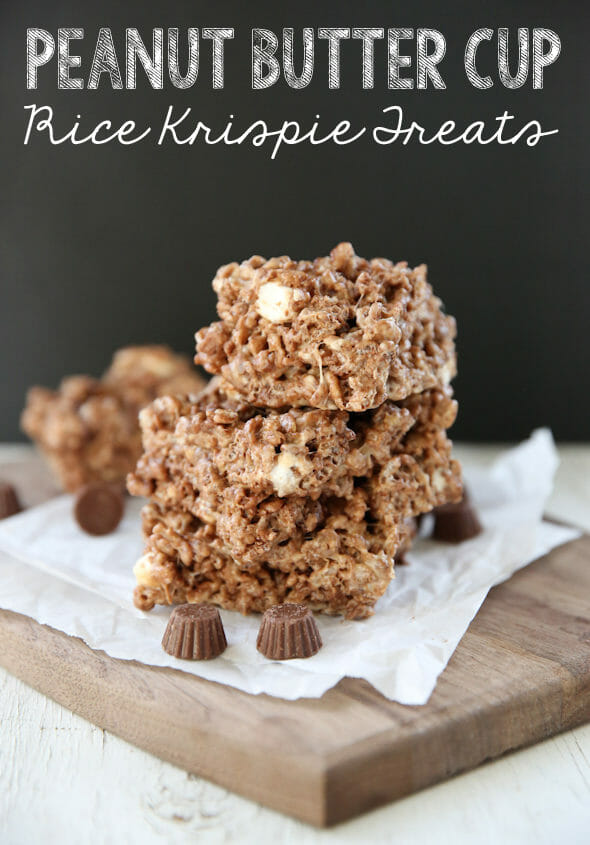 If it's not obvious from the photo- we're using Cocoa Krispies here for extra chocolate-y goodness. Any generic version works just fine!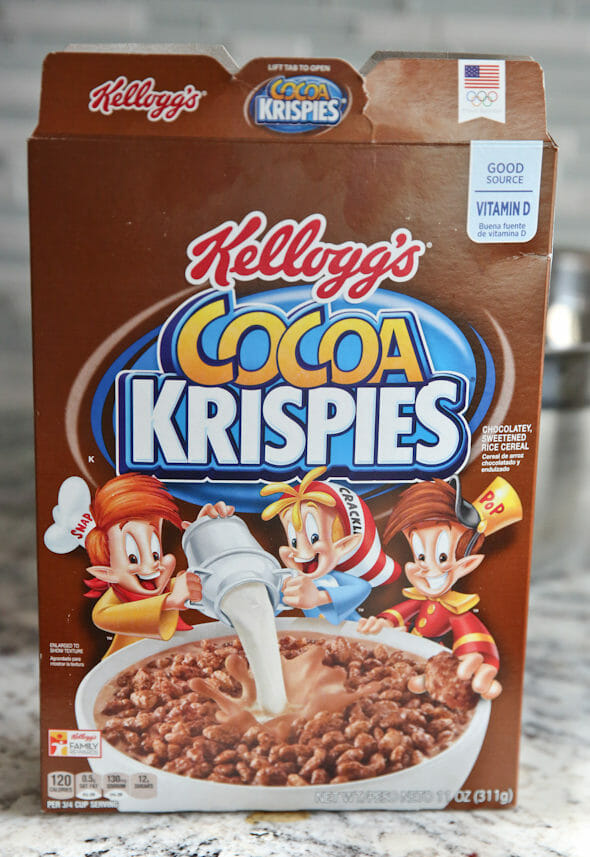 The standard mix is marshmallows and butter, but in this recipe I also add a big scoop of creamy peanut butter. It creates this smooth peanut butter marshmallow goo that is sooo good. But don't try to stick your finger in there or lick the marshmallow spoon because you will scald both your finger and your face. I will let you speculate whether or not I know this from experience. I think we all know the answer to that.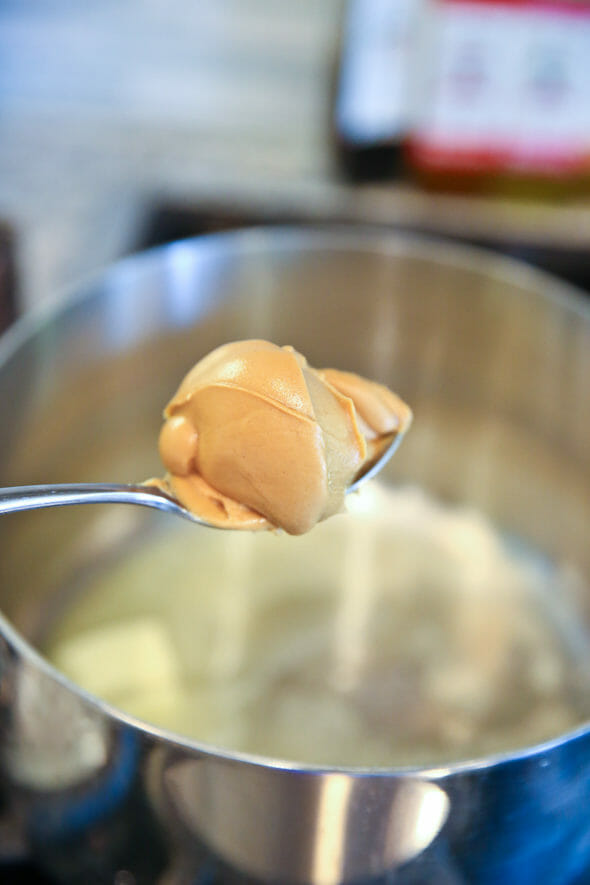 While the marshmallows are melting away on the stove top, grab the biggest bowl you have and load it up with the chocolate cereal, an extra cup of marshmallows, and a bunch of mini peanut butter cups, just for good measure.
I buy these bags of mini's in the candy aisle, but you could chop up any regular sized ones as well.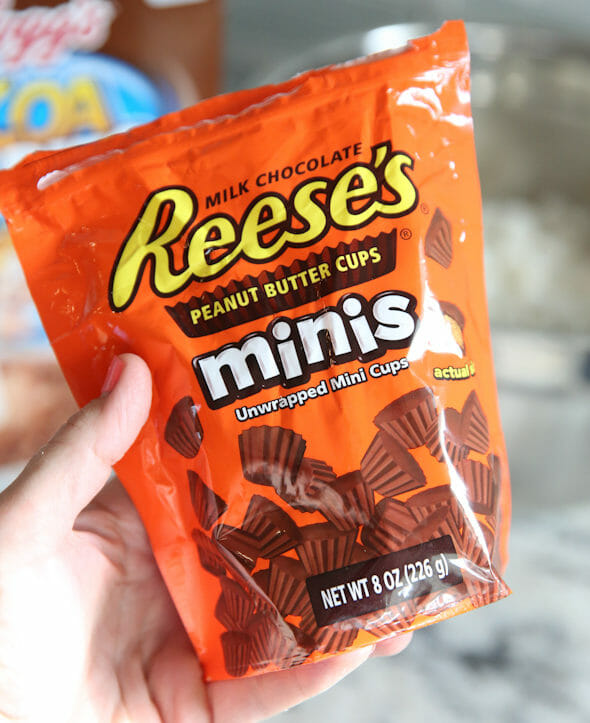 When you pour the melted marshmallow stuff over this mix, the heat kind of softens and half-way melts the extra marshmallows and the peanut butter cups which is one of the best things about this recipe.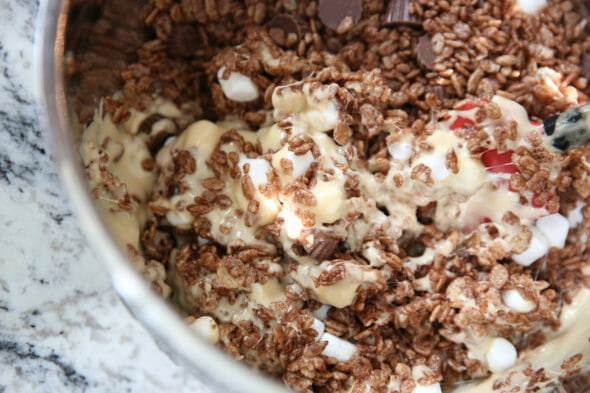 You can see in the picture how they're still in tact, but kind of smashed around and partially melted. The best.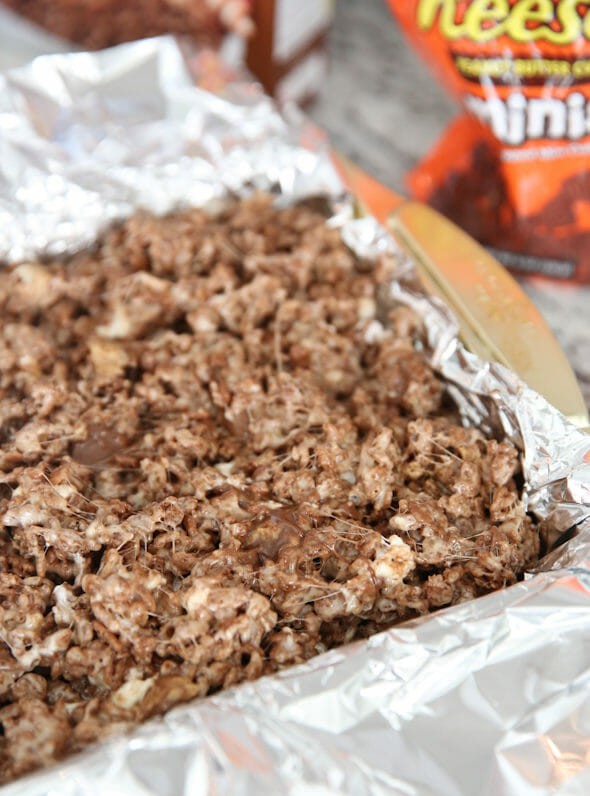 If you can wait until they're cool, remove them from the pan and chop them up.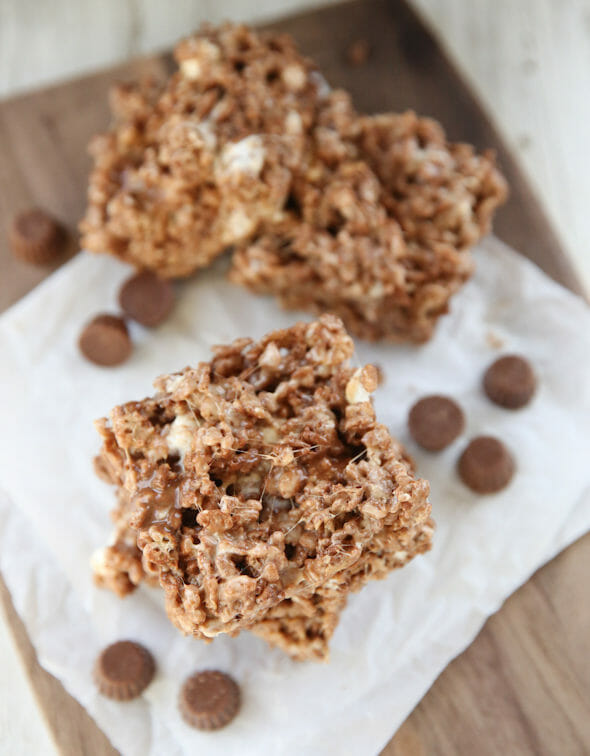 Or dig in totally warm like I did. I won't tell.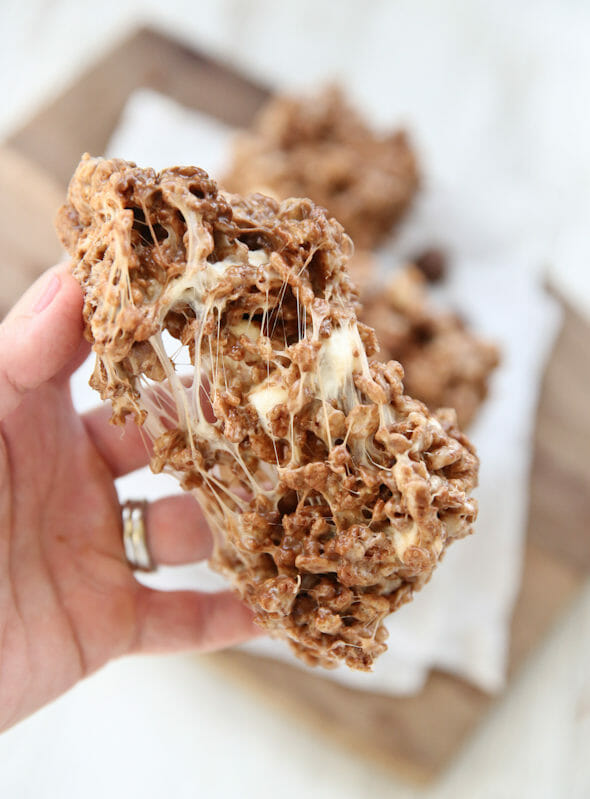 I wrote the recipe so you can adjust from suuuuuper gooey to only normal gooey. If you've made rice krispie treats (of course you have) everyone has that sweet spot with the perfect ratio. So feel free to add anywhere in the range given. These are guaranteed to increase the satisfaction of your weekend by 412% (scientifically speaking.)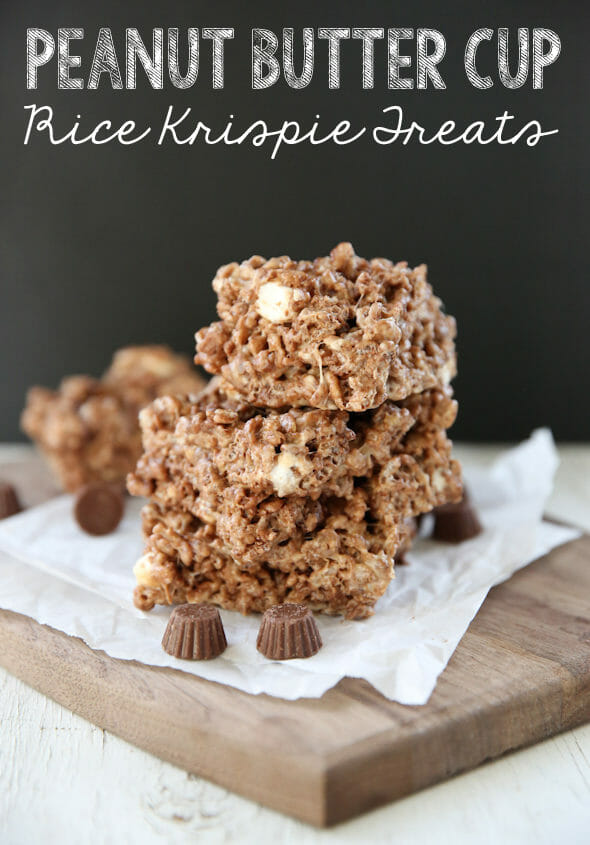 And pleeeease keep your eye out early next week for our big exciting book! We really can't wait for you all to see it so we'll be working hard all weekend long to make sure it's ready!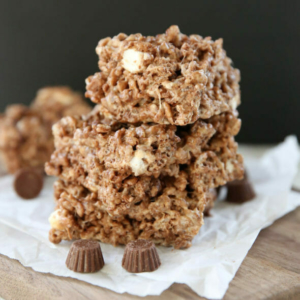 Peanut Butter Cup Rice Krispie Treats
---
Description
Gooey peanut butter marshmallow is dumped over chocolate rice krispie cereal and studded with mini peanut butter cups. Hello. Doesn't get better than this.
---
4 tablespoons

butter

9 cups

mini marshmallows, divided

1/4 cup

peanut butter

5 cups

cocoa krispies cereal *see note

1 cup

mini Reeses peanut butter cups (or chopped full size ones)
---
Instructions
Line an 8×8 pan with a sling of parchment paper (or line with foil) and lightly rub sides of pan with butter.
Set aside 1 cup of marshmallows. In a large heavy-bottomed pot, melt butter. Add peanut butter and then the remaining 8 cups of marshmallows. Stir often until melted and smooth.
While marshmallows are melting, in a large bowl combine cereal, peanut butter cups, and remaining 1 cup marshmallows.
When marshmallow mixture is melted and smooth, pour over cereal mixture and stir to combine well.
Transfer mix to prepared pan and let rest until set.
---
Notes
These are very gooey and marshmallow-y because that's the ratio I like them at 🙂 You can add up to 6 cups of rice krispie cereal if you so desire. Play it by ear while you're mixing and feel free to adjust to taste.