Peppermint. Chocolate. Rice Krispie Treats. What's not to love here? These are one of my all-time favorite holiday treats because they're kind of fancy, yet so super easy to make and everyone loves them.
I first posted this recipe back in 2011 and it was long overdue for a little facelift.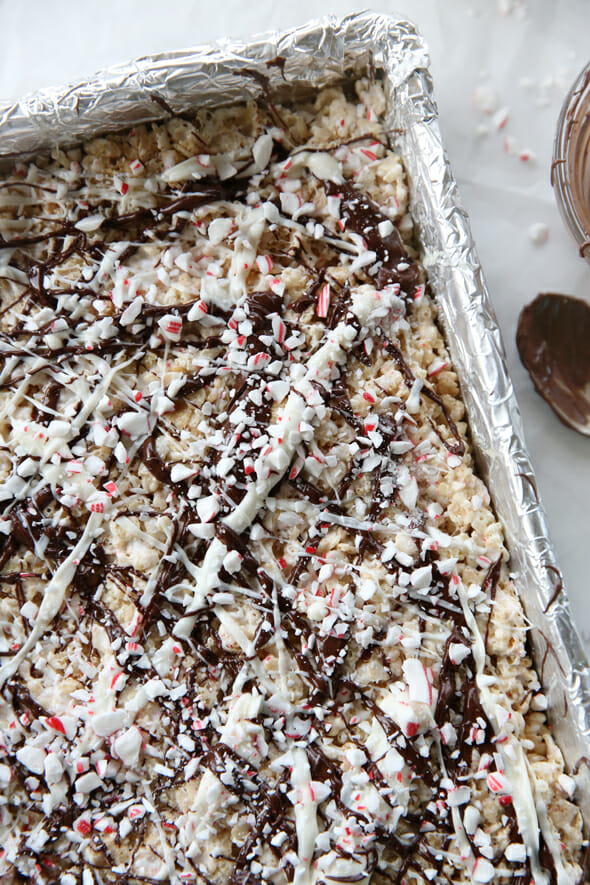 Back when I originally posted this, I wrote the recipe with peppermint marshmallows, but I actually like them better with regular white marshmallows and peppermint extract. The color and flavor are better, in my opinion.
So first up, melt up those marshmallows with some butter. I always toss the mallows in melted butter and then heat everything up, it seems to be much smoother that way.
You know when you crush candy canes and you get some larger chunks and then lots of pepperminty "dust"? Save the chunks and toss the dust in the bowl, along with a little peppermint extract.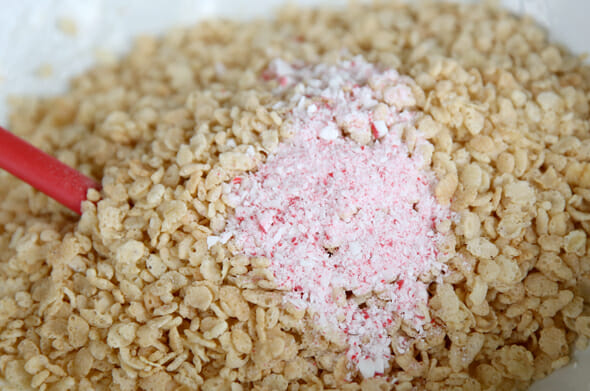 Then mix it all up.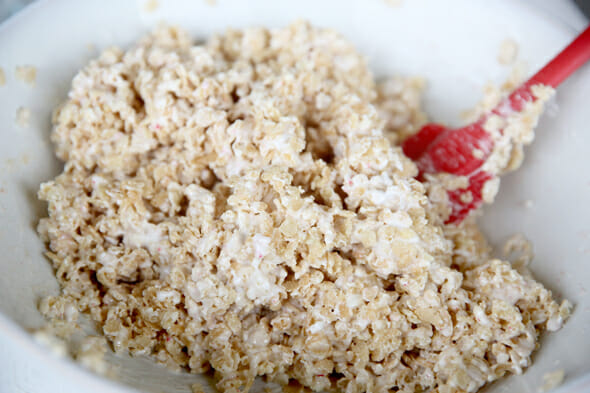 One tip when you're making Rice Krispie treats (or any bar cookie really) is to line your pan. It makes it SO much easier to cut out nice bars without having to smash half the pan in first. Make sure you use butter to grease the bottom of your pan as well. If you use non-stick spray, it will leave a foul tasting residue on your delicious little treats and then they won't be delicious anymore.
After they're all nicely patted on there, drizzle a little semi sweet or dark chocolate over the top and also a little white chocolate or almond bark. I like to use a spoon and let big chunks of the chocolate fall on there. It's yummier that way.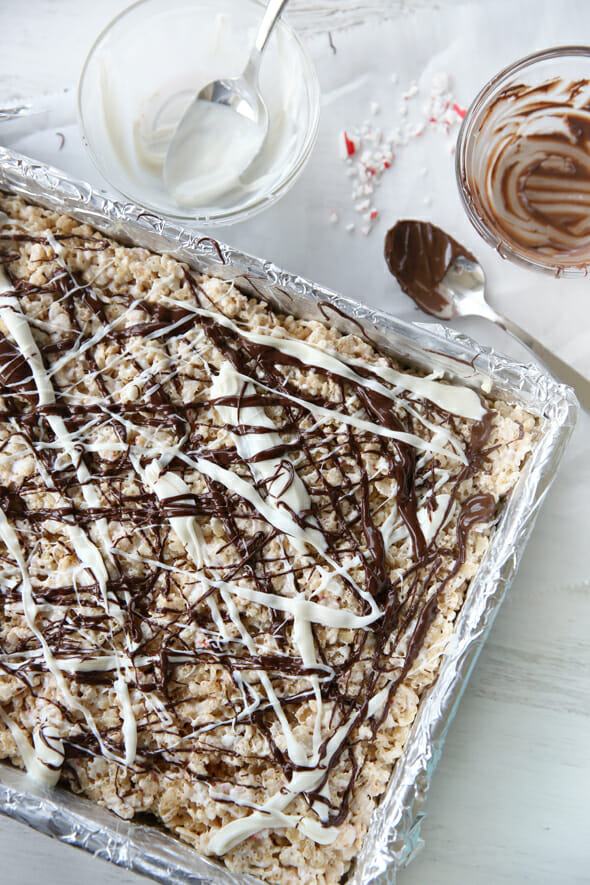 If you really love peppermint, you can also add a little peppermint oil (not extract) to the chocolate, or use melted mint chocolate chips instead of regular.
Then just toss crushed candy canes on the top to stick to all of that chocolate.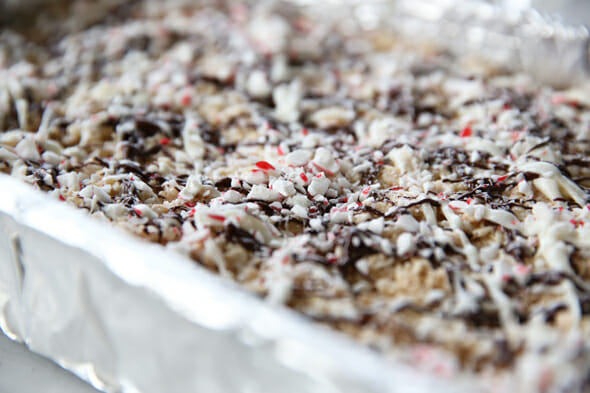 And let it all set up. You can pop it in the fridge to speed up that process.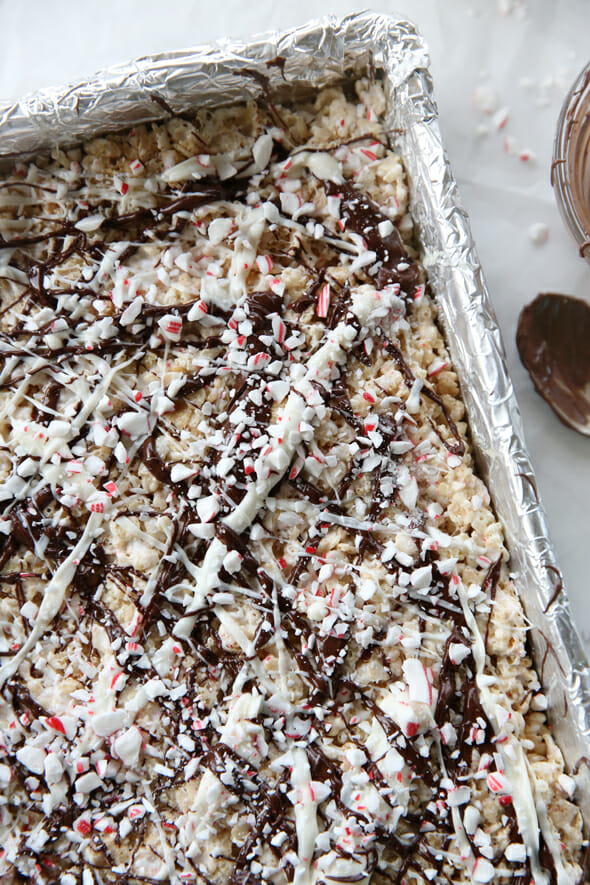 Quick, easy, no-bake, no-fuss. Might be the perfect Christmas treat!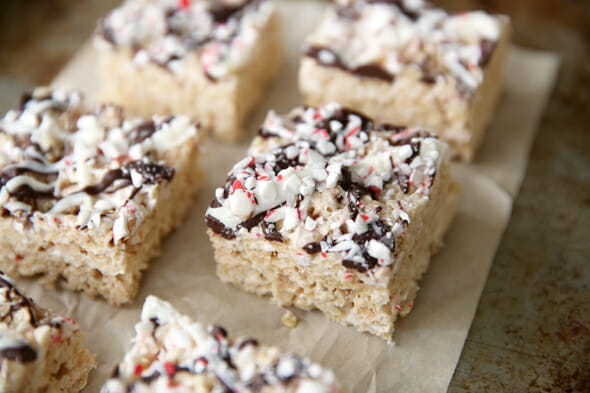 I should also mention that I wrote this recipe for a 10oz bag of marshmallows, because that's a common size. If you make them in a 9×13 pan as written, they will be on the thinner side. If you like your rice krispie treats thicker, you can make them in smaller pan, or do as I did for the ones photographed here and 1 1/2x the rice krispie part of the recipe. That works out perfect for the brand of Kroger marshmallows that I buy that come in a 15oz bag.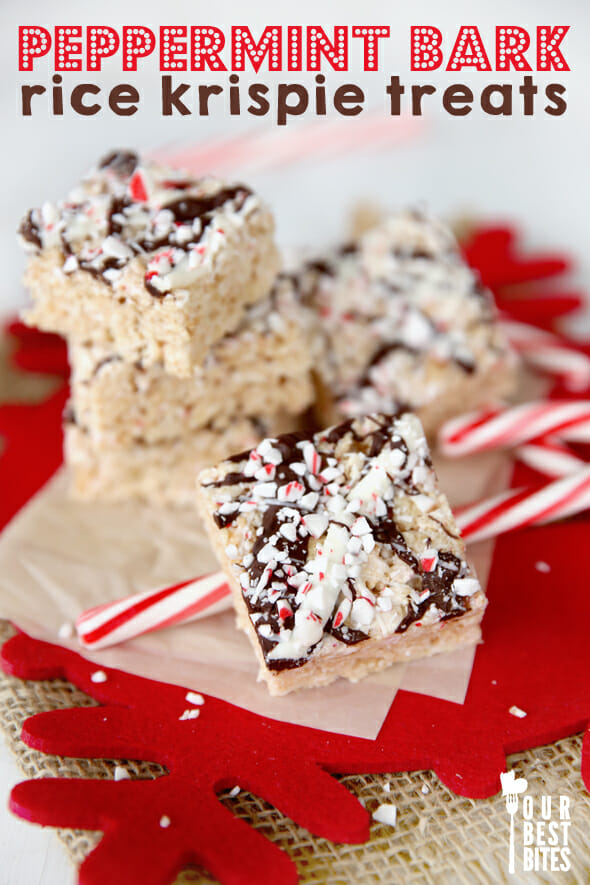 If you're looking for more of our Rice Krispie Treats, be sure to check out our ENTIRE SECTION devoted to them!
Print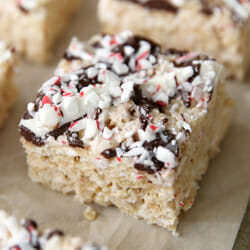 Peppermint Bark Rice Krispie Treats
---
Description
These Peppermint Bark Rice Krispie Treats are perfect and festive for the holiday season!
---
1 10-11 ounce bag mini marshmallows
4 tablespoons real butter, plus extra to butter pan
6 cups Rice Krispie-style cereal
1/4 teaspoon peppermint extract (more if desired; I like a little extra)
3 tablespoons semi-sweet , dark, or peppermint chocolate chips
3 tablespoons white chocolate chips
1/4 teaspoon vegetable oil, divided
3–4 medium-sized candy canes, crushed
---
Instructions
Line a 9×13 pan with foil and lightly butter bottom and about 1 inch up the sides.
Place unwrapped candy canes in a heavy duty plastic bag and smash until crushed. Pour into bowl and gently shake so large pieces settle on top and "dust" settles on bottom. Set aside.
Melt butter in a very large bowl in the microwave. Add marshmallows and stir to coat. Heat in 30 second intervals, stirring in between, until melted and smooth. (You can do that whole process on the stovetop as well.) Add Rice Krispies, peppermint extract, and a few tablespoons of candy cane "dust" and stir to evenly combine. With buttered hands, press mixture into prepared pan.
Place white chocolate chips and 1/8 teaspoon oil in a small bowl. Heat in microwave in 30 second intervals, stirring in between, until melted and smooth. Repeat same process with semi-sweet or dark chocolate chips. Drizzle both chocolates on top of rice krispie treats and sprinkle candy canes on top. Let sit until chocolate is set, place pan in fridge to speed process along. Cut into squares and enjoy!
---