I always hear people say, "I'm not a frosting person." And while part of me thinks that's ridiculous, I can understand to a certain extent when so many frosting are sickeningly sweet and heavy- or greasy-feeling. My favorite frosting is the kind that is more like whipped cream. I used to actually fold whipped cream into classic buttercream to get that lighter texture and not-so-rich taste. Then I realized that I could get that same result with this very unusual method. I'd say it's the perfect frosting. It's not so thick and sweet that you need a gallon of milk to get it down your throat. It's mild and smooth, and light as air. I also love it because it doesn't take away from a good cupcake like other really rich frostings can. This frosting has a similar feeling and texture to a Swiss Buttercream, but with way less effort. It's great as a filling OR a frosting. Take a peek at this…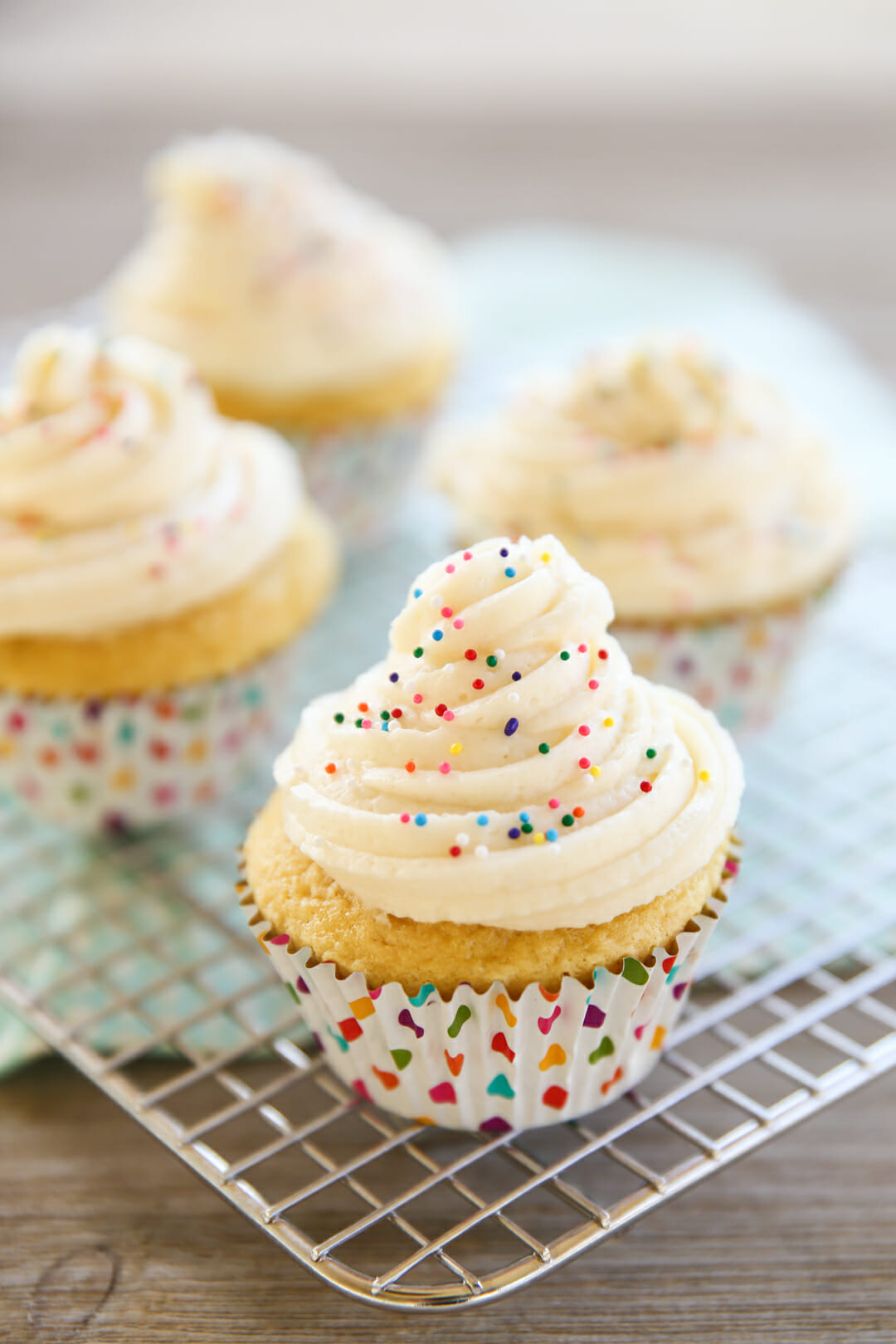 Let me show you!
The frosting starts out with a mixture of all purpose flour and milk.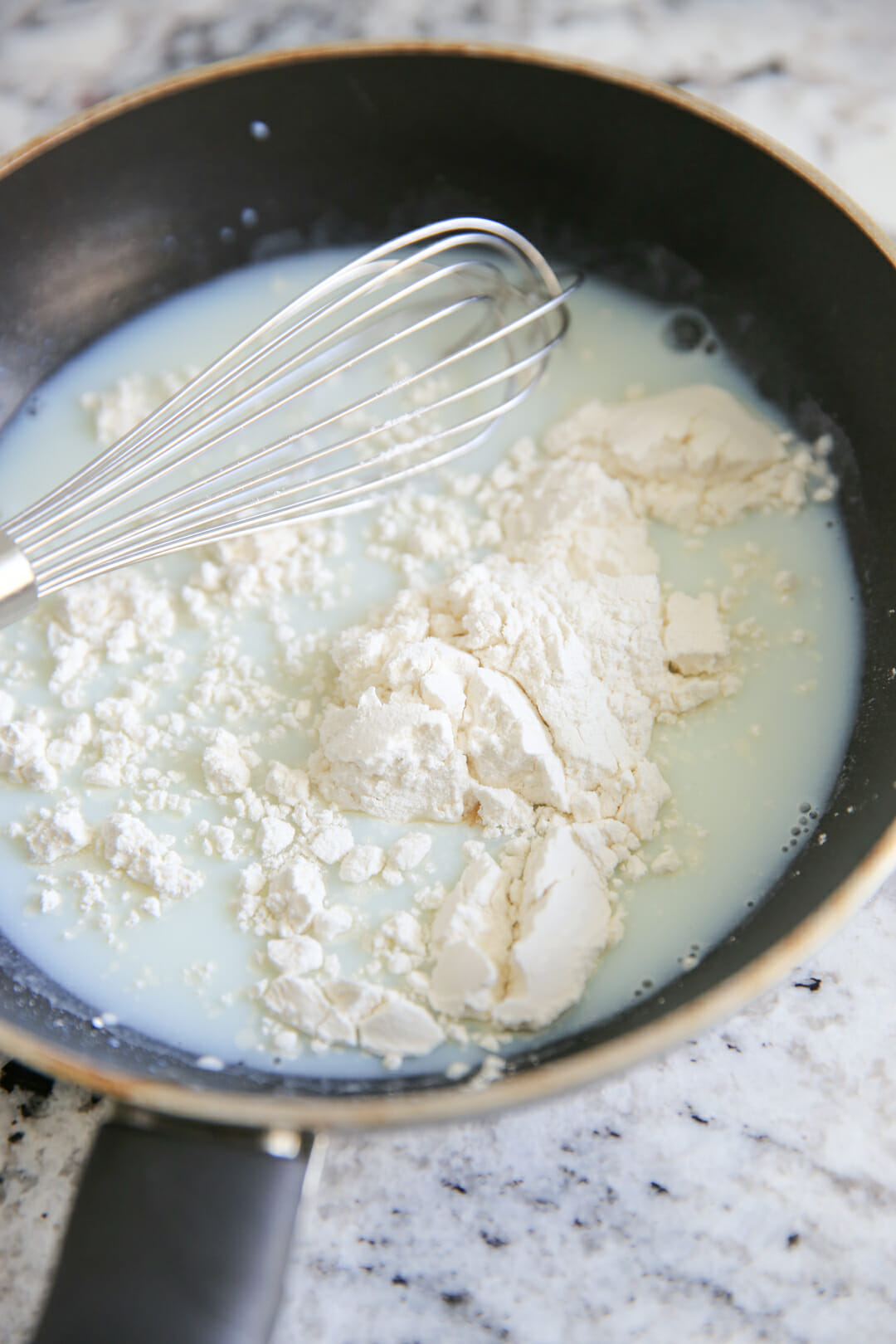 And even though I'm showing it here being whisked together, I've actually found you'll get a much smoother result if you mix this part in a blender first and then pour it in your pan.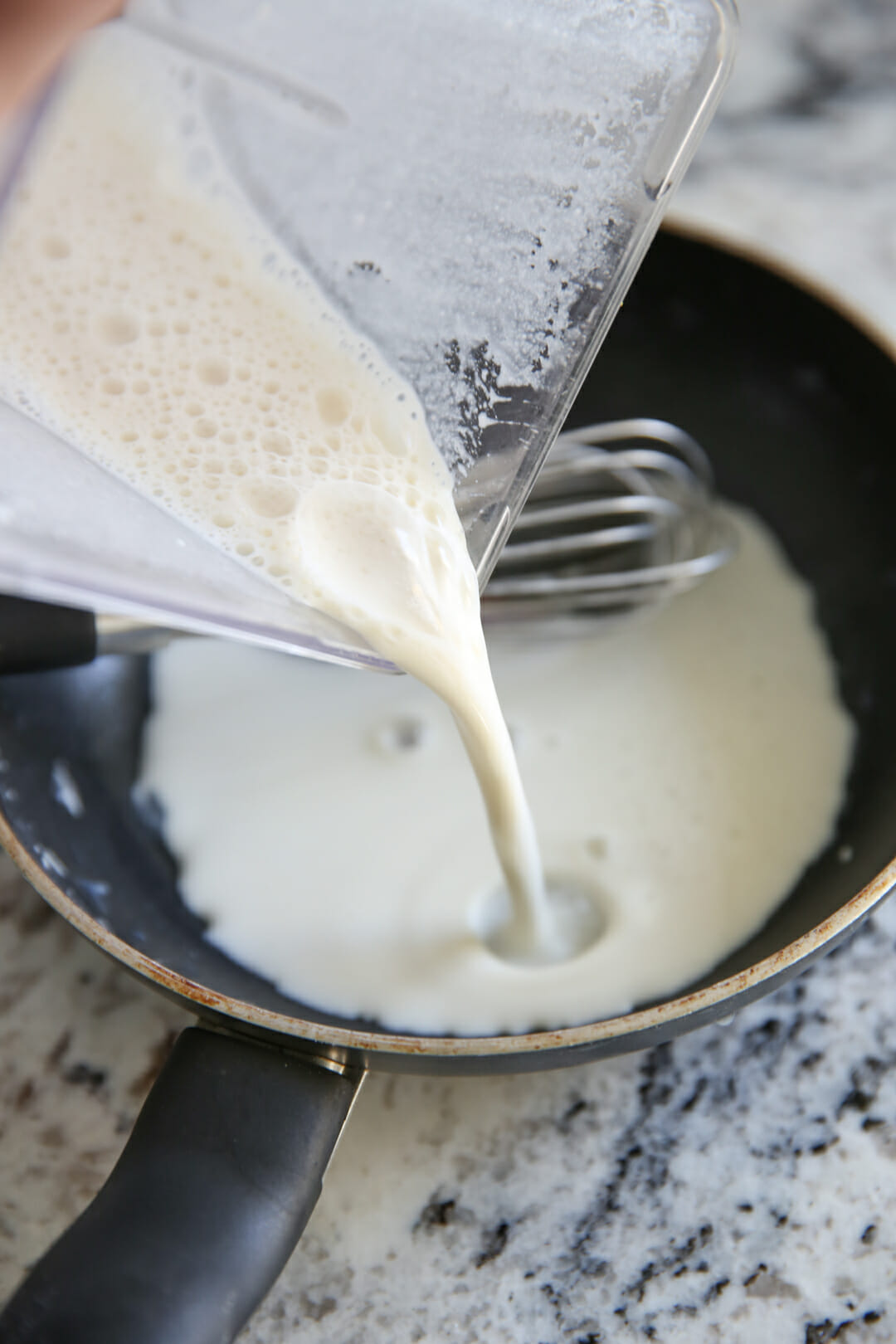 Now comes the weird part. You're going to cook this mixture until it gets thick–it happens fast and you'll want to have a rubber spatula and constantly smash/stir it to keep it smooth.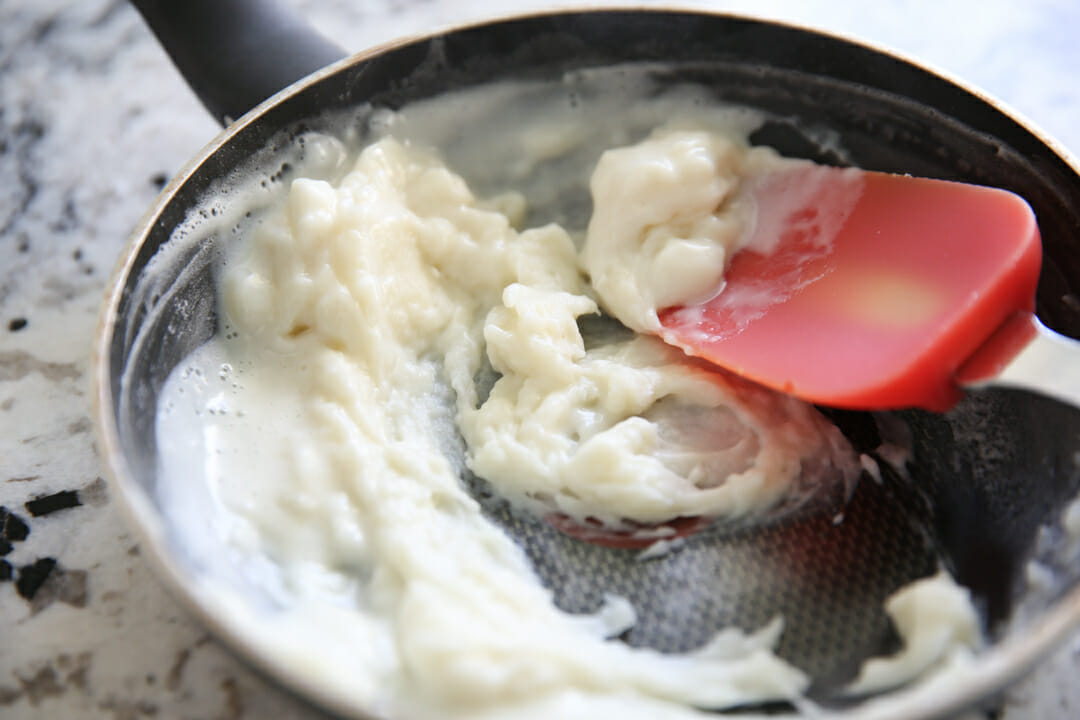 I usually take it off the heat when it looks like this photo above. There are still some wet spots but as you stir it all comes together like this: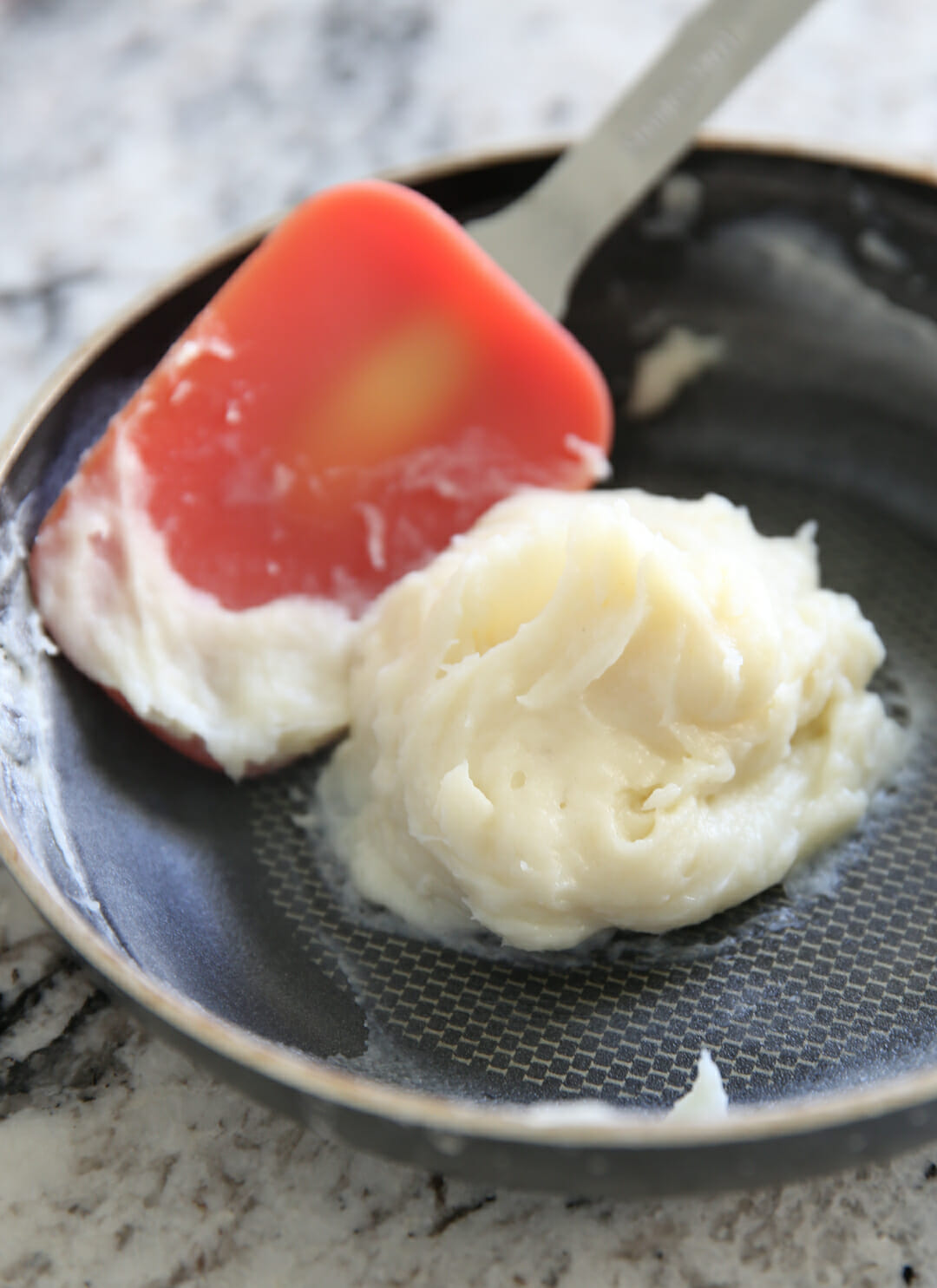 Don't taste it. It's not frosting yet! Pop it in the fridge; it needs to cool completely (I sometimes pop it in the freezer if I want it to cool fast.) Put it in a bowl and smoosh it around and stir every few minutes to cool it off.
While it's chilling, place some real, high-quality butter (definitely no margarine) and granulated sugar (not powdered sugar!) in a stand mixer.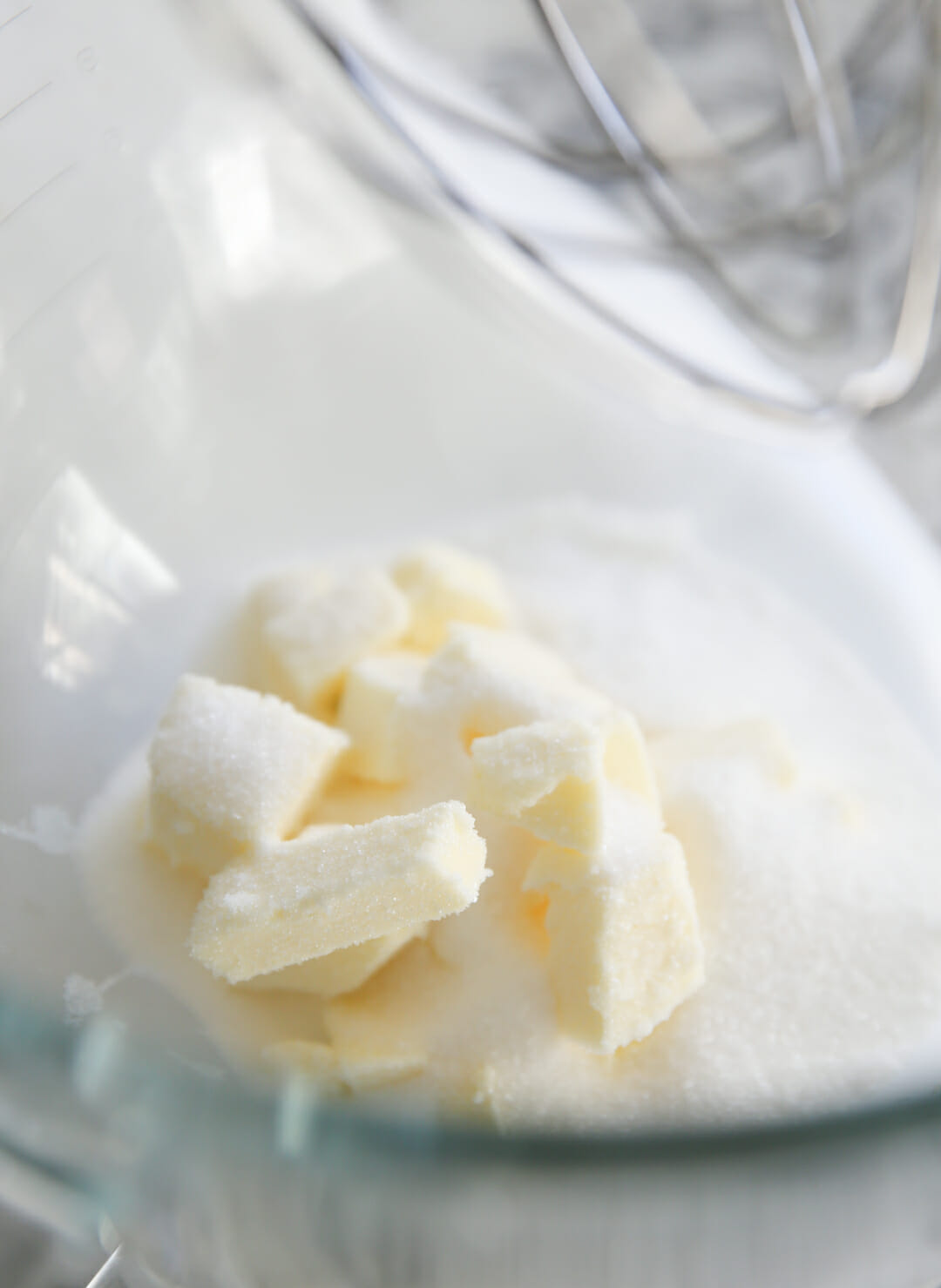 Whip it up for a few minutes so it's light and creamy. I use the whisk attachment on my kitchenaid, but any paddle should work. Then you'll add that glob of flour. I know. Weird!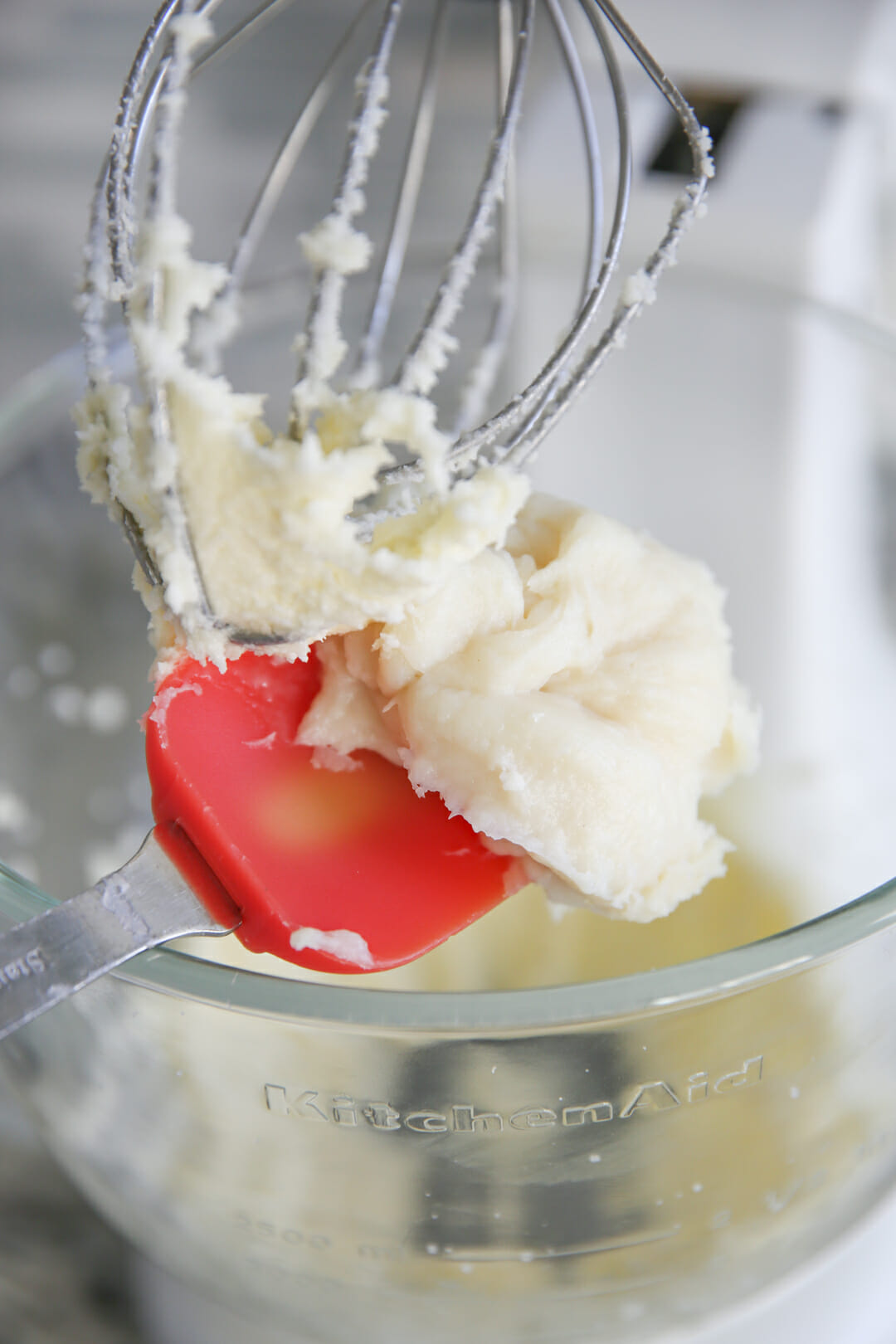 I'm warning you right now it's going to look weird at first. Like, what the heck did I do weird. But keep going. You've got to whip it for a long time for all the sugar to dissolve and everything to come together. Don't be startled if it looks curdled and weird. Eventually it will look like fluffy soft clouds of heaven.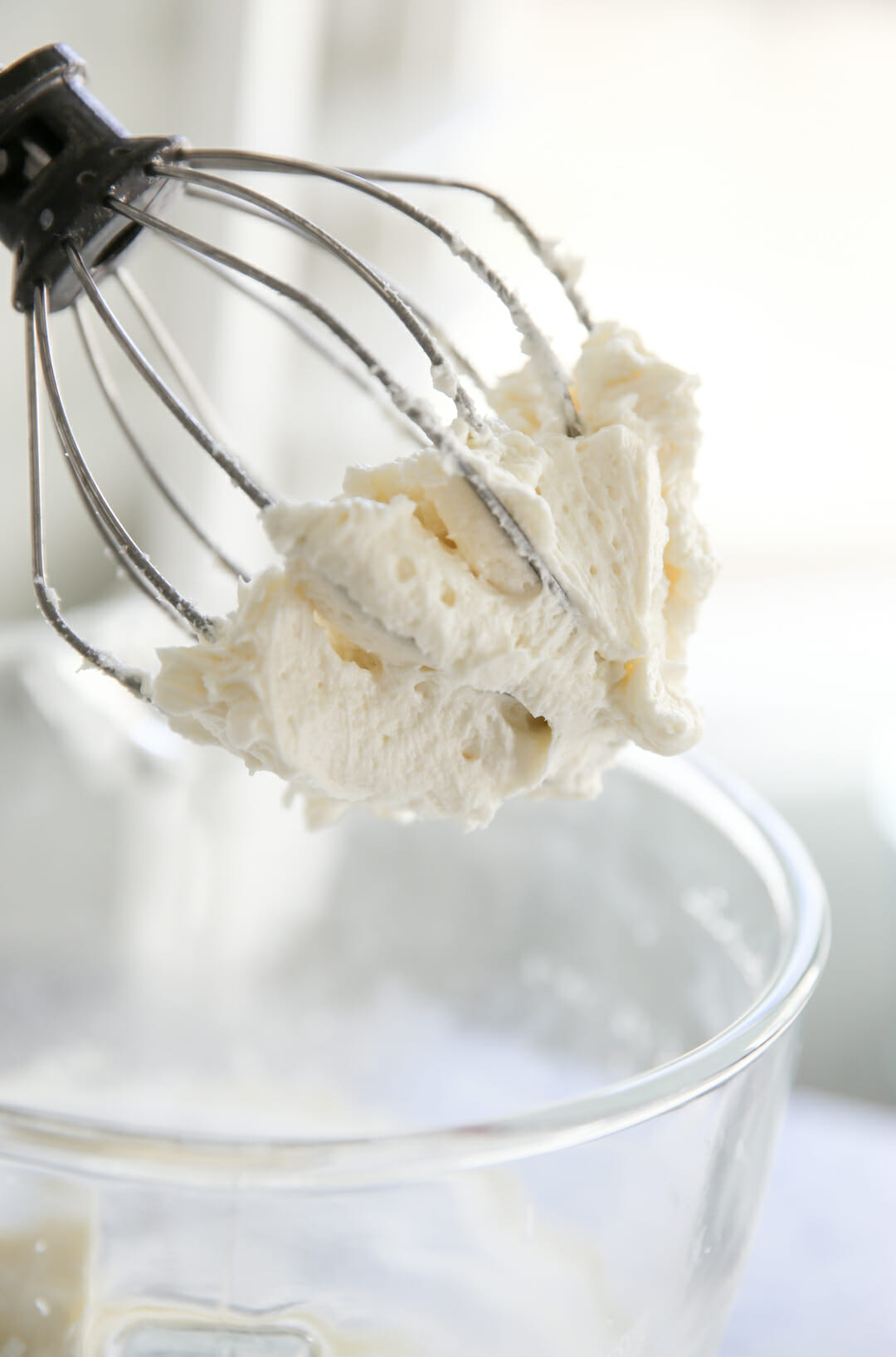 I usually give it a little taste and if I can still feel quite a bit of granulated sugar I keep on whipping. Sometimes it takes 5 minutes, other times I let it go for almost 10 or so! It's worth it for this silky, fluffy, magical mixture.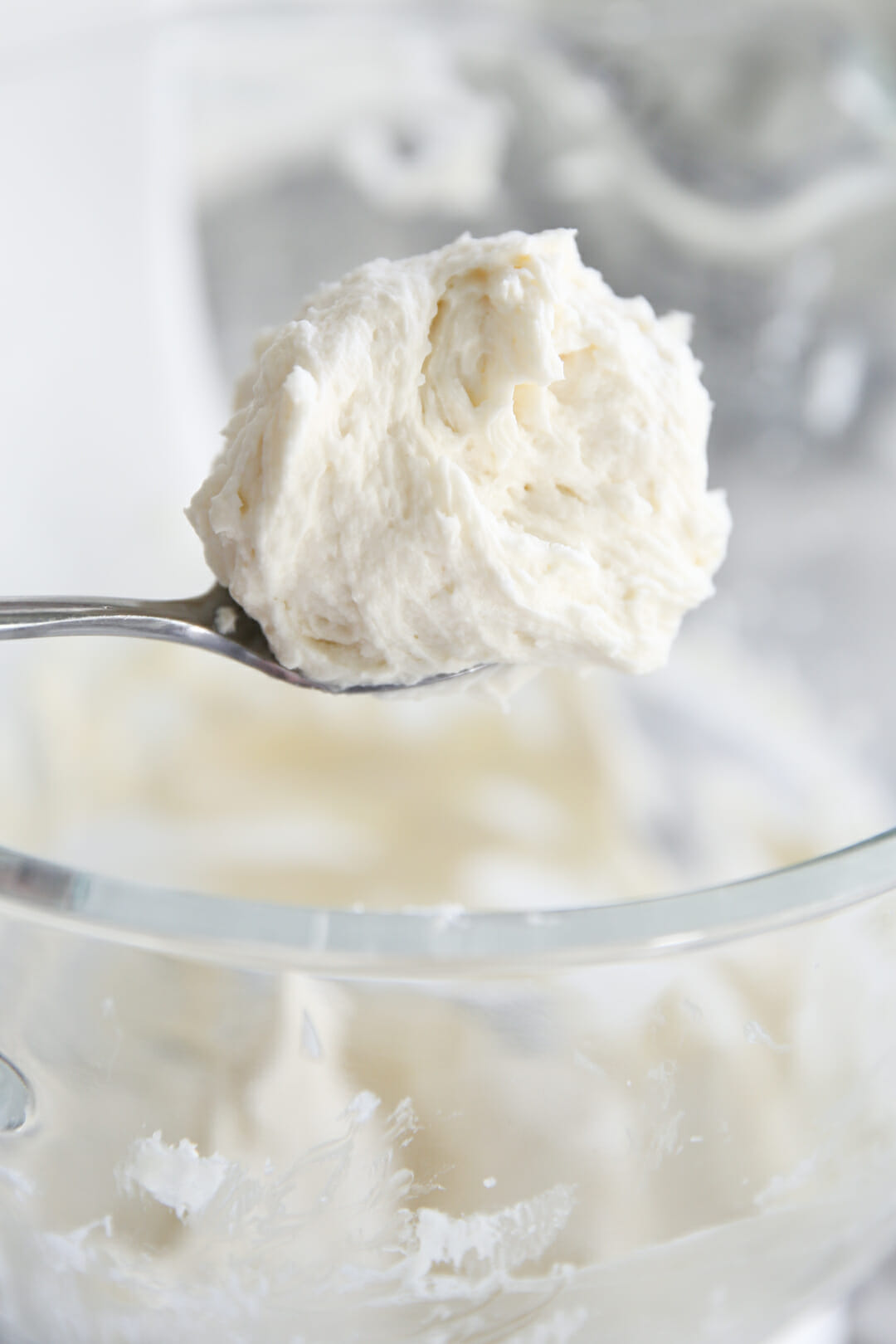 Pipe it or spread it or fill it or whatever. Anyway you eat it, it's fantastic.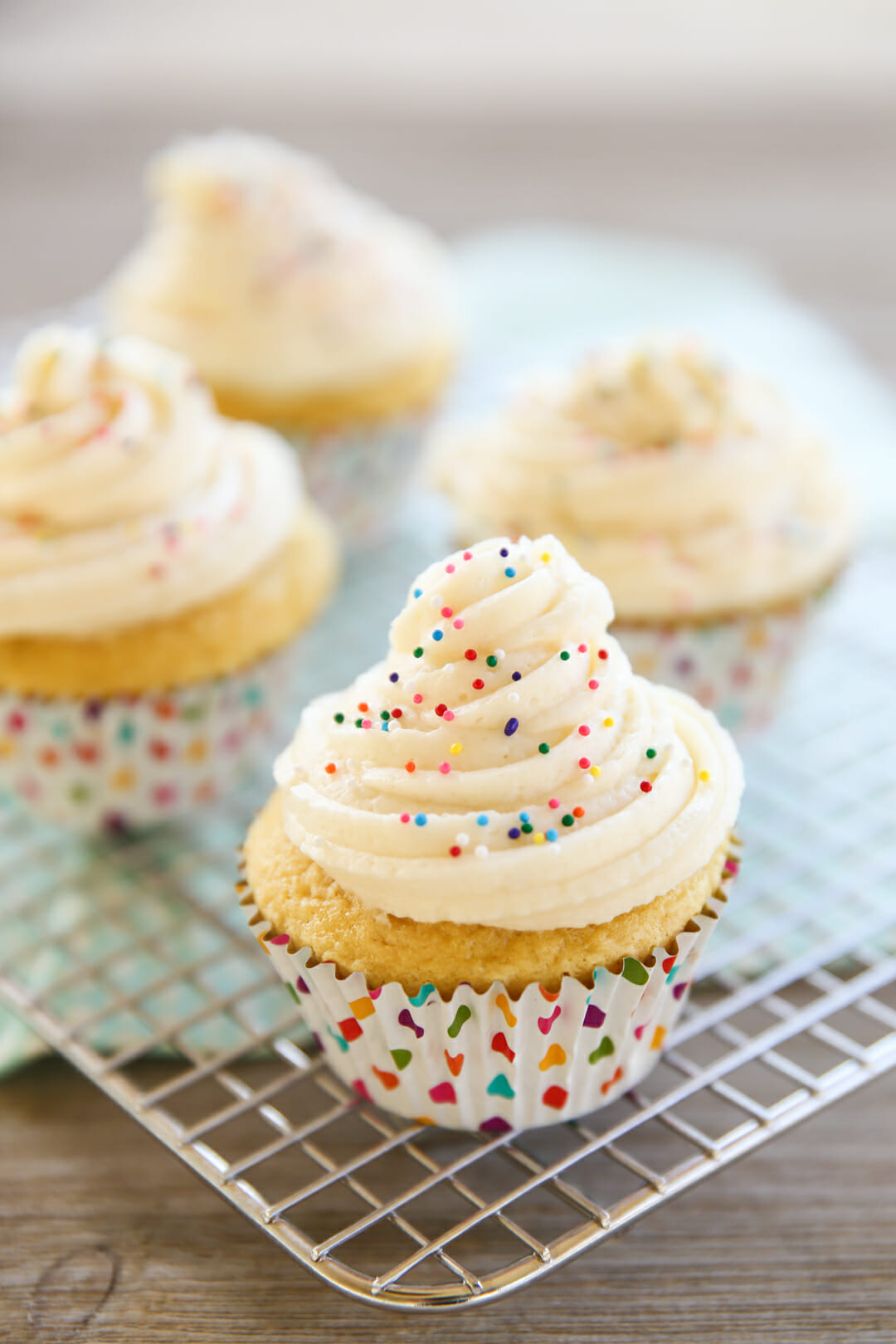 Helpful Tips
---
1. Use real butter, and a good name-brand. Cheap butter does weird things.
2. If you beat for the 6-8 minutes and the mixture still looks strange, beat longer and at a higher speed if you can. It should come together, but it takes a little patience!
3. I personally think this frosting is best eaten fresh. You can store for a few hours at room temperature, or try storing in the fridge overnight, letting it come to room temperature on its own, and then re-beating to fluff. If you want to frost cupcakes or a cake the day before, refrigerate and just let come to room temp after.
4. Add extracts to your hearts content; lemon and almond are both wonderful! Food coloring is also okay.
5. The white sugar can be exchanged for brown. Try 1/2 white 1/2 brown for a warm caramel flavor.
6. Do not try to make other substitutions or additions. Sour cream, fruit purees etc. can do disastrous things. Some people have had amazing success, just experiment at your own risk.
7. If trying to decide whether or not to double it- double it. Chances are you'll want more. It's a rather small batch, but on purpose.
1 batch will not look like much, but it can spread on (just with a knife, a normal amount) 24 cupcakes. If you want to pipe it thick, definitely double it.
Looking for Chocolate? This isn't exactly the same, but very similar!
Print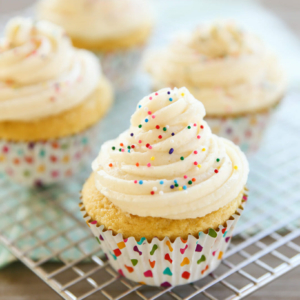 Perfect Cupcake Frosting and Filling
---
Description
This light, creamy, dreamy frosting is THE perfect cupcake frosting and filling!
---
3 tablespoons all-purpose flour
1/2 cup milk (whole milk is best, but I've used non-fat when it's all I have and it's actually fine)
1/2 cup real butter, slightly softened (I prefer salted, but you can use also unsalted and add salt to taste)
1/2 cup granulated sugar
1 teaspoon vanilla extract (or other flavor if you wish)
---
Instructions
Whisk together the flour and the milk. Heat in a small sauce pan on medium heat.
Whisk continuously until it starts to thicken. Let it cook, while stirring with a rubber spatula, until you can start to see the bottom of the pan. Continue to cook until mixture has the consistency of thick pudding or paste.
Put mixture in the fridge and let it cool completely; it's fine if it stays in there long enough to get chilly, you just don't want it warm at all. As it's cooling, feel free to stir it occasionally to speed up the process and keep it from forming a crust on top. You can also do this quickly in the freezer, just keep an eye on it so it doesn't freeze.
Using the whisk attachment on an electric stand mixer, beat the butter and the sugar for a minute or two until well combined and fluffy. While beating, add in the thickened milk mixture and the flavor extracts. Beat to combine and then scrape down the sides. Mixture will separate and look messy, keep beating! Continue beating until mixture comes together and is light and fluffy, about 7-8 minutes, but time varies. Take a sample of frosting between your fingers; frosting is done when light and fluffy and sugar granules are dissolved.
---
Related Recipes:
Strawberries and Cream Cupcakes
Chocolate Glazed Cupcakes with Vanilla Creme Filling
Colorburst Cupcakes