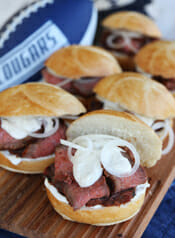 You guys all know what starts this week, right?  No?  Then you must not be married to my husband, because I have been hearing a countdown to the start of college football season every day for several weeks now.  And while I won't be the person spouting off stats and schedules, I do really love sports, and especially football season just because of everything that goes along with it.  Autumn is my favorite time of year, and when football season rolls around it reminds me of being in college and what a big part of campus life football was, it reminds me of crisp fall weather (even though it's a bazillion degrees where I live right now), and now that I'm a Mom and have my own little football players, it reminds me of how fun it is to watch your kids do something they love.
And then there's the food.  Whether you're actually a football fan or not, games are a great excuse to get people together and eat great food!  Now, as many of you know, I was born and raised on the west coast.  Like, reeealy west coast.  I went to college in the west, spend grad school years in yet another west coast city, and then put down roots as far East as we'll probably ever get. Idaho.  Needless to say, I am not an expert on many trademark foods of the East.  Kate and I are always extremely cautious about sharing recipes typical to a region because we know from experience that people are very passionate about their hometown eats!  (You should have seen what happened when we once posted a recipe for "Philly" cheese steaks.  Yikes.)  Pit Beef caught my eye this month because I've seen it pop up in 3 different food magazines and also a new cookbook I got.   I didn't even know what "Pit Beef" was until recently (the shame!), but hey, that's what Google is for.  Apparently it's Baltimore's version of barbeque.  Unlike the sweet-sauce covered, smoked bbq's of the south, Baltimore's version is instead grilled.  A thick dry rub of seasonings create a flavorful crusted exterior and a tender, juicy interior.  The meat is shaved paper thin and piled high on either a kaiser roll or slices of rye bread.  And there will be no sweet and tangy bbq sauces here, Pit Beef is served with a horseradish sauce (often called Tiger Sauce), and sliced onions.  These are perfect for football food, and for prepping for a crowd.
First up- the sauce.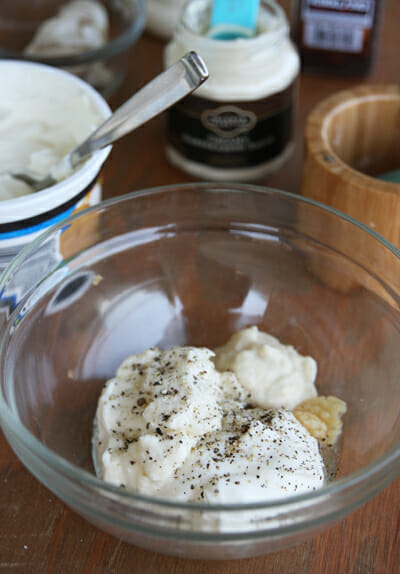 Let me get one thing out of the way: I've never really liked horseradish!  But recently I had some on a steak sandwich at a restaurant and it was the fist time ever that I realized I actually really liked it with steak.  I'm still keeping it mild here, mixing up mayo, sour cream, garlic, lemon juice, salt, pepper, and a little horseradish.  You can definitely add more horseradish if you love it, or decrease it if you're not a fan.
For the meat, most Pit Beef recipes use a top round roast that cooks on the grill for about an hour or so.  I noticed that Guy Fieri's recipe in this month's BHG mag uses a london broil cut and only grills for 10-15 minutes so I went with that.  You'll still want to look for a nice thick piece of meat, preferably about 2″. You'll rub it down with a mix of spices: onion, garlic, paprika, oregano, chili powder, salt and pepper and let it sit for at least 24 hours and up to a couple of days.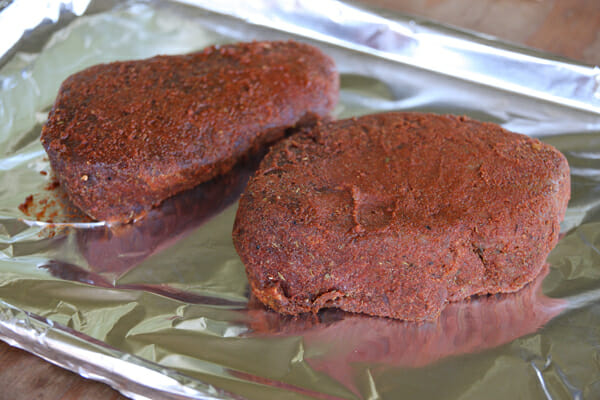 When it's time to get cookin' toss those on a hot grill.  If the outside starts to get a little too charred, just keep one side of the grill on, and move your meat to the side with indirect heat.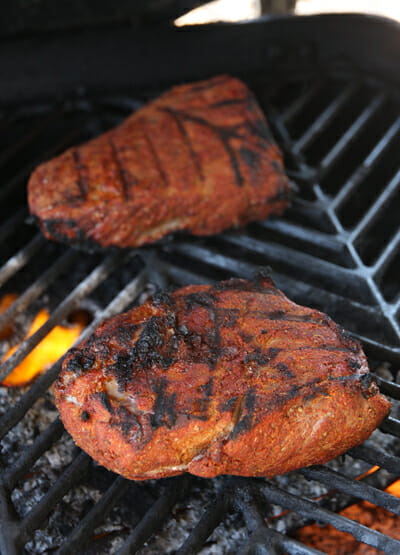 The two tricks for tender steak sandwiches are 1.  Don't overcook your meat (mine could have come off the grill a little sooner).  You definitely want these medium-rare.  2.  Cut it across the grain as thin as you possibly can.  Overcooked, thick sliced meat will produce super chewy sandwiches that are hard to eat!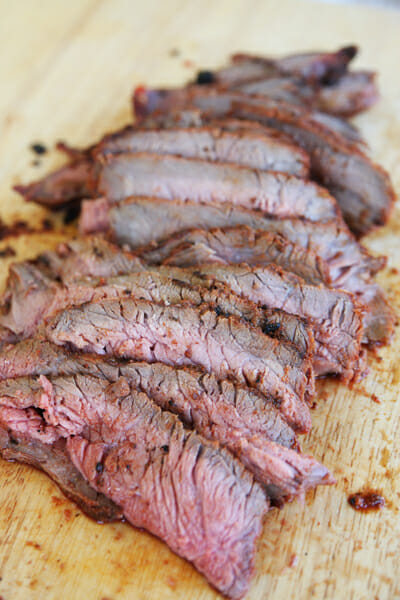 Onions are important.  Or so Google tells me.
When you're ready to serve up, slather a little sauce on each side of a roll (or on rye bread) pile it high with sliced beef, and top with some onion slices.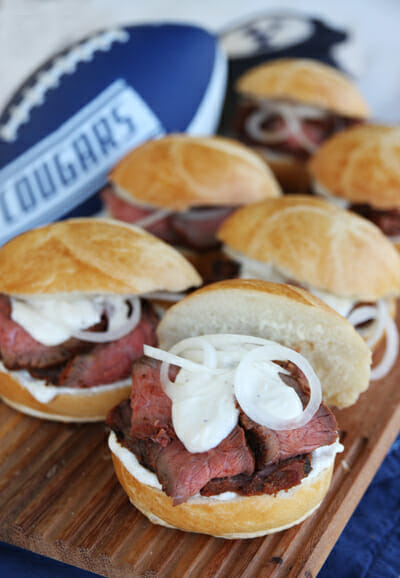 The only thing you risk, is people not actually paying attention to the big game because they're drooling over your beef sandwiches.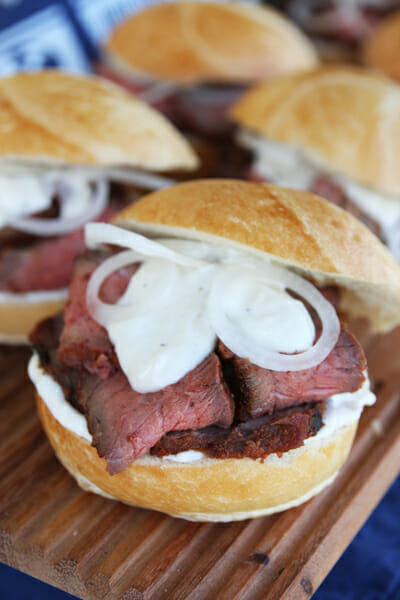 Print
---
Description
Savory grilled beef topped and a slightly spicy, garlicky sauce come together in the perfect summer sandwich.
---
BEEF
2 teaspoons kosher salt
1  1/2 teaspoons black pepper
1 tablespoon onion powder
1 tablespoon garlic powder
1 tablespoon paprika (use smoked paprika if you have it)
1/2 tablespoon oregano
2 teaspoons chili powder
2–3 pounds beef top round, cut in 2 equal pieces (often labeled London Broil, but look for a thick one)
SAUCE
1/2 cup sour cream
1/2 cup mayonnaise
2–3 teaspoons fresh lemon juice
1 garlic clove, finely minced or pressed
2 tablespoons horseradish, more if desired
kosher salt and black pepper to taste
one onion, thinly sliced
soft white rolls or rye bread for serving
---
Instructions
Prepare sauce by whisking all ingredients together and refrigerate until ready to use.  For best results, make at least a few hours in advance, or up to a couple of days ahead of time.
For beef, combine all spices and sprinkle on meat.  Massage into all sides and then seal meat in a zip-top bag.  Store in fridge for at least 24 hours, and up to 48 hours.
Let beef come to room temperature for 30 minutes before grilling.  Heat grill to medium-high heat.  Grill beef for 6-8 minutes on each side, or until thermometer registers about 135 degrees.  If outside of beef is charring before inside is done, turn one side of grill off and place beef on indirect heat to finish cooking.  When done, cover with foil and let stand for 10 minutes before slicing.  Slice beef as thin as possible.  Spread sauce on each side of rolls or bread, pile on sliced beef, and top with sliced onions and more sauce if desired.
Makes 8 sandwiches, or 16 slider sized.
---
Keywords: sandwiches, beef, bbq, grill