Where I live it's apple season. We have farmstand deals on giant boxes of apples and you can usually find apples for an extra great price at the store right now as well. One of our favorite things to make at home is apple sauce. We have a great recipe for slowcooker homemade apple sauce, but I'm going to show you the exact opposite today: pressure cooker apple sauce.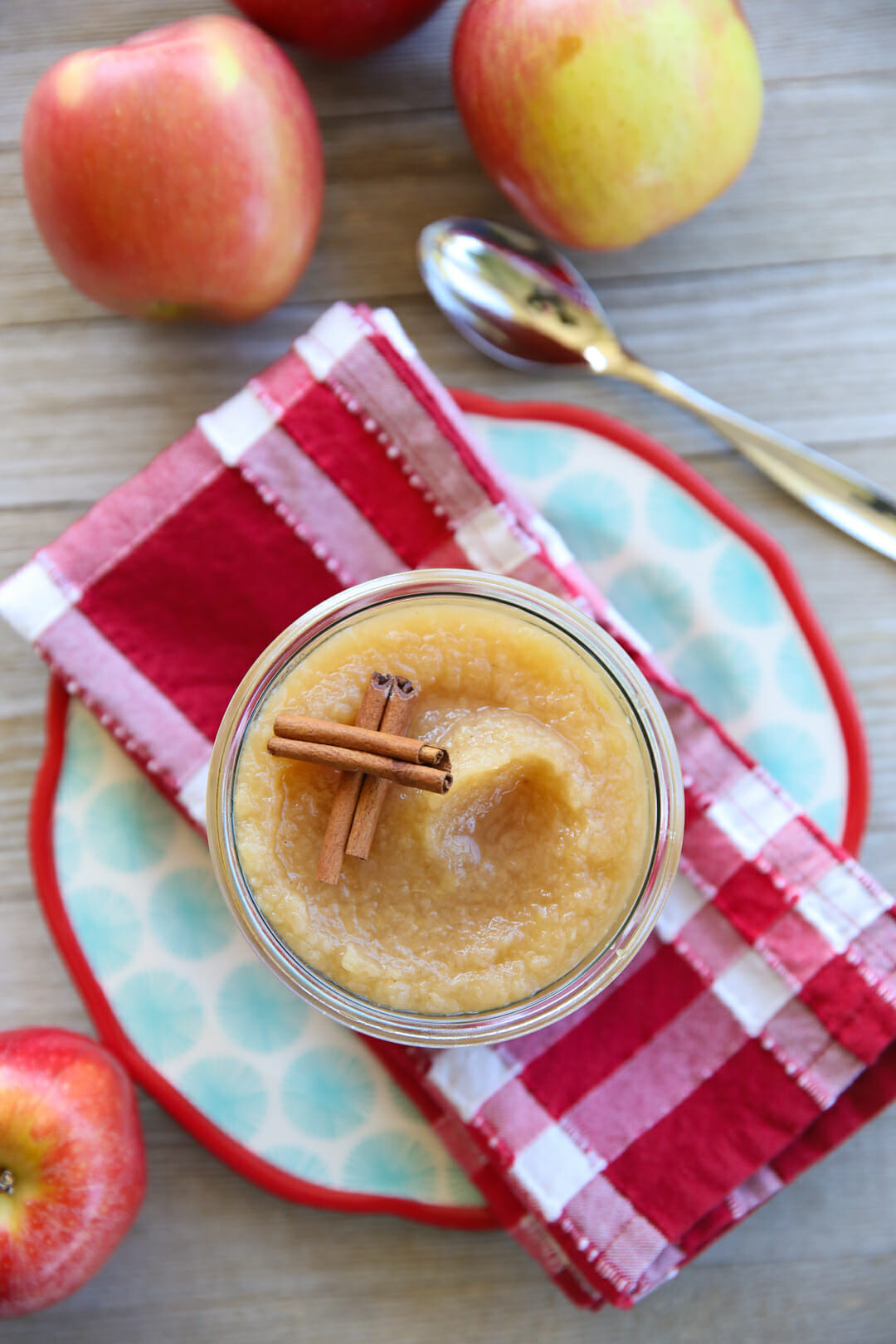 The beauty of this recipe is that you don't really even need a recipe! It's SO flexible. I've listed 8-12 apples in the recipe, but really I just keep adding apples until I reach the "max fill" line on my pressure cooker. And I have a couple different sizes of pressure cookers, and I don't really alter anything. I still fill it up to that max fill line every time. If you're wondering if you can do LESS apples, you certainly can, but just know that one giant pot of apples still only makes about 2 quart jars of apple sauce, so it's worth it to fill that sucker up!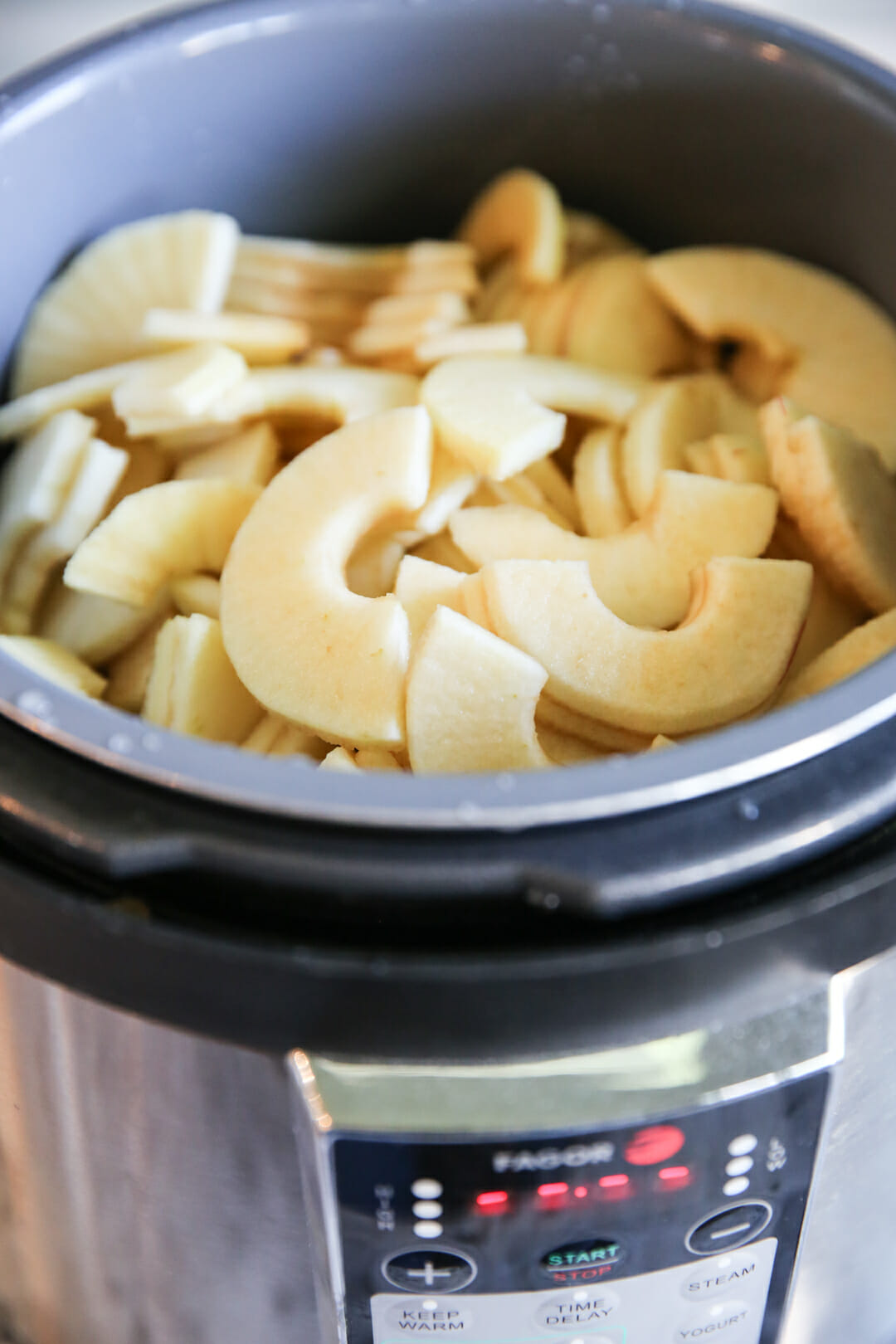 You'll want them peeled and cored, and if you don't have one of these apple slicer-corer-peelers, you need one!
You can totally customize the flavors in your apple sauce. I add a little bit of apple cider to mine to intensify the flavor, but for liquid you can also use apple juice, or even plain water. At our house we love cinnamon in ours, and I also like to use a little sweetener. Our favorite is pure maple syrup. It won't make it taste like maple really at all, it's just a really nice undertone and I feel better about it than dumping in actual sugar (but let it be known that I'm not opposed to dumping in real sugar.) If you want to skip out on added sweetener, you can just skip that part.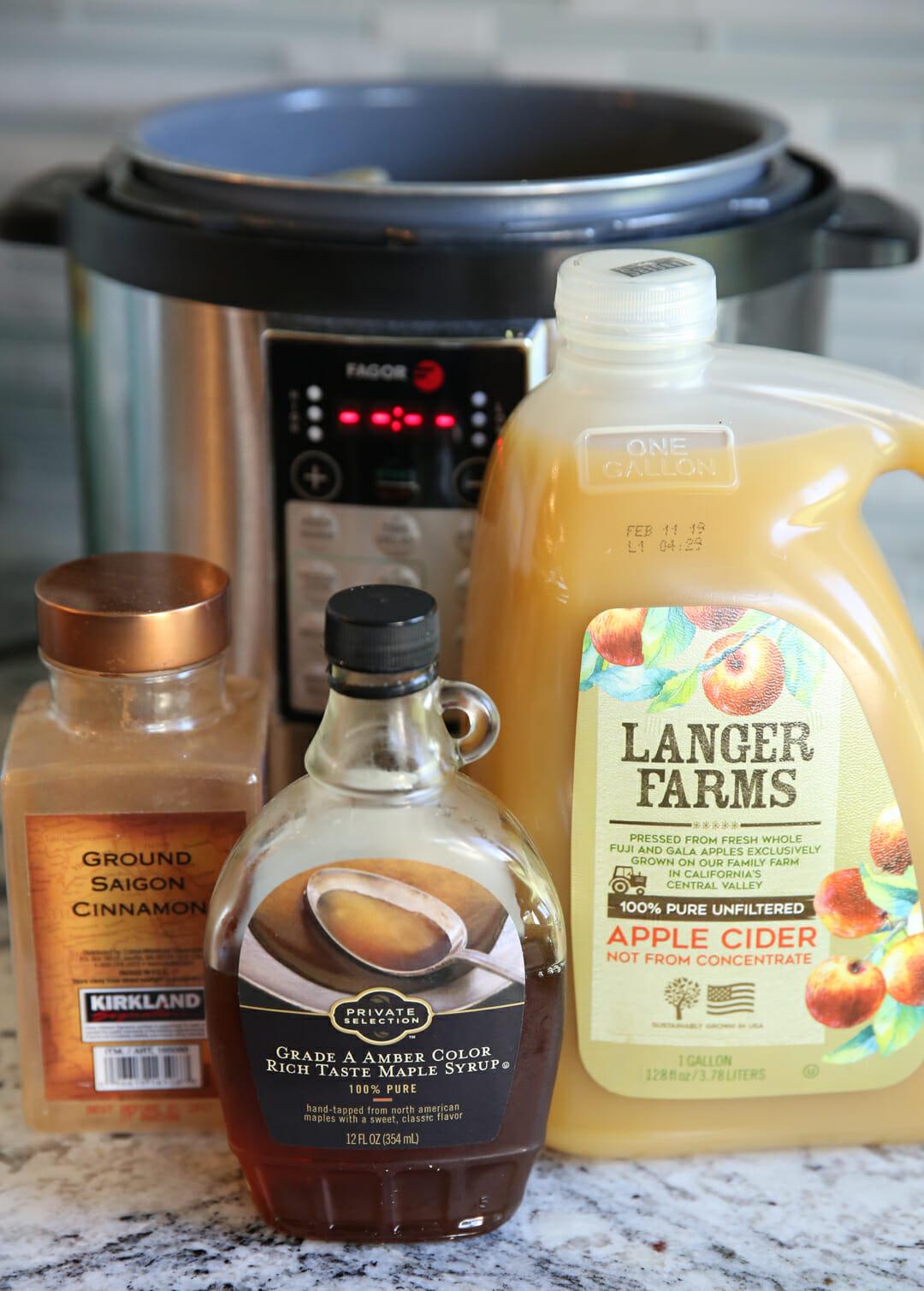 I only add a bit of liquid, but don't worry- it's enough! Those apples are loaded with moisture and as soon as the pot heats up, it will draw out the natural juices and you'll have plenty to get your pressure cooker going.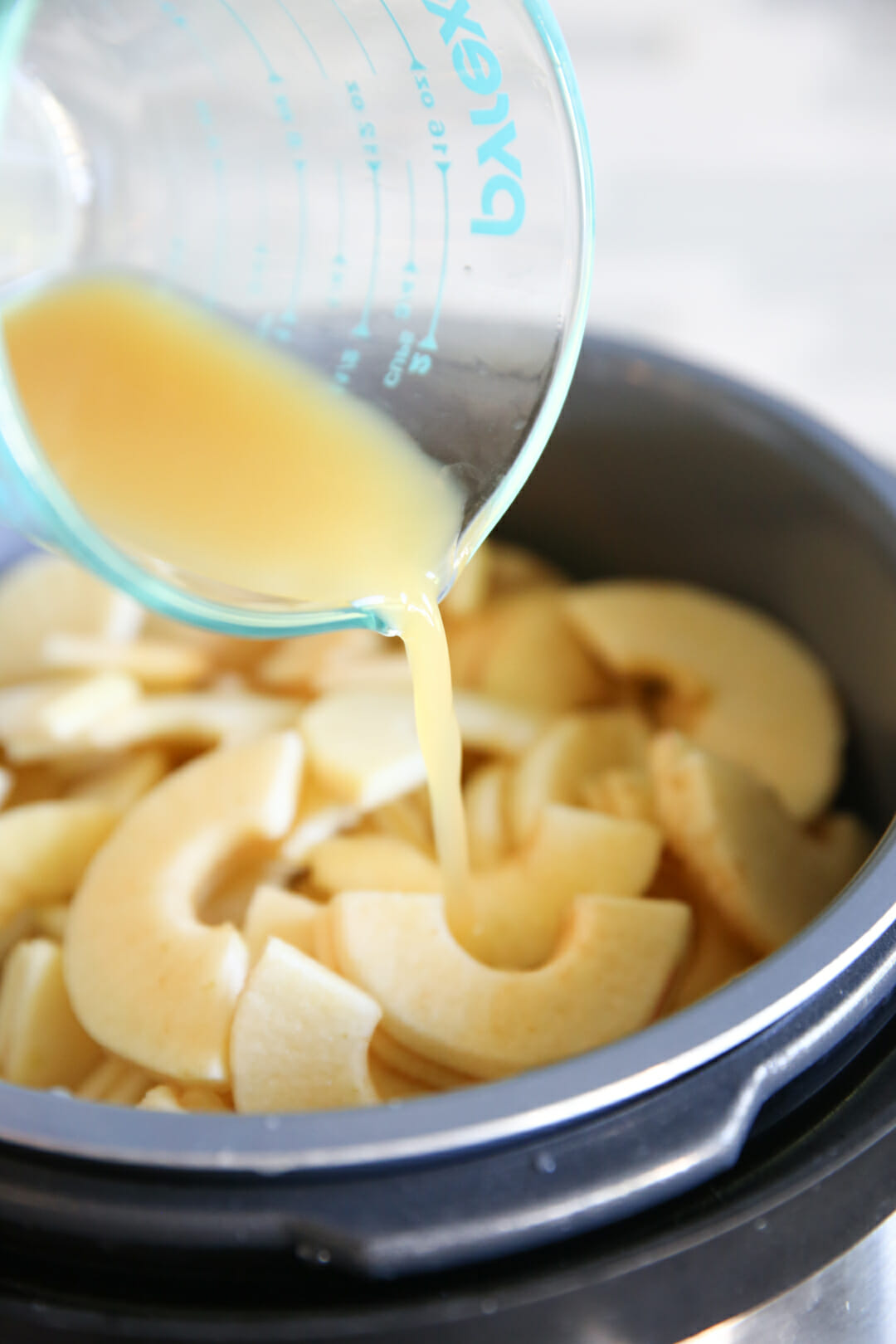 You can also add other spices like a little nutmeg or apple pie spice.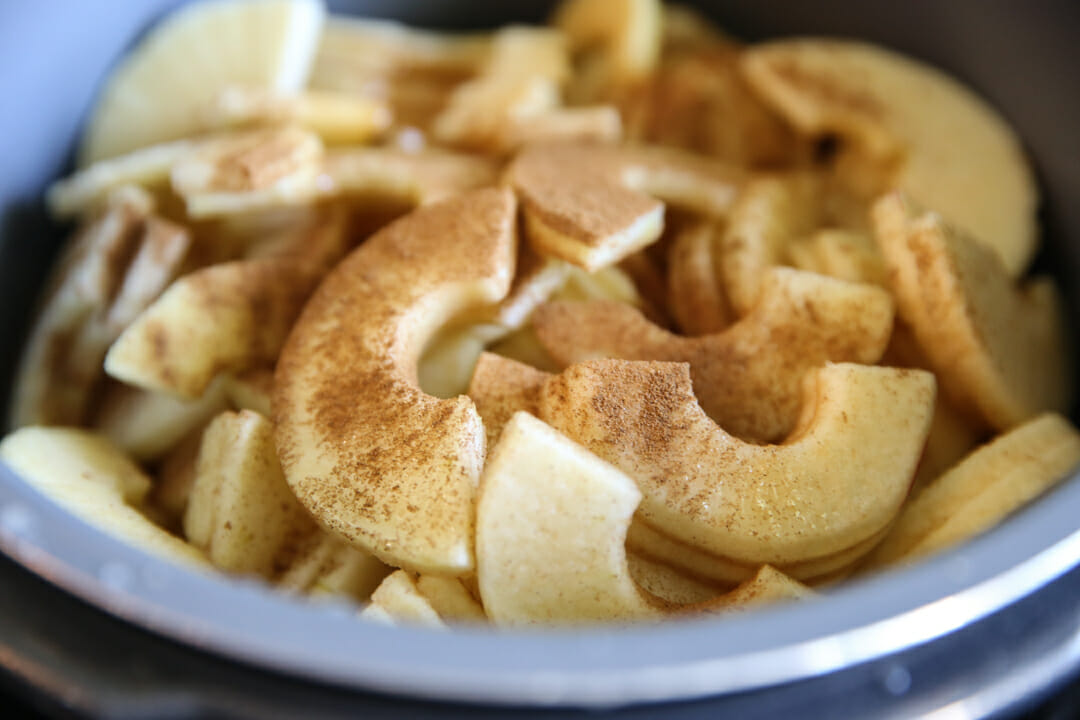 Once it comes up to pressure, I let it cook for 5 minutes. Generally I'm not in a hurry, so I like to just let it hang out on the counter when it's done and naturally come down to pressure so I can open the pot. You can't really ruin this- you just want the apples nice and soft. It smells amazing!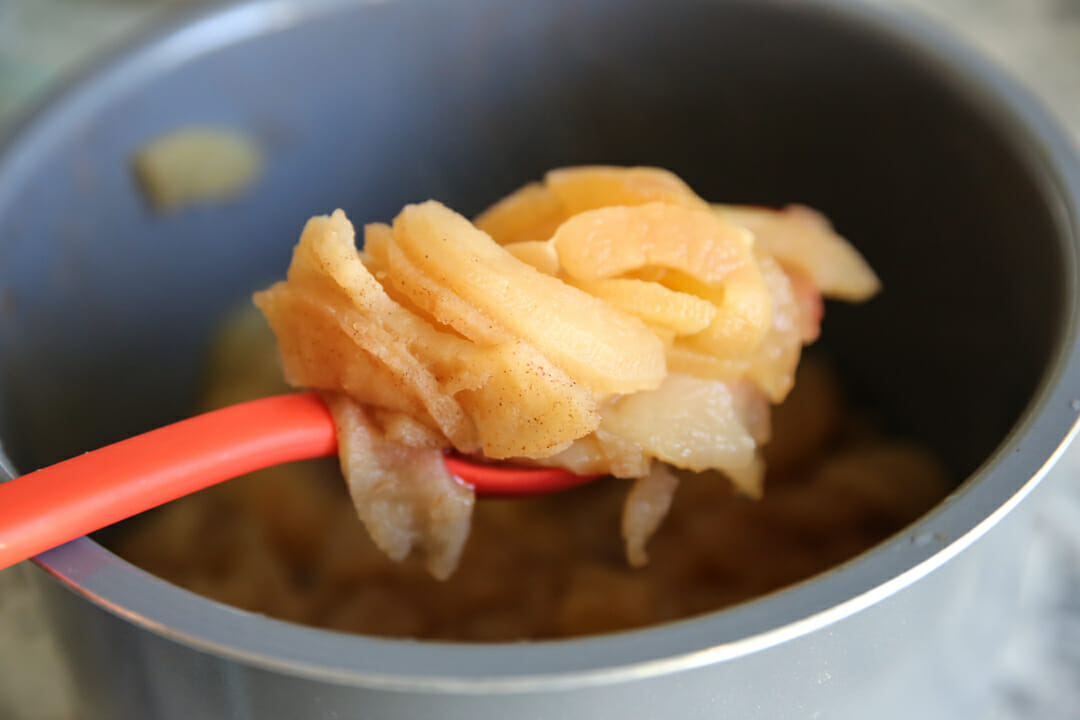 You have a couple options for turning your cooked apples into apple "sauce". You can just pop an immersion blender in there and whiz it around until it's the consistency you like, or you can use of of my favorite kitchen tools, the food mill. I have this one by Oxo and it's nice and compact, and so easy a 2 year old can do it. I actually use a slotted spoon to transfer my apples to the food mill and I leave the remaining liquid in my pot until after my apples are smashed in the mill. This way I can control the thickness of the applesauce better and add back in all of the juices or just some if I want it thicker. Generally I add it all back in though, because that's where so much of the flavor is.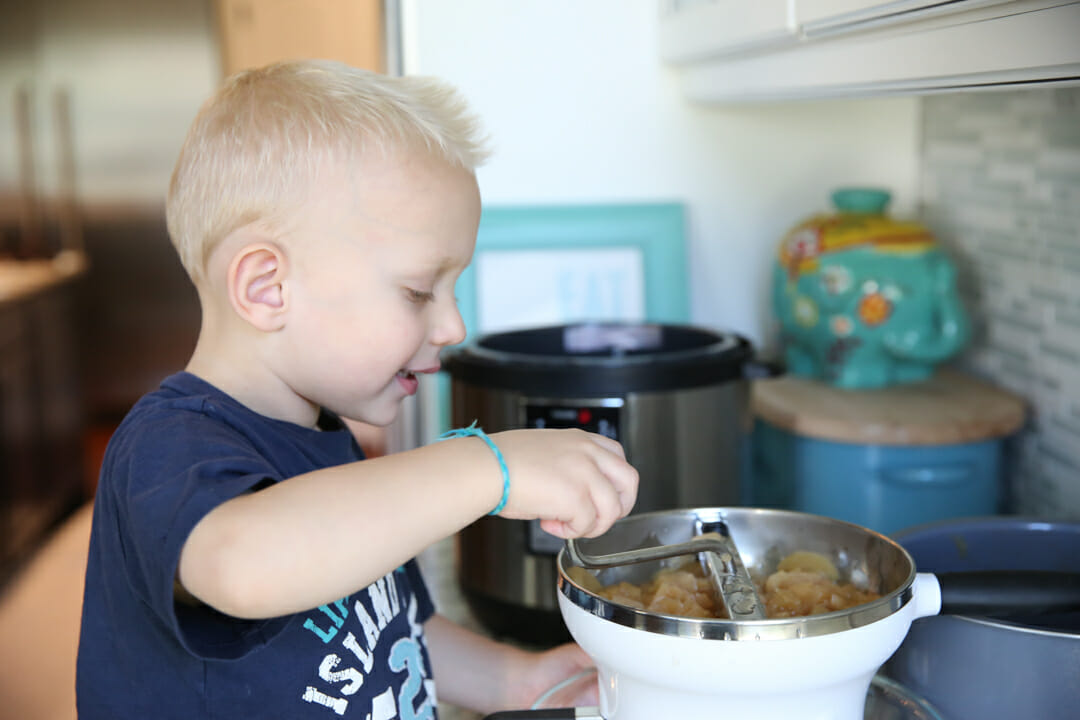 I like that the food mill gives it a nice even consistency.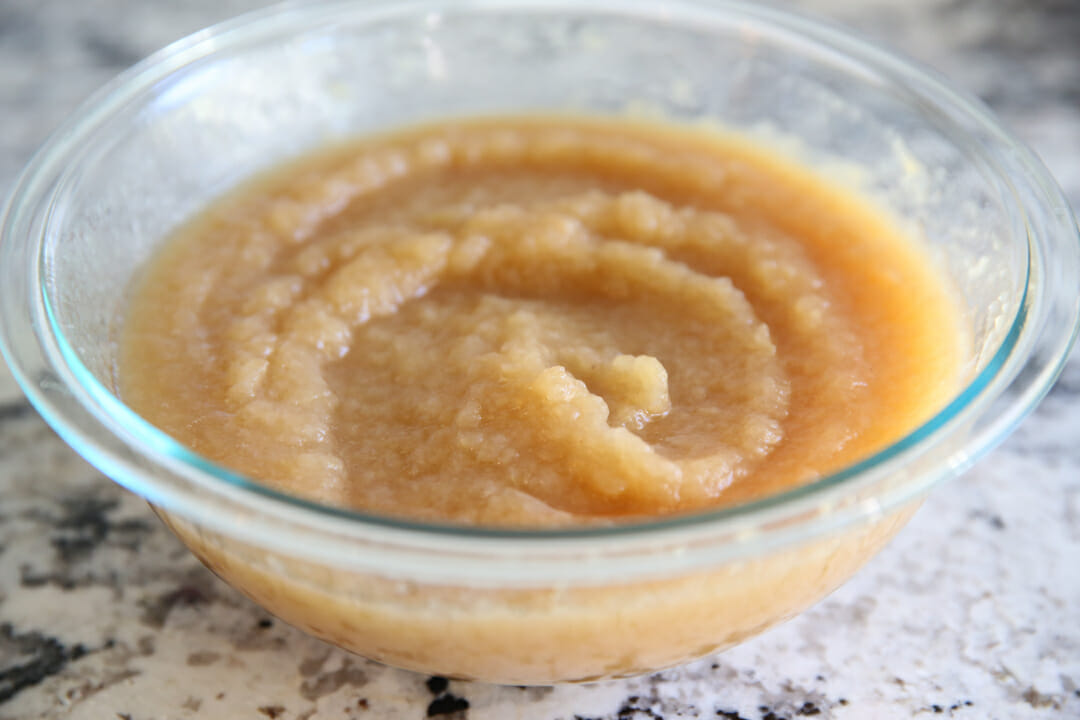 We just pop this in a plastic container, or mason jar in the fridge, and it doesn't last long at our house. A lot of people like to eat it warm out of the pot, but I personally love it super cold from the fridge. Try it with just a little brown sugar sprinkled on top, my kids think it's dessert and that's a total mom-win.
Print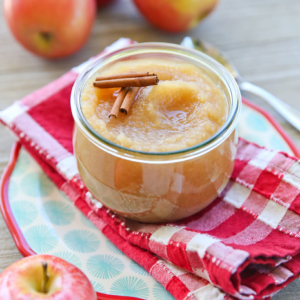 Pressure Cooker Applesauce
---
Description
Hints of maple and cinnamon, along with fresh apples are cooked lightning fast in a pressure cooker in this simple homemade apple sauce recipe.
---
8

–

12

crisp, sweet apples

1/4 cup

apple cider

1/4 cup

100% pure maple syrup

2 teaspoons

ground cinnamon
---
Instructions
Core, peel, and slice apples. Place in a pressure cooker, filling up to the "max fill" line. Add apple cider, maple syrup, and cinnamon.
Close pot and cook on high pressure for 5 minutes. Let pot rest for 5-10 minutes after cooking and then release remaining steam and remove lid. (You can let it rest for longer than 5-10 minutes if you like, it's flexible).
Either use an immersion blender to pulse to desired consistency, or transfer to a blender and pulse, or use a food mill.
Store in fridge. makes about 2 quarts.
---
Notes
Feel free to change up spices or play around with sweeteners!