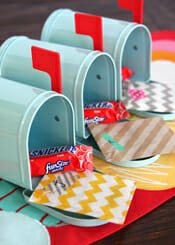 Kate and I were talking recently about how blogging and social media have led to every minor thing in life transforming into a major thing.  We both have been avoiding Pinterest this entire month because the onslaught of Valentine Day stressed us out.  When I was a kid, you went to the store and picked out the little cardboard box with the cartoon character you liked the best on it.  Inside there were those cheap little paper envelopes that you tried to lick shut but they'd never stay shut.  Now, if you judge the average Valentine by what you see on Pinterest, we're all Martha-freaking-Stewart, and the blogosphere is full of tutorials and DIY entertaining and decor ideas for holidays I didn't know people actually celebrated with things they needed tutorials for.  I actually have a tendency to get caught up in things like that because I LOVE holidays.   I love traditions.  I love making things absolutely magical for my kids.  But I also like having a balance, and making things meaningful.  I've been thinking about Valentines Day lately and wanted to do something with my family that wasn't about games and candy and presents as it seems every holiday is.  We get plenty of treats around here, but within our home I wanted to really focus this year on the actual love part of Valentines.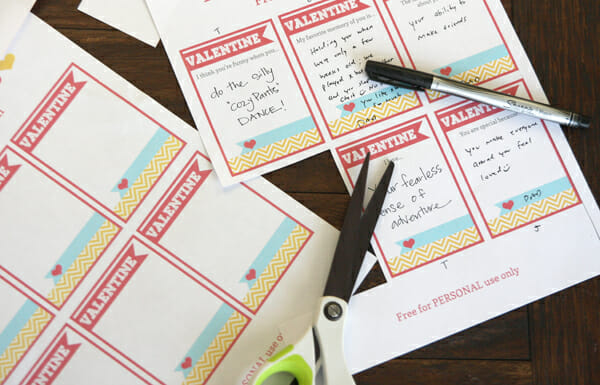 Every Monday night at our house is "Family Night."  We sing a song together, read from our scriptures, have a little lesson/message about a value, and then play a game and have a treat.  A couple of weeks ago our lesson was about kindness and I blasted back to 1st grade when we learned about "warm fuzzies" and "cold pricklies."  Did everyone do that?  I taught my kids all about warm-fuzzies and had them go around in a circle and say something kind about everyone else in the family.  They loved it.  And they thought of the cutest things to say.
It reminded me about how important it is to say things and not just show them.  And how much confidence it instills in a person to receive a compliment, and call out all of the wonderful things about them that you love.  I remember very specific instances in my life when people did that for me, and what a difference it made.  I still have a little folded up piece of paper from youth group activity we did when I was about 13 where we exchanged papers and wrote things we admired about the other person on it.  It says awesome teenage things like, "Sara is so super sweet to everyone!" and still, it makes me smile every time I read it.
I still cling to a letter my Mom wrote to me when I was a teenager when she noted qualities she loved about me and traits she admired.  Things I never saw in myself until I read them from her and things I aspired to live up to after that moment.  I remember having a thoughtful chemistry teacher in high school who pulled me aside after class one day and asked me if I had considered what I would study in college.  She told me I was bright, and that I had a keen understanding of chemistry, and that the world needed more smart women in the science field.  Until that moment, I had never considered myself anything but completely average, but that one little compliment set me on a path that eventually led to a college degree in the science field.  I think about that teacher often and how much confidence she gave me with a few simple words.
Experiences like that remind me of how important it is to express things to the people I love, and especially to help my children recognize in themselves what I see so clearly:  their strengths, their unique traits, their good behavior.  The things I'm proud of, the things that make me laugh, the things I love.  I love it when my sons see those things in each other, too.
So we did another little family activity.  I made these little love-notes and thought about each one of my kids.  This actually takes some time; it caused my husband and I to really ponder about the special attributes of each of our kids and realize how unique they all are.
I filled some out, my husband filled some out, and we had our boys fill a few out for each other.  That was probably my favorite part; seeing each of them express things they love about their brothers.
It was fun reminiscing about things we'd done together in the past and some of our favorite family moments.
I made the notes little; just perfect for a quick little phrase or two, and perfectly sized to fit inside of those cute little treat bags.  (Mine are all from Orson Gygi)
My kids absolutely love our Christmas advent, and the waking-up-first-thing-in-the-morning-and-checking-it part is probably even more exciting than seeing what was actually in there.
So I packaged up all of our little love notes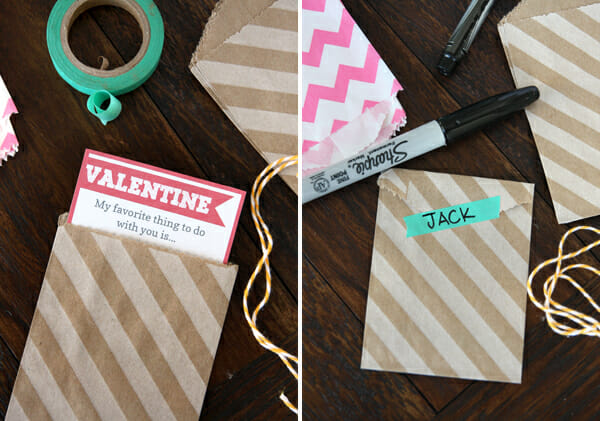 and have them waiting to be delivered.
And although I know my little boys will adore hand-written expressions of love from their parents, they will adore them much more if there's candy involved.  So they'll get a little of that too.  Packaged in their mail boxes in the days leading up to Valentines day.  And before they can use them to make paper airplanes, I'll tuck them away for them to read again someday and be reminded of how much they're loved.
You can use these little notes like I did, or for a fun family night of your own where you read them out loud, or slip them into a lunch box or tape them to a bathroom mirror for someone.  They're just for sharin' the love, so do that any way you like 🙂
(Little mail boxes from Target dollar section.) I'm having technical issues that are preventing me from putting all of these pages together in file, but you can can print them all separately using the links below.  I included all of the little phrases and questions starters I used for my family, plus a sheet of blank notes to use however you like.
Love Notes Set #1
Love Notes Set #2
Love Notes Set #3
Love Notes (Blank)
Click below for more Valentine Fun!