Our Slow-Cooker Kalua Pork is one of my all-time favorite things to cook because aside from the fact that it tastes amazing (like, I'm talking a-MAZ-ing amazing) it's so dang versatile.  I often pick up a couple of pork roasts and cook them this way simply to have the finished meat in the fridge for the week because it works great for lots of different meals.   That's how I came up with my popular Braised Italian Chicken that I posted recently.  For these nachos, I had been thinking about it for weeks.  I do that.  I get random ideas in my head, and then I spend days (or sometimes weeks) thinking about them when I'm supposed to be thinking about other important things, like driving, working, or having conversations with my husband.  When it's perfect in my head, I make it in the actual kitchen.  This idea actually started out as a sandwich idea, but when I went to make them, I realized I forgot to buy rolls, but I had chips.  Hmmm Nachos…. With a little tweaking, these turned into the perfect party food.  Or dinner.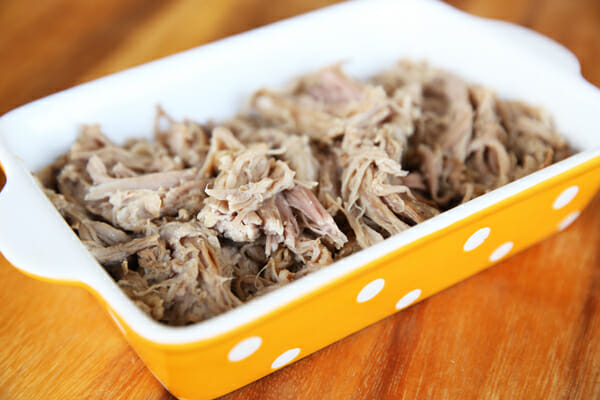 I couldn't stop thinking about that tender, smokey pork and how awesome it would be with some spicy pepper jack cheese,
all melted together with bits of crumbly bacon,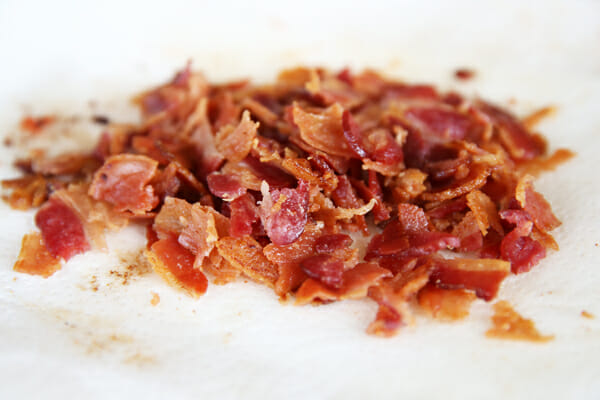 sweet red onion,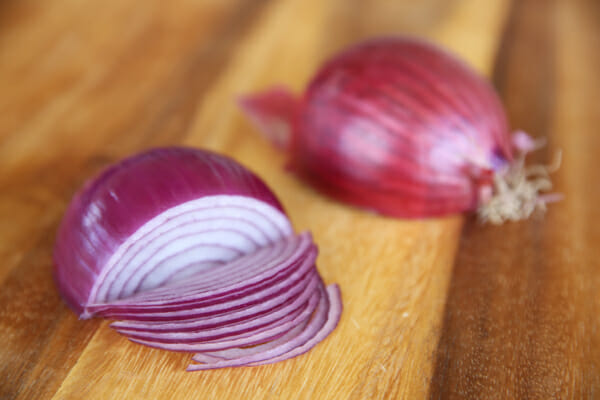 and tangy pepperoncini peppers.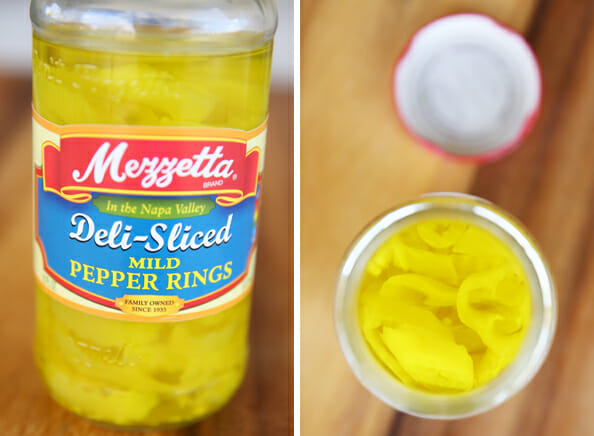 And dude, I was right.  It was as amazing in real-life as it was when I had been imagining it.  So let's make these nachos.  First a tip.  Want to know the best tortilla chips in the grocery store aisle?  It's not a brand you probably recognize, because you've never seen an ad or commercial for them, but I swear these are the best.  Especially when they're warmed up in the oven.  They're more oily than something like Tostitos, but not in a greasy way- more in a hot, crispy, from-a-restaurant kind of way.  I don't know if they sell them everywhere; I didn't discover these until I lived in Idaho, so you'll have to keep an eye out at your local store: Juanitas.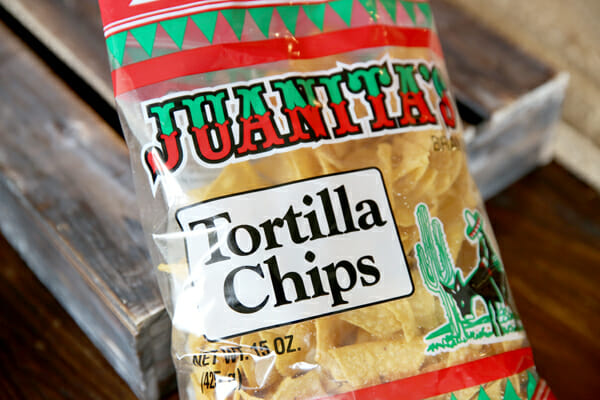 If I'm making these for a crowd, I do it on a foil-lined baking sheet.  For this blog post, and the after school snack I'm making for my boys, a dinner plate it is.  Spread out a single layer of chips.  You want them nice and snug so they're all overlapping just a bit, but you don't want chips on top of each other.
Pile on some pepper jack cheese.  Be generous.  These are nachos.  Bad nachos don't have enough cheese.
Then add your pork.  I shred the pork and then chop it into 1/2 – 1 inch pieces so it fits nicely on chips and distributes well.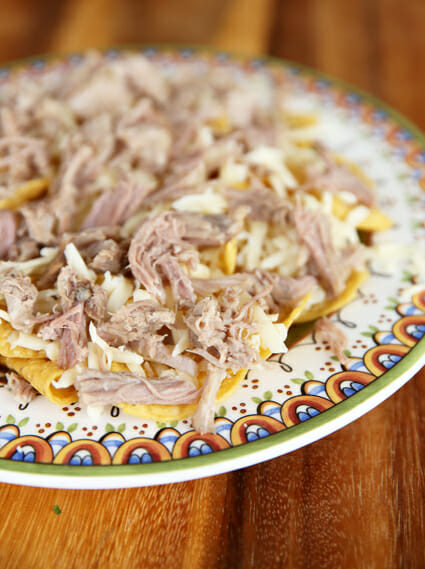 Then sprinkle on some chopped pepperoncini.  At this point, I take a few more chips and break them into large pieces and sprinkle them on top.  For a single plate of nachos, it helps everything stick together.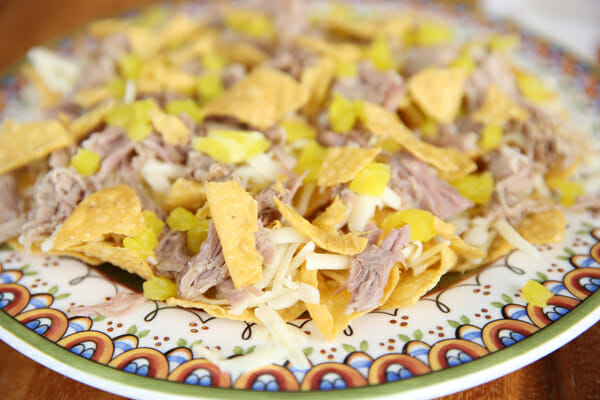 Then on goes more cheese.
And then top it with red onion (which I've sliced here, but chopped probably works better) and cooked, crumbled bacon.
After baking in the oven (or microwaving a smaller serving)  Sprinkle the plate with some chopped fresh cilantro
and dollop on some sour cream.
You get this amazing combination of flavors with the gooey melted cheese, bits of crispy bacon, juicy smoked pork, tangy peppers, bright fresh cilantro and cool creamy sour cream.  On a warm crispy chip, it's nacho heaven.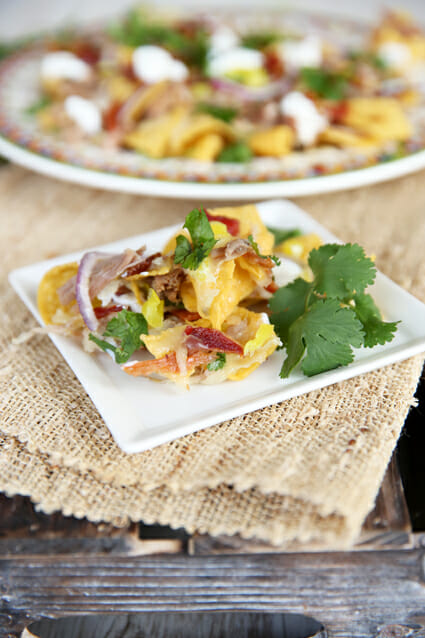 Nacho HEAVEN I tell ya.
*Tip:  All of the different elements in this recipe can add quite a bit of salt.  I suggest using low-sodium bacon, and omitting the salt on the pork (or simply decreasing it and salting afterward) to make sure your finished dish isn't too salty.
Pulled Pork Nachos with Pepper Jack and Bacon
Recipe by Our Best Bites
There is no reason to be precise with nacho measurements, feel free to add as much or as little of each ingredient as you like.  The below measurements are simply a guide for one dinner plate size serving.  If making for a crowd, pile all of these same ingredients on a large baking sheet.
Ingredients
Tortilla chips
1  1/2 cup (heaping)shredded Pepper Jack cheese
heaping 3/4 cup Kalua Pork, chopped into bite size pieces (decrease salt in the recipe, 1 tsp kosher salt at the most, you can add more after cooking)
3-4 tablespoons drained and diced pepperoncini
2-3 strips bacon, cooked and crumbled
2-3 tablespoons chopped red onion
2-3 tablespoons chopped fresh cilantro
sour cream
Instructions
Preheat oven to 350.
Place a single layer of tortilla chips on an oven safe plate.  Top with a heaping 3/4 cup cheese.  Place pork over top and sprinkle with pepperoncini.  Break up a handful of tortilla chips into large pieces and sprinkle on top.  Add remaining cheese, top with crumbled bacon and onion.  Bake in the oven until cheese is melted.  Remove, and sprinkle on cilantro and dollops of sour cream.  Serve immediately.
**Winner Winner Chicken Dinner!**
We started something fun on The Scoop this year.  We post there every Thursday, and we appreciate all of you who take the time to read our posts and engage in the conversation!  Our little way of saying thanks is that at the end of each month, we take all of the comments on The Scoop posts and toss them into a virtual hat.  We use random.org to pick one of them, and then we send that winner a surprise!  It's my turn to pick for February, and I'm sending  one lucky reader one of my most favorite shirts that I talked about in this post, the GapFit Breathe Hoodie.  I've been LIVING in this shirt lately.  It's the coziest!
The lucky winner was Karen, who commented on my Fitness Post saying, "We finally ended up joining the YMCA about a year and a half ago. I told my husband for the price we are paying we WILL be there 6 days a week and take advantage of EVERY free thing they offer. 🙂 Finally have lost 23 pounds since beginning of January since I seriously cut out a lot of baking. LOVE the skinny chicken salad recipe. I seriously eat it every day."  Congrats Karen (on winning AND those 23 lbs!  You've been emailed!
Make sure to keep up with The Scoop posts this month for your chance to win for March!