Someone made a comment last week on Kate's Saucy Hot Dog post that I was like the nice angel on your shoulder and Kate was the naughty one. It's true I've been posting mostly healthy recipes lately, but the two of us definitely trade off those roles (haha, I just wrote "rolls" and had to correct it) to keep a nice balance around here! This week, I'm the naughty angel on your shoulder. The kind that tells you it's okay to eat dessert for breakfast. (Although to this naughty angel's defense, these actually aren't all that horrible for you if you can resist eating the entire batch.)
I posted on Facebook last week that I woke up with a recipe idea in my head and couldn't do anything productive, like pack my completely not-packed house that I'm supposed to be moving in less than 2 weeks, until I made it. My favorite thing in the world is when I have a recipe idea that I can't stop thinking about and when I make it, it turns out as good as I imagined it. This was one of those recipes.
about these pancakes
You guys know I love me some crazy pancakes. I wanted to incorporate the flavors of a pumpkin roll (ya know, a pumpkin sheet cake rolled up with cream cheesy frosting filling and sliced) into a breakfast appropriate pancake. So here we've got fluffy spiced pumpkin pancakes that get topped with a light and creamy cream-cheese-kissed whipped cream and drizzled in pure maple syrup. It feels naughty. It's definitely delicious. And it's completely acceptable to consume it before 9 am. Triple win.
making the pancakes!
First let's mix up some dry ingredients. I use half all purpose flour and half whole wheat flour. Hearty whole wheat pairs really well with pumpkin, so I threw some in there, but feel free to use all regular all-purpose flour if you'd like. You'll also add a little brown sugar for sweetness, and cinnamon, nutmeg, cloves, and ginger. Plus a little baking soda and baking powder.
Whisk all of those together and make sure you get any lumps of brown sugar broken up.
In a separate bowl, mix up your wet ingredients. Buttermilk, eggs, vanilla, and just a couple tablespoons of oil.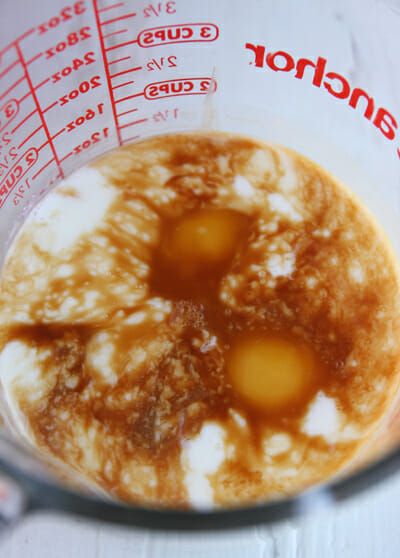 And we can't have pumpkin pancakes without pumpkin. As always, make sure you are using 100% pumpkin puree (click here to make your own) and not pumpkin pie filling.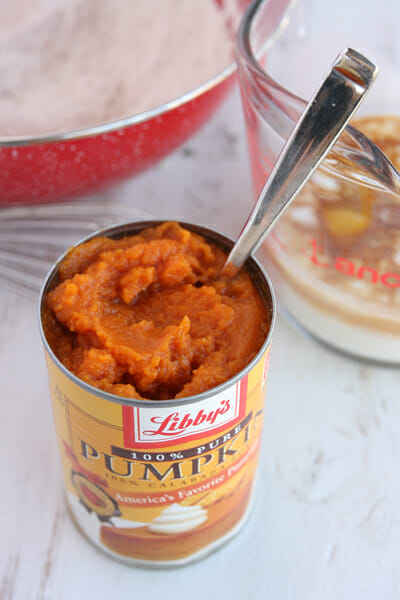 Once that's all mixed up, just combine your wet ingredients and your dry ingredients. I usually whisk at first and then use a rubber spatula to mix everything together. Avoid over mixing pancake batter so they stay light and fluffy.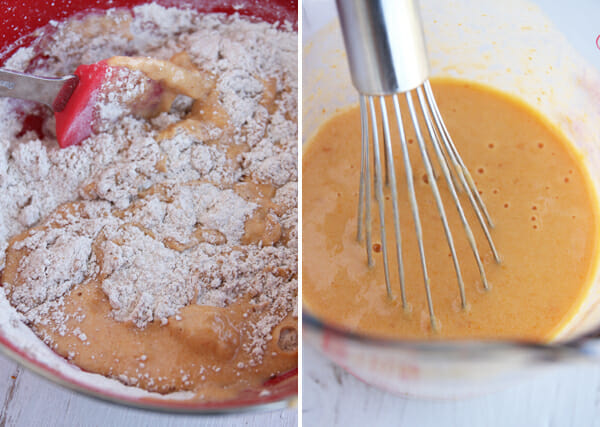 Make sure your griddle pan is nice and hot (but not piping hot, you don't want to burn the batter! Find a nice medium) and then use butter or nonstick spray to coat the pan. Drop batter by 1/4 cup onto the pan and cook until edges are set. Normally, I wait until I see little bubbles around the edges of pancake batter to know they're ready to flip, but with these, usually the bubble stage is a tad too late. I flip them once I can see the edges are set and a spatula easily slides underneath.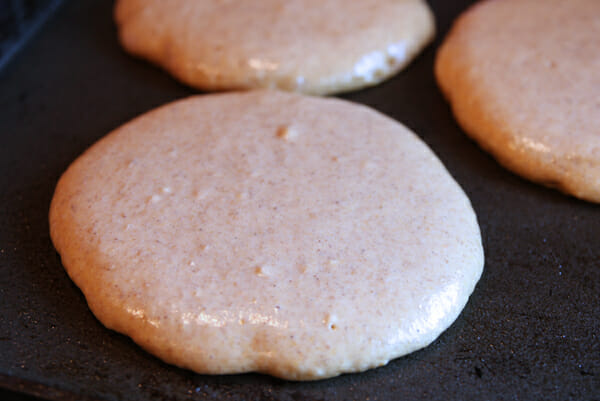 Flip those and cook the remaining side.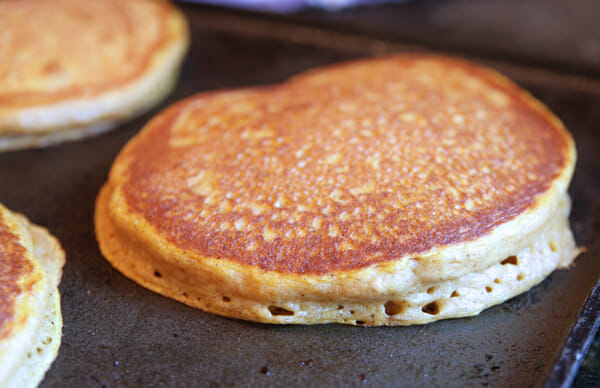 For the topping, I wanted it to be cream-cheesy, like a pumpkin roll filling, but not as heavy and sweet as actual frosting (this is breakfast, after all!) So first, beat together a little cream cheese, vanilla, and powdered sugar until it's smooth and creamy. To lighten the texture, beat in a little cream that's been whipped, and then gently fold in more whipped cream.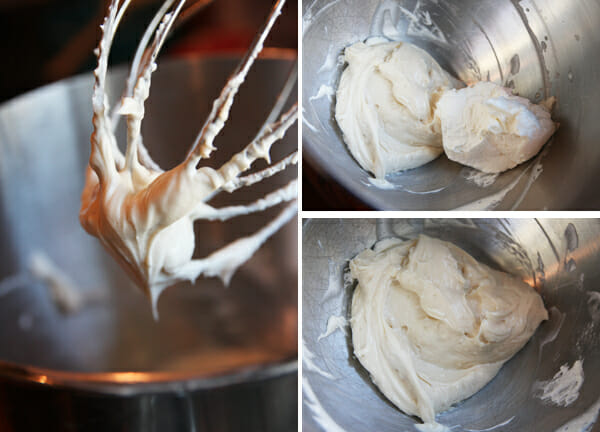 Serve each pancake with a little dollop of the cream cheese topping and a drizzle of maple syrup. For everyday pancakes for my kids, I good ol' Mrs. Butterworth's (or whatever else happens to be on sale), but I always keep 100% pure maple syrup for recipes and special pancakes like this.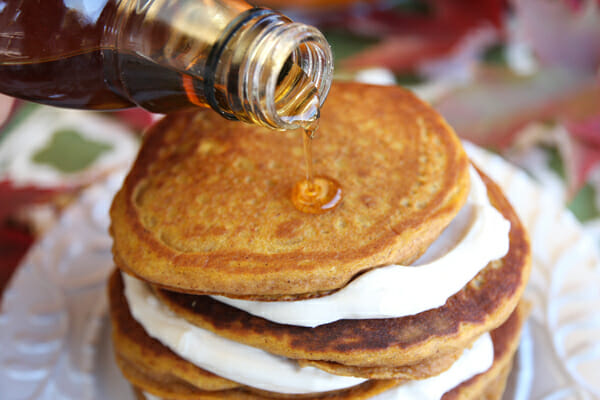 If you want to get wild and crazy, you can stack them like I did,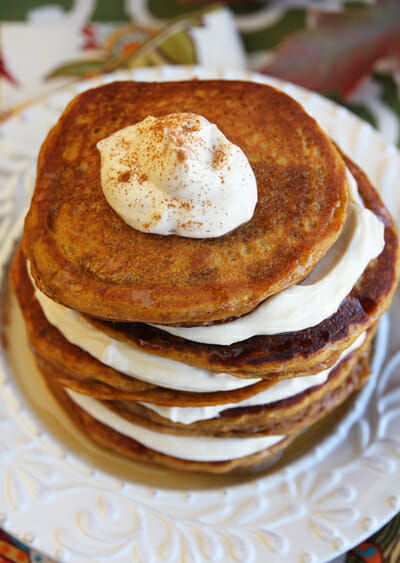 But know I do things like that for photographic impact! When I served these to my family, I just spooned a little dollop on top of a couple pancakes and topped with a reasonable amount of syrup. Okay, and then we consumed this ridiculous stack, but hey, someone had to eat it!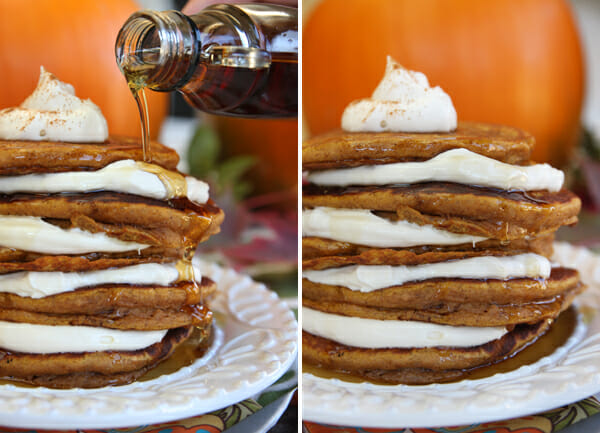 The spice in the pancakes, with the creamy sweetness of the cream cheese whipped cream and the warm flavor of maple is a dreamy combination. You know you want to pin this: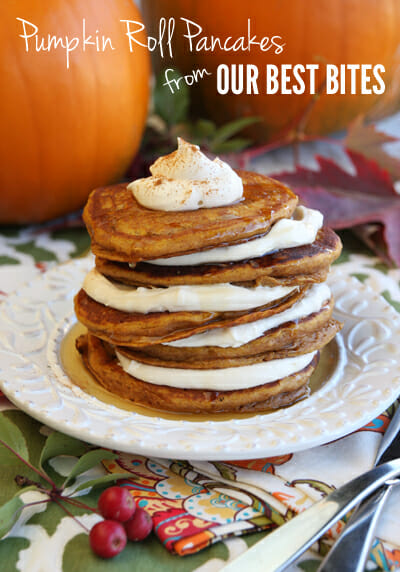 Print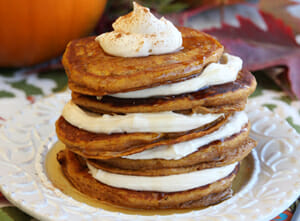 ---
Description
If you love pumpkin rolls with cream cheese filling, you'll also love these pumpkin roll pancakes! Pumpkin spiced pancakes are layered with cream cheese whipped cream and drizzled with maple syrup! The perfect fall breakfast!
---
pancakes
3/4 cup all purpose flour
3/4 cup whole wheat flour
1/4 cup brown sugar
2 teaspoons baking powder
1 teaspoon baking soda
1/2 teaspoon table salt
1 1/2 teaspoons cinnamon
1/4 teaspoon nutmeg
1/2 teaspoons ground cloves
3/4 teaspoons ground ginger
1 1/2 cups buttermilk
1 1/2 teaspoons vanilla extract
2 tablespoons canola oil
2 eggs
2/3 cup pumpkin puree
Cream Cheese Whipped Cream
4 ounces cream cheese (low fat is fine, but not fat free)
1/4 cup powdered sugar
1 teaspoon vanilla extract
1/2 cup whipping cream (heavy or regular) whipped until medium peaks form
Real maple syrup for drizzling
---
Instructions
Prepare whipped cream by beating cream cheese, powdered sugar and vanilla until smooth and creamy. Take 1/2 of the whipped cream (that you already whipped) and beat it in until smooth. Add the rest of the whipped cream and use a spatula to gentlyfold in (do not beat). Cover and refrigerate until ready to use.
Prepare pancakes. Whisk together flours, brown sugar, baking powder, baking soda, salt, cinnamon, nutmeg, cloves and ginger. Make sure to break up any clumps of brown sugar. In a separate bowl, whisk together buttermilk, vanilla, oil, eggs and pumpkin. Combine wet ingredients with dry and gently combine until mixed. Do not overmix.
Heat a nonstick griddle to medium heat. When hot, use butter or nonstick spray to coat the pan. Drop 1/4 cup pancake batter to form each pancake and cook until edges set (if you wait until they bubble, it might be just a bit too long). Flip pancakes and cook remaining side.
Serve warm pancakes with a dollop of cream cheese topping and a drizzle of maple syrup.
---