Okay, I love barbecue. Looooooooooooooooove it. In my house, I totally wear the pants when it comes to food because I would go to a good steakhouse over a salad bar any night of the week. Steak. Ribs. Chicken. Yum. But you guys know that already.
This barbecue sauce is just okay by itself, all lonely and uncooked on the side of your plate when it's used as a dipping sauce. But when you marinate meat in it and then grill it over an open flame–boy howdy, we're talking finger-licking good here.
You just need a handful of refrigerator/pantry staples–ketchup, Worcestershire sauce, brown sugar (don't be like me and forget the brown sugar in the picture I know you're going to take of your ingredients), red wine vinegar, dry mustard, smoked paprika, and Tabasco Sauce. Oh, and kosher salt, freshly ground pepper. And water. That's all.
Place the ketchup in a small mixing bowl…
and add in the dry mustard…
the Worcestershire Sauce and vinegar…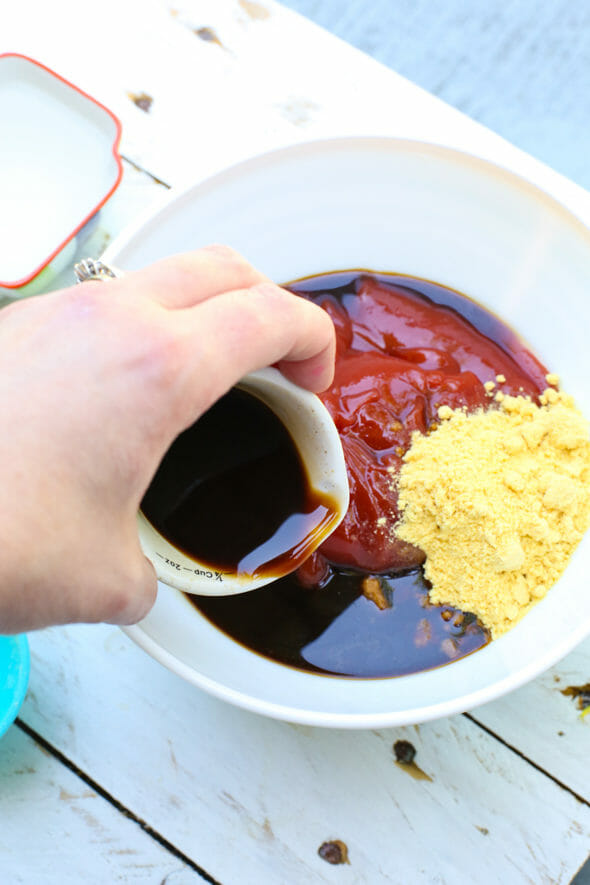 and the spices.
Oh, and don't be like me and almost forget the brown sugar. What the bleep is wrong with me?!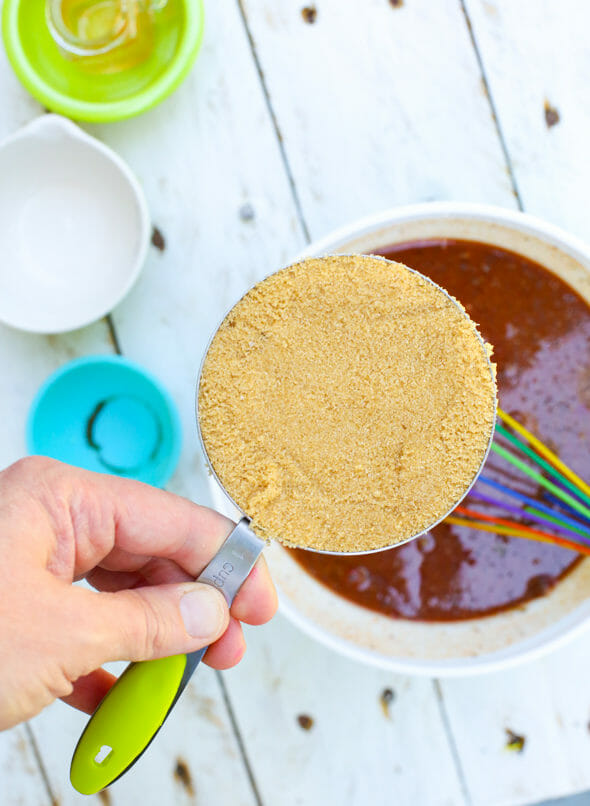 Whisk it all together and you're done! My favorite way to use this sauce is on ribs or these BBQ Chicken Thighs (seriously…humans make involuntary noises when they eat this sauce on chicken thighs. If that grosses you out, you may not want to proceed.)
Print
---
Description
A quick, no-cook BBQ sauce made from refrigerator and pantry staples that is perfect for a marinade or basting on meat on the grill.
---
1 1/2 cups ketchup
1/4 cup Worcestershire sauce
1 cup brown sugar
1/2 cup red wine vinegar
2 1/2 tablespoons dry mustard
2 teaspoons smoked paprika
2 teaspoons Tabasco sauce
2 teaspoons Kosher salt
1 1/2 teaspoons coarse freshly-ground black pepper
1/2 cup water
---
Instructions
Whisk ingredients together and refrigerate until ready to use.
---
Notes
Great for brushing on ribs on the grill or for marinating boneless skinless chicken thighs (brush some reserved sauce on them at the end.)
Quick and Easy Barbecue Sauce
Our Best Bites
Ingredients:
1 1/2 c. ketchup
1/4 c. Worcestershire sauce
1 c. light brown sugar
1/2 c. red wine vinegar
2 1/2 Tbsp. dry mustard
2 tsp. smoked paprika
2 tsp. hot sauce (like Tabasco or Cholula)
2 tsp. Kosher salt
1 1/2 tsp. coarse freshly-ground black pepper
1/2 c. water
Instructions:
Combine ingredients in a medium bowl and use as a marinade or to baste meat while grilling.
[/print_this]