So babyback ribs. I love a good salad as much as the next girl, but my all-time favorite, special-night-out foods? Shrimp, a great steak, or ribs. Don't worry, I've never attempted all three at the same time!
I guess the good thing about ribs is that they're generally too expensive to buy on a regular basis. It's definitely splurge food, both from a calorie and a budget perspective. But here's a hint–I never buy meat when I actually plan on eating it. I've had these ribs in my freezer for 2 months now; they're normally $4.99 a pound at Kroger, but I got these for $2.99 a pound. This week, I just got brisket for $.97 a pound, even though I have no immediate brisket plans in my future. If you keep an eye on the sales, you can get the pricier cuts of meat for a great deal.
I think one of the main complaints I've heard about ribs (other than the fact that people don't like eating them straight off the bone) is that they're fatty and tough. I've had this recipe for years, but I was never able to really get them as tender as I wanted them. The braising liquid is to DIE for, so I knew there was major potential, but I just couldn't figure out what to do. After lots of rib research (hard work, I know), I discovered two things: even though spareribs are cheaper, buy babybacks. They're meatier, less fatty, and more tender. And secondly, I needed to be braising the ribs slower at a lower temperature than I was doing in the oven. Enter my good friend…the crockpot! Yep, slow cooker ribs. Your greatest fantasies have just been realized. These will fall off the bone and a good portion of visible fat will come off during the slow cooking and the grilling.
For the braising liquid, you're going to need pineapple juice, ketchup, soy sauce, garlic, brown sugar, red wine vinegar, lemon juice, ground ginger, cayenne pepper, and cloves.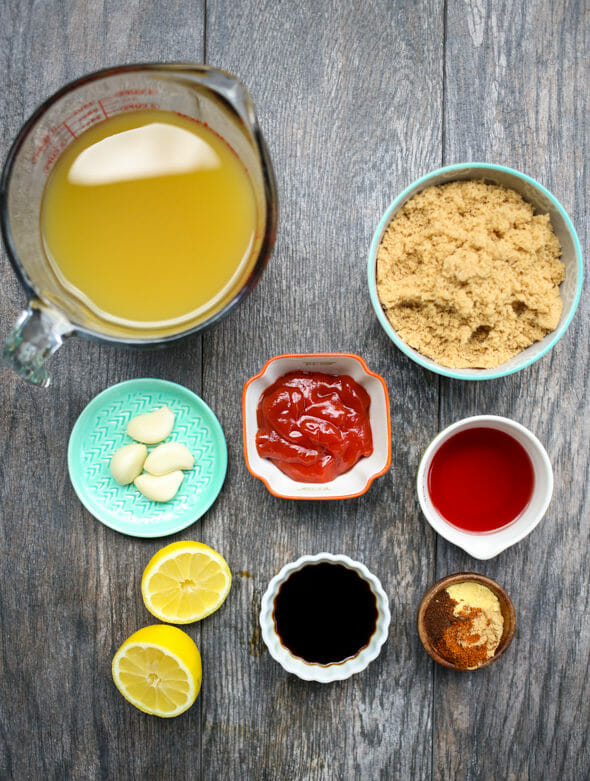 Next, you're going to take your ribs and cut them into portions of about 2-3 bones each. This makes it easier to cook and to divvy up afterwards.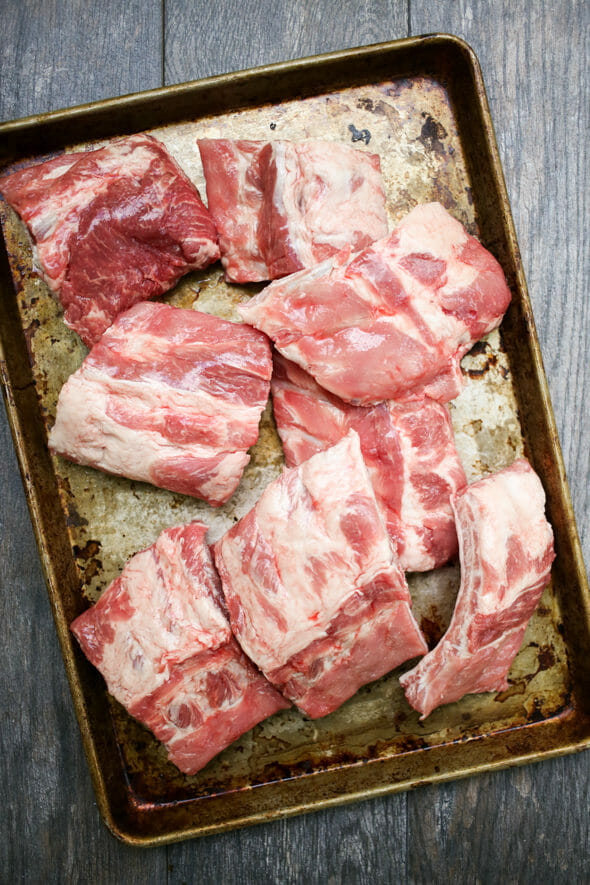 Place the ribs in your crockpot (I have a large crockpot and can fit about 2 racks of ribs in there, but it's a tight fit) and then add the braising liquid.
Cover with the lid and cook on high for 5-6 hours or on low for 8-10 hours. When they're very tender, carefully pull them from the liquid. They'll be pretty ugly. Don't worry.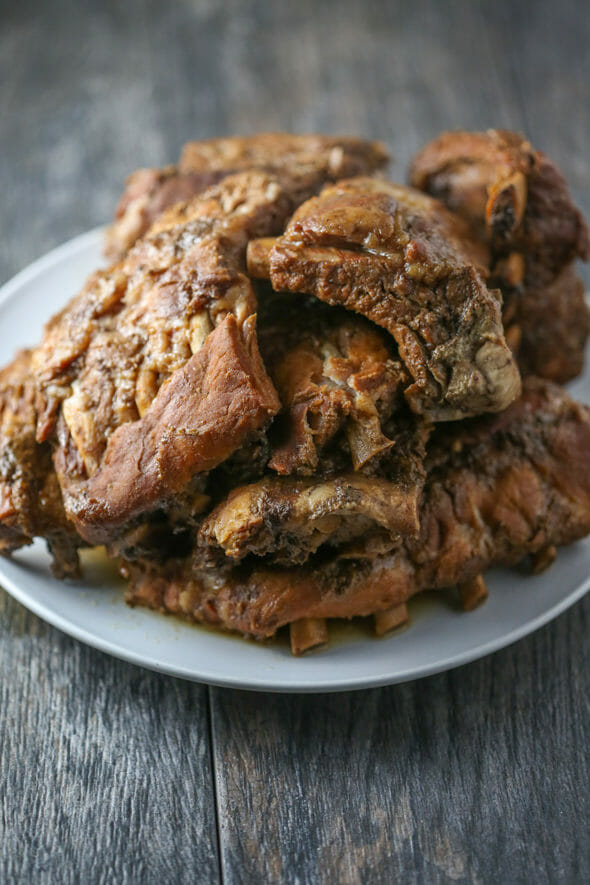 Preheat a grill over medium heat. Acquire some awesome barbecue sauce. You can make your own (like this quick and easy barbecue sauce, or this Carolina-style sauce) or you can just purchase some. This is actually my favorite, and it doesn't hurt that it's one of the less expensive varieties.
Brush one side of the ribs with the BBQ sauce and then place them, sauce-side down, on the hot grill. Generously brush the tops with sauce. Cook for about 2-3 minutes or until you have some nice char marks on the ribs. Flip and repeat. Serve immediately.
Print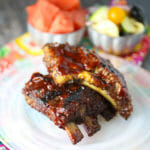 ---
Description
These classic babyback ribs are fall-off-the-bone tender! Cook them all day in the crockpot and then finish them off with a few minutes on the grill!
---
1

–

2

rack babyback ribs (

1

rack feeds

two

adults; another rack of ribs will work with the marinade if your crockpot can fit them)

3

c. pineapple juice

1 ½

c. brown sugar

1 ½ tsp

. mustard powder

1/3

c. ketchup

1/3

c. red wine vinegar

1 ½ Tbsp

. lemon juice

2 Tbsp

. soy sauce

½ tsp

. ground cloves

2 tsp

. ground ginger

4

cloves garlic, minced

½ tsp

. cayenne pepper
Your favorite barbecue sauce
---
Instructions
Cut the ribs into 2-3 bone portions and place them in a crockpot. Whisk together the remaining ingredients (except for the barbecue sauce). Pour the liquid over the ribs, cover, and cook for 5-6 hours on high or 8-10 hours on low. Carefully remove the ribs from the liquid.
When ready to serve, preheat grill over medium heat. Brush one side with your favorite barbecue sauce. Place the ribs, sauce side down, on the hot grill and brush the tops generously with sauce. Close the lid and cook for 2-3 minutes until nice char marks form. Carefully flip the ribs, close the lid, and cook for another 2-3 minutes. Serve immediately.
---
---