Yes. You read that correctly. Someone's about to put choc-o-late all up in your jam!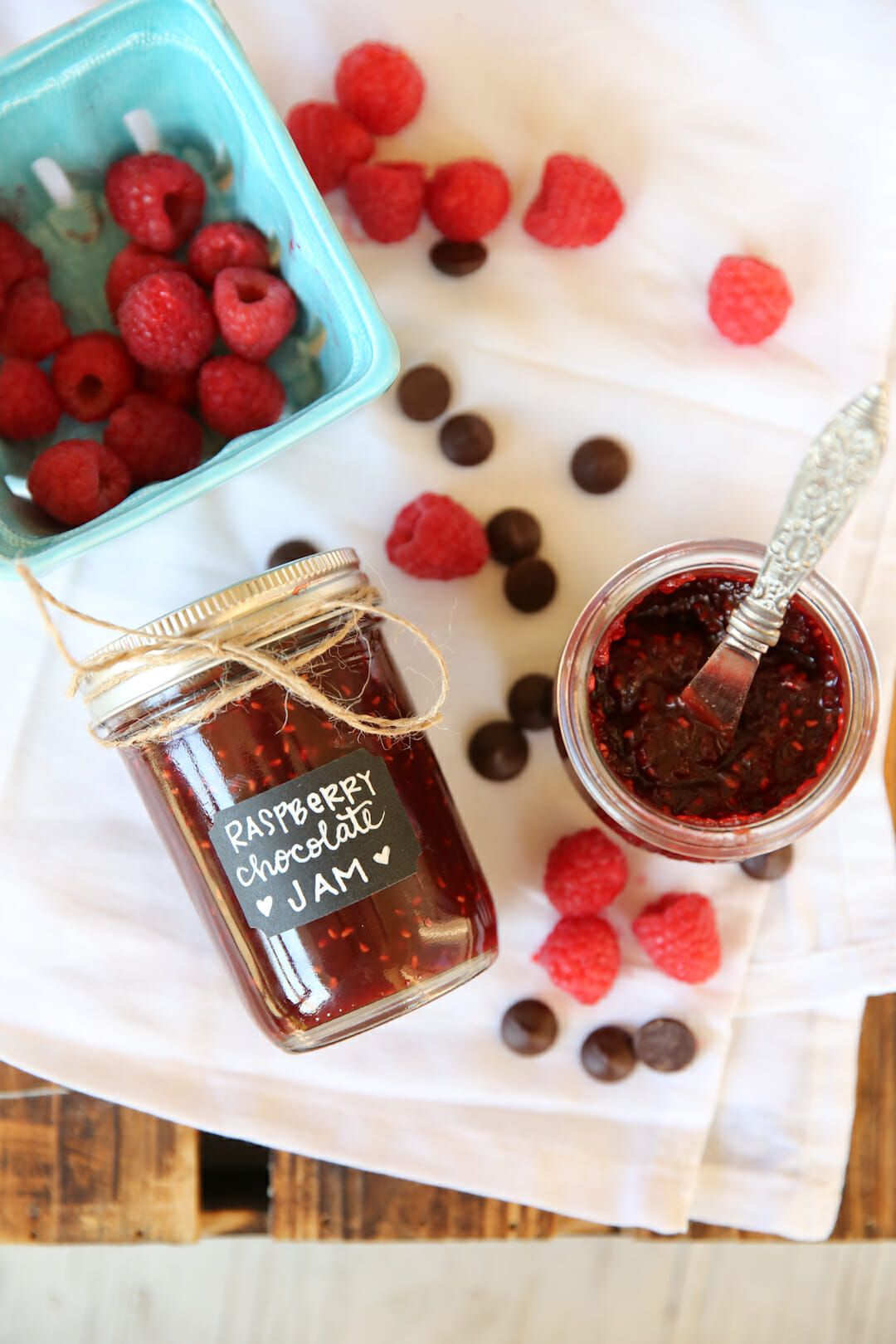 It's your basic fresh raspberry jam, with just a hint of bittersweet chocolate that makes the most amazing, rich, complex jam I've ever had. Honestly one of the best things I've made in a while, and it's SO easy! This isn't a canning recipe (in terms of long-term storage), so all of you non-canners stay with me! It just makes one batch, about 2 cups, of the most amazing sweet chocolate-kissed jam you've ever tasted. This stuff is fantastic on all of the usual subjects like toast, waffles, pancakes, french toast, and the like. But it's also spectacular on crackers with a creamy cheese or used as a cake filling, or mixed with vanilla ice cream and a splash of cream in the blender (just did that one last night). And it looks darling and so special all tied up with a bow for gifting. If you've never made jam before, this couldn't be easier.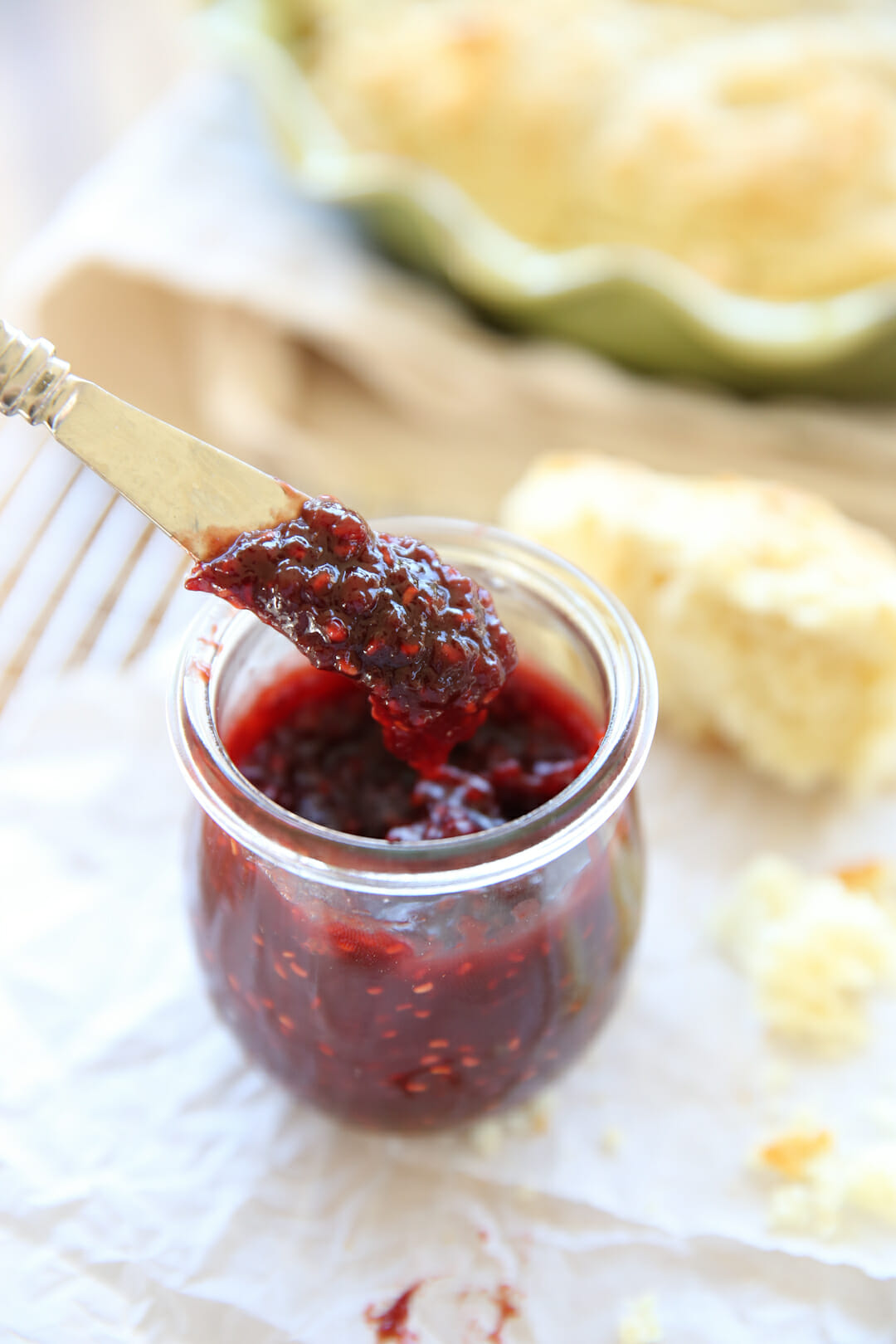 You just need a pound of fresh raspberries.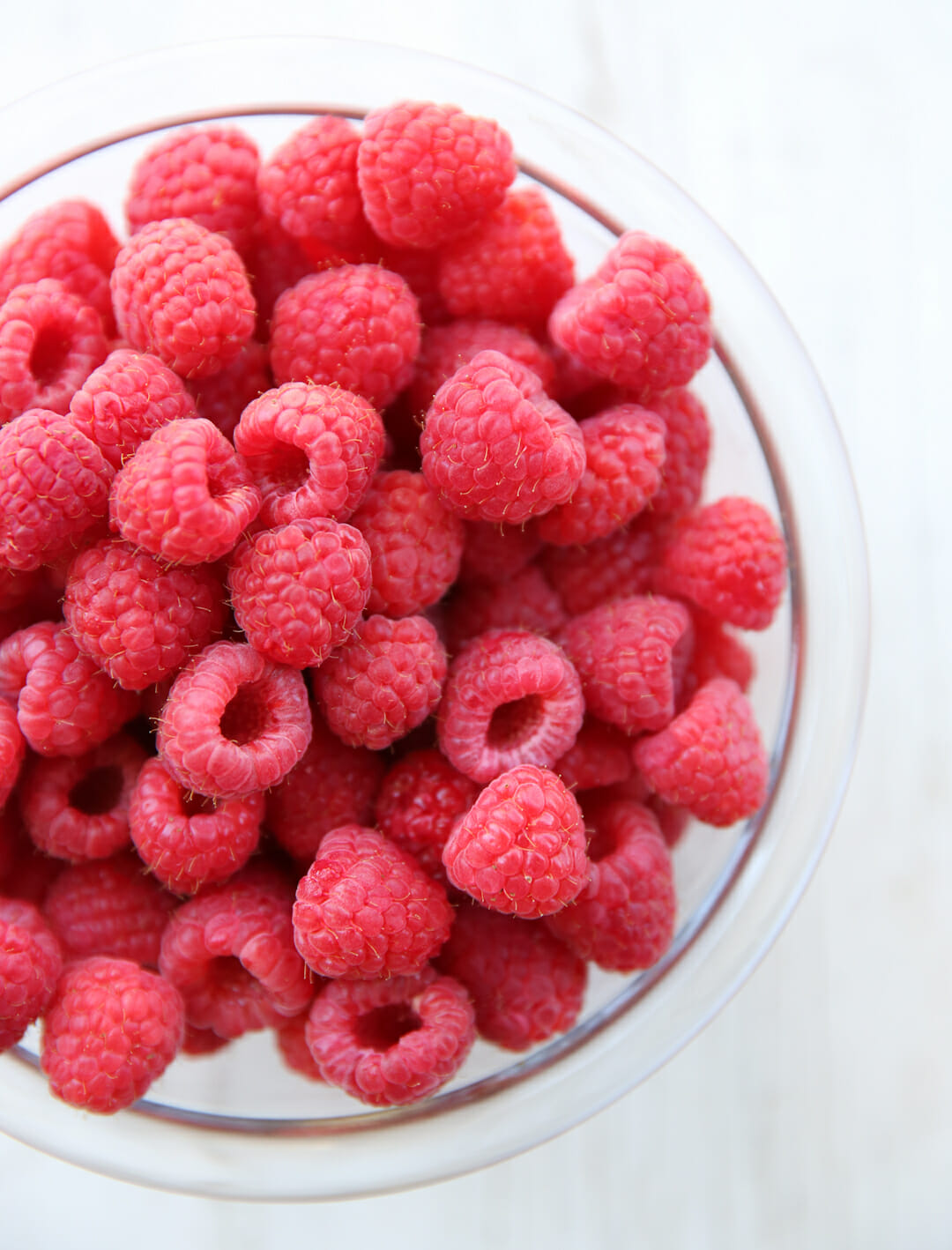 Which you will combine with a little lemon juice and plenty of sugar.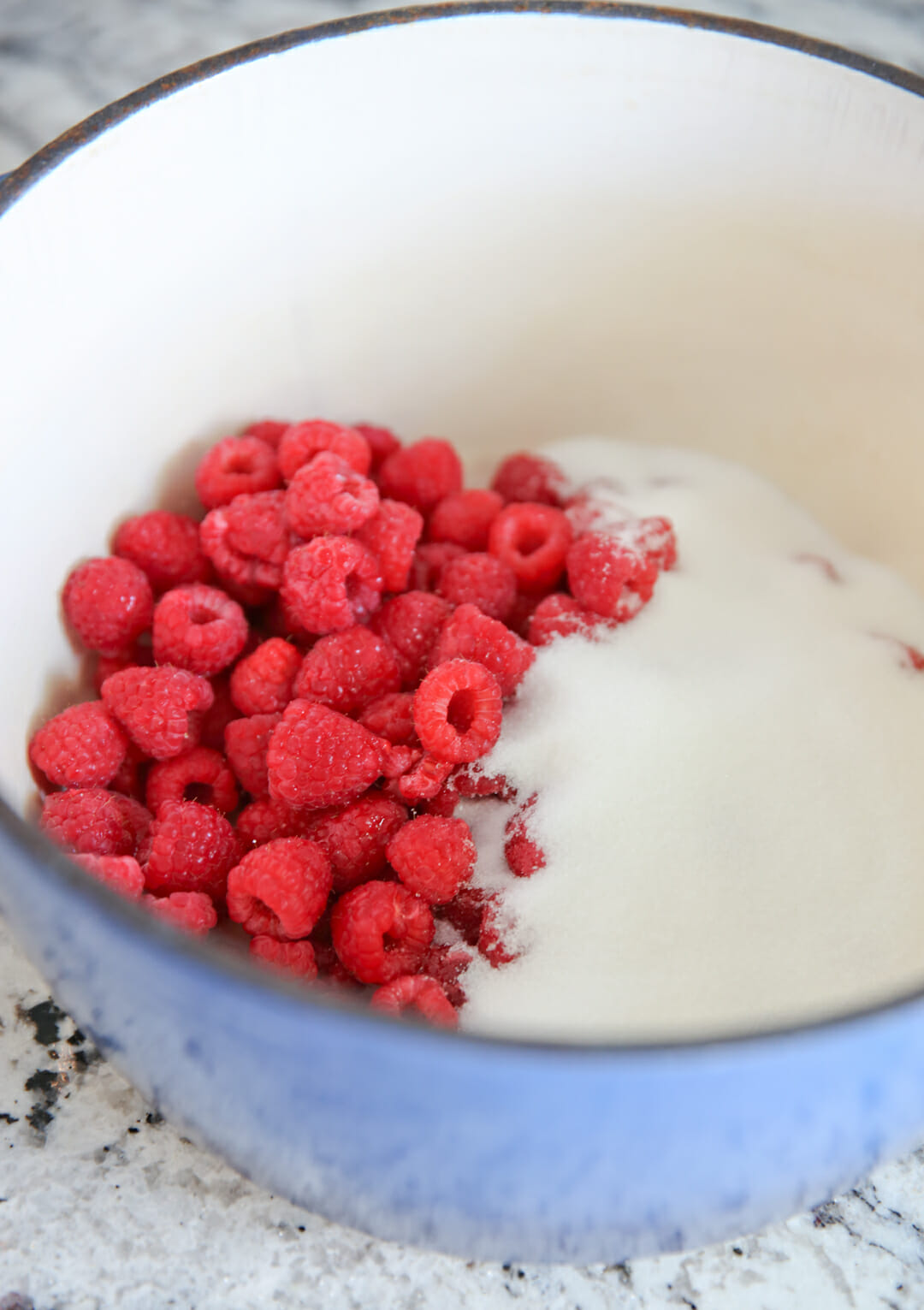 As the sugar melts and the berries release their juices, you'll get a beautiful liquid which will boil away for a few minutes.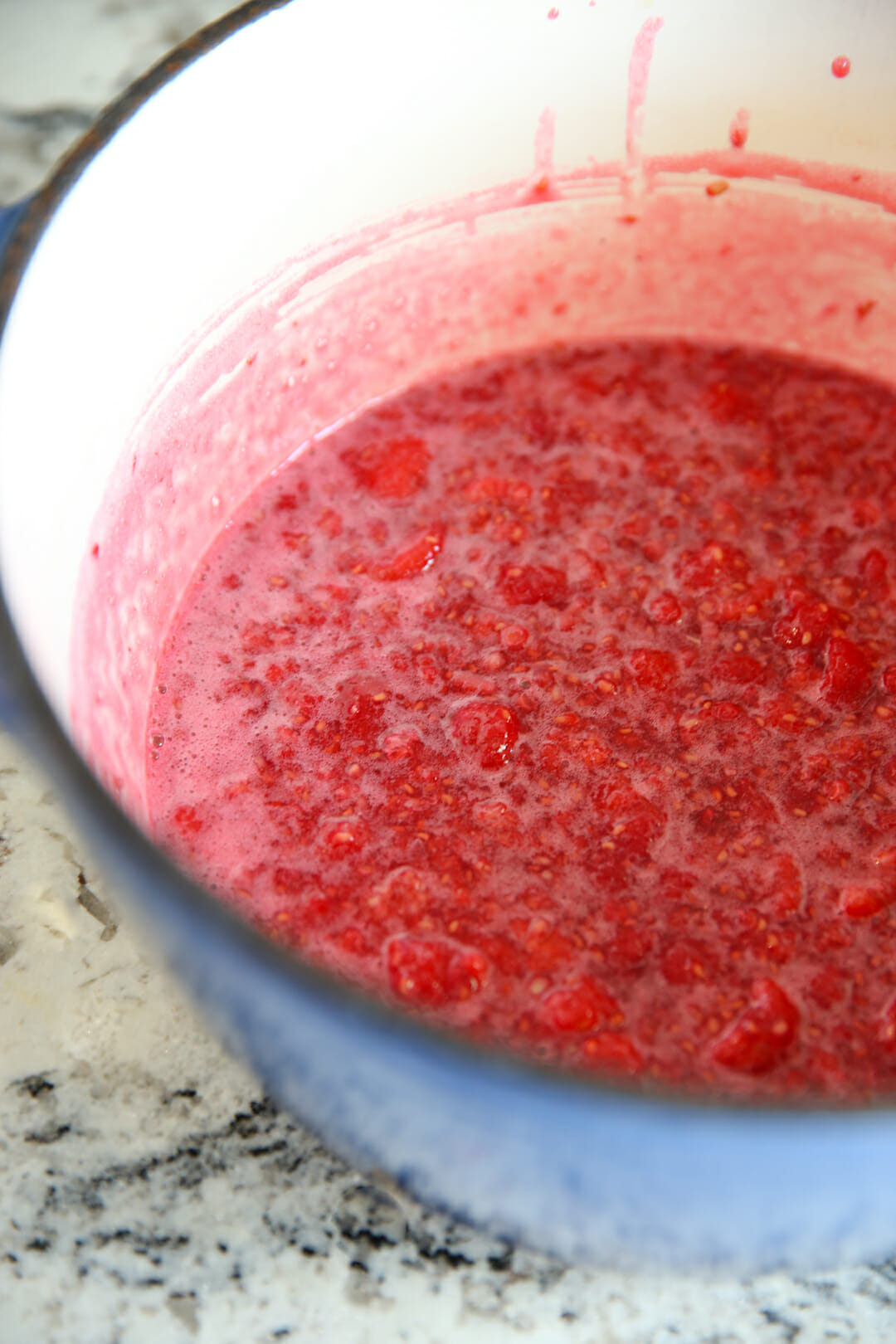 Then you add 2 ounces of bittersweet chocolate. Don't try adding milk or dark or anything else. Bittersweet is the perfect match for both flavor and consistency. The brand that works the very best here is Ghirardelli. I just used the chocolate chips so I didn't even have to chop it up.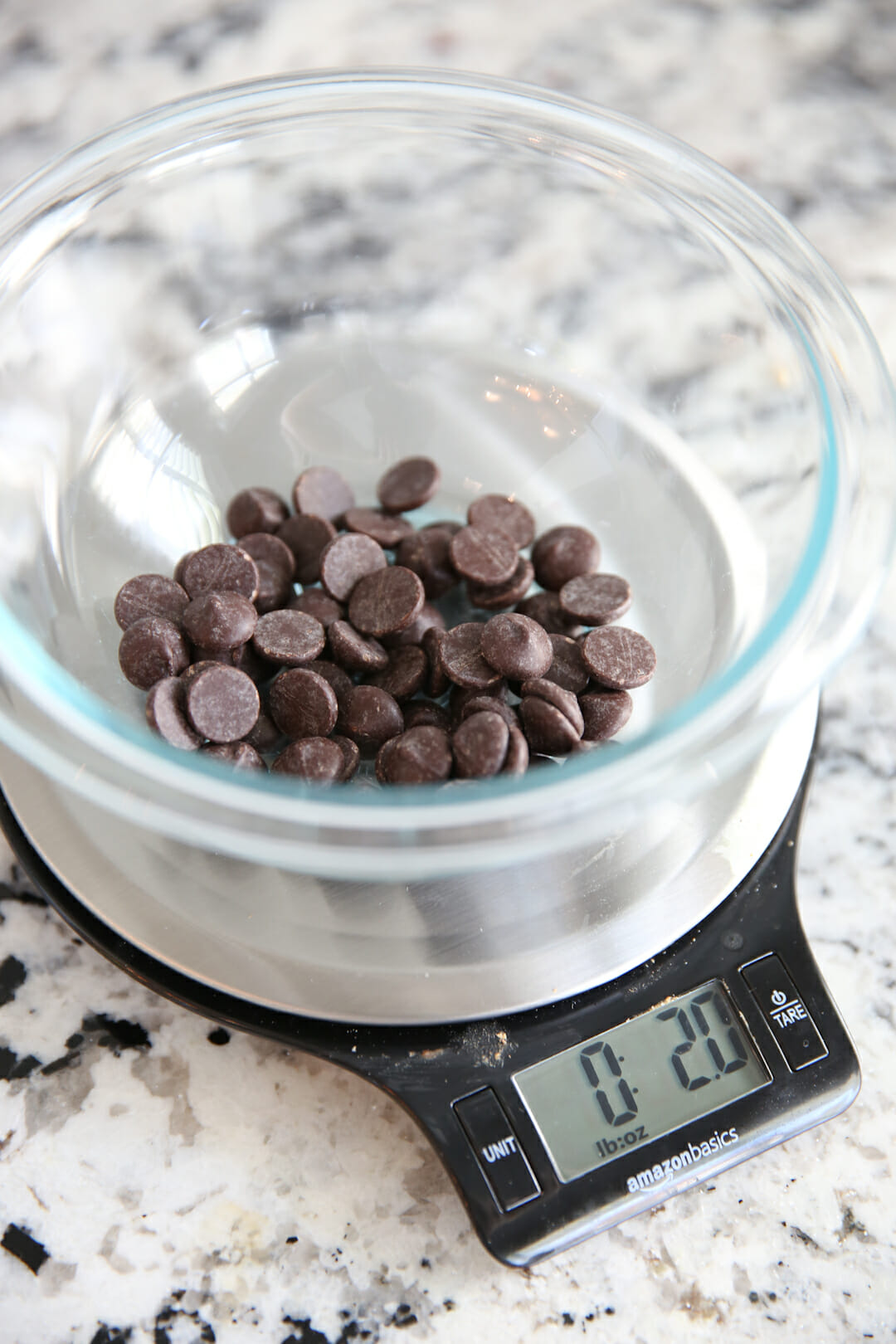 The way you'll test to see if this is done is by dropping a spoonful onto a chilled plate When you can leave a track mark after running your fingers through it, it's done! It only takes a few minutes.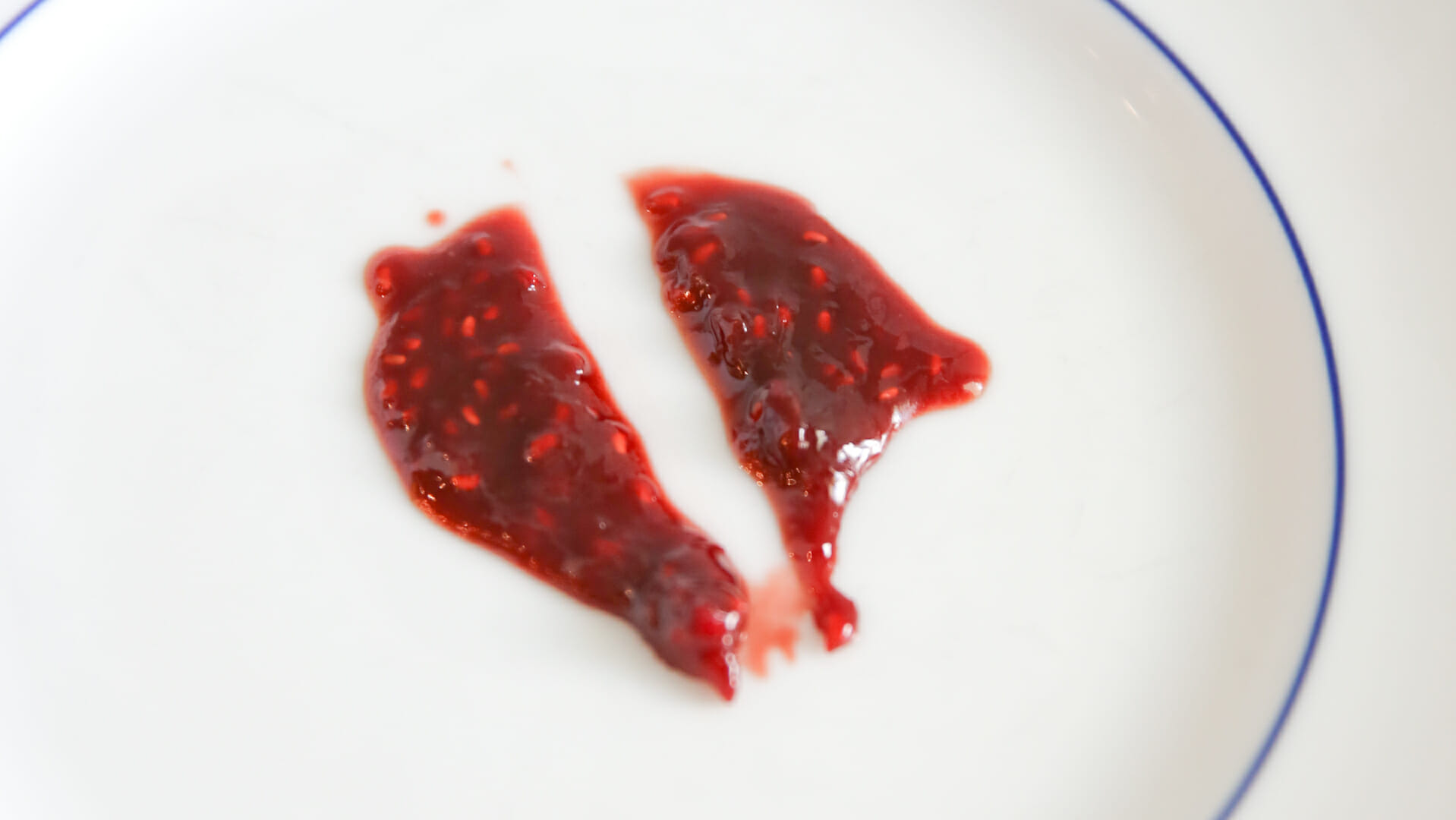 Then pour it into jars. It makes about 2 cups so you can get a couple of larger jars, or 4-5 little ones.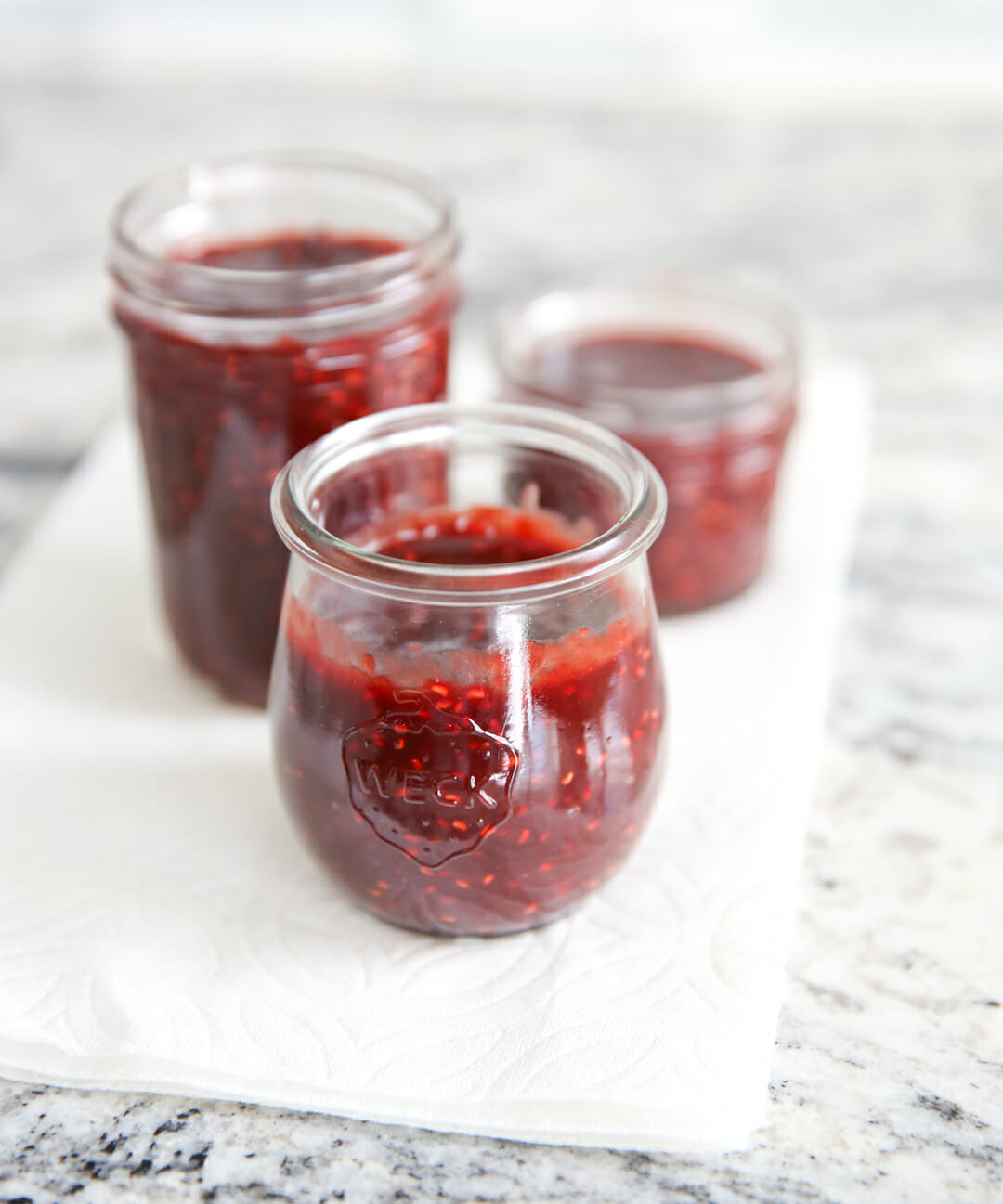 The color is a deep crimson and so gorgeous. It looks like ordinary berry jam, and then you taste it and the chocolate comes right at ya. (I'm eating it here on these amazing Cathead Biscuits).
This is something really nice to gift (if you can part with any of it!) But it does make enough to keep a jar and share a jar. If you do share it in a mason jar, just make sure people know to keep it refrigerated and that it's not actually canned/shelf stable.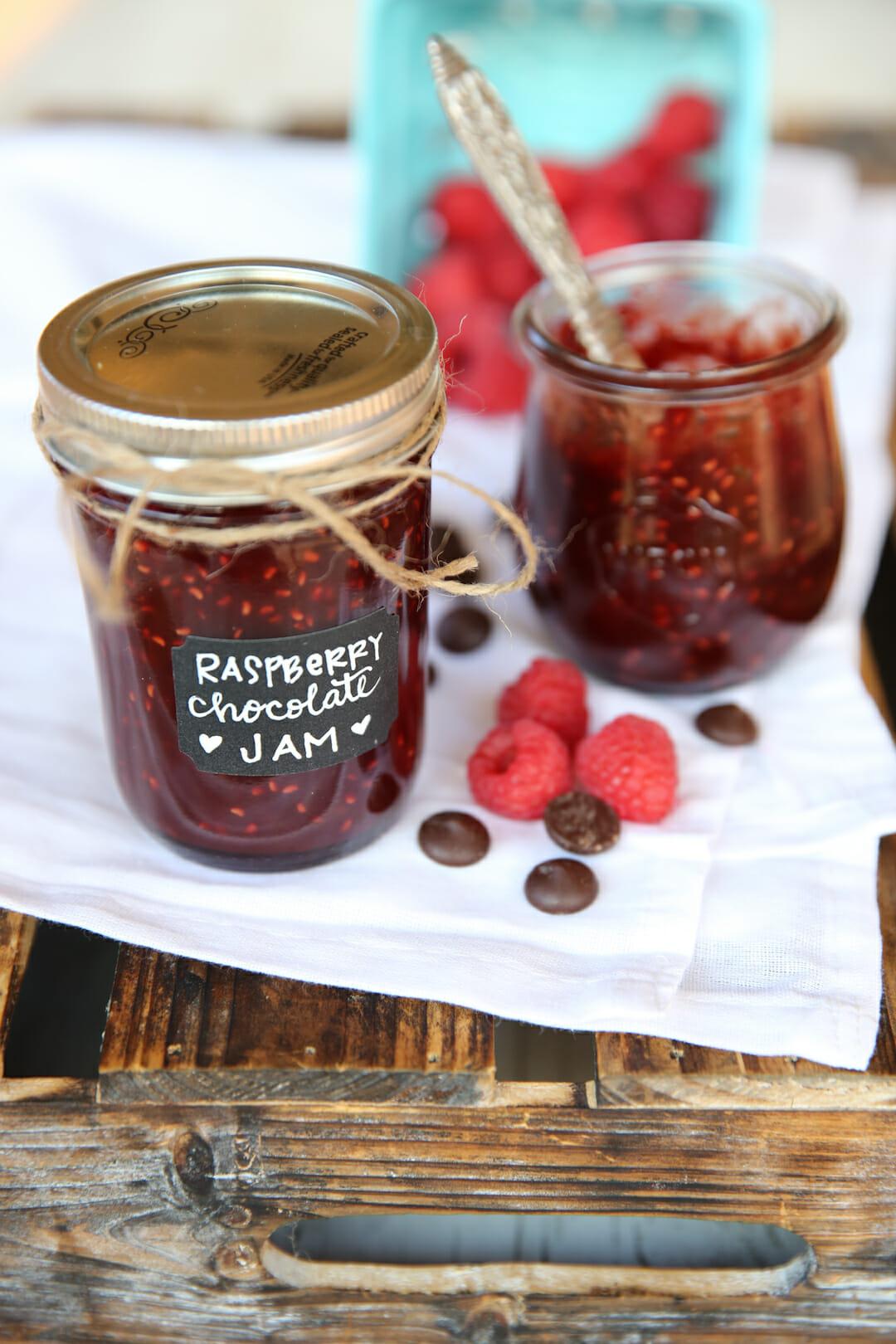 I bet this would be really great with blackberries as well, I might try that next!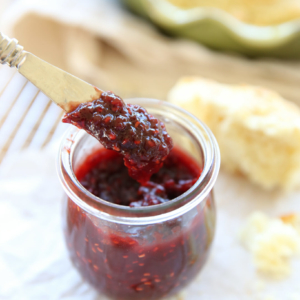 ---
Description
This quick and easy jam is rich and complex in flavor. Fresh rasperries and the perfect amount of chocolate is delicious on toast, waffles, cake filling, pancakes, french toast, scones, or on crackers with a soft cheese.
---
1

pound (3 1/4 cups) raspberries

1 1/2 cups

sugar

1 1/2 teaspoons

bottled lemon juice

2 ounces

bittersweet chocolate, chopped
---
Instructions
Place 2 small plates in freezer to chill. In large saucepan, bring raspberries, sugar, and lemon juice to a boil, stirring often, over medium-high heat. Boil until raspberries have broken down and released their juices, about 5 minutes.
Whisk in chocolate until completely melted, about 1 minute. Continue to boil mixture, stirring and adjusting heat as needed, until thickened and registers 217-220 degrees, about 3-5 minutes (FYI mine took much longer than that to reach temperature). Remove pot from heat.
To test consistency, place 1 teaspoon jam on chilled plate and freeze for 2 minutes. Drag your finger through the jam on plate' jam has correct consistency when your finger leaves distinct trail. If runny, return pot to heat and simmer for 1-3 minutes longer before retesting
Meanwhile, place two 1-cup jars in a bowl and place under hot running water until heated through, 1-2 minutes. Shake dry.
Using funnel and ladle, portion hot jam into hot jars. Let cool to room temperature, cover and refrigerate until jam is set; 12-24 hours. Jam can be refrigerated for up to 2 months.
---
Notes
This jam is not suitable for canning, it is only meant to be stored, refrigerated, in jars. Can be frozen for several months though!
This recipe comes from the book
Foolproof Preserving, by America's Test Kitchen.
This isn't a sponsored post, I just genuinely love this book. It has so many good, solid, basic canning and preserving recipes, along with really unique twists, like this one. And it's all small batch preserving- the only kind I do! You don't need tons of equipment or produce; it's all about just making a few jars at a time. Super easy and manageable. If you're looking for a great book on this topic,
I recommend this one
! Another one of my favorites, also focusing on small-batch canning, is Food in Jars by
Marisa McClellan
. You can see more of our preserving recipes
in our index
, here!
You can follow me on Instagram to see more of what I'm preserving these days. Last night I got a crazy huge load of peaches from my Dad's tree, so I'm all about the peach this week!