Last month I ate at a hotel with a crazy good restaurant buffet.  One of the dishes in the salad bar, roasted pineapple chunks, caught my attention because it combined two flavors I had never thought to pair together: Pineapple and Rosemary (insert puzzled face emoji, here.) Much to my surprise, the flavor of this roasted fruit was amazing. So good that I tracked down one of the cooks in the kitchen and asked how they prepared it!  It sounded really simple and also the perfect pairing for our Rosemary Extra Virgin Olive Oil.  The restaurant served their roasted pineapple chilled, which was fantastic, and I tried mine warm over grilled steak and both were fantastic.  This makes a fun and interesting side dish for summer grilling, or serve it more like a salsa over grilled steak or chicken.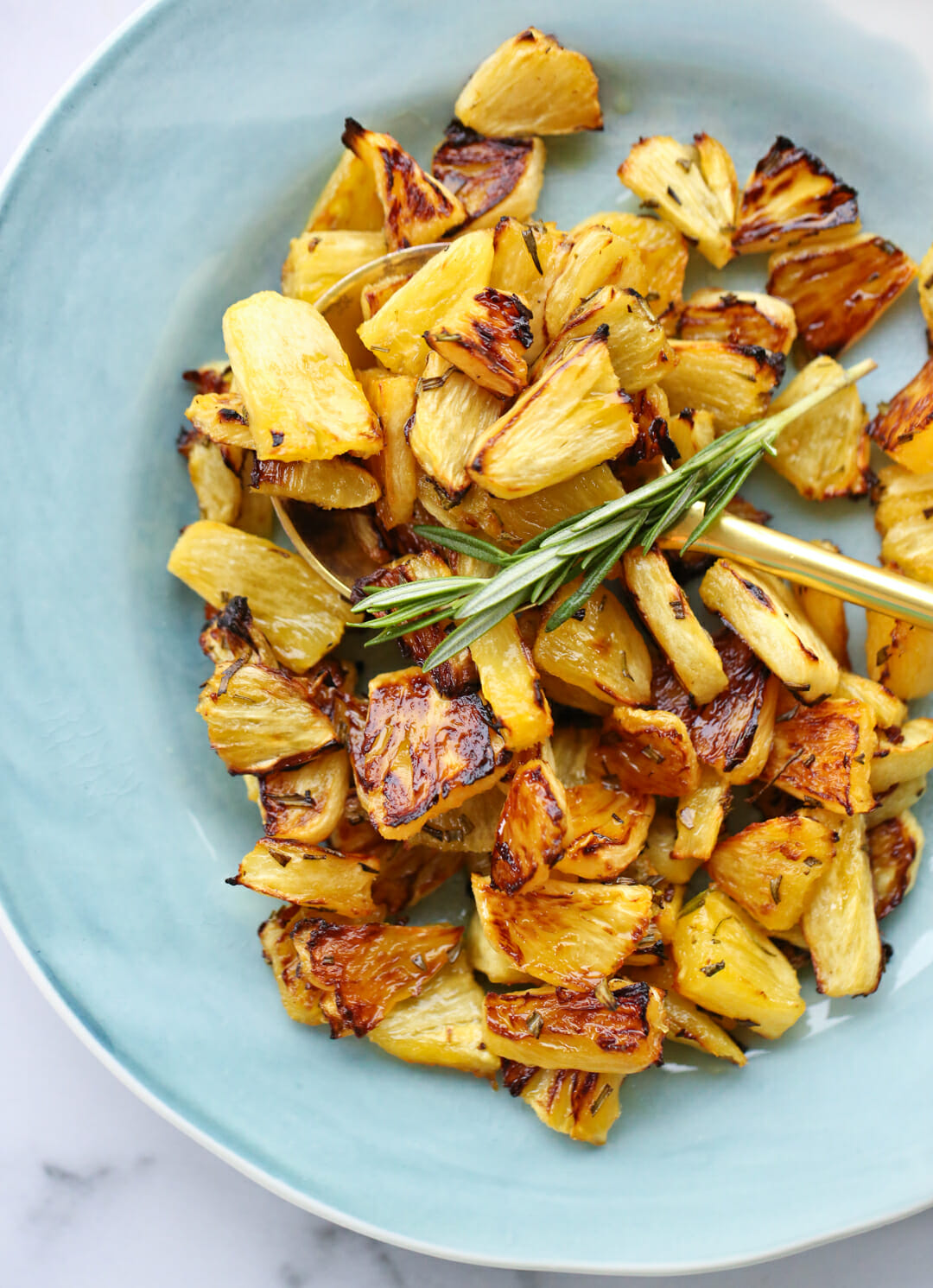 Prepare Fresh Pineapple
You'll definitely want to use a fresh pineapple here, not canned!  Dice it up into pieces that are about 1/4-1/2 inch thick and place on a baking sheet.  Add some fresh rosemary (trust me!)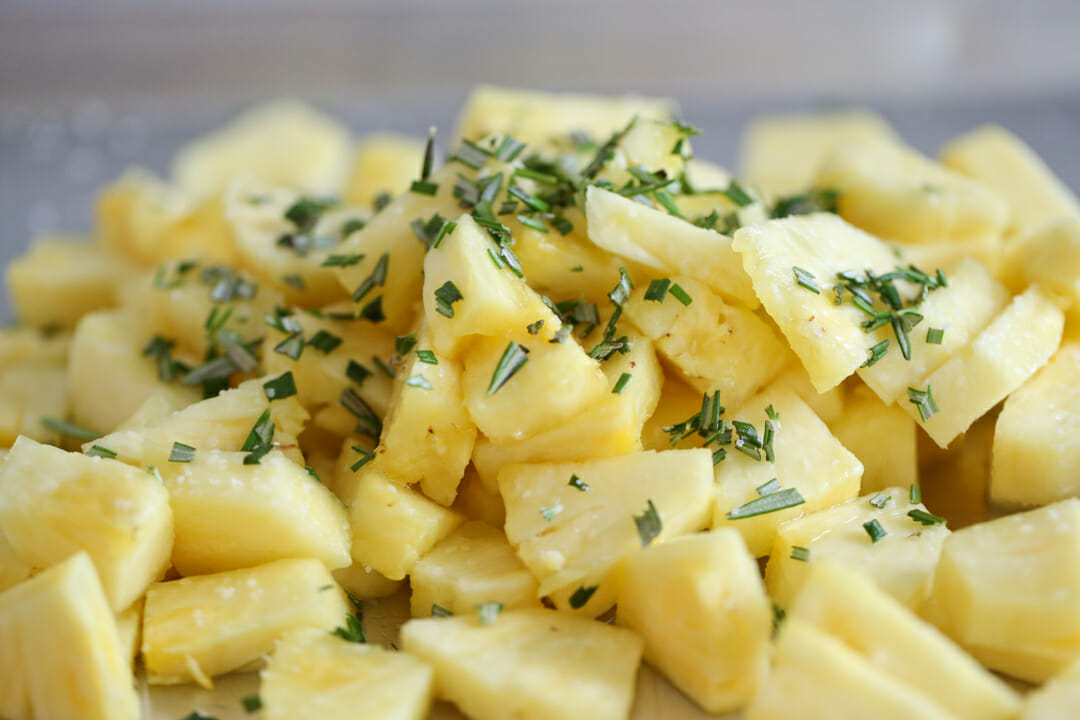 And also some extra virgin olive oil.  Our Rosemary Extra Virgin is SO PERFECT here.  I also sprinkled on a little sea salt.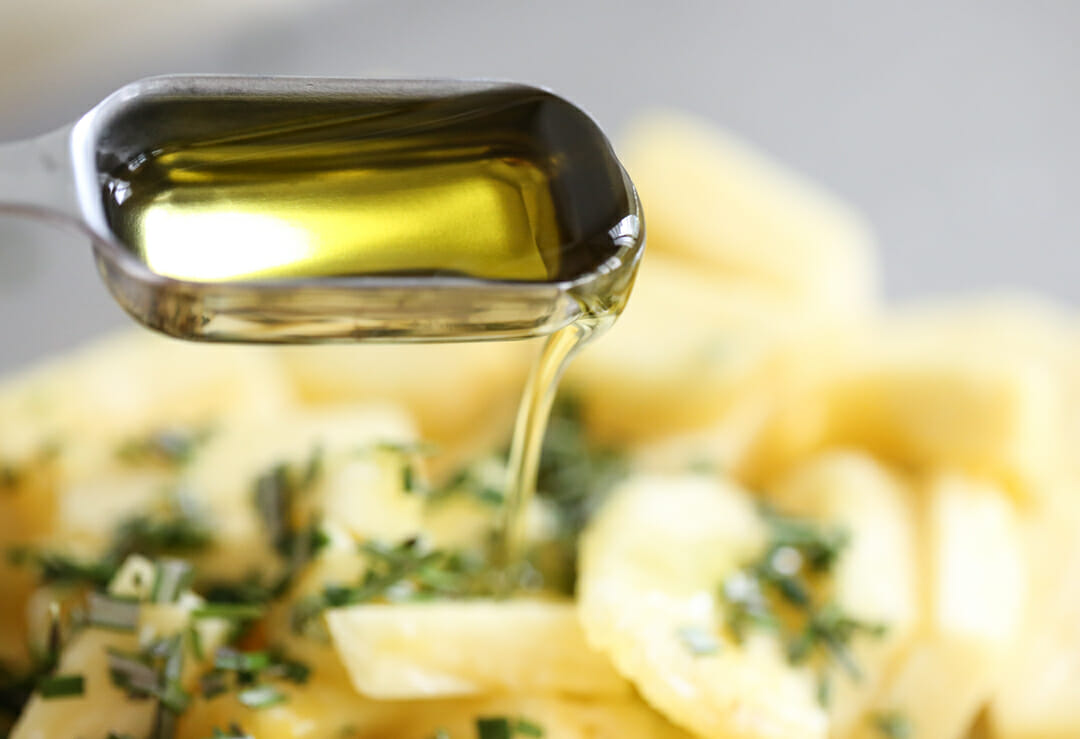 Roast Your Fresh Pineapple
That's it guys.  5 minute prep.  Then roast it in the oven until it gets caramelized.  All of those natural sugars go to work here for an amazing texture and deep caramel flavor.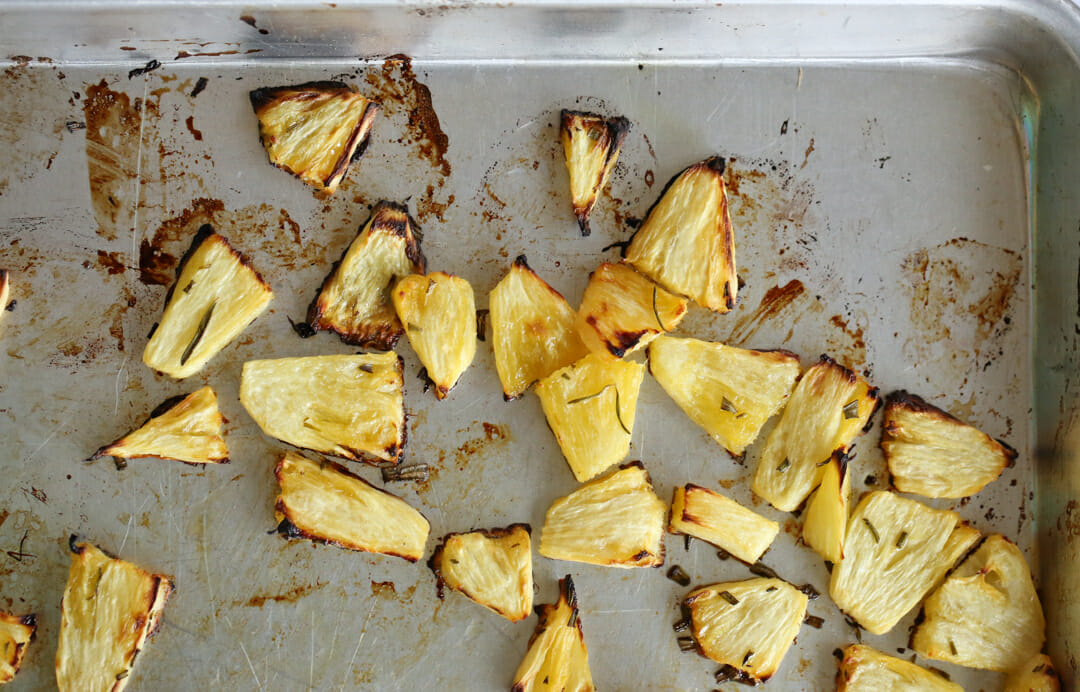 That's it!  So easy.  If you've planted and herb garden and have lots of fresh rosemary to use this year, this is a great recipe to try out.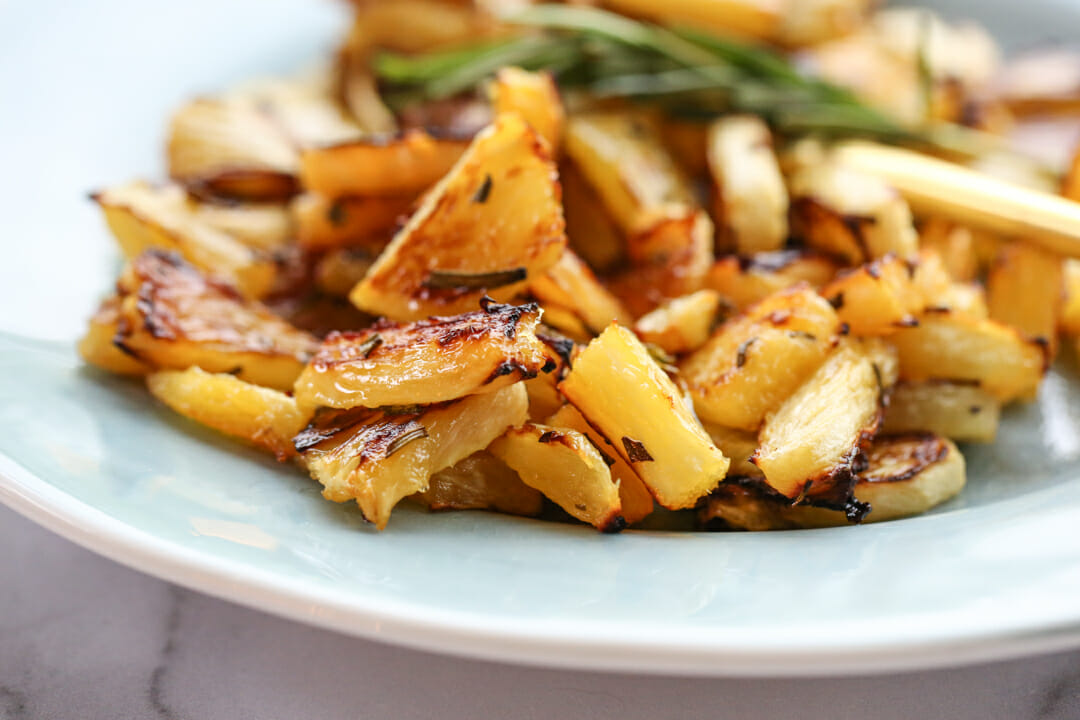 Print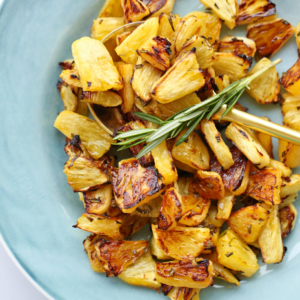 Roasted Rosemary Pineapple
---
Description
A unique pairing of sweet pineapple and fresh rosemary.  Great side dish or served over grilled meats.
---
1 fresh pineapple, peeled and diced into 1/4–1/2 inch thick chunks
2 tablespoons extra virgin olive oil (I recommend this Rosemary Olive Oil)
1 1/2 tablespoons fresh minced rosemary
Sea salt or kosher salt (about 1/4 teaspoon)
---
Instructions
Preheat oven to 425, if you have a convection setting that's what I use to encourage caramelization and browning.  Place pineapple on rimmed baking sheet.  Drizzle with olive oil and sprinkle with rosemary and salt.  Toss lightly and arrange in a single layer.  Roast for 15 minutes and then toss/flip with spatula.  Roast for another 10-15 minutes until slightly golden and charred.  If needed, you can always pop under a broiler really fast to get some color.
Serve warm or cold, as a side dish, or over grilled meat.
---