A while back I posted a tutorial for Candied Lemon Slices, which adorned this amazing (and easy) Lemon Cream Pie. With that same basic method, you can create other sweet delicacies. I needed a fancy little treat for a wedding shower I hosted recently so I candied some lemon and orange slices (I don't recommend the limes pictured- they turned out strange and bitter!) then dipped them in dark chocolate and sprinkled with sea salt.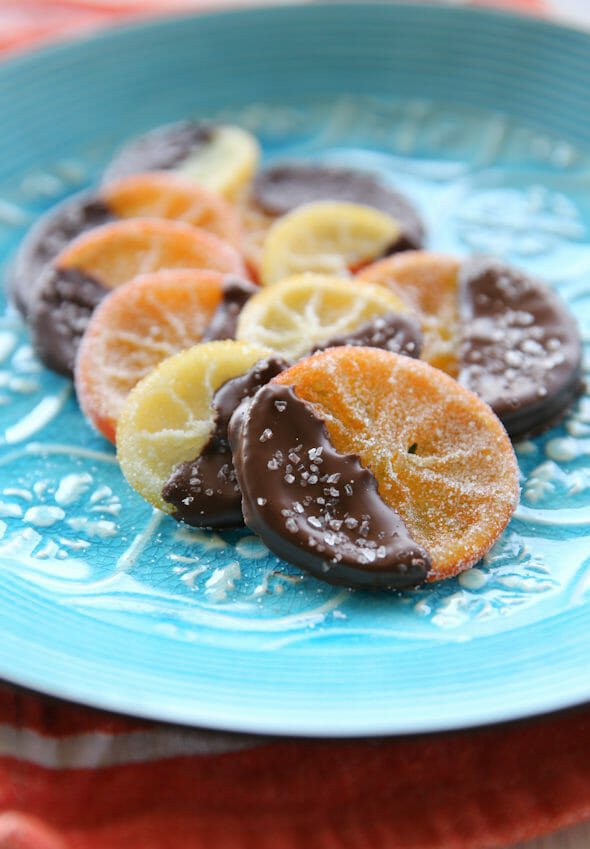 They tasted amazing on their own as a little gourmet confection, and they also looked gorgeous on top of a chocolate cake I made later.
All you need to do is follow the instructions for candied citrus slices. I've found oranges take a little longer than lemons, and I tend to let these simmer for quite a while, until the rinds are very soft, since I plan to just eat them plain.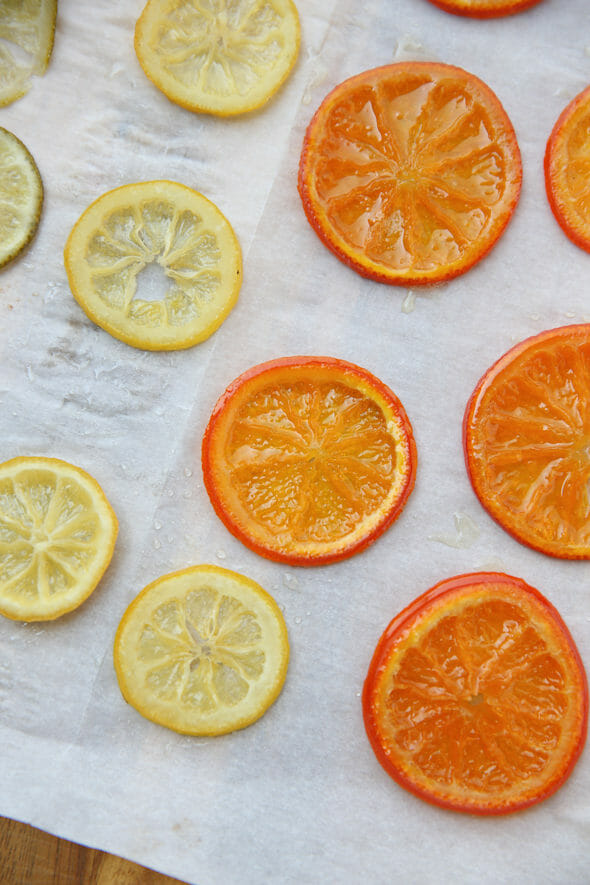 After they dry for a bit, the slices will still be quite sticky and tacky from the simple syrup. To combat that, I like to dunk my slices in sugar (because ya know, there's not quite enough sugar involved here yet).
Not only does it make them easier to handle, it creates a kind of crackly texture,
and a sparkly appearance.
After they get their sparkly sugar dip, I dunked just about 1/3 – 1/2 of each slice in melted dark chocolate.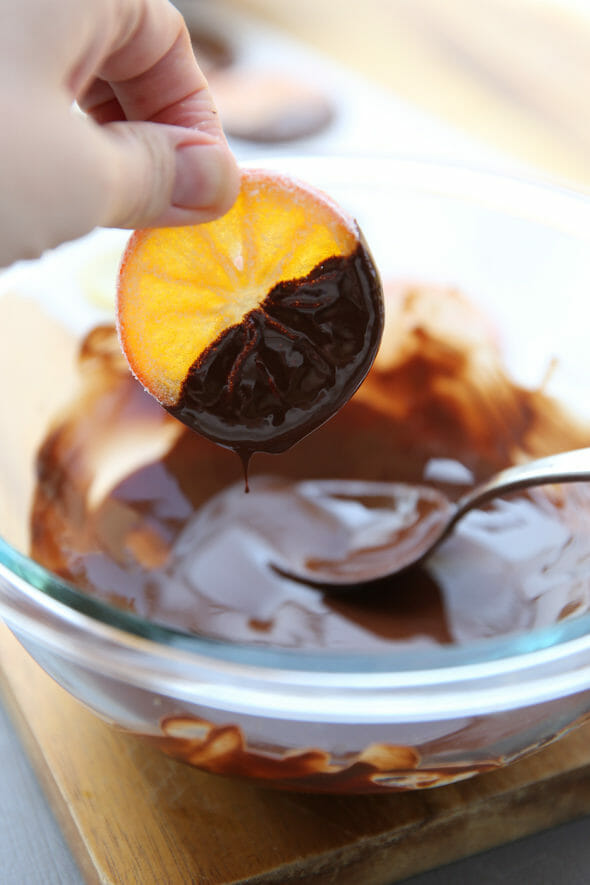 I'll always choose dark chocolate, but it works especially well here since the lemons and oranges are already so sweet.
Lay them on parchment
and before it sets, sprinkle with a bit of sea salt.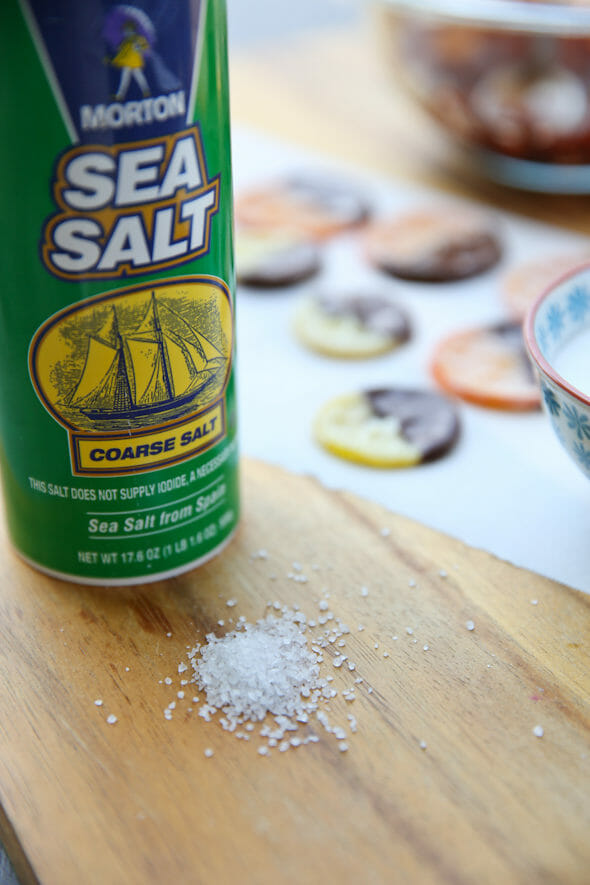 You'll want something nice and coarse so it doesn't sink right into the chocolate.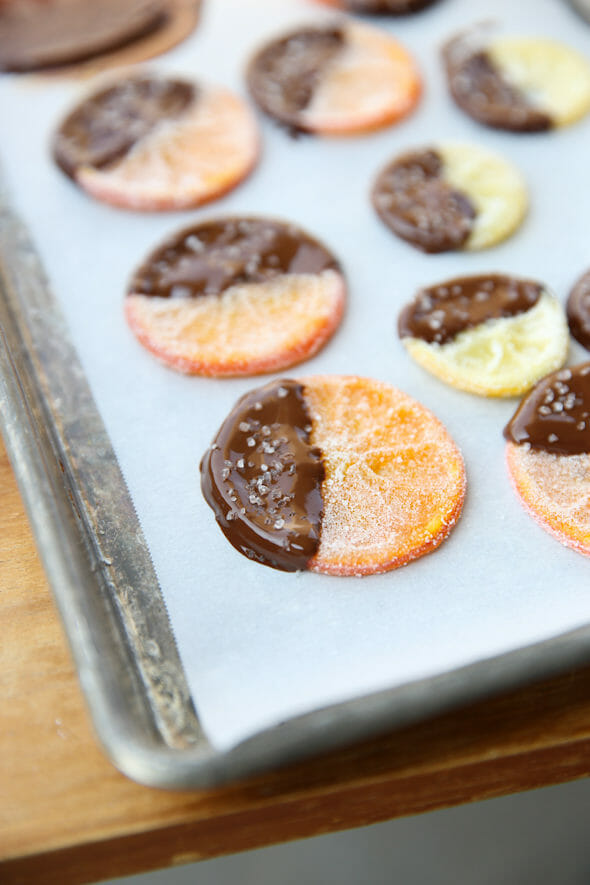 If you want to speed up the drying process, just make sure you start with your parchment paper on a baking sheet so you can pop the pan in the fridge or freezer.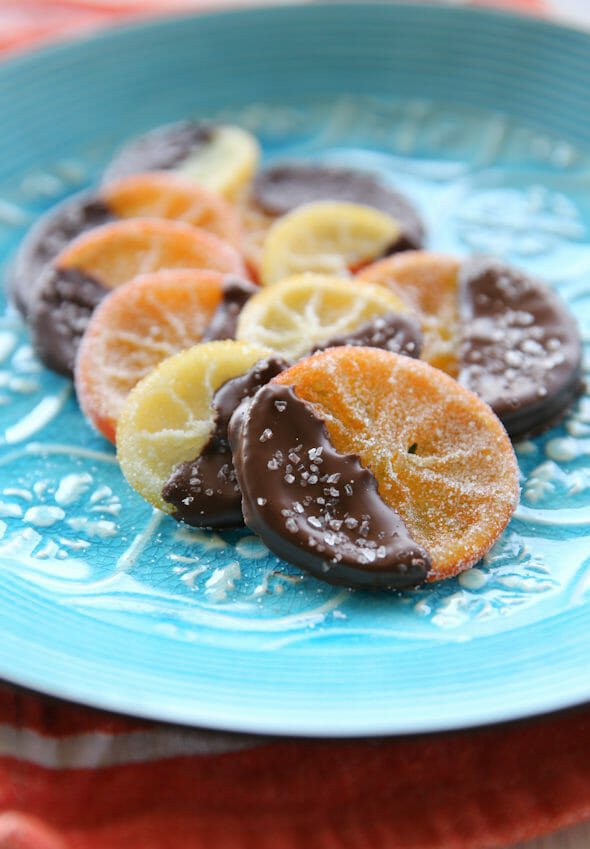 Use these as a beautiful (edible) garnish on a dessert like cake or cheesecake, or simply eat them plain! They'll look like something you would buy at a fancy little candy shop so you can feel fancy eating them 🙂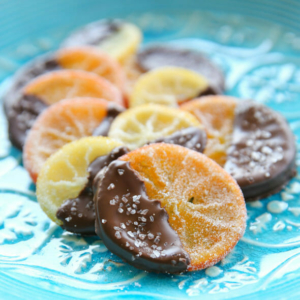 Salted Chocolate Covered Candied Citrus Slices
---
Description
Decadent candied citrus slices dipped in chocolate and sprinkled with sea salt. Makes a beautiful garnish for desserts or a treat eaten plain.
---
2 cups

granulated sugar (plus extra for dipping)

1 1/2 cups

water
fresh lemons and oranges

1 cup

dark chocolate chips

1/4 teaspoon

vegetable oil
sea salt or other coarse salt
---
Instructions
Line a baking sheet with parchment paper and set aside.
Whisk sugar and water together in a wide sauce pan. Bring to a low simmer and stir until sugar is dissolved. Slice citrus into uniformly thin slices, about 1/8 inch thick. Lay in a single layer in the simple syrup and lightly simmer for about 15 minutes, until rinds appear softened and slightly translucent. Carefully remove from pan, letting excess syrup drip off, and lay on parchment at room temp until dry, yet tacky to the touch (they will always be sticky). Place some extra sugar in a dish and dip each citrus slice on both sides so they're completely covered in sugar.
In a small microwave-safe bowl, combine chocolate chips and vegetable oil. Heat in 30 second intervals until melted and smooth. Dip the edge of each citrus slice in chocolate and place on parchment paper. Let chocolate set for just a minute and then sprinkle chocolate with a little sea salt. Let chocolate set completely (place in fridge to speed up process).
May store in the fridge for several days. Dip in granulated sugar for a sparkly look.
Repeat with syrup for as many lemons as you like.
---
Pssssst- did you hear? We have a new Diet Bet starting September 1st! We're so excited for this one this time of year. Kids should be back in school, schedules are getting back to normal, and it's a great time to make some pre-holiday goals to get healthy. We're going to up the pot this time by adding in some of our own prizes, so stay tuned for that! Click here to check it out and sign up!