It wasn't long ago that I noticed a humble little cookie taking over the internet. These Salted Chocolate Chunk Shortbread by Alison Roman (from her new book, Highly Cookable Recipes) were popping up everywhere and while they looked delicious, I couldn't figure out why. Haven't people ever had chocolate chip shortbread? What's all the hype about?
But then curiosity got the best of me and I made them.
And I bit into the heavenly buttery round with a sugar-encrusted edge and jagged edges of giant sea salt flakes as they melted into the oozing chocolate. And then I got it. And I decided I wanted to eat them every day forever and ever.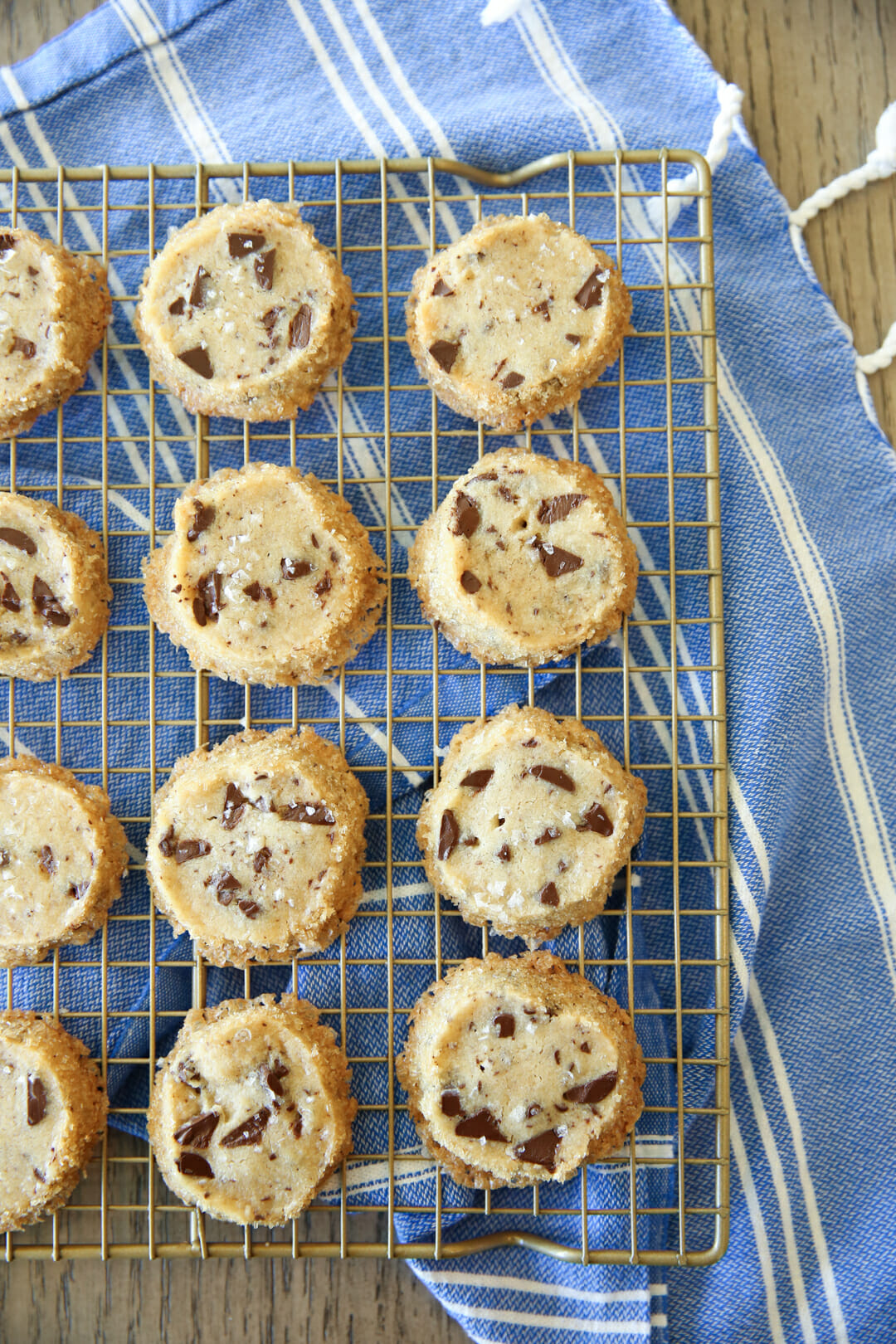 Shortbread is one of the easiest cookies in the world to make. These are just a quick slice and bake cookie, and while they do need to chill before slicing, the dough just takes minutes to pull together. It's important to use real butter, and make sure it's fairly cold before going into your bowl.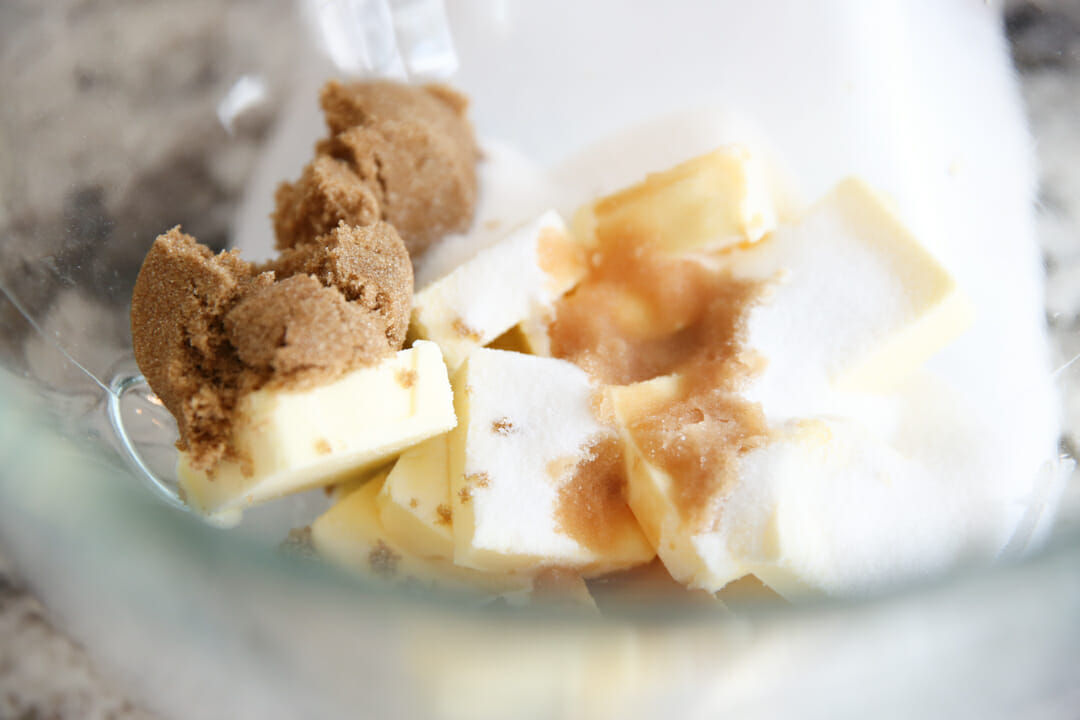 I do really love using chocolate chunks, here as the name suggests. A dark chocolate bar works great and I generally keep a few of those in my pantry for occasions just like this. But if you don't have one on hand and feel like your life is going to enter full crisis mode if you don't make these cookies, then use chocolate chips, but give them a rough chop with a large knife before they go in. Notice all of those little slivers in my photo- they add a really nice texture and make for a prettier cookie, too.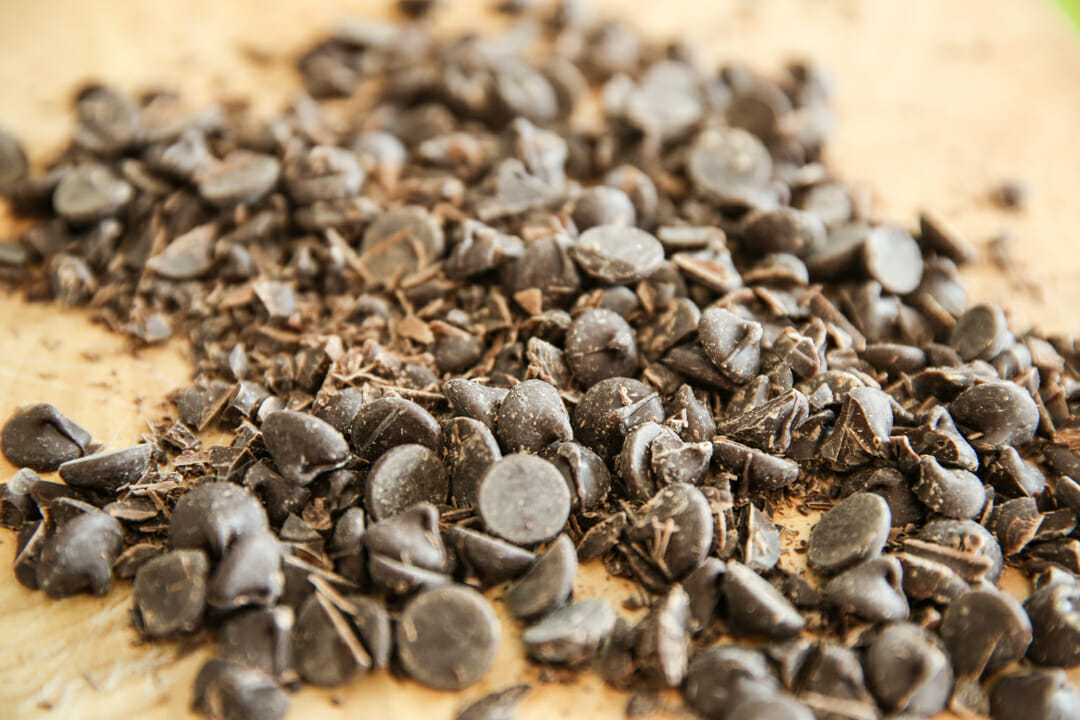 The dough is super quick to throw together and then you'll just roll it up in a log.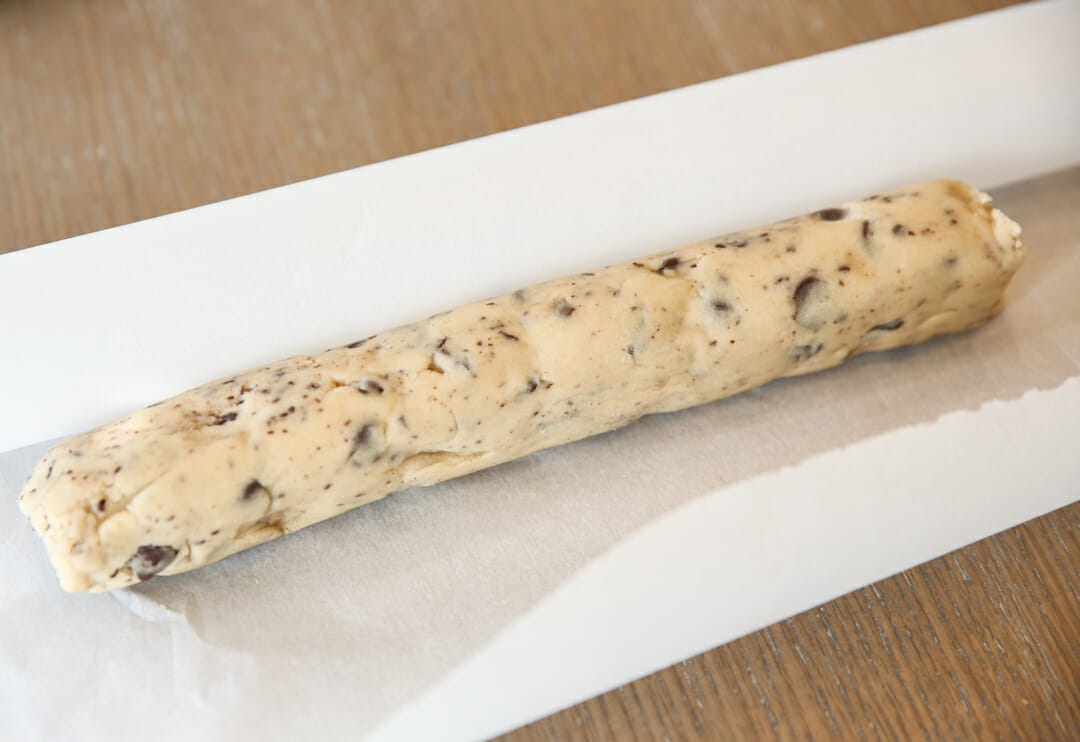 You'll brush that log with an egg wash and then roll it in coarse sugar to create this amazing sugary crust after they're baked. Then it's just slice n' bake.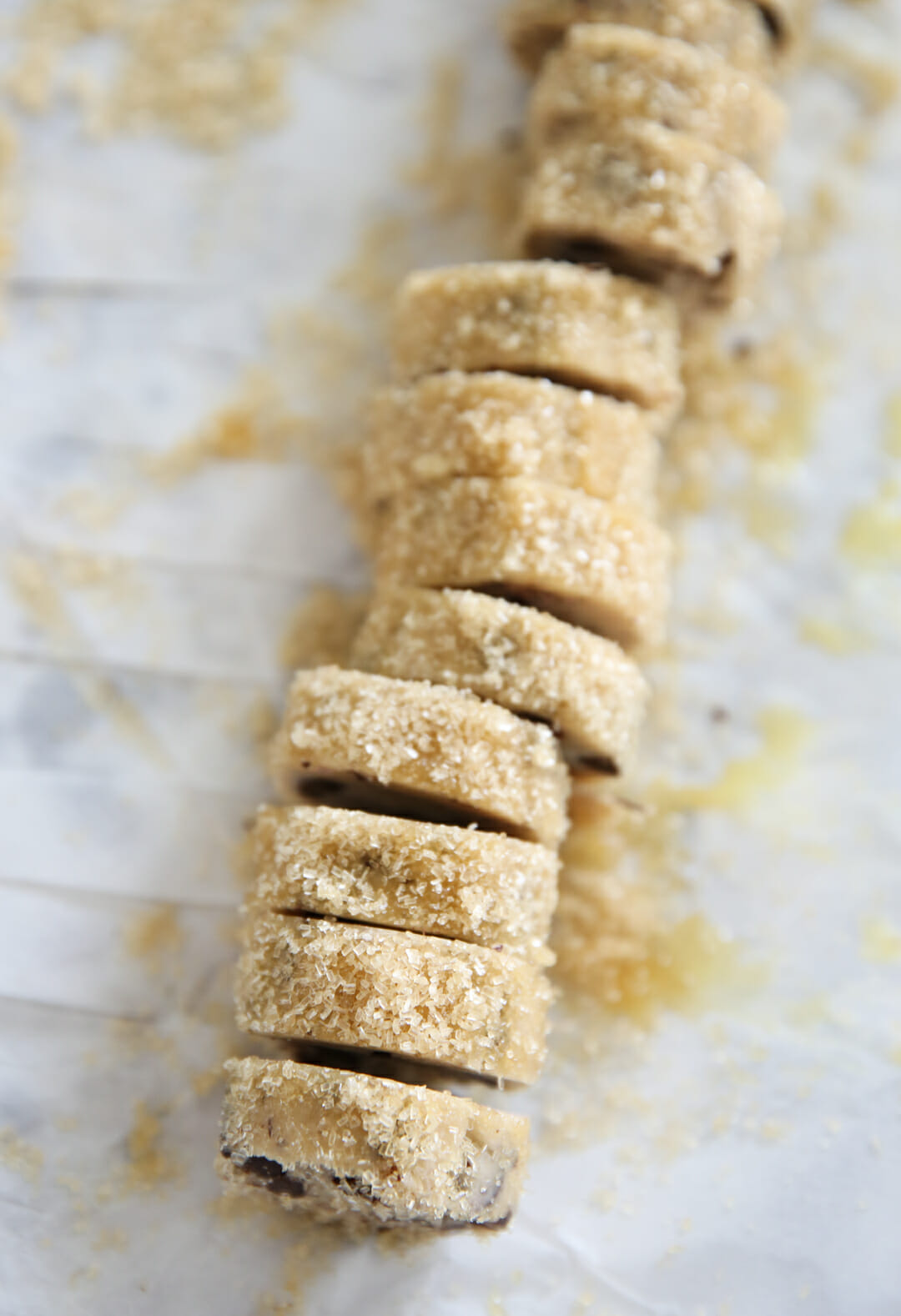 And the final piece are some flakes of sea salt. Maldon is my go-to, always. It lasts forever so grab a couple boxes on Amazon and just keep it in the pantry for stuff like this.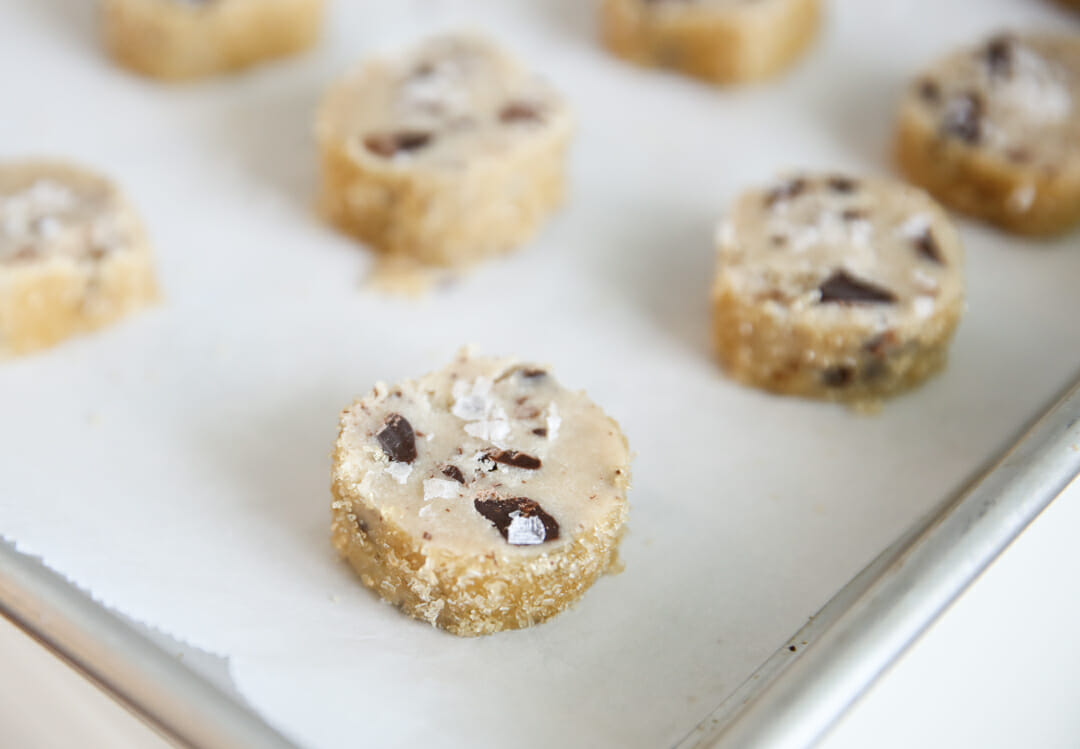 Cook them until they're golden brown and as they cool they'll have a buttery crisp exterior with a slightly soft middle that will turn airy-crisp as they cool.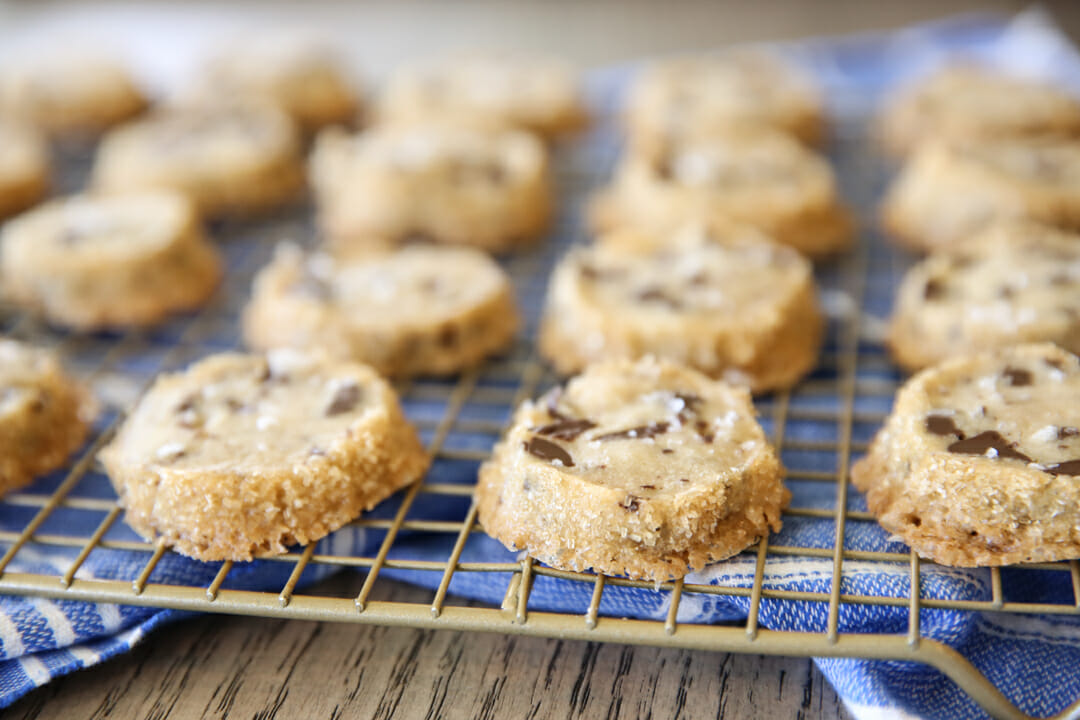 That crackly outer ring is what dreams are made of.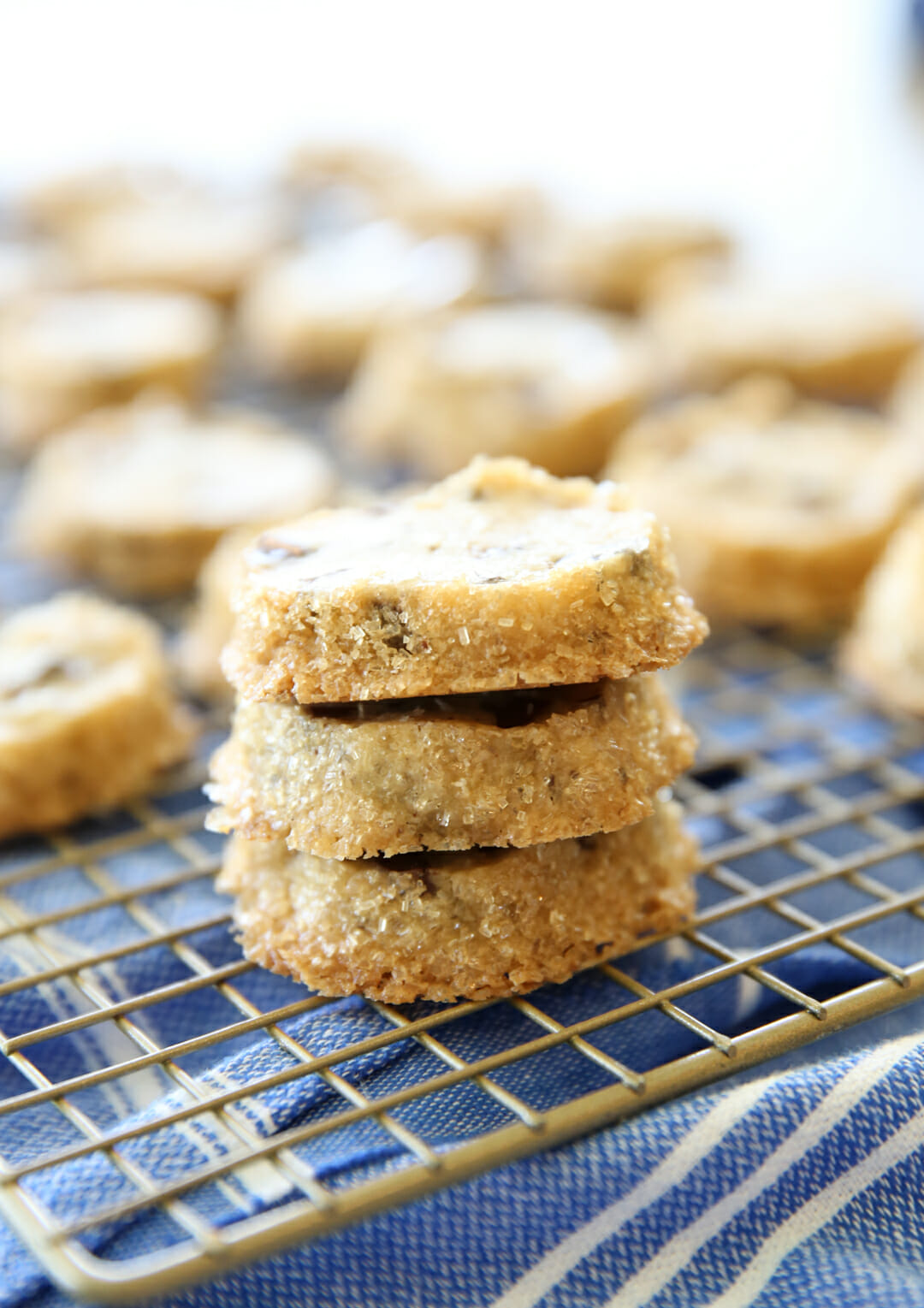 Since these will be lightly crisp they are an especially great choice for packing and stacking. I've made an itty-bitty tiny version too, which are perfect for filling little containers and cute bucket for gifting.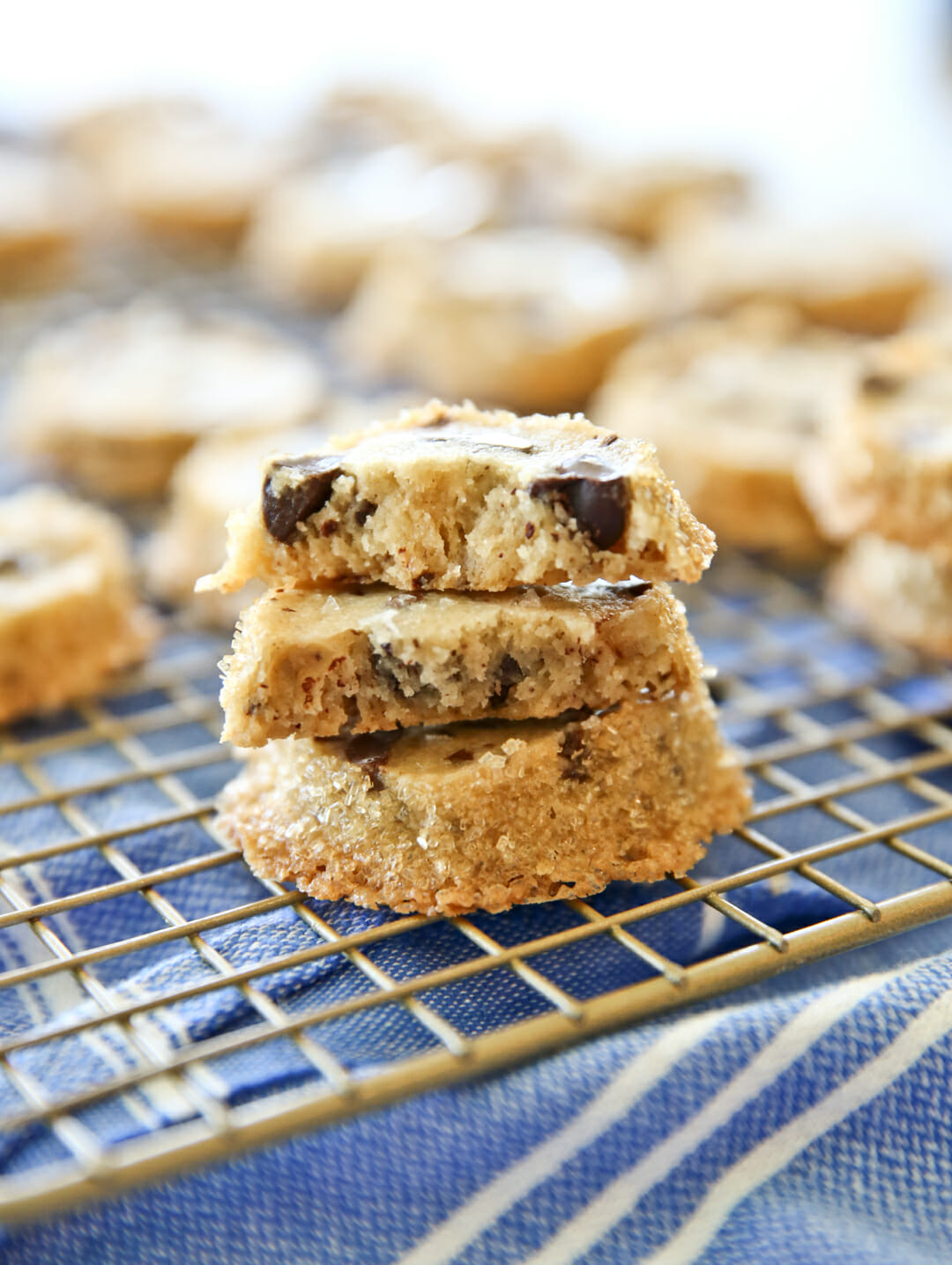 And since you can make this dough and then keep it in the fridge or freezer for several days, it's a great one for mass baking when you need to prep ahead. Kind of an upscale version of the classic chocolate chip cookie. I hope you make it and love it as much as I do! And if you need more cookies- click here for our entire cookie collection!
Print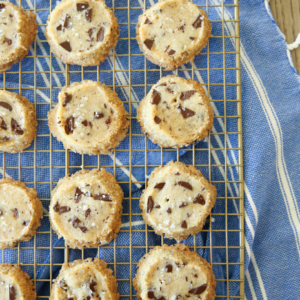 Salted Chocolate Chunk Shortbread
---
Description
The chocolate chip cookie's sophisticated older cousin. Buttery crisp rounds encrusted in sparkling sugar with flaky sea salt and chocolate chunks.
---
1 cup plus 2 tablespoons (2¼ sticks) cold salted butter, cut into ½-inch pieces

½ cup granulated sugar

¼ cup (packed) light brown sugar

1 teaspoon vanilla extract

2¼ cups all-purpose flour

6 ounces semisweet or bittersweet dark chocolate, chopped (but not too fine, you want chunks, not thin shards of chocolate)

1 large egg, beaten to blend

Demerara or coarse turbinado sugar for rolling (

Sugar in the Raw

is an option easy to find in the baking aisle at the grocery store)

Flaky sea salt
---
Instructions
Using an electric mixer and a medium bowl or a stand mixer fitted with the paddle attachment, beat butter, granulated sugar, brown sugar, and vanilla on medium-high speed until super light and fluffy, 3–5 minutes.

Using a spatula, scrape down sides of bowl. With mixer on low speed, slowly add flour, followed by chocolate chunks, and beat just to blend.

Divide dough in half, then place each half on a large piece of plastic wrap. Fold plastic over to cover dough and protect your hands from getting all sticky. Using your hands (just like you're playing with clay), form dough into a log shape; rolling it on the counter will help you smooth it out, but don't worry about getting it totally perfect. Each half should form logs that are 2–2¼" in diameter. Chill until firm, about 2 hours.

Preheat oven to 350°. Line a rimmed baking sheet (two, if you've got 'em) with parchment paper. Brush outside of logs with egg wash. Roll logs in demerara sugar (this is for those really delicious crispy edges).

Slice each log into ½"-thick rounds. Arrange on prepared baking sheet about 1″ apart (they won't spread much). Sprinkle with sea salt. Bake cookies until edges are just beginning to brown, 12–15 minutes. Let cool slightly before eating them all.

Do Ahead: Cookie dough can be made 1 week ahead. Tightly wrap in plastic and chill, or freeze up to 1 month. Cookies can be baked 5 days ahead. Store in plastic wrap or an airtight container.
---
*Also please note, if you have trouble pinning this recipe today, or sharing to social media, we have a little technical glitch giving that issues. It's being repaired so thanks for being patient!