I've lived in the South for 3 1/2 years now and have only eaten grits a handful of times. Granted, I'm not sure grits are as big in Louisiana as they are in the rest of the South, but still, you'd think I'd have eaten grits at least as many times as I've been served squirrel, right? I decided that needed to be remedied and if I was going to eat grits that I might as well go all out and make Shrimp & Grits, one of the most delicious, elegant, down-home, all-around amazing ways to eat grits. And shrimp.
For this recipe, I totally overcame one of my biggest fears: buying the shrimp at a locally owned establishment that exclusively sells seafood (I'm also scared of the butcher). I know, totally terrifying, right? Why the fear, you ask? I think it's because I'm obviously not from here, in a place where people take their seafood and butchered meats very seriously, and I'm afraid of doing/saying something stupid. However, I figured it was kind of lame to go to the grocery store and spend the same amount of money on previously frozen shrimp from Asia when I could get super-fresh shrimp and help support Louisiana's ever-struggling economy. So I overcame my fears and lived to tell the tale.
My shrimp came without heads (thank goodness–I can't handle it when my food looks at me), but they still had their shells, legs, and "veins" (which is a really nice way of saying "intestinal tract," which is a scientific way of saying, well, you know.) As I've discovered in my time here in Louisiana, not everyone deveins their shrimp, and I guess to each their own, but I'm dead serious, shrimp with the "vein" is one of the few foods that I will flat-out refuse to eat. Aside from the fact that I'm eating shrimp poop, un-deveined shrimp are gritty and sandy and totally detract from the sweet, delicate flavor of the shrimp.
I photographed a nice interesting thorough tutorial about how to peel and devein shrimp, but then I didn't want to talk about de-pooping shellfish in my recipe post, so I'm going to direct you over to the lovely Elise at Simply Recipes.
If your shrimp are already peeled and deveined, you can get started on the grits (otherwise, peel and devein the shrimp first).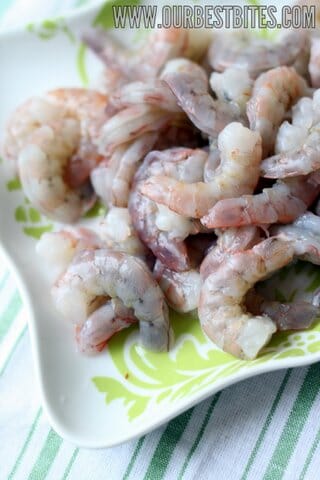 Grits kind of get a bad rap, but I think if you make them and serve them right, they're delicious. Like, for instance, with butter and lots and lots of cheese:
Corn. Butter. Cheese. You can't go wrong.
In a perfect world, we would all use stone-ground grits and cook them slowly over a long period until they were creamy and perfect, right? The problem? If I can't find stone-ground, non-quick-cooking grits right here in the middle of Louisiana, I'm thinking a lot of people are going to have a hard time finding regular grits. So if you use quick-cooking grits, push your shame into that corner where you keep your Diet Coke breakfasts and  Us Weekly magazines and own your grits.
Cook the grits according to the package directions. While they're cooking, you can get the rest of your ingredients ready:
You'll need 6 ounces of regular bacon, cut into bite-sized pieces, some green onions, fresh parsley, fresh lemon juice, fresh garlic. How can you possibly go wrong with those ingredients?
Cook the bacon in a large skillet until browned and crispy.
Using a slotted spoon, remove the cooked bacon from the pan and let it drain on a paper towel. Reserve the bacon grease. All of it. This recipe is not going into our "Healthy Meals" category.
Add the prepared shrimp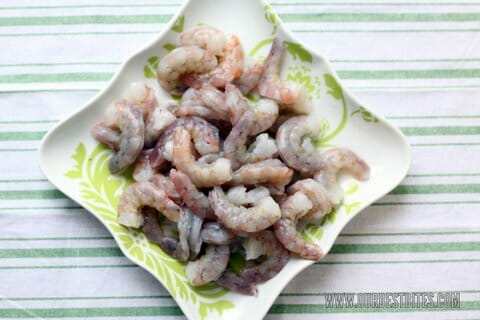 to the hot bacon grease and stir them constantly until they're just starting to turn pink (about 2 minutes):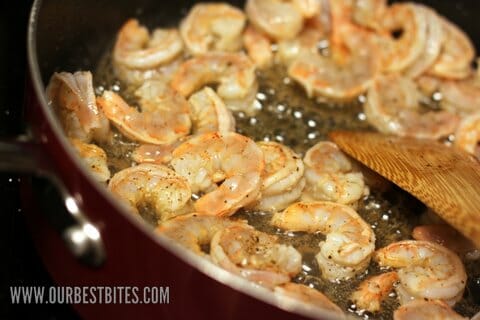 When the shrimp are barely turning pink, add the green onions, garlic, lemon juice, parsley, and cooked bacon and stir-fry for another 2-3 minutes.
When the grits are done cooking, add the butter and cheese and stir until smooth. Ladle the grits into shallow bowls, top with the shrimp mixture (you can also garnish it with a little extra parsley and green onions), and eat it immediately.
It's so pretty that you'll want to serve it with the shrimp on top, but when you go to eat it, be sure to mix it all together. Unless you're my husband, who kept passing off his shrimp to the kids when he thought I wasn't watching (he's hopeless).
Shrimp & Grits
Recipe lightly adapted from Bobby Flay, Paula Deen, & Martha Nesbit
4 c. water
1 c. grits (regular or quick-cooking, but not instant)
3 Tbsp. salted butter
Tabasco sauce to taste
2 cups (8 ounces) shredded sharp cheddar cheese
1 pound shrimp, peeled and deveined
6 oz. regular (not thick-sliced or maple) bacon, cut into bite-sized pieces
1 Tbsp. + 1 tsp. lemon juice
2 Tbsp. fresh chopped parsley
1 c. thinly sliced green onions
2 cloves garlic, minced
Cook grits according to package directions. When you have about 15 minutes left on the grits, cook the bacon until brown and crispy. Transfer the bacon to a paper towel-lined plate, reserving the bacon drippings.
Cook the shrimp in the bacon drippings over medium-high heat until they are just starting to turn pink (about 2 minutes). Add the lemon juice, garlic, green onions, parsley, and cooked bacon and cook for about 3 more minutes or until the shrimp are just pink all the way through. Season with kosher salt and Tabasco sauce to taste (if desired).
When the grits are done cooking, stir in the butter and cheese until smooth. Season with kosher salt and Tabasco sauce to taste. Ladle the grits into shallow bowls and top with the shrimp mixture for serving (although you'll want to stir it all together before eating). Serve with a light green salad to offset the heaviness of the grits. Serves 4-6.