My grand plans for cooking over the weekend (in general, and for today's post) were thwarted by some vicious super-virus that has had me knocked flat on my back all weekend.  My husband was a trooper and has been nursing me back to health, while keeping the house clean, the kiddos out of my bed, and even cooking a fabulous Easter dinner for our company while I stayed quarantined.  I didn't even realize the date until Kate mentioned April Fool's, so I thought I'd re-share this popular post.    Even with short notice, if you do what I do below and grab some unfrosted cupcakes from your local grocery store bakery, these are easy enough to pull off last minute.  Happy April, everyone!
While I often find myself watching re-runs of Punk'd during my afternoon workouts (seriously, I have a million channels- why is there nothing on at 2pm??)  and giggling while some celebrity has an epic meltdown watching their priceless custom made Bentley being destroyed, I'm actually not a huge fan of pranks in my own life.  So you won't find me planning any elaborate jokes on April 1st.  Since my kids are young (6, 3, and 1 1/2) we find it more fun to make April Fools a day of full-fledged silliness.  A day to be goofy, a day to be random, and a day to do things out of the ordinary.  These silly cupcakes are right up our ally. I saw all of the ideas in the fun book Hello Cupcake.
First, a little trick.  Not as in April Fools trick, but as in sneaky-time-saving-I-don't-want-to-bake-or-do-dishes-right-now trick.  I've told you before, but I'll remind you again!  Sometimes I care about having perfectly wonderful homemade cupcakes. Other times it doesn't matter so much.  And while I want them to taste good, I'm really wanting something quick and easy.  Easier than even making a box mix myself.  That's when I head to the grocery store bakery and ask for un-frosted, plain cupcakes.  They always look perfect, they're uniform size, and they actually taste pretty good too.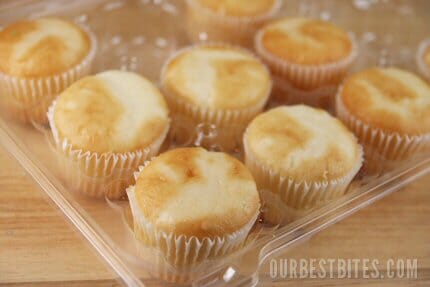 They won't usually have them out for sale, but I've found at just about every bakery (sometimes you need to find the bakery manager) they're more than happy to grab some for you and put a price-tag on them.  I actually keep these in my freezer for when I need to do blog posts like this!
First up- Spaghetti and Meatballs! While you can obviously tell these are cupcakes,when you plate a whole bunch of them together on a platter they really do look like spaghetti!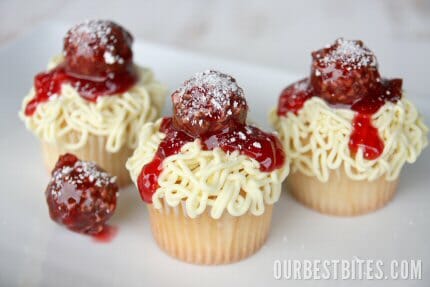 You just need a small round tip on your piping bag (or simply a large zip-lock with the end cut off) and honestly just by squeezing and holding the bag in one spot, the noodles form by themselves that way.  I just held the tip above the cupcake and moved the cupcake around with my hand until the top was covered.  It only took a few seconds.  I honestly though it was so cool I wanted to video it.  Who knew you could make perfect noodles that way?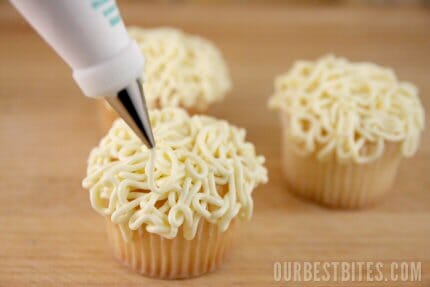 And those meatballs?  One of my favorite treats- Ferrero Rocher (find them in the candy isle at the grocery store).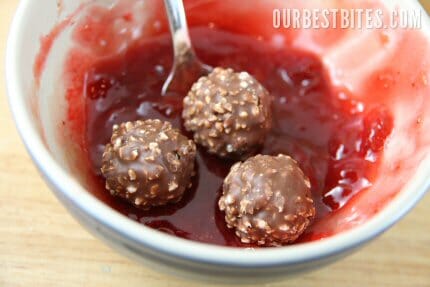 Mmmm just dunk them in a little berry jam.  Warm up the jam and use a whisk to get is smooth and you can always add a little hot water if you need it for consistency.  The "Parmesan" on top is just some white chocolate grated with a cheese grater.  I actually used a piece of almond bark since I had some in my pantry.
Next up- Peas and Carrots.  Honestly, I didn't expect these next ones to look so real.  They totally fooled my kids!  The foil cupcake pan definitely helps.  For the peas just use green Runts, and the carrots are orange Starburst, chopped in quarters. Green frosting underneath makes it so the cupcake doesn't show through.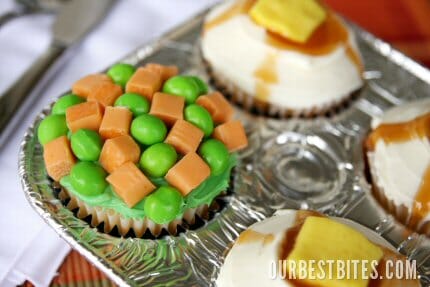 And the Mashed Potatoes!  I think these were my favorite out of all of them.  Use vanilla frosting and leave a little bit of a well at the top.  Add a drizzle of caramel syrup and a flattened out Starburst (Laffy Taffy also works great) and you're set.  My kiddos thought these were hilarious.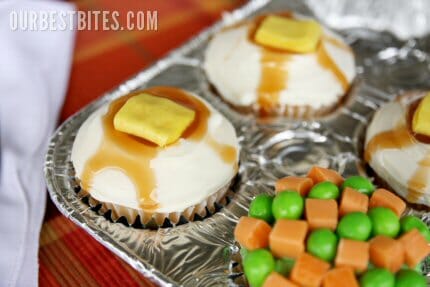 I included these Popcorn Cupcakes just because I think they're super cute 🙂  They'd be really fun for a movie night/party – even in mini cupcake size.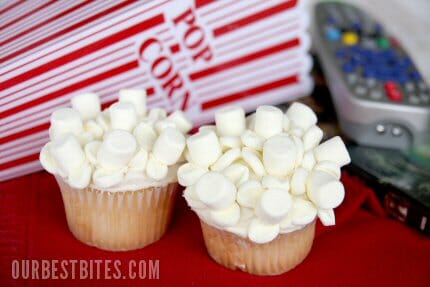 I used the pale yellow marshmallows from the fruit flavored bag, but white would work great too.  You can see below how easy it is to make the kernels.  Just snip a few marshmallows into 3 pieces and then "glue" a regular marshmallow on top.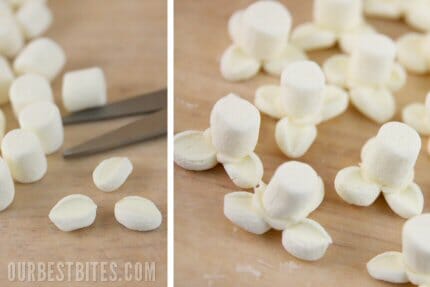 Lastly- this has summer BBQ party written all over it!  Frost 3 cupcakes with pale yellow frosting and use Jelly Bellies for the corn.  You could use a few shades of yellow and white, but works best is the buttered popcorn flavor.  I realize that 98% of the world detests that flavor, but it happens to be my favorite.  Take that, haters!  Top it with a Laffy Taffy or Starburst pat of butter (or um, real butter if your children eat all of the yellow starburst you tell them specifically to leave on the counter where you set them…) and black and clear sugar sprinkles for the salt and pepper.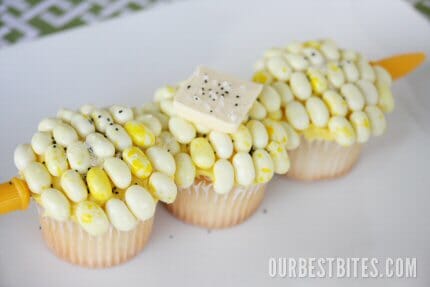 Hope that gives you some silly ideas to play around with on April Fools!  Do any of you have any fun traditions??  I think this year I'm going to do a goofy dinner game where we eat funny food with random utensils or something.  Do share if you have fun ideas!