If you're new around here, one thing you should know about Kate and me is that we don't do very many fancy things, but we love to find un-fancy ways to make it look like we do fancy things.  Fake it till you make it?  Perhaps.  Take tiny molded edible objects, for example.  I am 98% certain you will never, ever find us making fondant and crafting tiny caricatures to adorn a cake people are going to tear apart.  But what I can do?  Roll a starburst between my hands and stick some licorice in it.  Boom.  Fancy.  People will instantly think you have mad skillz when you craft things like tiny carrots.  One of our favorite short-cut tricks for things like this is candy.  And I'm not talking bust-out-the-candy-thermometer candy.  I'm talking like, grab-a-pack-of-something-in-the-check-out-lane-at-Walmart candy.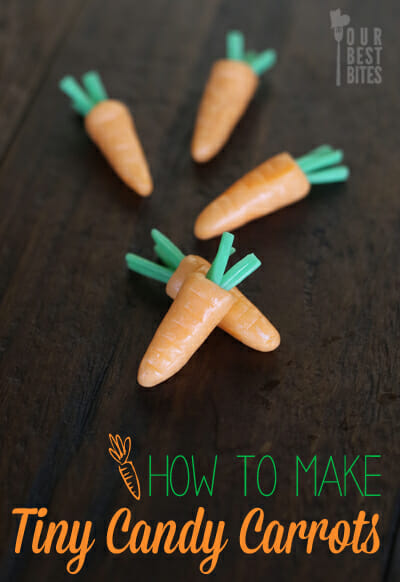 I first made little orange candy carrots years and years  ago, but back then I put little parsley sprigs in the ends for the greens.  They look adorable, but people are always a little iffy about whether they're supposed to eat them considering it's candy with herbs sticking out of them.  Then last year when I was making these cute St. Patrick's Day favors Kate posted, I realized the green Twizzlers would be perfect in place of my parsley.
You can use any orange colored pliable candy, and if you walk the candy aisle you might find more options than you knew of.  I'm using Starburst here, I've also used the orange tootsie rolls (my WinCo grocery store usually sells them in bulk), and orange airheads.  Starbursts are a good size because all you need to do is cut one in half and it's the perfect size for 2 carrots.
Depending on how fresh your candy is, sometimes they can be a little hard.  If that's the case, I've found that popping them in the microwave for just a few seconds (5 seconds in mine) softens them perfectly.  Use your hands to mold them into little carrot shapes.
Then use a skewer to poke down the top of the carrot and make an opening to insert the greens.  I stick the skewer pretty far down there and wiggle it around a bit.
The green Twizzlers are already in little line shapes, so just cut them into small pieces, and take 3 and press them together at one end, and then nestle them in the opening in your carrot.  I think it works best to cut all of the greens first, then make each carrot to completion before starting the next one.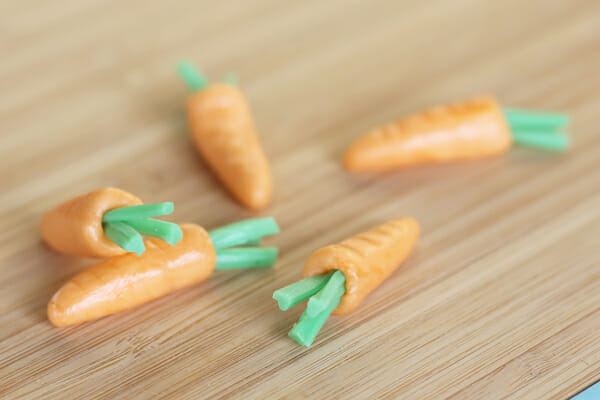 You can gently press with a sharp knife to make little lines down the front of the carrots.
They look super cute adorning a carrot cake (try Kate's Carrot Cake Supreme), or my favorite- on cupcakes that have been topped with cookie crumbs (I saw Disney posted these same carrots and they topped their cupcakes with cinnamon sugar- also cute) for the little garden patch.  I've also topped cupcakes with toasted green coconut for a little springy grass scene.
Any way you do it,  tiny edible candy carrots make just about everything extra cute!
Now stay tuned Wednesday to see what I'm going to do with these next….