Now for today's recipe. I've been so excited to share this one with you guys.  We have a really popular recipe in our healthy cook book, "400 Calories or Less" for Creamy Chicken and Vegetable Soup.  I wanted to create a cream soup base that was high on flavor but low on calories, yet still had substance and heartiness to it.  I nailed it by incorporating pureed cauliflower.  The last time I was making that soup for dinner I wondered if I could do the same thing with a cream sauce, and sure enough.  My whole family loves this and it's kind of amazing, really.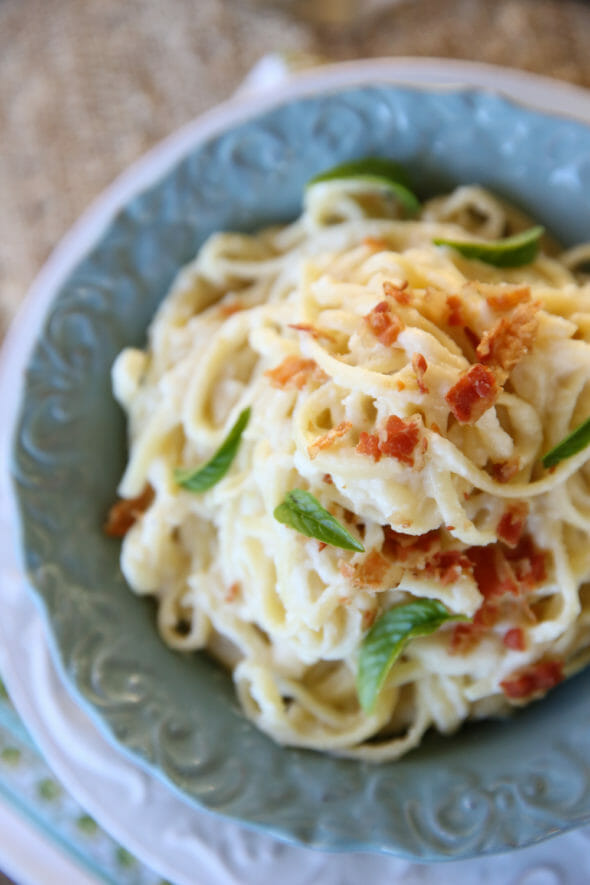 Let's be clear though; it is made with a vegetable.  So it's not going to taste just like butter and heavy cream, ya know?  I'm not claiming that it does.  I am claiming that you will be surprised at how good it is and that there's a good chance your family will love it too.  My true test is always my kids.  I have four boys ranging from age 1 to 10 and I always see how they react before sharing recipes here.  I didn't say a word about what was in this sauce to them or my husband and all 5 of them gobbled it right up and asked for seconds.  So that was that.  If you are trying to incorporate more vegetables into your diet, or just trying to eat a little lighter, this is a great recipe for you!
Start with a pound of roughly chopped cauliflower and pop it in a pot of simmering chicken broth.  Veggie broth would work fine too; I just like to use broth in place of water because it adds flavor.  If you're going to use water for any reason, I would make sure it's got a hefty spoon of salt in there.  All of that liquid is being absorbed into the cauliflower so it's important to flavor it!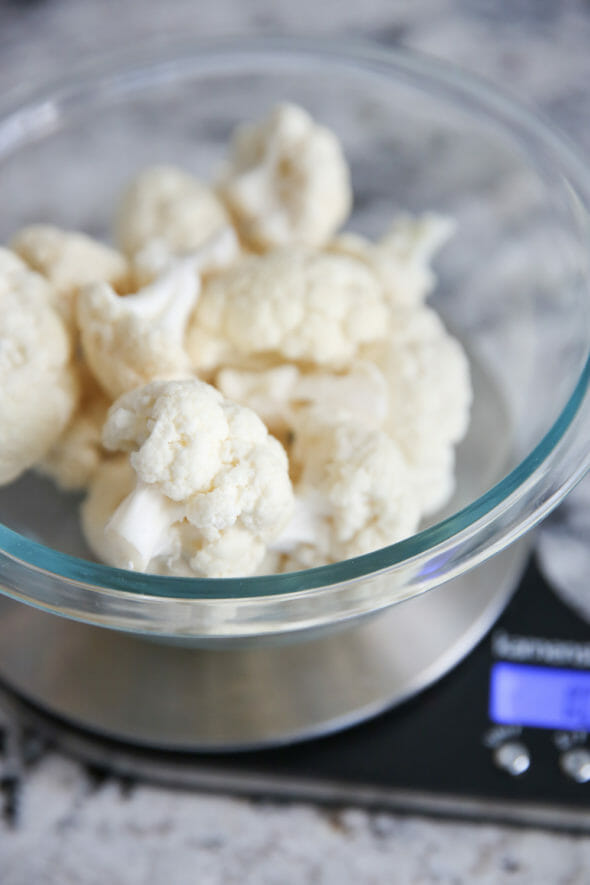 You'll need something to wiz this up.  A food processor or blender works great.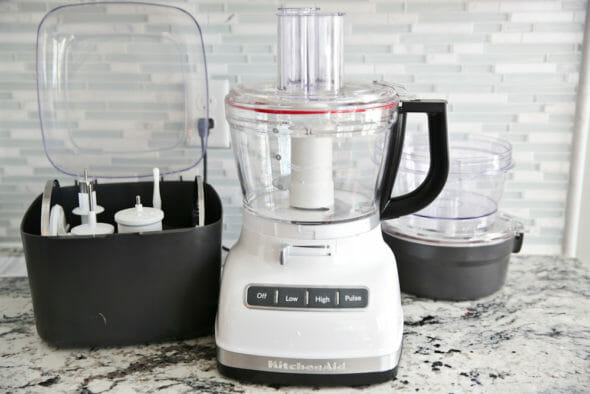 After the cauliflower is tender (only takes about 5-6 minutes) strain the liquid out into a bowl, pop the cauliflower into your food processor or blender, and then drizzle a little olive oil into your pot with some minced garlic.
Sauting the garlic brings out the flavor and mellows the bite just a bit.  It only takes a minute or less and then you'll add all of the garlic, along with the oil from the pan, to the cauliflower.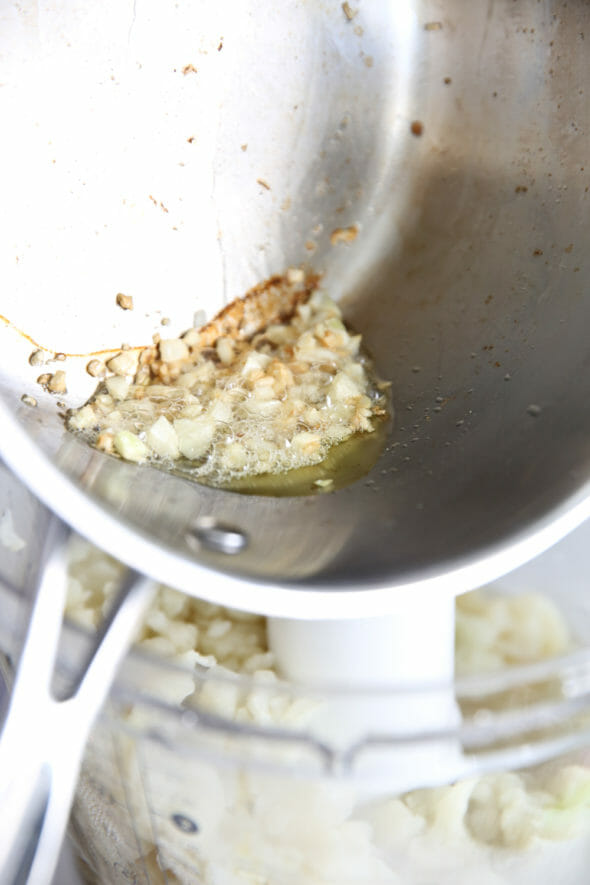 You'll also toss in some kosher salt and onion powder.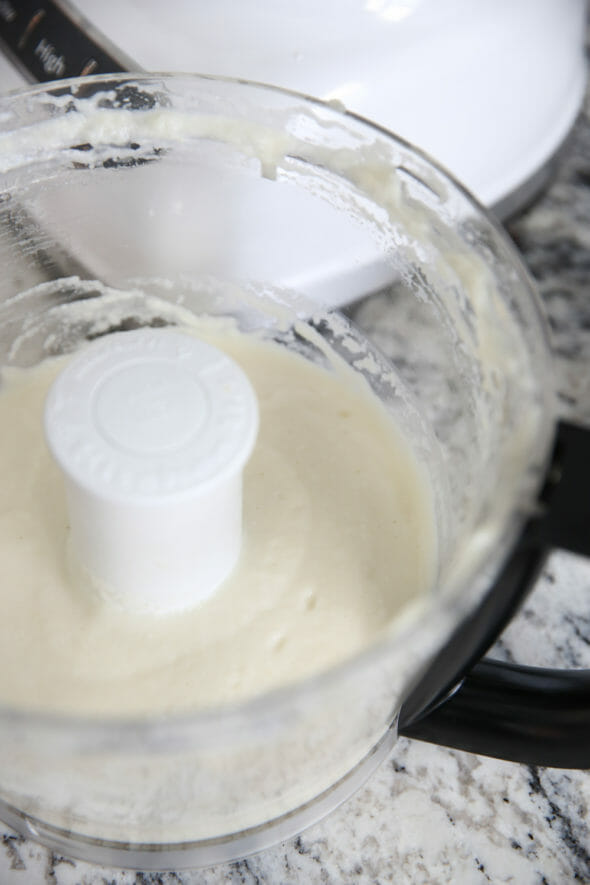 And can't forget the cheese.  I add in 1 ounce of low-fat cream cheese.  I feel like even just that small amount adds a creamy texture and deepens the flavor by just enough.  Someone in the comments suggest Laughing Cow cheese and that is a GREAT idea!  I bet the garlic herb one would taste super yummy and they are light on calories.  And also a little Parmesan cheese.  For both cheeses, in order to keep this sauce light, I add the smallest amount you can get away with while still achieving good results.  Meaning- if you don't care about the calories as much, feel free to add more cheese to taste.  Obviously the more the better, like- the more cheese you add the less cauliflower you taste, haha.   You can also leave out the cream cheese if you don't have it or want it.  I like it best with both cheeses.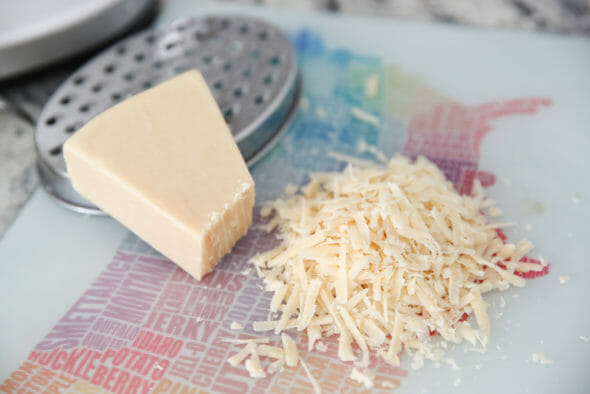 Blend it all up until smooth and creamy and then adjust salt to taste.  At our house we love this on pasta in alfredo-type dishes.  I'll toss in some grilled chicken, or serve it over tortellini.  And my husband and all 4 of my kids love it!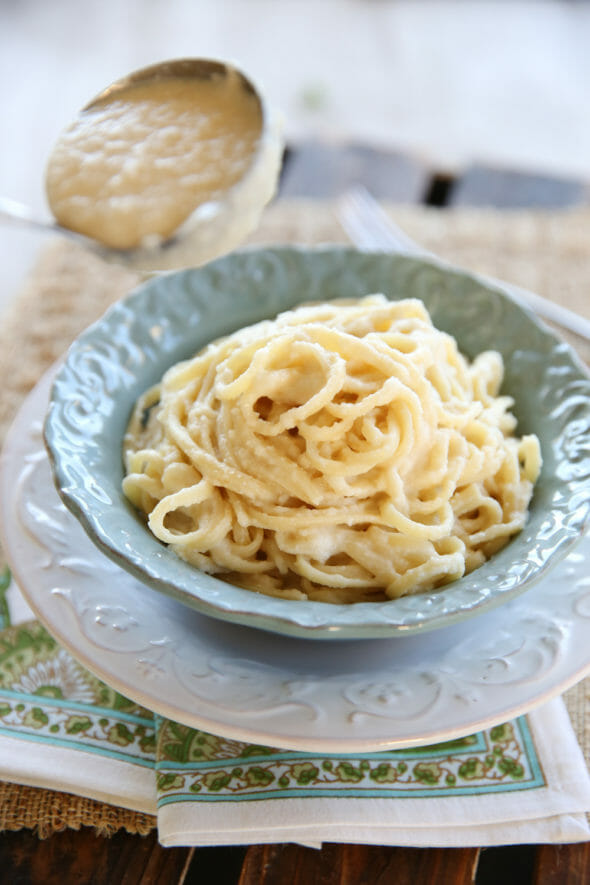 Fresh basil and crumbled bacon is another favorite combo.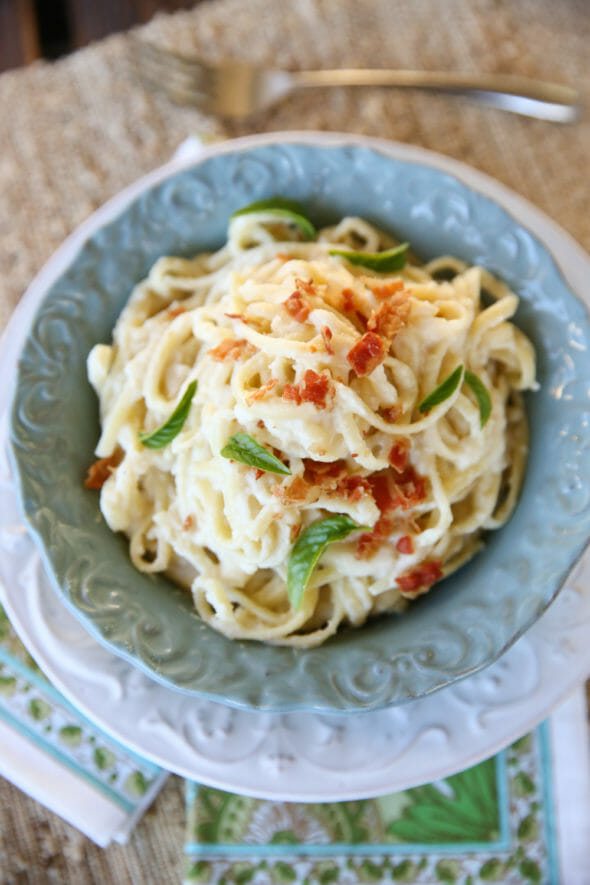 And if you want to really be healthy and up your veggie count, try it over Zoodles or Roasted Spaghetti Squash.
My sauce in these photos has a little texture to it, but you can blend it more and it becomes silky smooth, just like any normal cream sauce.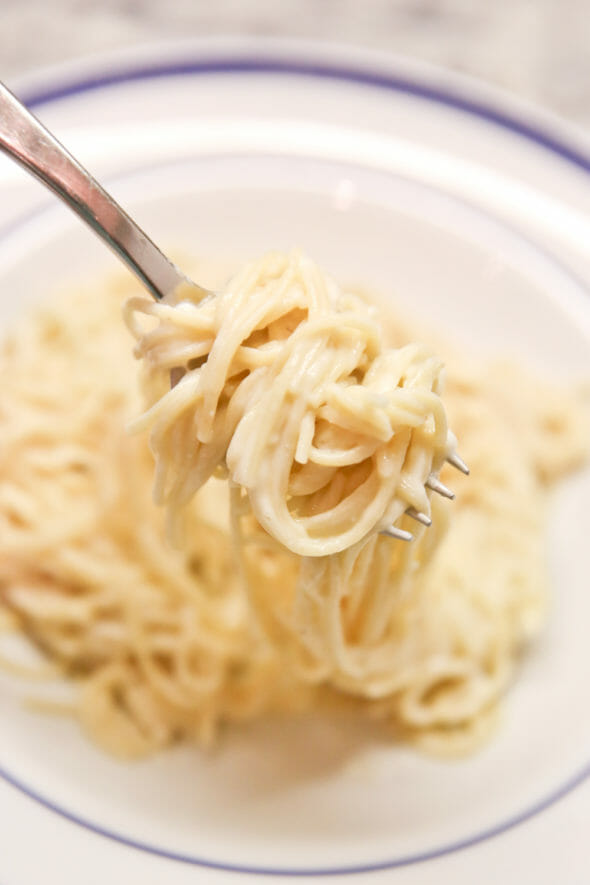 This has been an awesome addition to the mealtime regimen and I hope it will be for you, too!
Interested in another Cauli-Powerhouse?  Try our Cauliflower Pizza Crust!
Print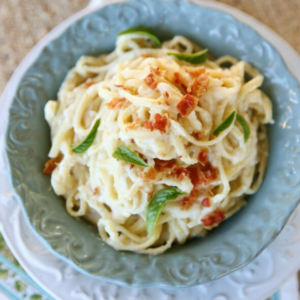 Skinny Cauliflower Cream Sauce
Author:

Our Best Bites

Prep Time:

10

Cook Time:

10

Total Time:

20

Yield:

3
---
Description
A lighter take on traditional creamy sauce. Use in place of traditional alfredo!
---
1

lb roughly chopped cauliflower florets (about

6 cups

)

2.5 cups

chicken broth (may sub vegetable broth)

1 teaspoon

onion powder

1 teaspoon

kosher salt

2 teaspoons

extra virgin olive oil

4

–

5

cloves garlic

1/4 cup

freshly shredded Parmesan cheese (more if desired)

1 ounce

low-fat cream cheese (more if desired)
---
Instructions
Bring broth to a simmer and add cauliflower. Cover pot with lid. Cook until tender, stirring/smashing occasionally, (about 5-6 mins). Drain cauliflower over a bowl to reserve broth and add cauliflower to food processor or blender. Add onion and salt. Return pot to stove and heat olive oil. Add garlic and saute on medium-low heat until fragrant and soft, 30-60 seconds. Add garlic and all oil from pan into cauliflower. Add 1/4 cup reserved broth, and cheeses. Process until smooth. Add salt and liquid to taste.
---
Notes
Feel free to adjust cheese and seasonings to your liking. It's a very flexible sauce; adjust until you find the right mix for you!
Nutritional Information (per 1/2 cup) Cal: 60 Fat: 3 Carb: 5 Pro: 4