A couple of weeks ago my family was on vacation in sunny southern California.  Several friends commented on my instagram photos that it was unusually cool and rainy back home in Idaho.  As much as I adore sunshine and beach weather, as a temperate-blooded Seattle girl, I couldn't wait to get home to cooler temperatures.  Turns out it was just a cruel joke by mother nature.  Like much of the rest of the country, we came home to a heat wave.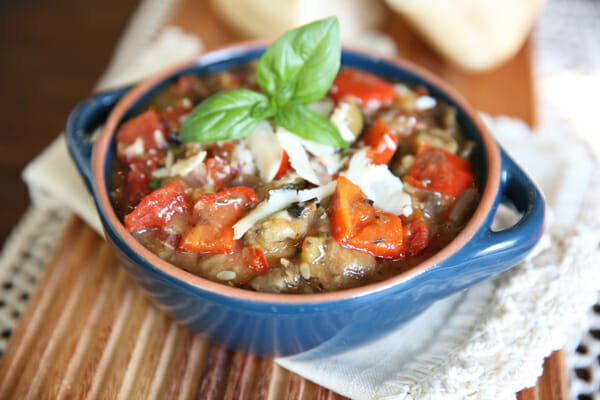 A lot of people only pull out their slow-cookers in the fall and winter, but it's actually one of my favorite cooking methods when the temperatures rise and it's even too miserably hot to venture outside to the bbq to grill.  It doesn't put out a lot of heat in your house, and it's super low maintenance.  The great thing about this recipe that makes it absolutely perfect for summer is that it uses tons of vegetables, and most of these are ones I have growing in my yard.  It's a great way to use up those garden goodies!  Even if you don't have a garden yourself, these classic summer veggies are in season right now, which means they should be at low prices in stores as well.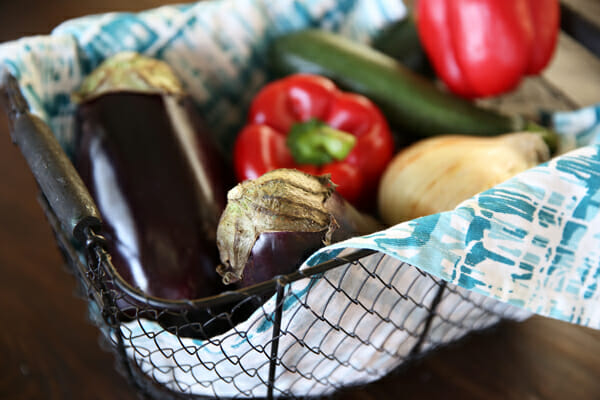 Traditional ratatouille, cooked uncovered in the oven, relies on evaporation to get rid of the large amounts of moisture contained in the vegetables.  If you just tossed all of the vegetables in a slow-cooker, a device designed to trap and contain heat and moisture, you'd get a watery mess.  That's what has turned me away from slow-cooker ratatouille recipes in the past, and what made me so excited to see a solution in a recent issue of Cook's Country.  Broiling the vegetables before popping them in the slow-cooker not only evaporates a lot of the excess liquid, but it adds flavor through caramelization.  The result is an amazingly flavorful, thick vegetable stew.  It may not be the prettiest dish (okay who am I kidding, it's not pretty at all) but I will tell you- I could NOT stop eating this stuff.  It was so perfect with a yummy loaf of crusty bread, and it made the perfect light summer meal.  What amazed me the most, is that my kids ate it without a second thought.  I told them it was soup, and didn't mention it was straight-up 100% vegetables and none of them complained.  I'm still sort of amazed by that.  Maybe I forgot to feed them that day so they were unusually hungry.  It happens.
Seriously though, I wish you could all come over to my house and eat a bowl of this because I know it just sounds like a bunch of vegetables tossed in a crock pot but trust me- it's SO GOOD.  Just try it.  It's good for you (bonus!).  We'll start with eggplant, zucchini (you could use some yellow squash too), red bell pepper, onion, and garlic.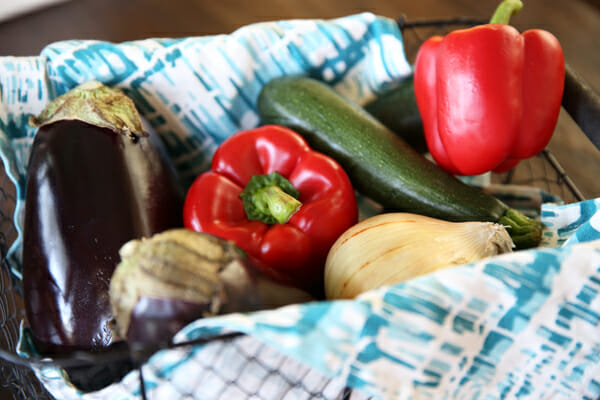 Chop them up into big pieces and drizzle with olive oil, a little sugar, and some spices.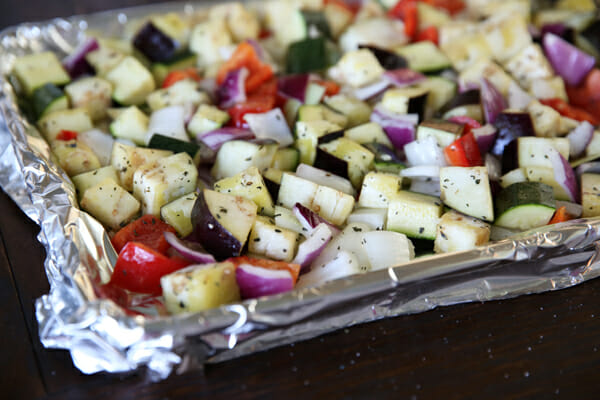 A signature flavor in this dish, and lots of French cooking, is herbs de Provence (Provence is a region in France).  You can find it with the rest of the spices in the grocery store.  It's one of my favorite seasonings, a mix of yummy things like rosemary, savory, fennel, basil, thyme, and most uniquely, lavender.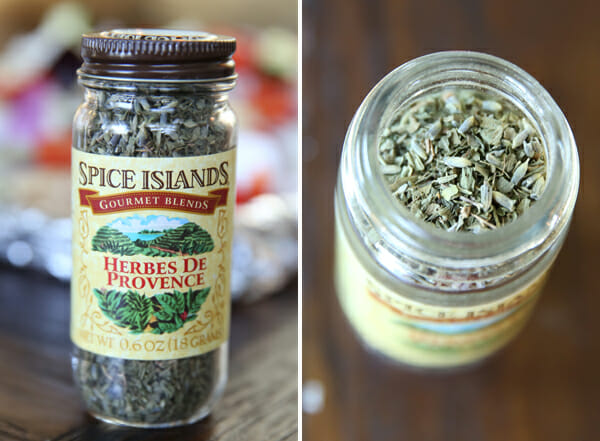 You'll spread out your veggies over 2 baking sheets and trust me, you'll need both!  This will look like a ridiculously large amount of food, but it cooks way, way down, so resist the urge to cut the recipe in half.  Pop those under the broiler until they're nice and golden brown and caramelized.  If you have heat setting options on your broiler, I'd recommend using a medium heat so they can broil for a good 10 minutes or so.  This step gets rid of lots of liquid and adds great color and flavor.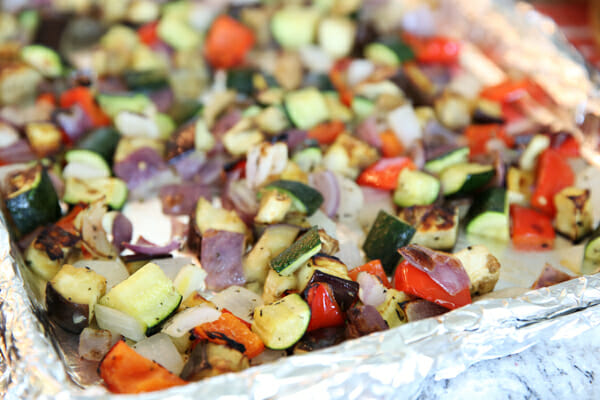 As soon as those veggies are done you can toss them in your slow-cooker along with a big can of diced tomatoes that have been drained.  Next time I make this I'm going to experiment with fresh tomatoes, but the canned work great.
That all gets stirred together with a little flour (which will thicken the juices into a sauce as it cooks) and salt and pepper.  Cook it on low for about 4 hours.  I love this recipe for Sundays because we're away at church for 3 hours, so I can start it cooking before we leave and it's hot and yummy right when we get home (and the house smells like heaven.)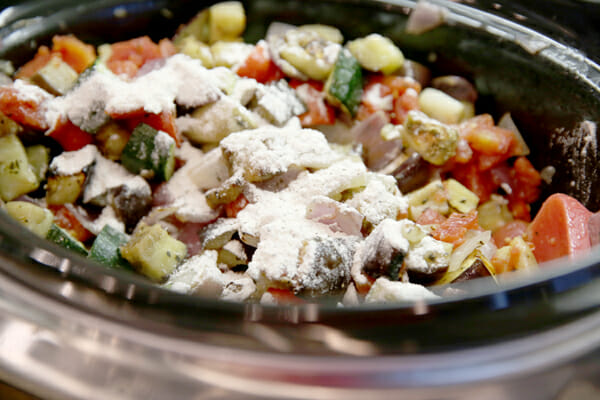 To finish, add in fresh chopped basil and grated Parmesan cheese.  The original recipe calls for adding in additional olive oil at the end, but I didn't feel like it needed that at all. I did however feel that it would benefit from just a bit of acidity so I added in a drizzle of balsamic vinegar and it was perfection.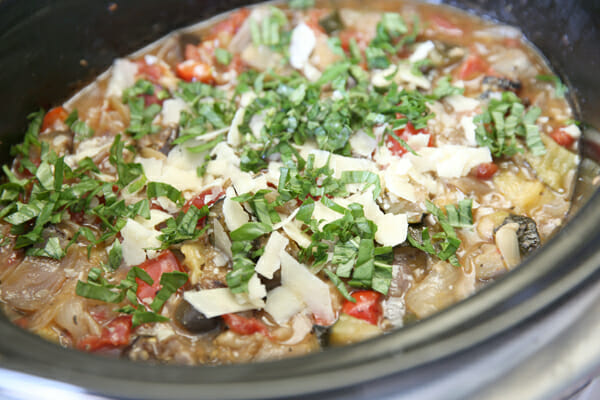 I'm telling you, this is like pure summer in a bowl.  Every yummy flavor of your garden all in one dish.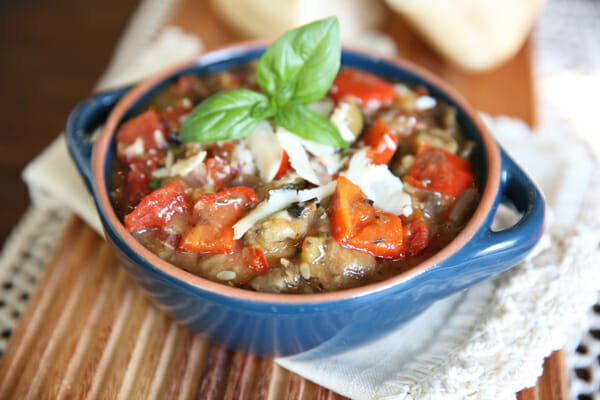 And it must, must be eaten with a big chunk of crusty bread.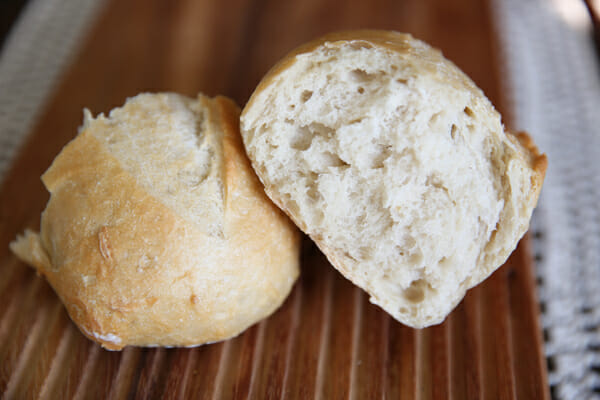 This easily serves 8-10 as a side dish, and if you want to make it a more substantial meal, pair it with grilled cheese panini, or a ham and cheese sandwich and a salad.  It also goes great with grilled chicken, fish, or steak.  Or pasta.  Okay, pretty much anything.  And as one reader noted after eating it in France, it's great served over something like couscous, rice, or pasta as well.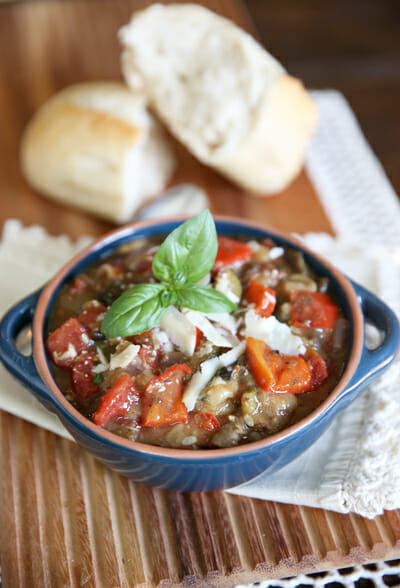 Slow-Cooker Ratatouille
Recipe very slightly adapted from Cook's Country Aug/Sep 2013
Ingredients
2 pounds eggplant, cut into 1/2 inch pieces
3 zucchini (about 8 oz each), quartered lengthwise and cut into 1 inch pieces
2 red bell peppers, stemmed, seeded, and cut into 1/2 inch pieces
2 onions, roughly chopped
6 tablespoons extra virgin olive oil
1 tablespoon sugar
4 garlic cloves, minced
2 teaspoons Herbs de Provence*
1 (28 ounce) can diced tomatoes, drained
1/4 cup all-purpose flour
salt and pepper
1 tablespoon balsamic vinegar
1/4 cup grated Parmesan cheese
1/4 cup chopped fresh basil
If you don't have any herbs de Provance, you can sub 1 teaspoon each of dried rosemary and dried thyme.
Instructions
Adjust oven rack 4 inches from broiler element and heat broiler.  If you have different heat settings available on your broiler, set it to medium.  Line 2 rimmed baking sheets with foil.  In a very large bowl, combine egg plant, zucchini, bell peppers, onions, olive oil, sugar, garlic, and herbs de Provence.  Toss until combined.
Divide vegetables evenly between prepared sheets and spread into a single layer.  Broil, 1 sheet at a time, until vegetables begin to brown, about 10 minutes (or faster, if your broiler has only one heat setting and it's super hot!)  While the veggies are broiling, turn them a couple times during the cooking process to evenly cook them.  Transfer broiled vegetables to slow cooker and add tomatoes.
Stir flour, 2 1/2 teaspoons salt, and 1 teaspoon pepper into vegetables in slow cooker.  Cover and cook until veggies are tender, about 4 hours on low. Stir in balsamic vinegar, Parmesan, and basil.  Season with additional salt and pepper to taste and serve.
Yields: about 8, 1-cup servings.