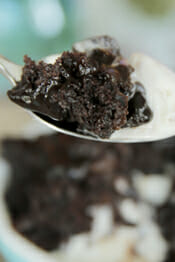 I love September. Where I live it's that strange transition month where Mother Nature is super confused so sometimes it's miserably hot and sometimes it's freezing, but those times in between- when she gets it just right and we get cool, mild, sunny days? Perfection. This dessert is perfect for this time of year. Sometimes you just don't want to turn on your oven and heat up the house. Or sometimes your oven is already full of dinner and you can't squeeze in another thing, nor do you want to leave it on all night cooking one thing after another. Enter: slow cooker. Everyone knows it's a workhorse when it comes to roasts and stews, but dessert? You betcha.
If you've never had a pudding cake before, you're going to think it's super weird. You make a simple batter, much like any other cake or brownie, but that's where the similarities stop. After that layer is spread in a pan (or in this case- the slow cooker) you sprinkle dry ingredients on top and you don't stir them in at all. It feels even stranger when you then pour boiling water over the whole thing and once again, leave it just like that. No stirring allowed. What happens is the dry ingredients on top bubble as they cook and form a pudding-style chocolate sauce on the bottom, while a gorgeous soft chocolate cake rises to the top. When you spoon into it, you get this brownie-like cake with oooey-gooey chocolate sauce all over it. Pretty much the best thing ever. Wanna see how it's done? I thought so.
Start by whisking some basic dry ingredients: flour, sugar, cocoa powder, baking powder, and salt.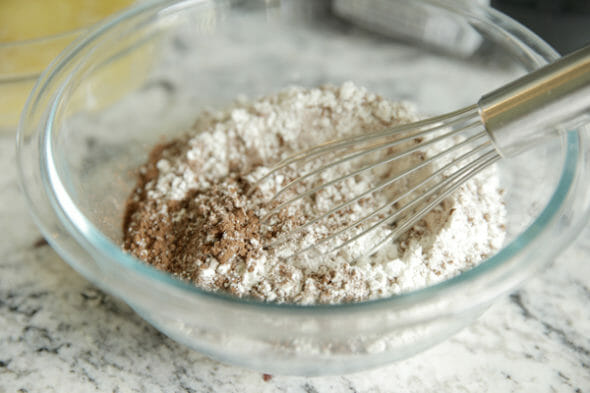 Wet ingredients go in another bowl: melted butter, egg yolk, whole milk, and vanilla.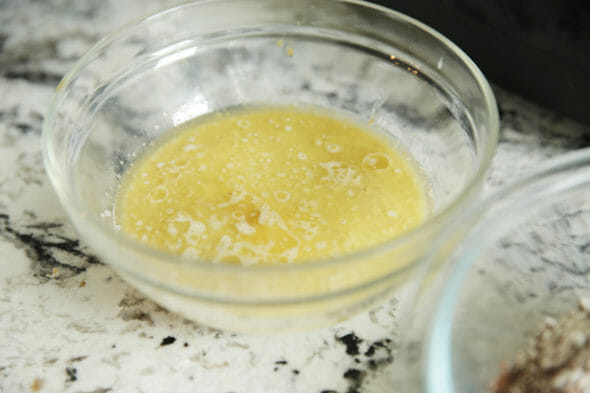 Those get stirred together until just combined,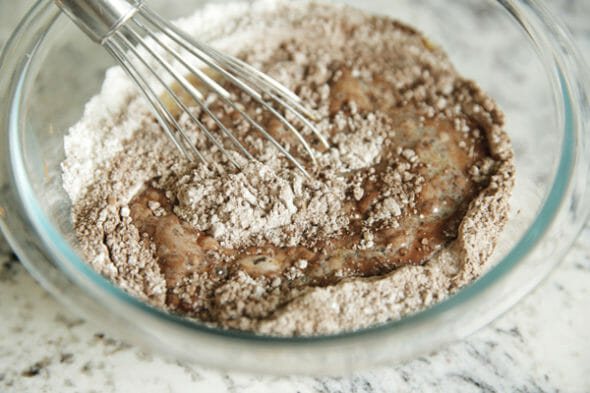 forming a thick, brownie-like batter.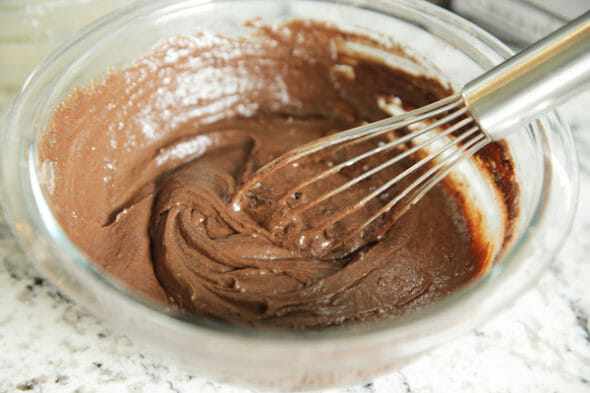 Throw in some chocolate chips just for good measure. I'm using minis because that's what I have, either works great. I'm not too picky when it comes to chunks of melty chocolate in my desserts.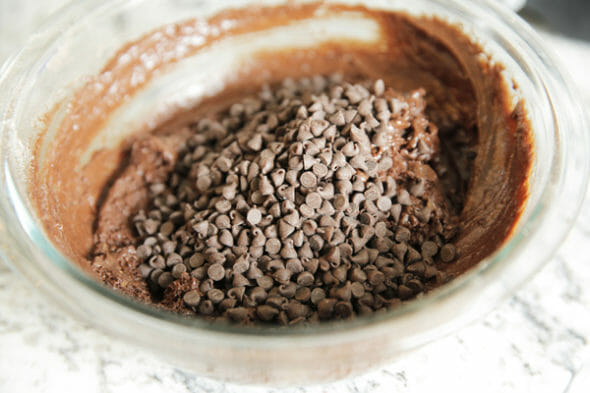 Spread that mixture onto the bottom of your foil-lined slow cooker.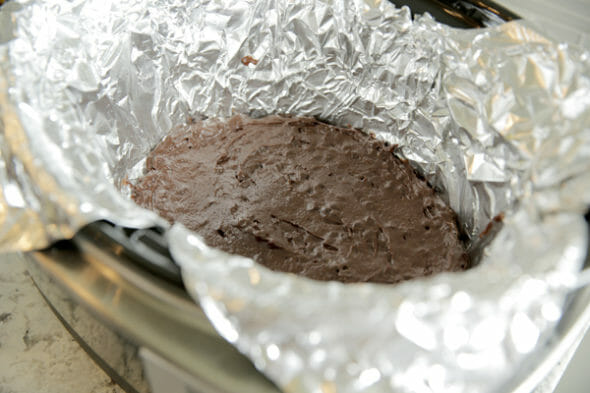 Then you'll whisk a little more sugar and cocoa powder together and sprinkle it on top of the chocolate batter. Don't stir it in- even though you'll want to really, really, bad.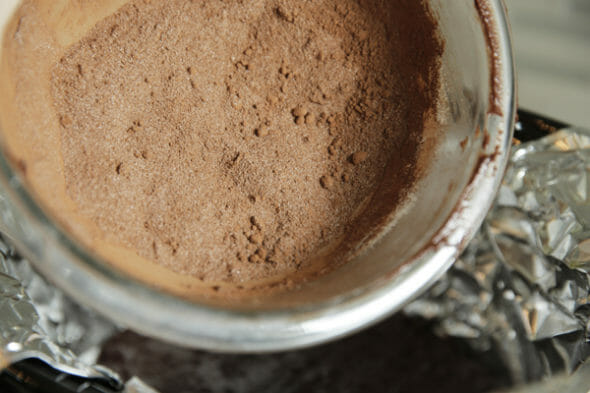 If you did want to stir that, then resist the urge again, because next, you'll pour boiling water over the whole thing and- you guessed it: don't stir. Leave it just like that and pop the lid on. Cook it on high for about an hour and a half.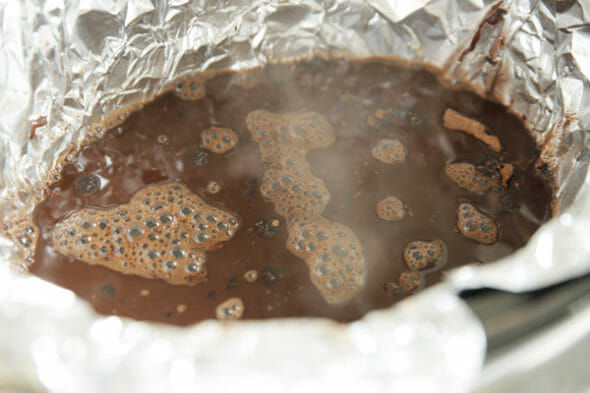 Now. This isn't the kind of cake you display on a cake stand. I'm going to tell you right now, it's the kind of cake that looks like a burnt brick of horrible-ness, but that's part of the beauty. Because when you dig a spoon into it, something truly magical happens. You get a spongy, chocolatey spoon of soft cake with a luscious, dreamy, fudgy sauce dripping down it. It's like 2 desserts in one and it tastes so rich and decadent.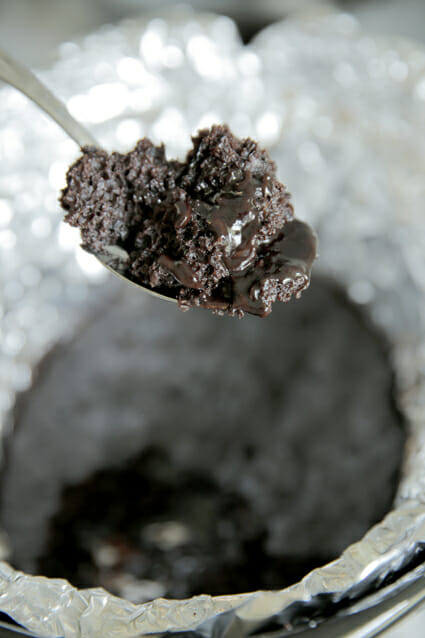 Serve it up warm, over a scoop of creamy cool vanilla ice cream and you will have sweet perfection.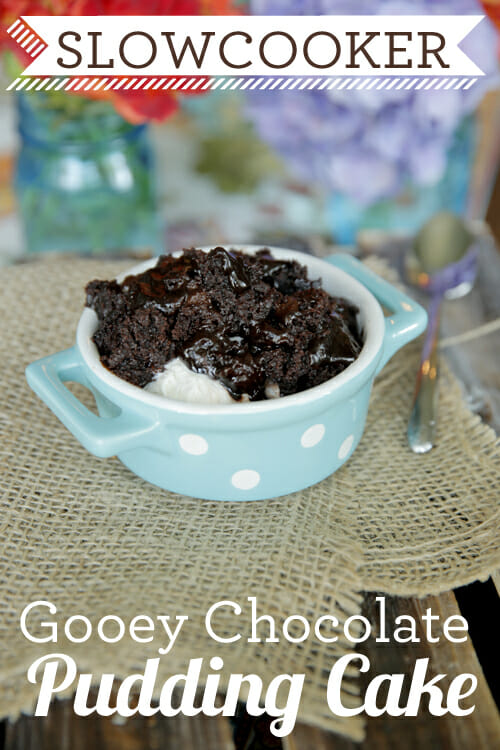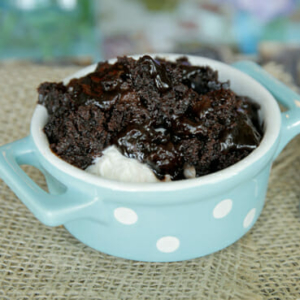 Slow Cooker Gooey Chocolate Pudding Cake
---
Vegetable oil spray

1 cup

all purpose flour

1 cup

sugar, divided

1/2 cup

Dutch-processed unsweetened cocoa powder, divided

2 teaspoons

baking powder

1/4 teaspoon

salt

1/2 cup

whole milk

4 tablespoons

(

1/2

stick) unsalted butter, melted

1

large egg yolk

2 teaspoons

vanilla extract

1/2 cup

chocolate chips

1 cup

boiling water
vanilla ice cream
---
Instructions
Line slow cooker with heavy duty foil and spray with vegetable oil spray.
Whisk flour, 1/2 cup sugar, 1/4 cup cocoa, baking powder, and salt together in a large bowl. In a separate bowl, whisk together milk, butter, egg yolk, and vanilla. Stir milk mixture into flour mixture until just combined. Fold in chocolate chiops (batter will be stiff). Scrape batter into prepared slow cooker and spread to edges.
Mix remaining 1/2 cup sugar with remaining 1/4 cup cocoa, then sprinkle over top. Slowly pour boiling water over top. Do not stir.
Cover and cook until top of cake looks cracked, sauce is bubbling and toothpick inserted into cakey area comes out with moist crumbs attached, about 1 1/2 hours on high.
Let sit for 10 minutes before serving. Spoon over vanilla ice cream.
---
*Disclaimer: This post contains affiliate links.