I have the best recipe for you guys today, I am so excited about it!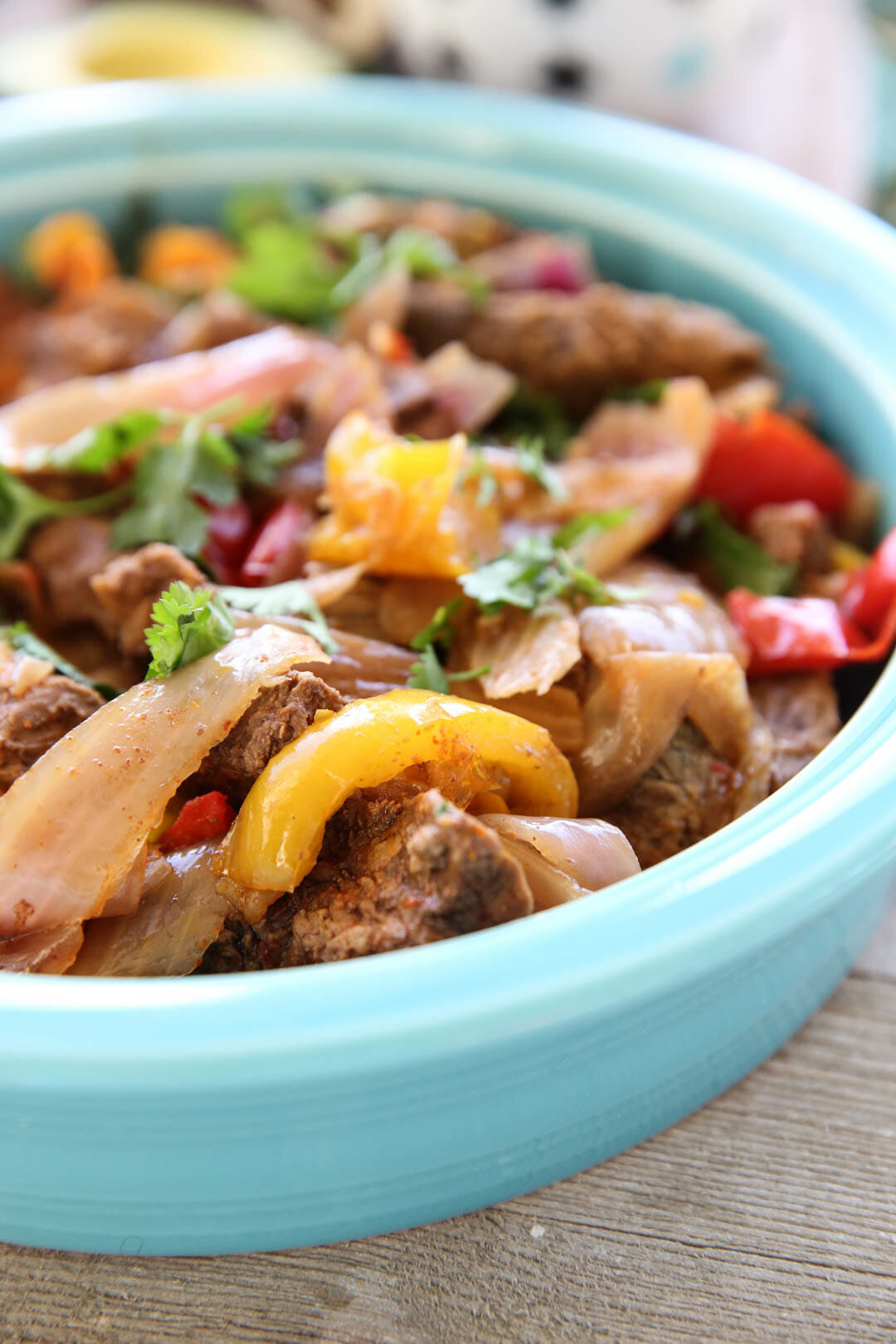 Okay, now today's recipe.  I've said it before, but if I had to pick one meal to eat every day for the rest of my life, it would be fajitas.  Our classic Fajita recipe is still my FAVORITE, but I've been experimenting lately with some other methods so I can still get my fix even if I don't have time to marinade meat and veggies, or if I don't feel like turning on my grill.  I've got a sheet pan version coming up at some point as well, but first- slow cooker fajitas!  This is by far the quickest and easiest.  It's a quick dump in the slow cooker with a super easy seasoning/sauce poured over and then a little set-it-and-forget-it action.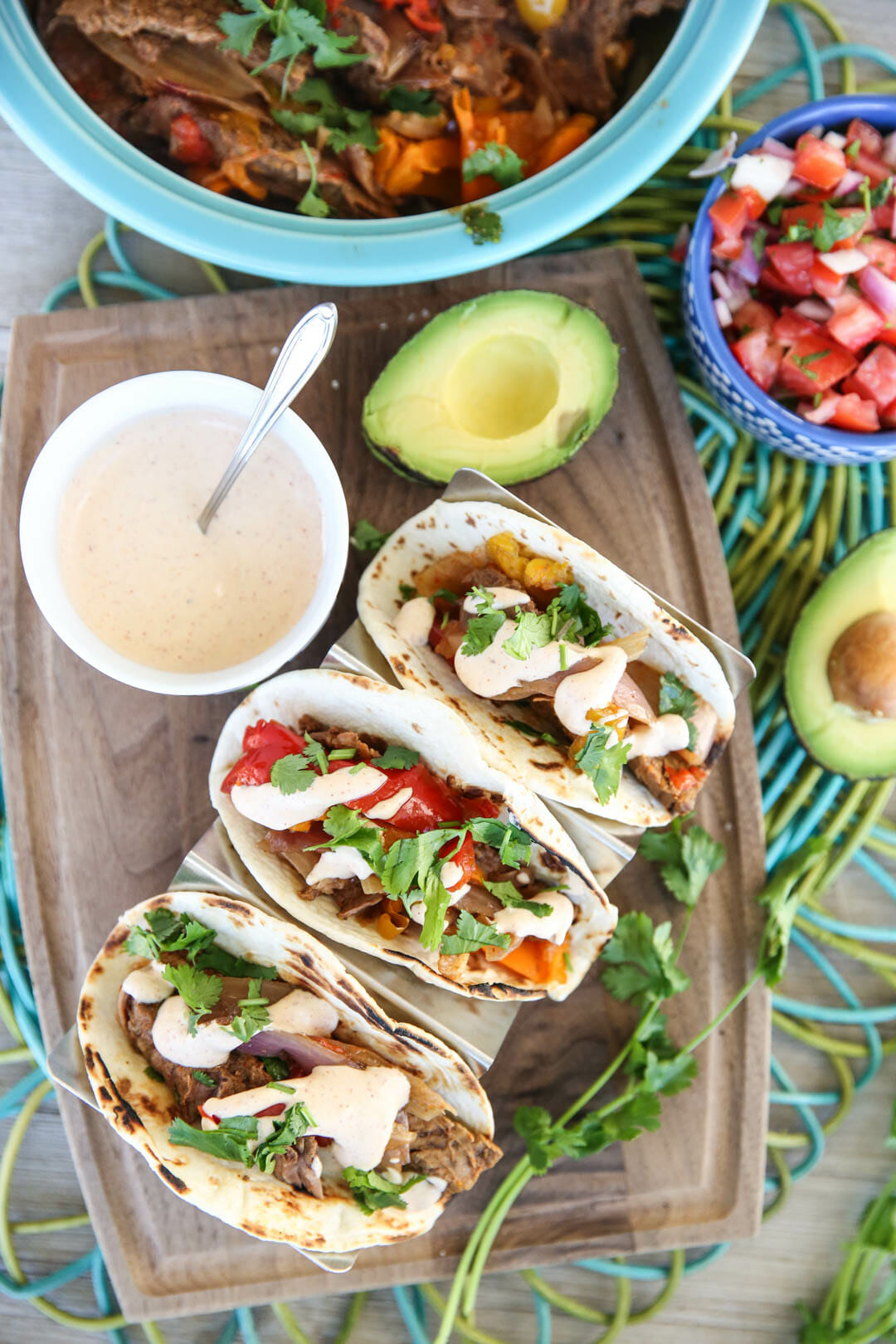 Flank steak isn't a cut of meat you generally see cooked in a slow cooker.  It's more often grilled or broiled.  Lately, however, I've discovered it's the perfect cut for several recipes I've been working on.  I love how it keeps it's sliced shape after it's cooked (as opposed to turning into shredded beef) and the low and slow cooking method tenderizes it beautifully it a relatively short time (as in, short for a slow cooker, haha).  You'll cut it into thin slices, like this.  The meat doesn't really change size, so just cut the pieces how you'd like to have them when you're all done.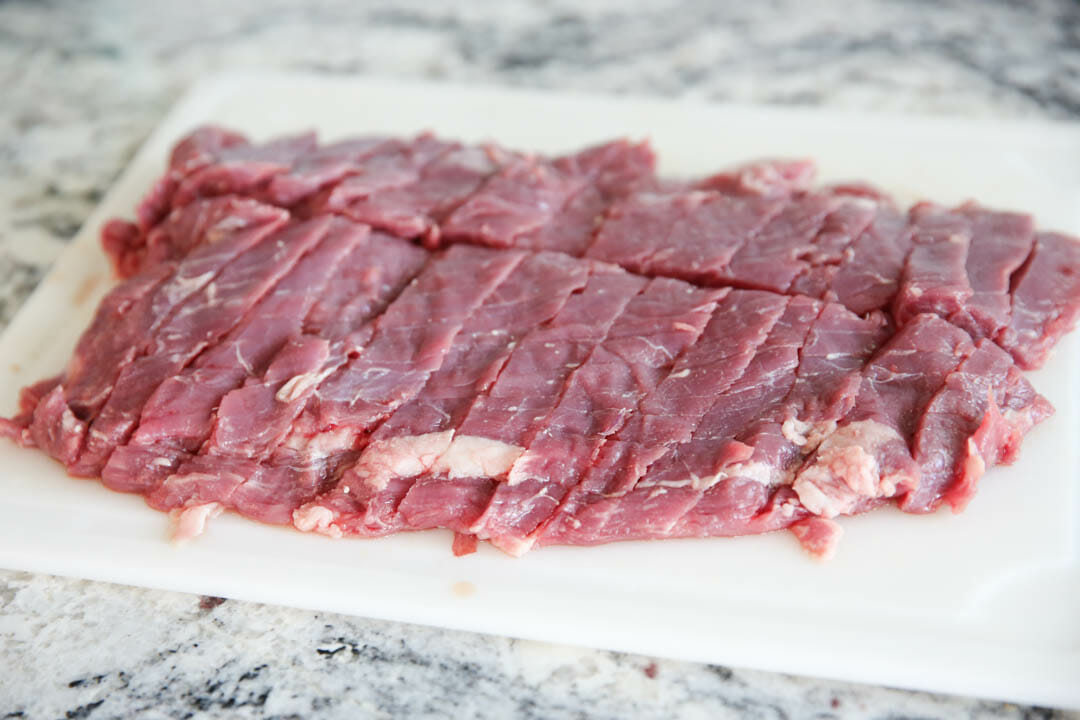 Then you'll need to chop up an onion, and a couple of large bell peppers, or 3 smaller ones like I'm doing here,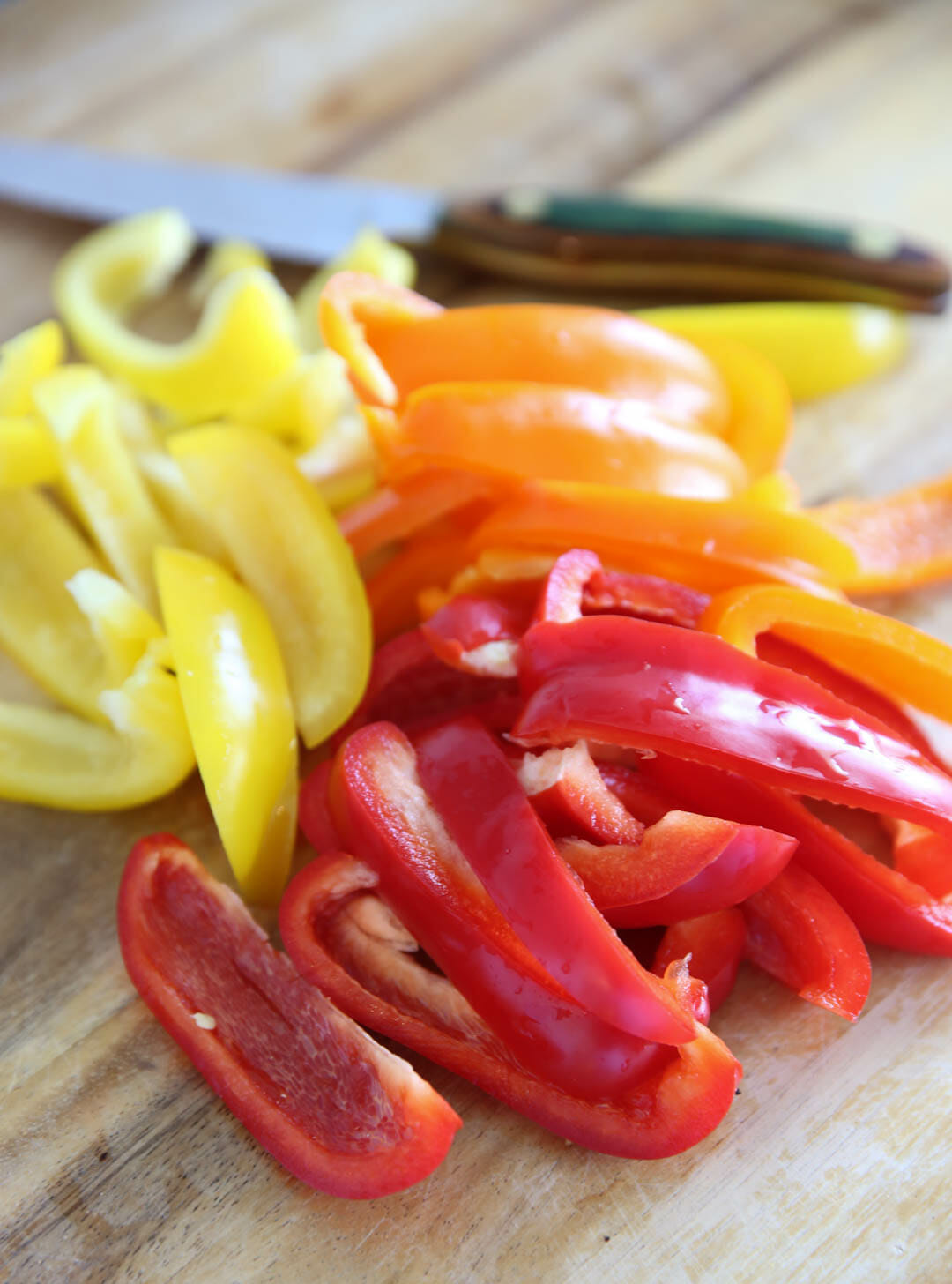 It all gets tossed in your slow cooker with a quick and easy sauce. You don't need to add any other liquid to the slow cooker; the vegetables will release tons of water.
If you keep a tally here, you're going to need about 47 limes.  Okay just kidding, but a bunch.  This is one area where having my go-to powdered lime comes in handy.  It's great to use in this first step, and then you can grab some fresh limes for the sour cream sauce, and squeezing over the finished dish.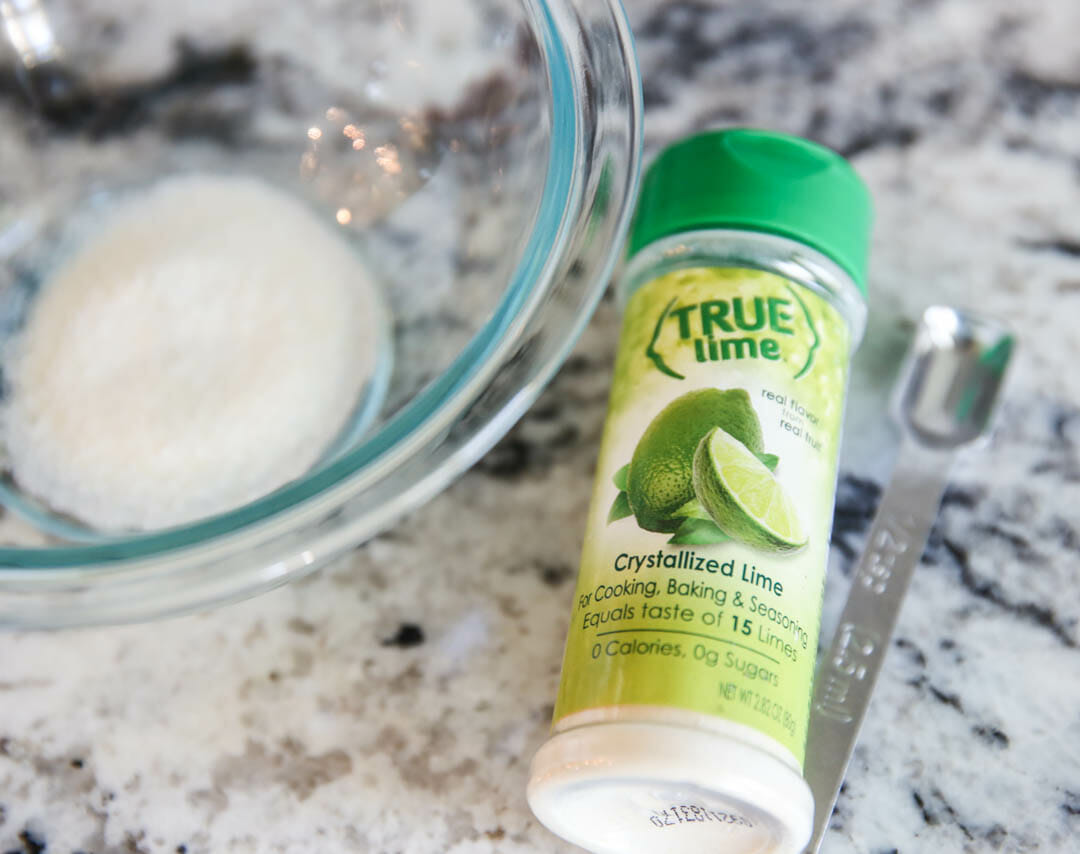 One note about cooking.  This will cook in 4-6 hours on high, or 7-8 on low.  That's quite a while for tender veggies like peppers and onions.  I personally kind of like them totally soft- but you might find them too soft and bordering mushy.  If you like your veggies with a little more bite, just pop them in about half way through the cooking time.   While it cooks, you can whip up your sauce, which is sour cream, fresh lime juice and zest, chili powder, and a little zest.  I could eat this with a spoon. Also, our little mini heart whisk was pretty much made for tasks like this.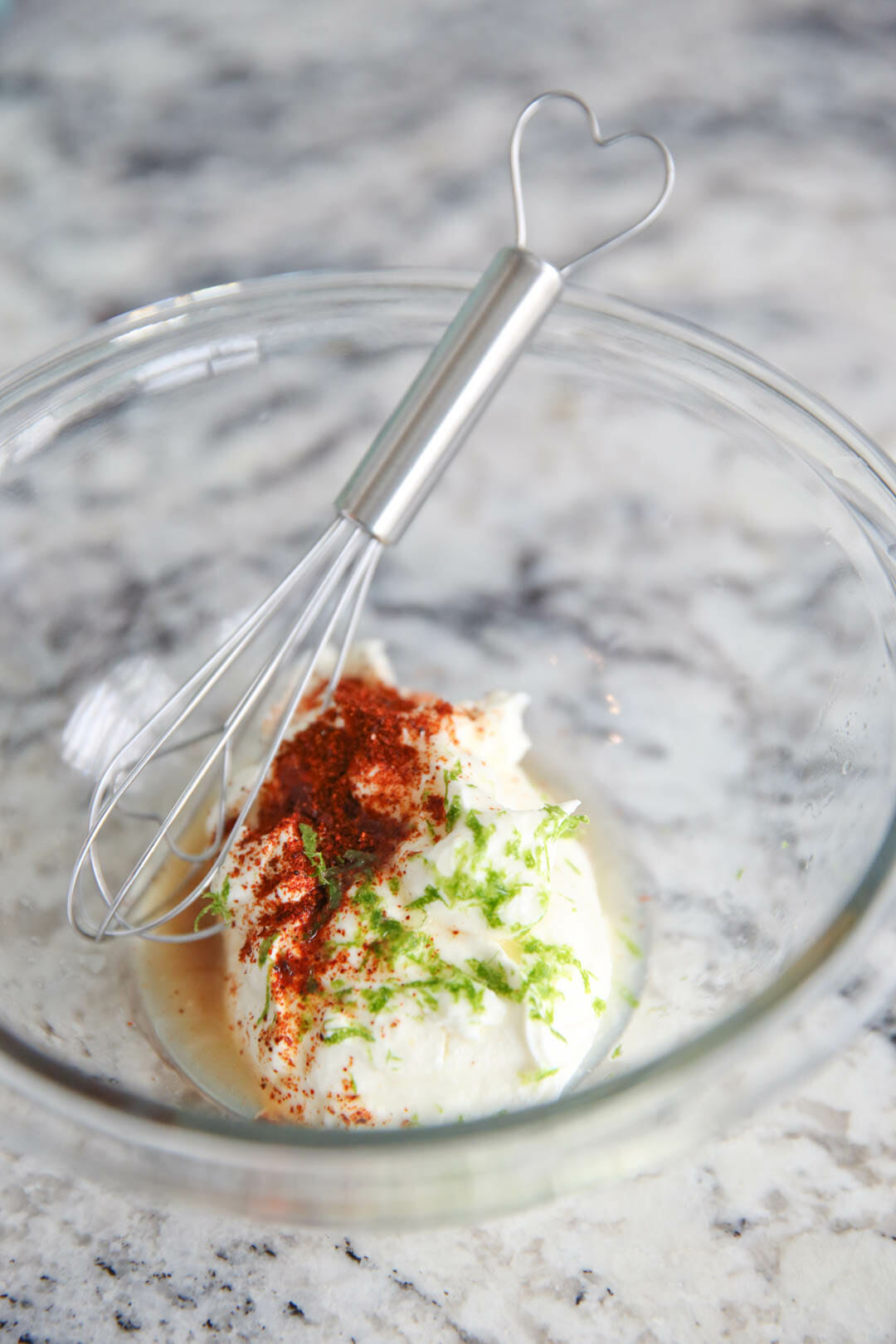 I like to toss the finished steak and vegetables with a squeeze of lime juice and a handful of chopped cilantro for an extra burst of flavor.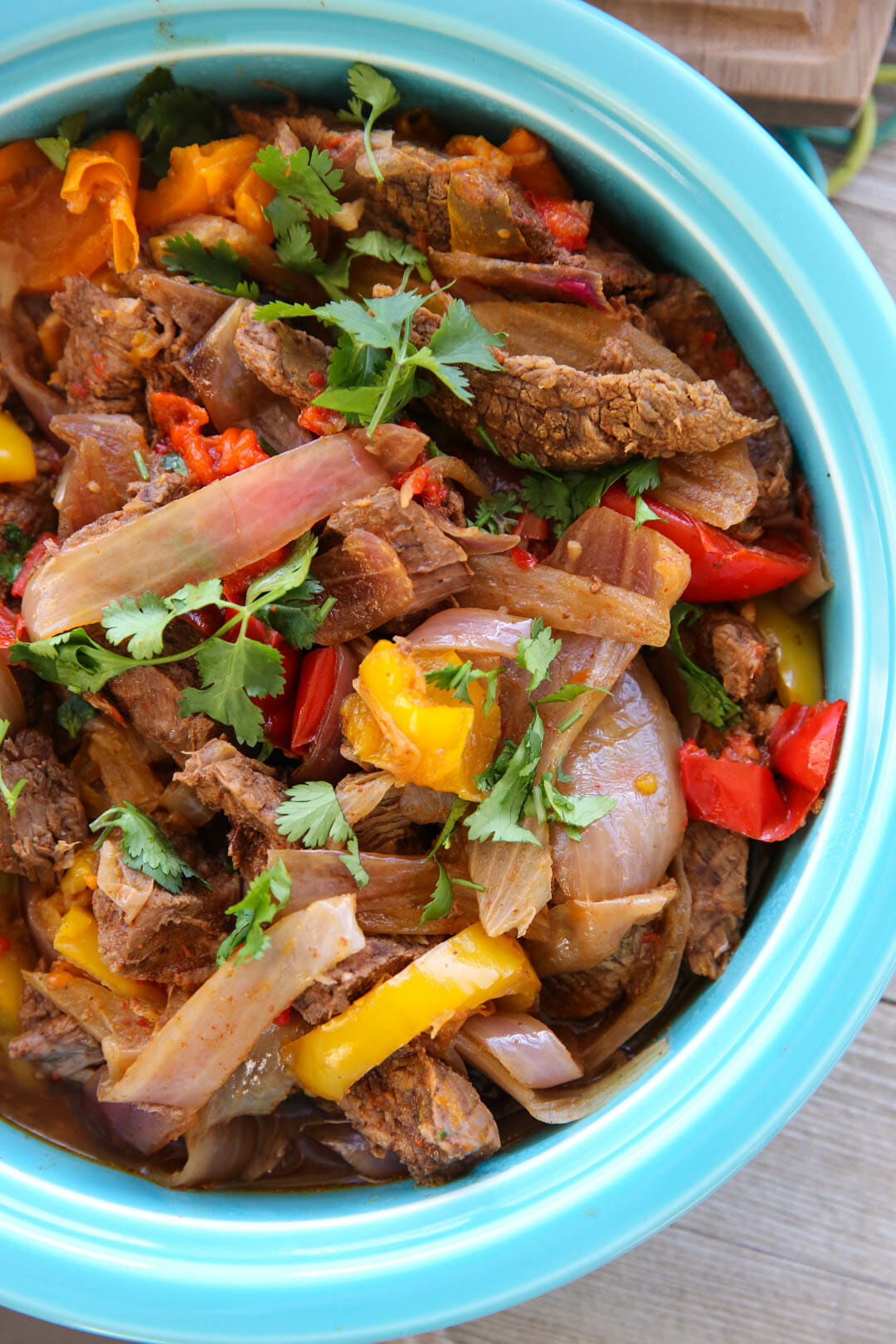 Serve them in the tortillas of your choice and drizzle the sauce over the top,  with any fixings you like!  I always love Pico de Gallo and avocado.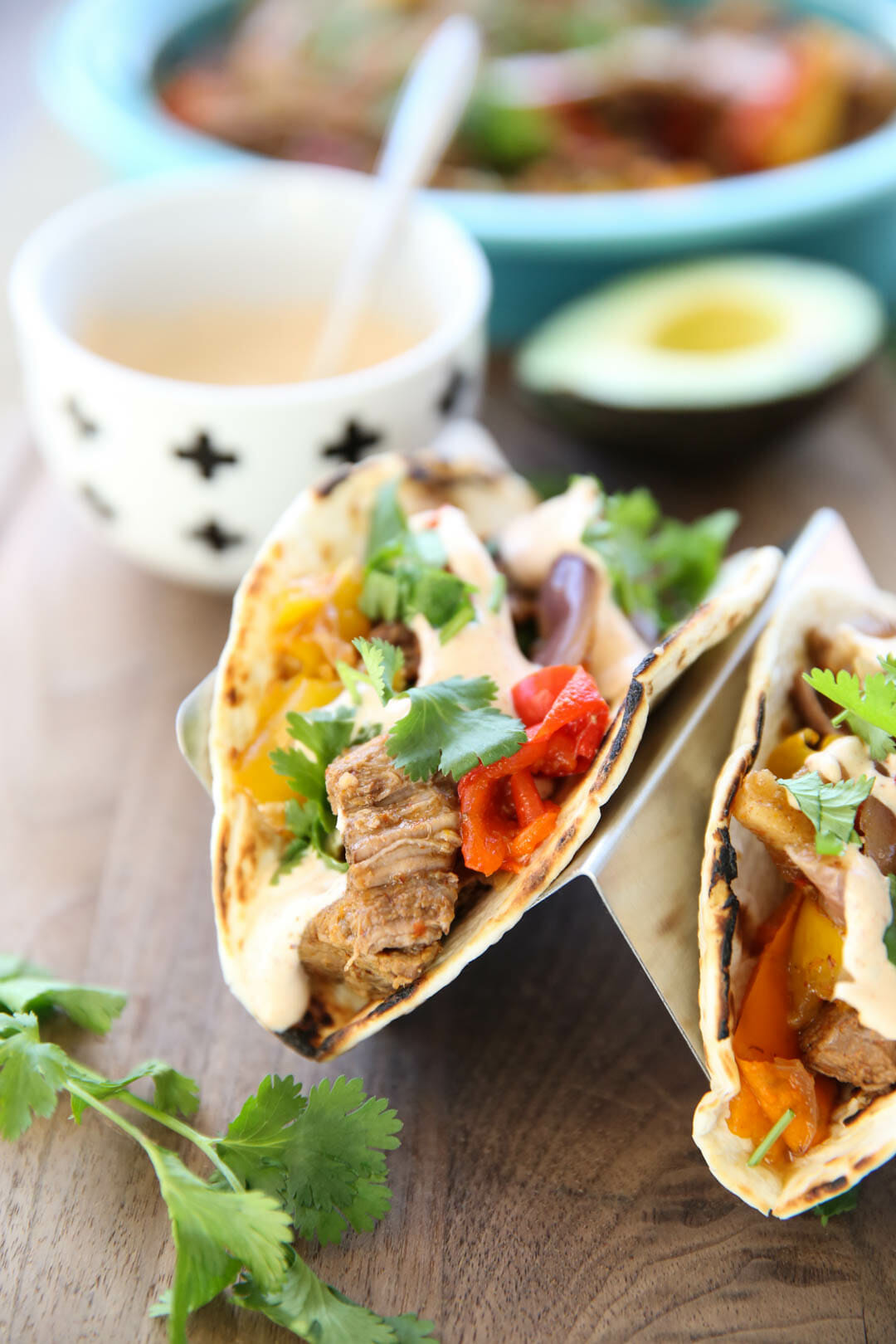 They don't need a whole lot more.  The sauce adds so much freshness and flavor, that you can keep them simple!  Serve them on the tortillas of your choice- I'm loving these little "Street Taco" size tortillas (Mission brand makes them, sold by all the regular tortillas at the grocery store- they're the ones that make you go "Ohhh my gosh look at these tiny tortillas, they're so cute!") which come in both flour and corn.  Besides being completely adorable, I've found they're a great size for little hands.  They make the best tiny quesadillas for toddlers, too!
Also, while I'm sharing things I love- I finally bought some taco holders and wondered why I hadn't done that years ago.  It makes serving foods like this so easy.  Since my kids are younger, I like to assemble things like this before we even sit down at the table, and these are kind of fun to just set on each person's plate so they stay all put together.  There's lots of different styles on Amazon.  The one in my photo is this style, and I also have these little ones which are nice and compact, and my favorite for actually setting on plates for each person.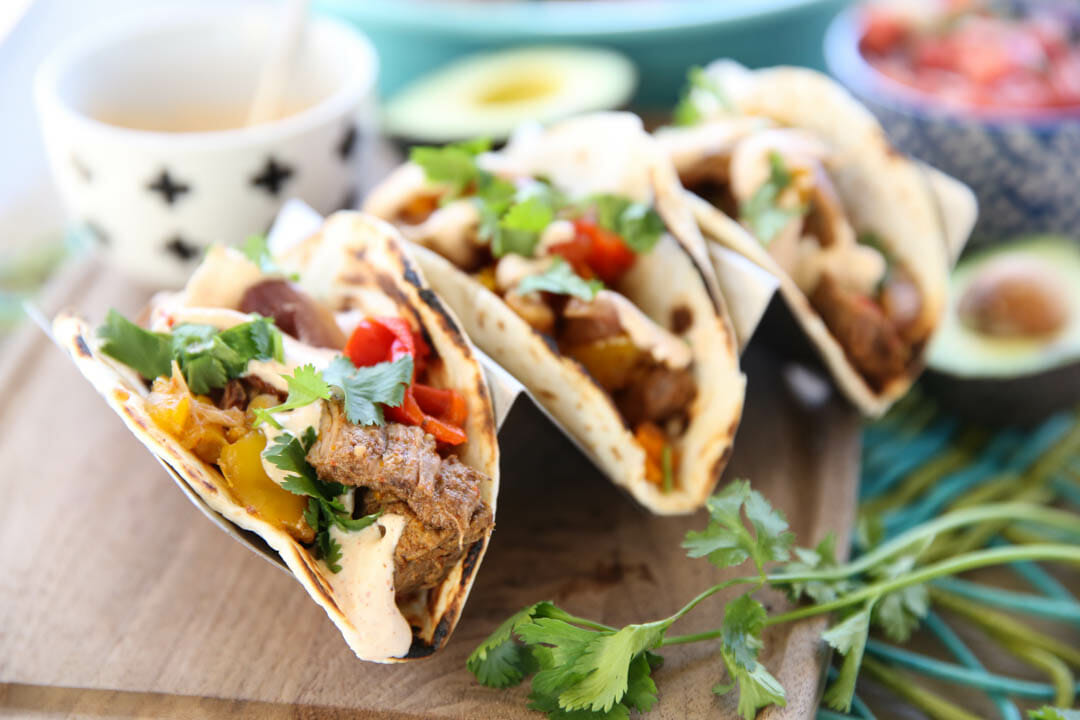 Anyway, enough chit-chat.  I hope this quick and easy meal helps you get dinner on the table at your house!
Print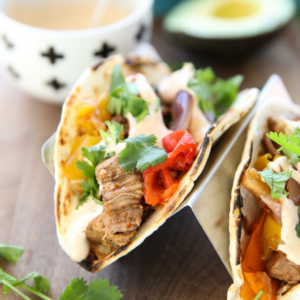 ---
Description
No fuss fajita recipe with tender steak strips and easy veggies, where everything is tossed in the slowcooker.
---
2 pound flank steak
2 large bell peppers, or 3 small/med (use red, yellow, or orange)
1 large onion (red, white or yellow)
1/4 cup fresh lime juice (about 3 large limes), plus extra for serving
1 tablespoon soy sauce
2 teaspoons liquid smoke
1 tablespoon white vinegar
1 tablespoon chili powder
1 tablespoon cumin
4–5 cloves minced garlic (pre-minced garlic works great!)
2 teaspoons kosher salt
1/2 teaspoon black pepper
Optional: extra lime and a handful of chopped cilantro
Sauce
1 cup sour cream
2 tablespoons lime juice (zest a little lime in the sour cream before juicing!)
1 teaspoon chili powder
kosher salt to taste
---
Instructions
Cut flank steak against the grain into about 1/2-inch slices. Then slice the opposite direction so you have 2-3-inch strips of meat. Place in slow cooker. Cut peppers and onions into large 1-inch strips and place on top of meat (see note below).
In a small bowl, combine 1/4 cup lime juice, soy sauce, liquid smoke, vinegar, chili powder, cumin, garlic, salt, and pepper. Whisk to combine and then pour over meat and veggies and toss to coat. Place lid on cooker and cook 4-6 hours on high, or 7-8 hours on low.
While meat is cooking, whisk together sauce ingredients and store in fridge till serving.
When meat is done, optionally squeeze a little more lime on top and toss in a handful of chopped cilantro.
Serve on tortillas of choice, with any additional toppings (ie: avocado, pico de gallo, etc.)
---
Notes
Tender vegetables like onions and peppers get very soft when cooked this long in a slow cooker. I personally like it that way, but if you prefer more bite to your veggies, simply toss them in about half-way during cooking time.
---
This post contains affiliate links, you can read more about them here.